Sunsafe Rx Reviews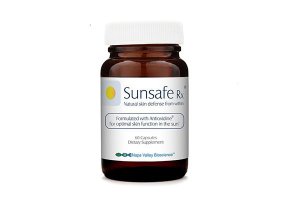 Summary
Sunsafe Rx is an anti-aging supplement that you take once a day that allegedly protects you against the many signs of aging as a result of exposure in the sign. Research backs the claims but this supplement should also be implemented with other practices.
Sunsafe Rx Review - Does It Protect from Harmful UV Rays?
What Is Sunsafe Rx?
Sunsafe Rx is offering a nutritional supplement that is designed to protect your skin and eyes from harmful UV rays. It is also manufactured and tested in an FDA-registered, GMP-certified facility.
It contains a propriety blend of antioxidants which the company claims will provide you with a full-body coverage from the inside, and help prevent free-radical damage throughout.
Some of the benefit claims include:
Supports eye health
Does not interfere with the production of vitamin D
Prevents skin aging and wrinkles
Reduces inflammation
In addition to protecting the skin and eyes, Sunsafe Rx allegedly also provides relief from symptoms of photosensitivities such as melasma, hyperpigmentation, and solar keratosis.
Sunsafe Rx states on its website that for maximum effectiveness when taking this supplement, the recommendation is one capsule per day of continuous use over several weeks.
You take one capsule about 60 minutes before sun exposure, although they also suggest you take an additional capsule for prolonged sun exposure.
The Botanical Ingredients Found in Sunsafe Rx and Their Formula Research
Some of the core claims of Sunsafe Rx are that it protects the skin from sun damage, which can present itself in many different ways and cover a wide spectrum of conditions such as wrinkles, scaly patches, melanoma, basal cell carcinoma, cataracts, age spots, and even freckles.
The secret behind the proposed benefits of Sunsafe Rx is Antioxidine, the company's propriety blend of antioxidants which they source from plants.
They say no sugar, sodium, soy, dairy, or preservatives have been added to the supplement. The supplement is also free from gluten and caffeine, and that the ingredients have been recognized as safe and approved by the FDA.
Below is a short-list of the key ingredients that can be found in Sunsafe Rx:
Vitamin A 880 IU
Vitamin C 10 mg
Vitamin E 10 IU
Zinc 1.5 mg
Selenium 20 mcg
Proprietary Antioxidine Complex 548 mg: Polypodium Leucotomos Extract, Greem Tea Extract, Omega-3 Fatty Acids, Grape Seed Extract
Many of these essential vitamins and nutrients play key roles in immune function, cell function, preventing cellular damage, and even eye and brain health.
Adding a dietary supplement that contains antioxidants to other methods of sun protection like limiting exposure and wearing sunscreen may further decrease UV damage.
According to a 2014 study conducted at the Heinrich-Heine-University in Düsseldorf, Germany, some efficient micronutrients are capable of contributing to the prevention of UV damage when used in combination with a broad-spectrum sunscreen.
Based on the results from a 2008 study conducted by Clinique Laboratories, in conjunction with Case Medical Center, the addition of antioxidants like vitamin C and E, sourced through nutritional supplements such as Sunsafe Rx, may add value to sunscreen by enhancing protection and decreasing the UV-induce damage.
Next, we'll highlight the available support, if any, for the ability of the specific ingredients to offer protection from harmful UV rays.
Zinc 1.5 mg
Zinc is an essential trace element. It can be found in meats, dairy products, oysters, nuts, beans, and whole grains.
Zinc plays a role in eye health, wound healing, and immune functions. It's often found in toothpaste and in nasal sprays to treat the common cold. It is a common ingredient in sunblock, though its ability to support skin health when ingested has also been studied.
Oral zinc has been used to treat acne, warts, and other skin conditions, though this method of delivering zinc does not have much support for offering sun protection.
Vitamin C 10 mg
Vitamin C is a water-soluble vitamin that is naturally present in some citrus fruits. Because the body is unable to synthesize it on its own, it has to be sourced from food and dietary supplements. Vitamin C plays an essential role in the biosynthesis of collagen, which is a vital component for wound healing, and it has been shown to regenerate other antioxidants within the body such as vitamin E.
Due to its antioxidant function and its vital role in immune function, ongoing research is being examined to see if vitamin C might play a role in skin health.
Oral formulations have shown some promise. This review pointed out that 50mg daily improved skin elasticity and moisture content over 90-days. Also, 22mg of vitamin C improved redness and skin discoloration related to UV damage.
While vitamin C may benefit skin health, Sunsafe Rx offers doses smaller than those that were proven successful.
Vitamin A 880 IU
In addition to many dietary supplements like Sunsafe Rx, vitamin A can be found in whole milk and liver, as well as in vegetables and fruits that contain a reddish-orange pigment such as carrots, sweet potatoes, and pumpkin. Vitamin A is essential in bone growth, eye health, cell functions, and the immune system.
Vitamin A derivatives like beta-carotene have been tested to determine their potential for skin protection. Those that consumed 25mg daily along with vitamin E over 12-weeks reduced skin redness from UV exposure.
Vitamin E 10 IU
Vitamin E can be found in foods such as vegetable oils, cereals, eggs, wheat germ oil, poultry, and fruits. Vitamin E is a powerful antioxidant that dissolves in fat and is used to treat respiratory infections, skin disorders, premenstrual syndrome. It is required for the proper function of organs in the body.
Another common ingredient in topical formulations that claim to offer UV protection, support for UV protection with oral supplementation is lacking.
Selenium 20 mcg
Selenium is a mineral found in soil. It's another powerful antioxidant that protects cells from damage.
In mice, oral selenium limited damage from UV rays. This effect is not well documented in humans, however.
Polypodium Leucotomos (PL)
An extract from a fern found in Central America that's commonly found in UV-focused supplements like Sunsafe Rx. Some research suggests that this extract can be beneficial to take before sun exposure and can reduce the reddening of the skin and prevent skin damage.
PL may act through various mechanisms such as limiting UV-ray damage, preventing oxidative stress, reducing DNA damage, anti-inflammation and protecting skin cells from destruction.
In 9 healthy subjects that were exposed to UV-rays, those treated with 7.5mg/kg PL doses had significantly less skin damage. This dosing was likely larger than the entire Sunsafe Rx proprietary blend.
A similar study had similar results; consuming 480mg of PL was associated with less UV-ray skin damage.
Lycopene
Part of the carotenoid family, Lycopene is a bright red, phytochemical found in various vegetables and fruits like tomatoes, watermelons, guavas, papayas, and grapefruit. It's high in antioxidants that help fight free-radicals in the body.
In a randomized trial, those treated with 5mg of lycopene over 12-weeks experienced greater UV protection when compared to placebo.
Omega-3
Omega-3 fatty acids are essential nutrients for human health and are good for your body and brain. Some common sources of fish oil come from cold-water fish, like tuna, wild-caught salmon, herring, whitefish, sardines, and anchovies. You'll also find omega-3 oil is some seeds and nuts, such as flaxseed and walnuts, and flaxseed.
Protection from UV rays has been demonstrated in some laboratory, animal, and human studies, though much more work is needed to characterize the potential benefit.
Is Sunsafe Rx Safe?
The Sunsafe Rx blend of ingredients is generally safe for use. Serious adverse events are unlikely, though mild side effects can occur with daily use.
Zinc, as well as the vitamin content of Sunsafe Rx can cause upset stomach, diarrhea, and headaches when excess is ingested. The content in Sunsafe Rx is well below limits that are associated with greater risk for side effects.
Lycopene and Omega-3s also have a favorable safety profile and are safe at doses much larger than those that are likely offered in the Sunsafe Rx blend.
Nonetheless, speak with your doctor, particularly if you have a family history of skin cancer of or you sunburn easily.
Adequate protection may include a dietary supplement like Sunsafe Rx, though limiting exposure, applying sunblock, and wearing protective clothing and headwear are vital components of any plan to limit skin damage.
Sunsafe Rx Pricing & Refund Policy & Where You Can Buy
You can purchase Sunsafe Rx from the company's website or on Amazon. It is available in three different sizes, and you have the option to make a single purchase or subscribe for a free lifetime shipping when purchased directly from the manufacturer.
Supply of 30 Capsules: $29.00
Supply of 60 Capsules: $49.00
Supply of 120 Capsules: $89.00
Regardless of the quantity, all single orders come with an additional $3.95 S&H fee. If you subscribe, pricing remains the same, though shipping is free.
We also found 30-day supplies of Sunsafe Rx sold via Amazon for about the same price.
If you are not satisfied with your manufacturer-direct purchase, you can return it within 30 days for a full refund, minus the shipping and handling charges.
The Bottom Line
Many of Sunsafe Rx ingredients are commonly found in topical formulations that claim to offer protection from UV rays. However, there is some research backing the oral administration for this purpose.
Even though much of the available research backs the use of oral use of these ingredients, Sunsafe Rx and similar supplements should not replace conventional methods of protecting your skin from harmful UV rays. Adding Sunsafe Rx to practices like limiting sun exposure, could be beneficial in providing the body with extra sun protection.
When considering the available research supporting these ingredients, the supplemental role of Sunsafe Rx, and its competitive pricing, it may be a worthwhile addition to your plan for sun protection.
Customer Reviews