TestoFuel Reviews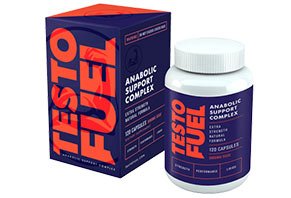 TestoFuel claims to be an all-natural supplement that safely boosts your body's testosterone production.
About TestoFuel
Manufactured by Roar Ambition, TestoFuel is an anabolic support complex comprised of safe, all-natural ingredients that are claimed to increase testosterone production, boost muscle growth, reduce fat, and increase sex drive.
While the manufacturer claims that TestoFuel was developed for professional athletes to "boost their gains," it can also be used by older men looking to supplement their natural reduction in testosterone.
Roar Ambition is not listed with the Better Business Bureau, and according to the product's website, the company appears to be registered in Panama.
After discussing this fact with the company's owner, we learned that Panama was chosen because it is difficult to obtain a merchant account in the UK and US without prior trading history.
Now that they have this though, they claim that they'll be moving their full operations over to the UK in 18 months. With this in mind, we were able to verify that all products are indeed manufactured in the US and UK (see next section for details).
How TestoFuel Works
According to the company, the supplement is manufactured in the US in a Good Manufacturing Practice (GMP) facility, which meets all FDA guidelines. For European customers, TestoFuel is manufactured in the UK, and meets all EU requirements.
TestoFuel contains all-natural ingredients such as amino acids, plant extracts, vitamins and minerals, does not contain any banned substances, and is safe to use on a daily basis.
When taken regularly, and combined with a weightlifting program and healthy nutrition, TestoFuel can help your body release more of its own naturally-produced testosterone, which can result in increased muscle mass, as well as faster workout recovery and increased energy levels.
TestoFuel claims to accomplish all this using only the following key ingredients:
Oyster Extract – Oysters contain 10 times the amount of zinc found in beef steak, which has been shown to raise testosterone.

Vitamin D – Vitamin D is normally produced during exposure to the sun, which can be in short supply in some parts of the world. Vitamin D has also been shown to support hormone production¾including testosterone.

D-aspartic acid (DAA) – DAA is an amino acid that has been shown to boost testosterone by as much as 45.5% in just 13 days.

Ginseng – Ginseng is an herb that has been shown to increase sex hormone and adrenaline levels, thereby producing more testosterone.

Fenugreek – In one Australian study, Fenugreek was shown to help normalize testosterone levels within the body.

Magnesium – Magnesium helps decrease muscle fatigue and to metabolize a wide variety of proteins and fats.

Vitamin B6 – This essential nutrient is required for numerous primary functions within your body, not the least of which is testosterone production.
See Also: Do Testosterone Boosters Really Work? Find Out What Science Says
TestoFuel Pricing and Refund Policy
When purchasing TestoFuel, you'll have three options:
One-month supply (90 capsules) for $69.00, plus $7.95 shipping and handling.

Two-month supply (180 capsules), for $138.00, plus free worldwide shipping.

Four boxes of TestoFuel (360 capsules), one T-shirt, two free ebooks, and free worldwide shipping for $219.00.
Unlike many other supplement manufacturers, you will not be signed up for any kind of autoship program. In other words, the only time you'll be sent any additional TestoFuel is if you order more.
From a shipping perspective, if you live in mainland United States, you can expect your package to arrive within 2-6 working days. For those outside the contiguous 48, you can expect delivery within 5-10 working days.
TestoFuel comes with a 90-day money-back guarantee, but this only applies if you purchase at least a 90-day supply, which would translate into three boxes.
On the other hand, if you only purchase a single box (30-day supply), this guarantee is reduced to 7 days, which begins from the date you receive it.
If you're dissatisfied with TestoFuel for any reason, you'll need to do the following in its entirety, otherwise your refund request will not be honored:
Have taken TestoFuel for 90 days, while regularly working out and eating a "healthy and rich calorific diet."

Email or call customer service to advise them that you're requesting a refund.

Include your name, address, and order number in the return packaging, along with any unused product. In addition, you'll need to include a description of your diet and workout plan.

Send the package with signature required, and agree to a $35 "admin fee."
Bottom Line on TestoFuel
Roar Ambition is based out of London, England and as a new supplement company, it's often difficult to obtain a merchant account in the US and UK without a prior trading history.
However, since they've now been in business for a bit and have established a solid trading history, TestoFuel has its full operation in the UK within the next 18 months.
Next, we originally had some concerns over the plethora of affiliate reviews regarding TestoFuel, and the seeming lack of legitimate online customer reviews.
We raised this concern because, with "review" titles such as "The Best Bodybuilding Supplement" and "Low Testosterone Cure," shoppers who are uninformed about affiliate marketing practices may not understand that these reviews are often more about creating a sale than they are about legitimately weighing the pros and cons of a product.
With this said, affiliate programs are often a tried-and-true method of creating "buzz" about a new product, and—at least in this instance—may not necessarily reflect poorly on the product or the company.
Pros
Claims to increase testosterone production, boost muscle growth, reduce fat, and increase sex drive.
All-natural ingredients.
90-day money-back guarantee.
Cons
The money-back guarantee only applies to 90-day supply orders of TestoFuel, the refund process is fairly cumbersome, and you'll be subject to a $35 "admin fee."
Very few legitimate customer reviews.
15 out 21 people found this review helpful

Complete Junk

Do not use. A complete rip off and it did nothing. This is a real review by a guy who shelled out the money. Complete junk so do not waste your money.

Bottom Line: No, I would not recommend this to a friend

---

19 out 20 people found this review helpful

Doesn't seem to have any real benefits

By Les

,

Singapore

,

Nov 24, 2014

It was strange that I could only find positive feedback about this product. Anyways, I thought I give it a try and bought 4 packs, completed them and bought another 3 packs and completed 1 more so 5 packs in total. Well, it didn't give me any noticeable improvements in strength, lean muscle mass or libido. In fact, I felt more tired. Anyway, have been off it for a month, and never felt better. My conclusion, it doesn't work and is probably a placebo.

Bottom Line: No, I would not recommend this to a friend

---

Advertisement

---

21 out 25 people found this review helpful

Don't waste your money

By Michael

,

Cardiff

,

Feb 24, 2015
Verified Reviewer

I've been taken these for 2 months and they have had no effect at all, quite the opposite if anything. I feel tired and my sex drive has decreased.

My advice would be not to waste your money.

Bottom Line: No, I would not recommend this to a friend

---

34 out 37 people found this review helpful

Total, full brown scam.

By Mike Sutorius

,

Salt Lake City, UT

,

Aug 21, 2015

Don't buy TestoFuel because it's a scam and their money back guarantee is ridiculous.

I bought TestoFuel in April, took it religiously and worked out like a mad man. I saw absolutely ZERO results. When I asked for a refund I got a 2 month run around. I was intentionally given bad information by their "customer service" people so that they wouldn't have to give a refund on a technicality. I shipped back the unused portion (about $15 to ship it back using a method that required a signature, their requirement). At the point, for the first time, I was told that I needed to also send the empty bottles of the product that I had used. NO ONE had indicated that I needed to save the empty packaging. Fortunately, I had kept them. I sent them a picture of the empty bottles and the date, but they insisted that I actually send them back. This cost me another $15 and a couple of more weeks.

Ultimately, after exchanging over 20 emails, 2 shipments, over a month of dealing with them, and threatening to dispute the charge with VISA, they gave me a credit but they withheld $35 processing and $15 for THEIR shipping and I spent $30 on my own shipping costs. Basically, I still paid $80 for a pile of garbage.

It is a scam. They offer free product to people who will give them testimonials, so they have few positive ones out there. I do not believe the product works, and I KNOW that TestoFuel just wants your money. Spend your hard earned cash elsewhere.

Bottom Line: No, I would not recommend this to a friend

---

Advertisement

---

12 out 17 people found this review helpful

Zero Effect

I wouldn't recommend this product at all. First I waited weeks before I got the delivery, there were issues with the delivery company as well. But the main problem is that this product didn't actually work. Even cheaper testosterone boosters are working better than this. ZERO effect, nothing was working.

Bottom Line: No, I would not recommend this to a friend

---

13 out 16 people found this review helpful

Terrible company and product

By Nathan Hays

,

Florida

,

Jun 29, 2016
Verified Reviewer

Do not purchase this product. I purchased the 4 bottle pack and took it for 6 weeks. I lift 5 days a week and am very careful about my diet and water intake but I had splitting headaches every day, from the first day to the last, that I took this product. The day I stopped taking it was the day the headaches stopped. I wasn't worried though because they have an "iron clad guarantee" right? Not so much. When I contacted customer service I was told that the guarantee was for people who bought 90 days worth and had used it for 90 days. Because it gave me migraine headaches for 6 weeks I was not able to receive the refund. They did agree to refund the unused portion minus a $35 "processing fee" as well as shipping costs. So after it was all said and done I would have gotten about 25% of my money back. I saw no noticeable positive effects from this product, only headaches. Their "guarantee" is worthless. Save your money and buy some creatine and quality protein and you will be much better off.

Bottom Line: No, I would not recommend this to a friend

---

18 out 21 people found this review helpful

Doesn't work. Have blood-work to prove it.

By John Smith

,

Leesburg, VA

,

Aug 22, 2016
Verified Reviewer

I used this for 4 months. I had blood-work done to see my test levels before I started and retested after the 4 month period.

Natural males under 40 test levels are between 348-1197 ng/dL. I was 380 ng/dL when I started.

After 4 months and wasting $200 I am 383 ng/dL. You can get this much of a difference by eating strawberries and shrimp. Do not waste your money on this product.

Bottom Line: No, I would not recommend this to a friend

---

10 out 14 people found this review helpful

Not for me...

By BTK

,

Lynchburg, VA

,

Aug 26, 2016
Verified Reviewer

Not only did it give me headaches but also bad stomach pain. Not sure what causes that, but it happened with me with bad diarrhea. May work for some, but not me.

Bottom Line: No, I would not recommend this to a friend

---

12 out 17 people found this review helpful

Did not work for me.

By David Nelson

,

Northern Ireland

,

Sep 12, 2016
Verified Reviewer

I am a sixty year old male and have used TestoFuel for four months.

I was very disappointed with this product it had no effect on me whatsoever never got any buzz or lost any fat.

I train regularly in my local gym with weights and there was no improvement their either.

I read a lot of reviews on the internet which convinced me that this was brilliant and after using it for four months I can honestly give my honest opinion that it was a waste of my hard earned cash.

Some reviewers said that it helped to improve their sex life well for a sixty year old male it had no effect at all and at my age you are always hoping that you can find something that will help in that department.

Bottom Line: No, I would not recommend this to a friend

---

9 out 17 people found this review helpful

Save your money.

By Dan Emerson

,

California

,

Sep 29, 2016
Verified Reviewer

The product is a scam. Does not work.

Bottom Line: No, I would not recommend this to a friend

---

12 out 15 people found this review helpful

Did not work for me

By JP

,

Canada

,

May 8, 2017
Verified Reviewer

I bought this product, and after three weeks, I had to stop taking it. I had headaches and felt really moody; close to feeling depressed. I was also really tired. I stop everything, and after 5-6 days, all came back to normal. I was me again.

It just did not work for me.

Bottom Line: No, I would not recommend this to a friend

---