ActivatedYou Advanced Restorative Probiotic Reviews
Claimed This company has claimed this profile, is getting alerted on any new customer reviews entering this page, and may engage in dialogue with its customers to address their matters.

Companies cannot pay money or provide goods in order to remove or alter customer reviews.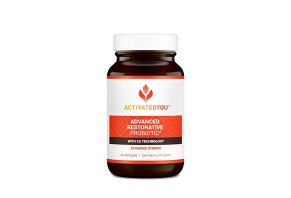 Advanced Restorative Probiotic contains 30 different strains and 30 billion CFU of beneficial bacteria that allegedly improve digestion and overall health. Learn how customers are rating this product.
---
This company is actively collecting reviews from its customers. All reviews submitted are subject to moderation and approval to ensure they meet our

Review Guidelines

.

Became extremely sick

By Ellany K.

,

Seattle, WA

,

Jan 15, 2020
Verified Reviewer

Overall Experience:

Immediately after consuming the 8 oz Morning Complete, I became extremely sick. My body went into extreme convulsions, extreme perspiration, extreme pain in my bowels, stomach, nauseous, and ran to the bathroom 4 times in 2 hours. I could not find any laying, sitting, or walking activities in order to alleviate the extreme pain that I was in. I thought that I was going to die and nearly called 911 a couple of times. I've never had such a severe reaction to something that is supposed to be good for my body. I was hoping that this product would be helpful and it is not. I need to return for a FULL refund, along with shipping costs.

Bottom Line: No, I would not recommend this to a friend

Jan 16, 2020

Hi Ellany, my name is Chloe with ActivatedYou. I am so sorry to read that this was your experience with Morning Complete and hope that you are feeling better now. We always ask that you consult your physician prior to consuming any new products to ensure that it is right for you and that there are no interactions or reactions to the ingredients. I'm very sorry that you had to go through this experience and we send our deepest apologies as we would never intend for this to be our customer's experience. We take your feedback very seriously so I have relayed your experience to our customer service team. They will be in contact with you shortly. Please feel free to email me at chloe@activatedyou.com and we can further discuss your experience and I can provide you with a full refund.

---

Works for me

By Stefanie D.

,

West Virginia

,

Oct 6, 2019
Verified Reviewer

Overall Experience:

I've been taking ActivatedYou for a few months now. I was introduced to it by my dad who said great things about it. I don't go to the bathroom but maybe 2 or 3 times a month, so I figured I'd give it a try. After about 3 days I finally went! I tried ex-lax before and couldn't take it because it gave me TERRIBLE cramps and stomach pains. So I was scared this was going to do the same thing. To my very wonderful surprise, I had ZERO cramps or pains! My chronic bloating has significantly decreased and I use the bathroom at least once a day now. At the least, every other day. The price is pretty up there, so I don't know if I will be able to continue it very long but it definitely works.

Bottom Line: Yes, I would recommend this to a friend

---

Advertisement

---

Great purchase

By Pei T.

,

California

,

Aug 22, 2019
Verified Reviewer

Overall Experience:

I started taking Activated You probiotics October 2017 (so, almost 2 years ago). I have taken other brands before, mostly Jarrow. I found very quickly after taking ActivatedYou Probiotics that I no longer felt exhausted. I might not have felt highly energetic, but the absence of the "deep bone exhaustion" was noticeable.

I was also suffering from alopecia and there was this year-old patch on my left palm that was getting bigger. It would itch, grow bumps, ooze out liquid, crust over, and start again.

After weeks of being on ActivatedYou's probiotics, my hair started growing back and the itchy patch on my palm started to shrink. Simultaneously, I was prescribed ever stronger steroids and Cortizone by my Western doctor, which I was also taking. So whether it was purely the Western medication, or AY's probiotics, or BOTH, I cannot say.

But Western medication of steroids and Cortizone would not affect one's daily constitution (or as Maggie Q would say, "poop"), and I can definitely say that regularity is not a problem after taking AY probiotics.

I've never had bloating or painful gas...unfortunate that so many people have experienced this.

Bottom Line: Yes, I would recommend this to a friend

---

AVOID THIS LIKE A PLAGUE!

By Viktoriya G.

,

Catoosa, OK

,

Aug 17, 2019
Verified Reviewer

Overall Experience:

Do NOT under any circumstances order any product from this company, unless you want to end up at the Emergency Room like I did!

Seeing Maggie Q promote it made me want to try it, so I ordered a 3-month supply to get "healthier." As soon as I added their product to my morning routine, I experienced unusual bloating and stomach discomfort that wouldn't go away. The discomfort would progress into stomach pain and an overall feeling of weakness and aching. I figured that it was due to my body adjusting to a healthier diet and hoped that it would go away over time. Instead, it kept getting worse. After approximately one month, I started to run a fever and felt an overwhelming weakness and body ache. Even supporting my back while sitting up felt like an impossible task.

My husband took me to the Urgent Care where they did an abdomen x-ray, kidney test, strep and flu tests, and lab work to check my blood in great detail. When they received the results, my lipase test made the doctor immediately send me to the Emergency Room. My pancreatic enzyme count was twice the highest limit of the healthy range, which was causing me to run a fever and experience painful bloating, weakness, muscle aches, and shaking. After I was released from the Emergency Room, I had to be on a bland food only diet for a while to regulate my pancreatic enzyme count and avoid an infection.

I called ActivatedYou the following day and explained the situation. They immediately issued a full refund. After that, I received a bill from the Emergency Room and the radiology department. I called three times since then over a period of 7-10 days and keep getting promises that I will get a call back from the customer satisfaction department. During my first call, I was promised a callback within one hour. That didn't happen, so I called back five hours later and was told that the time was misquoted to me and that the callback time usually ranges between 24 and 48 hours. They mentioned that they would escalate the issue to make sure that I got contacted sooner.

A week goes by, and I call back again yesterday, August 12th. I get told that they sent me a customer satisfaction survey via email and that they wouldn't call me until I filled it out. I said that it looked like a typical survey that you receive after a call and that I refrained from filling it out since my issue wasn't resolved. They said that since it's taken so long to resolve this, they would further escalate the issue and that I would get a call from them by the end of the day. It's been over 24 hours, and I have yet to hear back from them. I even filled out their email survey, along with one other survey they sent me after the phone call. This company does NOT care about you or your health! Their product will land you at the Emergency Room, and they will still never call you back, but will LIE time and time again about returning your call! AVOID these scammers at all costs! They are only out to get your money, and they do NOT stand behind their harmful product! Do not fall for their false advertisement and become their lab rats! They are putting their customers' health at risk!

Bottom Line: No, I would not recommend this to a friend

Aug 20, 2019

Viktoriya, I want to sincerely apologize for your experience. These side effects are not typical and I have relayed your case to our Product Development and Customer Relations teams. We will work to ensure that this never happens again. I have personally looked into your account and have requested our Customer Relations team reach out to you. Please expect to be contacted within 1-2 business days, but in the meanwhile, if you have any outstanding issues or concerns, please email me at chloe@activatedyou.com and I'd be more than happy to assist you.

---

Not effective

By Jenny D.

,

Orinda, CA

,

Jun 17, 2019
Verified Reviewer

Overall Experience:

I ordered 3 months worth of ActivatedYou based on reviews on this very site. I did not have any positive benefits. Instead of flattening my belly, it bloated me for the entire 3 months. I had a stomach bigger than it had ever been. I gave them this negative feedback but never heard anything back from them.

Don't get sucked into this scam. And this is a SCAM. I have a suspicion they are paying this site only to publish good ratings. This was a huge waste of money. I should have known when a fluffy actress claims to know so much about the working of a human body. She's probably only good for ACTING. Bad on me for falling for this scam!

Bottom Line: No, I would not recommend this to a friend

Jun 18, 2019

Jenny, I'm very sorry to hear that this was your experience! I understand your frustration. As always, we ask our customers to consult their physician to ensure that our products are the right fit for them. I want to apologize you never heard back from our customer service team; please email me directly at chloe@activatedyou.com and I'd be more than happy to look into your account and issue you a full refund.

I want to note that to do not pay this site, or any other site, to publish positive reviews. That would be highly unethical.

---

Horrible

By Patricia M.

,

Fairfax, VA

,

May 17, 2019
Verified Reviewer

Overall Experience:

This product did the total opposite of its promise. For the days I drank it I felt bloated, painfully gassy (as in cramps pain), and constipated. The day I missed it, nothing of that. Trashed it as soon as I got home. Do not waste your money. There are way better probiotics out there.

Bottom Line: No, I would not recommend this to a friend

May 20, 2019

Patricia, I'm very sorry to hear that this was your experience. It sounds like you might be experiencing "Die Off" symptoms. This often occurs when probiotics are introduced to the gut and begin killing off the bad bacteria. As always, we ask that you consult your primary care physician prior to trying a new product to ensure that you do not experience any interactions while taking them. Because everybody is different, we do understand that our products may work well for some and not others. If you would like to return the product, I can begin the refund process for you right away! Please email me at chloe@activatedyou.com.

---

Two weeks in!

By Jenna S.

,

Florida

,

May 9, 2019
Verified Reviewer

Overall Experience:

Life changing! Everything I hoped it would be! I was skeptical because I've tried so many supplements that promise the same results. I finally feel like my gut is in check, which is something I've never said before. Thanks actress lady!

Bottom Line: Yes, I would recommend this to a friend

---

Advertisement

---

On the fence

By Jason L.

,

New Jersey

,

Mar 20, 2019
Verified Reviewer

Overall Experience:

While I've only been on this product a little over a week, I'm very concerned. While I do feel like I have increased energy, but I've not only been eliminating a lot less but have been struggling to do so. Not only that, but it would seem that my weight has actually gone up about six pounds since I've started using it, and that with me going to the gym now in the morning as well. I'm on the fence right now because so far the good seems to outweigh the bad. Not to mention the taste of it is horrible. Granted I'm only taking it with water, but I pretty much chug it as fast as I can each morning just to get it over with. My wife agrees with me that the taste is putrid. She has to mix it with iced tea to even be able to take it at all.

The constipation is my major concern though. I would regularly go some times up to 4 times a day...Now I'm lucky if I can even go once. I'm going to give it another week to be fair and see if maybe my system just needs to adjust, but if I don't begin to normalize soon and begin to lose all the weight I just put on, I'm getting my money back.

Bottom Line: No, I would not recommend this to a friend

Mar 20, 2019

Hi Jason, I'm Chloe from ActivatedYou. Thank you so much for your honest review of your experience with Morning Complete. I'm so sorry to hear about what you are experiencing. Because Morning Complete contains Probiotics, there is a chance that you are experiencing die-off symptoms. Sometimes die-off symptoms can last a few weeks. Regarding the taste, many of our customers enjoy putting Morning Complete into their favorite smoothie. This would be a great way to mask the taste if you aren't a fan of it! If you find that you are still unable to take Morning Complete, I can issue you a full refund right away. Just e-mail me at Chloe@ActivatedYou.com and I can complete the refund process right away. I do look forward to hearing about your progress as time goes on. Please feel free to reach out, I'm only an e-mail away!

---

NO RESULTS

By Valeria C.

,

San Francisco, CA

,

Mar 17, 2019
Verified Reviewer

Overall Experience:

I've been taking it for a 1 and 1/2 months religiously and did not notice any difference. I also have reached out to customer service with feedback twice and have not heard back at all. I'm super disappointed and starting to believe that this product and brand are not serious.

Bottom Line: No, I would not recommend this to a friend

Mar 18, 2019

Hi Valeria, I'm Chloe from ActivatedYou. I'm so sorry to hear that you did not experience the results you had expected while using the Advanced Restorative Probiotic. I did want to let you know that we typically recommend that our customers take it consistently for at least 3 months to experience results. But if you would like to discontinue taking it, I can issue you a full refund right away. Just e-mail me at Chloe@ActivatedYou.com and I can begin the refund process. Again, I am so sorry for the frustrating experience you had but I look forward to taking care of this for you.

---

Advanced Restorative Probiotic

By Batbara M.

,

Colorado Springs, CO

,

Mar 17, 2019
Verified Reviewer

Overall Experience:

I am the worlds biggest skeptic! I ordered this and am now very disappointed I didn't order more at the time. I've been taking this probiotic for four days and I'm a believer! The first day I became a little bloated, but I just attributed that to the attack on my bad gut bacteria. My craving for sweets is gone! I seem to get full much faster. I'm on WW freestyle and ARP is helping my journey. I'll be reordering! Thank you!

Bottom Line: Yes, I would recommend this to a friend

---

Charged me 7 times the amount

By Kelsey J.

,

Long Island, NY

,

Mar 1, 2019
Verified Reviewer

Overall Experience:

I ordered ONE bag of ActivatedYou. I was charged three times for the one bag. Then they charged me $90 for an unknown reason. They also made it look like in the check out that I wasn't getting bonus merch added to the total but I was actually being charged separately $98 and another $46. Customer service was a complete joke. Had me on hold for 20 minutes to speak to a manager who was a douche. Would NEVER EVER buy from here again. They never offered me any consolation. Got my credit card turned off as well from the $400 of pending charges I didn't authorize. HORRIBLE! Definitely telling anyone I can to never buy here again!

Bottom Line: No, I would not recommend this to a friend

Mar 4, 2019

Hi Kelsey, I'm Chloe from ActivatedYou. I am so sorry about the frustrating experience you had while checking out on our site. It sounds like you accidentally purchased a few extra orders at check out. I'm so sorry that this was not clear. I would like to issue you a full refund right away. Please e-mail me directly at Chloe@ActivatedYou.com and I will begin the refund process. I would also like to get a few more details from you regarding your customer service experience to ensure that this never happens again. On behalf of everyone at ActivatedYou, I'm so sorry about this frustrating experience but I look forward to hearing from you and making this right.

---

A miracle for me

By Joy S.

,

South Carolina

,

Feb 14, 2019
Verified Reviewer

Overall Experience:

I have Crohn's disease. I have been suffering with it for the past 15 years. I either would be impacted for days or diarrhea for days at a time. I was on three meds and an injection for the impaction times and three different meds for diarrhea. In four weeks I haven't had to take any of these meds and I'm thanking God so much for this product. As long as it keeps helping me; I will always take it. My gastroenterologist is now recommending it to his other patients like me. Thank you so much. You've helped change my life in the best way!

Bottom Line: Yes, I would recommend this to a friend

---

Advertisement

---

Did not work for me

By Julie B.

,

Michigan

,

Jan 4, 2019
Verified Reviewer

Overall Experience:

I love the idea behind this product and the ingredients and spokesmodel/actress. I gave it about six days. The first day, no problem, the remainder days lots of gas within two hours after drinking first thing in the morning. This lasted throughout the day.

Sorry no go, but again, love the idea. After experience throughout the years, not all probiotics work for everyone, it's trial and error and everyone's needs are different.

Bottom Line: No, I would not recommend this to a friend

Jan 7, 2019

Hi Julie, I'm Chloe from ActivatedYou. Thank you for taking the time to leave us a review about your experience with the Advanced Restorative Probiotic. I'm so sorry to hear that you did not experience the results you had expected, but as you mentioned not all probiotics work for everyone! I would like to issue you a full refund. Just e-mail me at Chloe@ActivatedYou.com and I can begin the refund process right away!

---

Fantastic product

By Susan W.

,

Kansas

,

Dec 31, 2018
Verified Reviewer

Overall Experience:

I'm so pleased with this probiotic. I do not have the tummy issues I was having and my system is finally regular. I have always had problems with being irregular and this is the first product that has helped Well worth the money I invested in restorative probiotic for my health, thank you!

I started feeling the difference within one week of taking Advanced Restorative Probiotic. My stomach was not bloated and I began to easily lose weight. I have more energy and feel lighter. I seem to have stabilized now but have lost 10 lbs with the first bottle. I know it's not a weight loss product, but this was a side effect from taking it I experienced.

Bottom Line: Yes, I would recommend this to a friend

---

One month in

By William M.

,

Georgia

,

Dec 28, 2018
Verified Reviewer

Overall Experience:

The product has been exactly what I was looking for, my core is feeling less bloated and it (thorax) seems to be trimming down, although I realize I need to exercise, energy is improving.

Bottom Line: Yes, I would recommend this to a friend

---

Getting to know you

By Kevin P.

,

Portland, OR

,

Dec 13, 2018
Verified Reviewer

Overall Experience:

Just about finished with my first bottle of probiotic. Seems to really be supporting my digestive health. I've had digestive issues for many years and have been looking for a good product. It appears to have stabilized these issues. I have already purchased bottles 2-4.

Bottom Line: Yes, I would recommend this to a friend

---

No difference so far

By Stephanie S.

,

West Linn, OR

,

Dec 11, 2018
Verified Reviewer

Overall Experience:

I've been taking it now for one month. I haven't seen or felt any different so far. I'm going to try it for another month to see. I actually feel more bloated and gassy since being on it. I really hoped it would have helped my bloat. I'm on the thinner side, so I look like I have a baby bump.

Bottom Line: No, I would not recommend this to a friend

---

Advertisement

---

This probiotic works

By John H.

,

Dallas, TX

,

Dec 10, 2018
Verified Reviewer

Overall Experience:

I have IBS-D and this is the only probiotic that worked for me, and I tried a lot of different products.

Now I have less frequent diarrhea episodes thanks to Advanced Restorative Probiotic.

Bottom Line: Yes, I would recommend this to a friend

---

Saved!

By Janice P.

,

Daly City, CA

,

Dec 9, 2018
Verified Reviewer

Overall Experience:

This product has helped me A LOT! I used to have stomach problems frequently. I even visited my doctor for some answers, and that did not help. I was fortunate to have found ActivatedYou Restorative Probiotic. My bad stomach cramps and backaches no longer happen. I love this product and it really does work!

Bottom Line: Yes, I would recommend this to a friend

---

Definitely not for me

By Taylor S.

,

Los Angeles, CA

,

Dec 7, 2018
Verified Reviewer

Overall Experience:

I experienced many side effects a few days into taking this probiotic. I had very severe bloating, stomach pains, nausea, diarrhea, and aches. I stopped taking the probiotic after about a week, and the pains continued for another week. It has been a few weeks since I've taken it, and I haven't experienced any more pain. I took this to help with digestion and gas pains, but it just made it much worse. I've never experienced long-term pains like this before. I will not be taking this as it is not for me.

Bottom Line: No, I would not recommend this to a friend

Dec 10, 2018

Hi Taylor! I'm Chloe from ActivatedYou. I'm so sorry to hear that you had this reaction while trying our Advanced Restorative Probiotic. As with all products, we do understand that they may work well for some and not for others. But as you can see from the hundreds of positive reviews on this page, many of our customers see the many benefits of taking the Advanced Restorative Probiotic. It does sound like you may have been experiencing "die-off" symptoms. This occurs when you introduce probiotics into your body. Of course, we do understand that our Advanced Restorative Probiotic may not work well for everyone, which is why we wholeheartedly stand by our 90-day money back guarantee. Please email me at Chloe@ActivatedYou.com and I can issue you a full refund right away! I look forward to hearing from you and making this right.

---

This is my experience of ActivatedYou

By Gloria M.

,

California

,

Nov 14, 2018
Verified Reviewer

Overall Experience:

I have been taking this for about two months, and these are the things I am noticing. Other products I have used caused me to have "the runs." Within a few days of taking ActiviatedYou, my bowel habits normalized. I do not have the episodes of painful gas symptoms any longer than I had been experiencing. I feel more alert and am not as tired as I was before starting this product. I am encouraged and will continue taking ActivatedYou because of the changes I have experienced.

Bottom Line: Yes, I would recommend this to a friend

---

Me activated

By Kendra C.

,

Kevil, KY

,

Nov 9, 2018
Verified Reviewer

Overall Experience:

For the first time in years, I feel like my body is working the way it should. The ActivatedYou Probiotic and Digestive Enzymes are doing what none of the many other probiotics I tried could do.

Bottom Line: Yes, I would recommend this to a friend

---

Advertisement

---

So far so good!

By Rhonda C.

,

Harrisonville, MO

,

Nov 8, 2018
Verified Reviewer

Overall Experience:

After years of bladder issues and untold amounts of antibiotics, my gut had taken quite a hit causing digestive issues, bloating, weight gain, skin problems, lack of sleep, etc.

I have been using ActivatedYou for one month, and I see a marked decrease in belly bloating and more consistent BMs.

I know that it can take time for a body to rebalance, but I am happy with what I am seeing so far and have hopes for continued improvement over the coming months.

Bottom Line: Yes, I would recommend this to a friend

---

Awesome product.

By Brion J.

,

Lynnwood, WA

,

Oct 29, 2018
Verified Reviewer

Overall Experience:

Great product. I notice a difference from day one.

Customer service needs work though. I had to call 3 different times to get an issue resolved. But the product works great! I have been on a regular cycle and am feeling awesome!

Bottom Line: Yes, I would recommend this to a friend

---

Life changing!

By Elizabeth H.

,

North Carolina

,

Oct 26, 2018
Verified Reviewer

Overall Experience:

I'm enjoying the probiotic so much. This is my second month, and it's been life changing for my problems. I would definitely recommend this to anyone who has problems with gastrointestinal issues. The other thing that's so nice is that once you've ordered, it comes quickly. The emails are helpful as well.

Bottom Line: Yes, I would recommend this to a friend

---

I think it's helping

By Bobi E.

,

Henderson, NV

,

Oct 12, 2018
Verified Reviewer

Overall Experience:

Well, I started taking this probiotic about a month ago.

I'm on lots of medication and started having some digestive issues. I think it's helping, and really helping my cravings.

So, hopefully, the more days on it, the better I'll feel.

Bottom Line: Yes, I would recommend this to a friend

---

The best I've ever used

By Andrew B.

,

Chicago, IL

,

Oct 7, 2018
Verified Reviewer

Overall Experience:

I feel all around healthier since taking the probiotics. Definitely worth the money.

So it's made my bowels more regular. I've lost some weight.

My overall well being has improved. I take it every day with a bowl of oatmeal for breakfast.

It's great.

Bottom Line: Yes, I would recommend this to a friend

---