ASEA Redox Supplement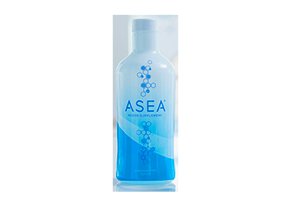 ASEA Redox Supplement promises to help your cells communicate better, resulting in improved energy and optimized health, regardless of your age or genetics.
ASEA Redox Supplement Review: Benefits, Clinical Studies, Cost, and More
ASEA Redox Supplement contains stabilized active redox signaling molecules that, when consumed, promise to enhance cellular function and positively affect health in every system of the body.
Did that make you go cross-eyed?
In a nutshell, ASEA tells us that by drinking at least four ounces of Redox per day, the molecules suspended in the liquid will help improve the way your cells interact with their environment. It could also help protect, rejuvenate, and restore them.
As a result, you might experience improved energy generation and increased antioxidant levels, while empowering you to achieve your optimum health potential—regardless of your body's vulnerability, age, gender, or genetic disposition.
To date, ASEA claims that the patented Redox Supplement has been used by hundreds of thousands of people around the world to help improve their cellular health from the inside out.
The ASEA website is undoubtedly correct when stating, "The health of every system in the body begins at the cellular level."
But based on their extraordinary claims about the Redox Supplement, we're left with three main questions:
Are redox signals as important as the ASEA website makes them seem?
Is it possible to boost redox signals through supplementation?
And if so, will this redox boost result in meaningful, real-world benefits?
Let's discuss what we learned during our research.
What Is Redox Signaling?
Cells don't have sensory organs like humans. Instead, they use a complex biochemical system to perceive and respond to their environment—the process by which this occurs is known as cell signaling.
Cell signaling itself is highly dependent on something called reactive oxygen species (ROS), a chemical species created as a byproduct of the normal metabolism of oxygen (the loss, or reduction, of electrons).
In fact, ROS is even created when mitochondria (known as the cell's powerhouses) produce energy.
If any of this sounds familiar, it's because ROS is a type of free radical, a substance known to damage DNA, RNA, and proteins. In turn, this leads to things like inflammation, aging, cell death, and increased risk of cancer.
To sum all of this up, the term 'redox signaling' simply references the process whereby cells use free radicals as chemical signals (or messengers), both internally and externally.
So, will you be drinking some tasty free radicals with your Redox beverage? Let's take a look.
Can the Ingredients In ASEA Redox Supplement Improve Cell Signaling?
Each bottle of ASEA Redox Supplement contains 190 milligrams of chloride (6% daily value) and 123 milligrams of sodium (7% daily value). In other words, it's salt water.
But not just any salt water. Instead, ASEA claims:
"It starts as ultrapure water and salt that then undergoes a complex multi-step electrochemical process over three days. Complex chemistry and physics are involved in the production process, with tightly controlled quality assurance and production parameters and neutral pH (7.35). The finished product contains a perfectly balanced, safe, stable mixture of redox signaling molecules such as those natively produced by the mitochondria inside all cells in your body."
There's certainly a lot of information in that paragraph, but it doesn't move us any closer to understanding how ASEA's formulation is any different than regular salt water—or proving that its "complex multi-step electrochemical process" will improve cell signaling.
And perhaps most importantly, ASEA links to very little evidence indicating that this improved cell signaling (if it occurs at all) results in meaningful benefits to the body. Let's carry this thought over to the next section.
Is There Clinical Evidence Supporting ASEA's Redox Supplement Claims?
On the Research page of their website, ASEA references six different studies.
A Pacific Northwest National Laboratory (PNNL) study showing that exposure to Redox Supplement caused in vitro cells to increase antioxidant release for a period of about 120 minutes.
Another study completed by Pacific Northwest National Laboratory showed that orally administered Redox Supplement caused no toxic response or inflammation to tissue. In other words, it was confirmed nontoxic.
A study conducted by Dr. David C. Nieman at the North Carolina Research Campus Human Performance Laboratory involving 106 overweight women who consumed 4oz of Redox per day for a period of 12 weeks.
There, LDL and serum cholesterol were reduced by 6.3% in those given Redox Supplement versus placebo.
There were a handful of other studies (no organization or authorship information were shown) listed on the ASEA website indicating that the Redox Supplement:
Increased the nuclear translocation of the NRF2 transcription factor in the cells over a short-lived period of 30 – 60 minutes
Helped inhibit the proliferation of certain markers harmful to cell viability and health
Reduced the death of cells that were stressed with cytokines (cachexin), radiation, and serum starvation
During our research, we also encountered a study completed at the University of North Carolina in June 2013, although no results were listed.
As far as we can tell, not only are these studies not publically available (so you can read through them yourself), they don't appear to have been peer-reviewed, so there's no way for everyday consumers to understand if they hold any significance.
Even then, if we were to sweep away these major concerns and take the results of these studies at face value, only one (the Dr. Nieman study showing reduced cholesterol in obese women) reflects any real-world benefits.
But will it cause any harm?
Will ASEA Redox Cause Any Side Effects?
Since Redox Supplement only contains water and 123 milligrams of sodium, which is about 7% of the upper safe limit as designated by the FDA, authoritative websites indicate that side effects other than mild digestive upset would be rare.
The ASEA website also notes that Redox contains a trace amount of chlorine as a result of the chloride, although they note, "it exists in low doses and causes none of the irritation that chlorine can cause in higher concentrations."
How Much Does ASEA's Redox Supplement Cost? What's the Per-Serving Price?
ASEA Redox is priced as follows:
2 Bottles (32oz each): $75
1 Case (4 32oz bottles): $150
1 Athletic Case (16 8oz pouches): $160
You can also purchase a single bottle of Redox through ASEA's Amazon store for $38.29 each.
At 4oz per serving, this means each bottle of Redox will last approximately eight servings, which is about $4.69 per serving. If you plan on using Redox daily (as recommended by ASEA), then you've just added around $143 to your monthly expenses.
All ASEA products, including Redox Supplement, come with a 30-day money back guarantee. Note: According to their FAQ, this only applies to all Preferred Customers, Retail Customers, and Associates on their initial enrollment order.
To request a refund, ASEA customer support can be reached at 888-438-5971 or support@ASEAglobal.com.
The ASEA Opportunity
ASEA tells us that more than 70% of people who start their businesses list being their own boss as a common top reason for doing it.
As a result, they've made all of their products available through a multi-level marketing platform where Associates can sign up for monthly automatic shipments, sell them at a markup, and pocket the profit.
Associates can also earn commissions for sales made by other Associates who sign up underneath them, which is known as downline marketing.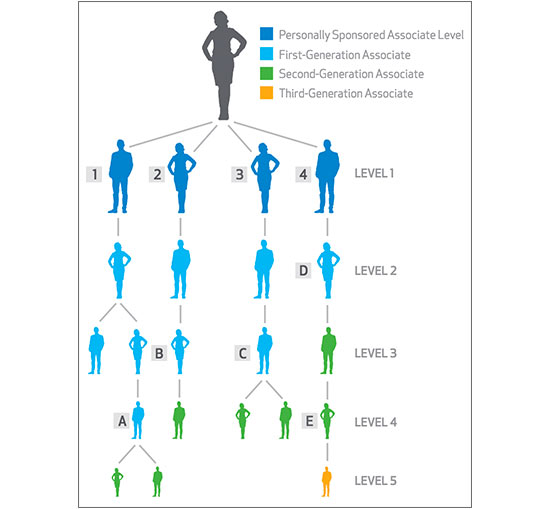 ASEA, like most MLM opportunities, allows Associates to earn commissions on sales made by first, second, and third-generation associates under them. Image credit: ASEA
Compared to other multi-level marketing companies, ASEA tells us that their Associate retention rate (the number of independent reps who stick with their business) is more than triple the 15–20% industry average.
Additionally, ASEA's Business Coach promises to provide helpful resources for starting your business, including marketing and personal growth.
Are MLM Opportunities a Good Idea?
As we often state, we're here to provide you with the information—not to tell you what to do with your hard-earned money.
However, we've written in-depth articles about some of the most popular players in the MLM industry and even penned Do Multi-Level Marketing Companies Differ From Pyramid Schemes?
Based on this research, as well as reading hundreds of reviews from MLM company associates, we've learned that the vast majority of people who enter this business lose money.
According to the Federal Trade Commission, more than 99% end up in the red, while the Consumer Awareness Institute puts the number closer to 99.99%.
Even Chris, who we interviewed for our article above and who reached some of the top tiers in his business, learned that he lost about $12,000 over the course of two years.
What's the point? ASEA may have a much better retention rate than the competition (we didn't verify this statement), but this still doesn't mean you'll necessarily be more profitable than with many of the other MLM opportunities out there.
Before doing anything, take the time to read through ASEA's full Compensation Plan and make sure any questions you have are answered in advance.
Whether as a consumer or as an Associate, what's everyone saying about the Redox Supplement?
Customer Reviews: What's the Feedback for ASEA's Redox Supplement?
On Amazon, Redox had more than 110 customer reviews at the time of our research with an average rating of 3.4 stars. There, most compliments referenced improved health (increased energy, better-looking skin, reduced pain) and quick shipping.
Like the majority of nutritional supplements, the most common customer complaints about Redox were no results, along with a high price. Several customers even noted a lack of results after consuming multiple bottles.
Like us, Science-Based Medicine wondered exactly what ASEA's chemical process does to water that makes it nearly $2.40 per ounce, concluding, "ASEA is salt water. You can make your own salt water at home for much less than a dollar an ounce."
As a company, ASEA, LLC was founded by Verdis Norton in 2010 and is based out of Salt Lake City, UT.
They had an A+ Better Business Bureau rating with four closed complaints (as of 1/6/16). Only one of these were available, which referenced a salesperson falsely claiming that ASEA can treat cancer.
Our Bottom Line About ASEA's Redox Supplement
Is Redox a combination of salt and water? Yes. And at nearly $2.40 per ounce and $4.69 per serving, most of us would probably consider it a high-priced liquid supplement.
But if you're buying a yacht, an elite sports car, a private plane, or any other luxury item, you're probably not concerned about price. Instead, you're focused on the value that the product can potentially deliver.
To this extent, will the "complex multi-step electrochemical process" ASEA applies to their salt water result in improved cellular signaling? And if so, will this improvement result in any real-world benefits—ones that make the supplement's high price worthwhile?
If it were our money, we don't think ASEA provides enough information about 1) how their manufacturing process makes Redox different than regular salt water, 2) publically accessible, peer-reviewed clinical trials indicating that Redox can cause biological changes in humans, or 3) that these changes (if any) will result in noticeable benefits.
Causing intense skin pain

By Carla Ray

,

Georgia

,

May 24, 2017
Verified Reviewer

I started taking ASEA one month ago. After one week I started noticing hypersensitivity on my hands. Any light brush or bump left me with an intense burning pain. I didn't connect it with ASEA at the time but due to my schedule I stopped taking it for a couple of days, and at the same time the pain went away. Since I'd never had a pain like that, I didn't give it much thought.

Then after I started taking ASEA again, within two days, the pain came back and got worse and was very intense. I couldn't tolerate water flowing over my skin or even wind. It felt like tendrils were running over my skin when nothing was touching it. I started to think it could be connected to the ASEA and stopped taking it. It took two days, but the pain subsided and after three days was gone.

At this point, just to test it, I started taking ASEA again, and the pain came back immediately. I don't understand what could be causing the pain from the supplement or how it causes this sensation, but I'm afraid it's causing nerve damage.

The really strange thing is that I've tried for days to research any known side effects of ASEA and every search for "ASEA side effects" or "ASEA dangers" only returns ads and promotion or videos promoting the product. And the videos and articles will even be titled "ASEA side effects" and then only be about how great the product is and the side effects are the benefits.

Bottom Line: No, I would not recommend this to a friend

---

Expensive plain sea water

By Faith Pabiona

,

American Canyon, CA

,

Aug 29, 2017
Verified Reviewer

I purchased this product for my husband who has a medical disorder. After three months of trial, he concluded that he sees no benefit from it. It is just an expensive sea water. Who knows if there are molecules in the product since it is not stated on the ingredients. And you can't say fraud because you're buying what is clearly stated in the ingredients, which is just plain sea water.

Bottom Line: No, I would not recommend this to a friend

---

Advertisement

---

Buyer beware

I have had a recent eye health issue which the "medical establishment" has deemed incurable without very invasive surgery. Well, I said no thanks and went on a quest to help my body heal itself. And then came the miracle of ASEA. It tastes like chlorinated pool water, and the only positive effect it had was to help me sleep at night. Chamomile tea does the same job.

So I was on ASEA for about four months. Did I notice any improvement in my eye's health or anything else? The answer is "no."

It's a multi-level marketing scam. Take my advice. Get yourself a Vitamix, drink berry and veggie smoothies, exercise, take your vitamins, and save you money. There are vitamins and devices like the Vielight that actually do make a difference and don't rob you blind. ASEA is BS. Believe it. Get a Vitamix or any high-quality blender. Eating healthy, supplements, meditation and exercise. You don't need the $800 a month bill that ASEA supplies you with to stress you out any more than you already are. It is a scam!

Bottom Line: No, I would not recommend this to a friend

---

Everyone is different and it might not be suitable for you

By Jenny J.

,

Queensland, Australia

,

Mar 4, 2019
Verified Reviewer

I started taking ASEA in about June 2018. Was fine at first and seemed to help a little with my respiratory problems, but after a few weeks, I started to get pressure in my head with each day I took ASEA and it kept tightening like a vice.

I was down to about 4mls per days (as recommended by the ASEA consultant), and who advised to keep going. I had to stop due to the pressure in my head. I went off for approximately two months then started again, and the same thing happened. Each day I took ASEA, the vice-like grip around my head kept getting tighter until I thought it really was going to explode!

I no longer take ASEA as it doesn't seem suitable for me.

You are the only one who can say after taking ASEA if it is helping or not as it is your body and you are the only one who knows what is happening inside of it!

Bottom Line: No, I would not recommend this to a friend

---

Advertisement

---

AN ABSOLUTE SCAM!

By Peta P.

,

Queensland, Australia

,

Nov 6, 2019
Verified Reviewer

This is nothing else but a MULTILEVEL MARKETING/PYRAMID SCHEME.

I was sold this product by my optometrist. He knew my health problems and told me ASEA would regenerate my cells and realign my body for optimal health. ASEA will fix memory loss, arthritic bones, sore hips, sleep...whatever you have, ASEA is the most fantastic product, yadda, yadda, yadda!

Oh and you have to buy the rejuvenating gel that fixes your face, your hip, your feet...

Well...the liquid is saltwater! There is absolutely NOTHING else in the product but salt and water.

The small tube of gel feels like water, it has no information on the tube as to what is in it, how to use it or where to use it.

The cost is $AUD270 per month but you ABSOLUTELY HAVE TO HAVE 3 MONTHS worth of product to see any improvement.

It is an absolute disgrace that companies are allowed to market this rubbish!

Read the scientific results - this product is rubbish.

It is MULTILEVEL MARKETING and nothing more.

Bottom Line: No, I would not recommend this to a friend

---

Zero change, if not worse

By Paola Triado

,

Melbourne, Australia

,

Jul 30, 2017
Verified Reviewer

I started taking Redox about five weeks ago on the recommendation of my naturopath who I respect 100%. I was very excited about the whole thing and felt very positive. I filled out my weekly score sheet on how I was feeling when I began, and to be perfectly honest, my energy levels have fallen. I got the flu, stress levels high, and I have had two migraines in one week when I usually get possibly two a year.

The Renu gel for the face does make your face feel soft, but if you don't use it for a day or two, your skin goes back to how it felt before. I have committed to 6 months of this, but if by that time I see no improvement, I will give it the flick and feel sad that I believed in yet another one of these products.

What I'm not sure about is why they have to charge so much money for something that the company pays nothing for to start up. I mean, do they pay for their salt water to start with? I have been so open to this, and I am now VERY skeptical. It would be different if I had noticed a change.

Bottom Line: No, I would not recommend this to a friend

---

Not sure it is all it is cracked up to be

By Angela M.

,

Henrico, VA

,

Jan 9, 2019
Verified Reviewer

I started ASEA three weeks ago. I did notice a better night's sleep within a few days, but beyond that, what I noticed was increased bloating on a daily basis and progressively more joint pain and discomfort. I was using the gel daily, but to be honest I have used other less expensive gels and received the same if not better relief.

On the third week of using the ASEA liquid product I experienced light paths crossing the right eye, then the next day a crescent shadow, then vertical light paths vertically on the periphery. I did go to my Ophthalmologist that explained the vitreous gel in my eye was not liquified as it should be. Fortunately, there is no tear in the retina. I decided to muscle test myself to see if my body even would benefit from the ASEA and my body was rejecting the ASEA as a beneficial supplement. The next day I only muscle tested for 1 oz, not the 4 oz daily they recommend. They have packaged a product and marketed it similar to pharmaceutical companies. Regardless of your age, build, weight, everyone should take 4 oz or more a day. I have worked with herbal products long enough to know that there can be a detoxifying effect but when it is all consuming and debilitating, you need to back up. Although I cannot prove it, I imagine the salt content in my body effected the "liquid" state of the vitreous humor causing it to harden.

Temporary or not, it is my vision and I am not willing to risk it. I will most likely be calling to see if I can get any refund on what I have left - three unopened bottles and one tube of Renu 28 gel.

Bottom Line: No, I would not recommend this to a friend

---

I will recommend ASEA to everyone

By Vikki Valle

,

Australia

,

Apr 18, 2018
Verified Reviewer

Good day all.

I have been taking ASEA 30 ml in the morning and 30 ml in the afternoon for less than a month now and I noticed my nails are growing like crazy long and strong, and my staff complimenting me how shiny and long my hair is now.

I sleep like a baby now. I had problems with sleeping for many years previously, and I have lost 6 kgs in less than a month by eating less, but I am certain taking ASEA has given me the energy to achieve this positive result.

I also suffer from asthma, and since I started taking ASEA I am not using any of the puffers and machine anymore, and we live in a very polluted industrial city.

My sister has also started taking ASEA about six days ago, and she too notices she has the energy now and the pain in her shoulders are gone.

My brother-in-law took some and he normally cannot sleep properly, but he slept well the whole night!

I will recommend it to anyone who is suffering from any ailments.

The lady who introduced me to ASEA is a cancer survivor. She also had several cancer skins cut from her face. She was on thyroid and sleeping pills for 20 years. Since using ASEA, her doctor told her she does not need those pills anymore. She has very smooth skin now, and she looks 20 years younger!

It is not just salt water because we did a flower test by putting a fresh rose in ASEA, water, and salt water. The one in salt water wilted first, and the one in ASEA lasted the longest!

Cheers.

Bottom Line: Yes, I would recommend this to a friend

---

Thank you!

By Cindy Curci

,

Los Angeles, CA

,

May 17, 2017
Verified Reviewer

I have been taking ASEA for more than two years now, and it is an upward spiral. It is absolutely life changing, and I am amazed and deeply grateful. I have used Renu 28 since it was launched and people who haven't met me for a couple of years just stare and wonder how come I don't seem to age? Well, it's Redox Signaling Molecules. Thank you, thank you, thank you!

Bottom Line: Yes, I would recommend this to a friend

---

Amazing product

My mom is 81 years old and was diagnosed with kidney disease, and she refused to have dialysis therapy. She couldn't walk anymore; she was weak and confused. She did not recognize her own children. She would sit and stare at the wall for hours. We were very sad because her doctor said the only treatment that could save her life was dialysis, without dialysis her health will deteriorate and because of her critical condition she would die within two to six months.

My brother told me about ASEA water, and I was very skeptical about it, but we had nothing to lose by trying it. So he bought her a case. After the third bottle, we noticed a big improvement in her health. She was herself again. She talks, laughs and recognizes her family again. Her creatine levels changed dramatically.

I would recommend this product to anyone with kidney failure. We will continue to give her the ASEA water and will also continue to monitor her progress.

Bottom Line: Yes, I would recommend this to a friend

---

ASEA did help my wife and helps me to reach a good state every day

First of all, none of us is associated with ASEA, but we buy a case of bottles every month. We will see and research what it does for us first. My wife did get in the age of 56 serious problems with high blood-pressure. Three medications for that results in psoriasis on both legs and huge open wounds from the knee and all the way down. She tried every light therapy, cortisone cream for years and all kind of strong medication. The doctors say it is untreatable. With all this pain and treatment, my wife did get probably as a side-effect of all the painkillers and blood-pressure medicine, osteoarthritis in her hips three years ago. More pain killers and no cure. Perhaps an artificial hip, but it is a huge possibility to end in a wheelchair.

Then we started to research and tried first to find the cause of psoriasis and a Californian chiropractor did tell on the internet about leaky guts is the cause of psoriasis. Ok, no potatoes and no tomatoes, and no aubergines/eggplants for a while to test. It did get a little better, but still lots and lots of pain when you have your own company and not the time to be sick.

Then we come across ASEA and in February of 2016 we did make photos again, before starting drinking the normal dose, twice a day and using the ointment. After three months everything was gone! Just a little spot of dry skin is still on her left foot today. Eating tomato and potatoes, the skin is burning from the inside, and after two days it is normal again. But an incurable decease just did disappear, is more than fantastic to me. It was not ASEA alone. It has to do with the food and leaky guts. But ASEA and ASEA ointment did help to get her soft and new skin back, completely repaired after so many years with open wounds.

We have documented it and you can make your own tests on patient with psoriasis.

But how about osteoarthritis? No, it did not help yet. So we did research and came across a German professor, who did help people with arthritis during his lifetime and got them all well. He did find out, that the cause of arthritis is clearly far too much animal protein in our food. So our arteries and veins can be clogged from the inside, and no nutrients comes out to the cells, and all the waste-products are not coming back to the blood and getting transported out. This gives us so much trouble and all kind of diagnosis. It gives us high blood pressure, diabetics, and arthritis and so much more when the cells are struggling and sending signals to our brain, and the heart is raising the blood pressure, and the brain is raising the amount of sugar to the starving cells.

My wife could drink as much ASEA as she liked and nothing is reaching out to her hips and inflammations are growing inside the hip joints, preventing any nutrients from entering. She has to start with food without any protein at all, so the body is forced to using all the protein inside the arteries first, and then we can pump in nutrients, vitamins, and minerals, to build up the cartilage and the bones again. ASEA will help to do this much faster. It takes 35 years to get arthritis, it will not disappear over night. This is my honest experience as a health practitioner and MasterTrainer teaching Psychology. There were many doubts from all sides, but after some years seeing my wife suffering, there is no room for doubts anymore, when you see your spouse is suffering so much and doctors in our ordinary system just gives painkillers.

Anyway, I did start drinking ASEA since May 2016 and had no physical symptoms when I started, but it did get my shape and state up, the motivation every morning did get up, much more optimistic all the day long and getting much more flow and inner balance in my life. The four bottles are not enough for one month for both of us, so I often have to wait for three days until the new four bottles are arriving. My mood goes down, and my enthusiasm and optimism are much lower. So to me, it helps me more on a mental level and makes life much easier and brighter. And when all my colleagues in public healthcare are having the flu, I did not catch anything anymore. Pretty amazing and real cutting edge.

I hope it makes sense to you. Don't believe it, just try it and see it is so much more than just salt water. I did use salt water for years to clean my wife's wounds, but it did not help her at all like ASEA did.

Together with the proper food we think ASEA did a fantastic job.

Bottom Line: Yes, I would recommend this to a friend

---