Barry's Bootcamp Reviews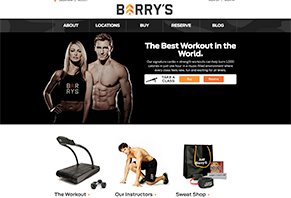 Barry's Bootcamp classes claim to feature pumping music, professional instructors, and high-intensity interval training to help you reach your fitness goals.
About Barry's Bootcamp
Before you even consider things like workout routines, nutrition plans, or gear selection, achieving fitness success (whatever that means for you) is all about motivation. But the fact of the matter is that, by going to the same gym, using the same equipment, and doing the same workouts over and over again, it's easy to let convenience overshadow our need for motivation.
What if you could have both, though? With 24 worldwide locations and counting, Barry's Bootcamp aims to help you stay motivated and achieve your fitness goals. How?
Each Barry's Bootcamp location features a team of professionals who host 60-minute workouts. During these workouts, everyone in attendance will perform 25-30 minutes of high-intensity treadmill routines, and another 25-30 minutes of strength training, where you'll use equipment like free weights, resistance bands, medicine balls, and more.
Throughout the week, we're told you'll have access to different instructors, who will focus on different muscle groups and workout segments. According to the company, this, combined with the music-filled environment, will help each class to feel "new, fun, and exciting," which can help you not just experience results, but to maintain your motivation as well.
Together, this is why Barry's Bootcamp claims to be "the best workout in the world," and why it's used by A-list celebrities, models, and even Olympic athletes.
Sounds great, right? But does all of this necessarily mean that Barry's Bootcamp is right for you? Keep reading, and we'll help you find answers to your most important questions.
How Does Barry's Bootcamp Work?
Note: We'll provide you with a solid high-level overview here, but if you're looking for detailed information about what to expect (and other important questions), be sure to read through Barry's Bootcamp's complete FAQ.
Are There Any Barry's Bootcamp Locations Near Me?
Currently, there are 24 Barry's locations around the world, and the company tells us they're focused on healthy growth for future locations:
California: Hollywood, Irvine, San Diego, San Francisco - Marina, San Francisco - Soma, Sherman Oaks, West Hollywood
Florida: Miami - Beach, Miami - Midtown
Massachusetts: Boston
NYC: Chelsea, Noho, Park Ave South, Tribeca, UES
NY - Hamptons: Amagansett, Southampton, Wainscott
Tennessee: Nashville
Norway: Bergen, Fana, Oslo
United Kingdom: London Central, London East
What Happens During Each Barry's Bootcamp Workout?
As we mentioned above, each hour-long Barry's workout is divided into two parts of equal length: 1) cardio, which utilizes treadmills and 2) floor work, which involves weight training and resistance exercises.
During each session, you'll rapidly change between these exercises with only short breaks in between, a process known as high intensity interval training (HIIT). Combined with a "club-like environment" and a motivating personal trainer, we're told that you can burn anywhere between 700 and 1,300 calories in a single session (we'll talk more about this topic shortly).
Doing this, Barry's Bootcamp claims their technique will "shock" the body in the most efficient and effective way to improve your cardiovascular system, lose weight and build muscle."
What Kinds of Results Can You Expect?
Each day of the week, Barry's trainers focus on different parts of the body, depending on what areas you're looking to address. Because of this, the company recommends 5 classes per week for optimal results, with a minimum of 3 (otherwise, you could lose your progress over the course of a few days, making it feel like your first time each time you attend):
Monday - Arms & Abs
Tuesday - Legs & Butt
Wednesday - Chest & Back
Thursday - Hard CORE (abs)
Friday through Sunday - Full Body
While your Barry's instructor will try to motivate you to perform at your peak, what you accomplish during each session is completely up to you. In other words, it's your decision how hard you'll push yourself during cardio portions, as well as the amount of weight you use during the floor work portions.
With this in mind, the company claims that if you attend classes 3-5 times per week, you should expect to notice a change in your body within a month.
Which Fitness Levels Does Barry's Bootcamp Cater To?
According to Barry's Bootcamp, their classes are for everyone, regardless of fitness level. During each session, trainers will call out different speeds for beginner, intermediate, and expert levels, so you can find the intensity that's right for you.
Again, the biggest factor determining your overall success is how hard you push yourself and continue to work outside your comfort zone.
Regardless of your fitness level, you'll want to show up for each class in comfortable exercise-specific clothing, a quality pair of athletic shoes, along with water or a sports drink (this can also be purchased at most Barry's locations). This last piece of equipment is especially important, since Barry's claims this will be "the sweatiest workout you've ever experienced."
What If You Don't Enjoy Running? Will You Experience These Same Results?
All Barry's locations are equipped with Woodway treadmills, which, per the company, are quiet and comfortable, with adjustable incline. Barry's claims that these are "the most comfortable surface you'll ever run on," which could be welcome news to those of us with frequent joint pain. Your instructor will also correct your gait if necessary, which can help reduce (or even eliminate) a lot of the aches and pains associated with running.
Keep in mind that you won't just run on these ultra-luxe treadmills, since your instructor will have you alternating between sprints and a variety of other moves that incorporate the device, but don't necessarily mean you'll be running. For some quick examples of what we mean, take a look at this quick promo video:
https://vimeo.com/107299871
What's the point? Even if you loathe running, you might be able to still enjoy a Barry's Bootcamp workout. But if you absolutely refuse to step foot on a treadmill, then you can opt for a "double floor" session, where you spend the entire class performing weight resistance work.
Given the level of instruction and quality equipment, do Barry's Bootcamp classes cost a lot?
How Much Does Barry's Bootcamp Cost?
The prices you'll pay largely depend on the specific Barry's location you're attending, even those within the same city. In general though, you can expect to pay about:
Classes and Packs: $27 (1 basic class) to $2,200 (a pack of 50 VIP classes)
Academies: $250-$435
Silver Memberships (weekly, monthly, an biannual): $145 to $2,500
Hellweek: $75 to $300
For location-specific information, you can view each studio's availability and schedule online, and then book directly through their website.
If you purchase individual or class packages, you'll have to use them within a year of purchase, while membership classes can be used at any time within your membership period.
Can't make it to your class? If you don't request a change more than 12 hours prior to the scheduled time, you'll forfeit your position. Also, remember that you'll have to be physically present 5 minutes before the beginning of each class, or your spot will be given to those on the waitlist.
Per Barry's FAQ, all classes, Academies, Flex Academies, and membership packages are non-transferable and non-refundable. No exceptions.
What's Are Barry's Clients Saying In Their Reviews?
Search online for "Barry's Bootcamp reviews" and you'll be met with dozens of independent bloggers who talk about their class experiences. Most of these seemed unbiased, with common compliments noting efficient results in the span of an hour, intense workouts in a music-filled environment, and a motivational, team-oriented atmosphere.
On the other hand, common complaints cited high price, that classes are running-focused, and that you don't get much one-on-one attention. Also, several noted that if you're doing it right, you will sweat a lot and you will be uncomfortable (at least briefly). Given this, more than one claimed that you might think twice if you're new to working out.
The Chelsea (NYC) Barry's location had 136 customer reviews on Yelp at the time of our research, with an average rating of 4 stars. There, most compliments referenced above, while most complaints referenced high price/low value (i.e. you don't get a lot for your money, compared to other workout facilities).
From a company perspective, Barry's Bootcamp was founded in Los Angeles in 1998 by Barry Jay, who launched the business after losing his job teaching body sculpting at a local fitness studio. Several of the company's individual locations were listed with the Better Business Bureau, but nothing for the company as a whole.
Now that we've covered many of the important details about Barry's Bootcamp, let's talk about the primary method behind their workouts.
Is High-Intensity Interval Training Effective? Will You Burn 1,000 Calories Per Hour?
"Effective" is a tricky word—especially when talking about fitness, since it can mean many things to many people, depending on personal factors like your starting point, perspective, overall goals, and more. Given this, here, we'll provide the details, and leave the "effective" decision up to you.
Although it might sound complicated, high-intensity interval training simply involves giving maximum effort (the high-intensity part) during quick bursts of exercise that change frequently (the interval part). As with Barry's Bootcamp's classes, this usually alternates between cardiovascular exercises that elevate your heart rate, and resistance exercises that sculpt and/or build muscle.
According to some studies, high-intensity interval training can burn a lot more calories than traditional fitness routines, with a boost to your metabolism that can last for up to 48 hours post-workout.
Important note: As mentioned on the Barry's website, it's important to reiterate that the total number of calories you'll burn during HIIT (whether Barry's or any other form) depends on a variety of key factors, including age, gender, current weight, and more.
To back up their 1,000-calorie per hour claim, the company references a 2015 Livestrong article. However, it doesn't appear that any of the Livestrong staff performed any firsthand testing.
Instead, they claimed to have pulled their data from HealthStatus.com's Calories Burned calculator, although no "sprint cardio" category was listed at the time of our research. As such, we couldn't verify their claims.
Should You Sign Up For a Barry's Bootcamp Class?
Barry's Bootcamp has gained a lot of recognition over the past few years, since many high-profile celebrities and athletes have praised the results they've achieved in their classes. And with their increased popularity, it seems that many of us average folks are experiencing positive benefits as well.
But is Barry's really "the best workout in the world"? As with "effective" mentioned in the previous section, "best" is also a highly subjective word. Given this, you could absolutely fall in love with Barry's Bootcamp classes, while your best friend might loathe them.
Are You New to Working Out?
Either way, we think it's important to keep in mind that high-intensity interval training typically isn't recommended for those just starting out on their fitness journey. This isn't to say that Barry's classes aren't suited toward beginners; only that you might want to have a few weeks of working out under your belt before signing up for a class.
This way, you might be primed to get the most out of each workout—and consequently—more value for your money.
Barry's Doesn't Have a Monopoly on HIIT
While the company certainly doesn't claim to be the only one available, we think it's important to point out that there are hundreds of different HIIT workout options out there, whether at your local gym or online videos. So, if you find that you enjoy the intensity of Barry's Bootcamp classes but have concerns, you can always check out other programs that might be more suited to your needs.
The Importance of Diet
Finally, keep in mind that, regardless of how hard you push yourself during Barry's classes, remember that if you're not eating right, all your hard work can fly out the window.
As such, it might be worthwhile to invest in a nutrition program (or expert guidance from a trained nutritionist) to maximize your fitness results.
Have you taken Barry's Bootcamp classes before? Did they help you reach your fitness goals? In your opinion, what are the pros and cons? Tell us all about it in your review below!