BetterHelp
Claimed This company has claimed this profile, is getting alerted on any new customer reviews entering this page, and may engage in dialogue with its customers to address their matters.

Companies cannot pay money or provide goods in order to remove or alter customer reviews.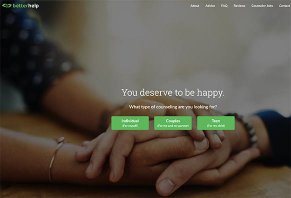 BetterHelp is an online counseling service that promises to pair you with a licensed expert you can speak with when and how is most convenient for you.
BetterHelp Review - How Effective Is It?
BetterHelp is the self-proclaimed world's largest counseling service. This 100-percent online platform promises to make professional counseling accessible and affordable for anyone who wants it.
The company website states that BetterHelp members pay a flat weekly fee and gain unlimited messaging access to licensed psychologists, therapists, social workers, and counselors.
It's their goal to help you tap into a network of specialists that can help you through a range of personal issues from mental health to relationship counseling and more. BetterHelp claims that you will get the same professionalism and quality through their service as you would through in-person appointments, but with the added benefit of flexible, unlimited communication.
But can online counseling take the place of visiting a therapist's office? This review examines how BetterHelp works and whether it's the right choice for your needs.
How to Sign Up for BetterHelp
When you first sign up for BetterHelp, you will answer a series of online questions designed to narrow down the kind of counseling service you require.
These include whether you want individual, married, or teenage counseling, your gender, age, sexual orientation, religious background, relationship status, history with therapy, current physical health, financial status, emotional state, and more.
Once you complete the questionnaire, you must create a private account through the website and verify it by email.
You can then state your preferences for a counselor and indicate whether you want someone of a particular age, religious background, gender, or specialty.
Next, you will rank several issues traditionally addressed in counseling based on whether they are relevant to why you are seeking therapy. Finally, the company asks you to write a few sentences about why you are seeking therapy.
From there, BetterHelp will match you with one of their licensed counselors, and he or she will review your information and begin the communication process through the site's message platform.
Who Are BetterHelp Counselors?
The BetterHelp website tells us that their counselors are "licensed, trained, experienced, and accredited psychologists (Ph.D. / PsyD), marriage and family therapists (LMFT), clinical social workers (LCSW / LMSW), or licensed professional counselors (LPC)."
They state that all counselors have at least a master's degree in their field, certification in their home state, and a minimum of three years and 2,000 hours of hands-on experience. You can review the full list of counselors here.
How Does BetterHelp Communication Work?
At the time of writing, BetterHelp offered four primary ways to connect with your counselor.
Messaging: You and your dedicated counselor gain access to a private and secure online chat room where you can send and receive messages from each other. This room is open 24/7, and you will get a notification through email when your counselor messages you.
Chat: You can schedule a time with your counselor to message you within your chat room so that you get instant responses and feedback.
Phone: It's possible to use any phone to speak with your counselor. You will need to schedule a time in advance and then both log into your counseling room at the set time. The system will then request your phone number and connect you with your counselor through a secured connection that keeps both numbers private.
Video: Similar to Skype, BetterHelp offers a virtual face-to-face video feature. You will schedule your session in advance and log into your counseling room at the set time. Once you both arrive, your counselor will send you a prompt to start the video session.
Is My Privacy Protected on BetterHelp?
The BetterHelp website makes it clear that your privacy is protected at every stage. You aren't required to give your full name or contact information when you sign up, and many people choose to use a nickname.
The system does require that you provide emergency contact information before beginning the counseling process; such information is secured within the system and only accessible if your counselor indicates that you or someone else is in danger.
What Does BetterHelp Cost?
At the time of writing, BetterHelp offered three tiers of weekly membership at different price points.
$45 per week: unlimited text-based counseling (option to add live sessions for $25 each)
$55 per week: unlimited text-based counseling and two live sessions per month
$65 per week: unlimited text-based counseling and four live sessions per week.
Each membership plan is charged monthly by credit card or PayPal, and your subscription continues to renew until you cancel it.
How long should you commit to BetterHelp counseling? The company states that membership timelines vary and that some people stay for just a few weeks while others stay committed for the long term.
If you have questions, the company asks you to direct them to their contact page.
Is Online Therapy Effective? Experts Weigh In
Mental health is a serious topic, so regulating a therapy session to your smartphone isn't a decision to be made lightly. Is online counseling equally effective as in-person appointments? We posed this question to some experts to get their insight.
The overwhelming response we received from licensed therapists, social workers, and psychiatrists was that online therapy is a valuable tool that serves a critical need today.
Says Health Tech futurist Dr. Alfred Poor, "online therapy is not just a good idea; it's a great idea. It is clearly effective, but it's also much more efficient and convenient for both the doctor and the patient."
Poor pointed us towards the results of a study on elderly veterans in treatment for depression. This research found no significant difference in the results achieved from in-person counseling sessions and counseling through video chat technology.
It's also true that online therapy increases counseling accessibility for many people.
"In the past, rural patients had very limited access to counseling, especially specialized types of counseling," says Houston psychiatrist Jared Heathman. "The pro that I am most excited about [for online therapy] is increasing access to patients in less populated areas."
However, online counseling does have some limitations, says Hilda Burke, a psychotherapist and author.
"When I work with a client, the actual words they say are a small proportion of what they're communicating. Usually, I'll get a strong sense of how they're feeling before they utter a word, from their body language, eye contact or lack of it, or their posture," Burke said. "Online therapy can never replicate the level of insight that comes from physical closeness."
Likewise, a few counselors expressed the importance to us of bringing their patients into a designated therapy space for their sessions.
"Some people want to physically move to a different space because the body can have a sense of relaxation," clinical social worker Vanessa Benzan-Monteiro told us. "That way, [your body] recognizes, 'Oh, I've stepped into my therapist's office.'"
BetterHelp also weighs in on this debate. While they claim that 98 percent of their patients made significant progress and that 94 percent prefer BetterHelp to in-person counseling, they acknowledge on their website that their services aren't capable of substituting for traditional therapy in all situations.
A fundamental limitation is that they can't make official diagnoses, fulfill court orders, or prescribe medication. Likewise, insurance is less likely to cover E-therapy services than in-person appointments.
Overall, we've found that online therapy is still an emerging field, and more research needs to be done to about its effectiveness compared to traditional treatment.
For now, the National Institute of Mental Health's stance on the topic is that consumers should be cautious before trusting an online therapy program because there are currently no national standards for evaluating their effectiveness.
Our View: Should You Try BetterHelp?
From this analysis, it should be clear that an online counseling service like BetterHelp is a blessing for many people.
BetterHelp might be a viable option to consider if you:
Don't have access to local specialized counselors
Don't want to pay $75 to $160 on average per session
Want the convenience of unlimited messaging with your therapist
Feel intimidated by in-person meetings
However, there are limitations to this service, and it is not the right option for many people. If any of the following are true, we suggest pursuing traditional therapy instead.
You are a minor
You lack access to a reliable internet connection
You are suicidal or have thoughts of hurting yourself/others
You are dealing with an urgent crisis
You have been diagnosed with a mental illness
You have been advised to be under psychiatric care
You are looking for a diagnosis, prescription, or to fulfill a court order
For those who still aren't sure whether a service like BetterHelp fits your situation, Mark Pines, CEO of OpenCounseling, suggests bringing the topic up with a therapist.
"Whether [your therapist] is online or not, they should be able to give you objective feedback where this is an effective form of therapy for your specific condition," he said.
Here's our summary: So long as you keep the service's limitations in mind, we think that e-therapy services like BetterHelp can be an effective way to work with a mental health professional.
---
This company is actively collecting reviews from its customers. All reviews submitted are subject to moderation and approval to ensure they meet our

Review Guidelines

.

BetterHelp really is better

By Drew M.

,

Franklin, OH

,

May 31, 2020
Verified Reviewer
Length of Use: Less than 3 months

I've had such bad experiences with counselors before but these ones seem to actually get me.

I love that you can customize what you're looking for in a counselor.

Pros and Cons:

Customizable counselors
Flexible
Phone call counseling
People are actually knowledgable about LGBT issues
Video chat lags

Bottom Line: Yes, I would recommend this to a friend

---

Don't give up

By Kennedy W.

,

Oklahoma City, OK

,

May 30, 2020
Verified Reviewer
Length of Use: Less than 3 months

In the beginning I was skeptical, to say the least. I'm not one to vocalize my emotions and I became overly aware of how much help I needed. The first counselor didn't work out for me. She only replied at 9:30 am and if I replied back instantly she wouldn't reply. We just didn't click. I needed someone that made me feel like I wasn't a name on a list. I found a new counselor and she's amazing. I've used BetterHelp for 3 weeks and I love the groupinars as well as the work pages your counselor can assign to you. Don't give up on yourself or BetterHelp. It's so easy to switch counselors if need be. You'll find the perfect one for you!

Pros and Cons:

No in-person appointments
24/7 care with scheduled appointments over the phone
Not too expensive compared to what 4 appointments in-person cost me with insurance
It's not affordable for everyone

Bottom Line: Yes, I would recommend this to a friend

---

Advertisement

---

So grateful to have tried this

By Annalisa P.

,

Fort Worth, TX

,

May 30, 2020
Verified Reviewer
Length of Use: Less than 3 months

I started working with a counselor two weeks ago, and it's amazing how much "stuff" they can pull out of you and help you work through in just a couple of half-hour sessions! I had some old wounds that I thought were long since healed, but nope, they were the root of a lot of the mental health problems I'd been facing as of late. Love this service so much, and am so glad I gave it a shot. Worth every penny!

Pros and Cons:

Wonderful counselor
Very affordable
Getting my confidence and happiness back
No "cons" were specified in this review

Bottom Line: Yes, I would recommend this to a friend

---

Joining BetterHelp was the best decision of my life

By Kevin W.

,

Atlanta, GA

,

May 30, 2020
Verified Reviewer
Length of Use: 3–6 months

My life and work life are so hectic with ever-changing hours that the app-based chatting and the flexible times for video or voice calls fit my life perfectly. Also, the ability for you to "message" anytime so you're not forced to wait until your next session I find to be super helpful and beneficial. It allows you to intervene with what's truly going on rather than letting it take the back burner until your next appointment. Ultimately, the app-based approach allows for me personally to make time easily for bettering my mental health than it normally would.

But most importantly, the atmosphere that comes with BetterHelp is so comfortable and feels so safe. And because of that, I feel like I have grown so much already. I never had this much progress nor have I felt so welcome with therapy before. I could not recommend BetterHelp enough.

Pros and Cons:

The feeling of it being a safe place
The quality of the service
Convenience and flexibility
Pricing structure
Built-in optional community building programs and services
No "cons" were specified in this review

Bottom Line: Yes, I would recommend this to a friend

---

Advertisement

---

Amazing service

By Esther K.

,

London, England

,

May 30, 2020
Verified Reviewer
Length of Use: 6–12 months

My counseling experience has been phenomenal. My patterns have been identified and worked on. Also, I have found more joy in my personal and professional life.

Pros and Cons:

Personalized journal writing
Training and skills of the counselor
Ability to schedule anytime
Wanting longer chats - maybe 1 hour sessions
Price range could be a bit high if you are a college student
Don't have the option for family counseling without picking it initially

Bottom Line: Yes, I would recommend this to a friend

---

Registered for a couples therapy, and was assigned to a doctor for individual therapy

By Tony S.

,

San Diego, CA

,

May 29, 2020
Verified Reviewer
Length of Use: Less than 3 months

When I was signing up for BetterHelp - the first very question was reflected in two buttons: "I am seeking Individual Therapy" or "I am seeking Couple's Therapy". I chose "Couple's Therapy".

After I was assigned with a therapist after TWO WEEKS - I scheduled a session with her, and I assumed I will start the first session on my own, and then my wife would join on a second session.

The first session went well, but when I asked the doctor as for how do we proceed since the goal was a therapy for me and my wife as a unit, she was surprised to even hear that I'm requesting a therapy for a couple, and told me that BetterHelp assigned me as a patient to her for individual therapy, and that she will cordially agree to see me and my wife just one time as a "favor".

When I contacted support about it - they told me to register at their sister site Regain Us, which turns out to be 3 times more expensive.

I wrote support that I'd like to continue therapy at the BetterHelp site, not their sister site, to what I signed up for - a couple's therapy, and now I'm waiting for a response from support.

Also, BetterHelp has terrible regulations about the length of a session.

Supposedly, they advertise that you get weekly hour-long sessions which makes sense for me pricing wise, because $360 for 3 months was supposed to buy me 1 session a week for $30, which is the same as what I would pay for therapy through my Health Insurance (Aetna) for a copayment for each session.

However, when I did a session with a doctor, and it was an hour long, then when the whole question arose about a couples therapy and seeing me and my wife for a next session, and I also brought up a length of session - Dr. Garceau got snarky and irritated writing that it is "up to her schedule to extend a session to one hour or not" and that she has a feeling "I will never be content."

In which universe do you pay one price, and you get twice longer, or twice shorter amount of service?

This is a very awkward policy, and doesn't make sense. And how is this ok for a therapist to say to her patient that she has a feeling that I will never be content? That's an awful thing to say to someone.

I might just stick to a therapist through my health insurance. Thanks, BetterHelp, for your poor customer service and poor regulations for turning me off from your platform!

Pros and Cons:

Online
Connected with a therapist
Poor policy about length of a session
Mix-up with couples therapy/individual therapy

Bottom Line: No, I would not recommend this to a friend

---

Wonderful

By Lexi W.

,

Lansing, MI

,

May 29, 2020
Verified Reviewer
Length of Use: Less than 3 months

I've never had a professional care about my well-being until I found BetterHelp. It's been a phenomenal experience! Debra has really been such a pleasure to work with.

Pros and Cons:

Financial aid is offered
Constant access to my therapist
The feeling like I'll be okay
Live sessions get booked quickly

Bottom Line: Yes, I would recommend this to a friend

---

In control of your therapy

By Ren M.

,

Philadelphia, PA

,

May 29, 2020
Verified Reviewer
Length of Use: 6–12 months

I like BetterHelp because I feel in control of my treatment and therapy. My therapist is very open-minded, mindful, and cognizant of student struggles. I am currently a Masters student, and I have addressed perfectionism, anxiety, depression, and traumatic events with my BetterHelp counselor. I have also attended group webinars that I've enjoyed and like that I can message my counselor easily.

Pros and Cons:

Time flexible
Ease of use
Individual and group therapy options
Would have been expensive without health insurance
Difficult to find the area to schedule an appointment with your counselor
Was not aware of how to find and use the online platform initially

Bottom Line: Yes, I would recommend this to a friend

---

Easy help

By Roxie M.

,

Jacksonville, FL

,

May 29, 2020
Verified Reviewer
Length of Use: Less than 3 months

BetterHelp helped me get the help I needed in a private and painless way. They have different payment methods that gave me a reasonable rate. They have hundreds of counselors to choose from and will do their best to match you perfectly. You can always switch or stop when you want to. And what I like best, there is a private place to journal and you get daily reminders to do so. Oh, I almost forgot...you won't ever miss your counseling session due to numerous reminders by email and text!

Pros and Cons:

Private
Affordable
Easy to use
Frequent reminders
No "cons" were specified in this review

Bottom Line: Yes, I would recommend this to a friend

---

Lost time

By Elena J.

,

Pordenone, Italy

,

May 29, 2020
Verified Reviewer
Length of Use: Less than 3 months

I tried texting and talking about a problem but for a 3 full days I was getting only automatic answers so I don't understand what the point of me paying $50 per week and investing my time and effort if a therapist won't even read what I was talking about?! All in all, it's really bad, and I don't recommend it at all.

Pros and Cons:

No "pros" were specified in this review
No effort from therapist
Therapist not reading my messages
Late responses

Bottom Line: No, I would not recommend this to a friend

---

Great service, cannot recommend enough

By Christina G.

,

Troy, NY

,

May 29, 2020
Verified Reviewer
Length of Use: Less than 3 months

I absolutely love this manner of receiving therapy. I look forward to continuing to work with my therapist and utilizing the app.

Pros and Cons:

Availability
Easy
Efficient
Cost

Bottom Line: Yes, I would recommend this to a friend

---