Beverly Hills MD Dermal Repair Complex
This company has claimed this profile, is getting alerted on any new customer reviews entering this page, and may engage in dialogue with its customers to address their matters.

Companies cannot pay money or provide goods in order to remove or alter customer reviews.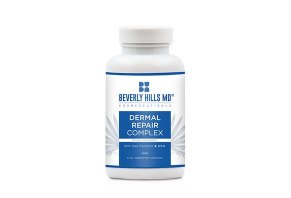 Summary
Beverly Hills MD's Dermal Repair Complex is a nutritional supplement that allegedly helps you look younger from the inside out through a blend of all-natural ingredients. Scientific research backs the claims made by the brand.
Beverly Hills MD Dermal Repair Complex Review: Is It Safe and Effective?
HighYa is supported by our readers. When you buy something through a link on this page, we may earn an affiliate commission. Learn more.
What Is Dermal Repair Complex?
Beverly Hills MD Dermal Repair Complex is an anti-aging dietary supplement that is advertised to help address the root cause of visible aging in women over 40: hormonal changes, which can cause collagen and elastin to break down.
Over the span of normal aging, women begin producing less and less estrogen. Estrogen plays a role in maintaining skin moisture and structure. Thus low levels can be associated with signs of aging.
To combat this, Beverly Hills MD claims that their complex contains a precise and potent combination of all-natural ingredients that help balance hormones, energize skin cells, and strengthen your skin's structure.
The company states that you need to take two capsules of the supplement daily, with a meal, and you'll experience refreshed and revitalized skin from the inside out.
The benefits include increased firmness and smoothness, reduced sagging and drooping, improved elasticity, and diminished wrinkles.
Will Dermal Repair Complex help you look younger? Are there any side effects you might experience? We'll cover all of this and more in this article.
How Effective Are Dermal Repair Complex's Ingredients?
According to the supplement facts label posted on its website, every 2-capsule serving of Dermal Repair Complex contains the following ingredients:
Vitamin A 1,000IU
Vitamin B1 10mg
Vitamin B2 (Riboflavin) 10mg
Vitamin B3 (Niacinamide) 50mg
Vitamin B6 10mg
Folic Acid (Vitamin B9) 800mcg
Biotin (Vitamin B7) 2,500mcg
Vitamin B5 (Pantothenic Acid) 20mg
Dermal Repair Blend 620mg: Hydrolyzed Collagen, Saw Palmetto Powder, Methylsulfonylmethane (MSM), Wild Yam Extract, Hyaluronic Acid, Silica
In this section, we'll touch on the alleged "6 advanced ingredients" to help you determine if the scientific support is in-line with the claims made by Beverly Hills MD.
Saw Palmetto
This plant is found in the southern United States and often in supplements that claim to support prostate and male sexual health. Saw palmetto extract may also combat the unwanted effects of aging.
The link to skin health may be related to the hormone dihydrotestosterone (DHT). Elevated DHT levels are elevated to many unwanted effects such as acne, male pattern baldness, and the skin discoloration commonly associated with pregnancy.
Some research has suggested that Saw Palmetto may limit hair loss by inhibiting the activity of 5-alpha reductase (5α-R), an enzyme that converts testosterone to DHT.
While it seems logical that reducing DHT levels can help avoid some of the unwanted skin effects related to this hormone, the support for Saw Palmetto use in this setting is lacking.
MSM
This sulfur-containing compound is included in various dietary supplements as it may reduce inflammation, as well as strengthen the collagen found in tendons, ligaments, and muscles.
While much of the available research has investigated the alleged benefits for joint health, some studies examined the potential anti-aging effects of MSM.
In patients with rosacea, a condition causing skin redness, those treated with silymarin and MSM experienced improvements regarding skin redness, itching, and hydration over 1 month.
More work is needed to be able to draw strong conclusions regarding MSM's role in skin health.
Hydrolyzed Collagen
Collagen is a major component of bones, tendons, cartilage, and skin. When hydrolyzed, it is reduced to smaller particles.
Thought to benefit joint and skin health, hydrolyzed collagen may reduce wrinkles.
According to this study, a low molecular weight collagen (1000mg) beverage was investigated. In 64 female subjects, those that used the beverage for 12-weeks improved skin hydration and elasticity, as well as decreased wrinkles.
Hydrolyzed collagen's potential benefit regarding skin health was also recently put to the test in a randomized trial. In women aged 35 or older, those that consumed 2.5g of collagen experienced better skin hydration, elasticity, roughness, and density when compared to placebo.
While the available research demonstrates promise, doses much larger than those included in Dermal Repair Complex were studied.
Hyaluronic Acid (HA)
Hyaluronic acid is a naturally occurring compound that helps retain water molecule levels in your skin cells, and it may also play a role in cell development and wound healing.
Given its mechanism of action, HA has been studied to determine its potential to benefit vaginal, joint, and skin health.
In women aged 45-60, those that consumed a 0.45% HA solution over 40-days experienced better skin elasticity and skin hydration, and also decreased skin roughness and wrinkle depth.
Similarly, 120mg daily of HA improved skin wrinkles, luster, and suppleness over the course of 12-weeks.
While there is support for the use of HA in combatting the unwanted effects of skin aging, more work is needed to identify the sustainability of results in the long-term.
B Vitamins
B Vitamins are found in meat, seeds, and nuts. They're a common addition to a variety of dietary supplements due to their role in brain health, nerve function, energy, weight loss, and more.
Topical B3 reduced wrinkles, red blotchiness, and skin yellowing, as well as improved elasticity in women that applied it daily over 12-weeks.
Oral preparations have been tested in human subjects as well.
A mixture of fermented papaya and antioxidants contained 17mcg of B6, 2mcg of folic acid, and 240mcg of B3.Those that consumed this mix daily for 90-days experienced improvements in skin elasticity and moisture.
In another study, women that consumed a supplement blend containing 150mcg of biotin and other vitamins, minerals, and extracts improved skin elasticity over 12-weeks.
Though these studies included other ingredients that may benefit skin health, the B vitamin doses were effective even at doses much lower than those included in Dermal Repair Complex.
Vitamin A
Vitamin A is present in whole milk and liver, as well as in a variety of fruits that contain a reddish-orange pigment. Vitamin A is often included in dietary supplements as it is essential in bone growth, eye health, cell functions, and antioxidant support.
Regarding its role in skin health, Vitamin A and its derivatives (carotenoids) have been tested.
Topical vitamin A derivatives were effective in preventing against the collagen breakdown associated with UV exposure.
The ability of oral carotenoids to offer protection from harmful UV rays is dependent on both the dose and duration of treatment. According to this review, treatment regimens lasting 7-weeks or longer and dosing >12mg daily were found to be the most effective.
Dermal Repair complex offers .3-.6mg, well below the doses that were proven to be successful for sun protection.
Will Dermal Repair Complex Cause Any Side Effects?
The ingredients included in Dermal Repair Complex's blend are easily obtained from a balanced diet and are also found in commonly used supplements like multivitamins. Thus, they are generally safe when used as directed.
Saw Palmetto is well tolerated at the doses as offered in Dermal Repair Complex, though side effects like stomach pain, nausea, headache, fatigue, and dizziness have been reported.
B vitamins are water-soluble and easily removed in the urine when consumed in excess. Toxicity is, therefore, less common, though nausea, vomiting, and skin redness can occur.
Collagen and hyaluronic acid are similarly safe when used as directed. Serious adverse events were not reported in the studies described above.
Though these ingredients are unlikely to cause you serious harm, it is still best to speak with your doctor before use.
There is no evidence that Dermal Repair Complex's blend can alter your hormone levels into a dangerous range. However, you should still proceed with caution when interested in using a supplement that claims to act on enzymes involved in regulating hormones.
Pricing
Beverly Hills MD offers Dermal Repair Complex directly from their website. The current pricing options are reflected below:
1 Bottle: $39.95 (1-month supply)
3 Bottles: $102
6 Bottles: $186
Even more savings are possible for first-time customers. Enter your name and email address to save up 60% off their regularly priced products.
Regardless of the number of bottles purchased, your order will come with free shipping, as well as a 90-day satisfaction guarantee (less S&H charges). To request a refund, you'll need to call customer service at 877-828-5528.
Beverly Hills Dermal Repair Complex is also available at Amazon.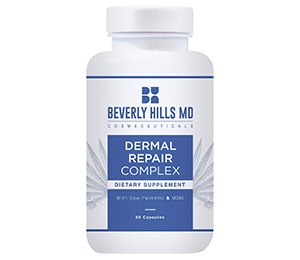 Buy Beverly Hills Dermal Repair Complex from Amazon:
Dermal Repair Complex costs $59.99 for 60 capsules, with free shipping. Beverly Hills MD suggests you take two capsules each day.
The Bottom Line
Dermal Repair Complex offers a number of ingredients that have been included in both topical and oral preparation for supplements with alleged anti-aging capabilities.
With the exception of Saw Palmetto, scientific support for most ingredients is available, though the dosing included in Dermal Repair Complex may differ from those tested in clinical research.
For example, vitamin A and collagen were proven successful at much larger doses. On the other hand, B vitamins were effective even when tested at smaller doses than those included in Dermal Repair Complex.
Nearly 800 reviewers at HighYa rated Dermal Repair Complex 4.6-stars. Happy customers commonly reported effective anti-aging results, ease of use, and gentle ingredients.
On the other hand, some customers complained of a lack of results, high prices, and difficulty obtaining refunds. When customers complained, though, Beverly Hills MD's support staff seemed to respond quickly in an effort to find a resolution.
But if you decide to take the plunge and give Dermal Repair Complex a try, Beverly Hills MD seems to stand behind their supplement with a 90-day refund policy, so you might not have much more to lose than return S&H. On top of this, most of the company's customers seem pleased with their experiences.
Decent scientific support, positive reviews, discounted pricing, and a favorable return policy may mean that Dermal Repair Complex is a reasonable option for combatting the unwanted effects of aging.
Nonetheless, we'd strongly recommend making an appointment with your dermatologist before placing your order. The symptoms that you're experiencing may be related to more than just the effects of aging. Determine the underlying cause before treating them.
Customer Reviews
This company is actively collecting reviews from its customers. All reviews submitted are subject to moderation and approval to ensure they meet our
Review Guidelines
.
Posted on Jan 22, 2018
Too soon to tell, but taking the pills every day
I believe it takes about three months or so for any vitamin to do its work. I am faithfully taking mine and believing that I will see a difference. I have lost hair and hoping to see new growth. My skin looks awesome, no wrinkles or sagging, but at this point, I believe it is their other products that I have been using. No one believes my age.
I would recommend it because everyone should give it a try for their needs.
Bottom Line: Yes, I would recommend this to a friend
Posted on Feb 16, 2018
Dermal Repair Complex
I have been taking the Dermal Repair Complex supplement since June 2017. I am 45 years old. I wanted to take the supplement because I read other women's reviews and testimony and was encouraged by their statements that the supplement helped achieve a youthful appearance.
I will be honest in that I have always been told that I look younger than I am. Since taking the supplement, I have noticed some improvement in fine lines around my under eye area and forehead. I have an overall healthy glow to my skin. It's nice to hear compliments on my skin and to be told that I look young.
I am pleased so far and consider taking the Dermal Repair Complex a necessity to my skin care regimen.
Bottom Line: Yes, I would recommend this to a friend
Posted on Feb 20, 2018
I'm loving this supplement!
I'm only on my second bottle of BHMD's Dermal Repair Complex, but I can already see a difference. I'm almost 73 years old and am fortunate to have good family genes, but at this age, I think we all need a little boost! Because I have been using many other BHMD's products, I decided to give this a try, and I couldn't be happier! I so appreciate the work and dedication these two doctors put into their products! I am truly grateful!
Bottom Line: Yes, I would recommend this to a friend
Posted on Feb 21, 2018
Wonderful skin product!
No one can believe me when I tell them my age. Dermal Repair Complex is truly a miracle product for keeping skin in tip-top condition. I would highly recommend it to anyone who wants to "send back the clock!"
Bottom Line: Yes, I would recommend this to a friend
Posted on Mar 6, 2018
Unexpected bonus results
I've only been using this product for a month, too soon for any noticeable improvements in my complexion.
Full disclosure: I'm one of those lucky women who is only just now starting to see some very faint lines and regularly passes for 10 to 15 years younger than I am. Lucky me, but that doesn't mean I don't want to maintain it and that means working on it!
But I totally expect to be thrilled with the results on my skin though. My hair looks better than it has in years and this product is the only thing that has changed in my beauty routine. My hair looks and feels thicker, fuller, and shinier and is more manageable. After running her hands through my hair at my last appointment, my stylist wanted to know what I was doing because it was the healthiest she had seen my hair in the six years she had been doing my hair.
So take this for your complexion. And love it for your hair!
Bottom Line: Yes, I would recommend this to a friend
Posted on Mar 15, 2018
Will purchase again!
I just finished my first bottle of Dermal Repair Complex, and after 30 days my face feels firmer, and the skin on my neck doesn't seem to be as crepey.
I'm 67 years old and have lived the in the desert most of my life. This past year I've really noticed advanced signs of aging coming on. I was taking liquid collagen but not seeing any noticeable results. I thought I would try this product because of the additional ingredients, and so far I like it!
Bottom Line: Yes, I would recommend this to a friend
Posted on Mar 21, 2018
Hands down, the best product I've EVER used!
At 59, I was growing tired of the regular maintenance required to maintain the 'look' of a youthful appearance obtained through Botox and filler injections. Over and above this, I was also unsure about the long-term effects of such products, so I wanted something more organic and natural.
Within a few weeks of regularly taking Dermal Repair Complex, a visual lift was apparent, and I couldn't be happier. Since that time, I've also supplemented my daily regimen with additional BHMD products including the daily cleanser, serum and Brighten & Tighten, and continued to be very happy with the entire product line.
Thank you for a healthier alternative!
Bottom Line: Yes, I would recommend this to a friend
Posted on Mar 22, 2018
Turning 60...
Since entering my mid 40's, I started to notice every few years for several months that I went through "an aging phase" (less firm, a few lines), and then my face would "settle" into that and stay there for a few years.
Then it would happen again.
Well, turning 60 is NOT an attractive age for any woman, verbally and mentally, it just SOUNDS old. I was almost numb thinking about it, like it wasn't happening. How could I be my mother's age when I got married, she was SO OLD?!
The more I fretted about it, the more it showed on my face. I started doing research and collagen seemed the right move for me. When I decided to use Dermal Repair Complex, I thought if I don't see an improvement, I will just get a refund.
I saw a MAJOR improvement within a week in my skin; it actually seemed to be glowing, and people were commenting on how lovely my skin is. I don't expect to look 30, but I LOVE that my skin makes people wonder how old I REALLY am, knowing full well I am well over 40, but not quite sure how much! It's great! Thanks so much for making 60 REALLY just a number! I am a repeat customer.
Bottom Line: Yes, I would recommend this to a friend
Posted on Mar 26, 2018
Actually works
I was on Facebook when I saw this product and thought, here goes another "get young quick" plan.
For some reason, I started reading it and thought to myself, well, you need vitamins anyway and spend about the same as the special intro price why not try, if they don't work you are getting a vitamin anyway, plus money back guaranteed, what did I have to lose?
Since I am a dialysis patient, I had my health care provider look them over first and was told OK for me to use.
To make a very long story just long, after about a month or so I thought I saw a difference and it was confirmed when my husband commented that yes there was a difference and he could see it. He is brutally honest so I trust his word.
I have started looking in the mirror more lately because I still can't believe what I am looking at.
Bottom Line: Yes, I would recommend this to a friend
Posted on Mar 24, 2018
Skin repair!
I am one of those people who has had a basket full of failed products. For the first time, I have a product that actually works. Dermal Repair complex has brought amazing results, people ask me what I use on my skin because I have a glow. My skin is smooth, bright and young looking. YES! FINALLY! Something works. I was in the doctor's office waiting for someone, and the girls behind the desk asked me what I use on my skin, I told them, and they said they need a case of it, LOL. That was my added proof that it works. I am 68 years old, and I'm told I look like I'm in my 30's. Works for me.
Bottom Line: Yes, I would recommend this to a friend
Posted on Apr 4, 2018
Best stuff ever
Beverly Hills Dermal Repair Complex is probably one of the best "turn back the clock" products I have ever used (and believe me, I have used many different potions over the years). It truly does repair (as far as I can tell to the naked eye). I have an age spot on my cheek that has been really noticeable, until I started using the Beverly Hills Dermal Repair Complex. It is getting lighter all the time and I have only been using this for a few weeks, so I'm hoping it will eventually go away completely.
Aside from that, I can only say that it leaves my skin silky smooth. I have found that since I have been using the Dermal Repair, I have not had to use many other products (although I do still use a few of my other favorite products from Beverly Hills MD).
I would absolutely recommend it to anyone, and would encourage people to start using it at an early age to help maintain their youthful look.
Thank you to Dr. Layke and Dr. Danielpour for sharing their knowledge with the world and making products that most anyone can afford; they are truly an inspiration.
Bottom Line: Yes, I would recommend this to a friend
Our Promise to You
In order to safeguard you and ensure helpfulness and relevance, our compliance team manually assess every customer review before it goes live.
We have a zero-tolerance policy for fake reviews, and companies cannot control or alter any reviews at any time.