Care/of Reviews
Claimed This company has claimed this profile, is getting alerted on any new customer reviews entering this page, and may engage in dialogue with its customers to address their matters.

Companies cannot pay money or provide goods in order to remove or alter customer reviews.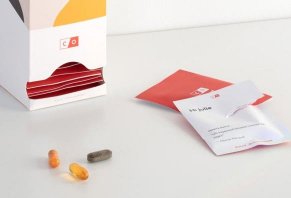 With a current selection of 30 different ingredients, Care/of can recommend different supplements and vitamins, ship them to you monthly, and help you save money.
What Is Care/of?
Care/of is a monthly subscription service that delivers 30-packs of personalized vitamins directly to your door. And because they source their ingredients directly and manufacture their own supplements, they claim to help customers save up to 20 percent compared to local health food store brands.
Unlike many other supplement manufacturers and retailers, the company also places a big emphasis on providing subscribers with honest guidance, based on their different goals and lifestyles, and to be transparent about the level of scientific evidence supporting each of their ingredients. The whole process works over three steps:
By answering a few quiz-based questions, Care/of will learn more about your values and goals.
Receive recommendations based on your answers, which can be adjusted as you see fit.
Received a box of personalized daily packs once per month, and adjust or cancel your subscription as needed.
Once subscribed, Care/of also offers a free iOS app that can help you "unlock savings, set reminders, and learn how your vitamins boost your health along the way."
There's no doubt that the company has a compelling marketing angle. But, when it comes to supplements, is it all about ease of use and low prices? In other words, can you reasonably expect Care/of to help move you along your path to personal health, as claimed on their website?
Here, we'll help you find answers to your most pressing questions—starting with a brief overview of the process.
How Does Care/of Work?
Care/of's personalization quiz took us less than five minutes to complete, which started by asking basic questions like name, your level of knowledge about supplements, if you've taken them in the past, gender, age, and state.
Then, you'll indicate why you're interested in supplements (e.g., specific need, general health, looking for something new) and pick one or more goals, such as brain, energy, heart, immunity, skin, digestion, stress, and/or bones.
We chose 'energy' during our research and were met with another three to five questions, such as "Do you have trouble sleeping at night?" and "Do you feel burnt out or fatigued?"
The next set of questions revolved around lifestyle details like the number of times we eat fish or seafood/meat/vegetables/dairy per day or week, the amount of exercise we get, alcohol consumption, whether or not we smoke, computer use, food allergies, and any diets we're currently on.
Finally, values-related questions revolved around our level of skepticism regarding Ayurvedic medicine, as well as for promising new clinical research.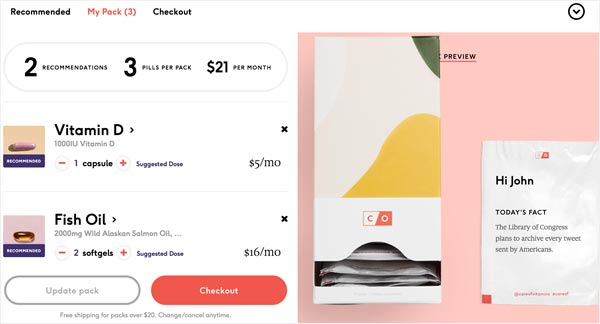 After spending 3-5 minutes answering questions, Care/of recommended we take vitamin D and fish oil supplements, at the cost of $21 per month. Credit: Noho Health Inc.
Speaking of which, Care/of emphasizes that "scientific research is nuanced and dynamic," so they classify each ingredient they sell based on existing research (e.g., number of studies, consistency of results, the magnitude of results, and methodology characteristics) as follows:
Mixed Research - Some studies with positive results, but others that have been less conclusive
Emerging Research – Most research is relatively recent, but promising
Strong Research – High-quality studies performed with positive results
Very Strong Research – Near scientific consensus based upon high-quality studies
Traditionally Used – These products have been trusted across cultures for centuries
In addition to Care/of's recommendations, customers can build their own pack by choosing among a total of 30 different vitamins, minerals, herbs, and probiotics, at 1-3 doses per day, depending on the specific ingredient.
Once you're ready to finalize your selections and subscribe, you'll receive a monthly box that contains 30 individual packs, which are meant to be taken once per day. When the time comes, the company will automatically send your next monthly shipment to arrive before you run out.
Because Care/of develops their own vitamins and supplements with the help of their Scientific Advisory Board, which consists of doctors, scientists, and nutrition experts, they only source ingredients from reputable suppliers. They also test their ingredients for labeling accuracy and health and safety standards, while avoiding the use of harsh solvents or processing materials.
Does Care/of's App Add Meaningful Functionality?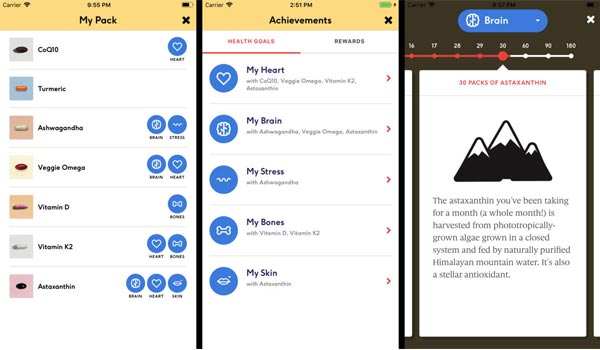 After setting up your subscription through the website, Care/of's iOS app allows you to view each pack's contents and their potential health benefits, while helping you earn achievements and get free stuff. Credit: Apple Corporation
Currently only available for iOS (no word regarding an Android version), the Care/of app largely works as an extension of their website by allowing you to:
View products in your current pack
Set reminders to help avoid missing a dose
Track your supplement and vitamin consumption
Learn more about the ingredients you're taking, including how they impact your body and potentially boost your health
Work toward your health goals
Earn rewards for free stuff, as long as you consistently take your vitamins
How Much Do Care/of Supplements and Vitamins Cost?
The exact price of your Care/of subscription will depend on the specific ingredients you choose to include. With this said, here are their individual ingredient prices:
Vitamins
Vitamin B12: $5/mo
B-Complex: $16/mo
Vitamin C: $5/mo
Vitamin D: $5/mo
Prenatal: $25/mo
Vitamin K2: $9/mo
Multivitamin: $15/mo
Minerals
Magnesium: $8/mo
Calcium Plus: $12/mo
Iron: $5/mo
Zinc: $5/mo
Herbs
Ashwagandha: $8/mo
Rhodiola: $8/mo
Bacopa: $8/mo
Turmeric: $8/mo
Elderberry: $8/mo
Milk Thistle: $8/mo
Garlic: $8/mo
Evening Primrose: $10/mo
Saw Palmetto: $8/mo
Probiotics
Probiotic Blend: $8/mo
S. boulardii: $16/mo
Specialty
Fish Oil: $16/mo
Veggie Omega: $18/mo
Astaxanthin: $9/mo
Digestive Enzymes: $5/mo
CoQ10: $9/mo
Care/of ships their supplements to all 50 states. Orders $20 and over include free shipping; otherwise, it's a flat rate of $8.
The company will send you a new box of vitamins once per month, and you can adjust, pause, or cancel your subscription at any time.
All Care/of orders also come with a 30-day refund policy, even if "you've already taken a bunch of the packs," which you can request by contacting 877-227-3631 or help@takecareof.com.
What Can We Learn from Care/of Online Customer Reviews?
We didn't encounter a whole lot of online customer feedback for Care/of at the time of our research, although most of what we did find seemed positive.
On iTunes, nearly 30 users had given the app an average rating of about four stars, with common compliments referencing very useful information about what works and what doesn't, ease of use/simplistic design, and helpful functionality.
What few complaints there were commonly related to general bugginess.
Buzzfeed's Emmy Favilla tried out the subscription service and found they were about $10 more per month than purchasing the least expensive options on Amazon. However, she emphasized:
"I trust the high production standards that Care/of is committed to: Its products are made ethically, sustainably, and without harsh solvents or processing materials. (Jury's still out on whether the same can be said for the cheap alternatives I used for price comparison.)"
From a company perspective, Noho Health Inc. (dba Care/of) is based out of NYC, has been in business since 2015, and was co-founded by CEO Craig Elbert and Head of Product Akash Shah.
According to their LinkedIn profiles, Craig previously worked as VP of Marketing for Bonobos, while Akash also co-founded Hometeam and Spur, Inc.
While the company currently offers a range of 30 ingredients, Craig told TechCrunch that they plan to add up to 125 different options in the near future.
Care/of vs. Vitafive and Vitamin Packs
If you search online for a supplement or vitamin subscription options, you'll find that most manufacturers and retailers offer some type of recurring shipping program, where customers can customize which products they'd like to receive. You'll also encounter plenty of supplement-oriented monthly subscription companies—often centered around a theme—like Bulu Box, Jacked Pack, Super Gains, etc.
But are there any other companies competing directly with Care/of, who deliver high-quality, personalized vitamin and mineral ingredients on a monthly basis, and in individualized packs? We only came across two:
Vitamin Packs
This was the most similar to Care/of, which utilizes a quick, quiz-based assessment, as well as personalized recommendations based on an algorithm developed by a team of experts.
And while Vitamin Packs doesn't provide a complete list of all the ingredients they offer, nor the ability to further customize orders, the ones recommended to us based on our quiz answers ranged in price between $0.09-$1.06 per ingredient, per day.
Vitafive
Compared to Care/of and Vitamin Packs, Vitafive is more of a niche company, offering custom gummy vitamins.
Customers can choose between one or more of eight different ingredients (omega-3, biotin, probiotic, vitamin D3, vitamin C, multivitamin, calcium and D3, and melatonin), which are priced between $3-$14 per month, each, depending on the quantity you choose.
How can you decide which of these services—if any—represents your best option? Let's carry this over as we come to a conclusion.
Our Final Thoughts About Care/of
The HighYa team has collectively written about more than 650 nutritional supplements over the years. And perhaps the single most important piece of advice we've learned is that, according to organizations like the National Institutes of Health and Nutrition.gov (to name just a couple), otherwise healthy individuals don't need to take them.
In layman's terms, unless you're deficient in one or more of the ingredients they contain, there's little clinical evidence showing that ingesting dietary supplements will provide real-world benefits.
With this said, we find it refreshing that Care/of emphasizes: "vitamins and supplements are most effective when tailored to help you fill gaps in your diet or reach health goals," and not "all supplements have equal levels of scientific evidence or traditional history."
Also, we appreciate the fact that they're transparent about their sourcing practices and supply chain, their products are tested for potency before reaching customers, and that their quiz-based assessment adds a gamification factor that can make it fun and compelling to use.
But keep in mind that completing an entertaining quiz doesn't replace a physician's advice about a specific ingredient's effectiveness, as well as potential side effects or medication interactions.
Bottom line: Care/of really does seem like an ethical company that has their customers' best interests in mind. Whether or not you'll achieve meaningful value from their vitamins and supplements, though, largely hinges on what your doctor advises during your appointment.
Convenient and high quality!

By Jessica G.

,

Alaska

,

Oct 17, 2019
Verified Reviewer

Having them shipped in individual packets is extremely convenient. I had my naturopathic doctor look at all the ingredients and said that he was surprised how clean they are! The quiz was easy to follow and while yes, the recommendations are A LOT, you can easily pick and choose what you want to order each month.

Bottom Line: Yes, I would recommend this to a friend

---

HORRIBLE customer service

By Amber S.

,

Virginia

,

Oct 17, 2019
Verified Reviewer

Over-priced with horrible customer service. Overcharged my card when I tried to redeem carrots and never responded to my inquiries about my account. Don't go with these idiots. They couldn't keep me as a customer because they are unable to change my address in their outdated system and they couldn't have cared less about losing a customer.

Bottom Line: No, I would not recommend this to a friend

Oct 17, 2019

Hey there Amber - Really sorry about your experience with us. I apologize that our system was unable to recognize your address, we're pretty frustrated by this also and are working to improve our address validation system. This does not happen often, but when it does it really bums us out.

Please contact me directly if you have any other questions or concerns. I know you're interested in making sure you get as much value out of your Carrots as possible :)

-Henry

henry.dunn@takecareof.com

---

Overpriced and complete absence of customer service

By Victoria K.

,

Denver, CO

,

Oct 3, 2019
Verified Reviewer

Stay away from Care/of! The biggest red flag for me was when I tried to call someone and no one ever answers. They just put you on hold for a few minutes then there's a recorded message that says to send them an email or go to their website for help. And their website has a question and answer page and a way to "live chat" or "text" one of their employees, saying they'll get back to you within a day and no one has ever gotten back to me on a weekday. Their business hours are also from 12 pm - 5 pm.

Their website and app have a message that says "Due to high volume your order could arrive a few days after your estimated delivery date." They kept pushing back the delivery date every time I check. I was supposed to get my order at the beginning of September and now it's the end of September and it hasn't even shipped yet. I have a tracking number but it says, "USPS awaiting item."

How can a business advertise so heavily and not invest at all in customer support or expanding the capacity of their fulfillment center? Their excuse is "growing pains" but that's exactly the same excuse scammer Brittany Dawn Fitness used when she couldn't deliver on what she promised. This is a company that cares more about making a quick buck than about their integrity and reputation. I immediately canceled my subscription. Even Amazon has better customer service and they're a multi-billion dollar company. I would much rather talk to someone from India then absolutely no one at all. The other red flag is I couldn't even figure out how to leave a review on their website.

Bottom Line: No, I would not recommend this to a friend

---

Vitamins and protein

By Renee R.

,

Albuquerque, NM

,

Sep 27, 2019
Verified Reviewer

I ordered last month, where are my vitamins at? I paid $64.00, $23.00.

If I don't get my vitamins soon I would like a full refund.

I was hopping this was real but I need my vitamins or my money back to me.

Bottom Line: No, I would not recommend this to a friend

---

Advertisement

---

AVOID! Worst company out there.

By Leysa S.

,

California

,

Sep 19, 2019
Verified Reviewer

This is the worst company I have ever given my business to. The fun packaging and promise of convenience sucks you in, but be warned, this is where the nightmare starts. They have completely screwed up 4 out of the 6 orders I have received from them.

They don't fix anything unless you chase them. I have received the wrong vitamins, gone a week+ without vitamins and they have told me they could not cancel my order despite it already being over a week late and still not having shipped. I then get an email FIVE days after they said it was too late to cancel saying my order was shipped. By this point, they are over two weeks late and I have already had to buy replacements.

Absolute GARBAGE company, seriously garbage. They just send you the same cookie-cutter nonsense emails about how they care about their customers and are disappointed in themselves blah blah blah. Please don't waste your time or money on these people.

Bottom Line: No, I would not recommend this to a friend

---

Shallow

By Leon E.

,

Idaho

,

Aug 23, 2019
Verified Reviewer

The survey was not what I expected. The questions were shallow and the site was quick to sell me vitamins. I was disappointed that I did not get the answers I was looking for in my health concerns. Disclaimer: I used the service but not their products.

Bottom Line: No, I would not recommend this to a friend

---

Care/of is exactly what I and so many others need

By Raj V.

,

Washington, DC

,

Jun 19, 2019
Verified Reviewer

Care/of is exactly what I and so many others need. In the past, I've avoided committing to a particular vitamin/supplement regimen because I was overwhelmed by the amount and quality of information out there. Care/of eliminates the need to research endlessly about how which vitamins and supplements impact a health goal. And knowing what one should take is just half the battle. Actually taking the vitamins and sticking to a regimen is often the hardest part. Care/of delivers my personally tailored vitamins in convenient daily dose pouches that are easy to toss in a bag and take anywhere anytime.

Bottom Line: Yes, I would recommend this to a friend

---

Makes taking my supplements a breeze

By Jessica P.

,

Keene, NH

,

Jun 18, 2019
Verified Reviewer

I've always been interested in supplements, it never really knew what was right for me. Care/of made that part so easy. I found the initial quiz led me to the right mix for me.

I've been taking my packets daily for about 3.5 months and I feel great. Having the individual packs makes it easy to always have one with me.

I also use the app to track my usage and often stop to read the helpful articles.

I would recommend Care/of to anyone who wants to supplement their body. It's easy and convenient.

Bottom Line: Yes, I would recommend this to a friend

---

Wonderful new routine

By Nina F.

,

New York, NY

,

Jun 14, 2019
Verified Reviewer

Loving my new routine with Care/of. Have never been good at maintaining a vitamin regimen, and this has been the solution. Had one call with customer service to figure out my refill, and they were helpful and efficient. Look forward to keeping this going.

Bottom Line: Yes, I would recommend this to a friend

---

SCAM

By Victoria R.

,

Lehigh Valley, PA

,

May 1, 2019
Verified Reviewer

I ordered vitamins from these folks because it looked convenient and really seemed to streamline the vitamin consumption process. Not only is their customer service abhorrent, they also didn't give me products I paid for and ordered and rather than trying to rectify my issue they were more concerned with trying to defend themselves on social media. Of course I'm mad, when you pay for a service you expect it to be fulfilled. The only actually call in service they offer are normal business hours. Being a stay at home mom with a teething 8-month-old, it's borderline impossible to call people, especially using a prompt system. They then say "oh we have this lovely live chat," EXCEPT IT ISNT. You're not talking to anyone and they don't even respond. I'm on hour 3 of no response. Save your time and money and STAY AWAY.

Bottom Line: No, I would not recommend this to a friend

---

LOVE Care/of!

By Lauren R.

,

New York

,

Mar 15, 2019
Verified Reviewer

In an attempt to be healthy and make up for vitamins missing in my daily diet, I would go through phases of buying vitamins and taking them for a few days and then never looking at them again. Not only is the quality of care of vitamins amazing, but they make the entire process of choosing, buying, and remembering to take your vitamins SO EASY. Love the product. Love the packaging. Love the app. Love the site. Love care/of.

Bottom Line: Yes, I would recommend this to a friend

Mar 27, 2019

Thanks for spreading the love, Lauren!

---