GOLO Reviews
Claimed This company has claimed this profile, is getting alerted on any new customer reviews entering this page, and may engage in dialogue with its customers to address their matters.

Companies cannot pay money or provide goods in order to remove or alter customer reviews.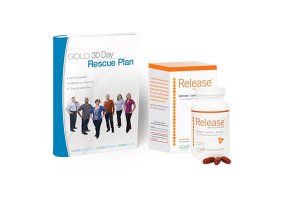 GOLO is a three-part weight loss program that can help break your insulin resistance, lose belly fat, improve your health, and completely reshape your body.
About GOLO
Boasted as the number one searched diet on Google for 2016, GOLO's 30-Day Rescue Plan promises to help you improve your insulin management and efficiency, boost your weight loss, and maintain your results for the long-term—without ever having to "diet" again.
Combined with their Release supplement, a healthy eating plan, and exercise, GOLO claims to help you get off the diet roller coaster for good. They want you to succeed and never diet again.
How does GOLO Diet help you accomplish this and what kinds of results might you expect?
We had the opportunity to speak with the company and learn more about their approach to weight loss, all aimed at helping you find answers to your most important questions and overall capture their vision for their customers.
We did not use the product on ourselves, but based on dialogue with the company and publicly available information located at GOLO's website and third party website such as WebMD, we simply formed an observation and review of what the GOLO Diet plan involves and what ingredients are used.
How Does GOLO's 30-Day Rescue Plan Work?
Speaking with GOLO's President Jennifer Brooks, who is also a board certified holistic nutritionist, as well as Eden Covington, Director of Social Media and Customer Service, we learned that the system is all about insulin management.
But if this immediately makes you think "diabetes," this isn't necessarily the case. How so?
Brooks explained the concept of insulin optimization like this: It's an ideal state where your body doesn't over or under-produce insulin. Instead, these levels remain steady instead of frequently spiking and crashing.
This is in sharp contrast to diabetics, who often don't produce adequate insulin levels, or the cells inside their body can't process the hormone.
Nonetheless, to accomplish this, Brooks told us that GOLO will help you regulate your glucose intake—versus counting calories—by eating properly, consuming real foods, and giving your body the proper nutrition it needs.
By doing this, GOLO's website claims that you can achieve "amazing results in seven days," although if you stick with the program for 90 days, you can expect to lose 4" off your waist, drop two or more dress sizes, boost your energy and vitality, improve how you feel and sleep, and lower your stress and anxiety.
Overall, the GOLO Rescue plan contains three main components: the Release supplement, the meal plan, and a free one-year membership to myGOLO.com.
Release™ Patented Supplement
Using all-natural, plant-based ingredients scoured from all across the planet and manufactured in California (again, according to the GOLO website), their Release supplement promises to help you optimize insulin performance and increase cell receptor sensitivity, and even to stand in for insulin when it's not functioning normally.
As a result, we're told by the company's site that Release can provide powerful metabolic support by promoting fat release, controlling glucose to stop weight gain and reduce cravings, healing metabolic dysfunction, and balancing hormones to improve mood and reduce stress.
According to GOLO, you'll need to take one Release soft gel during the middle of each meal, and it will optimize your insulin, prevent weight gain, and support the use of stored fat. All without caffeine, other stimulants, or side effects.
Then, after your insulin has been optimized, you can gradually phase out your use of the supplement. Golo states that most people take the Release Supplement for 3-6 months.
Important Note: GOLO states that if you have Type 1 Diabetes, you should consult with your physician prior to taking the Release supplement. Also, if you're currently pregnant or breastfeeding, GOLO does not recommend taking Release Supplement.
Metabolic Fuel Matrix™
Instead of depriving yourself, which can lead to hunger and fatigue and create isolation, GOLO's Metabolic Fuel Matrix eating plan focuses on feeding your body real, whole foods that deliver the right balance of micro and macronutrients (including carbs, protein, vegetables, and fats) to help further stabilize your insulin levels.
As a result, you can expect to remain full and energized, reduce hunger and cravings, and learn the right combinations of healthy foods that will promote weight loss—which can also help you to maintain your weight once you've reached your goals.
According to Covington, while every GOLO member will eat three well-balanced Matrix Meals per day, exactly how much food you'll consume will depend on your personal metabolic rate; more commonly known as your energy needs. This is something you'll do as soon as you begin.
The Fuel section of GOLO's website also explains that you'll get to pick the foods you want from their plan to personalize to your needs, including whole foods like butter, eggs, meats, fruits and vegetables, and grains—including pasta and bread.
Furthermore, their 'Creating Matrix Meals' guide shows you how to prepare these delicious, family-friendly (and insulin-friendly) meals in minutes.
MyGOLO.com Membership
Your myGOLO membership gives you access to online tracking (track your weight, progress, metabolic health analysis) and up to date information on health, food, and fitness (The Perfect 5 exercise system).
You'll also be able to download printable shopping lists and special edition seasonal menus, along with restaurant cards to help you stay on track, even when eating out.
Finally, your MyGOLO membership can help provide support and guidance on the GOLO lifestyle.
What Are We Going To Cover In This GOLO Review?
Alright, now that we've covered the basics of the GOLO plan, it's time to take look into their claims.
Below, we're going to discuss the four most important questions surrounding this diet program:
Is there a meaningful difference between insulin resistance and insulin maintenance?
What kinds of results can you expect with GOLO's weight loss program?
Do the ingredients contained in GOLO's supplement help boost weight loss (whether by boosting insulin optimization, or any other mechanism)?
Does GOLO have any clinical proof for the efficacy of their program?
Is There a Meaningful Difference Between Insulin Resistance & Insulin Maintenance?
It's important to point out that, while the term 'insulin resistance' is mentioned six times in the first section of GOLO's website, the program doesn't claim to help address this condition.
Instead, to reiterate, GOLO only references insulin maintenance, performance, and optimization. Is there a meaningful difference, though?
In short, yes. Insulin resistance is a medically recognized condition where the body can't easily absorb glucose from the bloodstream. If left unchecked, this could eventually lead to prediabetes and type 2 diabetes.
On the other hand, terms like insulin 'maintenance,' 'performance,' and 'optimization' are much fuzzier. Why?
In a nutshell, searching authoritative sites like the National Institutes of Health, Medscape, and EndocrineWeb (to name just a few), these terms are often used when discussing diabetes management. However, none of these sites we encountered drew a direct relationship between insulin management and weight loss, or weight management.
Interviewed for a recent Women's Health article, diabetes educator Jessica Crandall, R.D.N., explains that a possible reason for this gap between the existing terminology and GOLO's claims is that, "while insulin resistance can cause obesity, prediabetes, and type 2 diabetes, it can't be controlled the way the diet claims it can."
Further clarifying, Crandall adds that "there's no way to change how insulin "performs." Though you can increase your body's insulin sensitivity, that has nothing to do with the way insulin does its job. In other words, "insulin performance" isn't a thing."
What is Known About the Ingredients in GOLO's Release Supplement?
At the time of the research, according to the website, here's what the GOLO's Release™ supplement contains:
Other ingredients include organic flaxseed oil, gelatin capsule (gelatin, glycerin, purified water, annatto), yellow beeswax, sunflower lecithin.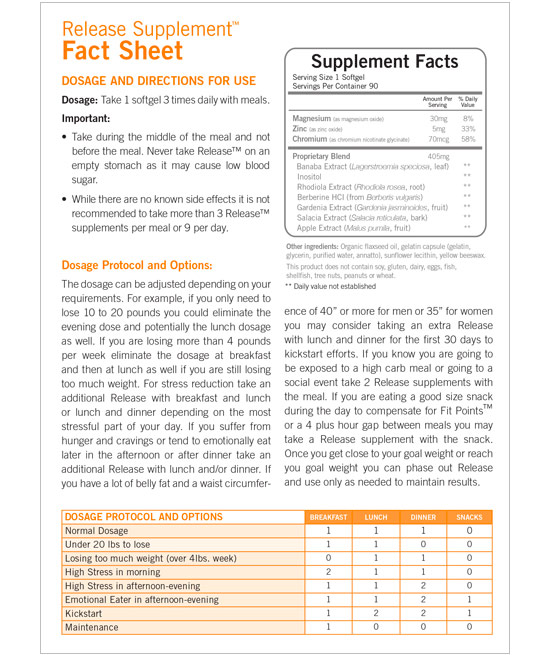 GOLO's Release Supplement Ingredients Label taken from www.golo.com as of March 2017
According to WebMD, "Early research suggests that consuming salacia tea with each meal might lower hemoglobin A1C (HbA1C) levels in people with type 2 diabetes. HbA1C is a measure of blood sugar control."
WebMD also indicates that, "Berberine seems to slightly reduce blood sugar levels in people with diabetes. Also, some early research suggests that taking 500 mg of berberine 2-3 times daily for up to 3 months might control blood sugar as effectively as metformin or rosiglitazone."
Important note: While the reported clinical evidence might be slim for these ingredients individually, in our conversation with President Jennifer Brooks, we were told that GOLO holds clinical evidence that the specific combination of these ingredients is effective. However, we didn't review this evidence firsthand.
Will Release's Ingredients Cause Any Side Effects?
The GOLO website tells us that "There are no known side effects and no adverse events have been reported in over 5 years of sales of the Release supplement," and that it's safe for pre-diabetics and type 2 diabetics.
As a result, if you experience any side effects at all, authoritative websites like WebMD and Examine.com tell us they probably won't be worse than mild digestive upset. Specifically, this relates to magnesium, zinc, chromium, inositol, and salacia. This doesn't necessarily always apply to GOLO's Release supplement as they have a proprietary compound blend.
Has GOLO Performed Any Clinical Studies on Their Weight Loss Diet Program?
Note: Summaries of all these studies could be found in GOLO's Trial Summaries PDF linked to from the Clinical Studies page of their website.
GOLO's 2010 Study Measuring Weight, BMI, Body Fat, Visceral Fat, & Metabolic Age
According to the summary of the study listed on GOLO's Trial Summary page, as well as the copy provided to us by GOLO's support staff, this 26-week study was completed in October 2010, and involved 35 volunteers (11 male and 24 female), all of which were classified as overweight or obese.
All participants adhered to GOLO's dietary plan, exercised regularly, and took the Release nutraceutical supplement.
In the end, "The 35 subjects (which include the control group results) lost an average of 20.6 pounds in 90 days and 30.9 pounds over 6 months or an average of 1.58 pounds and 1.19 pounds on average per week."
Participants also "achieved significant reductions in waist circumference and body size, and lowered their health risk factors."
Therefore, they concluded, "The USA study findings are consistent with previous results achieved in South Africa thereby suggesting that the Program demonstrates the potential to help overweight and obese individuals lose weight more effectively while obtaining health benefits including the reduction in risk factors and the reversal of Metabolic Syndrome and pre-diabetes."
What are the previous results they're referencing?
90-Day & 25-Week Studies
While the GOLO website mentions that several open trials were completed between 2009 and 2014, they only reference two:
A 90-day study showing that participants lost an average of 25 pounds, or 2.1 pounds per week, on the complete program and 16.9 pounds more than the control group (those who chose not to take the Release supplement).

A 25-week study showing that participants lost an average of 28.4 pounds, or 1.1 pounds per week, on the complete program, and 16.4 pounds more than the control group. Participants lost 3.4 inches more around the waist than the control group.
Bringing It All Together
The reality is that most people who burn 500 more calories than they eat every day lose about 1-2 pounds per week with their healthy (i.e. non-crash) diets. Which seems in line with what GOLO's participants experienced in the clinical trials we just discussed.
So, while the GOLO diet might not be clinically shown to help you lose more weight than any other healthy diet, the evidence indicates it might help you get in a habit of eating nutritious foods that can put you on a path to weight loss.
Coming back around to our insulin resistance conversation from earlier, the more detailed copy of the October 2010 study we received from customer support found:
After 3 months 47.1% of the subjects (17 subjects or 48%) that were pre-diabetic at the beginning of the study reversed their pre-diabetic status. After 6 months the pre-diabetic status reduced by 70.6%.
Taking all of this together, we were left with three main thoughts:
What does this seem to indicate? First, while it's positive this evidence indicates that many GOLO trial participants were able to reduce their pre-diabetic status, nothing is referenced in the study about helping otherwise healthy (i.e. non-prediabetic) individuals improve the maintenance, performance, or optimization of their insulin.
And remember; based on how the plan is advertised, GOLO is targeted at the latter.
Do these results provide a balanced view? Second, the study also doesn't tell us by what percentage other healthy eating programs (the Mediterranean diet, as but one example) might be able to reduce instances of pre-diabetes, for comparison.
After all, it's well known that eating a balanced diet and getting enough exercise are the best methods of avoiding insulin resistance—or getting back to normal if you already are.
What is the quality of these studies? Finally, according to B. Sibbald and M. Roland of the National Primary Care Research and Development Centre at the University of Manchester:
"Randomised controlled trials are the most rigorous way of determining whether a cause≠effect relation exists between treatment and outcome and for assessing the cost effectiveness of a treatment."
From the more detailed 2010 trial summarization provided to us by a GOLO representative, we learned:
"While this study was primarily relying on the control data from the South African studies, 5 subjects of the 35 subjects were provided with just the diet, behavior and exercise components of the Program to assess the efficacy of the supplements."
However, we're not told exactly how any of the other trials were controlled, so we can't gain any insight into their level of quality.
In addition to randomized control, the peer review process helps greatly increase the likelihood that any submitted study is of the highest quality, since this indicates that recognized experts in the relevant field have reviewed it for accuracy.
In the instance of GOLO, their Trial Summaries information didn't indicate that their studies were published in any authoritative journal or peer reviewed.
How Much Does GOLO Weight Loss Diet Program Cost?
The GOLO Program (and its Release supplement) is available through three purchasing options:
30-Day Supply (90 capsules): $49.95
60-Day Supply: $69.90
90-Day Supply: $89.95
During checkout, you'll be presented with several upgrades:
Add a 30-Day Rescue Plan for a Friend or Family Member: $49.95
The GOLO Perfect 5 Resistance Band & Booklet: $29.95
Expedited Shipping (2-3 business day arrival): $6.95
Important note: Unlike the vast majority of other weight loss supplements whose websites, marketing, and billing models the HighYa team has researched, we think it's positive that there is no autoship program associated with the GOLO supplement, or auto-renewal for the MyGOLO.com membership.
All GOLO orders come with a 60-day refund policy, less S&H, which you can request by calling 800-880-4656 or sending an email to support@golo.com.
Our Final Thoughts About the GOLO Weight Loss Diet
Here's the bottom line: We didn't test the GOLO Diet program ourselves, but based on what we discovered from authoritative websites, the real, whole foods you'll be eating can certainly help manage your blood glucose levels.
Will this necessarily translate into greater success than with other weight loss programs? Ultimately, since each of our physiologies is so different, there's no way to know for sure without giving it a try.
With this said, GOLO seems to come with mostly positive feedback from HighYa readers, who had given the weight loss system an average rating of 2.8 stars at the time of our research.
According to reviewers who have claimed to use the product, common compliments referenced effective weight loss results, ease of use (including shopping for food), improved blood readings, reduced cravings, and affordability.
On the other hand, common complaints seemed to reference no results and side effects like fatigue and upset stomach. Fortunately, a company representative directly addressed many of these concerns promptly.
After all, as the Centers for Disease Control notes, exercise is a must-have component if you're looking to lose weight and keep it off. We think this is an important consideration to keep in mind, although adding exercise to your day could be as simple as walking.
Next, we feel it's important to reiterate that GOLO is transparent about their billing (according to their site), have clinical trials for their program (although not all were controlled and none appear to have been peer-reviewed), and openly display their Facebook reviews.
Many on the GOLO team have extensive experience in the industry, including GOLO's co-developer, Dr. Conrad Smith, and Dr. Keith Ablow, a Johns Hopkins School of Medicine graduate.
Dr. Terry Shirvani has a pre-med undergraduate degree, a degree in Chinese Medicine from Pacific College of Oriental Medicine, and a doctorate in Naturopathic Medicine from National College of Natural Medicine, according to his Linkedin Profile.
President Jennifer Brooks trained in Holistic Nutrition, Mind Body Transformational Psychology, and Fitness Nutrition at the Southwest Institute of Healing Arts.
This is definitely a good sign that a team with such credentials stand behind the GOLO Weight Loss Diet Program.
Just keep in mind that, whether it's GOLO or any other diet plan, it's important that you always seek professional medical advice from your doctor before beginning. After all, while what we've written here is based on publicly available information and subsequent opinion, it should never take the place of speaking with a licensed physician.
Editor's Note: This article is based on information taken from www.golo.com as of March 2017. Information on GOLO's company website is subject to change, please visit the main company website for the latest information.
New life

By Deanna D.

,

Glen Allen, VA

,

Nov 9, 2019
Verified Reviewer

GOLO has changed my life! They provided exactly what I needed to get healthy. An easy to follow roadmap on how to eat to keep my metabolism boosted. Complete with recipes and grocery lists, online support group, and coaches. I've lost 29 lbs since March 2019 and have been able to maintain. My energy is great. Aches and pains are gone! Best plan EVER!

Bottom Line: Yes, I would recommend this to a friend

---

GOLO changed my life

By Mildred C.

,

Tampa, FL

,

Nov 9, 2019
Verified Reviewer

After reaching 173lbs at 5'2" I knew I had to make drastic changes to my life, I was unhappy with myself, didn't feel good, was always tired, had stomach issues, bit my nails. I saw GOLO as my last hope, and a tool to learn to live a healthier life. GOLO has taught me how to read ingredients, what's healthy and not, how much to eat. I went from a tight size 10 to now 6, and feel alert, alive, no stomach issues, my skin is so soft, energetic. GOLO is not a diet, it's a lifestyle and a great one, you won't regret. GOLO kickstarted my metabolism! Give GOLO a go!

Bottom Line: Yes, I would recommend this to a friend

---

Advertisement

---

My GOLO experience.

By Ronald L.

,

Perry, MI

,

Nov 9, 2019
Verified Reviewer

I started GOLO June 3rd. It was one of the best decisions of my life! I believe it has saved my life. I was way overweight, and having health issues. I became a Type 2 diabetic with my A1C out of control. My cholesterol triglycerides were really bad. After three months on the program, my A1C went from 9.6 to 6.5. My triglycerides went from 253 to 148 with no cholesterol medication. My pant size went from size 42 to 38. My weight has gone from 297 to 247.

Bottom Line: Yes, I would recommend this to a friend

---

Waste of money. Doesn't work as stated.

By Vincent J.

,

New Jersey

,

Nov 5, 2019
Verified Reviewer

I bought a 90-day supply and didn't eat any more than usual and in fact, eliminated foods as well as cut back on eating to a degree. I watched the scale and thought I might have lost a pound after a month of using the product as directed. At that point I was skeptical, but continued and was on the verge of calling the GOLO people up to get a refund since I was close to their 60-day cut-off. I misjudged on the date and went past and not surprisingly nothing changed in terms of my weight. In essence I wasted $100 on a product and program that is worthless. I had posted a similar message on GOLO, but they seemingly didn't allow the one-star review.

Bottom Line: No, I would not recommend this to a friend

---

Advertisement

---

Golo works

By Leah M.

,

Easton, Pennsylvania

,

Jun 17, 2019
Verified Reviewer

I know there is a lot of hype out there about Golo. I want to preface this by saying I have tried a lot of diets and I have done a lot of things to lose weight. I have failed miserably. I tried Golo expecting it to be another failure. I am writing here to help dispel the myth that Golo does not work. It absolutely does! I am losing weight, I feel so much better and this is not a hard to follow. They supply you with great recipes and ideas and so many people are there to help you. I like every thing about this program and I love the fact that for the first time in more than 7 years, I am losing weight. It works.

Bottom Line: Yes, I would recommend this to a friend

---

It works!

By Vivian V.

,

Drums, PA

,

Apr 1, 2019
Verified Reviewer

When I started Golo 3 months ago I weighed 193 lbs. I had blood work checked a few months before I started. Everything was elevated. Today I am now 179 lbs and my most recent bloodwork shows that everything has returned to normal levels. My energy, my stamina, and my overall feelings about myself have greatly increased. So yes it works!

Bottom Line: Yes, I would recommend this to a friend

---

It is the best

By Karen S.

,

Olympia, WA

,

Mar 30, 2019
Verified Reviewer

I have been on so many diets I have lost count! I could never stay at a lower weight after losing many, many pounds. I had this obsessive voice in my head that would not stop. "You are hungry, you want candy. You want to binge and devour an entire 1/2 gallon of ice cream!" I thought I would try GoLo as it appeared to be a clean way of eating. The second day after taking Release that obnoxious voice was quiet in my head! I could not believe it. I have been so happy. I have not had any sodas, no snacking at night and have more energy and sleep great! I am so grateful this has helped me so much. For the first time in my life, I am at peace with myself, my body and my healthy way of eating.

Bottom Line: Yes, I would recommend this to a friend

---

It works!

By Sunny L.

,

Maryland

,

Mar 30, 2019
Verified Reviewer

More of a lifestyle change, which MANY of us need!

I wanted to and needed to lose weight quickly and safely and GOLO worked for me quickly and relatively easily. This plan works and the support is awesome. So glad I found it!

Bottom Line: Yes, I would recommend this to a friend

---

It transformed me and changed my life!

By Dawn D.

,

Chesterton, IN

,

Mar 30, 2019
Verified Reviewer

I started GOLO following their food plan and taking one release with each meal starting in July of 2018; in 9 months I have lost 75 pounds and gone from a size 20 to a size 8. People don't recognize me and everyone wants to know what I did! The best part it was easy; when taking release I wasn't hungry, I felt calm and less stressed, and my triglycerides went from 247 to 77! This isn't a diet, it's a healthy lifestyle change, I am GOLO for Life!

Bottom Line: Yes, I would recommend this to a friend

---

Shipping

By Chase A.

,

Tennessee

,

Feb 26, 2019
Verified Reviewer

Please do not order from GOLO. I wish I could give this zero stars. Never did receive my order it's lost between DHL/USPS. GOLO refuse to refund money even though they can see (tracking) package is lost somewhere. They keep saying the only way they will issue a refund is by returning the package. What freaking package. I don't have one. PLEASE PLEASE DON'T ORDER FROM COMPANY.

Bottom Line: No, I would not recommend this to a friend

Feb 26, 2019

Hi Chase!

I am so sorry that you were unhappy with the shipping on your order. The order was placed on Monday 2/11 and shipped on Tuesday 2/13. Normal delivery time is 3-5 business days once the package has shipped out. According to the tracking it looks as if there was a weather delay and your package took 7 business days to arrive. I sincerely apologize that this happened but unfortunately we are unable to control this type of unforeseen issue that does happen at this time of year.

I can also see that you refused the package at the time of delivery and that as of today, 2/26/19, it is still in route back to us. When we receive the package we will be happy to issue you the appropriate refund.

If you have further questions, please feel free to contact Customer Support at 800-730-4656.

Sincerely,

Eden C.

Director of Customer Support

---

More of a question regarding Release

By Sharon H.

,

Florida

,

Feb 20, 2019
Verified Reviewer

I am so happy with the Release capsules. I want to know if I could continue taking them even after the recommended period of time. I have more energy now than ever and really haven't even begun to start the eating differently part of the program.

Bottom Line: Yes, I would recommend this to a friend

Feb 21, 2019

Hi Sharon!

Yes, you can continue to take Release as long as you like. It is safe for long-term use. However, you don't have to take it forever to maintain your weight loss. It is designed to be phased out as you reach your goal! If you have any further questions, please feel free to contact us 800-730-4656 or support@golo.com.

---