Gundry MD Prebiothrive
Claimed This company has claimed this profile, is getting alerted on any new customer reviews entering this page, and may engage in dialogue with its customers to address their matters.

Companies cannot pay money or provide goods in order to remove or alter customer reviews.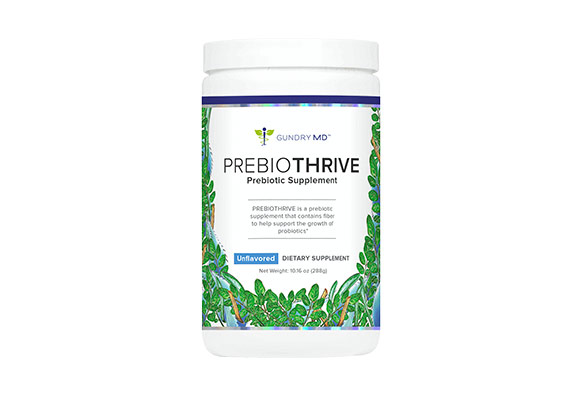 Gundry MD Prebiothrive is a once-daily supplement that allegedly feeds good bacteria in your gut and limit bad bacteria, thereby increasing digestive health and energy. However, some information is lacking to make further conclusions on the supplement's efficacy.
Prebiothrive Review: Does It Work And Is It Safe?
What Is Prebiothrive?
The Gundry MD Prebiothrive supplement utilizes prebiotics to help the good bacteria in your gut thrive, while simultaneously reducing the number of bad bacteria.
Gundry alleges the following benefits in its supplement:
Bring natural balance to your digestive system
Increased energy
Decreased junk food cravings
Less gas, bloating, and discomfort.
Many of us don't eat the foods we should, so our digestion and overall health can take a hit.
This article assesses the ingredients of Prebiothrive to determine if it's effective for you.
What's the Difference Between a Probiotic and a Prebiotic?
Probiotics are specific strains of bacteria that can help improve digestion, boost immune system response, and more—although there's limited evidence that they can help you lose weight.
And if your digestion is much more effective and you're feeling good, this can translate into secondary benefits like improved energy.
On the other hand, prebiotics are a form of fiber that can't be digested by your body, so they pass into your gut mostly intact, where they can act as a food source for probiotic bacteria. In other words, it helps them thrive.
Although most prebiotics don't focus on a specific bacteria strain, in order to meet the definition, they must increase the number or activity of bifidobacteria, a bacteria "family" often associated with improving constipation, reducing total cholesterol, addressing some aspects of IBS, and more.
Ingredients
Prebiothrive claims to improve digestion, reduce stomach discomfort, promote a balanced gut microbiome, and boost energy. The company website advises taking 1 scoop of Prebiothrive every morning with 8oz of water, preferably with a probiotic to create the "synbiotic effect."
The effects are thought to be possible through their blend of the following prebiotic ingredients:
Acacia Gum
This non-digestible polysaccharide has had various purposes in many cultures over the span of centuries. It is thought to promote wound healing, relieve pain, and support oral health in addition to the proposed dietary benefits.
In 120 healthy women, those randomized to treatment with 30g/day of acacia gum had a significant reduction in BMI and body fat percentage over 6-weeks.
Acacia gum supplementation at 10g/day over 4-weeks boosted the friendly gut bacteria bifidobacteria and lactobacilli in healthy volunteers more than an equal dose of inulin.
Agave Inulin
Inulin from the blue agave plant offers a rich source of fiber.
Obese adults experienced reduced hunger, desire to eat, and food consumption when randomized to inulin supplementation of 12-weeks when compared to controls.
Inulin supplementation in constipated adults at 12g daily for 4-weeks promoted softer stools, increased stool frequency, and increased amounts of 3 different friendly gut bacteria.
In 40 subjects with prediabetes, those randomized to 30g/day of inulin over 4-weeks reduced insulin resistance.
Flaxseed
Offering a rich source of both fiber and omega-3 fatty acid, flaxseed is thought to benefit heart, bone, and mental health.
In healthy adults, 50 g flaxseed/day over 4-weeks increased bowel movements per week by 30%.
In a review of 45 randomized studies, various dosing regimens and delivery methods of flaxseed were used: whole flaxseed ranging from 13 to 90 per day, flaxseed oil ranging from 1 to 15.4 g per day, and lignan ranging from 50 to 600mg per day.
They concluded that whole flaxseed supplementation can reduce body weight, BMI, and waist circumference, particularly in overweight individuals.
Galacto-oligosaccharides (GOS)
GOS are indigestible fibers found naturally in mammalian milk that are thought to boost friendly gut bacteria and aid digestion.
In overweight and obese subjects, those randomized to 15g of GOS daily for 12-weeks experienced increased fecal Bifidobacterium.
A mixture of α-galacto-oligosaccharides at 5g daily boosted friendly gut bacteria in healthy adults, while it improved bowel function in constipated subjects.
Guar Gum
Guar gum is a gel-forming fiber obtained from the Cyamoposis tetragonolobus L. plant.
Guar gum was not an effective mean of preventing diet induced obesity in mice. A review of 20 trials found that guar gum was not effective in reducing body weight.
In middle-aged women with elevated cholesterol, 15g of guar gum daily significantly reduced body weight but not cholesterol levels.
In constipated adults, 5mg of guar gum daily over 4-weeks significantly reduced colon transit time and the number of bowel movements with straining, while also improving stool form.
The Takeaway:
Prebiothrive's blend of prebiotics does contain ingredients that have some available research.
Acacia gum may offer weight loss benefits, while also providing the ability to boost friendly gut bacteria better than inulin.
Inulin may offer weight loss benefits, reduce constipation, and decrease insulin resistance.
Flaxseed may similarly offer weight loss reduction and improve bowel function.
GOS may boost friendly gut bacteria in healthy and obese adults, while also aiding with constipation.
The weight-loss benefits of guar gum are mixed, though there may be a role in improving bowel function.
These effects have been investigated in a wide variety of dosing regimens and methods of delivery (powered, tablets, etc.).
This, when coupled with the fact we do not know the amounts of each ingredient in Prebiothrive, makes it challenging to conclude the efficacy of this product.
Potential Side Effects
Acacia gum was safe at 10g/day, though gas and bloating was present. Inulin was safe even at 30g/day. Flaxseed at high doses and in various methods of delivery is generally safe, though diarrhea and stomach pain is possible.
GOS and guar gum at 15g daily did not have serious adverse effects.
The vast majority of research ranges from 4-24-weeks, so we don't know the long-term effects of these ingredients.
While prebiotics are generally safe to use, there is a risk for mild gas, bloating, and cramping. These symptoms are easily alleviated with reduced dosing or discontinued use.
The Cost
How much you'll pay for Prebiothrive largely depends on where you purchase it. For example, if purchased through Gundry MD's SilenceYourCravings (landing page) URL, you'll pay:
1 Jar: $49.99
3 Jars: $132.00
6 Jars: $199.00
On the other hand, if purchased directly through the Gundry MD main site, you'll pay:
1 Jar: $79.00
3 Jars: $222.00
6 Jars: $414.00
Prebiothrive comes with a 90-day money-back guarantee, less S&H charges.
The Bottom Line
The prebiotics included in Prebiothrive may benefit your digestion, friendly gut bacteria, and BMI. While the dosing in the studies that support these benefits vary greatly, we do not have information detailing the amount of each ingredient in this supplement, however.
This makes fully defining the safety and effectiveness of Prebiothrive difficult.
Prebiothrive may be an expensive first-step for these reasons.
You can find many supplements containing both probiotics and prebiotics in the same formulation (although not from Gundry MD), which might deliver for a lower cost
---
This company is actively collecting reviews from its customers. All reviews submitted are subject to moderation and approval to ensure they meet our

Review Guidelines

.

Taking My Stomach Back!

By A. Simmons

,

Miami, FL

,

Nov 24, 2016
Verified Reviewer

Overall Experience:

While doing some research for my Dissertation, I came across a Vital Red advertisement and was compelled to watch the video. This intrigued my interest because In the past 4 years my digestive health has taken a turn for the worst.

I have always been Lactose intolerant as it seems to runs in my family, I was diagnosed with IBS and now on a daily basis I deal with bloating, gas, and the feeling that my food is never processed. Instead, it sits in my gut and causes me to feel tired, heavy, and lazy!

My Gastro doctor has given me a very thorough work up to determine the cause and develop treatment, however, it really has not helped.

I have been using Vital Reds for about 3 weeks consistently, with only a few days break due to an upset stomach. I must say that I feel a difference! Less Bloating, I am regular without having extreme diarrhea, and I have lost about 7 pounds.

I just decided to order the Prebiothrive in hopes of increasing my digestive health. I guess I just mix Vital Reds and Prebiothrive and I feel positive that the results will be great.

I have nothing to lose. After feeling that my stomach had taken on a life of its own that was well beyond my control Vital Reds has been great so far. I highly recommend this product.

Thanks, Dr. Gundry MD

Bottom Line: Yes, I would recommend this to a friend

---

Overall Experience:

I feel better in general. The product is easy to take and the taste is very light and pleasant.

Bottom Line: Yes, I would recommend this to a friend

---

Advertisement

---

Prebiothrive

By Nicole Lanteigne

,

Sainte-Julie, Montreal, Quebec, Canada

,

Jan 13, 2017
Verified Reviewer

Overall Experience:

I really like the product. It helps me clean my system and gives more energy.

Bottom Line: Yes, I would recommend this to a friend

---

Prebiothrive

By Paul Roesel

,

Georgia

,

Jan 13, 2017
Verified Reviewer

Overall Experience:

I have taken the Prebiothrive as recommended. It took a few days for me to be able to notice a difference, but it is an effective product. I also use the Vital Reds and highly recommend them.

Bottom Line: Yes, I would recommend this to a friend

---

Advertisement

---

Prebiothrive

By Manny

,

Houston

,

Jan 16, 2017
Verified Reviewer

Overall Experience:

I'm 54 years old, 5'6" in height and weighed 187 pounds. I was not feeling great after certain meals. Coffee was having the opposite effect making me feel, making me sluggish instead of perking me up for what seems to be a year, but very likely more. I stumbled onto Gundry's diet evolution after seeing his video on lectins. I'd read other books, but this seemed similar to Moser's idea of eating greens and fasting to get healthy, minus the colonics.

I began the diet and lost weight after two weeks. I received the Prebiothrive and Vital Reds and began taking them after two weeks of losing 10 pounds. I started to see psoriasis on my hands recede. I usually get sick from allergies and haven't had an issue. I don't crave sugar or bread, and December is the worst month for this. I weigh 169 pounds now and feel better than I have in years. If my psoriasis disappears in other areas I have it, I'll give it an 110% score.

My stomach issues, mental stress, and allergies have receded to almost zero. The diet works and the Prebiothrive and Vital Reds are giving me hope I haven't had in years. Thank you Dr. G!

Bottom Line: Yes, I would recommend this to a friend

---

Excited to see more results

By Kim

,

North Carolina

,

Jan 16, 2017
Verified Reviewer

Overall Experience:

I am a 60-year-old woman that has nominal problems for my age, but of course, noticing many changes at this age. I felt my husband and I needed to start somewhere to better take of ourselves. We saw Dr. Gundy on Facebook and listened to the whole video, and realized this is exactly what we should start with.

I ordered the Vital Reds and decided that I really could benefit from a good probiotic so ordered that. We have been using them for just a month and are pleased with the results. I have some greens that I am using up and plan to try theirs in the next order. So far, I have noticed my stools are more regular and "thorough," for lack of a better word. I have more energy and my husband and I have both been exposed to colds and flu this winter and neither of us have fallen victim! This has been a treat as I didn't expect that since have acute asthma so I always catch stuff.

Thank you for your work. We are very satisfied.

Bottom Line: Yes, I would recommend this to a friend

---

Overall Experience:

I enjoy this when I mix it with chocolate milk. When shaken it becomes more like a malt. I noticed that I became very full and didn't want as much lunch.

I also noticed I became a bit gassy. After a few days, I noticed that I was passing stools that seemed old. But I am noticing that my stomach and gut is not as bloated.

I am anxious to see if I get a weight loss after being on this for a few months.

Bottom Line: Yes, I would recommend this to a friend

---

Overall Experience:

This probiotic is really great!

It has helped me lose weight, and I feel better than I have in a long time! I have more energy, a better gut, and it helps me feel like eating healthier and exercising more often. I feel blessed to have found it.

Thank you Dr. Guidry! It's truly amazing.

Bottom Line: Yes, I would recommend this to a friend

---

I am feeling better after only 2.5 weeks

By Dawn Creel

,

Longview, Texas

,

Jan 20, 2017
Verified Reviewer

Overall Experience:

After watching Dr. Gundry's video, I took a leap of faith. I bought six months supply of Prebiothrive, Primal Plants, and Vital Reds. I have been drinking this delicious concoction for two and a half weeks, and I feel better, much better.

It was after the New Year holidays, and I started back at my desk, that I noticed a real difference. I feel more alert, less sluggish, and can concentrate better. I work at my desk nine to ten hours a day. I know I don't get the exercise needed to stay healthy. The hope that this could keep my arteries clear of plaque was my initial reason for purchasing. However, the benefits I am seeing make the purchase worth the money. I am more productive and at the end of my day and have the energy to do things around my home.

I can't tell you which one of these three did it for me. However, I am going to continue using them all. I have even noticed that my skin is getting better. I am a 61 year old, white female professional. This may just be the best thing I have ever done for myself.

Bottom Line: Yes, I would recommend this to a friend

---

I just started a couple weeks ago

By Fred Elg

,

Palm Springs, CA

,

Jan 22, 2017
Verified Reviewer

Overall Experience:

I take it with my own orange juice. I also take Primal Plants and Vital Reds. So far so good, and it has very good flavor.

I do take other supplements. I have very expensive urine. I am 94 years old, and all my vitals are normal. I do not take any prescription drugs, but some day I may need glasses.

Bottom Line: Yes, I would recommend this to a friend

---

Prebiothrive, Primal Plants, Vital Reds,

By Susan Rhodes

,

Victoria, Australia

,

Jan 23, 2017
Verified Reviewer

Overall Experience:

I have only received my products a week ago, but already I have noticed not as much bloating, more energy, and a little weight loss also. I enjoy the taste of my Vital Reds, Primal Plants ad Prebiothrive, and I cannot wait to see more improvements as I continue to use my products every day. Thank you Dr. Gundry.

Bottom Line: Yes, I would recommend this to a friend

---