Heal-n-Soothe Reviews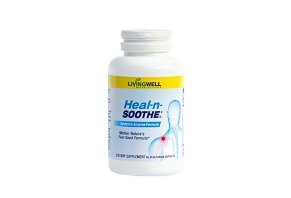 By taking one to four capsules of Heal-n-Soothe per day, the website advertises you'll experience improved comfort, boosted circulation, and improved healing.
About Heal-n-Soothe
By combining 12 natural, powerful pain relievers and anti-inflammatory ingredients with enzymes, Heal-n-Soothe is a dietary supplement that promises to help promote healing and recovery, reduce muscle discomfort, and support healthy circulation and immune response.
All you have to do is take at least one capsule (up to four times daily, if needed), 30 minutes before or 60 minutes after meals, and the company reports the supplement's 'systemic enzyme therapy' could begin delivering results.
But is Heal-n-Soothe really "Mother Nature's feel-good formula," as advertised on the website? Does it actually contain ingredients that have been clinically proven to work?
We'll explore important questions like these in this article, starting with the topic of enzymes.
What Is Systemic Enzyme Therapy and Is It Effective?
While we didn't encounter much detailed information about systemic enzyme therapy during our research, writing for Science-Based Medicine, Scott Savura defines it as consuming enzymes orally "with the intent of whole-body effects."
Specifically, the therapeutic approach is often promoted as a way to address inflammation, which Scott reports is a "host of complex physiologic processes mediated by the immune system," often expressed as redness, heat, pain, and swelling.
From a clinical perspective, he points out that enzyme therapy "can be science-based," since it's often used to treat pancreatic disease and cystic fibrosis, but he tempers this by emphasizing that "those are not uses where the enzymes need to be absorbed from the gastrointestinal tract," since they're often injected in very large doses.
Comparatively, "the concept of giving enzymes orally, and achieve meaningful therapeutic effects in the body, is one with a considerable number of drug design hurdles," he says.
As a result, "until better evidence appears to demonstrate the efficacy and safety of systemic enzyme therapy," he emphasizes, "their use can't be considered science-based."
With this core information in mind, which enzymes will Heal-n-Soothe's formula deliver, and what does the clinical evidence have to say about their efficacy?
Taking a Closer Look at Heal-n-Soothe's Ingredients
According to the supplement facts label listed on their website, Heal-n-Soothe contains the following ingredients:
Boswellia Extract 150 mg
Citrus Bioflavonoids 90 mg
Ginger Extract 90 mg
Mojave Yucca (root) 90 mg
Turmeric 60 mg
Alpha Lipoic Acid 50 mg
Rutin 30 mg
Devil's Claw Extract 30 mg
Systemic Enzyme Blend 7540 mg: Protease AM 225 AP, Bromelain 6M FCCPU, Protease 6.0 60,000 HUT, Alkaline Protease 12,000 USP, Papain 1.5M FCCPU
Before diving in, it's important to point out that the HighYa team doesn't have a scientific background when it comes to the biological effects of dietary supplements.
This means that when reporting on whether or not an ingredient is effective for a specific claim, we rely on the cumulative clinical evidence reported by sites like the Natural Medicines Database, Examine.com, and WebMD.
According to these sites, some studies indicate that taking 100-333 mg of certain Indian frankincense (Boswellia serrata) extracts daily can improve joint pain and mobility by anywhere between 32 and 65 percent in those with osteoarthritis.
Similarly, taking between 250 and 500 mg of ginger extract, three to four times daily, has been shown in some studies to reduce arthritis-related hip and knee pain, as well as standing and walking pain and stiffness in those with osteoarthritis.
In some instances, it worked about as well as 400 mg of ibuprofen, while in others it did not.
500 mg of turmeric (which contains an active chemical called curcumin), when taken two to four times daily for two to six month, has been shown to reduce pain and improve function in people with osteoarthritis.
In some instances, it reduced pain as much as ibuprofen, but didn't reduce inflammation as much as the drug diclofenac.
Rutin, whether contained in Heal-n-Soothe or another dietary supplement, is a type of plant pigment (flavonoid) that might have antioxidant and anti-inflammatory effects.
And when combined with 288 mg of trypsin and 540 mg of bromelain, taking 600 mg per day has been shown to "be about as effective as the medication diclofenac (Voltaren) in relieving pain and improving knee function in people with osteoarthritis."
Another potentially helpful ingredient related to osteoarthritis is devil's claw. In some studies, taking between 400 mg and 2.6 grams per day for between two and four months has been shown to help decrease pain, often in the hip and knee.
Finally, while we learned earlier that a combination of rutin and bromelain might have some osteoarthritis-related benefits, these same sites didn't indicate that it—or any of the remaining enzymes or ingredients found in Heal-n-soothe—will deliver on the manufacturer's claims.
Potential Side Effects Related to Heal-n-Soothe's Ingredients
The disclaimer at the bottom of Heal-n-Soothe's website emphasizes that some of these ingredients could thin blood, and that the supplement shouldn't be taken by anyone who's allergic to pineapple or papaya, or by those who are pregnant or nursing.
They also note that it's possible to experience side effects (no dosages or other circumstances noted) like sinus drainage, gas or loosening of the stool, and decreased blood pressure.
WebMD and the Natural Medicines Database report that in some instances (again, no dosages or other circumstances provided) turmeric can cause stomach upset, nausea, dizziness, or diarrhea.
They also tell us that while devil's claw is possibly safe when used for up to one year and that the most common side effect is diarrhea, "other possible side effects include nausea, vomiting, stomach pain, headaches, ringing in the ears, loss of appetite, loss of taste," and allergic skin reactions.
How Much Does Heal-n-Soothe Cost?
Heal-n-Soothe is only available directly from the manufacturer, through the following two options:
One-Time Order (90 vegetarian capsules): $59
Free Trial: $9.95 S&H
If you choose the trial option, you'll be billed the full price of $49.95 after 14 days have passed, and will continue receiving a new bottle each month and paying $49.95 each time, until you cancel.
Living Well Nutraceuticals offers a 90-day refund policy on all Heal-n-Soothe orders, less S&H, which you can request by calling (888) 231-9901 or sending an email to info@livingwellnutraceuticals.com.
Are There Any Online Heal-n-Soothe Customer Reviews?
Heal-and-Soothe was previously available through Amazon, where more than 50 customers had given the supplement an average rating of 3.5 stars.
Common compliments revolved around reduced pain and inflammation, while complaints often referenced no results, difficulty obtaining a refund, and side effects like digestive upset.
As far as the company, Heal-n-Soothe is distributed by Living Well Nutraceuticals, based out of Glendale, CA.
They weren't listed with the Better Business Bureau as of 2/21/18, although the company manufactures several other dietary supplements, including Rub on Relief natural pain cream, SleepZyme sleep aid, and ThinMist weight loss spray.
Heal-n-Soothe vs. Other Systemic Enzyme Therapy Supplements
Browsing online marketplaces like Amazon and Google Shopping, we encountered several popular enzyme supplements competing with Heal-n-Soothe:
| Supplement | Price | Active Enzyme(s) | Other Ingredients? |
| --- | --- | --- | --- |
| Heal-n-Soothe | $49 - $59 | Bromelain, Papain | Boswellia, bioflavonoids, ginger, yucca, turmeric, ALA, rutin, devil's claw |
| NOW Super Enzymes | $11+ | Bromelain, Ox Bile, Pancreatin, Papain | No |
| Doctor's Best Proteolytic Enzymes | $21 | Bromelain, Papain, Amylase, Lipase, Serratiopeptidase, Lipase | Neutral, fungal, and bacterial protease, rutin |
| Enzymedica Repair Gold | $30+ | Bromelain, Amylase, Catalase, Papain, Serratiopeptidase, Lipase | No |
| Source Naturals Daily Essential Enzymes | $42 | Pancreatin, Acid-Stable Protease, Lipase, Amylase, Amyloglucosidase, Cellulase, Lactase | No |
| Wobenzym N | $25+ | Pancreatin, Papain, Bromelain, Trypsin, Chymotrypsin, Rutoside | No |
Given all these options, formulations, and price points, what's the best way to figure out which one—if any—is right for you?
As we always emphasize, start by talking with your doctor. They can help diagnose the underlying cause of your pain, discomfort, and inflammation, and then recommend a science-based treatment from there.
If they recommend pursuing a dietary supplement, after writing about hundreds of different formulations over the years, we'd recommend only doing business with manufacturers who:
List all of their ingredients, including dosages, with no proprietary blends (which don't list dosages)
Support their claims with quality clinical evidence
Back their products with at least 30-day refund policies and don't charge restocking fees
Does this mean you should do business with Living Well Nutraceuticals and place an order for Heal-n-Soothe?
Our Final Thoughts About Heal-n-Soothe
Pain is a complex process, and it will take the help of a physician to narrow down what's causing yours, and then prescribe a viable treatment. So—again—whether you're considering Heal-n-Soothe or another dietary supplement, they're perhaps your best resource for achieving the most bang-for-your-buck.
With this in mind, based on what we learned earlier, while systemic enzyme therapy as a whole might not seem to have much clinical support, several of Heal-n-Soothe's individual ingredients are reported by sites like Examine.com and WebMD to be possibly effective for osteoarthritis-related benefits.
Which could be positive, as long as this is the cause of your pain. If not, you might be flushing your money down the drain.
Pro tip: However, many of these ingredients (ginger, turmeric, rutin, and devil's claw) aren't found in the same dosages in Heal-n-Soothe as referenced in supporting clinical trials.
Even when referencing the same source of pain, the reality is that everyone's body is different, so what works for one patient might be a total fail for another.
For this reason, it's positive that Living Well Nutraceuticals seems to stand behind Heal-n-Soothe with a 90-day refund policy—just keep in mind that you'll have to pay to send the bottle back if you're dissatisfied.
90-day money back guarantee - yeah, right!

This isn't as much a review of Heal-n-Soothe as a complaint about the company I ordered it from, The Healthy Back Institute. I also ordered their product called Super Joint Support not knowing that it had Magnesium in it (the type of Magnesium not identified). I know from experience and advice that the only type of Magnesium that does not cause diarrhea is Magnesium Glycinate (which I already take to stop muscle cramps). So I wasn't at all surprised that by the second day of taking Heal-N-Soothe, sure enough, I was "trotting to the pot!"

I called the company to ask the type of magnesium and they couldn't tell me, so I returned the Super Joint Support, giving the reason, and paying $10.92 for return it by USPS. After not receiving a refund, I called the company and was told I'd returned Heal-N-Soothe (the first bottle had cost me $29, while the Super Joint Support had cost me $39).

I wrote a letter to the company enclosing the Return Form and telling them I would expose them on social media if I didn't get a refund! Still no refund! So it cost me a total of $49.92 for this experience! Whether Heal-N-Soothe works or not, it's hard to tell when I'm so mad at the company for being so dishonest!

Oh, but the last time I had my blood pressure checked, it was low, but I'm surprised it wasn't "through the roof!" I was actually looking up something on WebMD when I got sucked in by this company, so watch out! Oh, and I forgot to mention all the newsletters at $14.95 a copy!

Bottom Line: No, I would not recommend this to a friend

---

Hoax

By John B.

,

Salt Lake City, UT

,

Sep 18, 2018
Verified Reviewer

Does not work! Another snake oil by a traveling sell man. Just another scam. It is a shame when people like me are in pain.

Bottom Line: No, I would not recommend this to a friend

---

Heal-n-Soothe what?

By Kathy J.

,

Huntington Beach, CA

,

Mar 1, 2019
Verified Reviewer

I don't know what star rating to give, being that I've been taking it for a month now and no results. I tried calling to cancel any future orders because I'm on the 30-day trial period which automatically chargers you IF you don't CANCEL within 30 days. I called several times, put on hold, it's all a recording so you get nowhere. I was on hold the first time for 8 minutes, NOBODY. The same stupid music that is kind of disturbing. Second attempt I was hung up on, RUDE. Nobody comes to the phone, no mention of momentarily someone will be with you or experiencing a volume of calls, NOTHING. I get angry and impatient when having to hold for NOTHING, and to top it off this review may not ever be seen due to they scan every review so probable negative gets tossed. THANY YOU Heal-n-Soothe.

Bottom Line: No, I would not recommend this to a friend

---

Heal-n-Soothe scam!

By Lisa B.

,

Spain

,

Mar 7, 2019
Verified Reviewer

What a scam! Took over a month for delivery, on my first week of taking capsules The Healthy Back Institute helped themselves to another $49.00 from my bank account without an email to request this. After just taking 4 capsules I had a migraine and a sharp stabbing pain behind my right eye. I emailed them the next day asking why they had stolen money from my bank account, I received the spill saying it's my fault, apparently, I had agreed to a subscription, and if I return unopened bottles within 7 days they will refund me the money they stole from my bank account. STAY WELL CLEAR.

Bottom Line: No, I would not recommend this to a friend

---

Advertisement

---

Extortion is bad

By Mercy F.

,

Lagos, Nigeria

,

Apr 17, 2019
Verified Reviewer

My mum has Arthritis that kept her indoors for three months. I read about Heal-n-Soothe online and I thought of buying for my mum. I made an order from Nigeria on February 25th, I was debited, but I have not seen the drugs yet, it has not been delivered.

On March 25th I was debited tripled the previous amount. I was asked to block my account so it won't occur again. I refused. I said let me call back the institute for a refund. I did and no one picked all my call until I got exhausted.

Please, I need a cancellation and I need my money refunded. Have mercy on the mercies and stop extorting money from the poor, it was out of pity I raised that money to get that drug and I have not seen it, yet I got debited twice.

Bottom Line: No, I would not recommend this to a friend

---

Did not receive free item

By Pearl W.

,

London, England

,

Nov 13, 2019
Verified Reviewer

I paid postage and packaging, almost £20.00 to be precise, for the bottle of Heal-n-Soothe lose the back pain capsules, in which I did not receive, plus I made sure to decline any other offers which required payment. This week Heal-n-Soothe attempted to take $49.95 out of my account? They certainly were not authorized to take any money from my account and on top of that, I've paid £20.00 for something which hasn't arrived!

Bottom Line: No, I would not recommend this to a friend

---

Did not help with my joint pain or back pain.

By Tina B.

,

Louisiana

,

Dec 11, 2019
Verified Reviewer

I have joint pain every day. Sometimes I'm very limited to what I can do. I have been having fibromyalgia for 12 years. I purchased three bottles, faithfully took six to eight a day. Plus I bought super joint support to help out with joint pain. I did not find a difference in taking this supplement. My pain is still here and very real. I e-mail the healthy back, lose the back pain, on Heal-n-Soothe several times to see about my refund. I have received no response. All the supplements were taken within two months after I purchased them. This is my second time trying this product. I am so desperate to get relief from my fibromyalgia that I tried this product twice and twice it has failed me.

Bottom Line: No, I would not recommend this to a friend

---

Paid for and never received anything, unauthorized monthly charge too!

By Karen B.

,

United Kingdom

,

Dec 16, 2019
Verified Reviewer

I bought a bottle to try, declined the free trial and subscription, thought if it worked I would order more. Bought some rub-on cream too, paid for postage to the UK. Listed my full address and contact details.

Seven weeks later, NOTHING had ARRIVED. Started being bombarded with emails from some back institute I have never heard of, apparently, I was a customer. I couldn't log in as I didn't have a password so did a password reset because they clearly had my email, and logged in. Well, there it was all set up with a subscription the whole works, things I have never authorized and never would.

It came to my attention 7 weeks down the track when more money was taken out of my bank account a month later, about $50 USD. When I realized I had never received the first order, I had emailed asking where it was and forgot about it due to starting a new job. No reply to the email, so I found a customer support area on their website in my "account" area. It asked you to log in when you clicked on the "email us" button - it then told you that your password or email was not correct - over and over again.

I checked the tracking online as the "order" had been sent via DHL, AND a second order had apparently been sent as well. DHL had not been given my full address, they were only given the town name, and country, and they were given an incorrect postcode as well. DHL was not given a phone number to contact me on. DHL said "failed to deliver" and nothing else. The second order did not even seem to arrive in the UK. I will be calling DHL to see what it was they tried to deliver, and what about the second order - DHL would not leave it at that if it was a parcel.

I will be calling the company tomorrow, and advising VISA I have not received anything, and it looks like they never intended to send me anything legitimate - evidenced by the no complete address on what they sent (there was a complete and correct address on my order record in my account so I can only assume that to place an incomplete and useless address on what they sent via DHL was to ensure whatever they did send would not arrive).

Bottom Line: No, I would not recommend this to a friend

---

SCAM

By David B.

,

Lancashire, England

,

Feb 12, 2020
Verified Reviewer

These people are complete fraudsters. Avoid at ALL costs. Do NOT give them your credit card details. They will bleed you dry. They have robbed my bank account. They are a bunch of thieves. I thought I was ordering one bottle. I was wrong. They will keep shipping further bottles, and keep robbing your bank account. I have been forced to cancel my credit card. In addition...if you collect your product at the post office, you will be charged a further £15 delivery. It makes the product VERY expensive...even BEFORE you have your bank account emptied. A complete and utter rip-off. To be avoided at all costs. These people are simply scamming you for your card details. Have nothing to do with them. They should be closed down ASAP.

Bottom Line: No, I would not recommend this to a friend

---

Be very careful not to become auto enrolled

By John G.

,

Florida

,

May 9, 2018
Verified Reviewer

The product ingredients are similar to other arthritis products that are sold at lower prices directly or through Amazon. The online sales pitch for Heal-n-Soothe is so enticing that is SO EASY TO MISS the AUTO ENROLL that appears only on the "Get another bottle for $10" window. They do not provide return shipping or return labels and Iris from customer service told me "many other companies have similar fine print so customers don't see the enrollment they have agreed to." While the placebo effect left me feeling like the product did not hurt me, returning unwanted bottles of something that was not helping me left a bad enough taste for me to write this negative review.

Bottom Line: No, I would not recommend this to a friend

---

Side effects

By Michael P.

,

Victoria, British Columbia, Canada

,

Aug 22, 2018
Verified Reviewer

I began taking Heal-n-Soothe as suggested. I began with one capsule in the morning and one in the afternoon.

I got a nosebleed the second day and for two subsequent days. I have never experienced spontaneous nosebleeds before. I stopped taking the product because it was the only change in my diet. The nosebleeds stopped.

I tried again two weeks later with the same results. I don't have enough pillowcases to continue with it.

Next miracle pain cure anyone?

Kidding...

Bottom Line: No, I would not recommend this to a friend

---