Heal-n-Soothe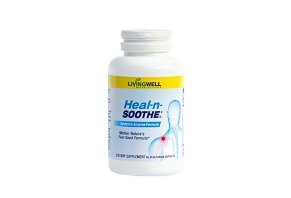 Summary
Heal-n-Soothe from LivingWell is a dietary supplement that is alleged to provide joint pain relief, though strong support for most of the ingredients is lacking.
Pros
The 2-week trial is a cost-effective way to try Heal-n-Soothe
If effective, You can avoid or delay medical management for your joint pain
Cons
The trial enrolls you in auto-ship unless you cancel
Expensive
The available support for the blend of ingredients is not strong
Heal-n-Soothe may not contain high enough doses for you to achieve results
Heal-n-Soothe Review - Does It Work and Is It Safe?
HighYa is supported by our readers. When you buy something through a link on this page, we may earn an affiliate commission. Learn more.
What is Heal-n-Soothe?
Heal-n-Soothe is a dietary supplement that is proposed to offer anti-inflammatory and pain relief benefits through the combination of 12 natural ingredients.
Joint pain is one of the most common reasons to visit your doctor. The available management options for your joint pain can vary from creams and ointments to joint replacement surgery. Heal-n-Soothe may be yet another option.
According to the website, by taking 1-4 capsules of Heal-n-Soothe daily, you will:
Alleviate joint discomfort
Reduce stiffness
Increase flexibility
Maintain a healthy inflammatory response
Allows you to be more active
In this review, we'll examine the scientific evidence to help you gain a better understanding of Heal-n-Soothe's safety and efficacy.
The Science Behind Heal-n-Soothe's Active Ingredients
LivingWell claims that Heal-n-Soothe's blend of enzymes and extracts are responsible for the proposed pain-relieving action.
According to the supplement facts label listed on their website, every 3-capsule serving of Heal-n-Soothe contains the following ingredients:
Boswellia Extract 150 mg
Boswellia Serrata extract is obtained from trees found in the Middle East and may provide anti-inflammatory effects.
Heal-n-Soothe offers a larger dose than what was found to be effective in joint pain.
In 60 knee arthritis patients, those randomized to treatment with 100mg of Boswellia Serrata extract over 3-months improved joint pain and function.
Citrus Bioflavonoids 90 mg
There are thousands of varieties of these plant-based compounds. The flavonoids found in fruits vegetables may offer a vast array of health benefits, including antioxidant effects,
According to this recent review of 91 studies, it was not possible to establish daily intake recommendations as the available studies varied greatly in methodology.
They did note that the average intake in these studies was about 900 mg/day, much larger than the dose offered in Heal-n-soothe.
While the researchers concluded that a diet rich in these plant-based compounds minimize the risk for heart disease and other chronic medical conditions, they also pointed out that the methods in which these benefits are tested must be standardized.
Ginger Extract 90 mg
Ginger has been used in both diet and medicine for thousands of years. It may offer a wide variety of health benefits.
This review highlighted support for numerous benefits related to ginger.
They found that ginger can reduce muscle pain after intense physical activity, promote immune functions, and even fight some forms of cancer.
The ability of ginger to reduce muscle pain with physical activity was seen at 2g doses over 11-days. This dose is more than 20x larger than a single dose of Heal-n-Soothe.
Mojave Yucca (root) 90 mg
The edible fruits, seeds, and flowers of this plant may offer immune-boosting and anti-arthritic capabilities.
This review mentioned a few studies from the 70s that examined the effects of yucca in treating arthritis. While the pain and swelling relief demonstrated in these early studies have led to the use of yucca in both humans and animals, the available support for these effects remains sparse.
Much more work is needed in human subjects to identify the role of yucca in managing inflammatory conditions.
Turmeric 60 mg
This spice has been used for dietary and medicinal purposes by cultures all over the world. In addition to its suspected antioxidant and anti-inflammatory roles, turmeric may also offer weight loss benefits.
Curcumin, the active component of this extract, may help regulate inflammation.
In a laboratory setting, curcumin inhibited the same enzyme that is targeted by Aspirin.
More recently, a review of 8 studies examined curcumin's effect on arthritis. They found that doses ranging from 500-1500mg per day may relieve symptoms. Definitive recommendations can't be made, however, as the studies included lacked strong methodology.
Early studies examining the effects of turmeric are promising, though they highlight the need for long-term research in human subjects.
Alpha Lipoic Acid (ALA) 50 mg
ALA may offer powerful antioxidant and anti-inflammatory effects. Thus, its potential therapeutic roles remain of interest to researchers.
The potential for ALA to treat nerve pain in diabetic subjects was recently demonstrated. Doses at 600mg daily reduced symptoms and improved their quality of life over 40-days.
Rutin 30 mg
Rutin is another flavonoid; it is abundant in apples. Like other flavonoids, it may offer antioxidant
In rats, 15mg/kg doses of rutin reduced oxidative stress and inflammation associated with arthritis. In a laboratory model, rutin demonstrated an ability to slow the effects of age-related bone loss.
While these studies are promising, research in human subjects is needed to characterize the ability of rutin to treat inflammatory conditions.
Devil's Claw Extract 30 mg
The roots of this South African plant may offer relief for muscle and joint pain.
Though this extract has been studied in relation to its potential to manage symptoms of arthritis, the available research can't offer a definitive answer regarding safety and efficacy.
Larger randomized control trials are needed to investigate the effects of devil's claw in the long-term.
Systemic Enzyme Blend 750 mg: Protease AM 225 AP, Bromelain 6M FCCPU, Protease 6.0 60,000 HUT, Alkaline Protease 12,000 USP, Papain 1.5M FCCPU
The addition of these enzymes can maximize the digestion and absorption of proteins, while also eliminating the excess that may accumulate during inflammation.
In a randomized study, those treated with proteolytic enzyme doses around 1000mg for 7-days experienced better wound healing when compared to the placebo group.
This study corroborates the proposed benefits of Heal-n-Soothe, though subjects were treated for only a short duration and with larger protease enzyme doses.
Potential Side Effects Related to Heal-n-Soothe's Ingredients
The disclaimer at the bottom of Heal-n-Soothe's website emphasizes that some of these ingredients could thin blood and that the supplement shouldn't be taken by anyone who's allergic to pineapple or papaya, or by those who are pregnant or nursing.
They also note that it's possible to experience side effects (no dosages or other circumstances noted) like sinus drainage, gas or loosening of the stool, and decreased blood pressure.
Digestive symptoms are likely the most common side effects you may experience, though these are often mild and relieved by discontinuing the product.
Most of the ingredients have been safely studied at much larger doses than what is present in Heal-n-Soothe. This may make unwanted effects even less likely.
Despite a favorable safety profile, you should discuss this blend of ingredients with your doctor. This practice ensures your best of avoiding side effects or unsafe interactions with other medications or supplements you may be taking.
How Much Does Heal-n-Soothe Cost?
Heal-n-Soothe is available for purchase directly from the website. You can choose one the following two options:
One-Time Order (90 vegetarian capsules): $59
Free Trial: $9.95 S&H
Be aware that unless you contact the company to cancel prior to the end of your trial, they'll bill you $49.95 for subsequent auto-shipments.
LivingWell also backs your one-time purchase with a 90-day return policy. To process your refund, call (888) 231-9901 or email info@livingwellnutraceuticals.com.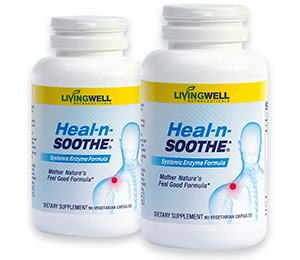 Buy Heal-n-Soothe from Amazon:
Heal-n-Soothe costs $59.90 for one bottle (90 capsules) and $95.85 for two bottles (180 capsules). Shipping is free. It is rated 3.9-stars based on over 400 customer reviews.
What Are the Alternatives to Heal-n-Soothe?
As joint pain is such a common condition, there is a wide variety of available supplements that claim to offer relief. This can be overwhelming, which is why we suggest seeking the advice of your doctor.
Nonetheless, at HighYa, we previously reviewed supplements that have a similar ingredients list.
Tamaflex is one example. It contains both turmeric and Boswellia, though about a third of the latter. This is less likely to be a good option given the shorter ingredient list, smaller doses, and comparable pricing.
Instaflex offers more turmeric and a comparable dose of Boswellia, in addition to collagen, hyaluronic acid, and other extracts. You're unlikely to save with Instaflex, however, as a 1-month supply is priced at $60-$70.
The combination of enzymes and anti-inflammatory extracts is less common. You can find enzyme blends offered alone, however.
Doctor's Best offers 90 capsules for just $17.50. Like Heal-n-Soothe, this blend contains bromelain, papain, protease, and lipase. Given the pricing, you may be able to add this to a joint pain supplement and save money with a little research.
The Bottom Line
Of Heal-n-Soothe's ingredients, Boswelia offers the most promise. Those that remain lack strong evidence and Heal-n-Soothe may not match the dosing found successful in studies. This means that the risk for harm is probably lower, though you may not achieve the desired results.
More work is needed to determine the long-term safety and efficacy of this supplement.
At Amazon, nearly 520 users rate Heal-n-Soothe 3.9-stars. Happy customers report improved pain and inflammation, though many cite a lack of results as a reason for their poor review.
As your pain may require medical attention, you shouldn't delay seeking the opinion of your doctor to determine a safe and effective plan of care.
Customer Reviews
Posted on Apr 21, 2018
90-day money back guarantee - yeah, right!
This isn't as much a review of Heal-n-Soothe as a complaint about the company I ordered it from, The Healthy Back Institute. I also ordered their product called Super Joint Support not knowing that it had Magnesium in it (the type of Magnesium not identified). I know from experience and advice that the only type of Magnesium that does not cause diarrhea is Magnesium Glycinate (which I already take to stop muscle cramps). So I wasn't at all surprised that by the second day of taking Heal-N-Soothe, sure enough, I was "trotting to the pot!"
I called the company to ask the type of magnesium and they couldn't tell me, so I returned the Super Joint Support, giving the reason, and paying $10.92 for return it by USPS. After not receiving a refund, I called the company and was told I'd returned Heal-N-Soothe (the first bottle had cost me $29, while the Super Joint Support had cost me $39).
I wrote a letter to the company enclosing the Return Form and telling them I would expose them on social media if I didn't get a refund! Still no refund! So it cost me a total of $49.92 for this experience! Whether Heal-N-Soothe works or not, it's hard to tell when I'm so mad at the company for being so dishonest!
Oh, but the last time I had my blood pressure checked, it was low, but I'm surprised it wasn't "through the roof!" I was actually looking up something on WebMD when I got sucked in by this company, so watch out! Oh, and I forgot to mention all the newsletters at $14.95 a copy!
Bottom Line: No, I would not recommend this to a friend
Posted on Mar 1, 2019
Heal-n-Soothe what?
I don't know what star rating to give, being that I've been taking it for a month now and no results. I tried calling to cancel any future orders because I'm on the 30-day trial period which automatically chargers you IF you don't CANCEL within 30 days. I called several times, put on hold, it's all a recording so you get nowhere. I was on hold the first time for 8 minutes, NOBODY. The same stupid music that is kind of disturbing. Second attempt I was hung up on, RUDE. Nobody comes to the phone, no mention of momentarily someone will be with you or experiencing a volume of calls, NOTHING. I get angry and impatient when having to hold for NOTHING, and to top it off this review may not ever be seen due to they scan every review so probable negative gets tossed. THANY YOU Heal-n-Soothe.
Bottom Line: No, I would not recommend this to a friend
Posted on May 9, 2018
Be very careful not to become auto enrolled
The product ingredients are similar to other arthritis products that are sold at lower prices directly or through Amazon. The online sales pitch for Heal-n-Soothe is so enticing that is SO EASY TO MISS the AUTO ENROLL that appears only on the "Get another bottle for $10" window. They do not provide return shipping or return labels and Iris from customer service told me "many other companies have similar fine print so customers don't see the enrollment they have agreed to." While the placebo effect left me feeling like the product did not hurt me, returning unwanted bottles of something that was not helping me left a bad enough taste for me to write this negative review.
Bottom Line: No, I would not recommend this to a friend
Posted on Sep 18, 2018
Hoax
Does not work! Another snake oil by a traveling sell man. Just another scam. It is a shame when people like me are in pain.
Bottom Line: No, I would not recommend this to a friend
Posted on Aug 22, 2018
Side effects
I began taking Heal-n-Soothe as suggested. I began with one capsule in the morning and one in the afternoon.
I got a nosebleed the second day and for two subsequent days. I have never experienced spontaneous nosebleeds before. I stopped taking the product because it was the only change in my diet. The nosebleeds stopped.
I tried again two weeks later with the same results. I don't have enough pillowcases to continue with it.
Next miracle pain cure anyone?
Kidding...
Bottom Line: No, I would not recommend this to a friend
Posted on Apr 17, 2019
Extortion is bad
My mum has Arthritis that kept her indoors for three months. I read about Heal-n-Soothe online and I thought of buying for my mum. I made an order from Nigeria on February 25th, I was debited, but I have not seen the drugs yet, it has not been delivered.
On March 25th I was debited tripled the previous amount. I was asked to block my account so it won't occur again. I refused. I said let me call back the institute for a refund. I did and no one picked all my call until I got exhausted.
Please, I need a cancellation and I need my money refunded. Have mercy on the mercies and stop extorting money from the poor, it was out of pity I raised that money to get that drug and I have not seen it, yet I got debited twice.
Bottom Line: No, I would not recommend this to a friend
Posted on Mar 7, 2019
Heal-n-Soothe scam!
What a scam! Took over a month for delivery, on my first week of taking capsules The Healthy Back Institute helped themselves to another $49.00 from my bank account without an email to request this. After just taking 4 capsules I had a migraine and a sharp stabbing pain behind my right eye. I emailed them the next day asking why they had stolen money from my bank account, I received the spill saying it's my fault, apparently, I had agreed to a subscription, and if I return unopened bottles within 7 days they will refund me the money they stole from my bank account. STAY WELL CLEAR.
Bottom Line: No, I would not recommend this to a friend
Posted on Sep 3, 2018
Itching and hoarseness
I was extremely excited by the rapid improvement in my knees. I had become embarrassed to get up when I was teaching in front of my students due to the grunts and groans and limitations in movement. After a week or two on Hea-n-Soothe my knees felt like had cushions and overall flexibility and movement was easier; specifically getting up and down to reach or perform minor household tasks.
Then I realized that I was hoarse on a daily basis. I'm a professional singer and voice teacher, so this was a serious issue. I also read on some sight that papain, the papaya enzyme can actually cause throat damage, a very serious concern given my work, not to mention that it was annoying.
Also, I started having itching throughout my body, including my hand, just little annoying tings, irritating at night especially. After discontinuing, I continue to have this side effect, though diminished.
I still recommend the product to my friends because I considered the positive aspect miraculous, especially because I thinking knee replacements would be in my future.
The company has been pretty responsive as I've asked for advice on these side effect issues and ultimately sent me a dietary book which supposedly has similar results over a longer period of time.
A friend also told me that papain has been banned in surgical procedures because it could lead to major heart problems, another good reason to be wary, yet given my very positive results, I still tell my friends.
I am, however, seeking other supplements and would like to find a medically trained professional for advice; perhaps online info will suffice. It's not fun have major movement restrictions, so I'm highly motivated.
Bottom Line: Yes, I would recommend this to a friend
Posted on Jun 22, 2018
Very positive results from Heal-n-Soothe
I developed knee joint pain and aggravated osteoarthritis of my big toe after being prescribed Anastrozole (hormone inhibitor). I was not able to play pickleball without putting braces on my knees, couldn't get into some shoes due to swelling of the big toe, and couldn't walk beyond 2 miles versus the typical 5.5 - 6.5 miles I did regularly prior to the Anastrozole. I actually had surgery planned to address the pain in Stage 4 Rigid osteoarthritis.
I started Heal-n-Soothe and noticed a difference by day 4. Ten days later I canceled the surgery on my big toe. I have been taking Heal-n-Soothe for 3 months now with no pain. I play pickleball approximately 3 - 5 hours a day, 3 times a week, and walk 6.5 miles once a week. I recommended it to several friends and 3 of the 4 have experienced the same reduction in pain as I experienced.
Bottom Line: Yes, I would recommend this to a friend
Posted on Aug 1, 2019
No difference after second bottle
This is my second review. Finished first bottle with no results. Same with the second bottle. I will not buy any product online that touts miracles again. One bad apple spoils it for the rest.
Bottom Line: No, I would not recommend this to a friend
Posted on Dec 16, 2019
Paid for and never received anything, unauthorized monthly charge too!
I bought a bottle to try, declined the free trial and subscription, thought if it worked I would order more. Bought some rub-on cream too, paid for postage to the UK. Listed my full address and contact details.
Seven weeks later, NOTHING had ARRIVED. Started being bombarded with emails from some back institute I have never heard of, apparently, I was a customer. I couldn't log in as I didn't have a password so did a password reset because they clearly had my email, and logged in. Well, there it was all set up with a subscription the whole works, things I have never authorized and never would.
It came to my attention 7 weeks down the track when more money was taken out of my bank account a month later, about $50 USD. When I realized I had never received the first order, I had emailed asking where it was and forgot about it due to starting a new job. No reply to the email, so I found a customer support area on their website in my "account" area. It asked you to log in when you clicked on the "email us" button - it then told you that your password or email was not correct - over and over again.
I checked the tracking online as the "order" had been sent via DHL, AND a second order had apparently been sent as well. DHL had not been given my full address, they were only given the town name, and country, and they were given an incorrect postcode as well. DHL was not given a phone number to contact me on. DHL said "failed to deliver" and nothing else. The second order did not even seem to arrive in the UK. I will be calling DHL to see what it was they tried to deliver, and what about the second order - DHL would not leave it at that if it was a parcel.
I will be calling the company tomorrow, and advising VISA I have not received anything, and it looks like they never intended to send me anything legitimate - evidenced by the no complete address on what they sent (there was a complete and correct address on my order record in my account so I can only assume that to place an incomplete and useless address on what they sent via DHL was to ensure whatever they did send would not arrive).
Bottom Line: No, I would not recommend this to a friend
Our Promise to You
In order to safeguard you and ensure helpfulness and relevance, our compliance team manually assess every customer review before it goes live.
We have a zero-tolerance policy for fake reviews, and companies cannot control or alter any reviews at any time.