Instaflex Advanced Reviews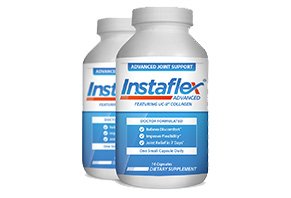 Instaflex Advanced contains all-natural ingredients that are claimed to help provide relief from joint pain in just 7 days, without any unwanted side effects.
About Instaflex Advanced
Formulated by Dr. David Katz, Instaflex Advanced is a dietary supplement that can help increase mobility in your knees, hips, shoulders, ankles, and hands by fighting inflammation and providing "advanced joint support."
Compared to the original Instaflex (more about this shortly), the new Advanced formula is claimed to be 2X as powerful as glucosamine plus chondroitin, making it a simple, convenient, comprehensive solution that can help you feel a real difference in just 7 days.
In order to accomplish this, Instaflex Advanced is claimed to feature a highly concentrated compound of natural ingredients, including:
AprèsFlex 100mg – A concentrated form of boswellia serrata
Hyaluronic Acid 5mg – Forms "protective structures" around joint cells.
UC-II Collagen 40mg – A patented form of undenatured type II collagen.
Turmeric 200mg – Can lower histamine to fight inflammation, while helping the body produce cortisone to relieve pain.
Resveratrol 100mg – May help improve blood circulation.
Black Pepper Extract 5mg – Can help Instaflex Advanced's other ingredients be more easily processed by the body.
In order to begin experiencing benefits with Instaflex Advanced, the manufacturer claims all you have to do is take one small, easy to swallow capsule per day. Instaflex Advanced is also claimed to be safe, non habit-forming, and drug-free, without any known allergic reactions or hazardous side effects.
Sure, the original version may be the #1 selling joint supplement at GNC, but will the new Instaflex Advanced really help you "get back to comfortable living," or is it an overpriced placebo?
Before getting to that, let's discuss the causes of joint pain.
What Causes Joint Pain?
Just like back pain or any other type of chronic condition, when your joints hurt, this is more of a symptom than it is a condition itself. Why? Because pain is your body's way of telling you that something is wrong, but it doesn't necessarily tell you specifically what's causing the pain.
For example, joint pain can be caused by a wide variety of factors, including arthritis, bursitis, different types of strains and sprains, the aging process, and much more.
As such, if you're suffering from arthritis, the anti-inflammatory properties of Instaflex Advanced might provide some level of pain relief. On the other hand, if you twisted your ankle a few weeks ago and are still dealing with some residual pain, Instaflex Advanced might be much less effective.
Considering all of this, if you're suffering from recurring joint pain, the first thing you should do is speak with a physician, who can recommend an appropriate treatment based on your specific diagnosis.
Speaking of which, what kinds of conditions is Instaflex Advanced's ingredients effective for?
The Efficacy of Instaflex Advanced's Ingredients
The Instaflex Advanced website provides a brief overview of each of their ingredients (which is more than we can say about most of the nutritional supplements we've reviewed—they even provide a product label!), but let's take a more in-depth look here.
Boswellia Serrata
Manufactured by PLT Health Solutions, AprèsFlex is a proprietary "next generation boswellia extract" that's claimed to "improve the bioavailability and bioactivity" of Acetyl-11-keto-ß-boswellic acid (AKBA), while "helping protect against collagen degradation," all of which can "support healthy joints and connective tissue."
AprèsFlex's manufacturer claims that the ingredient has been clinically shown to provide these benefits, but doesn't provide a link to the study on their website. However, boswellia serrata (also known as Indian frankincense) is listed as "possibly effective" for treating osteoarthritis and for reducing joint pain by 32% to 65%.
Hyaluronic Acid
Like boswellia serrata, hyaluronic acid (HA) is listed as "possibly effective" for treating osteoarthritis, but only when injected directly into the joint. In other words, there is insufficient clinical evidence showing that oral HA supplementation can provide any benefits, whether related to joint health or anything else.
UC-II Collagen
UC-II Collagen, created by InterHealth Nutraceuticals, is claimed to be "a natural, safe and effective patented dietary ingredient consisting of collagen with undenatured type II collagen to support joint health."
According to the company, the ingredient is clinically proven to work, the results of which were "presented at the Scripps 12th Annual Natural Supplements Conference in San Diego, CA." However, they don't provide a link to this study on their website.
With this said, there remains insufficient clinical evidence showing that any form of collagen type II supplementation can provide any benefits related to joint health or pain.
Turmeric
On the other hand, there is clinical evidence showing that turmeric is "possibly effective" for reducing osteoarthritis-related inflammation, although it may not provide any more relief than ibuprofen.
Resveratrol
Although there is some evidence indicating that resveratrol may help reduce inflammation, there currently isn't enough to state with any certainty whether or not this is the case.
Black Pepper Extract (BioPerine)
Finally, BioPerine is proprietary ingredient manufactured by Sabinsa, which is derived from black pepper and is claimed to increase the bioavailability of other ingredients.
In other words, BioPerine will not provide any effects itself but may help your body better absorb all of the other ingredients contained in Instaflex Advanced.
Now that we've covered the efficacy of Instaflex Advanced's ingredients, let's take a look at possible side effects.
Instaflex Advanced Side Effects
Despite their somewhat shaky efficacy, Instaflex Advanced's ingredients should be well tolerated by most users, with the most common cited side effects as digestive upset and headache.
Important note: Although the wording on the Instaflex Advanced website might lead you to believe that the supplement doesn't contain any chondroitin or glucosamine (or the side effects that come along with them, as with the original Instaflex), this might not actually be the case.
This is because according to WebMD, "Since collagen type II contains chondroitin and glucosamine, large doses might lead to the same side effects as those seen with chondroitin and glucosamine supplements. These side effects include nausea, heartburn, diarrhea and constipation, drowsiness, skin reactions, and headache."
WebMD recommends taking no more than 2.5mg of collagen type II daily in order to avoid unwanted side effects, although Instaflex Advanced contains 40mg. As such, you'll definitely want to speak with your physician before taking it.
Now, let's learn more about the company behind Instaflex Advanced.
Instaflex Advanced's Manufacturer
As a company, Instaflex, based out of Salt Lake City, UT, had an A+ rating with the Better Business Bureau, based on 62 closed complaints (as of 8/12/15). Most of these appeared to reference problems with the free trial (more about this next).
Per their Terms & Conditions, it appears that Instaflex is also affiliated with Direct Digital LLC, who had a B- rating with the Better Business Bureau, despite only having 6 closed complaints. Again, most of these referenced difficulties with the free trial.
So, what's all this talk about free trials?
Instaflex Advanced Pricing & Refund Policy
If purchased directly through the company, Instaflex Advanced is only available through an 18-day trial for $4.99 S&H.
Then, after 18 days have passed, you'll be sent a full bottle (30 capsules) of Instaflex Advanced and charged $69.99 plus $4.99. At this same time, you'll be enrolled in the company's autoship program, which means you'll continue receiving a fresh supply of the supplement once every 30 days, and your credit card will be charged $69.99 plus $4.99 each time.
Note: Instaflex Advanced can also be purchased through several third-party retailers, including GNC, LuckyVitamin.com, and more, which can not only help you save money on S&H charges but can also help you avoid recurring shipments.
Outside of the trial, all Instaflex Advanced purchases come with a 30-day refund policy, less S&H charges. However, keep in mind that if you purchased the supplement outside of the company, your refund policy may vary.
For all direct purchases, you'll need to contact Instaflex customer service at 800-436-0920 in order to request a refund.
Arbitration
One quick note: All purchases made directly through the company are subject to an arbitration agreement. Basically, this means you're giving up your right to a trial by jury or becoming part of a class action lawsuit if you experience any damages from using Instaflex Advanced.
Should Instaflex Advanced Be Your First Choice for Joint Pain?
Overall, the only ingredient contained in Instaflex Advanced that has sufficient clinical evidence behind it is boswellia serrata, which you can purchase as a standalone supplement for less than $20 (we even found some priced less than $10) for a full month's supply, whether online or at your local pharmacy.
On the other hand, Instaflex Advanced comes in at about $2 per capsule. And while you can't put a price on pain relief (assuming Instaflex Advanced works as advertised), this certainly could be considered steep.
However, as we mentioned at the beginning of this review, what works for you may not work for someone else, depending on the underlying cause of your joint pain.
Considering all of this, we'd strongly recommend speaking with your physician prior to placing your Instaflex Advanced order.
63 out 65 people found this review helpful

Dishonest company

By Hesham Moselhy

,

Burlington, Ontario, Canada

,

Dec 27, 2017
Verified Reviewer

Customer care is not truthful, satisfaction is NOT guaranteed, and I was not able to return the product because it did not work. I would never recommend this product to anyone for any reason.

Bottom Line: No, I would not recommend this to a friend

---

60 out 63 people found this review helpful

Misrepresented

By Deborah

,

Columbia, SC

,

Nov 17, 2015

I had high hopes this would help me. Maybe it would butthis formula definitely has some chondroitin sulfate in it. I have suffered extensive endless diarrhea everyday since starting it. I didn't want to believe it had what other arthritis formulas that I am allergic have, shellfish, etc., but after doing research, I found that this Instaflex Advanced with UC II Collagen still has what its original formula does. Please do not misrepresent as there are people like me who cannot use stuff like this no matter how much pain we're suffering. I took it the full two-week bottle hoping I was wrong. Then my diarrhea became uncontrollable. Had to stop.

Bottom Line: No, I would not recommend this to a friend

---

Advertisement

---

60 out 61 people found this review helpful

It doesn't work, scam

Hi, I have bad knee joints. I started using Instaflex with the ad you can try it for free. The catch is you have to give them your payment in advance. After one month use, I saw no difference so I figured I'd give it at least three months. So, they automatically charge you after the first month. Then when I realize this product is a fraud, I go to try and cancel, and there's no cancellation. I had to go to my bank to actually make them stop paying them for a product that does not work!

Bottom Line: No, I would not recommend this to a friend

---

53 out 55 people found this review helpful

Severe reaction

By Debbie Howe

,

Ontario, Canada

,

Nov 27, 2017
Verified Reviewer

After taking it for only two days (two capsules), I have had severe cramps and diarrhea for 5 days now, it has left me tired. I have never reacted to any products before, so this is a surprise for me. I now will seek out a physician to help me recover.

I would not recommend this product.

Bottom Line: No, I would not recommend this to a friend

---

Advertisement

---

51 out 55 people found this review helpful

Bad product

By Jane Romanow

,

Pittsburg, NH

,

Feb 13, 2016
Verified Reviewer

I took InstaFlex Advanced. My joints felt better. However, I then got serious intestinal cramping, diarrhea, experienced hair loss, sores on skin, and dandruff. This was certainly not for me.

Bottom Line: No, I would not recommend this to a friend

---

47 out 56 people found this review helpful

Try it and then Stop, see what happens

By Mark Brodeur

,

Pacific Grove, CA

,

Apr 19, 2016
Verified Reviewer

I'm a skeptic, but the osteoarthritis in my knees convinces me to try every snake oil potion on the planet. I have taken enough over-the-counter pills claiming to help to kill a horse.

I recently saw an ad for this product and given the price per pill, I was intrigued. All other pills need to be taken at least twice if not three times per day. This one was claiming one a day. Wow. Really?

So, I started with a full 60 day supply and after 5 days I hadn't noticed much improvement. By the time I finished bottle of 60 pills, I could actually feel the difference. I wasn't using ibuprofen anymore or rubbing Voltaren cream on my knees.

But again, I am a skeptic and thought maybe it was something else, but I wasn't doing anything else different.

So, I stopped and didn't purchase a new bottle. 10 days went by.

I can now say with confidence that when I stopped my knees started barking really bad.

Your results may differ but I can tell you that there is no doubt in my mind that NOT USING this product made my knees worse.

Bottom Line: Yes, I would recommend this to a friend

---

46 out 48 people found this review helpful

Way overrated and ridiculous price

By MK

,

Florida

,

May 23, 2018
Verified Reviewer

I tried it, it did work for me, BUT, I immediately found another product with better reviews, and much, much cheaper, but with the same ingredients. A big waste of money buying Instaflex. I really think Instaflex is a major overpriced rip-off.

Bottom Line: No, I would not recommend this to a friend

---

45 out 48 people found this review helpful

Terrible and deceptive marketing

By David P.

,

Porcupine, SD

,

Sep 20, 2018
Verified Reviewer

I ordered the free 14-day sample pack and agreed to pay for the shipping. The sample pack never arrived. Then I receive a large bottle in the mail and my account is billed nearly $75.00. I never felt any pain in my joints as I left my living room floor on my way to the ceiling. The only severe pain I felt was a severe and debilitating pain in the pocketbook.

Bottom Line: No, I would not recommend this to a friend

---

44 out 46 people found this review helpful

Don't waste your time or money

By Ron Kelley

,

Myrtle Beach, SC

,

Mar 13, 2018
Verified Reviewer

The only thing that was worse than trying this useless product was wasting my time talking to one of the worst customer service organizations on the planet. They didn't even have the decency to stand behind their advertised return policy as stated in their advertising. Trust me, you don't need the aggravation.

Bottom Line: No, I would not recommend this to a friend

---

43 out 48 people found this review helpful

Very poor results

By G. Parries

,

Las Vegas, NV

,

Aug 28, 2017
Verified Reviewer

I have used Swanson's Glucosamine, Chondroitin and MSM with Hyal-Joint for many years.

In order to determine the effect of Instaflex, I stopped taking the Swanson product for two weeks before starting Instaflex.

Here are the results of my trial period:

A. I took the Instaflex exactly as the customer service rep said to take it.

B. I started to have mild consistent pain in my knees at all times. On a level of 1 to 10, this was a 2 to 3.

C. When I played tennis, I started to get much more pain after about an hour. This reached a 6 to 7 level each time that I played. The pain would remain well into the evening.

D. After the trail, I went back to the Swanson product, and after a few days, the consistent pain was gone again. When playing tennis there is only a mild pain (level 4-5) when a wrong twist is made, but it goes away in a minute or two.

This product made my pain worse, but maybe it will work better for you.

Bottom Line: No, I would not recommend this to a friend

---

39 out 44 people found this review helpful

Should I keep taking it?

By Laura Amedeo

,

Watertown, NY

,

Jul 29, 2017
Verified Reviewer

I have been taking Instaflex Advanced for 28 days. It has not really helped me at all, but two days ago, I noticed a rash around my knees and the inside of my thighs. I am wondering if this is from the turmeric and should I stop taking it? I hope not. I just bought a new bottle, thought I would give it one last try. Please advise.

Bottom Line: No, I would not recommend this to a friend

---