Keeps
This company has claimed this profile, is getting alerted on any new customer reviews entering this page, and may engage in dialogue with its customers to address their matters.

Companies cannot pay money or provide goods in order to remove or alter customer reviews.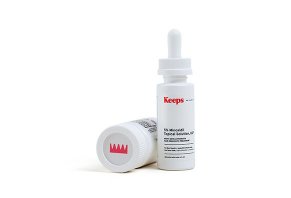 Summary
Keeps provides men with a customized hair loss treatment plan from a state-licensed physician, along with FDA-approved medications, including Finasteride and Minoxidil.
Pros
Active ingredients show clinical evidence for effectiveness
Auto-ship program lets you skip the wait at the pharmacy
Possible to sign up for personalized advice from Keeps-affiliated physicians
Positive customer reviews
Cons
Prices may be higher than equivalents at local pharmacies
Not all Keeps products work for all types of hair loss
Some customer service complaints from HighYa reviewers
Keeps Review: Does It Work, Side Effects, Cost
Medically Reviewed by Anthony Dugarte, M.D., C.S.C.S
Hair loss is a touchy subject for many people, but it's hardly a unique experience. More than half of men age 40-49 experience moderate to extensive hair loss.
Finding treatments to slow down or even reverse this process is a high priority for many, but knowing where to look isn't easy.
Keeps is a health care company that specifies in treatments for male pattern hair loss. This brand offers generic versions of popular, FDA-approved treatments.
All Keeps products arrive as a 90-day supply through an automatic subscription to ensure you always have some on hand. The company claims that you can save between $70-$100 per year with a Keeps subscription instead of the shopping with the competition.
In this review, we'll share our analysis on whether Keeps products work as described and are worth the subscription plan.
Getting Started
Signing up for Keeps products requires you to fill out a brief survey about your history of hair loss. You'll share how recently you started noticing it, where the loss is most prevalent, and whether you have already done anything to address it.
You can also specify whether any lifestyle choices, recent life events, or other health conditions may be affecting your hair.
At the end of the questionnaire, you need to submit three photos of your hair, including the top of your head, your crown, and your hairline.
After you complete registration, you have the option to request an online consultation with a Keeps-affiliated doctor. This consultation is free the first time and $5 after, and will be performed by a physician licensed in your state and will include a personalized treatment plan with a prescription for finasteride if needed.
It's possible to opt-out of this consultation and order the company's over-the-counter treatments without an expert recommendation. Alternatively, you can submit a prescription to the site from your doctor to request a finasteride treatment.
Treatment Options
The products available from Keeps include the following:
1mg Finasteride (Generic Propecia)
This prescription pill blocks DHT production, a hormone linked to male pattern baldness. It's an FDA-approved treatment for slowing down receding hairlines and improving hair regrowth rates along the hairline, crown, and vertex.
Use: Take a pill by mouth once a day, preferably at the same time each day.
Price: $25/month
Note: Finasteride is only available for purchase once you submit a prescription to the Keeps pharmacy.
5% Minoxidil Solution (Generic Rogaine)
This topical treatment works to slow down hair loss and promote hair regrowth, especially at the crown of your head. Most users can expect results within 3-4 months.
Use: Use a dropper to apply directly to your scalp twice a day.
Price: $10/month
5% Minoxidil Foam (Generic Rogaine Foam)
As with regular Rogaine, this topical treatment slows down hair loss and promotes hair regrowth at the crown of your head. The foam application method might make it easier for some people to use than the standard solution with an eye drop.
Use: Apply a capful twice a day to your scalp, massaging into place with your fingers.
Price: $15/month
2% Ketoconazole Shampoo (Generic Ketoconazole Shampoo)
This prescription shampoo is used to treat dandruff and other forms of itchiness and flaking. Most users will experience results in 2-3 weeks.
Use: Apply to scalp and let sit for 10-15 minutes before washing it off.
Price: $10/month
According to Keeps, it's possible to use any of their hair loss treatments alongside your normal hair products. If you are using minoxidil, you need to apply the product to dry hair and then let it dry on your scalp before applying other products as normal.
The company suggests that you use each product for the long-term, as stopping the treatment may reverse any hair loss you are experiencing.
Keeps' Active Ingredients: Do They Work?
Finasteride
Finasteride blocks 5-α reductasem, preventing the conversion of testosterone to dihydrotestosterone (DHT). This hormone is considered essential for body hair growth, but too much can be detrimental to head hair growth because it triggers the hair follicles to miniaturize.
According to a 2005 double-blind study with 80 male patients, the participants who took 1mg of finasteride daily (the same amount offered by Keeps) experienced hair regrowth results that were superior to patients taking a placebo.
5% Minoxidil
Topical minoxidil is considered an effective hair growth treatment for most male and female hair loss. Though it's not known how the compound works, it seems to work by enlarging your hair follicles and keeping them in the growing phase longer.
A 2005 study found that treatment with minoxidil led to statistically significant improvements in hair regrowth after 16 weeks, compared to a placebo. This treatment is considered best for hereditary hair loss at the back of the head, and it's not recommended for a receding hairline.
In 2009, 5% minoxidil was demonstrated to be superior to 1% in Japanese men with male pattern baldness.
2% Ketoconazole
Traditionally used to treat fungal infections, ketoconazole is effective against specific types of dandruff.
Though this compound isn't often associated with hair loss treatments, a pilot study from 2011 with 15 participants found that ketoconazole shampoo may be effective for improving hair regrowth.
Finasteride vs. 5% Minoxidil
When comparing Finasteride 1mg and minoxidil 5%, both had similar efficacies.
Key Takeaways: There is strong clinical evidence in trials with human subjects that the active ingredients in Keeps treatments will lead to statistically significant improvements for many types of male pattern hair loss.
Side Effects
There are some side effects associated with the active ingredients in Keeps hair loss products.
Finasteride, for instance, is known to have an impact on male sex drive. In the finasteride study mentioned previously, 25% of the participants experienced decreased libido or erectile dysfunction. Pain in the testicles and skin irritation are also possible side effects.
Most people find that the side effects of Finasteride disappear after several weeks of taking the treatment, but in rare cases, they persist, even after they stopped the treatment altogether.
In regards to minoxidil, some people might experience burning, stinging, or redness at the treatment site after using it. In rare cases, the medication can be absorbed through the skin and cause problems like dizziness, unwanted hair growth, an irregular heartbeat, and even difficulty breathing.
Likewise, some people experience stinging, swelling, and other irritation on their skin from using ketoconazole, though severe or unsafe reactions are rare.
Overall, these side effects tend to resolve once you stop the treatment.
How Much Does It Cost?
All Keeps products are available for purchase for the company website for US men over 18. Not all State permit product sales, so you can check here if your state is an option.
Note: Minoxidil is an over-the-counter medication, so Keeps can ship it to all 50 states.
Your Keeps order will be billed and shipped as a three-monthly supply with a $3 shipping cost. You can change your cancel your Keeps subscription by submitting a request through your online account, at help@keeps.com, or by calling the company directly at (833) 745-3377.
It's best to cancel at least 24 hours before your next refill date to ensure the order isn't shipped out anyways.
Comparing Keeps to Other Generic Hair Loss Products
Keeps claims to save you time and money securing hair loss treatment products compared to picking them up at your local pharmacy. In this chart, we compared the price of each treatment to the equivalent generic options available at nationwide pharmacies.
| | | | | |
| --- | --- | --- | --- | --- |
| | Keeps | Walgreens | Rite Aid | Walmart |
| Finasteride | $25/month, $1 shipping | Price depends on your insurance | Price depends on your insurance | Price depends on your insurance |
| 5% Minoxidil | $10/month ($1 shipping) | $39.99/3-month supply ($13.33/month), free in-store pickup, free shipping | $24.99/3-month supply ($8.33/month), free in-store pickup, $5.99 shipping | $18.76/3-month supply ($2.92/month), free in-store pickup, $5.99 shipping |
| 5% Minoxidil (Foam) | $15/month ($1 shipping) | $41.99/3-month supply ($13.99/month), free in-store pickup, free shipping | $17.99/ month, free in-store pickup, $5.99 shipping | $29.94/3-month supply ($9.98/month), free in-store pickup, $5.99 shipping |
| 2% Ketoconazole | $10/month (4-oz bottle) ($1 shipping) | $12.99/ 4-oz bottle, free in-store pickup, $5.99 shipping | NA | $16.99/ 4-oz bottle, free in-store pickup, $5.99 shipping |
Key Takeaways: Buying hair loss treatment products from Keeps might save you time and money if you factor in the shipping costs and subscription convenience, but the cheapest option for most products is to pick up equivalent generic versions at your local pharmacy.
If you are interested in using a product with finasteride, keep in mind that each pharmacy, including Keeps, requires you to submit a prescription first.
Keeps Customer Reviews
More than 25 HighYa reviews have rated Keeps, giving the product an average of 4.1 stars. Consumers Advocate has another 14 reviews, averaging 4.5 stars, and there are over 1,000 on the Keeps website, averaging 4.7. Here's a summary of some of their main takeaways.
Effective Hair Loss Treatment
A number of Keeps reviewers raved that these hair loss treatments really worked. Some wrote that they had tried numerous other over the counter products with the same active ingredients with minimal success, but that they noticed improvements within weeks of switching to Keeps.
Many noted that they had more hair growing in places where they were previously balding and that friends and family noticed the difference enough to comment on it. The most successful users seemed to be using multiple Keeps products together each day.
Good Customer Service
Keeps earned points from reviewers for excellent customer service. Many noted that the website was easy to navigate and that the customer service was quick to answer any product questions or send out refunds for returns or subscription cancellations.
Several reviewers noted that they loved the auto-ship program because it kept them accountable for taking their treatment daily and removed the stress and hassle of going to the pharmacy regularly.
More Affordable Than the Competition
Several Keeps reviewers praised the brand for offering cheaper products than the competition, especially when factoring in the convenience of the auto-ship program.
Note: Our research showed that many pharmacies offer equivalent products to Keeps for a slightly lower cost per month, not factoring in shipping costs.
Occasional Order/Delivery Problems
Not all users were in love with this service. Some reported that their Keeps orders never arrived or that their deliveries continued even after they had canceled the subscription. Others received the wrong products and found it a hassle to get the company to send what they needed instead.
Not Worth the Cost
A minority of Keeps reviewers wrote that they didn't experience results from the products that were worth the cost. Some thought they got better results from traditional Rogaine, while others didn't notice any difference in their appearance after several months of use.
Key Takeaways: Keeps users seem to be happy overall with the company's products and subscription program. Some ran into problems with billing or didn't experience significant results, but most reported that Keeps treatments led to real hair regrowth at an affordable rate.
The Bottom Line
Keeps claims to give subscribers easy access to effective hair loss treatments at a lower cost than the competition. There's real evidence to back up the effectiveness of the product's active ingredients for anyone experiencing male pattern hair loss.
While finasteride and minoxidil seem to have similar efficacy, considering the potential side effects can help guide your decision.
Our research found that many national pharmacies can beat Keep's per-month prices for equivalent products, but that the prices become more equal when you factor in shipping costs. If the convenience of an auto-ship program appeals to you, then Keeps is a brand worth considering.
When it comes to treating male pattern hair loss, it's essential to keep in mind that most treatments have limitations. There's little you can do to replace hair follicles that have already died, and most treatments are designed to target hair loss only on specific parts of the head.
Customer Reviews
Posted on Dec 9, 2018
Still early but good progress!
I've been using Keeps for about 4 months now after finding out about the company on a TV commercial. I just got my second shipment and have started to see real progress, especially at the top of my head. I talked with the doctor again before this last shipment and he was able to answer a few questions I had about how I should use the product and when I'd see more results.
Bottom Line: Yes, I would recommend this to a friend
Posted on Dec 17, 2018
Awesome product
I highly recommend Keeps to anybody interested in using a sleek, convenient, and professional platform to prevent baldness. It basically replaces a visit to the doctor with a simple, easy-to-use website. This includes a consultation from an actual doctor who can diagnose male pattern baldness and then prescribe the appropriate medicines. The treatments then show up in the mail. Most importantly, since using Keeps, I've noticed my hair has thickened some, especially in the front on either side where I had noticed it thinning recently. Just try it out and see for yourself.
Bottom Line: Yes, I would recommend this to a friend
Posted on Dec 26, 2018
Solid product, consistent service, great experience
I've had a great experience using Keeps. I enjoyed the fact that I did not have to visit a doctor or deal with any pharmacies in order to start receiving the product.
It's also nice that Keeps is able to re-fill and deliver my prescription without me needing to do anything.
My hair is still looking good, so I guess it's all good!
Bottom Line: Yes, I would recommend this to a friend
Posted on Dec 27, 2018
Exactly as advertised
Customer for over almost two years, great customer service and great product. I've tried other brands and Keeps is by far the best, very satisfied with results. Hugely recommended to friends and family.
Bottom Line: Yes, I would recommend this to a friend
Posted on Jan 3, 2019
Highly recommended product and amazing customer service!
This product worked wonders for my hair! I had regrowth and even thickening of my hair within the first three months on this treatment. My family and friends also noticed the difference and I am looking forward to the next three months on this treatment. Great customer service, available to help and always pleasant. I love how if I have questions regarding my treatment, my doctor is just a message away!
Bottom Line: Yes, I would recommend this to a friend
Posted on Jan 3, 2019
Product really works!
I started Keeps about 10 months ago. I was consistent with usage and after about 5 months, I started to really see some progress! I've told all my friends about Keeps! If you're a dude that is worrying about losing your hair, go check Keeps out ASAP. But don't be discouraged if you don't see any results after the first month or two...as they say, great things take time! I love Keeps, and to top it off, their customer support is great - you can tell they really care about the customer.
Bottom Line: Yes, I would recommend this to a friend
Posted on Jan 4, 2019
This product is effective.
At first, I wasn't sure this product would be effective, but it turns out that it is! The applicator takes a second to figure out, but it's actually easy to use. I could see a difference in my hair (especially the bald spot in the top/back) in a few weeks. The customer service and shipping are very good, and their website is easy to navigate. Impressive service all the way around!
Bottom Line: Yes, I would recommend this to a friend
Posted on Feb 25, 2019
Easy and effective
This was an easy, painless non-surgical way to get all my hair back. I was very skeptical of topical hair regrow and these solutions and finally decided to take the plunge and try Keeps, and I'm so glad I did. I look 10 years younger and my hairline is where it used to be. I've got my confidence back and I'm a happy camper.
Bottom Line: Yes, I would recommend this to a friend
Posted on Mar 18, 2019
Excellent product.
They have a very helpful staff. The products they offer have met and exceeded my expectations. Great company, would highly recommend them to others dealing with hair loss. My hair is returning at a much faster rate than I ever expected. I have also introduced a few of my colleagues to this as well.
Bottom Line: Yes, I would recommend this to a friend
Posted on Mar 18, 2019
You know you're going bald when you use more toothpaste than shampoo.
Thanks to Keeps, I'm back to using more shampoo than toothpaste! Having used the service for over a year now, I'm fully satisfied and have seen results.
They auto-shipping takes A LOT of the pain out of procuring hair loss treatments. I am on both Finasteride and Minoxidil, which would be one prescription to refill and an over-the-counter product. To do this on my own, the products would run out on different schedules and require separate trips to the store to refill. I love knowing that when I'm running low on my products, Keeps has my next order in the mail!
Pricing is also more than fair, which is really what attracted me in the first place. I won't lie, I've looked into other hair loss services and no one comes close to the pricing Keeps can offer for science-backed products.
The progress photos on the Keeps website also allows me to see the regrowth (which doesn't happen overnight). My doctor has taken a look and treatment is progressing nicely. He went ahead a refilled the medications and I'm looking forward to shopping for more shampoo!
Bottom Line: Yes, I would recommend this to a friend
Posted on May 8, 2019
Keeps gave me my confidence back
I first saw the ad on Instagram, was a little skeptical at first, but then I thought what's the worst that can happen, I go bald. I was already going bald! So I decided to try it and it worked out great. I personally saw results in a month in a half.
Bottom Line: Yes, I would recommend this to a friend
Our Promise to You
In order to safeguard you and ensure helpfulness and relevance, our compliance team manually assess every customer review before it goes live.
We have a zero-tolerance policy for fake reviews, and companies cannot control or alter any reviews at any time.