Live Cell Research Reviews
Claimed This company has claimed this profile, is getting alerted on any new customer reviews entering this page, and may engage in dialogue with its customers to address their matters.

Companies cannot pay money or provide goods in order to remove or alter customer reviews.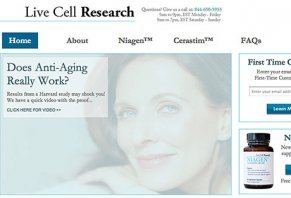 Live Cell Research is a new nutraceutical company based in California that claims to manufacture all-natural, cutting-edge supplements for maximum health.
About Live Cell Research
Because Live Cell Research believes that true health begins at the cellular level, this new nutraceutical company claims to manufacture supplements that address this root cause in order to maximize your health. As such, Live Cell Research claims that all of their products are backed by scientific research and intellectual property, which ensures that they are beneficial.
But when it comes down to it, how strong is the clinical evidence supporting Live Cell Research's supplements, and do they provide a high level of value? We zeroed in on the facts and here's what we learned.
The Details Behind Live Cell Research Products
Billing themselves as a "life and human development company that focuses on innovative nutritional and dietary supplement products," Live Cell Research claims to provide products that focus on cellular health, instead of ones that address just one or two specific body functions. As such, the company claims to provide clinically proven (see more about this in the Bottom Line section) products that can help you achieve optimal health—even for those of us who lead busy lives.
With this in mind, Live Cell Research currently offers 2 products:
Niagen
Live Cell Research claims that during a 2013 rodent-based study conducted by David Sinclair of Harvard University, it was discovered that an increase in nicotinamide riboside (NAD) can improve the communication between a cell's nucleus and mitochondria. As such, cell damage caused by free radicals is prevented, which is ultimately claimed to support healthy cholesterol levels, promote cellular metabolism, and to maintain neuronal (e.g. brain) cellular health, all without negative side effects.
With this in mind, Niagen is claimed to contain the only known naturally occurring compound that increases NAD production in your body, which can lead to reduced signs of aging, increased energy, boosted metabolism, and improved brain function.
Cerastim
A "breakthrough" nootropic that's claimed to increase production of the most important neurotransmitters in your brain using only 6 ingredients: Bacopa, N-Acetyl L-Tyrosine, Phosphatidyl Serine, Trans Resveratrol, Vinpocetine, and Huperzine A. As a result, Cerastim is claimed to increase cognitive ability, boost mental clarity, elevate your mood, improve your problem-solving ability, and more, which could be experienced immediately after it's ingested.
According to the Live Cell Research website, all of their products are manufactured in the USA in a GMP facility, are third-party tested by independent labs, and are manufactured without stimulants, allergens, or toxins.
Live Cell Research Pricing & Refund Policy
When ordering, keep in mind that Live Cell Research provides free shipping on all orders over $50. For orders under $50, you'll pay $3.95 S&H.
All Live Cell Research products come with a 90-day money back guarantee. In order to begin the refund process, you'll need to contact customer service at 844-650-5933.
Live Cell Research supplements are prices as follows:
Niagen
1 Bottle: $46.99
2 Bottles: $83.64
3 Bottles: $117
Cerastim
1 Bottle: $49.95
2 Bottles: $88.91
3 Bottles: $124.37
What's the Bottom Line About Live Cell Research?
At HighYa, we used the information that was publicly available to us at the time of the writing on Live Cell Research. As such, we formed and articulated our very own opinions and observations to help you digest the company a little more. Now that you know a little more about Live Cell Research and their products, should you spend your hard-earned money on them? Perhaps, but consider the following first:
Clinical Research
We were able to locate a copy of the Harvard study referenced on the Live Cell Research site here, which does appear to confirm that increased NAD production can help prevent age-related cell degeneration. However, the study does not reference the exact compound that increased this production, therefore we can't be sure if this is the same all-natural compound found in Niagen.
As such, it's important to note that any clinical research performed was on the ingredients found in Live Research Research supplements, not only the supplements themselves.
Not All Nutritional Supplements Work for Everyone
In addition, keep in mind that, as with most nutritional supplements, not all users will experience benefits.
New Company
Finally, Live Cell Research appears to be a very new company, as they're not listed with the Better Business Bureau and their URL was just registered in May 2014. Because of this, there are currently no online reviews about the company or their products.
Bottom Line
Live Cell Research has a well-written and easily navigable website that provides a lot of information about their supplements. However, since they are very new to the market, there are currently no online reviews about the company or their products.
Pros:
Live Cell Research claims to focus on improving health from the cellular level.
90-day money back guarantee.
No autoship program.
Cons:
New company/products, so no online customer reviews as of the time of this writing.
As with any nutritional supplement, some users may not experience results.
False advertising

By Karin V.

,

Tabernacle, NJ

,

Aug 13, 2019
Verified Reviewer

I purchased their product that was supposed to help with weight loss. It caused uncontrollable diarrhea. I stopped taking the product and waited until I thought it was out of my system to see if the problem cleared up. Unfortunately for me, doing this took me past their 90-day return limit so now I am stuck with $200+ worth of what is basically ginseng.

I would recommend that anyone looking into this company reconsider their decision. They are rip-off artists.

Bottom Line: No, I would not recommend this to a friend

Aug 15, 2019

Hello Karin. I am Aurora with Live Cell Research. I am very sorry to read your review of our product and customer service. We have many satisfied customers who have experienced great results while using our products, but we understand that results may vary. We always advise our customers to consult their physician prior to introducing any new supplements into the daily regimen, as the physician will be able to make the proper recommendations considering your complete medical history. I see on your account that you have already been fully refunded. I would like more information on your experience with customer service. Please email me at aurora@livecellresearch.com so that I may have more information. I would like to apologize again for your experience with Live Cell Research. I wish you a wonderful day and look forward to receiving your email.

---

Not happy with this product

By Janet K.

,

New Hampshire

,

Jan 23, 2019
Verified Reviewer

I bought three bottles of Active-PK but did not start using it right away because I was taking an antibiotic and wanted to wait until I was done with that medication.

Then, I took Active-PK twice a day for ten days. I had difficulty sleeping, so I realized that it must be the Active-PK. I stopped taking it and starting sleeping again at night. I know that the company wants me to take the product for a full 30 days, but my sleep is too important to me.

The Holidays approached, and I forgot that I had 90 days to return the product for a full refund.

Then, suddenly I got a call from their company as a followup around the 90-day return period. I told them that I was not happy because it caused insomnia. They told me to call Customer Service, which I did, but I was not within the 90 days - I called 102 days later. I was out of town when they called and I did not have the paperwork in front of me.

Thus, when I did call Customer Service, I was told that because I was not within the 90-day return period that they would not do anything for me. I guess 12 days is a big deal!

I would not recommend this product. It doesn't work, and it may have some unpleasant side effects.

Bottom Line: No, I would not recommend this to a friend

Jan 24, 2019

Hi Janet, I'm very sorry to hear about your frustrating experience with Active-PK and our customer service team. We understand that everybody's bodies are different so our products may work well for some but not others. We do have our 90-day money back guarantee in place for these circumstances and we work diligently to respond to and honor our refund policy. I understand that the holidays can be a hectic time. Please email me at aurora@livecellresearch.com and I'd be happy fully refund your order. Apologies for any inconvenience! Looking forward to your email.

---

Advertisement

---

Live Cell Research supplement pill

By Yon P.

,

California

,

Oct 18, 2018
Verified Reviewer

This is a real review from my experience of this product.

I can say the product did not work, sounds too good to be true. Yes, they fooled me good, I totally got scammed. Makes me very suspicious of this company. The company looks to have reviewed its own pills on this site...Not good.

I gained lots of weight instead. This is not a magic flat belly overnight pill as promised. You see, my thinking was completely out of order, it was like my mind was in space on planet Mars. I got very sick from day one, my legs started to shake, I was very weak.

But one thing I can say was OK is the quick delivery.

I would give this product a zero-star rating if possible. This company is a complete ripoff. The advertisement/video claims he is some big qualified doctor in California, but this is not true. Just another get rich scheme by him. You can fool the stupid, but not me anymore.

But no, not at all would I recommend this to anyone but a dog. Any human may put their life at danger.

Beware...

Bottom Line: No, I would not recommend this to a friend

Oct 19, 2018

Hi Yon, I'm Aurora from Live Cell Research. I was really upset to read your review. First, I would like to mention that we are a reputable company whose sole purpose is to improve the health and happiness of our customers. In addition, we would absolutely never create fake reviews. That is highly unethical and a practice that we would never partake in. All reviews on all sites our products are featured on are 100% authentic. As with all products, we do understand that they may work well for some and not for others. We always recommend that our customers consult their primary physician prior to beginning any new product to ensure that it is right for them. If a customer finds that they did not experience the results they were expecting, we wholeheartedly stand by our 90-day money back guarantee. I also hope that this shows you that we really want our customers to have the best experience possible and we have the best intentions. Again, I'm really sorry to hear about the experience you had with our product but please email me at Aurora@livecellresearch.com so that I can issue you a full refund. I look forward to hearing from you and making this right!

---

Call center is a joke...

By Chrystal R.

,

Dallas, TX

,

Oct 14, 2018
Verified Reviewer

I called to ask why I could no longer find a certain product on their website and instead got a call center that tried to sell me a lot of useless stuff - like AT&T bundled services and car insurance? Really. Makes me very suspicious of this company's ethics.

Bottom Line: No, I would not recommend this to a friend

Oct 15, 2018

Hi Chrystal, I'm Aurora from Live Cell Research. Thank you for reaching out to us. Live Cell Research just recently merged with our sister company, LCR Health. So many of the products you once used from Live Cell Research can now be found on LCR Health. I want to make sure that you have the correct phone number for our customer service department because it sounds like you may the wrong one! We would never try to sell products from a different company to our customers! The phone number you can reach us at is 800-384-8308. You can also email me at Aurora@livecellresearch.com and I can assist you with anything as well! Please email me if you are still experiencing any issues!

---

Advertisement

---

Product

By Kathleen F.

,

Fort Myers, FL

,

Sep 26, 2018
Verified Reviewer

The product did not work. I took it faithfully. I increased dosage as the rep said to do. It is still not working. Sounds too good to be true. Lesson learned again. I tried it with exercise; lost weight but not middle size. Still, I cannot verify any research on this.

Bottom Line: No, I would not recommend this to a friend

Oct 1, 2018

Hello Kathleen,

My name is Aurora with Live Cell Research Thank you so much for taking the time to leave us a review. While many of our customers do experience the amazing benefits from Live Cell Research, we do understand that it may not work for everybody. In addition, we always recommend that you speak to your primary physician prior to beginning any new product to ensure that it is right for your specific needs. We care greatly about our customers and I have made a note about this situation, we will take care of this right away. We also wholeheartedly stand by our money back guarantee. I would be more than happy to assist you with a full refund, regardless of how long it has been. Please email me at aurora@livecellresearch.com, I look forward to making this right!

---

Great stuff!

By Richard R.

,

Whitmore Lake, MI

,

Sep 24, 2018
Verified Reviewer

First, I type two diabetic. I have been taking Active-PK since 8/27/18. My weight has been fluctuating because I have been building muscle and losing fat. The high was 174.8, and my current weight is 169.0. I was slowly losing weight before because I am controlling my blood sugar with diet and exercise. However, I am losing weight faster now! Also, I can feel the effect. I am losing my adaptation to cold. The seasons are changing here, and usually, I don't feel the cold except in my extremities. I must be losing some of my visceral fat. This means that I have a real chance of not being diabetic! I'm glad I saw their presentation on Market Watch. Eventually, when I have enough data points, I'll give a more detailed account. Thanks.

Bottom Line: Yes, I would recommend this to a friend

---

Too early to tell, but seems positive

By Thomas K.

,

Silver Spring, MD

,

Sep 21, 2018
Verified Reviewer

I've been using Active-PK for only about two weeks. I've noticed a distinct decrease in fatigue, more energy, and better intestinal function. However, the use of Active-PK has coincided with improved weather (less hot and humid) and a little more attention to diet, which may by themselves account for the observed improvements.

Bottom Line: Yes, I would recommend this to a friend

---

Live Cell Research call center

By B H.

,

Syracuse, NY

,

Sep 18, 2018
Verified Reviewer

I have ordered many products from Live Cell Research for many years. I recently today read this website's reviews from past patrons of LCR. I give some consideration to a past patron's thought to a complaint, and then weigh my own thoughts by my satisfaction of success or no success with their products.

I am not writing to make a comment on the product line. I upon reading this page I saw other patrons reporting being given a runaround by call center personnel for LCR call-in line, the USA call center located in Salt Lake City, Utah. I simply was calling into the call center to reorder products. The lady verified my account, went over my past orders, upon talking about the Vital Stem product, I said I had a leftover year's supply still, but I mentioned I just saw on a website past patrons complaints about LCR products, one lady stated all her jars of Vital Stem did not contain the claimed 30 servings, but only had 22 or 23 servings per jar!

I proceeded to simply ask this agent what has LCR done about that complaint, which LCR on website acknowledge receipt of? It was at this time the agent, a lady, got evasive, but said she will ask about this to another agent (stated "I'll put you on hold for a moment"), then the line went dead!

I called back, then talked to a lady in same call center Salt Lake City, I asked to be connected to the agent who just got cut off, stated my last name and let me talk to her since I was on a 15-minute call! This new agent, a lady, said we have over 200 agents here on calls, so I asked her name, I asked her ID number, and she said they have non. How can I get you as an agent when calling back in? The lady was very evasive. I asked to talk to a supervisor please, she said I need all your account information before I can let you talk to a supervisor! I said I'll give that information to the supervisor. She HUNG up on me.

I called back again (third time), asked whom am I speaking to, "Jullie," if this was Salt Lake call center, "yes it is," can I talk to a supervisor please, "well I need your information first." I said I'll give information to the supervisor, I said public service companies are supposed to have in house ID numbers for workers, a way to ID workers without divulging personal information, so customers can call back and ID a worker. So I asked again for her ID, she said she has none, so I asked again to speak to a supervisor, she hung up instantly.

I find this to be extremely poor service, hinting that LCR have a policy at call center for agents to just hang up on patrons, if they are questioning products or LCR, it happen three times in a very short time frame.

Here I am a satisfied customer, spending thousand plus dollars, looking to simply continuing to reorder products. I am a person over 65 years old, I have a background as a businessman for 45 plus years globally, whiteness law cases over 14 million per year for 20 years (I'm not a lawyer). I learned a lot by exposure of law cases. The attitude I experienced seemed to verify past patrons negative reporting on this site of LCR company.

Here is a satisfied customer, calling in to simply reorder, the call turned sour the instant I asked questions of product, what has LCR done to rectify past complaints, and when I sought to speak to a higher experienced employee, a supervisor, the attitude agent response seems very trained, just hang up. Since there is no way for a patron to ID any agents, to later report a complaint, that rule of LCR sends a red flag up!

When I heard originally was told there were 200 plus agents taking calls at Salt Lake City call center, I originally stated to the lady, they are making a KILLING of profits then!

Even though I am a satisfied customer of LCR products, this incident, now has me very concerned about the real character of this LCR organization, even maybe its represented products. I'm associated with a business that has 5,000 employees, over a $120 million payroll annually. We teach our managers that we must listen to patrons, their complaints, investigate as best as possible, then upon verification, make and address a change of policy in how we treat people, every person, equally treated.

If a call center is taught to repetitively hang up, do not let a person talk to a supervisor, this now makes me question, if the products resented by LCR truly, are of value claimed!

Whether I can prove myself the results of individual use, that is near impossible, is to hard, as I take to many other natural products, that collectively seem to help my issues.

I do not have the time to take only one product over many months to see its individual results! No, I have used only self-reviewed, friends referred, referable products, which seemed to be vented over others personal use, as viewed reported on websites.

When a company acts this say with its trained agents at the call enter level, it only seems it's about profits. It sends up a red flag to me now about the integrity of the company, then the integrity of its claims on products!

Sorry for the long report, but the agents taught to hang up on a satisfied patron who simply wanted to speak to a supervisor, hung up on, three times in a row is just too much of a coincidence, to be a trained policy!

Bottom Line: No, I would not recommend this to a friend

Oct 4, 2018

Hi BH, my name is Taylor with LCR Health. Thank you for taking the time to share your experience. I'm very sorry to hear that you had this experience with our customer service team. Our customer experience is our number one priority, so I'm very sorry to hear that your experience was not a reflection of this. I have notified our customer service department, they will personally look into this to ensure that it never happens again. Please email me personally at taylor@lcrhealth.com so I can make this right! I look forward to hearing from you soon.

---

Experience taking LA-3 Longevity Activator AMPK

By Victor Ling

,

California

,

Apr 10, 2018
Verified Reviewer

I have been taking this product for four months, two pills every morning on empty stomach. The product was purchased last September.

Before I started to take this product last December, I was taking another product which also contains Berberine, from another company. On top of that, I was swimming every day. I lost four pounds after just one month.

Then I bumped into LA-3 unintentionally on the web, and I was persuaded by the presentation of it. The word "Berberine" attracted me because it was supposed to work even better with another two ingredients added, and also it was supposed to work on the "cell level" to stop the fat cell from growing.

After taking LA-3 for one month, my weight remained the same. Then in December, I was sick. I stopped going to the gym since. Now it is April. Two times, the company had someone call me for a follow-up. The first time, it was in January this year. The rep said that I had not been taking it long enough to see the results.

Today, April 5th 2018, another rep called me again. I told him I had not seen any weight loss at all, on the contrary, I have gained two pounds. My friends are telling me that my stomach fat has increased, obviously. He said that I should have a lifestyle change, e.g., swimming, diet, etc., not just by using the product alone. He also told me that I should have taken the product three times a day before every meal. I read him the directions on the label, which says "two capsules daily upon an empty stomach." I also asked him that if I had to exercise more, why should I use this product at all? He only replied "I wish you the best. Any questions, you should contact their Customer Service."

Instead of swimming, I have been walking twice a day for 37 minutes each time as soon as I stopped swimming in December.

My wife also had tried this product up to January. She gained weight instead.

In conclusion, according to our experience, the product is only a PLACEBO! Customer Service told me that after 90 days of purchase, she is not able to do anything for me, and I am more than welcome to write a bad review on the web! Considering the price and the effect of it, it is definitely NOT WORTH IT!

Bottom Line: No, I would not recommend this to a friend

Aug 29, 2018

Hello Victor,

My name is Aurora from Live Cell Research. Thank you so much for taking the time to leave us a review. I am so sorry to hear about the frustration and miscommunication that we have caused. We take these reviews very seriously and I want to personally make sure that we resolve this. While many of our customers to experience the amazing benefits of LA-3, we do understand that it may not work for everybody. In addition, we always recommend that you speak to your primary physician prior to beginning any new product to ensure that it is right for your specific needs.

We care greatly about our customers and I have made a note about this situation, and we will take care of this right away. We do also wholeheartedly stand by our money back guarantee. While the timeline is for 90-days, we always want to make sure that our customers are having the best experience possible so we do everything we can to make sure that we achieve this. I would be more than happy to assist you with a full refund, regardless of how long it has been. I am so sorry for any miscommunication or any confusion caused. Please email me at aurora@livecellresearch.com and I will be more than happy to issue you a full refund. I look forward to making this right!

---

Review of product

By James Deam

,

Canton, OH

,

Mar 11, 2018
Verified Reviewer

I ordered only one, and they sent me four. I inquired several times with no answer and no refund to my credit card. I did try it and have a strict diet and exercise. I see no advantage to this product. Read up on diet and how to reduce suger/fat metabolism. The advertisement/video claims he is some big qualified doctor in California. NOT. Just another get rich scheme by him. You can fool the stupid Hollywood stars but not me anymore.

Bottom Line: No, I would not recommend this to a friend

Aug 29, 2018

Hello James,

I'm Aurora from Live Cell Research. Thank you so much for leaving a review. I'm so sorry about the miscommunication. I would be more than happy to issue you a full refund. I'm also so sorry to hear that you did not experience the benefits you were expecting. While many of our customers do experience the amazing results of our products, we do understand that it may not work the same way for everyone. In addition, Dr. Rand McClain is a world-renowned medical professional who has more than two decades of experience in the medical field who is dedicated to spreading the news about his groundbreaking research and findings. Again, I am so sorry that you did not experience the results you were expecting, but I look forward to hearing from you and making this right. Please email me at aurora@livecellresearch.com and I will be more than happy to issue you a full refund.

---

Certifiable thieves! Money back guarantee is a joke!

I returned 24 bottles of unopened product and only received a refund for six.

As far as the efficacy of the product (Niagen/LA-3), I wasn't impressed after six months of use. I did not note any appreciable increase in energy levels.

Bottom Line: No, I would not recommend this to a friend

Jan 9, 2018

Hi Sean! I'm Aurora from Live Cell Research. Thank you so much for bringing this to our attention. I am so sorry for the miscommunication and the frustration that has occurred. I would be more than happy to issue you a full refund for all 24 bottles. Please email me directly at Aurora@Livecellresearch.com and I can do this for you right away! I look forward to hearing from you and making this right!

---