Multi-Action Sculpting Cream by City Beauty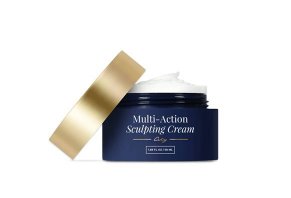 Summary
The Multi-Action Sculpting Cream claims to moisturize your skin and reduce wrinkles, thanks to a blend of proprietary ingredients. Despite glowing reviews, there's not much in this product that differentiates it from other—often cheaper—options.
Pros
Impressive discounts for purchasing more than one jar at a time
Ingredients show little sign of causing adverse reactions
Very positive customer reviews
Cons
Minimal clinical evidence is available for proprietary ingredients
Cheaper products are available
Most included ingredients are standard for skincare products
Multi-Action Sculpting Cream Review: A Detailed Look
The Multi-Action Sculpting Cream from City Beauty is an intensive moisturizing product meant to visibly restore your skin's elasticity to reduce the effects of aging.
The company claims that this cream's formula will nourish your skin so that it develops a "taut, springy" feel that visibly reduces wrinkles and fine lines.
City Beauty is a luxury skincare brand based in Los Angeles that is dedicated to helping women look their best as they age with "functional beauty" products that they claim offer more than surface-level skin benefits.
The company is most known for City Lips, a lip-plumping gloss that we've highlighted before. Their Multi-Action Sculpting Cream expands the collection by purportedly targeting the underlying causes of thinning, sagging skin to increase toning and tautness.
Will this cream work as described? You'll have your answer after reading our analysis.
Analysis of Ingredients
The company claims that the sculpting cream can offer benefits to all skin types. To use, scoop a small amount into your hands to warm it up before massaging it where your skin needs the treatment—preferably areas with some sag like your neck, underarms, and under the eyes.
According to the company's marketing material, the Sculpting Cream works due to three proprietary compounds that it contains: EASYLIANCE™, PROGELINE™, and IDEALIFT™.
Below are the benefits City Beauty claims these compounds add to the cream:
EASYLIANCE™: This ingredient is derived from acacia and sunflower, and purportedly gives the skin a tighter appearance within five minutes of use by forming a contouring network on the skin's surface that reduces the visibility of fine lines and wrinkles.

PROGELINE™: Promising to decrease your skin's levels of progerin (a skin-aging protein) by 22%, this peptide ingredient restores your body's natural repair process. The compound is also claimed to help promote healthy levels of collagen and elastin in your skin.

IDEALIFT™: This compound is claimed to stimulate elastin synthesis to improve the structure of your skin so that it holds its shape without sagging.
These ingredients seem to offer promising benefits, but it's important to note that few (if any) clinical studies are available that look at their effectiveness. This makes it difficult to weigh in on whether they will work as claimed.
Additional ingredients included in this cream are:
Butylene glycol
Caprylic/capric triglyceride
Isononyl isononanoate
Glyceryl stearate
Acacia Senegal gum
Aloe barbadensis leaf extract
Camellia sinensis (green tea)
Avena sativa (oat) kernel extract
Phenoxyethanol
Zinc gluconate
Copper gluconate
These ingredients are frequent additions to skin creams and act as moisturizers, skin conditioning and thickening agents, emollients, solvents, fragrances, and preservatives.
That's another way to say that there's little in this product to differentiate it from the other options on the market today. We couldn't track down any ingredients that offer specific benefits for firming and toning the skin beyond the proprietary ingredients previously mentioned.
In the same way, little stood out to us as potentially dangerous about this product. One exception might be acacia Senegal gum, which has a slight risk of organ system toxicity (but only when ingested).
Likewise, some people have skin sensitivities to phenoxyethanol. One study found that many people reacted poorly to its presence in ultrasound gels. It might be smart to try a small amount of this cream before committing to spreading it over a large area if you tend to react to skincare products.
Pricing and Money-Back Guarantee
The sculpting cream is sold exclusively on City Beauty's website and costs $67 for a 1.69-oz container. Shipping is included with every order.
You can also sign up for the company's auto-ship program, which offers significant savings per jar so long as you are willing to commit to a monthly delivery.
For example, one jar per month will cost $44, two are $78 ($39 each), and three are $105 ($35 each). You can stop these shipments at any time by contacting support.
The company offers a 60-day trial for each purchase, meaning that you can request a full refund if you don't like the changes you see within two months of use.
Get in touch with any further questions by contacting the company through phone (1-800-347-1558) or their email page at support@citybeauty.com.
Analysis of Customer Reviews
There are more than 350 verified reviews for the Multi-Action Sculpting Cream on our site, and they average 4.5 stars with a 94% recommendation rate. That's an impressive track record; here's a closer look at what's the customers are saying:
Common Compliments:
Lead to significant reductions in wrinkles around the face
Has a refreshing scent, quickly soaked into the skin
Leaves skin feeling smoother, more hydrated
Helps users feel younger
Common Complaints:
Doesn't lead to much improvement for severe wrinkles
Produces similar results to significantly cheaper creams
Some shoppers never received their order
Popular Alternatives
For those looking to tone their skin, there are other sculpting cream brands to consider besides City Beauty.
Two popular options are the StriVectin Tightening and Sculpting Face Cream, and Olay Regenerist Micro-Sculpting Face Cream. Are either better contenders for your face? Let's look closer.
The StriVectin Cream promises to nourish your skin to visibly plump up your face and improve definition. The product relies on a 'proprietary NIA-114 technology', which claims to target problem areas in the skin to deliver results that pack a punch.
The company website states that 97% of users report firmer skin after eight weeks of use, and Amazon reviews show this cream averages 3.9 stars out of five after 75 reviews.
Pricewise, you'll pay $95 for a 1.7-oz container, or approximately twice as much as you'd pay for a jar of sculpting cream from City Beauty.
Another product worth considering is the Olay Regenerist Micro-Sculpting Face Cream. Like the other two creams, it promises to penetrate your skin to provide deep hydration that improves elasticity while reducing wrinkles.
This cream contains hyaluronic acid, a common compound in skincare products that's used to help skin cells maintain their moisture content.
There's also some evidence that it can repair collagen levels, but most clinical evidence is focused on its use in injections, not topical applications.
You'll pay less for this product than the others, as it costs $21.63 per 1.7-ounce jar on Amazon, which is approximately one third the price of City Beauty's cream.
Even so, customer reviews show us that many people are convinced it works, as the cream averages 4.5 stars on Amazon after almost 6,000 reviews.
The Bottom Line
The City Beauty Multi-Action Sculpting Cream comes from a reputable beauty company and claims to erase your wrinkles and add moisture to your skin.
The company bases these claims around the proprietary ingredients within the cream, but there isn't much clinical evidence available to verify these claims.
Likewise, we couldn't determine anything specific in the other ingredients that stand out from competing skincare products that might be responsible for these effects.
Even so, customer reviews here at HighYa give a glowing report and shows that the majority of users love the results they get from the cream. That's good news from a pricing perspective, as the company offers significant discounts if you order numerous jars at a time through a subscription program.
However, the two other sculpting products we looked at had similarly positive reviews, and one (Olay Regenerist Micro-Sculpting Face Cream) comes in at one third the price.
If you're on the fence about trying this cream, we think there's enough reason to give it a try. So long as you keep the 60-day guarantee in mind, you should be able to get your money back if it's not right for you.
Customer Reviews
This company is actively collecting reviews from its customers. All reviews submitted are subject to moderation and approval to ensure they meet our
Review Guidelines
.
Our Promise to You
In order to safeguard you and ensure helpfulness and relevance, our compliance team manually assess every customer review before it goes live.
We have a zero-tolerance policy for fake reviews, and companies cannot control or alter any reviews at any time.