Nucific Carb-C6 Reviews
Claimed This company has claimed this profile, is getting alerted on any new customer reviews entering this page, and may engage in dialogue with its customers to address their matters.

Companies cannot pay money or provide goods in order to remove or alter customer reviews.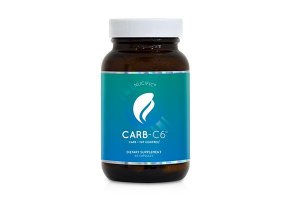 Nucific Carb-C6 claims to help boost energy, reduce cravings and hunger, and improve your overall health, without requiring you to give up your favorite foods.
About Nucific Carb-C6
Designed to specifically address "Starch Tongue," Nucific Carb-C6 features a unique blend of six ingredients that promise to curb carbohydrate, starch, and fat cravings, thereby limiting unwanted accumulation and helping you feel better than ever.
Specifically, the website advertises this dietary supplement can help you achieve more energy throughout the day, boost your metabolism, ease hunger, slim and sculpt your physique, and support healthier blood pressure and cholesterol levels, all while continuing to enjoy your favorite foods.
According to Nucific, all you have to do is take two capsules of Carb-C6 per day before your biggest meal (or, whenever you eat the most carbohydrates and starches), and it could help you regain control of your eating habits and lead to improved mental and physical health.
This is even the case if you've been unsuccessful losing weight in the past, whether from the wrong diets, exercise, or pills, or a sheer lack of willpower.
Losing weight while still eating what you want? The marketing claims for Carb-C6 sound fantastic. To help you make the most informed purchase possible, though, we'll quickly walk you through everything we learned, step-by-step.
What is Starch Tongue?
Before diving into Carb-6's formula, let's quickly unpack some of the claims made on the supplement's website.
Back in 2016, a team at Oregon State University, which included food scientist Juyun Lim, found it's possible a sixth 'starchy' taste element exists in the human palate—one that perhaps explains why carbohydrates are one of the main food staples in almost every culture on earth.
This is in addition to the other already established taste elements: sweet, salty, sour, bitter, and more recently added to the list, Umami (a savory sense).
However, as Jessica Hamzelou reports in New Scientist, "Before any new flavours can be enshrined as primary tastes, they must meet a strict list of criteria. Tastes need to be recognisable, have their own set of tongue receptors, and trigger some kind of useful physiological response."
The problem, she continues, is that "Starch doesn't tick all of these boxes yet." Specifically, "Lim and her colleagues are yet to identify specific starch receptors on the tongue."
TLDR; Highly preliminary clinical evidence indicates there might be another 'starchy' taste sense that needs to be added to our existing list (sweet, salty, sour, bitter, and Umami), although it hasn't been formally named, and no receptors have been identified on the tongue.
Despite this, Nucific advertises their Carb-C6 supplement can "specifically address "Starch Tongue," an overabundance of specialized carb-receptor taste buds that affect cravings for carbs and starchy foods." Which ingredients does it use to accomplish this?
Nucific Carb-C6 Ingredients
According to the supplement facts label posted on the Nucific website, Carb-C6 contains the following:
White Kidney Bean Extract 300 mg
Mulberry Extract 200 mg
Hibiscus Extract 200 mg
Gymnema Sylvestre Extract 200 mg
IS-aIG Seaweed and Grape Seeds Extract 200 mg
Green Tea Leaf Extract 100 mg
There's insufficient clinical evidence that most of Carb-C6's ingredients can deliver on the taste receptor claims advertised by Nucific. However, there are some nuances to the discussion that deserve exploring.
For example, taking 1 gram of powdered white mulberry leaf three times daily for four weeks is listed as 'possibly effective' for helping reduce fasting blood sugar levels in type 2 diabetics. Although, at 300 mg per dose, Carb-C6 contains much less than this amount.
Hibiscus (1.25 to 10 grams) might lower blood pressure by a small amount in people with high blood pressure, while green tea is likely effective for reducing cholesterol, and possibly effective for lowering high blood pressure, increasing bone density in those with osteoporosis, and even protect against Parkinson's disease.
Together, these potential benefits could foreseeably help you feel better than ever, as advertised on the Carb-C6 website.
Finally, while white kidney bean extract is an extraordinarily popular weight loss supplement, ConsumerLab reports:
"Supplements containing extracts made from white kidney bean (Phaseolus vulgaris) are promoted for weight loss because they are thought to act as "starch blockers" by inhibiting the starch-digesting enzyme amylase which otherwise turns the starch you eat into absorbable sugar. However, the effectiveness of this approach is questionable. Benefits have only been shown in short-term studies."
Are There Potential Side Effects Related to Carb-C6's Ingredients?
On the upside, these same sites reported no side effects for Carb-C6's ingredients. WebMD emphasizes, however, that the side effects of taking hibiscus regularly as medicine are unknown.
Regardless of any ingredient's safety profile, it's always a smart idea to have an in-depth discussion with your primary care physician before beginning any new dietary supplement regimen.
How Much Does Nucific Carb-C6 Cost?
Carb-C6 is only available through Nucific at the following prices:
1 Bottle: $69.95
3 Bottles: $184.68 ($ per bottle)
6 Bottles: $344.15 ($ per bottle)
All orders come with a 90-day money back guarantee, less S&H, which you can request by calling customer support at 888-679-5520 or sending an email to support@nucific.com.
What Do We Know About the Company Behind the Carb-C6 Dietary Supplement?
Nucific is based out of Tarzana, CA and has been in business since 2015. In that time, they've released a line of dietary supplements, including popular options like BIO X4 and Probiotic Complex.
Speaking of which, Carb-C6 was created by Dr. Amy Lee M.D., a board-certified physician in internal medicine, clinical nutrition, and obesity medicine, who's based out of Los Angeles, CA. She's also a Nucific board member.
As a company, Nucific held an A+ rating with the Better Business Bureau, based on 13 customer reviews and more than 40 closed complaints, as of 5/16/18. Most related to ordering problems, and a company representative provided a solution in each instance.
Are There Other Starch-Blocking Dietary Supplements Like Carb-C6?
Searching online, you'll find dozens of amylase inhibitors (informally known as starch blockers) for sale, which work by preventing the body from digesting carbohydrates and absorbing the associated calories. Although, WebMD emphasizes the evidence is unclear as to whether or not these carb blockers can help individuals lose a meaningful amount of weight.
With this said, we didn't encounter any third-party dietary supplements during our research that promised to block 'starchy' taste receptors on the tongue in the same way as Carb-C6. Nor did we encounter any with the same ingredients formulation.
Does this mean necessarily mean you should go ahead and place an order? Based on our years of research into the supplements industry, it's our opinion that you should only do business with companies who:
Provide a complete list of ingredients, including dosages, with limited-to-no proprietary blends
Price their products competitively
Offer at least 30-day refund policies, with no restocking fees
Come with mostly positive online customer feedback
Our Final Thoughts About Nucific Carb-C6
There is only preliminary evidence indicating humans have 'starchy' taste receptors on their tongue (they haven't been located). And, there's insufficient clinical evidence that they can be blocked by any of the ingredients found in Carb-C6.
Nucific comes with positive reviews from customers including on HighYa and Better Business Bureau.
If you're unsatisfied, you can always request a refund within three months of purchasing if you find it doesn't meet your needs—less S&H charges.
Feeling good

By Mercedes B.

,

New York

,

Mar 5, 2019
Verified Reviewer

I have been using this product for about a month now. As directed before my heaviest meal I take this pill and it has done wonders for my digestion issues. As I get older I find that just simple meals are causing me problems. So far this pill is allowing me to enjoy food again.

Bottom Line: Yes, I would recommend this to a friend

---

Love it

By Michelle R.

,

Maryland

,

Jan 12, 2019
Verified Reviewer

I love the product. I've lost 15 lbs in 1 and 1/2 months. I try to walk every day, and this has helped immensely with cravings. I've always loved and craved breads and pastas. I highly recommend this to anyone who has struggled with weight loss and uncontrollable cravings.

Bottom Line: Yes, I would recommend this to a friend

---

Advertisement

---

Carb-C6 review

By Dinel H.

,

Clearwater, FL

,

Dec 12, 2018
Verified Reviewer

I've been taking this for almost a year now and those cravings before bed are pretty much gone. Before I do take my other meds, I do a few grapes or another fruit, and that's it, I don't want anything else (and my downfall was ice cream).

Bottom Line: Yes, I would recommend this to a friend

---

It really works!

By Pj B.

,

Columbus, OH

,

Dec 8, 2018
Verified Reviewer

I can't believe it! I have been a nosher all my life. I have learned that this may be responsible for some of my health issues. I am quite fond of salty snacks. I didn't think I could go an evening without my snacks, much less weeks.

But, here I am, four weeks with bags of snacks getting stale. I do indulge occasionally, but just a handful here and there. But, the best news is, I don't crave them anymore. And these supplements took that carving away almost immediately. Within two days, I no longer craved chips, puffcorns, doritos, cheetos, crackers...the list goes on.

Now I'm working on getting rid of sugar cravings and I'll be in my best health ever. I already have less inflammation and therefore less pain.

I highly recommend this product to anyone with carb cravings. I couldn't believe how fast it worked or how completely it took away my cravings.

You won't be sorry you invested in yourself.

Bottom Line: Yes, I would recommend this to a friend

---

Advertisement

---

Seems to be working

By Joe G.

,

Manchester, MI

,

Dec 6, 2018
Verified Reviewer

I have been taking the product Carb C-6 for about a month. I does seem to have reduced cravings for carbs like chips and cookies (my two weaknesses), as well as other sweets. I have not noticed any weight loss yet but am willing to give it another couple of months before giving up on the product.

Bottom Line: Yes, I would recommend this to a friend

---

Really pleased

By Brenda D.

,

California

,

Sep 17, 2018
Verified Reviewer

I have recommended these products to several co-workers who are using them now and also are very pleased. I saw results in two weeks after starting the BIO X4 and the Carb-6. I have not lost so much in pounds but the inches around my waist, which is great.

Bottom Line: Yes, I would recommend this to a friend

---

Think it's working

By Andrea C.

,

Missouri

,

Aug 7, 2018
Verified Reviewer

I try not to eat a lot of carbs...and work out and watch what I eat. My weight had not moved down, but the inches are coming off! Also, I never miss a dose of my BIO X4. I am wishing to order more of Carb-C6.

Bottom Line: Yes, I would recommend this to a friend

---

Once a day is great

By Thomas M.

,

Dayton, TX

,

Jul 22, 2018
Verified Reviewer

I chose only "good" because I can't find a negative and I did see some lower weight gain when I was eating carbs, but not "excellent" because I didn't see a lot of change from it. I get my most consistent weight loss and reduction in heartburn from a keto type diet it seems.

Bottom Line: Yes, I would recommend this to a friend

---

Carb-C6 a big help with weight control

By Steve L.

,

Massachusetts

,

Jul 21, 2018
Verified Reviewer

I've been using Carb-C6 for a couple of months now and it's been instrumental in helping me get control over my weight. It's quick, easy and painless. Just add it into your daily healthier eating choices and watch the pound come off!

Bottom Line: Yes, I would recommend this to a friend

---

Amazing appetite suppressant

By Judy J.

,

Overland Park, Kansas

,

Jul 16, 2018
Verified Reviewer

I love this product because it is the one thing that has curbed my appetite and I do not crave or desire a snack food in the afternoon.

If I have a snack I am sure to make it a healthy one not loaded with carbs.

Bottom Line: Yes, I would recommend this to a friend

---