Nucific Carb-C6
This company has claimed this profile, is getting alerted on any new customer reviews entering this page, and may engage in dialogue with its customers to address their matters.

Companies cannot pay money or provide goods in order to remove or alter customer reviews.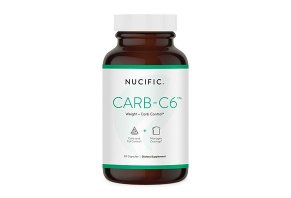 Summary
Nucific Carb-C6 is a supplement that allegedly helps you lose weight by reducing cravings and controling fat and carbs. The research behind this supplement is only moderately promising as it was only tested on animals.
Nucific Carb-C6 Review: Does Science Back This Supplement Up?
Carb-C6 is a dietary supplement from Nucific that is intended to help you achieve your weight loss goals by boosting energy, reducing cravings and hunger, and improving your overall health.
According to Nucific, these benefits are possible even without eliminating your favorite foods. The secret behind the Carb-C6's mechanism of action is a blend of ingredients that limit the absorption of carbs and fats.
By taking two capsules per day before your biggest meal, Nucific states that Carb-C6 could help you regain control of your eating habits and lead to improved mental and physical health.
Is it possible to lose weight while still eating what you want? In this article, we'll highlight what we found during our literature review to help you determine if you can lose weight with Curb-C6.
The Carb-C6 Ingredients: Do They Work?
Carb-C6's blend of natural ingredients is proposed to help you lose weight through a variety of mechanisms.
According to the supplement facts label, every 2-capsule serving of Carb-C6 contains the following ingredients:
White Kidney Bean Extract (WKB) 300 mg
WKB is often included in dietary supplements that are proposed to help you lose weight as it may offer carb-blocking benefits.
The extract is proposed to limit the activity amylase, an enzyme that breaks carbs into simple sugars so they can be absorbed. The idea is that by limiting the activity of this enzyme, carbs are rendered undigestible and pass through your digestive tract without contributing to your caloric intake or spiking your blood sugar.
WKB ability to accomplish this has been investigated.
This study examined the effects of WKB's ability to promote weight loss and glycemic control. Researchers found 500-3000mg doses to be effective to reduce blood sugar spikes after meals and support weight loss.
A review of 14 studies with nearly 700 subjects examined the effects of at least 1,200mg of WKB for a minimum of 4-weeks on weight and fat loss. Researchers concluded that those receiving lost an average of 2.4lbs of body weight and over 7lbs of body fat when compared to other weight loss methods.
Mulberry Extract 200 mg
Mulberry is related to the fig and has been used in natural medicine for centuries. It may reduce the absorption of carbs.
Despite a long history of use, mulberry extract hasn't been well studied. In obese mice, mulberry did effectively reduce body weight, though more work is needed to understand its potential benefit in humans.
Hibiscus Extract 200 mg
This extract is commonly included in teas for its antioxidant benefits. Hibiscus may also promote weight loss.
Though hibiscus did not alter enzymes that breakdown fats and carbs, overweight subjects treated with the extract experienced greater reductions in body weight, body fat, BMI, and hip to waist ratio.
Gymnema Sylvestre Extract 200 mg
This tropical shrub may combat diabetes-related issues. For example, 200-400mg may reduce the absorption of sugar in your intestine.
Gymnema may also serve to make sweet food taste less appealing.
ID-alG Seaweed and Grape Seeds Extract 200 mg
This blend contains seaweed and grape seed extracts, both of which may offer weight loss benefits.
ID-aiG was studied in rats. Those treated with 40 and 400 mg/kg/day doses reduced their body weight and body fat percentages when compared to placebo.
The seaweed content of this blend, Ascophyllum nodosum, was studied in humans. Seaweed doses up to 16g were effective in reducing the amount of calories consumed at subsequent meals, though it did not affect blood glucose or cholesterol.
In a laboratory study, Ascophyllum nodosum effectively inhibited enzymes involved in breaking down fat.
Grape seed extract may have anti-inflammatory, cognitive enhancing, and anti-obesity capabilities.
In mice, grape seed reduced weight gain with a high-fat diet. Also, supplementation seemed to affect enzymes in fat metabolism.
While these studies demonstrate promise, much more work is needed to characterize the role of these extracts in human subjects.
Green Tea Leaf Extract (GTE) 100 mg
Green tea is commonly found in supplements that claim to offer fat-burning benefits. The purported benefits of green tea are likely related to its caffeine content.
GTE doses ranging from 90-400mg up to 3x daily boosted energy expenditure in overweight subjects when combined with 200mg caffeine.
The combination of exercise and 500mg of green tea improved body weight, BMI, waist to hip ratio, and body fat percentage better than exercise alone.
Safety and Side Effects
One of the biggest draws for using nutraceuticals is that they often have a favorable safety profile when compared to medical management. Carb-C6's blend of natural ingredients is generally safe for use.
Keep in mind that natural is not synonymous with safe - even nutraceuticals can have unwanted side effects.
Some ingredients have been safely tested at much larger doses than what is offered in Carb-C6. Others offer only laboratory and animal studies for support. Thus conclusions regarding safety can't be drawn in these instances.
However, as some of the ingredients have been proven to alter carbohydrate metabolism, Carb-C6 may have the ability to alter your blood sugar levels. This can be especially dangerous in diabetics or others that may have trouble regulating their blood sugar.
Thus, combining this supplement with other anti-diabetic supplements or drugs can cause unsafe drops in your glucose levels.
Also, taking Carb-C6 without food, or using this supplement in a regimen that involves fasting can result in unsafe blood sugars.
Signs and symptoms that your blood sugars may be too low can include:
Pale skin
Sweating
Hunger and thirst
Shakes
Irritability
Headache
Dizziness and disorientation
Confusion
Slurred speech
Loss of consciousness
Experiencing these symptoms while using Carb-C6 or similar products may indicate an emergency. Seek immediate medical attention.
Never manage your blood sugar without medical supervision. If you think that your levels are too high or you're interested in weight loss, speak with your doctor before managing on your own.
How Much Does Carb-C6 Cost?
At this time, Carb-C6 is available for purchase only from the Nucific website. They offer the following pricing option:
1 Bottle: $69.95
3 Bottles: $184.68
6 Bottles: $344.15
As we are all faced by challenges related to COVID-19, Nucific states that they are taking extra safety precautions and also working diligently to ensure packages arrive on time.
All orders come with a 90-day money-back guarantee, less S&H, which you can request by calling customer support at 888-679-5520 or sending an email to support@nucific.com.
The Bottom Line
While Carb-C6 does offer ingredients that have some available support for Nucifc claims, much of the research is in laboratory and animal studies.
At HighYa, 10 users rate Carb-C6 4.6-stars. Happy customers report reduced cravings and enhanced weight loss.
While the ingredients are likely safe, certain individuals may be more susceptible to experiencing unsafe drops in blood pressure. The risk is greater if this supplement is not used as directed.
Considering that the research backing these ingredients is not robust, the considerable risk for harm, and the hefty price tag, you should probably start your weight loss journey elsewhere.
Instituting a healthy meal plan and regular exercise is your best first step. If you've made these lifestyle changes and still aren't seeing the results you'd like, speak with your physician.
Customer Reviews
Posted on Mar 5, 2019
Feeling good
I have been using this product for about a month now. As directed before my heaviest meal I take this pill and it has done wonders for my digestion issues. As I get older I find that just simple meals are causing me problems. So far this pill is allowing me to enjoy food again.
Bottom Line: Yes, I would recommend this to a friend
Posted on Jan 12, 2019
Love it
I love the product. I've lost 15 lbs in 1 and 1/2 months. I try to walk every day, and this has helped immensely with cravings. I've always loved and craved breads and pastas. I highly recommend this to anyone who has struggled with weight loss and uncontrollable cravings.
Bottom Line: Yes, I would recommend this to a friend
Posted on Dec 12, 2018
Carb-C6 review
I've been taking this for almost a year now and those cravings before bed are pretty much gone. Before I do take my other meds, I do a few grapes or another fruit, and that's it, I don't want anything else (and my downfall was ice cream).
Bottom Line: Yes, I would recommend this to a friend
Posted on Dec 8, 2018
It really works!
I can't believe it! I have been a nosher all my life. I have learned that this may be responsible for some of my health issues. I am quite fond of salty snacks. I didn't think I could go an evening without my snacks, much less weeks.
But, here I am, four weeks with bags of snacks getting stale. I do indulge occasionally, but just a handful here and there. But, the best news is, I don't crave them anymore. And these supplements took that carving away almost immediately. Within two days, I no longer craved chips, puffcorns, doritos, cheetos, crackers...the list goes on.
Now I'm working on getting rid of sugar cravings and I'll be in my best health ever. I already have less inflammation and therefore less pain.
I highly recommend this product to anyone with carb cravings. I couldn't believe how fast it worked or how completely it took away my cravings.
You won't be sorry you invested in yourself.
Bottom Line: Yes, I would recommend this to a friend
Posted on Dec 6, 2018
Seems to be working
I have been taking the product Carb C-6 for about a month. I does seem to have reduced cravings for carbs like chips and cookies (my two weaknesses), as well as other sweets. I have not noticed any weight loss yet but am willing to give it another couple of months before giving up on the product.
Bottom Line: Yes, I would recommend this to a friend
Posted on Sep 17, 2018
Really pleased
I have recommended these products to several co-workers who are using them now and also are very pleased. I saw results in two weeks after starting the BIO X4 and the Carb-6. I have not lost so much in pounds but the inches around my waist, which is great.
Bottom Line: Yes, I would recommend this to a friend
Posted on Aug 7, 2018
Think it's working
I try not to eat a lot of carbs...and work out and watch what I eat. My weight had not moved down, but the inches are coming off! Also, I never miss a dose of my BIO X4. I am wishing to order more of Carb-C6.
Bottom Line: Yes, I would recommend this to a friend
Posted on Jul 22, 2018
Once a day is great
I chose only "good" because I can't find a negative and I did see some lower weight gain when I was eating carbs, but not "excellent" because I didn't see a lot of change from it. I get my most consistent weight loss and reduction in heartburn from a keto type diet it seems.
Bottom Line: Yes, I would recommend this to a friend
Posted on Jul 21, 2018
Carb-C6 a big help with weight control
I've been using Carb-C6 for a couple of months now and it's been instrumental in helping me get control over my weight. It's quick, easy and painless. Just add it into your daily healthier eating choices and watch the pound come off!
Bottom Line: Yes, I would recommend this to a friend
Posted on Jul 16, 2018
Amazing appetite suppressant
I love this product because it is the one thing that has curbed my appetite and I do not crave or desire a snack food in the afternoon.
If I have a snack I am sure to make it a healthy one not loaded with carbs.
Bottom Line: Yes, I would recommend this to a friend
Our Promise to You
In order to safeguard you and ensure helpfulness and relevance, our compliance team manually assess every customer review before it goes live.
We have a zero-tolerance policy for fake reviews, and companies cannot control or alter any reviews at any time.