One Two Lash Reviews
Claimed This company has claimed this profile, is getting alerted on any new customer reviews entering this page, and may engage in dialogue with its customers to address their matters.

Companies cannot pay money or provide goods in order to remove or alter customer reviews.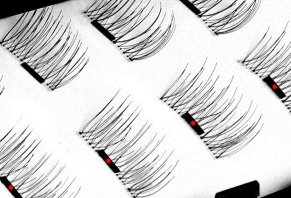 Touted as a game-changer, instead of using adhesives like traditional options, One Two Lash extensions implement micro magnets for ease of use and cost effectiveness.
What Is One Two Lash?
Made from high-quality synthetic fibers and using patent pending micro-magnetic technology, One Two Lash promises to be a game-changing invention that can give you long, gorgeous eyelashes in seconds, without glue, a mess, or an expensive appointment.
In fact, the manufacturer tells us that a pair will cost you a fraction of a single salon session and take only seconds to apply. All you have to do is place one section above your lashes and another below, touch them together, and allow the magnets to click into place.
Once there, the website indicates One Two Lash will provide weightless length, volume, and luxuriousness. Then, when the day is done, you'll just gently slide the magnets apart to remove.
We all love the eye-popping effects eyelash extensions can have, but they usually come with some steep downsides, like messiness, cost, and the fact that they can damage real lashes.
But have you finally found an affordable, functional solution with One Two Lash? Are there any considerations you should keep in mind? What about the competition?
Here, we'll walk you through everything we learned during our research so you can make a more empowered decision—starting with the basics.
One Two Lash vs. Traditional False Eyelashes
Despite all your options, FrendsBeauty.com tells us there are really just three eyelash extension categories:
Strip Lashes – As the name implies, these consist of many individual lashes attached to a single strip, which can be cut to customize size. Some common materials for these lashes include mink, silk, human hair, or like One Two Lash, synthetic fibers.
Individual Flare Lashes – Available in three different lengths, these are applied individually to deliver more volume and length by a professional, and are intended for temporary wear.
Individual Single Lashes – These are also applied individually, but are typically worn for longer periods of time.
Regardless of the type, though, the biggest difference between One Two Lash and traditional methods is that the former uses magnets, while the latter use adhesives. And according to One Two Lash, this makes all the difference, since you'll avoid the time and mess—and cost, in many instances—associated with the old way of doing things.
Will One Two Lashes Cause Any Side Effects?
According to One Two Lash's FAQ:
"One Two Cosmetics has undergone extensive internal testing. In fact, Princeton Consumer Research independently studied the effects of prolonged magnetic lash use in healthy female subjects, and not a single adverse reaction was found. So you can rest assured that One Two Lash has officially been deemed safe for everyday use."
They even note that you can use any of your normal eye makeup with their lashes, including eyeshadow and eyeliner, although you should never apply mascara directly. Cleaning can be accomplished with a wet tissue.
However, if you have any pre-existing eye conditions, you should be sure to speak with your doctor in advance.
How Much Does One Two Lash Cost?
How much you pay, and the different options available, largely depends on where One Two Lash is ordered.
On their MakingBeautyEffortless site, the Bold (high volume and length for a "glamorous" look) magnetic lashes are priced at:
1 Case: $69
2 Cases: $138
3 Cases: $207
You'll also find these same lashes and prices on the main One Two Cosmetics URL. However, you'll have additional options like:
Original Lash – An everyday wear pair with a naturally beautiful look: $69-$207 (1-3 cases)
Accent Lash – For a demure look with a subtle curl: $59
Filler Lash – A thinner option intended to fill in any gaps: $59
Regardless of which site you order through, it will come with free shipping and a 60-day money back guarantee, less S&H charges.
Important note: Per One Two Lash's ordering page at the time of our research: "We are making the lashes as fast as we can! Orders placed will ship within 8-10 weeks from order date! Thank you in advance for your patience."
Have questions or need to request a refund? Customer support can be reached at (800) 424-9118.
What Are Customers Saying In Their One Two Lash Reviews?
Back in November 2016, independent blogger PeacefulDumpling had an opportunity to review a set of One Two Lashes, claiming it only took them about 40 minutes of "tedious" practice and trial and error to get them in place. Later sessions only took about a minute, however.
In the end, they reported being underwhelmed by the results, since they didn't follow the reviewer's natural lash lines, looked cheap up close, and moving them smeared mascara after application.
On the other hand, Lexi Novak over at Allure awarded the lashes Best Beauty Breakthrough of 2016, while PopSugar claimed they're a "big fan."
A Redditor from 2016 called One Two's Original lashes amazing, worth every penny, and recommended them to "anyone that's sick of glue-on lashes."
From a company perspective, One Two Cosmetics is based out Chatsworth, CA and was founded by Katy Stoka. Katy claims she came up with the idea to help her look her best in her role as a Miami, FL real estate agent, while also balancing her time as a mom of two boys.
The company had an A Better Business Bureau Rating and six closed complaints as of 6/6/17, none of which provided additional detail.
Are There Other Magnetic Lashes Like One Two Lash?
In short, no. So, if you're looking for lashes that can be applied in seconds without any kind of adhesive, One Two is currently the only game in town.
With this said, you might need help picking the best version for you. To provide some assistance, InStyle notes that longer, more dramatic lashes might be best for deep-set eyes, while wispy, wing-shaped options could be ideal for round eyes.
Hooded eyes might be best served with lashes that taper at each end; monolids with less dense, fluffy lashes; and strategically crisscrossed lashes for almond eyes.
Clearly, this means that One Two's options, which only appear to differ in width and density may not suit every customer's specific needs. And this is to say nothing of the fact that they're only available in darker colors.
Let's continue this thought as we come to a conclusion.
Our Final Thoughts About One Two Lash
Whether we're talking about customer feedback or awards from reputable publications, it seems that One Two's magnetic lashes really could be classified as a game-changer in the eyelash extension industry. They're reportedly easy to apply and remove, inexpensive, and could match a wide swath of consumers' needs.
Does this mean they'll match everyone's style and preference? Are they certain to deliver "the dramatic look of professional lash extensions," as claimed on their website? Just like any other product, whether in the beauty category or elsewhere, no single options will work across the board.
However, One Two seems to stand behind their lashes with a 60-day refund policy, so returning them could be as easy as reaching out to customer support via phone or email if you're not pleased with the result. Just keep in mind that you'll lose your return S&H charges, which will almost certainly be minimal.
Updated review

Great concept; not so great delivery!

By Valerie P.

,

Tennessee

,

Nov 1, 2019
Verified Reviewer

Update ion my previous review.

I gave One Two Cosmetics another try...waste of time and money. The "bold" lashes I ordered did not even fit my eyes, they were too short. The lashes were not the dramatic bold look I was looking for at all.

I contacted customer service who were polite but appeared very disinterested in my problem offered a big percentage off the product but why would I take that when they are unwearable? Not sure she was really listening to the issues I had.

Buyer take note: you have a 30-day guarantee in which to return but the clock starts ticking from order date. In my case, it took 10 days from order to arrive. If you need to return I suggest you do it promptly. The buyer is 100% responsible for return shipping costs even if they send you a product you can't wear, so buyer beware.

I tried very hard to like this product/company and Emily from One Two left a message on this page to which I replied then heard nothing. I had to chase them and eventually received a pair which were also too short so yet more money wasted. I will not be reordering again.

My advice; try cheaper alternatives where you can return without all of the aggravation I have experienced with this product.

Bottom Line: No, I would not recommend this to a friend

Previous review
Jan 15, 2019

Great product with small issue

I received my first pair of "bold" eyelashes; just the look I wanted for those special nights out etc. (dramatic and noticeable).

After approximately one week of use, they started shedding...A LOT! I bought the cleanser and took great care when applying as per the video, but still, they shed, making the dramatic look less so. Their customer service was top notch but could not replace this product as "we are no longer sure if they will be available again." Hmmmm.

Long story short, I was sent only what they had in stock (not the dramatic/bold look), which was not really why I bought these in the first place. I am grateful, and they did offer a full refund, but I love the concept. They do work extremely well; they don't damage your eyelashes and I do love them, just wish I could have replaced the bold look. Thank you.

Jan 16, 2019

Hi Valerie, my name is Emily with OneTwoCosmetics. I'm thrilled to hear that you enjoyed the product, but due to high demand, we are currently out of stock of our Bombshell Lash. In regards to the shedding, I will pass along your feedback to our Product Development team. Please email me at emily@onetwocosmetics.com and I will be more than happy to send you a pair of the Bombshell Lashes when we restock.

(

read more

read less

...)

---

Updated review

Not worth the hassle. Save your money and time.

By Tessa V.

,

Milwaukee, WI

,

Jun 25, 2019
Verified Reviewer

I emailed for a return and surprisingly heard back about getting a refund. I was worried. I shipped the product back last week and received an email saying I would receive my refund in 3-5 business days on 6/13. It's 6/17 so here's to hoping the money will show up. Not happy about having to pay for return shipping though.

Bottom Line: No, I would not recommend this to a friend

Previous review
Jun 17, 2019

BAD

Got the full "natural" lashes, but boy they were anything but natural! They were so long they looked obnoxious on my smaller Asian eyes. They also came with weird, brown, crusty flakes all over the lashes. I could pinch most of it off with a lot of effort, but still concerning since it's so close to the eye. I emailed for a return, but am concerned that I won't get a response based on the other reviews here. I should have read these first. This company seemed sketchy to begin with. Should have known when I got 10+ offer ads to buy more of their product when I was checking out. At least I didn't fall for any of those...

Jun 18, 2019

Hello Tessa. My name is Emily and I am with One Two Cosmetics. I am very sorry to read your review. I would like to apologize for the material you found on our lashes. This is very unusual for this product and I would like more information on your order so that I may look into it. As a courtesy, I would like to issue a refund without any need for return. Please send me your order information at emily@onetwocosmetics.com and I will get started on it right away. Again, I fully apologize on behalf of One Two Cosmetics for your experience. I hope you have a wonderful day.

(

read more

read less

...)

---

Advertisement

---

Not much to brag about

By Martha M.

,

Charleston, SC

,

Jun 20, 2019
Verified Reviewer

I bought several cases of these lashes because it looked so easy. It is three months later and I still have not been able to put these on. It is not half as easy as they show it to be. I try about every week or so to put these on just so I can see if practice makes perfect. NOT...Now I am stuck with three cases of lashes and nothing to do with them.

Bottom Line: No, I would not recommend this to a friend

Jun 21, 2019

Hello Martha. My name is Emily and I am with One Two Cosmetics. I am sorry to read your review of our lashes. Many of our satisfied customers are able to apply their lashes after a few tries and watching our tutorial on our official YouTube channel, but we understand that experiences may vary. As a courtesy, I would like to offer you a full refund on your purchase without any need for return. Please contact me at emily@onetwocosmetics.com so that I may get started on this right away. I hope you have a wonderful day.

---

Not worth the money

By Janae O.

,

Minnesota

,

Apr 25, 2019
Verified Reviewer

I ordered lashes to wear on special occasions. The lashes were okay, but it was obvious that I was wearing false lashes because the magnet is tough to disguise. The lashes did not hold up well and only lasted a few months. I would not recommend this product.

Bottom Line: No, I would not recommend this to a friend

Apr 25, 2019

Hello Janae. My name is Emily Johnson and I am with One Two Cosmetics. I would like to apologize for your experience with our lashes. Many of our customers apply eyeliner prior to application, creating a more seamless look. We stand by the quality of our lashes which is why we offer a 30-day money back guarantee, if you are not satisfied. I would like to offer you a full refund for your purchase regardless of this as a courtesy. Please email me at emily@onetwocosmetics.com so I can start the process immediately.

---

Advertisement

---

Refund? Good luck.

By Alina W.

,

Arizona

,

Mar 26, 2019
Verified Reviewer

I ordered two packets of lashes and they were postmarked January 10th. Lovely packaging, but when I finally got a pair on, they were half destroyed, and I didn't care for the look. Not satisfied with the product, I returned the lashes (second package wasn't even opened) via insured UPS mail on January 31st. On March 9th, I hadn't received a refund, so I contacted the company. After a massive amount of run around, I was told that the lashes were received and that I would be issued a full refund within 3-5 business days, as well as a cheery email to confirm this.

Today is March 23rd, I have not received a refund, and I went through the same painful phone call as March 9th.

At this point, I not only sparse eyelashes, but balled spots from pulling out my hair from trying to deal with this company.

I feel bad for the customer service representatives who had to deal with my rising frustration and anger - which has only been exaggerated by the emails I continue to receive to recommend the product to friends.

Bottom Line: No, I would not recommend this to a friend

Mar 27, 2019

Alina, I'm very sorry to hear that this was your experience with our OneTwo Cosmetics product and customer service team. Please email me at emily@onetwocosmetics.com and I will personally look into your account to ensure this never happens again. Again, I want to apologize. I look forward to hearing from you soon.

---

Big scam!

By Anna V.

,

Victoria, Australia

,

Feb 20, 2019
Verified Reviewer

Don't waste your time buying these lashes, you will NEVER get them on, soooo FRUSTRATING. They claim that with practice you will master it, well, I was determined to use them and have wasted my time and used all my patience! I even watched their video as they suggested and they have 3 different methods to try to get them on, but NONE of them work. Even if you do manage to put them on by fluke, they don't look natural at all! And don't even try to get your money back because someone else answers their customer care number and they haven't responded to my email.

Bottom Line: No, I would not recommend this to a friend

Feb 21, 2019

Hi Anna, I'm very sorry to hear that you had this experience with these lashes and our customer service. I understand your frustration and want to assure you that we will always stick to our refund policy. Please email me at emily@onetwocosmetics.com and I can get your refund started immediately.

---

Careful

By Eileen P.

,

New Mexico

,

Feb 2, 2019
Verified Reviewer

I just wanted to share. Be cautious when wearing these lashes when opening a hot oven. I felt the magnet get hot on my eyelid almost immediately. When I took off the lashes prior to going to bed, I realized the tip of lashes had folded down from the heat as well.

Not putting down the lashes, but I'm a mom who cooks and expects this to happen.

Bottom Line: Yes, I would recommend this to a friend

Feb 21, 2019

Hi Eileen, I'm very sorry to hear that this happened! Please email me at emily@onetwocosmetics.com and I'd be happy to send you a replacement pair.

---

Not worth it

By Gwen M.

,

Chicago, IL

,

Jan 15, 2019
Verified Reviewer

I was excited to order some magnetic lashes for a friend for Christmas. The first package that came was incomplete; it only had the top lashes, no bottom lashes, so there was nothing to magnetize to. Customer Service was mediocre, they could ship me new ones, but not in time for Christmas, they couldn't change the address to which they shipped, and it would be a slightly different product since they were out of that type.

The second package came, but by that time I decided to order from Silly George instead (and got one for myself). So I had the chance to try out both brands side by side, and SG was SO MUCH better than One Two Cosmetics because there were THREE magnets on each eye, allowing a round shape. It took some practice, but I got the SG lashes to look great pretty easily. The One Two Cosmetics lashes never looked realistic, always too flat in shape.

I'm returning the One Two Cosmetics lashes.

Bottom Line: No, I would not recommend this to a friend

Jan 16, 2019

Hi Gwen, my name is Emily with OneTwo Cosmetics. Thank you for sharing your feedback. I'm very sorry that this was your experience with our product and our customer service team. Please email me at emily@onetwocosmetics.com and I'd be happy to personally begin a refund process for you. Again, I want to apologize for the inconvenience.

---

Very good

By Dee B.

,

United Kingdom

,

Jan 10, 2019
Verified Reviewer

I received them within two weeks, but it's a shame that I had to pay £25 import duty on them before they were delivered, which made these lashes very expensive, especially since I ruined a pair of them practicing putting them on and taking them off.

Bottom Line: No, I would not recommend this to a friend

---

Magnetic lash accents

By Danielle S.

,

Denver, CO

,

Jan 10, 2019
Verified Reviewer

I love fake lashes but have never been able to put them on correctly. I ordered the accents for a casual look with hopes to upgrade to the flashier lashes if I could actually put the smaller ones on. It took a few tries, but I can actually put them on and they look good. The magnetic is so much easier than the glue kind. I am definitely happy I gave these a chance. They are worth it.

Bottom Line: Yes, I would recommend this to a friend

---

Good start

By Courtney D.

,

Titusville, NJ

,

Jan 7, 2019
Verified Reviewer

Hi One Two Cosmetics! I ordered four sets of original lashes for my mother (79 years old), me (54 years old), as well as my 24 and 22-year-old daughters. We are having mixed experiences.

Challenges include dexterity for my Mom in getting them on. The length is a little on the dramatic side for Mom, so I think we will attempt to "trim" a little so she can achieve a more natural look.

For me, my lower lash magnet fell off the first time I removed my left lash. Sigh. I used super glue and a toothpick to reattach, but it's "not quite right."

My 22-year-old somehow managed to lose her right lower lash the very first time she was attempting to put them on. Three of us searched the area, her clothes, etc. for almost 1/2 hour to no avail. She was in tears when she found out how much I had spent.

That said, my 24-year-old loves them! This gives me hope!

So the jury is out for me right now. It was a substantial investment for not a great overall result thus far.

Bottom Line: No, I would not recommend this to a friend

---