Performix SST Reviews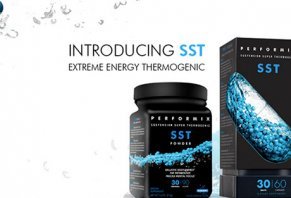 Performix SST is a line of dietary supplements that are claimed to include TERRA "intelligent" time-release beadlets that enhance ingredient effectiveness.
About Performix SST
Performix SST claims to be a world-class line of thermogenic supplements that feature TERRA beadlets with intelligent time-release delivery, which controls the release of key ingredients and enhances their fat-burning effects. As a result, Performix SST is claimed to give you unparalleled results such as increased energy, boosted metabolism, and improved mental focus.
Admittedly, Performix SST features some intriguing technology and, if we may say so ourselves, some attractive packaging. However, does time-release technology and a handsome presentation necessarily make an effective supplement?
Performix SST Ingredients
Performix SST's primary claim to fame is its "intelligent-release" TERRA beadlets which are claimed to release key thermogenic ingredients in four distinct pH-activated stages:
The Introduction Phase (first 2 hours) is when thermogenesis begins, which raises metabolic rate and burns more fat. Next, the Chill Phase (2-4 hours) is when you may experience "chills" due to your body's increase in temperature, which ultimately helps break down fats. Then, the Sustain & Block Phase (4-6 hours) will begin, which is when the supplement's B12 is released, which can improve mental focus and energy production. Finally, the Transition Phase (6-8 hours) occurs, which is when the "fat to energy" exchange in your mitochondria is boosted, helping you to burn more fat.
In order to accomplish this, Performix SST's powdered formula includes the following "world class" ingredients:
Niacin 10mg
Vitamin B-12 1,000mcg
Calcium 27mg
Sodium 115mg
Potassium 488mg
Performix Suspension Super Thermo Complex: Choline Bitartrate, Powder, Caffeine Anhydrous, Sensoril Ashwagandha Extract, Synephrine HCL, Huperzine A Extract, Yohimbine HCL, Adenosine Monophosphate Fusion, Bioperine Black Pepper Extract.
Diffusion Carrier Compound: Medium Chain Triglycerides Blend, Safflower Oil Blend.
According to the Performix STT website, you should take one dose of the supplement (whether in powdered or capsule form) once daily.
Performix SST Pricing and Refund Policy
Performix SST, whether in powder or capsule form, is available through GNC and LuckyVitamin.com and is priced at $59.99.
As such, refund and exchange policies will be the discretion of each retailer.
Does Performix SST Really Work?
When it comes down to it, can you really expect to burn more fat and experience increased energy with Performix SST? Perhaps, but keep the following in mind before placing your order:
Clinical Proof
First and foremost, it's important to note that the Performix SST website provides no clinical evidence to back up any of its claims, whether we're referencing the ingredients it contains or its TERRA time-release technology (after all, if the ingredients used aren't effective, then it ultimately won't matter when they're introduced into your system). And while some of the supplement's ingredients may have minor fat burning/energy-boosting components, for the most part, there is insufficient evidence showing that they'll work as advertised.
Also, if you're sensitive to caffeine or other stimulants, you may want to think twice about taking Performix SST.
Customer Feedback
Although the Performix SST's URL was first registered in November 2013, there are a fairly limited number of online customer reviews regarding the supplement. However, among those available, the most common compliment was improved energy, while the most common complaints reference failure to work and high price.
During our research, we also learned that Performix SST is manufactured by Corr-Jensen Labs based out of Centennial, CO, who does not hold a Better Business Bureau rating. It's also interesting to note that the company does not have its own website, and its only other product is Abdominal Cuts, another nutritional supplement. As such, despite what the company's name might lead you to believe, they appear to be just a nutritional supplements company—not a lab.
Product Presentation
Considering the lack of evidence, we got the distinct impression that the wording on the Performix STT website is needlessly wordy and almost seems like the manufacturer is trying to make the process appear more complex and "scientific sounding" than it really is. This is something that Supplement Geek calls "big $3 words," which are "vague – yet smart-sounding terms and phrases – to sound like they know what they are talking about."
The Bottom Line
Taking into consideration Performix SST's lack of clinical evidence, high price, and mixed online customer reviews, we might recommend speaking with your physician about other alternatives for burning fat, increasing energy, and improving mental focus.
» Recommended Reading: Thermogenic Supplements 101: What They Are, Effectiveness, Safety
6 out 11 people found this review helpful

It can damage your liver.

By Zack

,

Ohio

,

Jan 18, 2015

I haven't even been taking it for a week and I started in a low dosage yet it made me feel sick to my stomach and gave me gastrointestinal problems. I went to the doctor to have blood work done and my enzymes are extremely high. To top it off, I'm having what seems to be pains coming from my liver.

I've quit taking it as I have to have a ultrasound done to my liver now. I plan on trying to get my money back from my purchase and warn others about SST.

Bottom Line: No, I would not recommend this to a friend

---

4 out 6 people found this review helpful

Disappointed

It gave me plenty of energy the first few days, but I guess my body got used to it because it doesn't even phase me anymore. As for a fat burner, I don't see any results. I'm going to try other fat burning products after I finish this supply.

Bottom Line: No, I would not recommend this to a friend

---

Advertisement

---

3 out 4 people found this review helpful

Sick to my stomach

By Venessa

,

Palm Springs, CA

,

Jul 16, 2015
Verified Reviewer

I got a sample of Performix SST and it has me feeling completely sick. I've been vomiting and even have a slight fever. Perhaps it's just not for me. I will never take this product again.

Bottom Line: No, I would not recommend this to a friend

---

8 out 17 people found this review helpful

SST

I received this product as a gift, as I am somewhat of a gym freak. I love running but I needed a little more energy to get through my longer runs. The first day I took this product I felt great and I was extremely energetic. On the second day, my stomach was turning inside out. I felt so nauseous and queasy. Mid-second day into third day, I was suffering from a major fever. Mid-third day I began feeling extremely nauseous again and I began puking with no end. Now I am stuck with a terrible sore throat and I wasted money on this product. Note: I stopped taking the pills after day two.

Bottom Line: No, I would not recommend this to a friend

---

Advertisement

---

4 out 13 people found this review helpful

Scam

By Mike

,

Florida

,

Jul 20, 2015

This product does not work. I work out every day, I run and weight train. I used it as recommended and took the whole cycle without stopping. I am here to tell you people, that nothing I have purchased from GNC works. You are better off going to a real supplement store. Do not waste your money on this garbage.

Bottom Line: No, I would not recommend this to a friend

---

5 out 15 people found this review helpful

Made me sick

By Alex

,

West Palm Beach, FL

,

Apr 13, 2015

I got this product and right off the bat took 2 pills. Within the hour I felt like crap. I was in the bathroom the entire day at work. I returned the item a few hours later, and next day I feet like crap still. I feel like I'm going to throw up more than yesterday.

Bottom Line: No, I would not recommend this to a friend

---

11 out 18 people found this review helpful

Just like water pills

By Karla

,

Nevada

,

Jun 15, 2015
Verified Reviewer

I went over GNC to buy an specific fat burner but the lady pursued me to buy the newest product "SST Performix", supposedly the best. I ended up to buying one for $62 dollars and the second for half prize and also a whey protein bottle. My expectation was high. On Monday I tried one pill to see how strong it was, and nothing, I didn't feel anything. I took the other at 5:30 p.m. before my kickboxing class and I didn't feel more energy.

I was very tired after the class, I went to sleep 4 hours after that class. I thought it was because I didn't take both at the same time. I tried the next day BOTH PILLS with empty stomach and nothing again! I didn't feel absolutely anything, no more energy, It didn't hit my body neither suppress my appetite just like water pills. After a week of hoping (eating very well, doing my kickboxing classes as normal, nothing special), I didn't have enough energy even when I was taking the pills. I also tried to take both pills in the afternoon and nothing again. I tried to take them with food and nothing again. I wanted to do more exercise than I'm used to, but I couldn't. Actually I was tired and a had a headache for a couple of days.

It is just a waste of money. I don't recommend this product to anyone and I think it is a scam. I think they are selling this product in every GNC by convincing everyone ot buy it. It deserves half of star! Don't fall for this trap. I also wrote this review on GNC official website and they actually erased it! That makes me think that they have been erasing comments from real people and they keep the comments they write themselves!

Bottom Line: No, I would not recommend this to a friend

---

0 out 2 people found this review helpful

GNC in Huntington West Virginia in Barboursville pushing Terra

By jason

,

Huntington West Virginia

,

Jul 26, 2015

So I've been taken Terra for a couple days now and it hasn't gave me any energy and I haven't noticed anything else at all. I'll give it a few more days and I'll write another comment here.

Bottom Line: No, I would not recommend this to a friend

---

4 out 6 people found this review helpful

Joke

By Diana

,

charleston

,

Oct 5, 2015

I have been taking SST for over a week and absolutely nothing. Everything they have claimed has not happened. I have even taken 2 pills and all it gives me is a headache. I will bringing this back to GNC for a full refund.

Bottom Line: No, I would not recommend this to a friend

---

10 out 23 people found this review helpful

Over priced for no results.

By Matilde Gracia

,

Abilene, X

,

Jan 22, 2016

Have taken the powder formula combined with Sparks powder mix, plus a SST pill, and 32 oz cup of strong instant Folgers coffee, plus a second pill at lunch time with another Sparks powder mix drink. Never felt any "energy" as was told at GNC Store - "big burst, wanting to just run." Did take the hunger away.

Bottom Line: No, I would not recommend this to a friend

---

7 out 8 people found this review helpful

Energy booster - yes. Fat burner - no.

By Brittany

,

Michigan

,

Jun 9, 2015
Verified Reviewer

Gave a great amount of energy and didn't make me feel like it was too much. Was really disappointed in my weight loss results though. Almost finished the whole bottle and lost 1 lb. And that is with working out pretty much every day, sometimes twice a day and eating right with no pop and taking the pills in the morning, waiting half an hour to an hour to eat. I have done oxyElite​ Pro 3 years ago and lost about 60 lbs in three months. Unfortunately not on the market any more. GNC representative suggested Hydroxycut​ to be the closest to oxy and I tried it after I had my daughter, and it worked just not as fast. I would call this an energy booster but not a fat burner. Wish I would have bought Hydroxycut​ like I have planned to. I want something that's going to help me shed pounds to where I want to be. Then I will not need a supplement anymore, with the habit of burning my calorie intake.

Bottom Line: No, I would not recommend this to a friend

---