SeroVital ADVANCED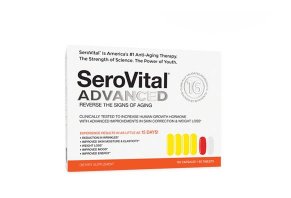 SeroVital Advanced, taken in the morning and evening, is claimed to reduce fine lines and wrinkles, increase energy, improve mental acuity, decrease appetite and improve sleep – in as little as 15 days.
SeroVital ADVANCED Review: Benefits, Effectiveness, Safety
SeroVital ADVANCED contains ingredients that the company claims "work synergistically" to provide accelerated skin benefits, weight loss, increased energy, and improved sleep. And, according to the manufacturer, this can all happen in as little as 15 days.
Featuring a morning and evening blend, this product can potentially "reverse the signs of aging," and is clinically tested to increase the body's natural production of human growth hormone, according to the manufacturer.
This article takes a look at SeroVital ADVANCED, including its claimed benefits, how it works and the science behind it. We've also included more details about the ingredients from sources not associated with the SeroVital company.
Keep in mind that this article is not intended as medical advice. Before you put any supplement in your body, talk to your medical provider, first.
SeroVital ADVANCED Benefits
SeroVital offers a novel, science-backed approach to reversing signs of aging by targeting and optimizing natural production of human growth hormone, also known as HGH, according to Dr. Amy Heaton, Ph.D., an adjunct professor at Pennington Biomedical Research Center at Louisiana State University, and Chief Science Officer for SanMedica International, the brand behind SeroVital-hgh.
"And with the latest SeroVital Advanced formula, people have experienced improved skin health, weight loss, increased energy, and improved sleep in consumer tests," Dr. Heaton said.
Dr. Deanne Mraz Robinson, a Board-Certified, Fellowship-Trained Cosmetic Dermatologist, and Assistant Clinical Professor at Yale School of Medicine, said SeroVital helps people with lower HGH levels, as well as the following:
reduce fine lines and wrinkles
protect skin from future damage
increase energy
improve mental acuity
control cravings
decrease appetite
improve sleep
brighten skin
lose weight
"This is great for accelerating results," Dr. Robinson added.
» For Further Reading: HGH (Human Growth Hormone) Supplements: Benefits, Uses and Side Effects
How SeroVital ADVANCED Works
SeroVital is broken into two parts: the morning blends and evening blends, Dr. Robinson explained. The evening blend contains a combination of amino acids, which increase HGH levels; and the morning blend uses "Smart Release Technology" using ingredients like wild mint, lady's mantle, olive leaves, and cumin extracts.
Dr. Heaton offered a more detailed explanation of the morning and evening formulas:
The evening blend contains the "exclusive patented blend" of SeroVital amino acids, including L-lysine, L-arginine, and L-glutamine, which increase natural HGH production to levels closer to people in their 20s and 30s. The morning blend contains ceramides, collagen, keratin peptides, and hyaluronic acid, plus the patented "Smart Release Technology" with ingredients mentioned above.
"The key SeroVital ADVANCED ingredients help reduce fine lines and wrinkles, smooth skin, and help skin better protect itself from future damage, plus support weight loss, increased energy, and improved sleep in as little as 15 days," Dr. Heaton noted.
The Science Behind SeroVital Advanced
According to Dr. Heaton, in recent trials on key ingredients in SeroVital Advanced, improvements were evident in energy levels, sleep, skin hydration, elasticity, smoothness, and even barrier function, the protective "shield" that helps keep moisture in and is vital for radiant, hydrated, healthy skin.
"Further studies on the key ingredients have demonstrated weight loss and improve sleep efficiency," Dr. Heaton added.
The key compounds in the SeroVital Advanced system have been validated using randomized, double-blind, placebo-controlled, clinical studies, said Dr. Robinson, who is also the co-founder of Modern Dermatology in Westport, Connecticut, and the co-founder of Pure Bioderm Cosmetics. "These compounds have been sown to increase mean serum HGH levels by 682% and offer rapid improvements to the body and skin."
When Should a Person Start Taking SeroVital ADVANCED?
SeroVital ADVANCED can help a person at any point they start taking it, because HGH is a hormone we all have in our bodies that declines with age, Dr. Robinson said, adding that the clinical trials on SeroVital Advanced was conducted on both men and women from 18 to 70 years of age.
Dr. Heaton added: "We recommend the product for healthy adults who seek the benefits of feeling younger and supporting natural HGH production."
SeroVital ADVANCED Ingredients
To get a better sense of some of the ingredients contained in SeroVital ADVANCED, the following is a breakdown of information that's not associated with the SeroVital company.
Wild Mint
Mentha longifolia, also known as wild mint, is a "popular folk remedy," and many studies have shown various pharmacological and therapeutic effects of the plant, according to the study, "Pharmacological and therapeutic effects of Mentha Longifolia L. and its main constituent, menthol" published by the National Institutes of Health.
"Mentha longifolia is an herb with a wide range of pharmacological properties such as antimicrobial, gastrointestinal, and nervous system effects," the study indicated, further noting that Pulegone, the main compound of the plant, is responsible for most of its pharmacological effects.
"Based on the review of various studies, it can be concluded that M. longifolia is a potential natural source for the development of new drugs," according to the study. "However, further studies are required to determine the precise quality and safety of the plant to be used by clinicians."
Olive Leaves
The olive is also known by the botanical name, Olea europaea.
According to the study, "Traditional Uses, Phytochemistry, and Pharmacology of Olea europaea" published by the National Institutes of Health, extensive literature survey revealed O. europaea "to be a sacred and important medicinal plant" used for the treatment of stomach problems, diabetes, hypertension, diarrhea, respiratory and urinary tract infections, skin diseases, bacterial and fungal infections, hemorrhoids, rheumatism, asthma, and hair loss.
The study further noted that the outcome of future research "will provide a convincing support for the future clinical use of O. europaea in modern medicine."
Cumin Extracts
Cumin is an annual, aromatic, herbaceous, medicinal, spice plant, most widely used as a food additive and flavoring agent in different cuisines, according to a study published by the National Institutes of Health entitled, "Physio-Biochemical Composition and Untargeted Metabolomics of Cumin (Cuminum cyminum L.) Make It Promising Functional Food and Help in Mitigating Salinity Stress."
The study evidenced that plant shoots are "a rich source" of metabolites, essential amino acids, phenolic compounds and fatty acids, "which unveil the medicinal potential of this plant."
» Related: Turmeric and Curcumin: Health Benefits, Best Uses, Potential Side Effects
Lady's Mantle
According to the U.S. National Library of Medicine's list of herbs, Lady's Mantle, also known as lchemilla vulgaris, has been used to cure excessive menstruation, noting that "the root of lady's mantle has been recommended to stop bleeding."
Another study published by the National Institutes of Health, "Effect of herbal mixture composed of Alchemilla vulgaris and Mimosa on wound healing process," noted that Alchemilla vulgaris and Mimosa tenuiflora have been used to treat cutaneous (i.e. relating to or affecting the skin) wounds as a traditional remedy due to their various biological activities.
This study investigated the wound healing effect of the herbal mixture, consisting of A. vulgaris and Mimosa, in mice and to determine the activity of the extract in vitro. The study stated that the application of an ointment containing the herbal mixture on the dorsal skin wounds of mice showed the wound healing process was faster than treatment of Fusidic acid, which is a bacteriostatic antibiotic.
"Therefore, we suggest that herbal mixture may have a potential for therapeutic use for treatment and management of cutaneous wound," the study indicated.
L-lysine and L-arginine
Dietary supplementation with L-lysine has been shown to reduce chronic anxiety in humans with low dietary intake of L-lysine, according to a study published by the National Institutes of Health entitled, "Oral treatment with L-lysine and L-arginine reduces anxiety and basal cortisol levels in healthy humans."
A combination of L-lysine and L-arginine has been documented to normalize hormonal stress responses in humans with high trait anxiety, according to the study, which was carried out in 108 healthy Japanese adults. The aim was to find out whether a week-long oral treatment with L-lysine and L-arginine reduces trait and stress-induced state anxiety and basal levels of stress hormones.
"We confirmed that, without regard to gender, the amino acid treatment significantly reduced both trait anxiety and state anxiety induced by cognitive stress battery," the study indicated. The results of this double-blind, placebo-controlled and randomized study confirm the previous findings in humans and animals, and point to a combination of L-lysine and L-arginine, "as a potentially useful dietary intervention in otherwise healthy humans with high subjective levels of mental stress and anxiety."
L-glutamine
Glutamine, the most abundant free amino acid in the human body, is a major substrate (i.e. an underlying substance or layer) utilized by intestinal cells, according to the study, "The Roles of Glutamine in the Intestine and Its Implication in Intestinal Diseases" published by the National Institutes of Health.
This study noted that in gut physiology, glutamine promotes enterocyte proliferation, regulates tight junction proteins, suppresses pro-inflammatory signaling pathways, and protects cells against apoptosis (i.e. the death of cells) and cellular stresses during normal and pathologic conditions.
"As glutamine stores are depleted during severe metabolic stress including trauma, sepsis, and inflammatory bowel diseases, glutamine supplementation has been examined in patients to improve their clinical outcomes," according to the study, which also stated that although significant progress has been made in uncovering the functions of glutamine, most of these are based on observational studies, "thus, future human studies should be more standardized to increase their power."
Safety Factors
All of the ingredients contained in SeroVital ADVANCED have a long history of safe use in healthy adults when taken as directed, said Dr. Heaton, further emphasizing that "we recommend consulting with your physician before beginning any new supplements."
Dr. Robinson said SeroVital ADVANCED "is considered a dietary supplement, which is regulated by the FDA," noting that all of the ingredients "have a history of safe use in healthy adults."
While the evening blend has been shown to trigger a 682% mean increase in HGH levels, it is important to recognize that this increase is still within a physiologically normal range, Dr. Heaton said.
"Injections of HGH are quite different – they introduce a synthetic version of the hormone to the body, often at artificially high levels," Dr. Heaton added. "However, unlike these synthetic forms of HGH, SeroVital increases HGH production through natural pathways. As always, we recommend consultation with a physician if you have any specific personal concerns to ensure the product is right for you."
Tips for Best Use
To reap the maximum benefits of this product, Dr. Heaton recommends that the morning blend, which consists of one white tablet and one red tablet, should be taken first thing in the morning with breakfast. The evening blend, which consists of four yellow capsules, needs to be taken on an empty stomach two hours after dinner prior to bedtime.
"Don't eat or drink anything except water two hours before or after taking the yellow capsules," Dr. Robinson added.
Ideal Candidates
Dr. Robinson and Dr. Heaton both agreed that anyone from 18 to 70 years old who are looking to accelerate skin benefits and weight loss, increased energy, and improved sleep, are the best candidates for SeroVital Advanced.
Who Should Avoid SeroVital ADVANCED
This product is not recommended for anyone under the age of 18.
"If you or someone you know is under the age of 18, we cannot recommend taking the product, as it was tested only on and intended for use by healthy individuals over the age of 18," Dr. Heaton emphasized.
Where to Buy SeroVital ADVANCED
A one-time purchase for a 30-day supply costs $119 at SeroVital.com. A 90-day supply of SeroVital ADVANCED can also be purchased directly from the company's website for $198. After 90 days, SeroVital Advanced will be automatically billed and shipped every 28 days for $99. Customers can cancel anytime by calling 1-800-435-1409, or by logging into their account to manage their subscription.
A 30-day supply of this product can also be purchased at ULTA for $119.
The Difference Between SeroVital's Products
In addition to the SeroVital ADVANCED, the company makes other products you can ingest, including the SeroVital-hgh Rapid Dissolve Powder, which is dissolved in liquid, and the original SeroVital, which are capsules.
What's the difference? According to Dr. Robinson, the SeroVital Rapid Dissolve Powder is the same formula as the evening blend in SeroVital ADVANCED but formulated into a tropical-flavor powder form.
"The difference between using SeroVital ADVANCED and SeroVital Rapid Dissolve Powder is the morning blend formula, which adds more benefits that show results even faster," Dr. Robinson explained.
Each sachet of SeroVital Rapid Dissolve Powder contains the same full-strength human growth hormone-boosting formula per serving as the original SeroVital, as well as the SeroVital ADVANCED evening blend, Dr. Heaton noted.
"The rapid dissolve powder is formulated into a convenient, delicious tropical flavor that you just mix into water and drink," Dr. Heaton added. "That also means that you can replace any single serving of SeroVital ADVANCED evening blend with SeroVital Rapid Dissolve Powder for a refreshing alternative."
As far as which product is best for the consumer is concerned, each individual can make their own choice based on whether they prefer to swallow capsules or drink the ingredients by dissolving the powder in liquid. Some people have trouble swallowing capsules, so the liquid form would be the better choice. However, as Dr. Robinson noted, the SeroVital ADVANCED adds more benefits, so results can potentially be quicker.
SeroVital ADVANCED vs. the Competition
According to Dr. Robinson, products similar to SeroVital ADVANCED include Botanic Choice HGH Booster Formula, and homeopathic products, such as Renewal HGH Advanced Formula.
"However, the SeroVital formula is the only formulation on the market that has been scientifically validated and clinically tested, and actually shown to increase mean HGH levels naturally by 682%," Dr. Robinson said. "There is nothing else out there with these results."
Dr. Heaton added that SeroVital ADVANCED is "entirely unique," as demonstrated by its extensive patent protection.
"No one else has rights to the original SeroVital formula," Dr. Heaton emphasized.
Bottom Line
The SeroVital company has been around for some time, and many customers who have used the original SeroVital-hgh daily supplement say they have reaped great results. Of course, there are customers unsatisfied after using the original SeroVital, but the same is true for individuals who have purchased other products on the market that claim to help with anti-aging.
In fact, if all the reviews about SeroVital were solely positive, that would be a huge red flag, because nothing on the market today in the world of anti-aging has 100% positive feedback. Each individual is different, and therefore every single person will have different results with any supplement they put in their body.
The company that makes SeroVital ADVANCED has made some terrific claims that pique interest, such as improved skin elasticity, reduced fine lines and wrinkles, smoother skin, increased energy, and restful, more recuperative sleep. And the fact that the company claims results can be seen and felt in as little as 15 days is very appealing. However, consumers should conduct their own due diligence before spending their hard-earned money on this, or any product, for that matter.
It's also crucial to keep in mind that any supplement can have adverse side effects with each person, and some might even experience negative effects if they're already taking prescription medication or dealing with medical health issues, so before you put any supplement in your body, talk to your doctor, first.
» Related: 5 Tips to Help You Accept Aging Looks