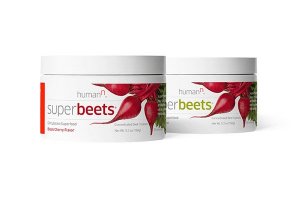 SuperBeets' beetroot powder claims to contain more nitrates than other beet products, giving you more circulation-boosting nitric oxide and improved stamina.
SuperBeets Reviews: Is It Safe And Does It Work?
Medically Reviewed by Jason Reed, Pharm.D.
What Is SuperBeets?
HumanN advertises that SuperBeets is a highly-concentrated, scientifically formulated source of dietary nitrates, which can help your body produce nitric oxide and support healthy circulation, heart function, blood pressure levels, and natural energy and stamina.
Because SuperBeets is only made from the highest quality, non-GMO beets grown in the U.S., HumanN tells us you also won't find dairy, gluten, GMO, soy, preservatives, sugar, or caffeine or other stimulants in the supplement's formula.
It's also backed by "a world-class team of food scientists, leading experts in dietetics and nutrition and physiology researchers," and is clinically researched to "provide optimum levels of essential nitric oxide," the website reads.
But, is this clinical support as robust as the company indicates? And even if it is, does this necessarily mean that SuperBeets is the best beetroot supplement for your needs? We'll answer all of your important questions here, starting with its underlying functionality.
How Nitric Oxide Works in SuperBeets
If you mix one scoop (the equivalent of one teaspoon) of the crystallized beetroot powder into the liquid of your choice per day, the website advertises you'll consume three whole beets worth of nitrate in a single, great-tasting serving—without having to the juice any beets yourself.
As advertised on the HumanN website, this means that SuperBeets could act as a great source of dietary nitrates, which could then help your body produce more nitric oxide.
In fact, the website indicates their beets "are sourced to meet our self-imposed strict requirements for nitrate through a very selective process. We validate nitrate specs from the point of harvest to manufacturing."
But, why worry about nitrates in the first place? According to pharmacist Dr. Jason Reed, nitrates play "a critical role in the body to produce vasodilation, or relaxing of blood vessels.
Reed said relaxed blood vessels can lead to lower blood pressure and increased exercise stamina.
Consuming adequate amounts of uncooked, green, leafy vegetables is a vital part of the process since your body's cells convert the dietary nitrates they contain into a biologically usable form, which is then converted into nitric oxide.
This means "that dietary supplements, such as beetroot, would [also] be a good way to increase nitric oxide levels," Reed says. He emphasizes that exercise is another crucial aspect.
But, should you get your beetroot from processed or natural sources?
Are Nitrates from Powders Better or Worse than Fresh Vegetables?
According to registered dietician Meg Marie O'Rourke, "Nitrate levels in vegetables and vegetable juices such as beet juice can vary considerably, but it is always better to consume our nutrients from real food."
Why? "Powders will not provide the fiber or other benefits of real fruits and vegetables," she says.
Still, Jason Reed points out, "anyone who is having issues getting enough green leafy vegetables in their diet, or who doesn't exercise enough, would be a good candidate for beetroot" supplementation.
This is where a visit with your doctor can provide invaluable feedback about which options might work best based on your specific diagnosis.
Will beetroot supplementation in general—or SuperBeets, specifically—lead to significant real-world benefits? Let's take a closer look at the supporting clinical evidence in the next section.
SuperBeets Ingredients and Nutrition Information
The HumanN website lists the following ingredients and nutrition details for SuperBeets:
Non-GMO Beetroot Powder, Non-GMO Beetroot Powder (fermented), Natural Apple Flavor [or, Black Cherry, depending on flavor], Malic Acid, Magnesium Ascorbate, Stevia Leaf Extract
Calories 15
Total Fat 0 g
Sodium 65 mg
Potassium 160 mg
Carbohydrates 4 g (Sugars 3 g)
Protein 1 g
Magnesium 10 mg
Vitamin C 50 mg
Magnesium 18 mg
Manganese 0.14 mg
According to Reed, "There have been small studies showing that nitric oxide supplements can help lower blood pressure, although more large studies are needed to confirm this in larger populations."
The Studies page on the HumanN website references six of these for beetroot, although none reference SuperBeets, specifically. Note: We reached out to customer support and verified that each of these was conducted using the supplement.
Furthermore, an infographic listed on the HumanN website references a recent study from the American Heart Association (AHA) involving "a small group of eight women and seven men" who reduced their systolic blood pressure by 10 mmHg after consuming beetroot. Again, though, they don't provide references, and we couldn't find a matching study from the AHA during our research.
With these details in mind, we located a 2015 study from the AHA that found participants who "drank a daily 250ml glass of beet juice experienced an average decrease in blood pressure of about 8/4 mmHg."
The "8/4 mmHg" is a standard format for measuring your blood pressure. The two numbers represent your systolic and diastolic blood pressure in the same way that your doctor may tell you your blood pressure is "110 over 80".
To put this in perspective, they explain, "the average reduction in blood pressure through a single anti-hypertensive drug is 9/5 mmHg. Therefore, these findings suggest a role for dietary nitrate as an effective, easy and affordable treatment in managing blood pressure with similar results to drug treatment."
Keep a few things in mind, though. First, the 2015 study had a small sample size comprised of people with high blood pressure.
Second, according to the Mayo Clinic, you might be able to reduce your blood pressure by anywhere between eight and 14 points by merely following a low-sodium diet.
And, finally, HighYa Medical Advisor Dr. Jason Reed pointed out that you can get the same results from implementing an exercise routine.
Related: DASH Diet: A Comprehensive Beginner's Guide
Pro tip: The HumanN website also references a 2016 Australian study showing that elite kayakers improved their rowing performance by 1.7% following beetroot supplementation, although such a marginal gain might not mean much to the average weekend warrior.
SuperBeets Side Effects and Medication Interactions
Whether ingested from SuperBeets or a competing product (more soon), sites like WebMD, the Natural Medicines Database, and Examine.com cumulatively report that beetroot is possibly safe when consumed in normal amounts from food or supplementation.
However, they emphasize that it can turn urine or stool pink, a condition that's known as beeturia, which is caused by the vegetable's betacyanin pigment. The HumanN website tells us this only occurs in about 10-14% of the population.
Outside of this, the company only notes that you should use your SuperBeets powder within 45 days of opening a canister.
SuperBeets Cost and Where to Buy
SuperBeets is available in Black Cherry and Original (Apple) flavors, although how much you pay depends on site which site you order from. For example, if purchased from the main HumanN shop, the supplement costs:
1 Canister (30 servings): $39.95
3 Canisters: $79.90 ($26.63 per canister)
6 Canisters: $149.90 ($24.95 per canister)
On the other hand, if ordered via HumanN's GetSuperBeets landing page, you'll also have the option to sign up for recurring deliveries at a reduced price:
1 Canister: $34.95
3 Canisters: $69.90 ($23.30 per canister)
6 Canisters: $129.90 ($21.65 per canister)
Each of the latter options comes with free shipping, while you'll pay $8.95 for the single-canister option from the main HumanN shop.
We also found SuperBeets sold on Amazon for these lower prices.
Regardless of which option you choose, all direct orders come with a 90-day satisfaction guarantee, less original and return shipping charges. You can reach customer support by calling 855-636-4040.
Customer Reviews for SuperBeets
SuperBeets has nearly 1,000 customer reviews on Amazon as of this writing, with an average rating of 3.7 stars. Here on HighYa, more than 40 reviewers have given the supplement a slightly lower average of 3.3 stars.
Overall, most seemed pleased with its taste, as well as its ability to boost energy levels and reduce blood pressure.
However, common complaints referenced no improvements related to blood pressure or any of the manufacturer's advertised benefits, along with taste preferences and its tendency to harden and clump together after sitting for a while.
Pro tip: The HumanN FAQ emphasizes this clumping occurs as a result of exposure to moisture and/or excess heat, which you can avoid by storing in a cool, dry place. It doesn't impact SuperBeets' effectiveness, though.
SuperBeets vs. Other Competitors
Many of SuperBeets' top-rated Amazon competitors advertise similar core benefits, including high-quality beets with maximum nitrate content, fine powders that easily dissolve in water, boosted circulation and energy, and no caffeine, added stimulants, or artificial ingredients:
| | | | | |
| --- | --- | --- | --- | --- |
| Brand | Price / Cost Per Serving | Ingredients | Average Amazon Rating | Notes |
| SuperBeets | $34.95/$1.33 | Non-GMO Beetroot Powder, Non-GMO Beetroot Powder (fermented), Natural Apple Flavor [or, Black Cherry, depending on flavor], Malic Acid, Magnesium Ascorbate, Stevia Leaf Extract | | Available in Original (Apple) and Black Cherry flavors, promises to provide the equivalent of 3 beets per serving |
| Nu-Therapy Power Beets Juice Powder | $36.05/$0.60 | Non-GMO Beetroot Juice Powder, Non-GMO Organic Fermented Beetroot Juice Powder | 3.9, 500 reviews | Promises to provide the equivalent of 6 beets per serving |
| PureBeets | $28.79/$0.40 | Organic Beetroot Powder | 4.2, 861 reviews | Promises to provide the equivalent of 6 beets per serving |
| Havasu Nutrition Beet Root Powder | $25.99/$0.93 | Organic Beet Root Powder, Peak O2 Mushroom Blend (Cordyceps, Reishi, King Trumpet, Shitake, Lion's Mane, Turkey Tail) | 4.6, 210 reviews | Also contains adaptogenic Peak Mushroom blend |
| Micro Ingredients Organic Beet Root Juice Powder | $26.95/$0.21 | Organic Beet Juice Powder | 4.3, 386 reviews | Also contains vitamin A, vitamin C, calcium, and iron |
| HumanN BeetElite | $34.95/$1.75 | Non-GMO Beetroot Powder, Non-GMO Beetroot Powder (fermented), Natural Black Cherry Flavor, Malic Acid, Magnesium Ascorbate, and Stevia Leaf Extract | 3.8, 458 reviews | Promises to provide the equivalent of 6 beets per serving, also contains magnesium and vitamin C, available in Original and Black Cherry flavors |
We can see from this table that the primary active ingredient in SuperBeets, along with their competitors, is beetroot powder. Havasu Nutrition's formula also contains a mushroom blend, although sites like WebMD and Examine.com didn't report any additional circulation-related benefits for its ingredients.
From a price perspective, Micro Ingredients' formula contains more than 129 servings per container, dropping its per-serving price down to $0.21, by far the lowest above.
The next closest option, PureBeets, while still competitively priced, comes in 100% higher. BeetElite the highest price per serving by a significant margin, while SuperBeets is the next most expensive, but also comes in two different flavors.
The question, then, becomes: Is there anything about SuperBeets that might provide more value than less expensive beetroot powders?
The HumanN representative we spoke with stated that SuperBeets has a higher price because the company holds clinical proof showing that the supplement can provide real-world benefits.
However, it's important to point out that the HumanN tests were not double-blind, randomized, placebo-controlled trials. This type of testing proves cause and effect, thereby legitimizing a company's claims.
We think it's also important to point out that the supplement comes with mostly positive customer feedback here on HighYa, as well as elsewhere online. The company holds an A+ Better Business Bureau rating as of this writing.
So, if clinical support and mostly-satisfied customers are high on your list of must-haves, SuperBeets seems to tick a lot of boxes. Still, does all of this mean it will deliver significant value for the money?
Bottom Line: Is SuperBeets Worth It?
As Reed and O'Rourke explained earlier, obtaining nitrates from vegetables is ideal.
However, many of us don't consume enough nitrate-containing foods, so SuperBeets might provide a faster and easier method of getting what you need, without having to go through the process of juicing your own veggies.
And if you regularly consume beetroot juice, there's mounting clinical support that it can help lower blood pressure—about as well as prescription medications, in some instances—for individuals diagnosed with hypertension. The HumanN website even lists clinical evidence specifically for SuperBeets' ability to accomplish this.
With this said, there's no indication in these studies that SuperBeets' formulation provides better blood-pressure-lowering results than a more competitively-priced beetroot powder.
Similarly, it seems that beetroot powders in general—and SuperBeets, specifically—only provide marginal performance gains, according to the clinical evidence.
As such, unless you're a higher-level athlete where these gains can make the difference between winning and losing, supplementation might not deliver a lot of bang-for-your-buck.
Finally, because nitric oxide widens blood vessels and lowers blood pressure, Reed says that "if you take drugs for ED such as Viagra, Levitra, Cialis, or certain heart medications like nitroglycerin, you should talk to your doctor prior to trying any form of nitric oxide supplement."
Reed also pointed out that those with a history of kidney stones caused by calcium oxalate, as the vegetable has high levels of calcium oxalate.
» Recommended Reading: Best Grains, Fruits, and Vegetables That Improve Digestion
24 out 31 people found this review helpful

A great product

I am 78 years old and have been taking Superbeets for 3 months. It gives me energy and the taste is not bad. You mix it in about 4 oz of cold water and drink it right down. I think it has sort of a fruity taste.

Bottom Line: Yes, I would recommend this to a friend

---

19 out 25 people found this review helpful

Very impressed with results

A friend recommended SuperBeets to me and I have been using it for a few months. I am not sure about the overall health benefits, but I do feel a difference when I use it before my workouts.

Bottom Line: Yes, I would recommend this to a friend

---

Advertisement

---

23 out 32 people found this review helpful

SuperBeets

I have been using SuperBeets for about 5 months and really do feel better and feel more energy. I would say it is a good product and will continue purchasing my 3 months at a time.

Bottom Line: Yes, I would recommend this to a friend

---

32 out 36 people found this review helpful

Great stuff

By

Ron Child

,

Camas, WA

,

Feb 10, 2017
Verified Reviewer

I'm 76 years old and do a lot of bike riding and swimming. As I get older, the need for better cardio increases. I've used beet juicing to help in the past, but have gone to SuperBeets because it's easier to use. I've found that it helps give me the extra energy and cardio help I need to keep up with the kids (who are between the ages of 40-60) on long rides.

I've been using this product for about a year and recommend it for those who need the extra boost. One needs to keep the moisture packet in the container, so it doesn't harden up.

Bottom Line: Yes, I would recommend this to a friend

---

Advertisement

---

57 out 73 people found this review helpful

My SuperBeets experience

By

Rick M.

,

Pennsylvania

,

Feb 16, 2017
Verified Reviewer

Today is exactly 3 and 1/2 weeks since I started taking SuperBeets and 5 and 1/2 weeks since I started my healthy eating diet and one-hour-a-day exercise program. My blood pressure taken at my doctor's office was 150/90 a month ago, and I'm on blood pressure medication. I just had it taken three days ago, and it's now 124/82.

What I can tell you about SuperBeets is that I feel it is helping me achieve better overall health as I can notice an increase in my endurance during exercising, and today I added 10 minutes to my normal one-hour workout and didn't feel any more fatigued than usual.

I have lost a total of 17 lbs since 1/5/17 through diet and exercise, but I feel that SuperBeets has given my more energy to get me through my workout. I just purchased a 3-month supply and plan on sticking to my routine, as I am happy with my results.

I'm a 53-year-old male, 5' 9" and weigh 150lbs. I lost my spare tire around my waist and look and feel much better. I don't feel that SuperBeets alone would have made much of a difference, but with exercise and eating right, it all comes together. I'm hoping that eventually I can get off of my prescription blood pressure medication and control my blood pressure naturally.

I would recommend taking SuperBeets daily. I hope this review helps someone else improve their health!

Bottom Line: Yes, I would recommend this to a friend

---

15 out 37 people found this review helpful

Like

By

Barry

,

Pennsylvania

,

Mar 8, 2017
Verified Reviewer

We are very happy. We like it a lot and will buy some more when we need it.

Bottom Line: Yes, I would recommend this to a friend

---

23 out 36 people found this review helpful

Love it.

I love SuperBeets. I wish it came in a capsule form for when I'm in a hurry. Otherwise, it's perfect.

Bottom Line: Yes, I would recommend this to a friend

---

57 out 70 people found this review helpful

Love the Beets!

I never ate a beet in my life and never will, but I'll keep drinking SuperBeets forever! The first night after drinking the Beets that morning, I had zero erectile dysfunction! I have been drinking the Beets every morning for over a month and I have lots of energy during the day and plenty of energy at night. That's the truth!

I have never done a review on any product, but after seeing how the Beets worked, I had to tell everyone!

Bottom Line: Yes, I would recommend this to a friend

---

42 out 50 people found this review helpful

Mix with Crystal Light for taste

SuperBeets has replaced my afternoon coffee and is a great energy boost.

I mix one tsp with 8oz of Crystal Light's Fruit Punch (sugar-free, zero calories) to completely mask the taste. It is not horrible mixed with water, but so much better with the punch.

I bought it on Amazon for the free shipping.

Bottom Line: Yes, I would recommend this to a friend

---

83 out 93 people found this review helpful

I am happy with SuperBeets

I have high blood pressure and was on the highest dose of Losartan. I was experiencing a lot of side effects with this drug, and my blood pressure was still fluctuating. I ordered the SuperBeets with the hope that it would help my blood pressure. After drinking the SuperBeets for one week, I went off my blood pressure pills and have been off them for over a month now. By blood pressure is normal now and I feel so much better! I do notice a little more energy, but it is very subtle. My endurance has increased, and I am able to work out longer than I was able to before. I am so glad that I tried this product!

Bottom Line: Yes, I would recommend this to a friend

---

80 out 93 people found this review helpful

For help with Prinzmetal's angina

I have been diagnosed with Prinzmetal's angina after having a mild heart attack that seemed to be caused by stress. My arteries were clear, and the doctors think my coronary arteries had spasms that constricted the arteries enough to cause a little heart muscle damage. There is medical research possibly indicating that people with Prinzmetal's angina are missing a gene that causes your body to make enough nitric oxide that helps prevent the artery from having a spasm. Based on this research and with my doctor's permission, I started taking a different nitric oxide supplement, and my chest pain went away.

I decided to switch to SuperBeets for a more natural way to provide my body with the nitric oxide, and my chest pain is still gone. I've been taking it for three months (one scoop in the morning and one scoop in the evening). I do feel good and seem to have lots of energy, but in the last year, I also have lost 100 pounds! And I no longer have depression and moved out to the country, which I love.

I will continue to take it for the nitric oxide benefit. I like the taste too.

Bottom Line: Yes, I would recommend this to a friend

---