The Honest Company Reviews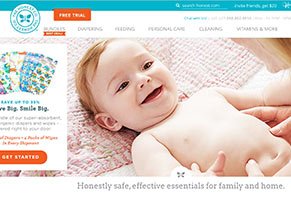 Jessica Alba's The Honest Company claims to offer consumers a safer, healthier lifestyle with products free of toxins—but protecting your family isn't cheap.
About The Honest Company
Actress Jessica Alba is on a mission to provide safer products for your home and personal care. As founder of The Honest Company, Alba promotes a variety of organic and eco-friendly options meant for babies and grown-ups alike.
The cornerstone of The Honest Company's promise to consumers? To produce products that are free of health-compromising chemicals or compounds—while remaining beautifully designed, accessibly priced, and easy to get.
Their message appears to have hit home with many consumers. The Honest Company may have started off with only 17 products, but it is now a veritable empire, selling everything from vitamins to tampons. Additionally, they've just expanded into beauty last year with an 83-piece makeup line.
Based in Santa Monica, California, Jessica Alba's Honest Company has been valued at 1.7 billion dollars—which is a big deal for a start-up that was founded just four years ago. However, now that Alba's Honest Company is working towards going public, there are increasing suspicions that they might have been less than, well, honest about some of their ingredients.
Before we review allegations made against The Honest Company, let's take a closer look at their promise to customers. But first...
What's the Inspiration Behind Alba's The Honest Company?
How Alba got the idea to start The Honest Company sounds like the sort of home-spun pitch you'd hear on Shark Tank.
While pregnant with her first child, Alba received gifts of onesies and other baby items at her shower. But, when she went to wash the items with a recommended detergent, the actress broke out in hives—then hysterics.
Alba worried that she wouldn't be able to recognize it if her baby had a similar allergic reaction, or something worse that could affect the newborn's breathing. The official story goes that she Googled every ingredient on the label and learned that some toxins can be called fragrances.
Whether the ingredients were actual toxins or ones that she considered toxic isn't made clear. (We'll discuss why chemicals are included in products shortly.) However, it was due to Alba's distrust of chemicals and the idea that "it's better to be safe than sorry," that The Honest Company was born.
What Are The Honest Company's Popular Products?
The Honest Company offers hundreds of personal care products for adults, infants, and every age between. While we can't list them all, here's a sampling of the brand's more popular products, including information about pricing and what sets them apart from alternatives.
The Honest Company Organic Cotton Feminine Hygiene Products
The Honest Company recently started offering organic cotton tampons (sold with and without plant-based applicators), pads, and liners.
According to Honest, their feminine hygiene products are 100 percent Global Organic Textile Standard certified and are "made without rayon, polyester, fragrances, deodorants, glues and adhesives, phthalates, pesticide residues, chlorine, or chlorine dioxide processing." They're also free of polypropylene, myreth-3-myristate, synthetic zeolites, alcohol ethoxylates, glycerol, glycerol esters, polysorbate-20, or antibacterial agents.
A box of 16 The Honest Company tampons with applicators is priced at $6.95, while boxes of 10 pads, 24 liners, or 30 thong liners will cost you $5.95 each.
The products receive positive reviews from this beauty blogger and others who appreciate the organic option. However, NY Magazine warns consumers:
"While it's true that there are no studies of long-term tampon use, there's also no medical data suggesting women should use organic products instead. Rumors that tampons contain harmful chemicals like asbestos and dioxin (a controversial rayon-bleaching byproduct that's been linked to hormonal changes) are indeed rumors."

Tampons are considered class II medical devices subject to FDA oversight and manufacturers use a newer rayon-bleaching process that results in only trace amounts of dioxin. As far as the risk for toxic shock syndrome (TSS) goes, natural fibers aren't any safer than synthetic."
Bottom line, these products might be a good option for those concerned with the environmental impact of their feminine hygiene products. However, there isn't evidence supporting the idea that chemical-free feminine hygiene products are better than your standard Kotex brand.
The Honest Company Diapers
If your family is trying to make more environmentally friendly product choices, disposable diapers are often a first stop. So, it's no surprise that The Honest Company's eco-friendly diapers are one of their most popular products.
According to Honest's website, their diapers are ultra soft, hypoallergenic, free of chlorine processing, and additives, including fragrances, lotions, and latex.
The price of The Honest Company's diapers varies slightly with the age that they're intended for and whether you buy a single pack or bundle. However, Baby Gear Lab breaks down their estimated cost at 41 cents per diaper.
How do these diapers hold up to the competition? According to baby product connoisseurs at Baby Gear Lab, they didn't outright stink, but Honest's diapers aren't a recommended brand.
They provide several reasons in the full article. However, it comes down to performance (they ranked fourth) and cost (these are some of the most expensive organic diapers).
Baby Gear Lab's recommendation? "We feel there are other superior green diaper options worth considering before buying the Honest diaper. In our tests, BAMBO Nature product offered significantly performance at a slightly higher price for those looking for the best green diaper for their baby, and Earth's Best Tender Care offers similar performance at a significantly lower price."
How do they compare to non-organic options? While the choice to go chemical-free is personal, one reviewer noted that there is an unexpected side effect: These fragrance-free diapers mean that there's no pleasant perfume scent to camouflage other smells.
Best & Worst of The Honest Company's Catalog
Depending on which of their hundreds of products are used combined with a consumer's own views on the importance of eco-friendly and chemical-free products, reviews of The Honest Company can land anywhere from love to dislike. Instead, here's a short list of what reviewers consider Honest's winners:
The Honest Company's new line of cosmetics has also received high marks from reviewers, including these posts that break down the pros and cons of individual products.
Pricing is similar to what you'd expect from a department store brand: a primer base is $27, foundation compact is $30, and single pots of blush or eyeshadows are $22.
However, we feel it's worth noting that many of these reviews are focusing on the look and feel of the product, not their claims.
What didn't receive high marks from consumers? Many reviewers said that The Honest Company's diapers just weren't for them. Additionally, there are few families willing to try Honest's sunscreens after the product received negative press for being ineffective. (More on that soon.)
The Honest Company's Commitment to Customers
The Honest Company promises to provide clear, credible, and transparent information to their consumers, including:
A broader definition of safety that considers the long-term impact of ingredients, including their potential to be carcinogenic, allergenic, or toxic due to in less-than-likely circumstances for which they might not normally be tested.
All products and packaging are made without an ever-growing list of ingredients that includes phthalates, mineral oil, phosphates, and more.
To stay on top of the latest scientific evidence that any particular ingredient might be bad for consumers, and immediately modify their approach or formulas, should a risk be identified.
The Honest Company also promises not to engage in fear-mongering to sell their products, specifically by claiming that products are free of chemicals that they already wouldn't include, due to legal or practical restrictions. For example, they claim not to advertise that a detergent doesn't include gluten, when there's no logical reason that it would to begin with.
Is The Honest Company as Trustworthy as Their Name Implies?
Jessica Alba's The Honest Company is not having a great year, as they're dealing with multiple lawsuits claiming that Honest has violated its promise to produce products free of health-compromising chemicals or compounds—including one filed by the Organic Consumers Association.
Here's a list of the current allegations against The Honest Company:
1. That their Organic Premium Infant Formula contains 11 synthetic substances not allowed in organic products. The Organic Consumers Organization, a Minnesota-based organization that represents the views of around 850,000 members, filed a suit against The Honest Company in a Los Angeles Superior Court, claiming that Honest's formula is falsely labeled as "organic." [1]
2. That their soaps and body washes are incorrectly labeled as non-toxic. A New York couple, Brad and Manon Buonasera, have alleged that The Honest Company "falsely" and "deceptively" labeled its products natural while containing synthetic chemicals. [2]
Related: Does Body Wash Really Moisturize Better Than Bar Soap?
3. That their cleaning products contain synthetic ingredients. Jonathan Rubin, another New York-based Honest customer, claims that several items, including the brand's hand soap, dish soap, multi-surface cleaner, and diapers, were marketed as having only natural ingredients, but in reality also have "unnatural" ingredients. These include "a synthetic preservative" and "a synthetic surfactant", as well as a petrochemical-based additive in the diapers. [3]
4. That their sunscreen isn't effective. Complaints about the effectiveness of The Honest Company's sunscreens went viral when customers started tweeting photos of their painful-looking sunburns that happened when using the brand's supposedly-tested SPF formulas. [4]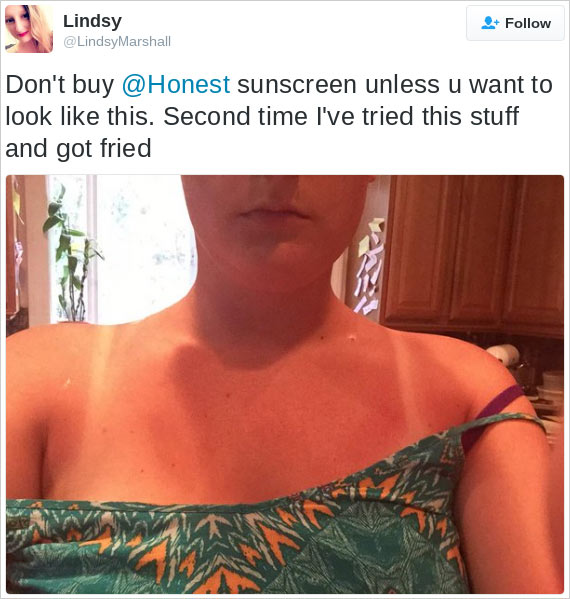 It wasn't just one customer complaining of burns, either. This Racked article shares screenshots of eight different customer tweets claiming sunburns on either themselves or their children.
The article also notes that Jessica Alba's response was to defend Honest's sun protect formulas in spite of her customer's complaints, posting "It pains us to hear that anyone has had a negative experience with our Sunscreen."
The Honest Company has responded similarly to all allegations against their products, claiming that each is baseless and without merit.
Despite the controversy around The Honest Company's claims, customers haven't stopped buying the company's products—or their promises of healthier living through the removal of a few ingredients in your detergent and shampoo.
But, a better question might be, should it? Are the ingredients that The Honest Company promises to leave out, whether deceptively so or no, really the potential cause of harm?
Turns Out That It's Okay to Have Chemicals in Your Baby Products
The Honest Company might stock personal hygiene products, but the NY Post argues that the company's main commodity is fear and "a false promise that its products are better and much safer for you and your child than those sold by other companies."
But, what about all those toxic chemicals in store-bought baby food and other products that Alba discovered prior to starting up Honest?
Yeah, it turns out that they're there for a reason.
First, products containing only natural, organic ingredients are very difficult to formulate in terms of being effective, stable, and antimicrobial—they just don't stay fresh on the shelf as well as products with preservatives overall.
Additionally, you can't "hone" natural products by tweaking them as much as you can with synthetic ingredients due to chemical limitations. Essentially, you are limiting the ability of otherwise wonderful and effective ingredients to stay "natural." [5]
And, after all, who wants to spend money on a product that doesn't work? Which is why even The Honest Company's products include chemicals (though they loathe to mention them), including a dish soap that contains cocamidopropyl betaine, phenoxyethanol, and methylisothiazolinone, and facial wipes that contain polysorbate 20. [6]
How Companies Like Honest Further Fuel Irrational "Chemophobia"
Alba is often cited boasting that she really, truly cares about her customers—implying that her competition does not. The Honest Company's expression of care extends to warning customers about two more cornerstones in the chemophobia movement, claiming that:
These inorganic ingredients may lead to cancer, reproductive deformities, or other diseases
The Food and Drug Administration is pulling a fast one, and that no one has tested this many scary-sounding ingredients, ever
Of course, neither of these could be further from the truth. The problem is that well-meaning consumers often allow themselves to get riled up over emotion-enticing headlines or irresponsibly reported news that doesn't share the whole story.
Related: How to Check Facts & Never Fall for False Information Again
Instead of believing the same media channels that have tried to tell you that drinking a glass of wine is the same as spending one hour in the gym, we headed over to peer-reviewed resources such as the Society of Toxicology to better understand the risk of chemicals in our products.
In Are Chemicals Killing Us?, a survey of toxicologists by George Mason University, experts accuse media of overstating the risk of chemicals:
"From baby bottles to shower curtains, iPods to lipstick, and "new car smell" to non-stick frying pans, thousands of news stories have warned the American public about the hidden dangers of toxic chemicals in everyday items. But a groundbreaking new survey of scientists specializing in toxicology calls into question the risks associated with many of these chemicals as they are routinely depicted in the media. Majorities of toxicologists rate most government agencies as accurately portraying chemical risks, but they rate leading environmental activist groups as overstating risks."
To summarize what we learned: Sure, chemicals can be toxic—if consumed in certain amounts. Did you know that even water is dangerous in high doses?
Further, saying that something contains a carcinogen in and of itself is meaningless. Dr. Bruce Ames, a world-famous biochemist and winner of more awards than I have fingers and toes to count, was interviewed by ABC News on the topic of how carcinogens relate to cancer. (You can view a similar 20-minute speech at UC Berkeley here.)
Dr. Ames explained that almost everything in the grocery store has carcinogens at the parts per billion level. In fact, even one raw mushroom contains more raw carcinogens than what you'll drink from the polluted water. [7] Yet, vegetables are still good for you. (Gasp!)
But, what about the idea that no one is testing certain ingredients? The truth of the matter is that the FDA will only test what toxicologists recommend for a reason. If brands tested each ingredient, and in every way, those ingredients could act in unlikely scenarios, no one would be able to afford their products!
The Bottom Line? Be Honest With Yourself About Risks Before Buying The Honest Company's Products
It's easy to be afraid of what we don't know. Additionally, long, multi-syllabic words that are hard to pronounce and even harder to understand don't exactly instill confidence in protective parents.
And, since everyone just wants to do the best for themselves and their families, it's easy to empathize why consumers are so quick to whip into a frenzy over the idea that their shampoo might cause cancer later in life.
However, not understanding something doesn't relieve us from the responsibility of learning—especially before making statements that further the fear of otherwise helpful ingredients.
Consumers should rest assured that The Environmental Protection Agency continuously reviews the safety of chemicals and requires chemical manufacturers to provide the agency with all available health and safety data as part of the approval process required before manufacturers can use a chemical in their products.
What about The Honest Company? After reviewing both their marketing strategy and the pending allegations against the company, it's my opinion that they're responsible for a different kind of toxicity—thriving off of alarmism and the promise of safer, healthier products at a higher price.
References:
1 out 1 people found this review helpful

Very disappointed

By Meagan R.

,

Atlanta, GA

,

Jan 15, 2019
Verified Reviewer

We have been with The Honest Company since 2016. We would be coming up on three years in April. However, after a recent move, there has been problem after problem. I'm not sure what has happened to The Honest Company within the last six months but, they are not the company that we signed up with. Before we moved, we started receiving packages that were open and all the things inside them busted up. After receiving about four months worth of Essentials Bundles with an opened product, we had to cancel that subscription and just stick to the diapers, however, it appears that they cannot even get that right. Recently, it took me almost two weeks to get my diaper box because of "payment issues." After finally resolving the issue, I sent The Honest Company the following email (please excuse grammatical errors):

Honest Company,

I know this will probably go nowhere. I know y'all don't care about your customers. But, I just can't let this go without saying something.

I have officially ordered my last box from Honest Company. After hours and hours of phone calls and chat sessions, a trip to Target to buy diapers,

and more hours of phone calls and chat, I still am waiting on an order that was supposed to be placed on 12/28. Just a little background, though I am hopeful that you will do your due diligence and look at my account, we moved to GA in September of 2018. We had an issue with that box and it was resolved after me spending damn near $300 to get it but, I called Honest and had our address changed. Ever since we moved, it has been a problem every single month. Well, I finally tried to figure out why my card was being declined, because I was tired of having to use a CC to get diapers every month, and discovered that only our Shipping Address was changed and not our Billing Address. Easy fix right, nope. Not at all. I tried every day for like a week before I finally gave up and sat on hold for and hour,

just to have someone call me back an hour later, to have my billing information updated. The lady was very nice and I thought we had everything squared away. She said my billing was updated but, that she needed to re-run the card (this should be an option on your website, considering you cannot regenerate an order because of faulty payment and Honest Companies

"no changes during processing" policy), not a problem. Well at this point,

I already had run out of diapers and had to go purchase some (literally the entire reason why we pay an ungodly amount for your premium diaper subscription). On Monday, I logged into my Honest account and discovered that there was no order. She had deleted it entirely (even though it is my understanding that this is against your policies). So, round 2. I got on chat, because like you all, I work every single day 7-4, and honestly don't have time to deal with this kind of crap (again why we pay for a diaper subscription) but, as usual your chat system is down because the volume of customers that are needing your assistance is too high. So I tried again yesterday. After, spending hours waiting in line on chat (going from 2nd in line to 20th and then to its my turn but, now I'm magically offline so I have to get in line again) I FINALLY got to speak with someone. She informed me that she would be "happy to take my money" and put my order in again (well obviously, this was the ONE thing that I could do by myself online). We went back and forth, and I finally settled on a "cop-out" of an apology (10% off - which equates to less than $10 -(you give your new customers better coupons) and "expedited shipping" (that she unfortunately can not guarantee because of your 1-3 day processing policy). Thought everything was handled again. NOT. So, round 3, I spent my lunch break calling Customer Service AGAIN and had my entire billing profile deleted and re-entered. Now, my payment has finally been accepted. My order is processing and I am out of diapers again so, I will be spending my lunch break today buying diapers.

We have been with Honest Company for almost three years. I used to swear by it. Even stood by your company during all the lawsuits and horrible press but, it cannot be ignored any longer. I understand things happen sometimes but, this is completely unacceptable. I'm not one for trying to get free stuff (because I also work in customer service and know how people can be)

however, I feel like I have been a very loyal customer and like a lot more could have been done. So, with that, farewell Honest Company. Hopefully you will learn from this and make some changes for your future customers

(though I doubt it).

After waiting "over 72 hours" (per there customer service automated response), this was their reply:

Hello,

Thank you so much for reaching out! I'm so sorry for the delayed response. I do see that you were able to speak with a representative who was able to help you out. However, if we can do anything else for you please reach out to us by emailing us at support@honest.com, chatting with us online, or giving us a call at 888.862.8818. Have a wonderful day!

Best,

Kevin E

PLEASE, save your sanity! I don't even have words for them anymore. I am just done.

Bottom Line: No, I would not recommend this to a friend

---

1 out 1 people found this review helpful

Not living up to their name - AT ALL

By Rebecca S.

,

Minneapolis, MN

,

Sep 13, 2018
Verified Reviewer

Doing business with The Honest Company was one of the worst customer service experiences I've had recently.

I was eager to place my order with the brand promise of the last rep I spoke with, Marcus, only I was having to place my order because there appeared to be no way to have a shipping address different from a billing address.

I started chat to overcome this obstacle and notified I was 40th in cue. Wow, ok...So I wait over 30 minutes, and then I'm booted! I went from "next in cue" to be served to 40th again!

Then I get a rep named "Kellie" who gives me some direction. None of it is intuitive, and I'm asking her to please wait while I test what she's telling me, and all her attention is on "the next customer." The stock message I keep getting from her is "I can wait a minute more, but then I have to move on and serve the next customer."

WHAT? After I waited over an HOUR to get this rep in the first place? I told her I would abandon my order and choose not to do business with them if she disconnected now.

She did wait, but not without sending that message REPEATEDLY. I told her I didn't appreciate being pressured to perform these tasks and that I find that stock message to be poor customer service.

I asked to speak with a manager, gave her my phone number and asked when I could expect a call from that person. She disconnected from me.

This whole experience made me feel distrusting, so much so that I sat on the phone for another 1.5 hours to speak with another rep.

This time I got someone named Julie. When I originally contacted the company, I was assured that there was a satisfaction guarantee, that I don't need to worry about my purchase because they are "that confident" in the safety of their products, and if the products did make me sick, they would issue a refund, no further trouble.

I wanted to see if the rep on the phone would give me the same message, and she didn't. I kept pressing her, "will she or will she not refund the money if it makes me sick?"

Then she said I would have to go to the doctor and get doctor's notes. I told her to cancel my order. I told them they have a branding issue and that all of their reps should be making the same promises.

I have screenshots of Marcus' promises and a recording of the 15 min phone call with Julie. Screenshots can be viewed here:

https://www.facebook.com/rbccstmrtn/posts/10214841637167106.

Bottom Line: No, I would not recommend this to a friend

---

Advertisement

---

1 out 1 people found this review helpful

Worst customer service

By Elayne J.

,

San Diego, CA

,

Sep 6, 2018
Verified Reviewer

I did not receive my bundle after my address was printed incorrectly by their warehouse. This is the third automatic month, so my address doesn't automatically change in the system, my apartment number was probably cut out in the printout. The customer service insisted I had the wrong address and it was my fault. So this is after waiting 35 minutes to speak with a customer service rep, then I ended up hanging up in my face. Their email says they have 72-hour wait period and their online chat is unavailable. I sent an email to explain the situation and trying to get a expedited shipping. Instead, I receive an email saying that the customer service was right, it was the wrong address. They never apologize for this inconvenience, and they said I misunderstood what the customer service said.

First of all, don't defend each other without apologizing to the customer. You couldn't have said that it was under investigation, the issue was that's what UPS said, instead of saying that the company is right and the customer is wrong, even when I am on the automatic shipping for three months. It was very poorly handled and it did not even ask if I was satisfied with the email either. It just said have a great week, instead of "if you have any other questions or concern, please reply," but nothing. Super cold, cruel, and unprofessional. I am really disappointed at how they handled such a small issue. It could have gone in a better direction if they just acted a little more humble.

Bottom Line: No, I would not recommend this to a friend

---

1 out 1 people found this review helpful

Diapers are great but everything else is not

By Cynthia H.

,

Los Angeles, CA

,

Aug 14, 2018
Verified Reviewer

When I first started purchasing from them, I loved the diapers and still think they are probably the best ones out there (even though my kids aren't in diapers anymore). But, the other products for me have just either been ok or not good, well except the clothes stain remover is really good, basically on par with Puracy. The spray sunscreen and fabric softener do not work at all for me, and the cleaning supplies are ok but not great. I much prefer Puracy. Also, their customer service is frustrating because they try so hard to have a good experience that they are not direct with you.

Once, I wanted to have the sunscreen returned which was over a year after I purchased, so instead of saying no they gave me an over the top explanation on their policy, etc., said they wanted to help me but were not clear on whether they were going to return it or not. I had to go back and forth with them a few times which was so frustrating. I think the original concept of the company was good but I don't like where it's going. It's too corporate now and not personal, even though they try to be. It's impossible when you take on so much money from hedge funds and have visions of going global. I still much prefer grassroots mom and pops stores that grow organically, consciously and keep their initial vision, which I don't think is this company.

Bottom Line: No, I would not recommend this to a friend

---

Advertisement

---

2 out 2 people found this review helpful

Terrible customer service

By Christina B.

,

San Diego, CA

,

Jul 28, 2018
Verified Reviewer

I am very disappointed with this company. I planned a surprise baby shower for my sister from a different state. I ordered a MINI diaper cake to be a centerpiece on her cake table. Online they offered me overnight shipping for $20 more. I paid the $20, and it even said delivery was the next day on my confirmation receipt. More than 24 hours had passed, I called UPS to ask about my package, and they stated Honest had not released the shipping label yet. Well, when I call the company on that Friday the company was closed even though the website said open Monday through Friday. Even more frustrated.

I wait till Monday and call again. Finally, I get a customer service representative, let her know what happened, and the answer she gave me was "oh, well, we hand make them as they are ordered and it takes up to three days, sorry." Are you serious!? For a MINI diaper cake. Why do they offer overnight delivery, and why did my confirmation date say the following day on it? So she only offered me a full return and I had to bring the box back to a UPS store. So this is not only terrible service but now I have to somehow on my vacation to see my sister; find a UPS store to drop this diaper cake off that is no longer needed. Mind-blowing!

I will never recommend nor buy anything from this company again. Honest is not so honest.

Bottom Line: No, I would not recommend this to a friend

---

3 out 3 people found this review helpful

Absolutely no customer service

By Laura B.

,

New York

,

Jul 7, 2018
Verified Reviewer

Horrible experience with their customer services. I have been trying to contact them via phone and instant chat online and three months later have not been able to reach anyone. I called first thing in the morning, 6 am, and all I get is the same recording I always get "high call volume." I tried online chat and even after waiting a long long time the screen says there is one person before me and the funny thing is it always refreshes and says there are 40 something people before me. This happened all the time I tried. I finally gave up. I wanted to order formula and was having trouble online so I needed some help, but again, horrible customer service.

Bottom Line: No, I would not recommend this to a friend

---

0 out 1 people found this review helpful

Fantastic diapers and wipes

By Alex C.

,

Ohio

,

Jun 14, 2018
Verified Reviewer

I have personally been using Honest diapers and wipes for 14 months and think they do a fantastic job; they are high quality and absorb liquid well. No complaints from me. The app is very easy to use and to order. The price is not bad when compared to other high-quality diapers. Their customer service is amazing as well.

Bottom Line: Yes, I would recommend this to a friend

---

1 out 1 people found this review helpful

Disappointed, not worth my $6

Sacramento, CA

,

Apr 27, 2018
Verified Reviewer

Hi. I was excited to receive my free trial that I paid 6 bucks for. My baby is not here yet so I can't say if they work or not. So everyone was mentioning that it was worth it because they received a small travel size with the basic. I didn't receive it, just seven diapers and ten wipes, so I wouldn't say I would recommend it.

Bottom Line: No, I would not recommend this to a friend

---

3 out 3 people found this review helpful

Cheaply made

I got the free trial of the Honest diapers and wipes and I was hoping for a great product because I had looked at them in the store and didn't want to spend all the money on them because they are a little bit expensive, without knowing what I was going to get. And am I glad I did the free trial because these are crap.

Besides the cute little designs on the diapers, there is nothing about them that I would want. Every time my son peed in them, I could smell him every time I picked him up that he smelled like pee. And God forbid he had a poop blowout. I wouldn't even want to know what happened because they're not very absorbent and they're just cheaply made like the class sticky feeling instead of like the more softer feeling diapers for my son.

As for the wipes, I'd probably buy the wipes if they weren't so expensive, but unfortunately, they are a little bit expensive. And they are just wipes, so I mean honestly, I normally purchase Pampers or Huggies wipes because they're good quality and within the price range that I'm willing to spend on wipes, so if they were cheaper, I'd buy them.

As for the diapers, even if they were cheaper I would not buy them. They are the quality of a store brand diaper, and they are being sold as higher quality than Pampers, and they definitely are not.

Bottom Line: No, I would not recommend this to a friend

---

3 out 4 people found this review helpful

Bad quality and doesn't work

The second time we buy products from Honest and second time we are having issues with the products! The last one is pretty funny. It was swimming diapers which are supposed to change colors and have some cartoons appearing on them when they get wet, nothing ever but Appleseed, and the quality is poor so they couldn't resist very well once wet! Products are not cheap, so never again!

Bottom Line: No, I would not recommend this to a friend

---

3 out 3 people found this review helpful

Feel deceived!

By Dee Krishnan

,

Seattle, WA

,

May 16, 2017
Verified Reviewer

We have been with Honest for over two years, and have been generally happy with the products. The diapers do leak, and it's a little annoying to need an "overnight" diaper and a "regular" diaper. That said, we recently decided to switch over to Parasol for one reason - Honest Company lied to us.

This morning (Friday), I received a notice that they're voluntarily recalling their wipes. I understand that things happen from time to time, but I found it completely odd that every single item that contained wipes was out of stock. So just before advancing our next bundle and ordering a new bundle for our baby coming soon, I specifically reached out to customer service on Wednesday (less than 48 hours prior to the recall notice) asking if the inventory issues were happening because they were considering a recall. The agent specifically mentioned that they were not and that the issues were due to manufacturing delays, which was obviously false.

I can't imagine that they weren't aware of the mold problems with their wipes at the time they lied to me. They should've just said that they were looking into the issues and while they weren't able to comment yet on a recall, it isn't "off the table." Anyway, I don't like being lied to, and my expectations of honesty from a company that is called "honest" are very high!

We've tried the Parasol products before, and they're great, and comparable price wipes. Their wipes are significantly better, and their travel wipe packs are a much better size. So we're taking our business there!

Bottom Line: No, I would not recommend this to a friend

---