TRU Niagen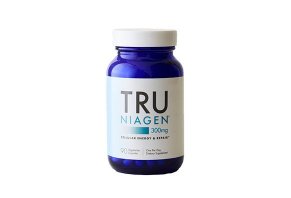 Summary
Tru Niagen is said to increase your energy, metabolism, and cellular repair by boosting nicotinamide adenine dinucleotide (NAD), a molecule vital for how your body creates energy.
TRU Niagen Review: How Well Does It Work?
HighYa is supported by our readers. When you buy something through a link on this page, we may earn an affiliate commission. Learn more.
In capsule form, Tru Niagen offers nicotinamide riboside chloride (NR), a type of Vitamin B3, which serves to increase your energy, metabolism, and cellular repair by boosting NAD.
Nicotinamide adenine dinucleotide (NAD) is a vital player in how your body creates energy. You use the nutrients obtained from your diet to fuel the Citric Acid Cycle - a series of reactions in which NADH is formed.
In the simplest terms, this form of NAD is then used as the input for a process that results in adenosine triphosphate (ATP), the energy used to fuel virtually every chemical reaction in your body.
As you age, your NAD levels begin to diminish. Low levels have been associated with reduced energy levels, sleep disturbances, diabetes, Alzheimer 's, and some forms of cancer.
In this review, we will discuss all things Tru Niagen: who it's for, where to get it, how it works, and if it's safe.
What Is Tru Niagen and How Does it Work?
The active ingredient in Tru Niagen, NR, is a Vitamin B3 analog that serves as a precursor to NAD. A one month supply includes 30 300mg capsules to be taken once daily. As NAD's role in energy formation is well understood, methods of boosting this molecule to reap its many benefits have been on ongoing topic of interest.
NADH (the reduced form of NAD) serves as the major input for the process that generates the most bang for your buck in terms of energy, thus NAD is largely responsible for every muscle contraction, heartbeat, and nerve impulse in your body.
With such a large role, low levels of NAD have been implicated in many age-related conditions such as low energy, diabetes, and Alzheimer's.
Multiple animal studies have demonstrated an age-related decline of NAD levels in different organs. Similarly, NAD seems to decline with age in humans.
To combat the unwanted effects of low NAD, the NR in Tru Niagen is converted to nicotinamidemononu-cleotide (NMN) via nicotinamide riboside kinase (NRK). Nicotinamidemono-nucleotide adenylyltransferase (NMNAT) subsequently converts NRK to NAD.
In other words, Tru Niagen assumes an anti-aging role by boosting NAD levels. The proposed benefits; increase energy, metabolism, and cellular repair.
The Takeaway:
NR is an NAD precursor and the active ingredient in Tru Niagen. As NAD plays a role in every metabolic reaction in your body, boosting levels with Tru Niagen may work to increase energy, metabolism, and cellular repair.
Does Tru Niagen Work?
By virtue of NAD's role in your body and evidence supporting age-related decline, it stands to reason that boosting this molecule would have a variety of benefits. Researchers agree - at least with this rationale.
This question has been investigated over the last couple of decades, with earlier studies hinting towards the potential importance regarding supplementation of NAD precursors. NR supplementation initially proved to be effective in boosting NAD in yeasts, while this review mentions a similar role for human cells in laboratory models.
From there, mouse models were used to demonstrate the efficacy of orally administered NR in boosting NAD and preventing disease affecting the mitochondria, the powerhouse of your cells.
On the other hand, NR supplementation decreased exercise performance in rats. Either way, this information is not necessarily indicative of translation to human populations.
The foundation laid by these studies were eventually applied to humans. In a randomized trial, NR supplementation was demonstrated to increase NAD in a dose-related manner, i.e. higher doses were associated with greater NAD increases.
In 8 healthy individuals, the feasibility of using oral NR supplements in a therapeutic setting was confirmed. Daily 2000mg supplementation of of NR proved safe, though it did not improve insulin sensitivity, resting energy expenditure, or body composition in sedentary adults.
Most recently, daily NR supplementation demonstrated a dose-dependent ability to boost NAD and was found to be safe even at 1000mg doses.
The Takeaway:
The safety and ability of NR to boost NAD has been proven in various populations, including humans. The proposed benefits of boosting NAD are less clear, however. Particularly in human studies, effects related to energy expenditure remain elusive.
Is Tru Niagen Safe?
Data regarding safety is available for multiple daily dose regimens, though this has been studied in those 40-80 years of age and for only up to 3-months. For this reason more long-term research is necessary to fully characterize chronic use of NR in various populations.
Nonetheless, even 2000mg doses appear to be safe, though adverse effects such as nausea, diarrhea, headaches, and abdominal pain have been described.
Be sure to consult a medical professional prior to starting a new supplement.
The Takeaway:
Tru Niagen is generally safe, even up to 2000mg doses. Reported adverse effects are mild. More studies are needed to examine potential harm with long-term use in larger populations.
Who Should Try Tru Niagen?
Neither their website nor the available literature is clear on the target population, as randomized trials have pointed to the ability to boost NAD safely, while the proposed effects of this boost remain unclear.
A safe means of boosting energy seems ideal for aging individuals experiencing daily fatigue, but more research is needed to identify potential benefits associated with NR.
How Much Does Tru Niagen Cost?
Getting your Tru Niagen is relatively easy; simply go to their site and select your supply preference. Standard 5–7 day shipping is free and the more you choose, the more you save:
1-Month Supply: $40/month
3-Month Supply: $35/month
6-Month Supply: $30/month
Additional savings are possible if you choose automated shipments – $105/3mos. You can change the frequency, pause, or cancel the subscription at any time.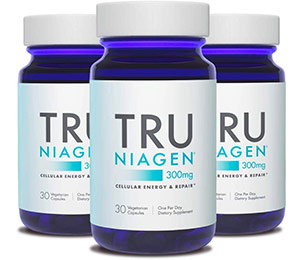 Buy TRU Niagen from Amazon:
TRU Niagen is also sold on Amazon as a 1-pack (30-count), 2-pack (60-count), or 3-pack (90-count). Shipping is free. One 300mg capsule should be taken once daily.
Can I Get NR Elsewhere?
You can obtain NR naturally from milk, mushrooms, green vegetables, and whole wheat, though the amount is minor in comparison to supplementation. Also, cooking foods may further reduce the amount of NR present.
A quick internet search reveals many products similar to Tru Niagen. Gene X offers 100 500mg NR capsules for $28.
What Are Users Saying?
Tru Niagen is rated at 4.6 out of 5 stars in 64 reviews on their website. Negative reviews are definitely outliers - these individuals cite experiencing a lack of results as the rationale behind their low rating.
The vast majority are in favor of use, though reviews are often vague, describing "increased stamina" or "improvements in health" as their reason for coming back.
Though many reviews lack specificity, most are pleased with the results.
The Bottom Line
The Tru Niagen site makes 3 things clear: NAD declines with age, their product increases NAD levels, and more NR research is on the horizon. Whether or not elevated NAD translates to any of the proposed effects regarding energy is another story.
Outside of rodents, NR supplementation has been most extensively studied in healthy humans 40-80 years of age. It safely boosts NAD in a dose-dependent manner in this population.
Theoretically, this supplement is ideal for aging individuals that have noticed a decline in energy. However, literature supporting this benefit in humans is lacking.
While safe to use, more work is needed to characterize the potential benefits for various populations.
Customer Reviews
Posted on Aug 8, 2019
It is working for me
I started taking TRU Niagen a week now. I noticed a sense of well being and more energy right off the bat! I do take mine with enzymes and betaine hydrochloride along with turmeric, Align and methylfolate all on an empty stomach. I am going to be increasing the dose next Monday.
Bottom Line: Yes, I would recommend this to a friend
Posted on Jun 13, 2019
TRU Niagen to reverse side effects from Cipro
A year and a half ago, I took 14 days of Cipro for a suspected UTI. Immediately, I experienced horrible side effects ranging from severe pain all over my body and severe anxiety, insomnia, muscle weakness everywhere.
Started taking TRU Niagen about 5 days ago after my doctor said that NAD may help. So far, nothing. I'm still hopeful as my life is practically over.
Bottom Line: Yes, I would recommend this to a friend
Posted on May 9, 2019
TRU deficiency
I took TRU Niagen for almost a year. I thought I might have noticed a difference for a month or two, then nothing. They increased the capsules from 125mg to 150mg but the capsules were only about 80% full after that. I wrote them an email complaining about the change in quantity/quality and they canceled my order instead of replying to my concerns. That was kind of telling to me. They can't stand up to a little criticism without ending an established relationship. I see why they have to pay experts to be on their panel of experts or whatever it is they do. If I notice a decline after being off of it, I'll re-post. I think it's the emperor's new clothes.
Bottom Line: No, I would not recommend this to a friend
Posted on Apr 10, 2019
Purchased 6 months supply
I am 91 years of age. Initially, after taking for two months, I felt much-improved health wise. However, it then slacked off, so I increased the daily dose to 3 tabs a day and found quite a good overall improvements in my strength, walking, jogging, etc. I am now ordering another 3 months supply as a further fair trial. The greatest problem is the cost, which I find expensive.
Bottom Line: Yes, I would recommend this to a friend
Posted on Feb 26, 2019
Worth the money
I am a 47-year-old woman and I have been taking TRU Niagen for the last 3 and 1/2 weeks. Within 2 days of starting this supplement, I had more energy and felt motivated to workout more. Feeling more positive about life also. I will definitely keep taking this as it is healthier for me than taking antidepressants and it also has given me more energy to workout more frequently. What is not positive about that?!
Bottom Line: Yes, I would recommend this to a friend
Posted on Nov 18, 2018
No benefit
I have taken TRU Niagen for three months. I am a 57-year-old female. I have seen no benefits whatsoever, regardless of what time of day taken or taken on an empty stomach vs. with food. I gave the unopened bottles to an older individual. No comment from her at this time.
Bottom Line: No, I would not recommend this to a friend
Posted on Sep 15, 2018
I feel alive again
I have been looking at the ads for TRU Niagien for a couple years now, always thinking I buy it later. I just received a year's worth on Thursday. It has been six days and already I feel an amazing difference in my level of energy and my moods. I sleep better, have energy all day long, and my thoughts are positive. I'm 53, but I feel like I felt when I was 26 more happy and optimistic about everything. I highly recommend it to anyone who is starting to feel the signs of aging.
Bottom Line: Yes, I would recommend this to a friend
Posted on Aug 9, 2018
Excellent product!
TRU Niagen is an amazing product! The product is supposed to be anti-aging and helps prevent/reverse cellular aging, and more. I was very skeptical at first, as I always am with any natural supplement, but after taking this for a couple weeks, I started to notice a huge difference. I have more energy throughout the day, my memory and mood have improved, has improved my joint pain, and I have even lost some weight (which I'm sure has to do with the speeding up of the metabolism that also occurs, which is another huge plus). I highly recommend TRU Niagen, and I will be taking this for the rest of my life.
Bottom Line: Yes, I would recommend this to a friend
Posted on Jun 19, 2018
Product does not work
I just finished up the second month of the product before reviewing. I wanted to make sure I gave it a fair shot. I have gained nothing from this product, no enhanced sleep, no better hair growth, no new energy or anything associated with energy or youthfulness. I followed the directions religiously, taking two caps first thing every morning, but no results what-so-ever. On the plus side, their sales and distribution are very efficient, they billed me and had the product to me ASAP, but that doesn't mean much if it doesn't do anything. I have since canceled my account.
Bottom Line: No, I would not recommend this to a friend
Posted on Jan 22, 2018
Awesome product
I started taking this product in early September 2017 and the results are incredible. I was taking antidepressants and they weren't working. I had been on four different antidepressants and suffered horrible side effects. TRU Niagen turned my life around; more energy, better sleep and well being. Thanks TRU Niagen!
Bottom Line: Yes, I would recommend this to a friend
Our Promise to You
In order to safeguard you and ensure helpfulness and relevance, our compliance team manually assess every customer review before it goes live.
We have a zero-tolerance policy for fake reviews, and companies cannot control or alter any reviews at any time.