TruVision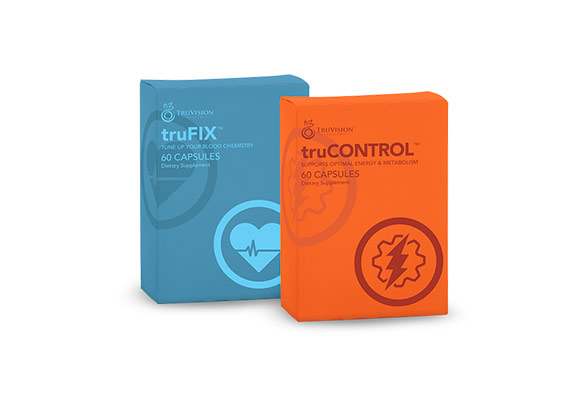 TruVision is a direct-to-customer brand of wellness products and weight loss supplements that claim to improve your blood chemistry and boost your metabolism.
TruVision Review - Does It Work For Weight Loss?
What is TruVision?
TruVision's brand of weight loss supplements (truFIX and truCONTROL) are designed to help you achieve your healthiest weight using all-natural ingredients. These products will purportedly fuel your body, increase your energy, and support your blood chemistry.
This Utah-based company is a health and wellness network marketing platform that offers a broad range of products for direct sale through its website or from TruVision associates who sell the products directly.
Will these supplements work as described to help you lose weight? Here, we'll assess the health claims, available clinical research, customer reviews, and more so you can decide if TruVision supplements will work for weight loss.
TruVision's Weight Loss Supplements
While TruVision sells numerous dietary products, we're going to focus here on their two most notable products, TruFIX and TruCONTROL.
TruFIX
TruFIX's stated benefit is to improve your blood chemistry so that you can better manage your weight. While there's no official medical definition for the term 'blood chemistry', the company is implying that its product will help you keep your blood healthy and balanced.
The Canadian Cancer Society offers some insight into what this might mean, as it states that healthy blood is made up of chemicals such as enzymes, electrolytes, lipids, hormones, proteins, sugars, vitamins, and minerals.
The wrong ratios can lead to liver problems and high cholesterol. However, we couldn't find any research that connected bad blood chemistry to weight gain.
One thing to keep in mind is that TruFIX claims it is most suited to support blood sugar and cholesterol already within healthy ranges, meaning that it is intended to work for maintenance rather than a way to get your levels under control.
Though people with diabetes may benefit from taking this supplement along with traditional blood sugar medications, you should talk to your doctor before beginning to ensure it makes sense for your symptoms. it shouldn't be their primary treatment.
Dosage Instructions: You can purchase this supplement either as capsules or a powdered drink mix. Take one capsule or powdered drink serving in the morning, and then another at lunch.
Key Ingredients: Alpha-lipoic acid, chlorogenic acid, raspberry ketones
TruCONTROL
This daily supplement is designed to boost your metabolism and suppress your appetite so that you burn through your body fat to reach a healthier body weight.
It contains a proprietary blend of natural caffeine sources and other nutrients designed to promote mental clarity and curb cravings so that you tend to feel better each day.
Dosage Instructions: For best results, take TruCONTROL with TruFIX. This supplement is available in capsule form or as a powdered raspberry lemonade drink. Take one serving in the morning and one at lunch.
Key Ingredients: green tea extract, green coffee bean extract, iron, vitamin B6
Will The Supplements' Active Ingredients Work for Weight Loss?
Let's evaluate the key ingredients in both supplements to see what health benefits they can feasibly deliver.
TrueCONTROL
TruCONTROL's primary ingredients include four grams total of iron and vitamin B6. The other 457 grams is a proprietary blend of green tea leaf extract, green coffee bean extract, bitter orange extract (known as KinetiQ), and more.
The problem with a proprietary blend like this is it's impossible to discern the ratios between ingredients from the product listing alone. For instance, the blend might be 99% green tea and contain just trace amounts of the other compounds.
This makes it difficult to weigh in on the supplement's effectiveness because we can't determine whether a serving contains enough of the active ingredients to deliver their stated benefits.
Main Takeaways
Green tea and green coffee bean extract are both commonly used in weight loss supplements. Thanks primarily to their caffeine content, the compounds can boost your energy levels and potentially increase your metabolism.
One 2005 study from the British Journal of Nutrition with 14 people found that those who took a capsule that contained green tea before each meal burned 179 more calories over the next 24 hours. Note, though, that the amounts of green tea ranged from 90 to 400 mg in the study, and TruCONTROL doesn't share the amount in each serving of the supplement.
Green coffee bean extract is believed to decrease the amount of carbohydrates your body absorbs, which can lead to weight loss. "[This extract] boasts high levels of chlorogenic acid," Gabrielle Mancella, a corporate wellness dietician for Orlando Health, explained to us.
"Chlorogenic acid is an antioxidant that may trigger weight loss by reducing the amount of fat and glucose your gut absorbs and lowering your insulin levels to improve metabolic function."
There's currently no standard recommended amount of green coffee extract to take for weight loss. However, a 2007 study published in the Journal of International Medical Research found that individuals who took 200mg of Green Coffee Bean Extract daily for 12 weeks lowered their body fat percentage by an average of 3.6% without making other lifestyle changes.
KinetiQ is a proprietary bitter orange extract made by Novel Ingredients. It's used to enhance energy and alertness to promote healthy weight management, and the supplier claims that over a dozen human clinical trials prove its effectiveness.
TrueFIX
TruFIX also contains a proprietary blend, which includes green coffee bean extract, raspberry ketones, cinnamon bark extract, and alpha-lipoic acid.
Alpha-lipoic acid (ALA) is a fatty acid that converts glucose into energy and neutralizes free radicals. According to Healthline, it's often added to supplements to promote weight loss (though its effectiveness is unproven), improve blood sugar levels, and reduce the risk of heart disease.
According to RX List, cinnamon bark works similarly to insulin to lower blood sugar levels, though the effect is considered to be weak. It might also work to increase blood flow.
Raspberry ketone is a name for an enzyme extracted from the fruit. WebMD states that they first became famous for weight loss after a TV segment from Doctor Oz in 2012. The ketones produce a protein hormone known as adinopectin that works to reduce your appetite and increase the rate you burn body fat.
However, most of the positive research about its weight loss benefits comes from studies on rodents. Humans would need to take in more than 100 times the currently recommended dosages to consume a comparable amount of compound as used in these studies.
The Takeaway
Overall, TruVision ingredients show some potential for weight loss, but the available clinical research isn't convincing that they will work for humans.
Likewise, most of the ingredients won't work as described unless you take them at a specific dose. When these ingredients are contained in proprietary blends, we can't weigh in on whether there's enough of anything to lead to weight loss benefits.
Side Effects
According to the company, most people don't experience reactions worse than minor digestive problems if you have a sensitive stomach.
Saying that, these supplements contain many compounds known for having caffeine, so you might experience jitteriness if you aren't used to taking stimulants.
Every compound we looked at in this supplement is classified as likely safe by WebMD, though pregnant women should avoid any product associated with weight loss unless they have talked to their doctor first.
Bitter orange extract (KinetiQ) might be the exception. WebMD states that it is possibly unsafe for weight loss when taken with caffeine inducing stimulants, as it might increase your risk of high blood pressure, fainting, and heart attacks.
The Cost
It's possible to purchase TruVision Weight Loss Supplements off the company website at the following price points:
TruFIX 60 capsules: $33.94
TruFIX 30 powdered drink packets: $49
TruCONTROL 60 capsules: $49
TruCONTROL powdered drink mix (30 servings): $49
TruCONTROL Combo Form (one 30-day supply of capsules for each product): $80
Shipping for each order is $8.
You can choose to subscribe and save with every purchase for auto-delivery every 30 days, free shipping on all orders over $159, and a 20% off discount. It's possible to pause or cancel your subscription at any time by contacting TruVision directly.
You can also sign up for a TruVision trial pack. They are offered in the following combinations:
Type
One Week Trial
Drink Sticks Trial
Capsule One Week
Drink and Capsule Combo
Cost
$33
$29
$29
$50
Products Included in the Trial

15 TruFIX capsules
15 TruCONTROL capsules
1 packet of RePLACE
1 packet of Heart & Hydration
1 shaker bottle

15 TruFIX capsules
15 TruCONTROL capsules

15 TruFIX capsules
15 TruCONTROL capsules

15 TruFIX capsules
15 TruCONTROL capsules
15 TruFIX capsules
15 TruCONTROL capsules
Each trial offer includes free shipping. Because of this sampling program, TruVision doesn't provide a traditional money-back guarantee. However, the company offers a 90% return policy on items returned within 30 days of purchase that are in a resalable condition.
Note that TruVision sells other products as well, including detox supplements, smoothies designed to put you in ketosis, daily multivitamins, and more.
Should You Sell for TruVision?
TruVision is set up as a multi-level marketing company, which means that it's possible to sign up to sell the products as an independent associate for a nominal annual fee. The company promises that associates can make money quickly and enjoy being their own boss in the process.
It claims to help sellers earn back their investment money right away with a Fast Start Program that offers a Matching Bonus of 10% for all unilevel commission checks. This means that sellers will make a commission off every purchase made by another seller that they personally recruited to sell for TruVision.
As with other MLM companies, associates can also make money selling products directly, earning bonuses, and by meeting time-sensitive sales goals. The company's compensation plan is outlined here.
As an associate, you also qualify for a 20% discount on all products.
But here's the big question; can you actually make money from TruVision? We couldn't find any Income Disclosure statements from the company, which makes it hard to weigh in on whether the majority of associates are turning a profit.
However, multi-level marketing companies, in general, don't have a stellar reputation as profitable ventures. As we've highlighted in this article, many MLM companies use shady math and psychological tactics to inspire recruits to join the team. However, just 10% of sellers make enough money to cover the costs of their business, and far fewer make a profit.
While these companies are technically legal—and may offer a good deal if you love the products personally—in almost all cases they offer little chance of making quick money while working from home.
What Do TruVision Weight Loss Supplement Reviews Say?
TruVision weight loss supplements have earned 3.1 stars on HighYa after 39 customer reviews, with 51% of users saying they would recommend them to a friend. Here's a summary of that feedback.
Lead to Successful Weight loss (for Some): Many reviewers wrote that taking these supplements improved their energy levels, reduced their food cravings, and helped them lose weight without feeling jittery. In some cases, this was more than three pounds per week.
Less Success for Others: Some wrote that they didn't lose anything but their money and that the supplements didn't seem to increase the health of their blood. A few wrote that they were banned from TruVision social media pages when they attempted to leave negative reviews.
Unpleasant Side Effects are Possible: A few reviewers also wrote that the supplement made them feel jittery and nauseous and that it led to intense headaches.
Overall, these reviews seem polarizing. Users either loved TruVision and lost lots of weight on the plan, or they didn't notice any benefits from the supplements whatsoever. Your experience may fit with one of these extremes.
Bottom Line – Should You Sign Up With TruVision?
TruVision Weight Loss Supplements contain a few ingredients worth getting excited about, but these products might not be the best way to take them.
Though green tea, green coffee beans, alpha-lipoic acid, bitter orange extract, and raspberry ketones all show potential for weight loss, TruVision's proprietary blends make it impossible to know how much of any ingredient you get per serving.
And while these ingredients have been studied individually, TruVision doesn't offer any research to show they work as described in their products.
Another concern with TruVision products is the KinetiQ content. As reported above, bitter orange extract can have dangerous side effects when paired with stimulants like caffeine.
For these reasons, plus TruVision's high price point and multi-level marketing origins, we don't recommend you take these supplements to lose weight. Learn more about natural appetite suppressants (and why we don't recommend them) here.
Here's our key takeaway: if you're looking to lose weight in a healthy way, consider looking beyond supplements like TruVision. "I do not recommend any type of weight loss supplement to manage weight loss," shares Mancella. "The components necessary for long term weight loss include modifying [your] behaviors and increasing physical activity."
If your goal is to boost your metabolism, there are things you can do without taking a daily supplement. Consuming protein at each meal, doing high-intensity workouts, standing more than you sit, and getting lots of sleep are all viable options. Another option is to drink caffeine, preferably in the form of coffee or tea.
According to the American Journal of Clinical Nutrition, drinking 100mg of coffee can boost your metabolism by up to 11% for the next twelve hours. That's approximately the same amount of caffeine in an 8-ounce cup of coffee, and less than a serving of TruCONTROL, which TruVision defines as "a little less than a cup of coffee."
In other words, if you want the natural metabolism benefits of caffeine, it might be to your advantage to skip taking a supplement of proprietary ingredients and drink a cup of black coffee instead.
You might have better luck putting the money you planned to spend on a weight loss supplement towards buying healthier foods or a gym membership. In these articles, we analyze the things you need to consider before joining a gym, and what you need to do to start your own home workout program.
Love it!

By Patricia O.

,

Harriston, Ontario, Canada

,

Oct 1, 2019
Verified Reviewer

I have tried many many things to lose weight but with my meds, I'm on it makes it almost impossible. Taking TruVision has changed everything for me! My energy level is higher, my hunger is lower, and I'm not craving any crappy foods.

I would recommend this to everyone.

Bottom Line: Yes, I would recommend this to a friend

---

Scam!

By Teresa V.

,

Hazlet, NJ

,

Sep 28, 2019
Verified Reviewer

I spent almost $300 worth of products from this company and I purposely read all small print about their return policy and when I wanted to return unopened products back to the company they told me, "no you ordered your products as a kit and therefore you cannot return them." Most items on their website are considered a "kit", I said show me where it says that on your website because I read the whole thing from top to bottom, and of course they couldn't show it to me because it didn't exist! As far as I'm concerned this is just another company that is scamming people with products that do not do anything but make you nauseous!

DO NOT GET SCAMMED LIKE I DID!

Bottom Line: No, I would not recommend this to a friend

---

Product did not work.

By Polly M.

,

Minnesota

,

Sep 21, 2019
Verified Reviewer

I spent a lot of money for the 2 boxes of the TruVision Health Weight Loss starter kit. I got horrible headaches. At first, I had more energy than usual, but then the energy dropped back to what was

I took the capsules for 2 months. I took the dosage listed on the box, 2 twice a day. Another problem was the printing of ingredients, etc. was too small to read. It has one harmful item in it. The FDA said it is the orange. It causes heart, stroke, etc. problems. The sellers don't have any medical training. The sellers push the happy success (look at how much weight I have lost). They didn't mention my health issues and recommend I see my doctor before I take them.

Bottom Line: No, I would not recommend this to a friend

---

Does not work

By Ella M.

,

Sedalia, MO

,

May 15, 2019
Verified Reviewer

I have been taking TruVision for 4 months. I have had jitters and nausea, and headaches the whole time I have takin it. My husband spoke to the supposed girl that they assign to you when you order. She said to only take it once a day and see if that helps. It did not. I have NOT lost anything either. I don't drink soda, just water, and the pill makes me so thirsty all the time. Supposed to give you more energy. Well, about 30 minutes after I take it I am so tired for the rest of the day, which makes it hard for me to do my job. My husband started the same day I did and he also hasn't lost any weight. Hasn't even reduced the craving as it says it will. I think this is a total joke just like every diet pill out there.

Bottom Line: No, I would not recommend this to a friend

---

Advertisement

---

TruVision works for me

By Darcy R.

,

Illinois

,

Apr 10, 2019
Verified Reviewer

I have had very great results with TruVision. I can see that with all things, what works for some may not work for others. Such is life. It helps boosts my metabolism and I see such major results usually 3 to 4 pounds gone each week. No jittery feeling. Keep in mind, it's best for me to take both sets of pills as early as possible each day (7:00 am and 12:00 pm) as to not get into trouble with not sleeping, which I might! This product is amazing to me how it does what it says it does!

Bottom Line: Yes, I would recommend this to a friend

---

LOVE THIS PRODUCT!

By Adeana B.

,

Bonne Terre, MO

,

Mar 19, 2019
Verified Reviewer

Although I see there are mixed reviews, I am a believer in the product. My doc said there was nothing in the pills that would harm me. I have been on them for about 6 months and have lost 45lbs and have pics of myself to prove it. I also have other personal friends who have also lost weight and have pictures. No fake pics for me. I only post those who I know personally. I have better energy, sleep better, better appetite control and cravings are down. Not saying it's for everybody, but I learned you have to stick with it. It won't just happen in a couple of months. Consistency is the key. I also have high blood pressure, but it does not affect it. I was headed down a dangerous path in my health. I was almost 400lbs because I had truly let myself go. I had no idea how bad it was until I started losing weight and feeling better and looked back on pictures from last year. I'm still on the product because I haven't got to my goal weight loss yet, but I'm not giving up!

Bottom Line: Yes, I would recommend this to a friend

---

Excellent product

By Tanya C.

,

New South Wales, Australia

,

Mar 15, 2019
Verified Reviewer

I was the biggest skeptic of them all. On the sidelines for almost 12 months whilst I watched many family and friends having great success with the product. I gave in and started and within the first day my cravings for Pepsi Max were gone. No headaches. Within a few more days I didn't crave for anything and was never hungry. I started on the truFIX and truWEIGHT and energy. In the first month I dropped 14 kgs, and then within 5 months, I'd lost 35 kgs. When I started I was on BP meds and arthritis meds but happy to say I now take nothing at all after being on arthritis meds for nearly 40 years.

I found I was no longer needing that afternoon nanna-nap and was just overall feeling great. I will definitely continue to use the product as nothing has been so great for me.

Bottom Line: Yes, I would recommend this to a friend

---

Awesome

By Roxanne L.

,

Silver Bay, MN

,

Mar 12, 2019
Verified Reviewer

I have been on the product for 5 months and have lost 32 pounds with little to no diet or exercise change. I would recommend to anyone like me who has tried everything, even surgery without success.

Bottom Line: Yes, I would recommend this to a friend

---

Over priced and back office issues

By Denise G.

,

Pennsylvania

,

Mar 5, 2019
Verified Reviewer

The product is ok and I lost weight. I am not sure it's as healthy as they say and it's overpriced in my opinion.

They set you up with a back office to order from and it's slow and doesn't work half the time. I canceled my monthly shipping order this month but it was sent out anyways. You're supposed to get points for money off if you have monthly shipping set up but the points are low and on items I don't want.

I am very disappointed and will more than likely stop taking the product.

Bottom Line: No, I would not recommend this to a friend

---

Does not work

By Cindy B.

,

North Carolina

,

Mar 5, 2019
Verified Reviewer

I've taken this product for 7 months and the only thing I've lost us money. I still have low iron and can't donate blood. Very disappointing. When I posted this to my local Facebook forum, they deleted it and suspended me from posting. I guess they can't take a bad review, lol.

Bottom Line: No, I would not recommend this to a friend

---

Saved my life!

By Michelle R.

,

Springdale, AR

,

Feb 26, 2019
Verified Reviewer

When I decided to try out TruVision I was very skeptical and was determined that it wasn't going to work. But what did I have to lose? I was already the biggest I had ever been, I was on 2 BP pills and diabetes meds and felt LIKE CRAP! I had "checked out" and was picturing myself in the ER. The day I started my pills I checked my blood pressure, and as usual, it was stroke level and my head had so much pressure built up. Took my first dose and forgot about it. Like I said, I had no faith in these pills. Took my lunch dose and realized my head didn't feel so "full." I could literally feel the pressure going down. Could TruVision be helping me? I went down and checked my BP and really? It was already going down! Hmmmm...weird...guess I'll keep going. Now I'm 40 lbs lighter, four pant sizes down, and I'm off ALL MY MEDS! The only pills I pop now are my TruFix and truCONTROL and a couple other vitamins that TruVision offers.

I agree that TruVision is not for everyone but the ones who follow the simple guidelines and stay consistent WILL SEE AND FEEL RESULTS. I'm highly satisfied!

Bottom Line: Yes, I would recommend this to a friend

---