TruVision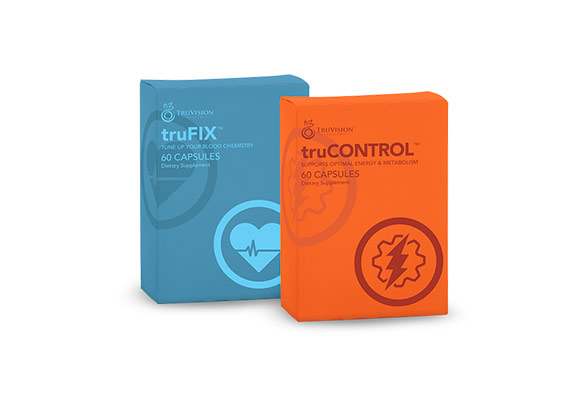 Summary
TruVision is a direct-to-customer brand of wellness products and weight loss supplements that claim to improve your blood chemistry and boost your metabolism. However, taking stimulants can be unsafe and more research into the ingredients is needed.
TruVision Review - Does It Work for Weight Loss?
Medically Reviewed by Anthony Dugarte, M.D., C.S.C.S
What Is TruVision?
TruVision's brand of weight loss supplements (truFIX and truCONTROL) allegedly help you achieve your healthiest weight. These products will purportedly fuel your body, increase your energy, and support your blood.
This Utah-based company is a health and wellness network marketing platform that offers a broad range of products for direct sale through its website or from TruVision associates who sell the products directly.
Will these supplements work as described to help you lose weight? Here, we'll assess the health claims, available clinical research, customer reviews, and more so you can decide if TruVision supplements will work for weight loss.
The Supplements' Active Ingredients: Are They Effective?
TruCONTROL
This daily supplement is designed to boost your metabolism and suppress your appetite so that you burn through your body fat to reach a healthier body weight.
It contains a proprietary blend of natural caffeine sources and other nutrients designed to promote mental clarity and curb cravings so that you tend to feel better each day.
Vitamin B6 - 2.5mg: Vitamin B6 can be found in meat, seeds, and nuts, though it is also widely included in dietary supplements that claim to boost metabolism and energy. Increasing your B6 intake may be associated with consuming fewer calories, lower body weight, and reduced BMI and fat mass.
Iron - 1.5mg: Iron is a vital component of hemoglobin, the protein in red blood cells that aids in the transportation of oxygen. Iron deficiency is one of the most common deficiencies and associated with fatigue and weakness that can negatively impact your physical fitness. Supplementing iron may enhance athletic performance, though this benefit is more likely if you're deficient.
Proprietary Blend - 457mg: Green Tea Leaf Extract, Dutched Cocoa, Octodrine HCl, Green Coffee Bean (GCBE), Citrus Aurantium Extract, Theacrine, Evodiamine, Hordenine HCl, Black Pepper Fruit Extract, Dendrobium Nobile Extract
The problem with a proprietary blend like this is it's impossible to discern the ratios between ingredients from the product listing alone. For instance, the blend might be 99% green tea and contain just trace amounts of the other compounds.
This makes it difficult to weigh in on the supplement's effectiveness because we can't determine whether a serving contains enough of the active ingredients to deliver their stated benefits. Nonetheless, we'll highlight some of the available support for the key ingredients here.
TruCONTROL's proposed benefits are due mainly to the caffeine content, though some ingredients play a supportive role as well.
Green tea is a common component in dietary supplements that are proposed to boost metabolism. Many of its benefits are related to its caffeine content.
When combined with 200mg caffeine, green tea doses at 90, 200, 300 and 400mg were associated with a boost in energy expenditure, regardless of the dosing regimen. Also, combining 500mg of green tea with daily exercise improved body weight, BMI, and body fat percentage to a greater degree than exercise alone.
GCBE also boosts metabolism through its caffeine content, which may even be greater than roasted coffee beans. This review found that GCBE doses ranging from 180-200mg for up to 4-months were associated with more weight loss than placebo.
GCBE was also effective in obese women; those treated with 500mg of GCBE and daily exercise reduced their metabolic syndrome severity scores over a 2-month span.
Green coffee bean extract may also decrease the number of carbohydrates your body absorbs, which can lead to weight loss.
Chlorogenic acid is an antioxidant that may trigger weight loss by reducing the amount of fat and glucose. Your gut absorbs and lowering your insulin levels to improve metabolic function.
Theacrine is a plant-based substance structurally similar to caffeine. A recent study found that those treated with 150mg reported more energy and a better mood, though they did not experience improved mental focus.
Black peppers is a commonly used spice, as well as a mainstay in supplements that claim to provide metabolic-boosting effects.
This was demonstrated in individuals that were randomized to take either 6mg of black pepper or a placebo each day. Treatment with black pepper was associated with a greater reduction in BMI and body fat.
TruFIX
TruFIX's stated benefit is to improve your blood chemistry so that you can better manage your weight. While there's no official medical definition for the term' blood chemistry', the company is implying that its product will help you keep your blood healthy and balanced.
Healthy blood is made up of chemicals such as enzymes, electrolytes, lipids, hormones, proteins, sugars, vitamins, and minerals.
The wrong ratios can lead to liver problems and high cholesterol. However, there is a lack of research that connected bad blood chemistry to weight gain.
Every capsule of TruFIX contains the following:
Magnesium – 65mg
Zinc – 2.5mg
Selenium – 9mcg
Copper – 0.35mg
Chromium – 120mcg
Vanadium – 8mcg
The mineral content in TruFIX is intended to help you avoid deficiency, though some of these ingredients may also offer
Zinc is an essential mineral that is commonly deficient, especially in those older than 65.
Zinc levels were lower in obese kids when compared to those that maintain healthy body weight. Similarly, low levels were associated with obesity, elevated BMI, and larger waist circumference in women.
Selenium is another essential mineral. It is found in soil, water, as well as in eggs and nuts. While it is suspected to support energy metabolism, this effect is not supported by research.
A review of 12 studies concluded that selenium did not benefit glucose metabolism.
Chromium is found in beef, fruits, broccoli, and whole-wheat products. This review of 15 randomized trials, like selenium, found no benefit for energy metabolism, even at doses up to 1000mcg.
This review of 20 randomized studies found that chromium supplementation may offer only a mild weight loss benefit in obese individuals.
Proprietary Blood Chemistry Blend – 410mg: Green coffee bean extract (GCBE), Raspberry ketone, Cinnamon bark extract, Alpha lipoic acid (ALA)
Like TruCONTROL, the TruFix proprietary blend contains GCBE. It also offers other ingredients that may provide a jumpstart for your metabolism, however.
Cinnamon bark may help regulate energy metabolism in addition to working as an antioxidant. In obese female subjects, 5g doses of cinnamon bark improved blood sugar control.
Alpha-lipoic acid (ALA) is a fatty acid that converts glucose into energy and neutralizes free radicals. It may promote weight loss, improve blood sugar levels, and reduce the risk of heart disease.
A review of 12 studies found that ALA doses up to 1800mg/day were associated with more weight loss when compared to placebo. The average weight loss was only 3lbs, however.
The Takeaway
Overall, TruVision ingredients show some potential for weight loss. The potential for benefits is likely related to the caffeine content.
Likewise, most of the ingredients won't work as described unless you take them at a specific dose. When these ingredients are contained in proprietary blends, we can't weigh in on whether there's enough of anything to lead to weight loss benefits.
Side Effects
According to the company, most people don't experience reactions worse than minor digestive problems if you have a sensitive stomach.
Saying that, these supplements contain many compounds known for having caffeine, so you might experience jitteriness if you aren't used to taking stimulants.
Caffeine is considered safe up to 400mg daily. Adding TruVision supplements to your regular intake of coffee, tea, and soda may place you closer to ranges associated with unwanted effects.
For this reason, you should speak with your doctor prior to using these supplements, or any others that contain stimulants.
The Cost
It's possible to purchase TruVision Weight Loss Supplements off of the company website at the following price points:
TruFIX 60 capsules: $33.94

TruFIX 30 powdered drink packets: $49

TruCONTROL 60 capsules: $49

TruCONTROL powdered drink mix (30 servings): $49

TruCONTROL Combo Form (one 30-day supply of capsules for each product): $80
Shipping for each order is $8.
You can choose to subscribe and save with every purchase for auto-delivery every 30 days, free shipping on all orders over $159, and a 20% off discount. It's possible to pause or cancel your subscription at any time by contacting TruVision directly.
You can also sign up for a TruVision trial pack. They are offered in the following combinations:
Type
One Week Trial
Drink Sticks Trial
Capsule One Week
Drink and Capsule Combo
Cost
$33
$29
$29
$50
Products Included in the Trial

15 TruFIX capsules
15 TruCONTROL capsules
1 packet of RePLACE
1 packet of Heart & Hydration
1 shaker bottle

15 TruFIX capsules
15 TruCONTROL capsules

15 TruFIX capsules
15 TruCONTROL capsules

15 TruFIX capsules
15 TruCONTROL capsules
15 TruFIX capsules
15 TruCONTROL capsules
Each trial offer includes free shipping. Because of this sampling program, TruVision doesn't provide a traditional money-back guarantee. However, the company offers a 90% return policy on items returned within 30 days of purchase that are in a resalable condition.
Note that TruVision sells other products as well, including detox supplements, smoothies designed to put you in ketosis, daily multivitamins, and more.
The Bottom Line
TruVision Weight Loss Supplements contain some ingredients with research supporting their weight loss effects, thoughTruVision's proprietary blends make it impossible to know how much of any ingredient you get per serving.
And while these ingredients have been studied individually, TruVision doesn't offer any research to show they work as described in their products.
For these reasons, plus TruVision's high price point and multi-level marketing origins, we don't recommend you take these supplements to lose weight.
If you're looking to lose weight in a healthy way, consider looking beyond supplements like TruVision. The components necessary for long term weight loss include modifying your behaviors and increasing physical activity.
If your goal is to boost your metabolism, there are things you can do without taking a daily supplement. Consuming protein at each meal, doing high-intensity workouts, standing more than you sit, and getting lots of sleep are all viable options.
Another option is to drink caffeine, preferably in the form of coffee or tea.
Drinking 100mg of coffee can boost your metabolism by up to 11% for the next twelve hours. That's approximately the same amount of caffeine in an 8-ounce cup of coffee, and less than a serving of TruCONTROL, which TruVision defines as "a little less than a cup of coffee."
Customer Reviews
Posted on Jun 4, 2022
Since the switch of formulas
When it was just the blue and orange pills, I lost a ton of weight on it. I had the energy they promised and everything. Then they switched the formula to purple/orange pills and I was very consistent but I started to gain weight and lost energy. I thought it was due to depression from my mom dying. I stopped the pills and I started to lose weight on my own! I talked to my sponsor and she had felt the same way and spoke to hers and all they offered was to add the ORIGINAL BLUE PILL to her regiment. They know the new formula is garbage, that's why they brought back the original blue pill.
Length of Use: 1–2 years
Bottom Line: No, I would not recommend this to a friend
Pros and Cons
With the original pills – the energy
With the original pills – weight lost
New formula
Price
Posted on Jun 16, 2021
I feel dizzy, weak, always throw up, and sleeping bad
I tried the 7-day trial pack. On my first day, I was dizzy, I threw up many times, and I didn't have sleep at all for the 1st night. The next day early in the morning, I took the pills before breakfast as the instructions say, hoping it will work for me but heck no, I got worse, I threw up again and was shaking. I felt warm and always throw up. I can't take these pills anymore and wanted to return the pills. I tried to reach out to their customer service and emailed twice. I haven't gotten any response yet. But I would like to cancel my subscription since I feel like I am dying with this product.
Length of Use: Less than 3 months
Bottom Line: No, I would not recommend this to a friend
Posted on May 25, 2021
Jitters, increased heart rate
I liked the product because it took my hunger but I have been in the hospital twice for increased heart rate, jitters, insomnia, and not able to stay still for hours.
Length of Use: 3–6 months
Bottom Line: No, I would not recommend this to a friend
Pros and Cons
Took hunger away
Jitters
Increased heart rate
Posted on Apr 10, 2021
Best supplements ever!
I was skeptical at first. I had tried so many things that will say they work and they don't, but this truly does what it says it will do - 1) gives you energy, and 2) curbs cravings. I've lost weight and felt energized doing it! Buy this product; it works!
Length of Use: 3–6 months
Bottom Line: Yes, I would recommend this to a friend
Posted on Aug 8, 2020
Weight loss good, side effects no
I liked that it helped me lose weight and gave me energy. However, I have had setbacks because of side effects so had to stop. Insomnia, high blood pressure, vomiting, headaches, eye issues, hair loss. Since I have stopped my doc took me off my blood pressure pills. I developed high blood pressure on this assuming it was normal because of age. Could not drink anything with caffeine in it because it would make me medically dizzy.
I have to stay away from this because of the horrible side effects. I felt like I went through major withdrawal symptoms going cold turkey from TruVision.
Length of Use: 2+ years
Bottom Line: No, I would not recommend this to a friend
Pros and Cons
Offering the product
Cost keeps going up
Not FDA approved
Needs warning for side effects
Posted on Oct 1, 2019
Love it!
I have tried many many things to lose weight but with my meds, I'm on it makes it almost impossible. Taking TruVision has changed everything for me! My energy level is higher, my hunger is lower, and I'm not craving any crappy foods.
I would recommend this to everyone.
Bottom Line: Yes, I would recommend this to a friend
Posted on Sep 28, 2019
Scam!
I spent almost $300 worth of products from this company and I purposely read all small print about their return policy and when I wanted to return unopened products back to the company they told me, "no you ordered your products as a kit and therefore you cannot return them." Most items on their website are considered a "kit", I said show me where it says that on your website because I read the whole thing from top to bottom, and of course they couldn't show it to me because it didn't exist! As far as I'm concerned this is just another company that is scamming people with products that do not do anything but make you nauseous!
DO NOT GET SCAMMED LIKE I DID!
Bottom Line: No, I would not recommend this to a friend
Posted on Sep 21, 2019
Product did not work.
I spent a lot of money for the 2 boxes of the TruVision Health Weight Loss starter kit. I got horrible headaches. At first, I had more energy than usual, but then the energy dropped back to what was
I took the capsules for 2 months. I took the dosage listed on the box, 2 twice a day. Another problem was the printing of ingredients, etc. was too small to read. It has one harmful item in it. The FDA said it is the orange. It causes heart, stroke, etc. problems. The sellers don't have any medical training. The sellers push the happy success (look at how much weight I have lost). They didn't mention my health issues and recommend I see my doctor before I take them.
Bottom Line: No, I would not recommend this to a friend
Posted on May 15, 2019
Does not work
I have been taking TruVision for 4 months. I have had jitters and nausea, and headaches the whole time I have takin it. My husband spoke to the supposed girl that they assign to you when you order. She said to only take it once a day and see if that helps. It did not. I have NOT lost anything either. I don't drink soda, just water, and the pill makes me so thirsty all the time. Supposed to give you more energy. Well, about 30 minutes after I take it I am so tired for the rest of the day, which makes it hard for me to do my job. My husband started the same day I did and he also hasn't lost any weight. Hasn't even reduced the craving as it says it will. I think this is a total joke just like every diet pill out there.
Bottom Line: No, I would not recommend this to a friend
Posted on Apr 10, 2019
TruVision works for me
I have had very great results with TruVision. I can see that with all things, what works for some may not work for others. Such is life. It helps boosts my metabolism and I see such major results usually 3 to 4 pounds gone each week. No jittery feeling. Keep in mind, it's best for me to take both sets of pills as early as possible each day (7:00 am and 12:00 pm) as to not get into trouble with not sleeping, which I might! This product is amazing to me how it does what it says it does!
Bottom Line: Yes, I would recommend this to a friend
Posted on Mar 19, 2019
LOVE THIS PRODUCT!
Although I see there are mixed reviews, I am a believer in the product. My doc said there was nothing in the pills that would harm me. I have been on them for about 6 months and have lost 45lbs and have pics of myself to prove it. I also have other personal friends who have also lost weight and have pictures. No fake pics for me. I only post those who I know personally. I have better energy, sleep better, better appetite control and cravings are down. Not saying it's for everybody, but I learned you have to stick with it. It won't just happen in a couple of months. Consistency is the key. I also have high blood pressure, but it does not affect it. I was headed down a dangerous path in my health. I was almost 400lbs because I had truly let myself go. I had no idea how bad it was until I started losing weight and feeling better and looked back on pictures from last year. I'm still on the product because I haven't got to my goal weight loss yet, but I'm not giving up!
Bottom Line: Yes, I would recommend this to a friend
Our Promise to You
In order to safeguard you and ensure helpfulness and relevance, our compliance team manually assess every customer review before it goes live.
We have a zero-tolerance policy for fake reviews, and companies cannot control or alter any reviews at any time.