Vroom
Claimed This company has claimed this profile, is getting alerted on any new customer reviews entering this page, and may engage in dialogue with its customers to address their matters.

Companies cannot pay money or provide goods in order to remove or alter customer reviews.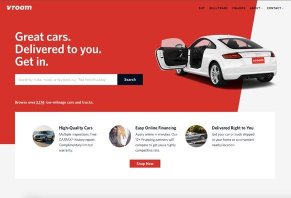 Vroom can help you buy or sell a car completely online, without the commission-based pressure from traditional dealerships, and without haggling over price.
Vroom Review: How It Works, Cost, Vroom vs. Carvana
If you've purchased a car recently—especially a used one, you know the current system is undeniably broken.
On the one hand, you can go to a dealer, where you'll probably be met with high pressure selling tactics along with inflated prices.
On the other hand, you can avoid this by going through a private seller, although this can bring about issues surrounding quality and condition.
To address this, several companies have recently come online, one of which is Vroom. Founded in 2014, Vroom helps customers buy quality pre-owned vehicles online, with transparent pricing, no salesperson to haggle with, and a 7-day in-home test drive.
Vroom customers can also obtain a competitive cash offer in minutes for their existing vehicles.
Taken together, Vroom claims to have more than 250,000 satisfied customers, with over 3,000 cars among 400+ makes and models currently available.
But, whether you're looking to buy or sell a car, does this necessarily mean they're the right option for you? Are there other considerations you should keep in mind before using Vroom.com?
How Vroom Works
Buying a Car on Vroom
You'll start by entering a related keyword on the Vroom website, or by searching for a specific make and model, body type, price, year, and/or mileage. Then, you'll see pictures of matching vehicles, along with each one's year, make, model, trim level, mileage, and price.
Find one you like? Clicking on the vehicle's image will take you to its homepage. There, you can view its Carfax report, additional pictures, features, options, specifications, and fees. You can also estimate your monthly payment.
If you're ready to proceed, clicking the Get Started button will begin the purchasing process (we'll talk more about financing options below).
Then, according to Vroom, they'll "verify your identity, confirm details, and provide you with paperwork" in a matter of minutes. Or, you can place a 24-hour hold on the vehicle.
After purchasing, Vroom will deliver the vehicle directly to your door and will handle several essential details, including filing title transfer paperwork with your local DMV.
Selling or Trading Your Car into Vroom
On the other hand, if you're looking to sell your car to Vroom, you can begin the free appraisal process by uploading pictures of your car, along with necessary information like the VIN, trim, mileage, condition, history, and aftermarket additions.
Within 30 minutes or less (during business hours), you'll receive a guaranteed, no-obligation cash offer through your inbox, which will be valid for seven days or 250 additional miles.
If you accept their offer, Vroom will direct deposit the funds directly into your bank account within three business days, while handling the finer details.
If you're interested in selling your existing car to Vroom and also purchasing your next vehicle from them (i.e., trading it in), you can apply the value of your trade-in to your purchase or down payment, which the company claims could help you "potentially save thousands in sales tax."
From a transportation perspective, you can arrange for one of Vroom's drivers to pick up your vehicle for free at a mutually agreeable time and location within the lower 48 states, or you can receive a check on the spot by delivering your vehicle to one of their retail stores located in the greater Dallas, TX and Houston, TX metro regions.
Now, what kinds of vehicles will you find through Vroom? What are their stipulations? If you're looking to sell, will your car pass muster?
What Are Vroom's Vehicle Requirements?
The Vroom website explains their vehicles are sourced from auctions, fellow dealers, and privates sellers. From a quality perspective:
"It starts with our stringent selection process. We only sell cars and trucks with clean titles and accident-free Auto Check [and CARFAX®] vehicle history reports. Every Vroom vehicle must also pass multiple inspections for safety, mechanical, and cosmetic issues before it is sold.
If a vehicle does not meet our strict retail standards, we do not list the vehicle for sale on our website. We also provide current information regarding open safety recalls."
Additional Coverage That Vroom Offers
Vroom Protect
Although the company emphasizes that most of the vehicles sold through their site are still covered under their original manufacturer's warranties, they offer a four-level Vehicle Service Protection (VSP) plan called Vroom Direct.
Less applicable deductibles, this is said to provide protection against "unexpected expenses" for up to 10 years or 120,000 miles for mechanical repairs (including parts and labor in some instances), along with 24-hour roadside assistance (e.g., battery service, flat tire and lockout assistance, fuel and fluid delivery, etc.).
» Related: Do You Need an Extended Auto Warranty: 4 Questions to Ask
Additional options include trip interruption coverage, as well as towing and rental car reimbursement, all of which is transferable to a new owner if you sell your vehicle for a small fee.
Vroom GAP Protection
If your vehicle is declared a total loss, but the insurance company offers less than you owe on your loan, GAP coverage can help make up the difference.
Specifically, Vroom's GAP coverage promises to waive covered losses up to $50,000, on vehicles valued up to $150,000. In some instances, it could it provide up to $1,000 to help cover your insurance deductible.
In general, the company recommends GAP coverage for vehicles financed for more than 70% of their purchase price, and/or for more than 36 months.
How Does Vroom Stack Up Against the Competition?
Remember how we talked about the increasing popularity of websites like Vroom above? If you're looking for a new way to buy, you've got more options than ever, including Carvana and Beepi. Sure, each of these companies markets themselves differently, but are there any real-world differences between them?
Vroom vs. Beepi
If you're looking to sell your car, Beepi seems to have a more involved process than Vroom. How? Because, before giving you an offer, Beepi sends one of their inspectors to your home, so they can personally certify that it meets their guidelines.
Since Vroom doesn't do this, we might imagine instances where things don't go as planned (e.g., the car is in worse shape than expected, or otherwise doesn't meet their guidelines), but only after most of the process is complete.
On the other hand, Beepi also charges a 3-9% fee for selling vehicles, while Vroom appears to be free, other than the initial deposit. Beepi doesn't appear to charge for deliveries, and you'll receive a 10-day trial period with all newly purchased vehicles.
Finally, Beepi is only available in CA and NV, while Vroom appears to service customers nationwide.
Vroom vs. Carvana
Carvana also submits each of their vehicles to a detailed inspection process (150 points, to be exact), and pulls an AutoCheck report to check for previous accidents.
After purchasing a vehicle through Carvana, they'll ship your vehicle for free if you live within 100 miles of their Atlanta, GA, Nashville, TN, Charlotte, NC, Birmingham, AL, and Dallas, TX hubs, although it'll cost you $199 if you live between 100 and 250 miles of these hubs.
If you're outside this radius, then you'll have to choose a third-party delivery method.
Like Vroom, Carvana also offers a 7-day trial for all new vehicle purchases.
How Much Does Vroom Cost?
Signing up for an account on Vroom.com is entirely free; just enter your information, or sign up using your Facebook or Google credentials.
Vroom's Deposit Requirements
If you decide to place a 24-hour hold on a Vroom vehicle, you'll be charged a $500 deposit. At this same time, the company will send you a contract that needs to be signed and returned within 24 hours.
If you choose not to purchase the vehicle or if you don't return the contract within this timeframe, this money is fully refundable.
Financing and Other Vroom Payment Options
When you're ready to make a full commitment, you can use your own financing, or you can use one of the company's 15 financing partners—Capital One, Ally, TD Bank, and SunTrust, to name just a handful—to help you get the best rates.
Their website advertises you can apply online in as few as five minutes. (Note: this is a hard credit inquiry and will likely impact your score.)
If you finance through Vroom, not only might this save you time (according to their FAQ) by possibly not requiring you to visit a "bank branch to sign the loan document and additional documents," by they'll also "register your vehicle on your behalf and mail your registration and plates to you" (once prepared by the DMV).
Additional payment options include cash, cashier's check, certified check, money order, bank wire, and bank draft (for specific lenders). Customers can pay up to $1,000 using a credit card, but only for deposits, down payments, and other sale items.
All vehicles come with free nationwide shipping and a 7-day (or 250 miles) test drive, which begins once yours is delivered to you. Don't like your car? Call Vroom, and they'll have someone come to pick it up at no charge.
Just keep in mind that if you traded a vehicle in as part of the process, you wouldn't be able to get it back.
Picking Up Your Vroom Vehicle
Transportation-wise, Vroom charges a flat $499 rate ($799 for an enclosed trailer) to ship a vehicle anywhere within the contiguous 48 states, regardless of the make, model, or value. Compared to the deposit, however, this money is non-refundable.
Alternately, customers are welcome to pick their vehicle up in-person from their location near Houston, TX.
Vroom Warranties and Other Extended Coverage
Newly purchased Vroom vehicles come with a 90-day/30,000 mile no-worry warranty and a year of free 24/7 roadside assistance. Most are still covered under the manufacturer's warranty, although additional coverage can be purchased directly through Vroom at the time of sale.
Includes essential features like towing, roadside assistance, battery service, flat tire assistance, fuel and other liquids (oil, water), lockout assistance, and a 5-year maximum term, although is transferable to a new owner for a $30 fee.
Conditions apply, so check with a customer service rep if you have specific questions.
Again, while the majority of Vroom's cars are said to be still under their manufacturer's original warranty, the company offers a limited warranty 90 days or 6,000 miles on all new purchases. They also come with one year of 24-hour, nationwide roadside assistance.
Vroom's customer service department can be reached at (855) 524-1300.
A Look at the Consumer Reviews of Vroom
As of our most recent update, 60 HighYa readers provided their feedback about Vroom, giving the company an average rating of about 1.6 stars. Common complaints related to less-than-stellar customer service, support, and delivery experiences, while compliments frequently referenced ease of use and competitive pricing.
On Yelp, more than 120 reviewers had given the company a slightly higher average rating of about 2.5 stars, with many of the same compliments and complaints.
In most of these instances, a representative from Vroom personally responded to complaints.
From a company perspective, Vroom had an A+ rating with the Better Business Bureau at the time of our research, based on nearly 50 customer reviews and more than 60 closed complaints.
These complaints referenced everything between undisclosed accidents to unresponsive customer service.
Our Bottom Line: Should You Use Vroom to Buy or Sell a Car?
Whenever you're thinking about using a new product or service, online customer reviews can go a long way toward letting you know what you might reasonably expect (this is why consumer advocacy websites like HighYa exist!).
And at least in this aspect, it seems like Vroom has overwhelmingly positive feedback from their customers, who generally claim that the process was super easy and hassle-free.
However, if you're dead set on buying or selling a car solely online, remember that Vroom isn't the only game in town, so it's important to research all your options in advance (you're already off to a great start!).
Comparatively, Vroom certainly seems to have some unique advantages (such as flat-free $499 nationwide shipping, which could save you hundreds compared to other options), but only you can decide whether or not this will translate into a better experience.
» For Further Reading: 6 Most Popular Used Car Buying Websites: A Comprehensive Guide
Insulting model

By Dean

,

Jul 5, 2016
Verified Reviewer

Vroom actively looks for cars available on the market and lowballs bids on everything. If you have a car up for $10,000, they'll offer $3,000 and see if you bite. They send you text messages forcing you into their system to collect your personal information as if you solicited them for their help, when it's actually the other way around. Don't bother responding to their inquiries if they try and contact you regarding buying a vehicle, unless you just need very quick and low value cash.

Bottom Line: No, I would not recommend this to a friend

---

Warning! Shady practices.

By Traci

,

Phoenix, AZ

,

Oct 13, 2016
Verified Reviewer

I have been watching a specific car on Vroom, the price dropped a few thousand dollars so we decided to purchase it. It was advertised as a 2012 vehicle with under 5000 miles.

Although it seems hard to believe it only had about 5000 miles, I know it's possible that it could be true since they focus on low mile, quality cars per their ads.

We were going through the buying process, put down the deposit and I finally get a call back from somebody to let me know that there was an error and the odometer reading the car actually had almost 50,000 miles

Oops, off by one digit. I told him that we would no longer be interested in the car and told them to cancel the deal.

My husband and I talked and we decided that if they would give us a little bit more off the price now since the car such high miles, we would still go ahead and purchase the car. Or, if they would throw in an extended warranty to cover issues since it did have about 50,000 miles

The sales person argued with me about the fact that it was a human error, and that they did not drop the price on the car originally which they did. I have pictures of it and said that they would not be willing to do any deals.

So as a result of the error on their website, there was nothing they were going to do to accommodate a potential buyer that was still very interested in the car.

I go back in today to look at that same car to see if they put it back in circulation. Lo and behold yes it's back in circulation and the prices jumped back up $2k!

There's been nothing but shady activity going on from my experience with them, so buyer beware.

Bottom Line: No, I would not recommend this to a friend

---

Buyer Beware

By Matt P

,

Boston, MA

,

Dec 15, 2016
Verified Reviewer

Deliver was a disaster and over five hours late. The truck had over 50 miles on it more than the invoice. Damage to the interior from cigarette smoke and stains. No temp plates and missing an extra key. After three days of ignoring my inquiries, Vroom agreed to pay for a cleaning only. AVOID VROOM and buy from a dealer. At least you know what you're getting.

Bottom Line: No, I would not recommend this to a friend

---

Dishonest executives

By Oni Sioson

,

East Haven, CT

,

Jan 25, 2017
Verified Reviewer

I filed a complaint with the Texas Attorney General this November 2016 against Vroom for deceptive business practice involving extended warranty service. (See below).

You have received this email based on a Complaint submitted to the Office of the Attorney General.

Please review the attached documents and reference the Complaint Number in any follow-up correspondence you may wish to send.

Your complaint number is CGS-18705.

Consumer Protection Division

Office of the Attorney General

If a business entity was that unconcerned about committing such an odious practice, logic dictates that you, the consumer, ask yourself the question; is that a place you should trust?

I thought I could, in fact, I was assured and reassured by the company's controller after I expressed my dissatisfaction over Vroom's Finance Manager's deceit, that he would correct it.

As it turned out, it was another lie. He did not.

The warranty provider Safeguard, to this day, has not provided the copy of my warranty coverage, which I have requested multiple times.

The car I bought, by the way, is a 2013 BMW 740 Li.

Bottom Line: No, I would not recommend this to a friend

---

Advertisement

---

Buyer beware!

Save your time and purchase locally!

I live in Albuquerque, NM and Vroom advertises in the local Craigslist. I found a car and put a hold on it. The sale was effortless, and delivery was good (a bit late, but not bad). That is where the "good" ended, and the "bad" started.

Vroom sold me a vehicle that is missing the driver side door VIN sticker. Due to this, I had to get a Level 3 inspection done by the police. After that, I still could not get a VIN inspection done to send to Vroom to complete the inspection. At this point, I have had the vehicle for almost two months and even after three trips to Motor Vehicle Division, I do not have it registered.

I contacted Vroom via email and phone and received no support. I called multiple times, and each time I get "Oh, so sorry sir, we will assist," and they do nothing.

It is very apparent that this company is only concerned about the sales and not the customer. I would NEVER do business with this company, I would NEVER recommend them to anyone, and I will post everywhere that I can about just how bad their customer support is.

Bottom Line: No, I would not recommend this to a friend

---

Stay away, don't even look

By Constantine

,

Newport Beach, CA

,

Mar 21, 2017
Verified Reviewer

I put down a "fully refundable" $500 deposit to reserve a car. I wound up not buying it (thank god!) and was told the refund was already being credited back. That never happened. I made numerous calls to them, and each time they told me "it's all done, just wait a few days." I couldn't provide a confirmation number either. So far, it's been two weeks. I finally filed a dispute with my credit card company today.

Lies or stupidity? I'm not sure, but what I am sure of is that I will NEVER buy a car from them. Even if I was stranded in the desert with Mad Max.

"Vroom" as fast as you can AWAY from this sorry company and don't look back.

Bottom Line: No, I would not recommend this to a friend

---

Double billed for $500 deposit

By Stasia Ford

,

Florida

,

May 16, 2017
Verified Reviewer

I have had an awful experience with Vroom. I have been charged twice for a $500 deposit. I have contacted them on three different occasions and yet to have this problem resolved. I would not recommend them to anyone.

Bottom Line: No, I would not recommend this to a friend

---

Horrible experience!

By Paula Neece

,

Atlanta, GA

,

May 19, 2017
Verified Reviewer

This company must be doing so well that they don't need new customers!

I was so excited to find my new car. I applied for financing, waited three days, and heard nothing. I called, and a lady apologized and said someone would call. There was no call received. I called two days later, maybe thinking that they were busy working up my super deal. The customer service rep apologized, took down my details and said finance would be calling with the payment and interest rate details. No call was received!

Finally, I called yesterday afternoon and got hold of the customer service rep, Ladonna I think, and let her know that I was withdrawing my intent to purchase a vehicle. She replied, "Oh, ok..."

Wow, Vroom, you have a long way to go. I'd rather do battle at a dealership than basically be ignored.

Bottom Line: No, I would not recommend this to a friend

---

Their system is a mess

By Leiz

,

Bellevue, WA

,

May 27, 2017
Verified Reviewer

I found a car on their website that I was interested in. I called them and placed a hold. I realized their price differed in different places (web vs. mobile). The rep told me he would be able to honor whatever price I saw. I was under the impression that their price was even negotiable. I soon changed my mind, and I called in again to ask them to cancel my hold. The second rep couldn't find any records about my previous conversation with their reps. And he couldn't refund me. I had to figure out a way to reach the first rep I talked to.

Bottom Line: No, I would not recommend this to a friend

---

They sell unsafe cars

By Hutson

,

Florida

,

Jun 2, 2017
Verified Reviewer

I will never buy another vehicle over the internet again, much less from Vroom. I attempted to have a third party perform a pre-purchase inspection and Vroom did not allow it. I should have walked away from the deal at that exact moment.

I bought a low mileage 2013 vehicle from them, and they failed to disclose that it was in a rear end collision. This car also arrived without brake pads on the rear calipers. A good hard slam on the brakes would have caused the calipers to break which would have caused the brake fluid to leak out. Once that happened, there would be no front brakes either. The car had new tires on it, so someone completely and negligently ignored the missing brake pads.

My mechanic is storing the car for free while I return it because it is unsafe to drive. I learned this after I had already driven my two-year-old daughter in the vehicle. There was also a hack paint job done to the rear bumper in an attempt to hide the accident. They did such a poor paint job that the spare tire underneath is half painted black.

I almost forgot to mention that I had to have my clothing dry cleaned and eventually thrown in the trash because the car was delivered with black grease all over the leather seats. The thing that makes me the most upset is that I drove my two-year-old daughter in this vehicle the afternoon I received it. It makes me furious to know they sold me, presumably knowingly, such an unsafe vehicle. This is what you expect from the worst of the worst used car dealers.

Bottom Line: No, I would not recommend this to a friend

---

Worst car buying experience in 40 years

By William

,

Colorado

,

Jul 4, 2017
Verified Reviewer

The entire process is brutalizing. I had USAA financing in place ready to buy. With any other dealer, the process would be completed the same day I walk into the dealership. Vroom took three weeks to finalize the process. Communication is so hard, and no one returns calls or emails. You have to use their chat system to get any response. So it is three weeks vs. one day at a normal dealer.

The truck had photographed two key fobs and an owner's manual, but not none of it was included. I contacted my sales person, Amanda Sterns, twice and heard no replies. I had to go to the Ford dealer to get keys made for the truck.

Cedric Smith is incompetent as a finance manager. USAA makes things easy for vets with everything (funding) ready before you even step foot on a lot. Cedric came up with every excuse for why it took so long. THREE DAYS after funds had been wired and cleared, the Vroom bank account said my purchase was still pending? I called USAA and told them I suspected fraud, and within an hour I got a call from Cedric saying everything was done and my car was shipping out.

I will not recommend this dealer to anyone ever, and I will actually post reviews on Facebook, Google, Cars.com, everywhere I can to let people know, especially vets using USAA, to stay away from these guys! Go to your local dealer, it is only a headache for the day, whereas Vroom tortures you for weeks.

Bottom Line: No, I would not recommend this to a friend

---