Carvana Reviews - How It Works, Warranty, Financing, Returns
This company has claimed this profile, is getting alerted on any new customer reviews entering this page, and may engage in dialogue with its customers to address their matters.

Companies cannot pay money or provide goods in order to remove or alter customer reviews.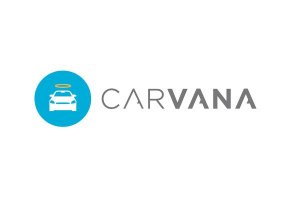 Summary
Carvana's all-online used-car purchasing process allows you to choose a car online, get financing and have the car delivered directly to your home.
Our Full Review
What Is Carvana?
Carvana is one of those ideas that sounds truly futuristic. If the writers of Back to the Future wanted to show Marty McFly buying a car in 2020, they probably would have cooked up something like this.
But like early touch screen devices that barely worked and cheap Bluetooth speakers that never seem to connect, "futuristic" doesn't always mean "better." So how exactly does Carvana work, and how does it stack up against the traditional car-buying process?
How It Works
The idea behind Carvana is relatively simple: you see a car, buy it, and receive it. Customers scroll through a selection of vehicles on a phone, choose the one they want, pay for it and choose a pickup option. They can either opt for home delivery or go to one of Carvana's giant "vending machines".
The main difference between Carvana and the traditional car-buying process is that you don't have to go to a dealership and spend hours talking to a salesperson. There's no negotiating, and most of the important steps happen online.
HighYa staff member J.R. Duren recently used Carvana to buy a car. He said Carvana had reasonable prices, and it was a much easier transaction than going to a dealership.
Car Selection
Like other major car-buying sites, Carvana has a wide selection ranging from the classic Toyota Camry to the impressive Tesla Model X. One significant difference between a car dealership and Carvana is that the latter doesn't stock new cars. There are many lightly-used vehicles with a few hundred miles or so, but you can't find a brand new car with only a handful of test-driving miles.
Carvana has gas, hybrid and electric models. Their search system includes filters such as total price, monthly payment, year, mileage, body type, engine and drivetrain.
Additional filters include features like:
Rear view camera
Blind spot sensors
Park assist
Keyless ignition
Leather interior
When you search for a car, Carvana will ask for your location. Some cars won't be available near you and will have to be delivered. There may be a delivery fee associated with this. Some cars are available at a vending machine, so you can drive to pick it up without paying a delivery fee.
Because consumers have to pick a car without looking at it in person, Carvana offers a 360-degree view of both the car's exterior and interior, as well as photos of imperfections such as scratches and dings. Every car that the company sells is accident-free and has gone through a 150-point inspection.
Cost and Financing
Carvana has its own financing department, so you can buy a car and get an auto loan at the same time. Potential customers can pre-qualify to see their interest rate before looking for a vehicle. This only counts as a soft inquiry on a credit report and won't damage their credit score.
To pre-qualify, Carvana will ask for your name, date of birth, address and annual income. Then you'll have to provide an email address and password to create an account. By signing up for an account, you agree to receive texts or phone calls from Carvana reps and their financing subsidiaries. Unlike traditional car dealerships, they don't seem to be overly aggressive in reaching out.
You'll get an email when the qualification terms are available, which can be found in your account settings under "Financing." Terms will include the interest rate range, minimum down payment, and maximum loan term. There's no basic range of interest rates on the Carvana website, so your best bet is to get pre-qualified.
Pre-qualifying may be useful as a baseline to compare to other banks, credit unions, and lenders. You can use the Carvana information to negotiate interest rates with other lenders.
Carvana has no credit score requirement for borrowers, but there is a minimum annual salary of $10,000. They claim to work with all types of credit scores, except for borrowers with bankruptcies on their records.
Carvana does not allow co-signers on auto loans that it initiates. If you use a third-party lender on a Carvana car, you may have a co-signer for that.
If you're interested in buying a car and want to use outside financing, Carvana recommends that you already be pre-approved or fully approved before choosing a vehicle. They'll ask for the lender's information when you select a car, so you'll need to know how much you were approved for.
What sets Carvana apart is the fixed price on every car. There's no haggling or going back and forth with a shady salesman. This is a huge advantage for people who hate negotiating, but it's a drawback for those who love the thrill of getting a good deal.
Trade-Ins
Like most car dealerships, Carvana accepts trade-ins and applies that value toward the final price. Even if you're not buying a car, you can still sell your vehicle to Carvana.
First, you'll input some basic information about the car and get a quote. Like their car-buying process, Carvana does not allow customers to negotiate the trade-in value. If they say your car is worth $2,000, you'll only get $2,000.
To sell a trade-in, you must live within a local delivery zone. You can find a list of Carvana's locations here.
If you live outside of a local delivery zone, you won't be eligible to trade your car in. Carvana outsources its long-distance deliveries to a third-party which is not authorized to pick up your vehicle, so all trade-ins must be local. Your only other option is to sell it on Craigslist or at a local dealership.
If you trade in your old car and change your mind about the vehicle purchased through Carvana, you can get the old one back within the seven-day return policy window.
If you have a current loan on a trade-in vehicle, you could run into trouble if the amount you're getting from Carvana is less than the remaining balance. This is known as being underwater on your loan. You'll have to pay off the remainder before trading the car in. Paying off your loan may be similar to what most dealerships would require.
Warranty
Carvana offers a complimentary warranty that's good for 100 days or 4,189 miles, whichever comes first. This warranty includes roadside assistance and covers basic and powertrain parts. A small copay is due when opening a warranty claim.
The Carvana warranty is much lower than what you can find if you're buying directly from a dealership, especially on a certified pre-owned vehicle. This is one of the major downsides to the service. Customers can purchase an extended warranty directly from Carvana, as well as gap insurance coverage.
Pick Up and Delivery
Carvana provides free delivery for customers who live in one of Carvana's local markets, which are located in more than 25 states. Carvana is located all across the country from California to Massachusetts.
They're also willing to meet in the middle if you live near one of their local markets, but you have to call them directly to arrange this service. It's not clear from the website how far you would have to travel to pick up the car.
If you can't meet them halfway, you can also choose to have the car delivered. The delivery fee varies, but is generally between $199 and $1,000 depending on where you live and where the car is coming from.
A third option is to buy a one-way plane ticket to a city with a Carvana vending machine, pick up the car and drive it back. Carvana will reimburse up to $200 for the flight and transport you from the airport to the vending machine. The reimbursement will be sent via check after the seven-day return policy window has closed.
Another major Carvana perk is that they take care of registering the car for you, as long as your state allows it. This can save the buyer a lot of time and hassle, especially if their local DMV branch is poorly-run.
Returning Your Vehicle
Carvana's return policy allows customers to return a car within seven days. Any down payment will be refunded, but the delivery fee is always non-refundable.
Customers may drive up to 400 miles within the seven-day period, after which they'll be charged $1 per mile. Carvana won't accept a vehicle if it's been modified, damaged, or changed in any way. Any accidents will also negate the return policy.
Shoppers can return the car and exchange it for another, which will also come with a seven-day return policy. Carvana allows customers to return a car up to three times, but the third vehicle will not come with a return policy.
The Bottom Line
Carvana's appeal is simple: you can buy a car without talking to a salesperson. Anyone who doesn't have hours to spend at the dealership or who feels uncomfortable talking to salesmen may prefer this remote car-buying experience.
It's wise to get your own financing offers at a bank or credit union instead of blindly accepting Carvana's terms. You never know what kind of interest rate a different lender may offer, and the difference could save you hundreds.
If you're the type of person who loves negotiating and doesn't mind spending hours shopping for a better price, you're likely to get a lower price by looking at local dealerships and making them compete for your business.
Customer Reviews
This company is actively collecting reviews from its customers. All reviews submitted are subject to moderation and approval to ensure they meet our
Review Guidelines
.
Posted on Oct 1, 2023
Carvana borders on a scam
If it cannot guarantee delivery, doesn't track its shipments, and refuses to provide any information about weeks-long delays, it should be legally prohibited from operating as a business.
Length of Use: Less than 3 months
Bottom Line: No, I would not recommend this to a friend
Pros and Cons
No "pros" were specified in this review
Late delivery
Customer service
Everything else
Posted on Aug 18, 2022
Carvana sold me a lemon and won't do anything about it.
I purchased a 2016 Ford Flex on April 28th. Today is August 12th. It has been at the dealership 5 times for various things and today it is at the dealership again this time because the timing chain failed and it is at least a $3300 job.
Silverrock denied the warranty claim because they said it has exceeded the mileage which is true but it barely has 5k miles on it since I purchased it.
Carvana refuses to do anything and gives me the runaround. So now I have to figure out a way to tow the car away from the dealership and sit it on the street as a non-functioning vehicle and I still have to pay my monthly car note to Bridgecrest every month. This is ridiculous. It is unreasonable and excessive for a car to have this many repairs in such a short period of time. I can't afford $3300 at least to pay for this repair so now it is just sitting while broken.
Length of Use: 3–6 months
Bottom Line: No, I would not recommend this to a friend
Pros and Cons
No "pros" were specified in this review
They sold me a crappy vehicle
They give me the runaround
They don't back their customers or their purchases
Posted on Aug 18, 2022
Fantastic service!
I really like this service. I was able to quickly find my car, get financing, get an appraisal for my car, and make the purchase. The whole process was flawless!
Length of Use: Less than 3 months
Bottom Line: Yes, I would recommend this to a friend
Pros and Cons
Great support
Good prices
Limited inventory
Would prefer higher price for me car
Posted on Jul 22, 2022
They will drive you crazy
They will drive you CRAZY. Better off going to a dealership. Worst experience ever! They do not care about your satisfaction or if you buy from them or not.
1. Poor customer service. Decentralized support staff, get different answers from different people, and no follow through when they say will follow up. An overall lack of communication.
2. Even a manager from their headquarters never called me back as scheduled.
3. Wrong time-sensitive documents were sent.
4. They delayed the delivery 3 times.
Even after we canceled our order, after the third delay, they did not ask why or want feedback.
Length of Use: Less than 3 months
Bottom Line: No, I would not recommend this to a friend
Pros and Cons
No "pros" were specified in this review
Unorganized and unreliable
Posted on Jul 3, 2022
Horrible!
I traded my car and went through 2 lemons with Carvana. At this point, I decided I just wanted my trade-in back.
Three months after this, I still don't have my title back from them for my car. I found out it was lost. Then I found out I'd have it in a few weeks then found out it's lost again. Was told to go get another one. Tried that, and can't, because currently, my car's title is in Carvana's name in Arizona. I live in Oklahoma. My tag is due to come on July 1st. It's now June 28th. They won't send me a paper tag to avoid tickets and I can't get my yearly registration renewal without my title.
I don't know what to do. Fees are going to accrue for being late on my tag renewal. Not to mention the hits on my insurance if it's affected by tag renewal tickets that I know I will get. The one lemon I had needed an entire new engine in less than 12 hours of my having it, left me stranded on the highway on my way to work. Had to get it towed myself, not through Carvana. For the current problem, Carvana recommended I just don't drive the vehicle since the tag won't be able to be renewed. It's my only means of transportation to get to work. I can't just not drive it because Carvana dropped the ball on getting my title back to me. I've had countless calls with them that got me absolutely nowhere. Their response for everything is "There's nothing we can do".
Length of Use: 3–6 months
Bottom Line: No, I would not recommend this to a friend
Posted on Jun 11, 2022
Update
Carvana eventually reimbursed me $200, although the week of arguing about it still leaves a bad taste. I honestly think the biggest problem with these online companies is actually reaching someone with the authority to say "yes".
Pep Boys refunded the remainder after proving they totally lied about the extent of the repair performed and the parts replaced.
Length of Use: Less than 3 months
Bottom Line: No, I would not recommend this to a friend
Pros and Cons
No "pros" were specified in this review
Bad car
No meaningful warranty
Posted on May 30, 2022
Worst car trading experience ever
Totally automated with "artificial intelligence" bots, the app or the website tells you over and over again that it needs this uploaded or that signed. You do that, and it is not flagged as completed.
If you reach out to a human for relief, it is a 20-minute wait in Chat, or call on the phone and your call goes to dead air...either way, no solutions are forthcoming.
The final straw was being told that they needed proof of insurance listing the NEW car being acquired, even though the insurance and tag were coming off the OLD vehicle being traded. My insurer said that nationwide, you have 30 days to inform DMV and Insurer of the change and the new car will be covered...and they said that Carvana does not seem to understand that. So hours before scheduled delivery, I get a call from a human at Carvana, telling me the proof of insurance on my trade was not good enough so I explained what the insurer said. And they replied, "Yes, but our policy is we have to see your new VIN# on proof of insurance," on the vehicle I haven't even purchased yet.
So I said I was DONE and canceled the deal. Hours and hours were wasted over 4 days, sending and re-sending them the same info over and over again, only to have it end with this insurance stalemate. Never again!
Bottom Line: No, I would not recommend this to a friend
Pros and Cons
Finding and choosing vehicle online
Carfax
Impossible proof of insurance requirement
Really dumb automation/robots
Humans there can't fix much of anything that is broken in their system, they just reiterate what the robots have already told you
How can a document be on the "Needs to be done" tab and then listed twice on the "Completed/Accepted" tab at the same time?
Company Response from Carvana
Jun 2, 2022
Thank you for taking the time to reach out regarding your Carvana experience. We sincerely apologize that you did not have the stress-free experience we strive to provide every customer. We take your feedback very seriously and will ensure it is passed to the proper department. Please reach out to us at (800) 333-4554 or utilize our online chat feature if you have any further questions.
Posted on Mar 26, 2022
March 15, 2022 update
It's been one month since I was escalated to the "Executive Resolution Team" and I have received no updates since then, despite reaching out. Today, I called the number provided to hear a recorded message that says, "We're having technical difficulties and our phone system is not working..."
Length of Use: 3–6 months
Bottom Line: No, I would not recommend this to a friend
Company Response from Carvana
Apr 5, 2022
Thank you for taking the time to reach out regarding your Carvana experience. We sincerely apologize that you did not have the stress-free experience we strive to provide every customer. We take your feedback very seriously and will ensure it is passed to the proper department. We have assigned your account to one of our Advocates, who will contact you to resolve your concerns within 48 hours.
Posted on Feb 21, 2022
Convenient but always an issue with the vehicle
The first vehicle I received looked great until I got it on the road. It shook at 60 mph, and once we reached our destination, THREE lug nuts were missing. So traded it. The second one, which I love, all of a sudden had mechanical issues. I've never been so displeased with a car.
Length of Use: Less than 3 months
Bottom Line: No, I would not recommend this to a friend
Pros and Cons
Convenient
Always an issue with the car
Company Response from Carvana
Feb 23, 2022
Carvana prides itself on providing our customers an exceptional car-buying experience coupled with high-quality pre-owned vehicles. We know that many customers select to purchase from Carvana because of the convenience, and we want to be sure that convenience is lasting far past the 7-Day Money-Back Guarantee, however, it seems like we missed the mark with your vehicle while completing our 150-point inspection. All of our vehicles come with a 100 day/4,189 mile warranty for an additional peace of mind, but we are very sorry for the frustration we have caused you. We recommend getting in Contact with Silverrock, our trusted warranty partner, to help resolve your concerns. You can always chat with us 24/7 if any questions arise. We appreciate the feedback you have provided us as we are always looking to improve the customer experience.
Posted on Dec 29, 2021
I want my money back in 7 days, not 20–40!
Traded in my car and got a good price of $17k, added an additional $7K to complete the purchase. Decided after 2 days that I don't like the car so I picked another one and had no problem, scheduled delivery of the 2nd car and pick up of the 1st. While on the phone the rep said you can watch the website and if you see something you like more you can always change it out before delivery. I found what I really wanted, started the purchase online so wouldn't get snatched up, called customer service to make sure all the funds would be applied to this car and they told me "So sorry, your deal has to be rebuilt and it will take 20–40 business days to do anything with your account. " I can't get my money back until then. What about the 7-day money-back guarantee?
The car I finally found was an additional $3K. You would think they would want to make a sale, I didn't give them the additional money since they have basically frozen my account. I can't return the car I don't want to the local Carvana. I have to keep it and I am responsible for it (insurance, storage) until they let me know when they are coming to get it. In the agreement I got when took possession of the car it says they will pick up the vehicle the next business day as long as it's within the 7-day window.
I am without a vehicle and out $24k. Twenty to 40 business days could be 2 months! Merry Xmas from Carvana.
Bottom Line: No, I would not recommend this to a friend
Pros and Cons
No "pros" were specified in this review
What 7-day money-back guarantee?
What's in writing is not what you get
Company Response from Carvana
Dec 31, 2021
Thank you for taking the time to reach out regarding your Carvana experience. We sincerely apologize that you did not have the stress-free experience we strive to provide every customer. We take your feedback very seriously and will ensure it is passed to the proper department. Should you have any additional questions or concerns, please reach out to us at (800) 333-4554 or through our online chat feature.
Posted on Dec 15, 2021
Delayed pick-up of vehicle on Carvana Hub
I bought a 2015 mustang with the Carvana, it has been 7 days, not counting, in addition, the delay in the approval because I am self-employed, even though I was given approval first. The car delivery has already been rescheduled 3 times!
I am paying for a rental car every day and today I missed a flight because I had to reschedule because the car delivery was delayed once again.
I really need my car, I already lost around $700 with my flight, hotel, and car rentals, all because of you guys.
Bottom Line: No, I would not recommend this to a friend
Pros and Cons
Not having to deal with a pushy dealership
Vehicle delay on delivery
False approval in the beginning
Company Response from Carvana
Dec 16, 2021
Your feedback is incredibly valuable as Carvana is always looking to improve the customer experience. We know how excited our customers are to purchase a new vehicle, but when that vehicle is delayed, it certainly hinders that experience. This is never our intent as we know how greatly our customers rely on their vehicles to arrive on time for their means of transportation and lifestyle. We are very sorry to have inconvenienced you. Our team of dedicated advocates is always here to answer any of your questions, so please don't hesitate to reach out via our chat service 24/7.
Our Promise to You
In order to safeguard you and ensure helpfulness and relevance, our compliance team manually assess every customer review before it goes live.
We have a zero-tolerance policy for fake reviews, and companies cannot control or alter any reviews at any time.