Zantrex Black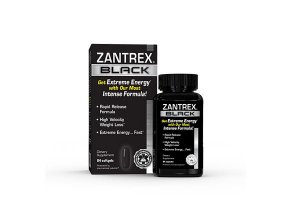 Summary
Zantrex Black is a dietary supplement designed to boost energy and promote weight loss.
Zantrex Black Review: Does It Really Work?
Zantrex Black is proposed to enhance both energy and weight loss through a unique blend of ingredients.
Carrying extra weight can place you at a higher risk for chronic medical conditions like diabetes and cardiovascular disease. For many, losing weight is often easier said than done.
While diet and exercise are mainstays for any weight loss plan, Zantrex Black may be a beneficial addition to your regimen.
According to their website, by taking 2 softgels with water 150 minutes before breakfast, lunch, and dinner, you can expect to:
Quickly boost your energy
Rapidly lose weight loss
Control your appetite
Elevate your mood
These certainly sound like highly desirable effects, but are they possible?
In this article, we'll help you determine if Zantrex Black is the safe and effective weight loss supplement you've been missing.
Zantrex Black Active Ingredients: Do They Work?
Zantrex Black's ability to deliver these benefits is allegedly related to the unique blend of ingredients.
You can expect the following packed into every 2 softgels:
Niacin (30mg)
Proprietary Blend (1,160mg)
Yerba Mate
Guarana Extract
Caffeine
Damiana Extract
Green Tea Extract
Kola Seed Extract
Schizonepeta Extract
Black Pepper Extract
Rhodiola Crenulata Extract
Asian Ginseng Extract
Maca Extract
Cacao Extract
Black Tea Extract
While they do not provide the quantity of each specific ingredient in the blend, the secret behind the proposed effects is related to the caffeine content of this supplement – about 300mg per serving.
We'll focus on the caffeine content to help you get a better understanding of what Zantrex Black can offer.
Can Caffeine Content Deliver the Proposed Effects?
In addition to including caffeine itself, Zantrex Black offers 5 additional ingredients that contain this stimulant: yerba mate, guarana, green tea extract, kola seed extract, and cacao extract.
The caffeine offered in each of these ingredients amounts to about 300mg in every 2-softgel serving. For your reference, this is about 3x the amount of caffeine included in an 8oz cup of coffee.
Thus, you'd take in 900mg of caffeine daily when Zantrex Black is taken as directed.
Caffeine has several reported benefits like boosting memory, increasing alertness, enhancing athletic performance, and even reducing the risk for some cancers.
The caffeine-containing ingredients in Zantrex Black are intended to boost your energy and help you lose weight.
The effects of this stimulant have been widely studied.
A recent review of 34 studies detailed some of the immediate benefits that caffeine has related to athletic performance. Doses ranging from 3 to 6mg/kg body weight improved vertical jump, sprinting speed, and performance during agility tests.
In healthy subjects, 3mg/kg of caffeine given before physical activity increased the number of sweat glands and oxidized more fat when compared to those that didn't receive caffeine. These effects were smaller in obese women, however.
This study found weight loss was more effectively maintained in those that consumed more caffeine.
A recent review of 13 randomized trials concluded that caffeine intake might promote reductions in weight, BMI, and body fat.
The proposed energy and weight loss effects seem to be supported at doses comparable to those found in Zantrex Black.
You should always start with a more comprehensive weight loss plan that includes diet and exercise. The use of a dietary supplement alone would not offer all of the available benefits of implementing healthy lifestyle changes.
Is Zantrex Black Safe?
While many of these ingredients have been safely studied individually, their combination may increase your risk for side effects and toxicity.
This is best illustrated in a 2012 case report. A 38-year-old woman taking Zantrex-3 (200mg of caffeine per serving) for 2 months experienced blurred vision and seizures. These symptoms were resolved after discontinuing use.
Though this is just one case, use can be risky.
The FDA states that rapidly consuming 1,200mg of caffeine can cause seizures. While you'll fall under this number when taking Zantrex Black as directed, the addition to your typical coffee, soda, or tea intake can put you in an unsafe range.
Also, 400mg daily is considered the safest use of caffeine – daily Zantrex Black use alone can more than double this number.
Consuming too much caffeine often results in restlessness, nausea, agitation, rapid heart rate, and unsafe increases in blood pressure.
For these reasons, it's best to avoid Zantrex Black or similar stimulant-containing supplements. Always ask a physician before use and never consume them in ways other than what is recommended.
Cost and Where to Buy
You can pick up 84 softgels of Zantrex Black directly from their website or from Amazon for $39.99 or $19.87, respectively.
When used as directed, one bottle will last you 14 days. You'll have to double the pricing to get through an entire month.
This product ships free from both Zantrex and Amazon.
Zantrex also offers a no-hassle guarantee that is not constrained by a time limit. According to their site, simply contact Customer Service Hotline at 1-800-898-5153 and ask for a Return Merchandise Authorization (RMA) number.
Place the RMA on the outside of your package and return to Returns Dept. 5742 Harold Gatty Drive, Salt Lake City, UT 84116.
Are There Any Alternatives?
There are a number of stimulant-containing supplements available. A simple internet search will reveal many options.
Trans4orm from Evlution Nutrition offers a 2-month supply of this supplement for $29.99 or 2 for $40 at bodybuilding.com. Each capsule provides a blend of B vitamins, extracts, and caffeine-containing ingredients.
Hydroxycut Hardcore Elite from Muscletech is another stimulant-containing dietary supplement. It similarly offers multiple forms of caffeine. At GNC, it is $34.99 for a 25 day supply.
Again, as these products may be harmful, diet and physical activity are a better first step for weight loss.
The Bottom Line
The many benefits of caffeine have been extensively studied. There is ample support for the energy-boosting and weight-loss promoting effects alleged by Zantrex Black.
Reviews for Zantrex Black are fair.
More than 500 users rate it 3.9-stars at Amazon. Happy customers report rapid weight loss, sometimes even with taking much less than the recommended dosing. Those unsatisfied with the supplement report side effects like rapid heart rate and stomach pain.
Nonetheless, stimulant-containing supplements can be dangerous. Zantrex Black, when used as directed, more than doubles the safest daily limit for caffeine. Adding other sources of caffeine (coffee, soda, etc.) can place you at even greater risk.
Implementing healthy lifestyle changes should be your first step in your weight loss journey. If you are interested in Zantrex Black or similar products, do not use them without speaking to your doctor.
Customer Reviews
Posted on Nov 24, 2021
No no!
I took this product and my face skin burned extremely bad. I thought I was just overheated and it had nothing to do with the product, but the next time I took it, it happened again. I'm definitely not taking it anymore because of red face, burning sensation, and hives.
Length of Use: Less than 3 months
Bottom Line: No, I would not recommend this to a friend
Pros and Cons
No "pros" were specified in this review
Burning face
Hives
Red irritating skin
Posted on Sep 8, 2021
Not expecting
I took a recommended amount, 2 pills 15–20 minutes before I ate. Within 10 minutes my face felt flush, then my stomach started hurting, and then my skin turned a blotchy red and I felt like I was on fire! It scared me, had to take a Benadryl.
Length of Use: Less than 3 months
Bottom Line: No, I would not recommend this to a friend
Posted on May 11, 2021
Caused me to faint and temporary blindness
I have tried just about every diet/energy pill out there and have NEVER been so afraid for my life. There is niacin in this so I expected the red/tingling skin, but 30 minutes after I told 2 capsules I was driving and had to pull over. My vision started fading and I fainted to the asphalt. My husband caught me and kept me focused not on the thought of death. My vision went black and I could only hear my husband's voice. I was sure I was going to die. I couldn't breathe and my heart was racing. After about 15 minutes and a Gatorade, coconut water, and a bottle of water I finally could see and breathe again. After about 45 minutes I was so tired and had the worst headache. This experience has changed my life; I will not be consuming any sort of workout supplements ever again.
Length of Use: Less than 3 months
Bottom Line: No, I would not recommend this to a friend
Pros and Cons
Very cheap - you get what you pay for
Never spending money or health on stimulants
Near death experience
Posted on Mar 13, 2021
Pass me a pillow
Yes, I have experienced weight loss, which is what I wanted but...where the heck was the extreme energy boost? I'm left wandering aimlessly, wondering when this is gonna kick in. Every single time I have a tablet all I want to do is sleep. It's as though taking the tablet induces extreme fatigue. Which for me is good because I suffer from insomnia so I now take it at bedtime. But for anyone else hoping for a daytime boost, I'd say tough luck because it ain't gonna happen.
Length of Use: 3–6 months
Bottom Line: No, I would not recommend this to a friend
Pros and Cons
Weight loss
No energy
Posted on May 23, 2020
Great product
I love this product! I pave roads for a living and I take 2 in the morning and 2 mid-day and it gives me the energy I need to get through work! I also have been losing a lot of weight while gaining muscle! I absolutely love this product, and highly recommend it if you need that extra energy boost and rapid weight loss! I would give this product 100 stars if that was a thing!
Bottom Line: Yes, I would recommend this to a friend
Posted on Sep 10, 2019
Hives, rapid heart rate, lightheaded
I just bought these today and I took two this evening before dinner...within 10 minutes of taking them I felt like I was on fire! My face was blood red, my arms and my chest were broke out in hives, my blood felt like it was pounding through my body and I was on fire. It has been about an hour and a half and it is eased up some now. I still feel like my heart is racing but the redness has gone away, however, I will definitely not be finishing the rest of my bottle and I would not recommend this to anyone else, as typically I have no allergies to anything and this is the first time I've ever had a reaction like this to any pills.
Bottom Line: No, I would not recommend this to a friend
Posted on Jun 18, 2019
Hives
I have taken this pill in the past with no problems. Today within 10 minutes I had broken out in hives, face, arms, and hands. So bad that I went to convenient care and my blood pressure was extremely high. Loaded me up with Benadryl and still 7 hours later, my arms are still red, raised, and itchy. Face and neck are better but still itchy. Start on steroids tomorrow.
Bottom Line: No, I would not recommend this to a friend
Posted on Feb 17, 2019
Feels great
I was looking for something to help lose at least 10lbs, 20lbs would be better. I researched for days and read about Zantrex Black and gave it a try. Good price, so I figured why not, the only thing I have to lose it weight...lol. I have RA, Hashimoto's and suffer from depression, so I'm tired all the time. I drink coffee all day. I have been taking Zantrex Black for two days and I FEEL AMAZING! I have not had the need to drink coffee, and it makes me thirsty, which is good because I don't drink a lot of water. I suffer from constipation as well and this product fixed that! Two days in a row I "went."
I have not had any rashes, headache, stomach issues...all is great! I hope I see weight loss results soon!
Bottom Line: Yes, I would recommend this to a friend
Posted on Sep 5, 2018
Zantrex Black
I always seem to have 10 pounds to lose. I have taken almost everything on the market - no wonder weight loss remedies is a multi-billion dollar industry. I find that my appetite is curbed, I do indeed have more energy AND as an added, but as an unintended benefit, it has helped me cut down on my smoking. I used to smoke 4-5 cigarettes a day. Now, I barely smoke 2, and while I am smoking, they no longer are satisfying. I have ordered 2 more bottles. Within the next month, not only will I have lost my 10 pounds, I've lost 3 after the first week, but I will probably not be smoking anymore. Thanks so much, Zantrex Black!
Bottom Line: Yes, I would recommend this to a friend
Posted on Jul 22, 2018
Fantastic product
I have type 2 diabetes and I have not been able to lose weight. I tried this, taking two pills, but it was too strong for me. I now take one pill in the morning and one in the evening.
I tried other products and they did nothing, but this really works. I have lost 22 pounds in two months. The main thing to note as that it really cuts down on my hunger and how much I eat. I don't notice any boost in energy, but I bought this to lose weight and it's 10000% great.
I can't thank this company enough for having such a great product out there; it saved my life.
Bottom Line: Yes, I would recommend this to a friend
Posted on Jul 20, 2018
Do not waste your money!
Though this product kept me wakeful, it also turned me into an insomniac. Though it curbed my appetite perfectly, I lost only ONE pound in one month, AND I was not eating any unhealthy foods NOR WAS I in excess of 2000 calories a day.
This product made me itch all over my body within 20 minutes before I ate. Try something else. This company is only trying a different scheme to make money off of the hopeful.
Bottom Line: No, I would not recommend this to a friend
Our Promise to You
In order to safeguard you and ensure helpfulness and relevance, our compliance team manually assess every customer review before it goes live.
We have a zero-tolerance policy for fake reviews, and companies cannot control or alter any reviews at any time.