Beverly Hills MD Crepe Correcting Body Complex
Claimed This company has claimed this profile, is getting alerted on any new customer reviews entering this page, and may engage in dialogue with its customers to address their matters.

Companies cannot pay money or provide goods in order to remove or alter customer reviews.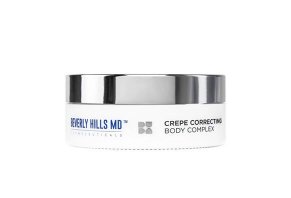 The Crepe Correcting Body Complex is a cream designed for daily use that will purportedly rehydrate your skin to fix a crepey appearance without surgery. There's clinical evidence that its ingredients will work to moisturize your skin and keep it looking it's best.
Crepe Correcting Body Complex Review: A Detailed Look
Are some parts of your hands, chest, or underarms showing their age and looking more like crepe paper than skin?
If so, Beverly Hills MD Crepe Correcting Body Complex is a nourishing cream that claims to fix crepey skin, without surgery. It also promises, that you'll be able to smooth the appearance of fine lines and wrinkles, hydrate your skin down to the cellular level, and improve elasticity.
The brand was founded by Dr. John Layke & Dr. Payman Danielpour, who own and operates a private cosmetic surgery center in Southern California.
Today, Beverly Hills MD manufactures a line of anti-aging products. Overall, these products seem to have a positive reputation and average 4-5 stars each here at HighYa.
In fact, the company reports that 92% of Crepe Correcting Body Complex customers claimed their skin looked firmer, 96% claimed it looked smoother, and 100% said that their skin appeared more youthful after just one application.
The cream purportedly accomplishes this using a blend of advanced, highly effective ingredients that both deeply hydrate your skin and stimulate collagen production, while still being gentle enough for all skin types.
Crepey skin can quickly reveal your age, even if the rest of your skin looks years younger. But can you expect Beverly Hills MD Crepe Correcting Body Complex to help, or are you paying too much for an underperforming cream? Learn from our analysis to get the answer.
Overwhelmingly positive customer reviews
Works as described for many users to remove crepes and wrinkles
Discounts for buying in bulk
Doesn't work for everyone
You might need to purchase lots of jars due to small size and needing to use lots of product
Analysis of Ingredients
Crepe Correcting's label references the following ingredients:
Water, Cetearyl Alcohol, Caprylic/Capric Triglyceride, Lactococcus Ferment Lysate, Glycerin, Cyclopentasiloxane, Niacinamide, Hordeum Distichon (Barley) Extract, Butylene Glycol, Dimethicone, Glyceryl Stearate, PEG-100 Stearate, Lens Esculenta (Lentil) Fruit Extract, Pyrus Malus (Apple) Fruit Extract, Avena Sativa (Oat) Bran Extract, Aloe Barbadensis Leaf Juice, Vulgaris (Watermelon) Fruit Extract, Phellodendron Amurense Bark Extract, Santalum Album (Sandalwood) Extract, Sodium Hyaluronate, Ceteareth-20, Ribose, Phenoxyethanol, Chlorphenesin, Acrylates/C10-30 Alkyl Acrylate Crosspolymer, Caprylyl Glycol, Ethylhexylglycerin, Hexylene Glycol, Citrullus Allantoin, Cyamopsis Tetragonoloba (Guar) Gum, Xanthan Gum, Tetrasodium Glutamate Diacetate, Sodium Lactate, Glycolipids, Tocopherol, Carrageenan, Soybean Phytosterols, Sodium PCA, Sea Salt, Fragrance.
Overall, the majority of these ingredients fall into one of three categories:
Skin conditioning agents – Including moisturizers, lubricants, and emollients. In general, these ingredients are intended to moisturize dry skin, as well as to help it retain moisture over several hours.

Fragrances – These ingredients help the Body Complex smell better.

Preservatives – Just like in food, these ingredients help the cream last longer, while also preventing the buildup of microbes and bacteria.
A few other ingredients stand out enough to deserve some extra attention.
Lactococcus Ferment Lysatee is a probiotic ingredient that comes from gram-positive bacteria. It's considered to be beneficial for skin care because it will purportedly increase the growth speed and overall quality of the skin's epidermis layer. However, there's not yet clinical evidence to support these claims.
Lens Esculenta (Lentils) aren't only good for your diet. This skincare ingredient has been found to increase moisture and decrease the signs of fine lines and wrinkles, which makes it popular as a skin conditioning agent.
Santalum Album (Sandalwood) Extract has long been used topically to treat skin inflammation and infections. It's commonly found in products for treating acne and eczema.
Phellodendron Amurense Bark Extract is another traditional ingredient used to combat inflammation. It's also thought to have properties that might fight off cancer cells and inhibit tumor growth.
Sodium Hyaluronate (also called hyaluronic acid) is commonly added to topical skincare products to boost collagen production so that your skin firms up and loses its wrinkles. There have been impressive results for patients who have it injected into their skin, but there's less evidence that it will be as effective in topical products like the Crepe Correcting Body Complex.
Even when accounting for these ingredients, there's not much in this product that is unique compared to other skincare products, or that has proven benefits for filling in wrinkles to eliminate a crepey appearance.
While they can work to make your skin more healthy, they won't necessarily undo some of the existing damage.
Pricing and Money-Back Guarantee
Crepe Correcting Body Complex is priced as follows:
1 Jar (4-oz): $100
2 Jars: $175.98 ($87.99 per jar)
3 Jars: $239.97 ($79.99 per jar)
Like all Beverly Hills MD products, Crepe Correcting Body Complex comes with a 60-day money-back guarantee policy, minus any shipping costs.
In order to request a refund, you'll need to call customer service at 877-828-5528.
Analysis of Customer Reviews
More than 250 customers have weighed on the Crepe Corrector, and together their reviews average 4.6 stars. More than 90% of users say they would recommend this product to others; here's what they had to say.
Common Compliments:
Works great for boosting skin hydration and removing wrinkles
Users experienced long-term results
Helps many users look younger than their actual age
Leaves skin very soft
Common Complaints:
Not all users experienced results, even after using multiple jars
Too drying for some
Each jar will only last a few weeks with regular use
Overall the majority of customer reviews seem to come from people who believed that this product worked as described to nourish and restore their skin to remove a crepey appearance.
Though some found that the product was too expensive for how much they had to use at a time, most people seemed satisfied enough with their purchase to reorder.
Popular Alternatives
Those who like to shop around can consider numerous options besides the Crepe Correcting Body Complex for targeting their loose skin. Two popular options include InvisiCrepe and Crepe Erase; how do they compare?
InvisiCrepe contains many of the same ingredients as the Body Complex, and it costs $60 for a four-ounce jar. It's designed to be used daily to keep your skin hydrated and to eliminate the signs of fine lines and wrinkles.
Reviewers are fans of InvisiCrepe, as this product has earned 4.4 stars after more than 150 reviews. 95% of all users share they would recommend it to a friend.
Crepe Erase is also an anti-aging skincare system. The company offers an extensive product line, but a ten-ounce container of Advanced Body Repair Treatment will cost $79, which is less than half the price per ounce of the other two.
You can apply it similarly to the other two brands. Though it's usually sold through subscription on the company website, you can purchase it from other retailers (like Amazon) to avoid it.
However, it is rated at just two stars after 150 customer reviews. Common complaints include that the product doesn't work and leaves their skin the same and slightly moisturized.
Based on this customer feedback, we suggest you consider either the Crepe Correcting Body Complex or InvisiCrepe if you're looking for a luxury product to rehydrate your skin. Both have earned stellar reviews and won't lock you into an auto-ship program.
The Bottom Line
Overall, the Crepe Correcting Body Complex is a well-reviewed skincare product from a reputable company. There's substantial clinical evidence that its ingredients will work to moisturize your skin and keep it looking it's best.
Saying that, you need to keep your expectations realistic when you use it. This product isn't a substitute for plastic surgery, and it won't make you look like a 20-year-old if you're in your sixties.
Extra hydration can go a long way towards restoring your skin, so we recommend this product if your face, arm, and chest need some extra care and attention.
» See Also: Can Creams Really Help Crepey Skin?
---
This company is actively collecting reviews from its customers. All reviews submitted are subject to moderation and approval to ensure they meet our

Review Guidelines

.

Does Everything A Lifting, Firming And Anti Aging Cream Should Do and MORE!

By Elizabeth

,

Woodland Hills, CA

,

Nov 13, 2015

Overall Experience:

I started to use this product hoping to see some lessening of lines and a bit of firming to my eyes and jowl area. I was astonished at how this product surpassed my expectation within just a few weeks of daily use. Immediately it hydrated and plumped my skin but it also brightened and toned. By the 3rd week, people I work with were asking me if I had "something" done because I looked fresher and more glowing. I noticed that the lines around my eyes lessened but the also the eye area was much more firm and lifted. As were my jowls & neck.

I love this product. It does everything you need in an anti-aging/lifting cream and more. I now have my 75 year old Mom using it and she LOVES it too.

Bottom Line: Yes, I would recommend this to a friend

Nov 24, 2015

Hello! My name is Samantha from Beverly Hills MD and I wanted to thank you for not only being a loyal customer but also for recommending your mom to us. I am thrilled that the Crepe Correcting Creme surpassed your expectations and offered such speedy results. We truly value your opinion here and would love to hear from you if you have any questions or concerns about our products. Please feel free to email me at samantha@beverlyhills-md.com anytime.

---

Awesome Body Correcting Crepe Creme

By Mara Jones

,

Los Angeles, CA

,

Nov 14, 2015
Verified Reviewer

Overall Experience:

I absolutely this Creme lotion! I saw this email online thought I would try it on my skin to see if it would help with the crepe looking lines. I have been using it for eight weeks and I can truly say my skin it so soft smooth and almost crepe free. Every morning after I take my shower I would put it on like a lotion covering legs arms, all over front and back. You can just feel the warmth and how smooth it goes on. I might also say it helped with shaving, yes ladies, I have not had to shave my legs as often. Something is in there while keeping the skin smooth and the crepe lines away. It also kept the hair from growing fast.

Let me tell you, I am one to always say that stuff like this is not going to work. I also like to try things to see if they will work. So when it comes to beauty, I have gotten a little older and need a little more help without shots (don't like needles) so I will try some things if I can return them and I will review it honestly.

Ladies, this is a must have for the skin on your legs, arms, and even a little chest. You will love it and you are never too young to start using it. So young ladies, if you start to see a fewer crepe lines on those legs, look for this website and order this. You will be happy you did. It's an awesome product and smells great too. I love it!

Bottom Line: Yes, I would recommend this to a friend

---

Advertisement

---

Fantastic Product!

By Karen Muller

,

Santa Monica, CA

,

Nov 15, 2015

Overall Experience:

Crepe Correcting Body Complex is an all around terrific product. Applying it is a joy. No greasiness. Just a light cream that goes on easily. My skin soaked it up immediately and radiated a healthy look. In addition, after using it daily my skin was softer and the dry skin and lines faded. Everything looked dewy and younger. I love this product and highly recommend it. It works.

Bottom Line: Yes, I would recommend this to a friend

Nov 24, 2015

Hey Karen! This is Samantha with Beverly Hills MD. I am so happy to hear that this product worked for you! It seems like it truly helped you battle through the dry California heat and rejuvenate your skin. If you have any further questions or comments about any of our products, feel free to email me at samantha@beverlyhills-md.com

---

Smooth & Soft

By Connie Thompson

,

Gooding, ID

,

Nov 28, 2015

Overall Experience:

I can't say enough positive about the Crepe Correcting Body Complex Cream. I love it and it makes my skin feel wonderful. Living in a dry climate with the winter months can take its toll on your skin. This cream has been so wonderful preventing me from having to deal with dry scaly, flaky skin anywhere on my body. It is especially nice to apply following a shower or bath. This cream will probably eliminate my need to see my dermatologist. I am a 70 year old female and "dry" seems to be a descriptive adjective for me. Crepe Correcting Body Complex has been a blessing.

Bottom Line: Yes, I would recommend this to a friend

Nov 30, 2015

Hey Connie! This is Samantha from Beverly Hills MD. I wanted to thank you for your 5 Star review of the Crepe Correcting Body Complex Cream. Here in California, we have to deal with a constant dry climate as well. I know just how much of a relief it must be for you to have finally found something to help your dry skin. If you ever have any questions about our products, please feel free to email me at samantha@beverlyhills-md.com. Thank you!

---

Advertisement

---

Crepe Correcting Cream

By Jennifer

,

Amelia Island, FL

,

Feb 10, 2016

Overall Experience:

This really works and I have recommended it to others. Once you use it you are hooked. I always order 3 jars at a time because they do run out of this product due to its success rate. I use most of their products and love them all except for the eye cream. They need to change the packaging on the roll on eye cream as the little rollers fall out easily.

Bottom Line: Yes, I would recommend this to a friend

---

Skin feels GREAT!

By Ellen fernandez

,

Byron, Illinois

,

Feb 13, 2016

Overall Experience:

I just love the way this cream makes my dry, itchy skin feel smooth, soft and moisturized! I only wish the container was double in size for the price.

Bottom Line: Yes, I would recommend this to a friend

---

Crepe Correcting Body Complex

Overall Experience:

I started using your Crepe Correcting Body Complex product on January 13, 2016 and the results in the first 2 weeks were amazing. And, now a little over 26 days, the results are still amazing. I use your product daily on my elbows, knees, hands, chest and neck area. My family and friends asked me, what am I doing? I then share your product and now they will too be using it as well. It's a great product and one that I will highly recommend to my family and friends.

Bottom Line: Yes, I would recommend this to a friend

---

Creme for crepey skin.

By Corky Aloi

,

Pittsford, NY

,

Feb 15, 2016

Overall Experience:

I do see an amazing difference. Just wish it was a short sleeve weather here right now. I am also using in the knee area. I look forward to trying some of your other products.

Bottom Line: Yes, I would recommend this to a friend

---

Best results I've ever seen

By B

,

Palm Springs, CA

,

Feb 15, 2016

Overall Experience:

I just said to my husband the other day "Look, this product is really working, look how much smoother my neck looks." And I still have tons of product left. For once, something really does do what it says it does.

Bottom Line: Yes, I would recommend this to a friend

---

Best Yet

By Jane

,

Baltimore, MD

,

Feb 13, 2016

Overall Experience:

I have tried other creams, lotions, etc to correct my crepe-like 73 year old skin, and this really does the job. I use it morning and night, and see improvement right away. It's great on the neck and jaw line, as well as arms and legs. You have to try it to believe it!

Bottom Line: Yes, I would recommend this to a friend

---

Fantastic

By Janet Rochon

,

Prescott, AZ

,

Feb 15, 2016

Overall Experience:

I am 72 years old. My husband passed away so I am all alone now. I want to keep the lines on my face away. I have noticed that they are getting away now after using the face creams.

Bottom Line: Yes, I would recommend this to a friend

---