Blink Fitness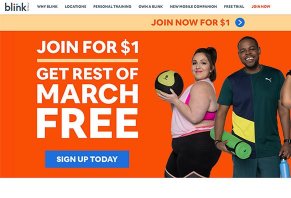 Blink Fitness is a gym chain with over 80 locations across the United States that promises to make exercise fun and affordable for tiers of members.
Blink Fitness Reviews: Is This Gym Worth It?
Blink Fitness brands itself as a budget-friendly fitness chain that offers members a quality workout experience without breaking the bank.
The gym's branding is based around bright colors and a clean interior that's meant to keep exercisers in a positive mood so that working out is a pleasant experience.
According to the company website, Blink Fitness sets itself apart from other gyms in five key ways:
The gym is run by enthusiastic and respectful staff members.
Each gym includes plenty of brightly lit, open spaces.
The bold and bright gym colors are scientifically proven to uplift your mood and possibly improve your performance.
All staff members are responsible for keeping the locker rooms and gym space clean.
Blue and green-tier members receive access to a personalized mobile companion app that filters through fitness content to give you access to what is relevant to you.
Are these perks worth considering Blink Fitness, or are there better gyms to consider? We'll dig into the facts below to help you make a choice.
How Does Blink Fitness Work?
As mentioned, Blink Fitness brands itself as a cost-effective option for getting a quality workout. There were more than 80 gym locations across the United States at the time of writing, the majority of which are located in the NYC area and California. However, the chain is opening new locations every few weeks and is expanding throughout the Midwest as well.
Each Blink Fitness facility is set up slightly differently, but they all have the following features in common:
Free Wi-Fi throughout the gym, convenient stash-and-dash lockers, Blink fitness merchandise for sale.
More than 80 pieces of cardio equipment, including stair climbers, ellipticals, treadmills, and spin bikes.
Multi-use stretch area with premium training equipment like resistance bands, kettle balls, and foam rollers.
Functional workout space with HIIT and bodyweight circuit training equipment.
Spacious locker rooms with showers (some locations include towel service).
Again, while the details can vary based on location, the standard operating hours for Blink Fitness gyms are 5 a.m.–11 p.m. Monday through Thursday, 5 a.m.–10 p.m. on Friday, and 7 a.m.–7 p.m. Saturday and Sunday.
What Does Blink Fitness Cost?
As with many gyms, Blink Fitness offers a tiered membership program with Gray, Green, and Blue membership options. We highlighted the differences in this table.
| | | | |
| --- | --- | --- | --- |
| | Gray | Blue | Green |
| Monthly Cost | $15 | $22 | $26 |
| Gym Access | 1 location | 60+ locations (excludes Manhattan) | 80+ locations (includes Manhattan) |
| App Access | No | Yes | Yes |
| Unlimited Guest Access* | No | Yes | Yes |
| Length of Commitment | No commitment | 1-year minimum | 1-year minimum |
| Complimentary Personal Training Session at Sign Up | Yes | Yes | Yes |
*The "unlimited guest access" offered with blue and green level memberships means that you can bring one guest (ages 18 or older) with you every time you work out, so long as they present a valid form of ID.
Regarding payment, the company states that you will be charged on the first day of each month. The gym also charges a $49.99 annual maintenance fee, which is collected on the third day of the third month after you enroll.
The company lets you cancel your grey membership with a 45-day notice. This means that you will need to cancel before your 48th day to avoid paying the annual maintenance fee. Customer reviews for Blink Fitness show that a lot of people aren't aware of this policy, so we think it's important to factor in your decision process.
The Blue and Green membership tiers are automatically a one-year commitment. If you choose to opt out earlier, you may need to pay a buyout fee.
According to the company, the amount and number of days notice necessary will vary based on location, but the typical buyout fee is between $50-$60. After a twelve-month membership, the company will waive the fee.
To officially cancel your membership, you will need to talk with a gym employee or send a certified letter to headquarters at:
Blink Member Services
386 Park Ave South 11th Floor
New York, NY 10016.
It's not possible to cancel your membership via phone or email and you aren't able to freeze your membership.
About the Blink Fitness Referral Program
Blink Fitness offers a referral program for members as an incentive to get up to 25 of their friends to join the gym.
If the people you refer join the gym within 60 days and remain members for at least 62 days, you will receive a Blink Reward credit that can be applied towards your membership fees or used to redeem cash, merchandise, or personal training services.
Blink Fitness App and Personal Training
Besides their gym, Blink Fitness has two other selling points to get members interested: their mobile app and opportunities for personal training sessions. We'll look closer at what these services include below.
About the Blink Fitness Mobile App
Blue and Green subscribers to Blink Fitness gain access to their exclusive app (Gray members receive unlimited access only for the first 14 days of membership). This "mobile companion" is designed to deliver daily, personalized content to guide you in regards to food, fitness, and general well-being.
To use the app, you'll need to answer basic questions about your goals and lifestyle so that it can curate the articles and content that most fit your needs. As you interact with the app, you give it insight into what most interests you, so it continuously refines what it shares with you.
The app also provides location and service details for each Blink Fitness location, self-guided workout suggestions, and a scannable barcode for easy entry at the gyms.
Customer reviews of the app on the Google Play store show that many people find it buggy. Many people commented that they couldn't open it or that it crashed intermittently. However, those who got it to work reported that they found it beneficial for their workout experience.
Personal Training
All Blink Fitness members receive one complimentary personal training session at the gym, with the option to purchase more on a monthly or session-by-session basis.
You'll pay $30 per 30- to 60-minute session if you sign up for a monthly plan for four, eight, or 12per month, and $42 if you buy one session at a time. Any unused training sessions roll over to the next month, and you still have access to them if you cancel your personal training monthly plan.
What are Popular Blink Fitness Alternatives?
Depending on where you live, there are likely plenty of local options for an affordable gym membership. How should you choose the best option for you?
We've written a comprehensive overview of five popular gyms and the differences between them, and we'll recap the key details of three popular alternatives: Planet Fitness, LA Fitness, and 24 Hour Fitness.
Planet Fitness got its start more than two decades ago, and there are over 1,000 locations across the United States.
Most sites are open 24 hours a day, and the gym offers two tiers of membership ($10 per month and $21.99 per month), including $39 in annual fees. Like with Blink Fitness, the higher membership pricing gives you unlimited guest privileges and access to all PF locations.
This bare-bones pricing means you get stripped down amenities, as Planet Fitness doesn't offer personal training or luxuries like pools or group classes.
Despite the name, you can find LA Fitness gyms across the United States. You'll pay a base rate of $24.99–$29.99 per month (depending on location) with a $99 initiation fee. The gym provides standard equipment like cardio machines and free weights. Some centers also include perks like heated pools and saunas, racquetball and basketball courts, on-site childcare, and juice bars.
For those who crave maximum flexibility for their workouts, 24 Hour Fitness provides a solution. This gym has over 400 locations in the US, and they offer a tiered membership program with pricing that depends on whether you want to prepay, sign up with a contract, or go month to month.
Expect to pay between $29.99-$34.99 per month, including a $61.91-$82.23 initiation fee. If you're willing to spend between $10-$15 more per month, you will gain access to all 24 Hour Fitness locations.
Membership with 24 Hour Fitness includes access to childcare and group fitness classes, and most locations have a pool and sauna.
Which of these gym options is best for you? Obviously, a large part of your decision comes down to which options are near you. But in case you have several to choose from, looking at customer reviews of Blink Fitness can be helpful.
What Do Customer Reviews of Blink Fitness Show?
As we've reported before in our article about choosing the best gym membership plan for you, many fitness centers tend to have negative reviews online.
This is because gyms are notorious for their tricky cancellation policies, which means that many members end up paying more than expected to end their membership. Blink Fitness is no exception, as the majority of negative reviews we saw on Yelp and Influenster were related to the gym's cancelation policy.
Saying that, the gym still scored four stars out of five on Influenster. Many reviewers commented that the membership pricing was reasonable and that the facilities were always clean and comfortable.
A few people reported that the gyms were overcrowded to the point that they had to wait around to access equipment, but the brand won praise for their generous guest access policy.
Some Blink Fitness members commented that the personal training sessions left something to be desired, as the trainers didn't always seem to be exercise experts. A few people also found the gym's hours limiting compared to the competition like 24 Hour fitness. Even so, most reviewers concluded that Blink Fitness was one of the best value gym options in their community.
Our View: Should You Try Blink Fitness?
As we reported in our guide to gym memberships, more than 50 million people belong to a gym in the United States today. There's a lot of competition for customers within the industry, which is why so many gym chains are doing whatever it takes to get new people in the door, including offering rock-bottom prices.
It's hard to find a full-service gym membership for less than the monthly cost of Blink Fitness or Planet Fitness, though you'll sacrifice a few features with either of these services because neither location offers group classes or pools.
Because Blink Fitness is priced lower than most of their competition, there's a good chance that any location you visit will be crowded. However, the gym wins points with us for their commitment to cleanliness, as this is a feature that reviewers frequently reported that they loved.
We think that Blink Fitness makes the most sense for those in California or New York City, as that's where most of the gyms were at the time of writing. Living close to multiple locations gives you options in case one tends to be busier than others or has equipment you're most interested in.
If you're looking for other low budget ways to stay fit, it might make sense to skip the gym membership entirely and work out with a subscription service at home. We've written reviews of Peloton Digital, obe Fitness, TB12, and BodyBoss, so consider these options if you're looking for a home workout alternative to the gym.