BodyBoss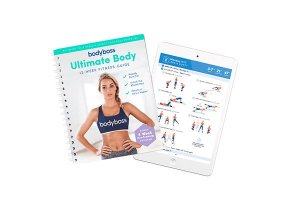 BodyBoss is a brand of multi-week fitness and nutrition programs designed to help you get in better shape without having to go to the gym or invest in expensive equipment.
BodyBoss Review: Is It Worth It?
What Is BodyBoss?
BodyBoss is a brand of fitness programs designed to help you fit exercise into a busy life.
Marketed to the modern woman, the company offers a variety of fitness programs and nutrition guides designed to help you get healthier without spending hours at the gym.
You can purchase the BodyBoss program as either digital downloads or paperback workbooks that provide structured guides for explosive workout routines, toning exercise, and nutrition advice.
Should you commit to the BodyBoss program? Let's look at the specifics.
What Programs Are Available from BodyBoss?
At the time of writing, BodyBoss offered the following workout guides.
Ultimate Body Fitness Guide: As BodyBoss's original program, this 12-week HIIT program strives to get you in shape with 24-minute exercise classes three times a week.

Fit Challenge: This 30-day Challenge is led by Kim Lyons, a celebrity trainer and nutritionist. You'll receive 20 unique workouts that take 20-30 minutes each and require minimal equipment.

Tone Guide: This six-week program includes two gym sessions and three at home workouts each week that are designed to help you tone and sculpt your muscles.

Superfood Nutrition Guide: You'll receive a 12-week eating plan with a bonus smoothie guide to help you follow a healthier diet.
BodyBoss's original program, the Ultimate Body Fitness Guide, relies on HIIT (high intensity interval training) to help you get in shape without a major time commitment. Are these benefits realistic? Let's look at the science behind interval training to find out.
What's Involved in a BodyBoss Workout?
The BodyBoss Ultimate Body Fitness Guide includes a blend of 60 exercises and 12 stretches that are combined into a 12-week training circuit, as well as a four-week 'pre-training' plan.
Altogether, the exercises are designed to improve your fitness, accelerate fat loss, and tone your body.
When followed as written, BodyBoss has you complete a high-intensity workout every weekday. Monday focuses primarily on the legs and butt, and Wednesday works the arms, abs, and core.
Tuesday workouts focus on active recovery and Thursdays make cardio a priority. Friday workouts are just six minutes long but are intense bursts of cardio designed to work every muscle.
Weekend rest days are equally important in the BodyBoss routine, as they provide the time for your body to repair itself and build up muscle mass.
In general, the program's exercises fall under the following categories:
Bodyweight Resistance Exercises
By using the weight of your body instead of gym equipment, these exercises are designed to improve strength, balance, and flexibility.
Plyometric Exercises (Jump Training)
These explosive exercises help your body build strength, speed, and coordination by undergoing bursts of movement to tone and strengthen your muscles.
Cardio
By getting your heart racing, these action-filled exercises push oxygenated blood throughout your body to improve fitness and stamina.
Unilateral Exercises
As exercises that work one side of the body at a time, these help you improve balance and strengthen the weaker side of your body.
These workouts are designed to gradually increase in intensity as you go through the program so that your body keeps improving.
You'll also receive a workout booklet (either print or digital) that includes Body Goals worksheets to help you track your progress, as well as bonus tips for physical transformation and detailed instructions for every post-workout stretch.
BodyBoss's other programs are structured similarly, though they vary in program length, exercise intensity, and overall fitness goals.
Is There Clinical Evidence That BodyBoss Works?
We contacted BodyBoss directly to learn whether there is any clinical evidence that supports the program but weren't shown anything concrete.
The brand's social media pages showcase quotes fitness coaches and personal trainers that endorse the program, as well as before and after pictures submitted by past customers.
BodyBoss includes the disclaimer on their site that results can vary depending on differences between individual bodies, but that users should feel 'stronger, leaner, and more toned' after completing the original 12-week program.
According to our research on the BodyBoss website, as well as a series of articles on the Huffington Post and PrecisionNutrition, HIIT is an explosive workout technique built on brief, intense exercises designed to push your body to maximum effort quickly.
When combined with intentional periods of recovery, HIIT training aims to trigger fat loss and help your body burn calories faster than traditional workouts. How?
When you work out at high intensity, you deplete your body's oxygen levels. It takes a long time to make up this deficit, so your body will continue pulling in more oxygen during the recovery period by raising your metabolism and consequently burning more calories.
In this way, HIIT workouts can increase muscle endurance faster than traditional exercise, and they tend to provide the biggest benefits for less fit people.
This leads to a phenomenon called Excess Post-Exercise Oxygen Consumption (EPOC), which BodyBoss terms the #BossEffect.
Despite their calorie-burning power, in general, HIIT workouts don't require specialized fitness equipment and instead use bodyweight in positions like pushups and planks. This simplicity makes the workouts possible without a gym.
A study on ScienceNews found that a single HIIT workout caused leg cells in un-athletic guys to leak calcium. These stressed cells responded to the damage by building up their endurance, which led to better athletic fitness.
In contrast, the study's endurance athletes experienced far less progress after one workout.
This evidence indicates that interval training has the potential to get you in shape fast, but does BodyBoss provide a high-quality HIIT workout? Next, we'll look at the specifics of the original BodyBoss program.
What Does BodyBoss Cost?
The cost of BodyBoss depends on which program and format you purchase. Below is the pricing on the website at the time of writing.
Tone Guide:
Online only: $44.90
Print edition (online included): $45.90
Ultimate Body Fitness Guide:
Online only: $24.75
Print edition: $65.90
Online + print: $49.90
Fit Challenge:
Superfood Nutrition Guide:
Online only: $19.95
Print edition: $59.90
Online + print: $47.90
You can also purchase BodyBoss programs in bundles, including Fitness & Tone ($59.90) Tone & Nutrition ($57.90) and Fitness & Nutrition $44.70.
If you aren't happy with your BodyBoss purchase, the company has a 30-day refund policy, though people who bought the print version will need to pay shipping costs to return it.
Do Users Like BodyBoss? A Look at the Reviews
There are plenty of online reviews and blog posts that rave about the original BodyBoss program. After over 180 reviews on Amazon, the program averages 4.4 stars out of five.
A blogger at Wide Open Eats mentioned in her review that she began to feel progress even during the four-week pre-training, and dropped a minute and a half off her fitness test in just a month.
She found the program easy to follow, though noted that completing the workouts in just 24 minutes was unrealistic because it didn't account for the time for warming up and cooling down.
In another review, Women's Running's Ashley Lauretta appreciated the flexibility of a five-day exercise routine, because it allowed her to shift the workouts around when necessary.
However, in the first few weeks, she noted feeling stressed about completing the required reps for each set in the time allowed, though she reported that the workout pace got easier with time.
In the same way, the Get Fit Jo blog noted that BodyBoss was ideal for all fitness levels because the included glossary explained every exercise and offered modifications to make them more or less challenging.
She also appreciated that the workouts included stretching time, which made it easier to prioritize.
How Does BodyBoss Compare to Similar Workouts?
Home-based HIIT training workouts are nothing new, and we chose two popular workouts to compare their benefits with BodyBoss: 80 Day Obsession and the book High-Intensity Interval Training for Women by Sean Bartram.
Led by fitness and nutrition expert Autumn Calabrese, 80 Day Obsession is a workout program from Beachbody that promises to help you transform your entire body through targeted workouts and a strict nutrition program.
This workout series is split into three phases and is best for intermediate exercisers. The workouts are between 30-60 minutes, which makes them more of a time commitment than BodyBoss workouts.
Regarding equipment, you'll need to have a variety of hand weights available to complete the workouts.
In contrast, High-Intensity Interval Training for Women: Burn More Fat in Less Time with HIIT Workouts You Can Do Anywhere is a book that provides a step-by-step, visual guide to HIIT exercises and workouts to help you set up a routine that meets your fitness goals.
The book contains 80 exercises (BodyBoss's original program has 60) that can be performed anywhere, without special equipment. It costs $15 for a paperback and averages 4.5 stars after 120 reviews on Amazon.
Choosing the right home-based HIIT training program for you depends on accurately assessing your needs. If you prefer the structure and guidance of working at the same pace as an instructor, it might be best to work out with a video.
However, if you prefer the flexibility to go at your own pace and to modify the workout when necessary, following a workbook-based program might be better.
Regardless of the HIIT program you select, it's recommended that you choose the proper work and rest times, don't overexert yourself (which could lead to injury), and keep plenty of water nearby.
If you have doubts about your fitness levels or physical ability to complete HIIT workouts, it's probably better to start under the guidance of an instructor to learn proper form and prevent injury.
For more information about instructor-led interval workouts, check out this article we previously wrote about CrossFit.
The Bottom Line: Who Is BodyBoss Best For?
BodyBoss is specifically marketed towards modern women that want to get fit, without spending all their free time at the gym.
We found that blogger reviews of the workout routine were mostly positive, meaning that it seems to work well for this demographic.
However, the program hasn't undergone any clinical studies or rigorous testing, which leads us to question how well it can deliver its promised results of a 'stronger, leaner, and more toned' body after 12 weeks to every individual who tries it.
That being said, if you're looking for a convenient fitness routine, pre-planned workouts, and an included motivational workbook, BodyBoss may have what you're looking for.
Like all workout guides, you will get out of this program what you put into it. If you are willing to put in the effort on the exercises, you're likely to start seeing improvements in your muscle tone, stamina, and fitness level after a few weeks.
Great!

By Malin B.

,

Stockholm, Sweden

,

Mar 18, 2019
Verified Reviewer

I bought the 12-week program and followed it with a lot of discipline. Then I got the tone guide, finished that and signed up for the tone platform.

One thing that struck me in the tone guide is the man that suddenly showed up, "mansplaining" how to do the exercise. I think it's sad that a dude suddenly shows up "mansplaining" how it's done. There are no other men in the fitness guide, why couldn't the coach also be female?

Bottom Line: Yes, I would recommend this to a friend

---

Overall great!

By Kyla M.

,

Hawaii

,

Mar 16, 2019
Verified Reviewer

I had seen this workout program for at least a year before I finally committed to buying it. I thought why not try it. Honestly, I loved it. I didn't get to finish the whole 12 weeks (ended up getting really sick), but even though I couldn't get the workouts to the 7-minute circuit like it said, I still saw results. I didn't see them physically, but I could do more without getting tired. I still pick some exercises from it to do when I get to work out. But I am planning on trying the 12 weeks again. I love how good I felt while doing and after the exercises. Thank you for a great product for a busy mom with two jobs.

Bottom Line: Yes, I would recommend this to a friend

---

Great program

By Casey B.

,

New York

,

Mar 15, 2019
Verified Reviewer

I started BodyBoss as a way to get fit for before my wedding and I definitely saw results! I lost about 5 lbs with the 12-week program and gained muscle and tone. Of course, it also depends on your diet, but I was eating pretty normal, just cut back on junk food and I still saw results! The exercises were pretty much different every day which I liked, and I still use them even after I completed it! Would definitely recommend

Bottom Line: Yes, I would recommend this to a friend

---

It makes working out fun!

By Megan C.

,

Superior, CO

,

Mar 13, 2019
Verified Reviewer

My name is Megan Coons. I am in the Airforce and I got stationed on Buckly AFB, CO. The altitude here is a killer and it was taking me forever to adjust. I saw this program online and loved how it seemed to be a short and to the point program. I have a busy life, as I'm sure most of you do! What I complete the first week, it made me excited for the next week. Knowing I had an end date (12 weeks) made it a fun challenge. As the weeks went on, I noticed changes in my body and my breathing at the altitude! I tell everyone about this program. Low and behold, it didn't just stop at 12 weeks. I ordered the pre-ordered the toned body boss plan as well. I bought the nutrition book and tried great new recipes and it helped keep me on track. I am about to deploy and this program is something I can take with me overseas and even do on the flightline at work. Thank you BodyBoss!

Bottom Line: Yes, I would recommend this to a friend

---

Advertisement

---