Gundry MD Total Restore
This company has claimed this profile, is getting alerted on any new customer reviews entering this page, and may engage in dialogue with its customers to address their matters.

Companies cannot pay money or provide goods in order to remove or alter customer reviews.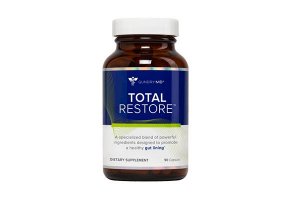 Summary
Total Restore from Gundry MD is a dietary supplement that is designed to fight leaky gut with a blend of natural ingredients. This supplement is pricey and scientific support for the primary proposed action is lacking, so you may not get what you bargain for.
Pros
Favorable return policy
Natural blend with some support for various benefits
Cons
Research supporting the ability to improve leaky gut is lacking
Extremely expensive
Gundry MD Total Restore Review - Does It Work As Advertised?
What is Total Restore?
Total Restore from Gundry MD is a supplement that will allegedly help you fight leaky gut through a blend of natural ingredients.
The term "leaky gut" refers to a process in which the lining of your digestive tract is more absorbent than it should be. This increases the risk of harmful toxins to seep out of your intestines and into areas of your body where they may cause harm.
According to Gundry MD, this can result in signs and symptoms like bloating, digestive irregularity, gas, fatigue, excess body weight, and even food cravings.
There are a number of causes for these symptoms, and just as many potential remedies. Total Restore from Gundry MD allegedly offers a natural option. In fact, according to the product page, you can expect the following by taking 3 capsules daily with the largest meal of your day:
Better digestion
Improved gas, constipation, and irregularity
Less bloating and a flatter stomach
Reduced cravings
A healthier body weight
More mobility and decreased joint pain and stiffness
Increased energy
Improved mood
As you may notice, many of these claims are seemingly unrelated to digestive health. While these benefits are obviously desirable, it seems like this is a lot to accomplish for a single dietary supplement.
In this article, we'll help you sort through these claims and evaluate their merit by reviewing the available research for Total Restore's key ingredients.
Total Restore Ingredients: Does Science Back Them Up?
Total Restore from Gundry MD is a dietary supplement that is designed to fight leaky gut through a blend of natural ingredients.
While increased permeability of the intestinal lining may allow harmful toxins into areas of the body they shouldn't be, the link to this process and chronic disease outside of the gastrointestinal tract is uncertain. Therefore, leaky gut is not a widely accepted medical diagnosis.
Currently, there does not seem to be any interventions that are effective in improving the function of this barrier or altering the course of any associated diseases.
Nonetheless, Total Restore may be able to address other issues.
Each 3-capsule serving contains the following ingredients:
L-Glutamine - 213mg
N-Acetyl- D-Glucosamine (NAG) - 142mg
Magnesium Beta-Hydroxybutyrate (MBH)- 86mg
Grape Seed Extract - 58mg
Licorice Roots Powder - 54mg
Wormwood Powder - 50mg
Cinnamon Bark Powder - 50mg
Maitake Mushroom Extract - 34mg
Organic Strawberry, Organic Raspberry, Organic Blueberry, Organic Tart Cherry, Organic Elderberry, and Organic Cranberry - 22mg total
Cloves Buds Powder - 17mg
Black Pepper Seeds Power - 17mg
Grapefruit Seeds Extract - 17mg
Marshmallow Roots Powder - 10mg
Zinc L-Carnosine - 10mg
Berberine Bark Powder - 3mg
We'll highlight the available research for some of the key ingredients here.
L-Glutamine
Glutamine is an amino acid. It's commonly included in dietary supplements that claim to boost immune function, support digestive health, and support brain function.
It may be included in Total Restore for its suspected ability to enhance mental function, though 2,000mg doses negatively affected the ability of individuals to complete reaction time tasks. Even at large doses, this ingredient does not seem to be effective for these purposes.
NAG
NAG is derived from shellfish and is proposed to protect your digestive tract from the harmful effects of gluten.
In a laboratory model, NAG was effective in limiting the harmful effects of rye, barley, and oat glutens in small intestinal cells obtained from 26 children with gluten intolerance.
Data supporting the use of NAG is lacking outside of this study is lacking, however.
MBH
Beta-hydroxybutyrate is an exogenous ketone, one that is created outside your body. Like other Gundry MD products, it is probably included in Total Restore as ketones may be used as a source of energy.
However, your body preferentially burns carbohydrates for energy - if you follow a regular diet, fats will not be used for this purpose. Therefore, the suspected ability to boost energy and promote brain function is only possible when carbs are not present.
Zinc
Zinc is an essential mineral that has a role in many biochemical reactions. Thus, a deficiency can lead to a variety of unwanted effects.
Zinc is included in Total Restore for its suspected role in promoting weight loss, energy, and mental function.
Low zinc levels were associated with obesity, elevated BMI, and larger waist circumference in premenopausal women.
In a randomized study, 30mg of zinc daily over 4-weeks reduced the BMI and body weight of obese individuals.
Lastly, in individuals 70-years or older, 150gm of zinc protected against cognitive decline when compared to placebo.
Cinnamon Bark
This spice is often included in dietary supplements for its suspected ability to offer antioxidant, anti-inflammatory, and disease-fighting benefits.
While a review of 10 trials found 120mg/d - 6 g doses to effectively reduce fasting blood sugar over 4 to 18-weeks, digestion related benefits were not well supported.
Berberine
Berberine is a plant-based ammonium salt that may possess anti-inflammatory, neuroprotective, and diabetes-fighting properties.
In a randomized trial, individuals with metabolic syndrome that took 500mg three times daily over 3-months had remission of the syndrome, better insulin sensitivity, and improved waist circumference.
Black Pepper
Black pepper may offer antioxidant, anti-inflammatory, and disease-fighting capabilities.
In Total Restore, black pepper may function as a prebiotic to help boost your friendly gut bacteria. In overweight subjects, 6mg of black pepper was also effective in decreasing BMI and body fat.
Is Total Restore Safe?
As many of the ingredients found in Total Restore are obtained naturally from a balanced diet, they are generally safe to consume in the quantities offered in this supplement.
Your biggest risk for harm may come from delaying appropriate medical attention for the symptoms you're experiencing. Using a dietary supplement that doesn't address the underlying cause can allow them to persist or even worsen.
Additionally, you should avoid Total Restore if you have an allergy as NAG is obtained from shellfish.
For these reasons, It is best to speak with your physician before trying to treat symptoms. The first step should always be to determine the underlying source. You can then work together to determine the safest plan of care.
Total Restore Cost
You can purchase Total Restore directly from Gundry MD's website. There are a few pricing options, and all orders over $60 ship free.
For non-members, Total Restor pricing is as follows:
$69.95 for one bottle
$191.85 for three bottles
$317.70 for six bottles
Also, you have the option to join the VIP program. This subscription plan includes automatic monthly shipments, as well as more savings and free shipping. You can cancel shipments at any time, and VIP pricing is as follows:
$44.95 per month for one bottle
$121.95 per month for three bottles
$229.95 per month for six bottles
Gundry MD backs your purchases with a 90-day money-back guarantee. If you aren't happy with Toral Restore, you can contact customer support at (800) 852-0477 to start the refund process.
What Are the Alternatives to Total Restore?
While Total Restore's blend of ingredients is challenging to find offered in a single supplement, other supplements claim to address leaky gut.
Also from Gundry MD, Lectin Shield is a good example. It allegedly offers benefits that are identical to those that Total Restore is proposed to address, though the mechanism of action and ingredients list for these 2 supplements differ substantially.
Lectin Shield is purported to act by limiting the actions of lectin, a protein found in both animals and plants that may play a role in various digestive issues and chronic medical conditions. It offers twice as much NAD in addition to a number of other extracts.
Considering the cost of Total Restore, you'd save money with Lectin Shield; 1 and 6-bottle orders are $50 and $240, respectively.
Though the risk for harm is low, Lectin Shield is still quite pricey. Also, the research supporting the actions of the ingredients is limited, and the company claims it can address an issue that is not currently supported as a medical diagnosis.
Despite a favorable return policy, you should save your money and seek the guidance of your doctor if you're experiencing digestive symptoms.
The Bottom Line
Total Restore's blend of natural ingredients has varying support for their proposed actions. However, scientific support backing the main benefit of this supplement, addressing leaky gut, is lacking.
Despite a favorable return policy, Total Restore is still one of the pricier dietary supplements that we've reviewed at HighYa.
Though the risk for serious side effects is likely low, given the pricing and lack of strong evidence, it is probably best that you seek relief elsewhere.
If you're experiencing digestive symptoms that are negatively impacting your quality of life, your first stop should be having a conversation with your doctor. While dietary supplements may be helpful, it is best to first understand the source of your symptoms.
Customer Reviews
This company is actively collecting reviews from its customers. All reviews submitted are subject to moderation and approval to ensure they meet our
Review Guidelines
.
Posted on Sep 19, 2018
Great product
I recently ordered two bottles of Total Restore, and I am very pleased with this product.
I am a healthy person and hope to stay that way. In recent months, I had not been exercising as much as usual and was feeling a bit sluggish. I feel more energetic since starting this supplement and have already managed to lose a few stubborn pounds I had put on over the last six months.
This is a great supplement, and I plan to continue using it.
Thank you for creating it!
Bottom Line: Yes, I would recommend this to a friend
Posted on Feb 13, 2018
I have faith in Dr. Steven Gundry, Plant Paradox seals the deal.
All is good. The immune system is the key to health beyond age 60 (that's me). The Plant Paradox argument is iron clad; it works but takes discipline. I have given the book to my health providers (a chiropractor and my general practitioner MD) and they are impressed. My good cholesterol number is climbing. Again, it takes discipline, but the alternative is degenerative health. Thank you Dr. Steven Gundry!
Bottom Line: Yes, I would recommend this to a friend
Posted on Feb 13, 2018
Great stuff, it works!
I suffered a stroke 6 months ago. I take some blood pressure medicine that caused constipation and low energy levels, so for about 4 months I was either constipated or had diarrhea. Until I started taking the Vital Reds, Prebiothrive, and enhanced circulation formula. I made tremendous progress after about two weeks, and after adding the Total Restore and Lectin Shield, I noticed even more improvement in my digestion and energy level. Now I am walking 5-6 miles a day.
After reading The Plant Paradox, changing my diet, and watching their YouTube videos, I lost 45 pounds, don't need any metformin for my type II diabetics, and yes, I did get a dog. I hope to reduce my blood pressure meds and lose another 15 pounds in the next 5-6 months and get off the blood pressure meds.
Thank you Dr. Gundry. You truly made a difference in my life.
Bottom Line: Yes, I would recommend this to a friend
Posted on Feb 15, 2018
So far, I sense that I'm on the right road
I'm 78, have severe COPD, painful peripheral neuropathy in both feet, lymphedema in both lower legs, and am morosely obese due to years of inactivity. I can't move without lung power. I started Total Restore a month ago. I haven't been on a scale, but my appetite has changed and I know that I've lost some significant weight; I can see it and feel it in my jowls and lower abdominal fat. What is best of all, my legs are not as blown uptight, angry and fevered red, and blistered with "lava." The legs seem to be relaxing and becoming more human again. I'm anxious to see where month two brings me. Thanks, Dr. Gundry.
Bottom Line: Yes, I would recommend this to a friend
Posted on Feb 19, 2018
Total Restore order
I have been taking the Total Restore for a couple of weeks now. I was having stomach pains and diarrhea every morning before taking these.
My gastrointestinal system is working very nicely now, and I am without pain.
Bottom Line: Yes, I would recommend this to a friend
Posted on Feb 19, 2018
Relief at last
I have been "shade tree mechanic" for my gut for decades. I first eliminated ice cream and lactose, pork, especially bacon, high fructose syrup, gluten, and cut back on hard to digest large portions.
However, the vicious circle of stress's impact on (in) digestion was still making life contingent on how gut was "today."
I had found a good combination of supplements which also helped inflammation for joint pain and my neck discs; however, there were still unexpected, "surprise" G.I. days where I had to spend a day on liquids and slowly load with light foods (eggs, gluten-free waffle).
In recent years, Mayo Clinic's list of foods to avoid with IBS also helped, but not the problem with feeling un-nourished, and wishing I could just take nourishment with an arm patch!
Since using Total Restore, I have remained "balanced" and have not had a down day for G.I. rehab (with its misery).
Bottom Line: Yes, I would recommend this to a friend
Posted on Feb 21, 2018
Healing for the gut lining!
I have taken different supplements over the years and seldom see any notable difference. So what a surprise when I took the Total Restore the first day and later that evening had a bowel movement with no gut pain afterward. This would be the first time in many years to feel relaxed inwardly after a bowel movement. I thought, "Is this just a fluke? I wonder how tomorrow will be."
Well, it has been a month now, and truly the gut has been healed in that there is no pain after a bowel movement! I cannot explain it other than the ingredients in Total Restore have brought a soothing and healing to the gut that allows a passing of the waste without it causing an irritation and then probable inflammation of the bowel lining.
Thank you Dr. Gundry!
Bottom Line: Yes, I would recommend this to a friend
Posted on Feb 22, 2018
Great!
I was really having bad digestive issues, pain, bloating, constipation, and diarrhea. I started taking Dr. Gundry's Total Restore, and I gradually started feeling better, not overnight, but after about two months my digestion got better, and I started feeling a lot better! No more pains after six months, and now, I rarely have the awful pains, my bathroom habits are getting back to normal, and I'm feeling pretty good! I like the product and continue to use it. I'm liking feeling better.
Bottom Line: Yes, I would recommend this to a friend
Posted on Feb 23, 2018
Total Restore
I purchased my first bottle of Total Restore, a 30-day supply. The difference happened near the end of the first week. My "stomach," which for me is my stomach and upper and lower intestines, just felt better. I didn't feel bloated or constipated or have pains here and there, just "normal." It was nice. My only complaint is that the price is way too high, which sucks because I like this product and really cannot afford to purchase more.
Bottom Line: Yes, I would recommend this to a friend
Posted on Feb 24, 2018
Wish I could get it here
While in New York City during January, I ordered three bottles of Total Restore. I started taking them immediately and also asked two of my adult children to try them as well. I had been having reflux on a regular basis prior to taking Total Restore. The reflux stopped immediately. My bowel movements were regular without the need for a jump-start from my morning coffee. I generally felt good. I continue to feel good, but I regret not ordering again before I left New York. Please start shipping to Italy!
Bottom Line: Yes, I would recommend this to a friend
Posted on Feb 25, 2018
Reset my life
Yes, reset my life is correct!
I have experienced gut pain and foggy brain my entire adult life. Traditional medicine was not an answer for me, and so I simply lived with the pain.
I stumbled onto the Total Restore video one morning, and my intuition told me to take action. I did, and I have never looked back.
After just three days of using Total Restore, I began to notice a "relaxing" of pain inside me and sleep without the "gut grip" waking me.
In conversations, I began to notice three and four syllable words were beginning to flow without effort. that has been an exhausting issue my entire adult life.
Secretly, I assumed my foggy brain was due to PTSD of early childhood trauma. Boy, was wrong. I now see that my brain had not been fed!
I honestly don't think my body has functioned in the way it was intended since I was a teenager.
Along with taking Total Restore, I am now successfully into week three of phase 2 Plant Paradox eating regimen.
I can hardly believe that I am now pain-free and feeling more ease of brain function developing at age 65.
Thank you, Stephen Gundry, for being the selfless inquisitor, and puzzle solver that you are!
Bottom Line: Yes, I would recommend this to a friend
Our Promise to You
In order to safeguard you and ensure helpfulness and relevance, our compliance team manually assess every customer review before it goes live.
We have a zero-tolerance policy for fake reviews, and companies cannot control or alter any reviews at any time.