Hempvana Pain Relief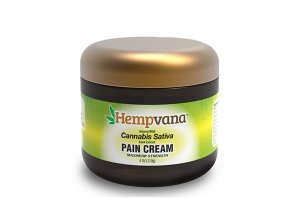 Hempvana is a pain relief cream made using oils from the seeds of cannabis sativa plants. The manufacturer claims that it can provide relief from pain, stiffness, and swelling. We'll discuss the claims here.
Hempvana Pain Relief Review: Does It Work?
Hempvana is a topical cream designed to deliver fast-acting pain relief when you need it most.
The product is infused with oil from cannabis sativa seeds. It's important to note that Hempvana does not include any actual THC, which is the psychoactive compound found in recreational cannabis. It also doesn't include any CBD, which is another chemical found within cannabis that is known for its purported medicinal uses.
The makers of Hempvana say the cream's ideal use is for when you first wake up in the morning, just after finishing an exercise, or any other time that you tend to experience pain in your body. They mention that using the cream consistently is a great way to maintain a high level of activity while avoiding the expense and potential addictiveness of conventional over-the-counter and prescription medications.
Now that we've settled the issue of what Hempvana is at-a-glance, let's take a look at how it is supposed to provide fast-acting pain and stiffness relief all over your body.
How Does Hempvana Work to Relieve Pain?
The primary claim underpinning Hempvana is that it can work to effectively block nerve transmissions that cause pain, stiffness and swelling. It can be used anywhere on the body that you are experiencing these symptoms, and the manufacturer suggests that it applies easily, absorbs into the skin quickly, and has no lasting "medicine-like" odor.
The makers of Hempvana also state that it utilizes a "proven active ingredient cleared by the FDA," alongside oils from the seeds of the cannabis sativa plant.
This additional ingredient was not directly listed on the website as of this writing (more on this below in the ingredients section). Before going any further, we need to establish the basics; is it scientifically plausible that a product containing oils from the cannabis sativa plant would be able to provide the pain-relieving benefits described by the makers of Hempvana?
Are Oils Derived from Cannabis Sativa Plants Capable of Reducing Pain?
Cannabis-related products have been in the news over the past few years, particularly in relation to their potential as a natural, alternative pain relief solution.
That said, the vast majority of these seem to center around the CBD found within the plant itself, not simply the hemp oil. According to Healthline, CBD shows promise for pain relief, especially when it comes to arthritis and multiple sclerosis (MS). Despite this, they said, more human trials are needed to gain a solid understanding of just how effective it may be.
During our research, we encountered no specific scientific evidence that hemp oil containing no CBD or THC could consistently reduce pain, inflammation, swelling, or stiffness, as the makers of Hempvana suggest.
Hempvana Ingredients and Possible Side Effects
As of this writing, there was no section on the Hempvana website detailing all of the active ingredients found within the product.
We reached out to customer service for clarification. They were unable to provide a more specific list of active ingredients. In the product's commercial, the active ingredient trolamine salicylate is mentioned, though it is not clear how much of this substance is actually included in Hempvana.
One study found that trolamine salicylate was able to provide short-term pain reduction in individuals suffering from osteoarthritis in the hand when used topically.
No major side effects were reported. That said, in a similar study related to osteoarthritis of the knee, the substance was no more effective than a placebo. According to a Harvard Medical School report, there is not enough substantive evidence that this ingredient can provide consistent pain relief when applied topically.
Without knowing exactly what other active ingredients may be in Hempvana, it isn't possible to say with certainty whether not it will be effective for you. It also means that it's difficult to say that you will (or will not) experience any side effects when using the cream on your skin. We'd recommend that consumers consider this carefully before making a purchase.
Hempvana Pricing and Return Policy
As of this writing, Hempvana was available exclusively from the manufacturer's website and phone hotlines. The product comes in two separate quantities; a single order or a special "double offer" promotion. Here is how that breaks down:
Single order: $19.99 + $5 S&H
Two Pack: $29.98 + $5 S&H
Three Pack: $39.98 with free shipping
The product is also available on Amazon, Walgreens, and CVS for $19.99.
As for the return policy, the terms listed on the product's website state that each order includes a 30-day money-back guarantee. That said, it also lists that consumable items (or items that can be diminished) are not eligible for returns once they have been opened. We feel this is important to consider when deciding whether or not to make a purchase, as they won't accept a return for an opened jar of cream.
As a final note, you will be required to pay any fees associated with getting an unopened product back to the manufacturer, should you decide to return it within the 30-day window.
The Bottom Line
Let's cut to the chase; if you are currently experiencing pain, stiffness, inflammation, or swelling, can Hempvana truly make a difference for you? Let's review what we've learned.
We found that Hempvana does not contain THC or CBD, two of the more commonly-cited ingredients found in the cannabis sativa plant for their alleged pain-relieving qualities. We also didn't encounter any substantive evidence during our research that the oils of the hemp plant alone could provide any significant pain relief when applied to the skin topically.
Further, the manufacturer's customer service department was unable to provide us with a full and complete list of active ingredients used within Hempvana.
The only ingredient mentioned in the commercial, trolamine salicylate, has some clinical evidence supporting its ability to provide minor short-term pain relief when applied topically but other sources have shown this connection remains to be consistently proven.
If you'd like to give the product a shot, remember to keep in mind that both the Hempvana and Hempvana Gold creams cannot be returned once they have been opened, according to the terms and conditions listed on the main website. If you wish to try the product out on a one-time basis and find that it isn't for you in the end, you will be out $19.99 (or $29.98 for the double offer).
---
Scam

It promotes itself as having hemp oil but it really has hempseed oil. These are two different things with two different benefits. Basically, hempseed oil is just another moisturizer like argan oil. Sure, it has some benefits for the skin but it has none for pain.

Bottom Line: No, I would not recommend this to a friend

---

SIMPLY USELESS

By Peter S.

,

New York

,

Nov 12, 2019
Verified Reviewer

Plain and simple, it is not a very effective pain-relieving cream. It's certainly no more effective than Aspercreme-type gels. The use of the word CANNABIS on the label may lead you to think you are getting some of the medicinal/narcotic effects of MARIJUANA, but that leads you to the disclaimer (much smaller print) that you are not getting THC or CBD but rather Hemp seed oil, which serves merely as a lubricant. They may as well use Chicken Fat instead!

Bottom Line: No, I would not recommend this to a friend

---

Scam and poor customer service

By Pauline M.

,

Green Valley, AZ

,

Dec 10, 2019
Verified Reviewer

Will never recommend this product/company to anyone! I accidentally upgraded pain relief cream to Gold products when ordered online. I immediately sent an email requesting the order to be canceled. NO RESPONSE! I sent 2 additional emails to customer service to cancel the order. Again, NO RESPONSE! I finally found a phone number and called them 5 days after order placed and 3 email messages sent to cancel only to find out they shipped the order the day I called, 12/02. I am totally disgusted with this company and lack of follow up with their customers. I think this company is a total SCAM! Beware of ordering anything from them!

Bottom Line: No, I would not recommend this to a friend

---

This is all a SCAM FROM BEGINNING TO END!

By Juan C.

,

Florida

,

Dec 28, 2019
Verified Reviewer

I was tricked from the moment I decided to call or order online watching the commercial of this product.

I was charged more than advertised and tried the cream and it does not do anything. It is a scam, run run run, it is bad news.

Bottom Line: No, I would not recommend this to a friend

---

Advertisement

---

Complete crap

By Wayne C.

,

USA

,

Feb 7, 2020
Verified Reviewer

This stuff is overpriced Aspercreme, PERIOD. And if you think it's not a scam, just call customer service...it's in India. ANY company that takes your hard-earned AMERICAN dollar, should have their customer service IN AMERICA. This is not a racial statement, it is a BUSINESS statement. No matter what the company, product, or service is, if you're dissatisfied and talking to ANY operator in India, THEY ALL READ FROM THE VERY SAME SCRIPT and don't give two craps and a rolling donut about EVER resolving your issue, much less getting ANY MONEY BACK for your purchase.

Bottom Line: No, I would not recommend this to a friend

---

Hempvana Cream

By Teresa D.

,

Missouri

,

Apr 16, 2020
Verified Reviewer

I was so looking forward to using this cream to relieve the pain in my hip so I could possibly walk without my cane. I was so disappointed! No relief what-so-ever! I was duped! I suppose I should've known...

Bottom Line: No, I would not recommend this to a friend

---

Hype

By Ronny W.

,

Georgia

,

Apr 22, 2020
Verified Reviewer

I found the massage when applying this cream was probably the beneficial part of the claimed relief...as the adage goes, "if you keep telling the story, it soon becomes believable." A good lubricant hand cream does as good as this 20 buck massage oil.

Bottom Line: No, I would not recommend this to a friend

---

Company does not respond

By Larry B.

,

Oklahoma

,

Apr 24, 2020
Verified Reviewer

I ordered 3 jars online on March the 30th. As of today, April 22nd, I have received nothing. I have emailed several times and no response. I called and after several runaround numbers I got a male who couldn't speak real good and after a time of fumbling finally said he found the order and said it would be shipped in two weeks. Well, guess what has not arrived? Sorry company, sorry support, and I don't know about the cream because I DON'T HAVE IT TO TRY!

Bottom Line: No, I would not recommend this to a friend

---

No response

By Ed D.

,

Illinois

,

May 14, 2020
Verified Reviewer

Ordered 3 weeks ago and they haven't shipped. Can't get any response from telephone calls or numerous e-mails. I'm beginning to think it's a scam. Can't get them to refund either as no response.

Bottom Line: No, I would not recommend this to a friend

---

Overpriced Aspercreme

By Timothy B.

,

New Jersey

,

Sep 16, 2019
Verified Reviewer

Does it work? Discounting any placebo effect from people thinking it contains THC or CBD (it doesn't), it most likely works exactly as well as Aspercreme. They both are 10% Trolamine salicylate skin cremes. One is $20 for a little jar on TV. The other is $5 at Walmart.

Solid 3 stars for the actual product, since it's "just average," especially compared to its competitors that are pretty much identical. The company, however, seems less reputable, perhaps 2 stars.

Also, on TV this same company, Hempvana, sells a back brace that is made at least in part with hemp fiber fabric. It is supposed to cure your aching back and their advertising implies that the hemp is somehow therapeutic (it's not). Perhaps the brace helps, but the hemp fibers do nothing extra.

This seems like a scam company trying to rip off old people by hyping the most recent miracle cure-all plant du jour (anything and everything hemp). Perhaps it is best to avoid them entirely.

Bottom Line: No, I would not recommend this to a friend

---

Awesome

By Ongela M.

,

North Carolina

,

Jan 14, 2020
Verified Reviewer

It's awesome, put it on my lower back and within 10 minutes my pain was somewhat more tolerable. I've been using this now for about 6 months, it has truly made a difference in my life, even though the relief is short term, I'll say about 3 to 5 hours it last, I totally agree with the old saying (what good for the goose isn't always good for the gander), different strokes for different folks. I love this product and will continue to purchase it...I give it 4 stars.

Bottom Line: Yes, I would recommend this to a friend

---