High Impact Plant Protein
This company has claimed this profile, is getting alerted on any new customer reviews entering this page, and may engage in dialogue with its customers to address their matters.

Companies cannot pay money or provide goods in order to remove or alter customer reviews.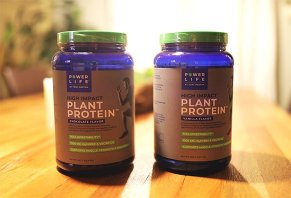 Summary
Tony Horton's High Impact Plant Protein by Power Life allegedly nourishes your muscles and supports strength, while also addressing your possible age-related muscle loss.
High Impact Plant Protein Review - Does It Actually Work?
What is High Impact Plant Protein?
Tony Horton's High Impact Plant Protein from Power Life is a supplement that helps support muscle strength and recovery.
During exercise and other strenuous activity, your muscles are damaged at the cellular level - you may notice this as soreness. During the recovery process, your muscles repair themselves, allowing for the ability to come back even stronger.
Many things may influence recovery; dietary protein may help expedite this process. Protein supplements are widely available, though Tony Horton may offer one that differs from most.
High Impact is a protein supplement that contains a blend of plant-based ingredients that allegedly do more than just support muscle recovery.
According to his website, High Impact also supports digestion, reduces gas and bloating, and increases energy. The supplement is intended for those concerned with age-related muscle loss, as well as those interested in boosting strength and muscle performance.
Can one supplement offer so many benefits?
In this article, we'll help you determine if there is any merit to Tony Horton's claims by reviewing the scientific support for High Impact's blend of ingredients.
The High Impact Ingredients: Do They Work?
To use High Impact, simply mix one scoop in 80z of water or your favorite smoothie. In addition to 100% of your daily value of Vitamin D, each scoop of High Impact contains:
Vegan Protein Blend - 15g (Pumpkin, Sunflower, Flax, Mung Bean, Yellow Pea)
Chromium
AlgaRich Vegi-P55 Chlorella
Ca HMB
Digestive enzymes (Prohydrolace)
Some of the ingredients listed above have been included for benefits other than those related to supporting muscle recovery.
Chlorella is a nutrient-rich algae that is often considered to be a superfood. Among its many alleged health effects, it may offer antioxidant capabilities. Chlorella boosted antioxidant enzymes in smokers.
Prohydrolase is an enzyme responsible for protein digestion. It is often included in protein supplements to promote the absorption of nutrients and improve digestion.
In a recent study, 250mg of prohydrolase did not add to the muscle-building capability of a whey protein supplement when compared to placebo. More research is needed to fully characterize the role of this enzyme in muscle strength.
As the bulk of High Impact's benefits are supposedly due to the vegan protein blend, the focus of our research will revolve around this topic.
So the question is, do plant-based proteins offer better results than traditional animal-based protein supplements?
Plant-Based vs. Animal-Based Protein
For adults, the recommended dietary allowance (RDA) for protein is 0.8g protein/kg body weight daily. Athletes are often instructed to take in 2-3x this amount.
In a 185lb individual, The RDA would be around 70g of protein, whereas the suggested intake for an athlete may approach 170g each day.
As High Impact offers 15g per scoop, keep in mind that the majority of your protein must come from your diet. They also recommend consuming after a workout - this practice seems to be supported by research.
Their vegan protein blend is intended to support healthy muscle development. While High Impact has not been specifically studied, there are a number of studies that compare plant to animal-based proteins.
One study compared the consumption of 24g of pea or whey protein before and after strenuous activity. Over 8-weeks, pea protein produced similar outcomes to whey for body composition, muscle thickness, force production, exercise performance, and strength.
Low dietary protein intake can result in age-related muscle loss. In elderly subjects, plant protein was actually better at guarding against this loss.
In a review of 9 studies, soy protein was found to produce similar results in terms of muscle mass and strength when compared to animal-based sources of protein.
More work is needed to determine prohydrolase's ability to improve protein digestion and absorption. However, there is enough evidence to demonstrate that plant-based proteins are comparable to animal sources in building muscle, enhancing strength, improving performance, and preventing age-related decline.
Is High Impact Safe?
Protein supplements are generally safe to use; this macronutrient is readily available in many of the plant and animal-based foods we consume.
Athletes and those that regularly engage in various forms of physical activity routinely double the RDA for protein.
Though protein toxicity is rare, our bodies don't use excess efficiently. When too much is present, your kidneys, bones, and liver can be negatively affected.
Signs that you're consuming too much protein may include dehydration, stomach pain, nausea, headaches, or diarrhea.
Speak to your physician before making drastic alterations in your diet.
The Cost
High Impact is currently only available from Tony Horton's website.
It is offered in chocolate or vanilla and ships free at the following prices:
$69.95 for 1 jar
$188.85 for 3 jars
$353.70 for 6 jars
While you'll save the most by purchasing 6 jars, keep in mind a single jar contains 15 servings. You'll need 2 to get you through the month.
They also back every purchase with a 90-day guarantee. To process your return, call 855-462-2496 or email support@mypowerlife.com.
Are There Any Alternatives?
Plant-based nutrition has been gaining popularity over the last few years. Thus, there are many brands offering vegan protein blends.
A simple internet search will reveal the many options available.
Vega is a good example. They offer low-calorie, high-protein pea-based supplements packed with vitamins and minerals. Plan to spend about $100 on their site for about 45 servings.
While this is a pretty hefty price tag, it is still more cost-effective than High Impact.
You can also obtain your plant-based protein naturally. Corn, broccoli, lentils, spinach, and peas are all nutrient and protein-dense options.
The Bottom Line
While High Impact is a relatively new product, the concept of supplementing plant-based protein has been around for a while. There is plenty of evidence supporting most of Tony Horton's claims.
High Impact and similar products are generally safe to use. Consuming excess protein rarely leads to serious adverse effects though too much can negatively affect your bones, kidney, and liver.
Also, keep in mind that these supplements should not be the focus of your diet. Obtaining foods naturally allows you to benefit from the fiber and nutrient content from what you consume.
High Impact is relatively expensive compared to many available products. Shopping around may lead you to a more cost-effective brand.
Lastly, remember to speak with your physician before making drastic changes to your diet.
Customer Reviews
Posted on Jun 4, 2021
Replaced with another product
I purchased this several months ago. Imagine my surprise when the powder was replaced with something else. No asking me if that was acceptable, wouldn't give me a refund, nothing. Still angry about it, no one ever followed up except to try selling more stuff.
Bottom Line: No, I would not recommend this to a friend
Pros and Cons
No "pros" were specified in this review
Terrible way to do business
Customer service not satisfactory
Not what I wanted
Company Response from Power Life
Jun 4, 2021
Hello Laurene. My name is Joran, I am with Power Life. I deeply apologize for any inconvenience you have experienced. We hold our agents to high standards and we regret that you did not receive the service you deserve. I would like to escalate your review to our Customer Relations Team so that an agent may provide you with personalized care and ensure you are fully refunded for this order. Please email me at jordan@mypowerlife.com, so we can get this taken care of for you as soon as possible. Thank you.
Posted on May 29, 2021
Tastes terrible
The product is excellent, however, the taste is TERRIBLE. I bought 3 jars of the vanilla flavor and it doesn't taste like vanilla. I mixed fruit into the shake and it doesn't help.
Length of Use: Less than 3 months
Bottom Line: No, I would not recommend this to a friend
Pros and Cons
It does help build muscle
Taste
Company Response from Power Life
Jun 4, 2021
Hello Ann. My name is Joran, I am with Power Life. I am sorry to hear you are not enjoying the taste of our formula. While many of our customers love the taste, we do understand that it may not be for everyone. For this reason, we stand behind our 90-day money-back guarantee. If for any reason you are unhappy with your order, it may be returned for a full refund. Other customers in similar situations have found by adding our formula to their favorite smoothies or juices. Below I have added one of our smoothie recipes that you may enjoy. If you ever have any questions, please do not hesitate to reach out. My email is jordan@mypowerlife.com. Have a nice day.
Smoothie recipe:
1 Scoop High Impact Plant Protein (Vanilla Flavored)
1 Cup Ice
1 Banana
1 Carrot (peeled)
1/2 Cup Oat Milk
3 Table Spoons Almond Butter
2 Tablespoons Honey
1 Tablespoon Cacao Nibs
Mix ingredients in a blender and enjoy!
Posted on May 28, 2021
I can't believe it!
So, originally when I got plant protein (vanilla) it smelled awful and strong. I didn't think I would like it at all. I blend it with cranberry juice and frozen fruit and made my smoothie. Wow, all I can say is the flavor mixed with everything else tasted great! There is NO chalky taste or after taste. One day I forgot to add my scoop of protein and I noticed it was missing flavor, so I threw everything back in the blender, added my scoop, and wala, got my smoothie. I have been drinking my smoothly once or twice a day (morning and/ or evening) after my workout.
I've been having issues not being able to lose weight. I've been working out and doing Beachbody with little success. This is the nasty part, my poop was not normal. This (protein) is a game-changer. I noticed my bloating is going down. I feel thinner. A little more energy through the day. The best part, to me anyway, is that my poop is more normal. This is so important to me, to not have a sluggish poop.
That is what I noticed with my first jug of protein, so I ordered more. I want to wait to see what my results will be in a couple of months.
Length of Use: Less than 3 months
Bottom Line: Yes, I would recommend this to a friend
Pros and Cons
The result I saw in the first jug of plant protein
My stomach is not bloated
Gives me a little bit of energy through the day
The cost is too pricey
The little jug of plant protein only lasts for 15 days
I don't want to share with my husband
Posted on May 28, 2021
Recovering my muscle strength
I'm 73 years young and prior to taking this plant-based protein, my body was exhibiting signs of muscle atrophy. While I was still functioning, I felt weak and even walking was becoming tiring. But since I've been taking the plant-based protein, my muscles in my neck, arms, shoulders, legs, and buttocks are stronger and with more muscle tone. I feel the difference! I'm just so happy to have found this amazing product! I know that I can remain independent and not have to worry about a nursing home/assisted living!
Length of Use: Less than 3 months
Bottom Line: Yes, I would recommend this to a friend
Pros and Cons
I felt the effects from taking the plant-based within a few days after beginning it.
It didn't blend smoothly.
Has a grainy after taste.
Posted on May 28, 2021
Energy giving delicious tasting vanilla protein.
Within 10 minutes I experienced a burst of energy that allowed me to power through my workouts. The taste is delicious and I noticed I felt full throughout the day...helping to curb my cravings. I was able to drop some pounds. It's highly recommended.
Length of Use: Less than 3 months
Bottom Line: Yes, I would recommend this to a friend
Pros and Cons
Energy
Taste
No cravings
No "cons" were specified in this review
Posted on May 27, 2021
More energy!
While I haven't been using it quite long enough to comment on strength or lean muscle bass, I do notice a lot more energy to complete my workouts and get through the day!
Length of Use: Less than 3 months
Bottom Line: Yes, I would recommend this to a friend
Pros and Cons
Nutritional value
Taste
Convenience
The price
The website
The variety
Posted on May 27, 2021
Outstanding product
Excellent results, losing weight and gaining lean muscle, especially since I am 63 years of age. This product has really been amazingly powerful. I am reordering. My body felt leaner and I lost 8 lbs in 2 months. I didn't change my diet, and I did not exercise during that time.
There's a lot of hype out there on products that promise this or that...but never actually deliver. Not only did I lose weight, I gained lean muscle. Thank you. I recommended High Impact Plant Protein for anyone who is interested in getting lean, increasing muscle mass (don't know how this happens), and wants to feel great.
Length of Use: Less than 3 months
Bottom Line: Yes, I would recommend this to a friend
Pros and Cons
Results
Nutrition
Flavor
No "cons" were specified in this review
Posted on May 27, 2021
Energy boost with low carbs!
Great band for the buck, IMO. Customer Service was outstanding! Very friendly and very empathetic.
Thanks Tony!
Length of Use: 3–6 months
Bottom Line: Yes, I would recommend this to a friend
Pros and Cons
Increased energy
Low carbs
Helps my diabetes diet, thanks Tony
Initial price
Taste by itself but I mix it
Posted on May 26, 2021
Tasty way to get healthy
Well, so far I can feel the difference in my body and strength. I am much more alert and am sleeping a little better.
How I got started with Tony's program, In February of this year I had a fall and was looking for ways to get stronger and have better balance. Well, the plant protein and tips that were given are working! I can walk longer and feel better about doing so!
Length of Use: Less than 3 months
Bottom Line: Yes, I would recommend this to a friend
Pros and Cons
Taste
Ease of what to use, I use almond milk
Love the tips and testimonies, keeps me thinking and feeling good
Little long on getting the product
Posted on May 25, 2021
Versus Dr. Blake Livingood's Collagen Protein
I am comparing your product with Livingood Daily Collagen Protein. I prefer the taste of your product; his is too sweet for my palate. But, I will continue to use them both, since the ingredients are different. However, this makes it impossible for me to attribute any gains/rewards to either, since I alternate use between the two.
I do have a question about the PL High Impact Endurance capsules I am taking. When I received them, I sent a question via email asking about magnesium content. The respondent said it was a good question, but he didn't know the answer. He said he would check and get back with me, but he has not. I think this info should be on the product, or on the tip of the tongue of representatives, or at least readily available. Can you please tell me the magnesium content of these two products (capsules and protein powder) so I know if I need to continue supplementing magnesium? (Sorry, I've already deleted those emails, or I would tell you the name of the individual that was not able to help me. Perhaps, you can look in my records and see that email thread.)
Length of Use: Less than 3 months
Bottom Line: Yes, I would recommend this to a friend
Pros and Cons
It's not too sweet
It mixes easily with a simple blender (I like to add kale and almonds)
Clean ingredients
Price
Can we use less plastic (size of jars, or use glass)?
Can we add other products to round out family of nutrients?
Posted on May 25, 2021
Great product
High Impact Plant Protein really works! My energy level is up and my muscle mass is amazing. I am not looking too muscular but I am building muscles. I love the results I'm seeing and experiencing.
Length of Use: Less than 3 months
Bottom Line: Yes, I would recommend this to a friend
Pros and Cons
Vanilla flavor
Tasty
Real results
Wish it mixed without settling at bottom
Our Promise to You
In order to safeguard you and ensure helpfulness and relevance, our compliance team manually assess every customer review before it goes live.
We have a zero-tolerance policy for fake reviews, and companies cannot control or alter any reviews at any time.