Keeps
This company has claimed this profile, is getting alerted on any new customer reviews entering this page, and may engage in dialogue with its customers to address their matters.

Companies cannot pay money or provide goods in order to remove or alter customer reviews.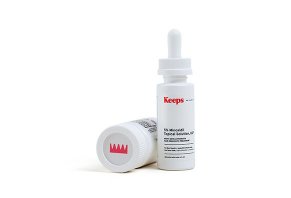 Summary
Keeps provides men with a customized hair loss treatment plan from a state-licensed physician, along with FDA-approved medications, including Finasteride and Minoxidil.
Pros
Active ingredients show clinical evidence for effectiveness
Auto-ship program lets you skip the wait at the pharmacy
Possible to sign up for personalized advice from Keeps-affiliated physicians
Positive customer reviews
Cons
Prices may be higher than equivalents at local pharmacies
Not all Keeps products work for all types of hair loss
Some customer service complaints from HighYa reviewers
Keeps Review: Does It Work, Side Effects, Cost
Medically Reviewed by Anthony Dugarte, M.D., C.S.C.S
Hair loss is a touchy subject for many people, but it's hardly a unique experience. More than half of men age 40-49 experience moderate to extensive hair loss.
Finding treatments to slow down or even reverse this process is a high priority for many, but knowing where to look isn't easy.
Keeps is a health care company that specifies in treatments for male pattern hair loss. This brand offers generic versions of popular, FDA-approved treatments.
All Keeps products arrive as a 90-day supply through an automatic subscription to ensure you always have some on hand. The company claims that you can save between $70-$100 per year with a Keeps subscription instead of the shopping with the competition.
In this review, we'll share our analysis on whether Keeps products work as described and are worth the subscription plan.
Getting Started
Signing up for Keeps products requires you to fill out a brief survey about your history of hair loss. You'll share how recently you started noticing it, where the loss is most prevalent, and whether you have already done anything to address it.
You can also specify whether any lifestyle choices, recent life events, or other health conditions may be affecting your hair.
At the end of the questionnaire, you need to submit three photos of your hair, including the top of your head, your crown, and your hairline.
After you complete registration, you have the option to request an online consultation with a Keeps-affiliated doctor. This consultation is free the first time and $5 after, and will be performed by a physician licensed in your state and will include a personalized treatment plan with a prescription for finasteride if needed.
It's possible to opt-out of this consultation and order the company's over-the-counter treatments without an expert recommendation. Alternatively, you can submit a prescription to the site from your doctor to request a finasteride treatment.
Treatment Options
The products available from Keeps include the following:
1mg Finasteride (Generic Propecia)
This prescription pill blocks DHT production, a hormone linked to male pattern baldness. It's an FDA-approved treatment for slowing down receding hairlines and improving hair regrowth rates along the hairline, crown, and vertex.
Use: Take a pill by mouth once a day, preferably at the same time each day.
Price: $25/month
Note: Finasteride is only available for purchase once you submit a prescription to the Keeps pharmacy.
5% Minoxidil Solution (Generic Rogaine)
This topical treatment works to slow down hair loss and promote hair regrowth, especially at the crown of your head. Most users can expect results within 3-4 months.
Use: Use a dropper to apply directly to your scalp twice a day.
Price: $10/month
5% Minoxidil Foam (Generic Rogaine Foam)
As with regular Rogaine, this topical treatment slows down hair loss and promotes hair regrowth at the crown of your head. The foam application method might make it easier for some people to use than the standard solution with an eye drop.
Use: Apply a capful twice a day to your scalp, massaging into place with your fingers.
Price: $15/month
2% Ketoconazole Shampoo (Generic Ketoconazole Shampoo)
This prescription shampoo is used to treat dandruff and other forms of itchiness and flaking. Most users will experience results in 2-3 weeks.
Use: Apply to scalp and let sit for 10-15 minutes before washing it off.
Price: $10/month
According to Keeps, it's possible to use any of their hair loss treatments alongside your normal hair products. If you are using minoxidil, you need to apply the product to dry hair and then let it dry on your scalp before applying other products as normal.
The company suggests that you use each product for the long-term, as stopping the treatment may reverse any hair loss you are experiencing.
Keeps' Active Ingredients: Do They Work?
Finasteride
Finasteride blocks 5-α reductasem, preventing the conversion of testosterone to dihydrotestosterone (DHT). This hormone is considered essential for body hair growth, but too much can be detrimental to head hair growth because it triggers the hair follicles to miniaturize.
According to a 2005 double-blind study with 80 male patients, the participants who took 1mg of finasteride daily (the same amount offered by Keeps) experienced hair regrowth results that were superior to patients taking a placebo.
5% Minoxidil
Topical minoxidil is considered an effective hair growth treatment for most male and female hair loss. Though it's not known how the compound works, it seems to work by enlarging your hair follicles and keeping them in the growing phase longer.
A 2005 study found that treatment with minoxidil led to statistically significant improvements in hair regrowth after 16 weeks, compared to a placebo. This treatment is considered best for hereditary hair loss at the back of the head, and it's not recommended for a receding hairline.
In 2009, 5% minoxidil was demonstrated to be superior to 1% in Japanese men with male pattern baldness.
2% Ketoconazole
Traditionally used to treat fungal infections, ketoconazole is effective against specific types of dandruff.
Though this compound isn't often associated with hair loss treatments, a pilot study from 2011 with 15 participants found that ketoconazole shampoo may be effective for improving hair regrowth.
Finasteride vs. 5% Minoxidil
When comparing Finasteride 1mg and minoxidil 5%, both had similar efficacies.
Key Takeaways: There is strong clinical evidence in trials with human subjects that the active ingredients in Keeps treatments will lead to statistically significant improvements for many types of male pattern hair loss.
Side Effects
There are some side effects associated with the active ingredients in Keeps hair loss products.
Finasteride, for instance, is known to have an impact on male sex drive. In the finasteride study mentioned previously, 25% of the participants experienced decreased libido or erectile dysfunction. Pain in the testicles and skin irritation are also possible side effects.
Most people find that the side effects of Finasteride disappear after several weeks of taking the treatment, but in rare cases, they persist, even after they stopped the treatment altogether.
In regards to minoxidil, some people might experience burning, stinging, or redness at the treatment site after using it. In rare cases, the medication can be absorbed through the skin and cause problems like dizziness, unwanted hair growth, an irregular heartbeat, and even difficulty breathing.
Likewise, some people experience stinging, swelling, and other irritation on their skin from using ketoconazole, though severe or unsafe reactions are rare.
Overall, these side effects tend to resolve once you stop the treatment.
How Much Does It Cost?
All Keeps products are available for purchase for the company website for US men over 18. Not all State permit product sales, so you can check here if your state is an option.
Note: Minoxidil is an over-the-counter medication, so Keeps can ship it to all 50 states.
Your Keeps order will be billed and shipped as a three-monthly supply with a $3 shipping cost. You can change your cancel your Keeps subscription by submitting a request through your online account, at help@keeps.com, or by calling the company directly at (833) 745-3377.
It's best to cancel at least 24 hours before your next refill date to ensure the order isn't shipped out anyways.
Comparing Keeps to Other Generic Hair Loss Products
Keeps claims to save you time and money securing hair loss treatment products compared to picking them up at your local pharmacy. In this chart, we compared the price of each treatment to the equivalent generic options available at nationwide pharmacies.
| | | | | |
| --- | --- | --- | --- | --- |
| | Keeps | Walgreens | Rite Aid | Walmart |
| Finasteride | $25/month, $1 shipping | Price depends on your insurance | Price depends on your insurance | Price depends on your insurance |
| 5% Minoxidil | $10/month ($1 shipping) | $39.99/3-month supply ($13.33/month), free in-store pickup, free shipping | $24.99/3-month supply ($8.33/month), free in-store pickup, $5.99 shipping | $18.76/3-month supply ($2.92/month), free in-store pickup, $5.99 shipping |
| 5% Minoxidil (Foam) | $15/month ($1 shipping) | $41.99/3-month supply ($13.99/month), free in-store pickup, free shipping | $17.99/ month, free in-store pickup, $5.99 shipping | $29.94/3-month supply ($9.98/month), free in-store pickup, $5.99 shipping |
| 2% Ketoconazole | $10/month (4-oz bottle) ($1 shipping) | $12.99/ 4-oz bottle, free in-store pickup, $5.99 shipping | NA | $16.99/ 4-oz bottle, free in-store pickup, $5.99 shipping |
Key Takeaways: Buying hair loss treatment products from Keeps might save you time and money if you factor in the shipping costs and subscription convenience, but the cheapest option for most products is to pick up equivalent generic versions at your local pharmacy.
If you are interested in using a product with finasteride, keep in mind that each pharmacy, including Keeps, requires you to submit a prescription first.
Keeps Customer Reviews
More than 25 HighYa reviews have rated Keeps, giving the product an average of 4.1 stars. Consumers Advocate has another 14 reviews, averaging 4.5 stars, and there are over 1,000 on the Keeps website, averaging 4.7. Here's a summary of some of their main takeaways.
Effective Hair Loss Treatment
A number of Keeps reviewers raved that these hair loss treatments really worked. Some wrote that they had tried numerous other over the counter products with the same active ingredients with minimal success, but that they noticed improvements within weeks of switching to Keeps.
Many noted that they had more hair growing in places where they were previously balding and that friends and family noticed the difference enough to comment on it. The most successful users seemed to be using multiple Keeps products together each day.
Good Customer Service
Keeps earned points from reviewers for excellent customer service. Many noted that the website was easy to navigate and that the customer service was quick to answer any product questions or send out refunds for returns or subscription cancellations.
Several reviewers noted that they loved the auto-ship program because it kept them accountable for taking their treatment daily and removed the stress and hassle of going to the pharmacy regularly.
More Affordable Than the Competition
Several Keeps reviewers praised the brand for offering cheaper products than the competition, especially when factoring in the convenience of the auto-ship program.
Note: Our research showed that many pharmacies offer equivalent products to Keeps for a slightly lower cost per month, not factoring in shipping costs.
Occasional Order/Delivery Problems
Not all users were in love with this service. Some reported that their Keeps orders never arrived or that their deliveries continued even after they had canceled the subscription. Others received the wrong products and found it a hassle to get the company to send what they needed instead.
Not Worth the Cost
A minority of Keeps reviewers wrote that they didn't experience results from the products that were worth the cost. Some thought they got better results from traditional Rogaine, while others didn't notice any difference in their appearance after several months of use.
Key Takeaways: Keeps users seem to be happy overall with the company's products and subscription program. Some ran into problems with billing or didn't experience significant results, but most reported that Keeps treatments led to real hair regrowth at an affordable rate.
The Bottom Line
Keeps claims to give subscribers easy access to effective hair loss treatments at a lower cost than the competition. There's real evidence to back up the effectiveness of the product's active ingredients for anyone experiencing male pattern hair loss.
While finasteride and minoxidil seem to have similar efficacy, considering the potential side effects can help guide your decision.
Our research found that many national pharmacies can beat Keep's per-month prices for equivalent products, but that the prices become more equal when you factor in shipping costs. If the convenience of an auto-ship program appeals to you, then Keeps is a brand worth considering.
When it comes to treating male pattern hair loss, it's essential to keep in mind that most treatments have limitations. There's little you can do to replace hair follicles that have already died, and most treatments are designed to target hair loss only on specific parts of the head.
Customer Reviews
Posted on Dec 3, 2018
Garbage product and customer service
Trash product and customer service. A complete rip off and scam. I ordered this product (Finasteride) in early August and tried it until late November. No difference at all by early November. So I inform them via email that I would like to discontinue my subscription. They replied, "we are sorry to see you go." And I thought that was it. Only to find out that they then proceeded to charge for another shipment of their product that does not work. So I emailed them about receiving a refund. They replied, "we already shipped it and cannot refund you." So I called and spoke with a rude rep who was not knowledgeable, who put me with a manager that stated: "oh you have to call to cancel." Only to find that they canceled my account via email 2 days prior to my call. So I asked her why do I have to call if you already canceled my account 2 days ago? She could not explain, and when I asked to speak someone higher than her, she said there is nothing she could do for me and hung up on me.
Worst service and product ever. I am contacting the BBB tomorrow based on the experience and no refund for a product I clearly did not want. Buyer beware!
Bottom Line: No, I would not recommend this to a friend
Posted on Dec 19, 2018
Scam
I ordered and used keeps it for two days. On the third day, my hair was completely falling out. I had hair all over the place. I WOULDN'T recommend this product to anyone trying to grow hair! When I called, they told me I couldn't get a refund, so I just lost my money I put into it.
Bottom Line: No, I would not recommend this to a friend
Posted on Feb 26, 2019
Keeps first use review
Just got my first order of Keeps in the mail. I paid for both Finasteride and Minoxidil. Only received Finasteride. Called customer service and they told me that "Minoxidil is on back order and there is no telling how long it will take for it to be shipped" (couldn't even give me a time frame). Reason being because FDA has it on back order because of government shutdown. Ok, that's fine...but why not mention that during the ordering process (ordered a week ago after the shutdown)? Listen...I never leave reviews on anything but this is messed up, I paid for something and didn't receive it. If I knew what I know now, I would have just paid for Finasteride ($70) and went to my local drugstore and bought Rogaine to avoid all this BS.
Beware! Keeps is cheaper but Hims probably is better when it comes to customer appreciation. God bless and good luck!
Bottom Line: No, I would not recommend this to a friend
Posted on Apr 16, 2019
Terrible fulfillment
I ordered the drops 2 months ago and have not received it. They then canceled my order and did not refund me, I was then taken off the waiting list. Unethical and unorganized company, will never do business with them again.
Bottom Line: No, I would not recommend this to a friend
Posted on May 10, 2019
Unethical
This company is poorly run and has horrible customer service! You'll notice the good reviews are from people who have been with them long enough to experience results from the treatment they purchased. These results would be the same no matter who you purchased them from. My complaint is that after three months in they sent me a letter explaining that for reasons beyond their control their supply has run out. However, they were in the process of getting a new supplier and they would still provide a one month supply to tide me over until they could ship the three month supply I already paid for.
My one month supply never came and I contacted them to complain that for a treatment that requires consistency, this is not acceptable. To make it right, they allowed me to purchase Minoxidil on my own and they would apply the cost as a credit to my account. However, they accidentally canceled my Finasteride and one month later they again sent me an email explaining they still won't have Minoxidil and that now I'd have to wait till June!
Enough was enough so I canceled my subscription. To my surprise, they not only would not send me my reimbursement but almost three weeks later they sent me a three month supply of Minoxidil. I had already canceled my account, due to the fact that they said they would not have enough supply until June, and they sent me a three month supply of minoxidil anyway. When I contacted them about this they told me it was because I already paid for it! I explained that not only did I cancel my account before it shipped but they expressly told me they would not have enough supply anyway. My purchase should have been refunded since they did not deliver on our agreement. They refused to refund my purchase and my reimbursement. They only offered to add the credit to my account.
So, in summary, they expected me to have a two-month break in treatment and the only thing they offered in return was a credit. Why in the world would I want credit with a company that can't deliver on their promises and in spite of their miss calculations expect me to continue to support them? Stay away from this company. I believe the circumstances beyond their control are an inability to run a business. They sure as heck don't know what customer service is. I gave them two chances to make things right and they decided to stick it to me. Now, I'm happily paying $5 more a month to a competitor who so far has made good on their promises.
Bottom Line: No, I would not recommend this to a friend
Posted on Mar 23, 2020
Keeps, you can keep it! No visible improvement in 1 year.
This is a placebo pill! I've taken them for over a year with ZERO improvements! Then you try to cancel and they put you through a million hoops and steps to do so!
I had to stop the credit card payment and send my cc company all my correspondence.
IF your product is so good, why do you have such shady non-professional business practices?!
Bottom Line: No, I would not recommend this to a friend
Posted on Apr 21, 2020
Fake reviews
I have checked several websites for reviews on "Keeps finasteride" drug and found "same positive reviews" on all of them as if they just copy-pasted it on every review site to make the company look good. I just received my first finasteride bottle today and wanted to reconfirm if I should go ahead since it states that it might affect my libido.
I haven't used the drug yet and now I am more skeptical about the results they claim on their site. I think I will unregister today. Please talk to your doctor before taking any meds.
Bottom Line: No, I would not recommend this to a friend
Posted on Apr 9, 2019
Did not love the customer service.
This is less a review of the physical product and more about the experience with customer service, and I am probably being petty.
Things started smoothly as I entered my personal information and sent a picture of my melon. I was told "male pattern baldness." Sounded about right to me. I went on and paid for the subscription, no problem, and within a couple of weeks the first shipment came. I found it (for myself) difficult to keep up with the topical application. Nothing notably wrong with it, the process just wasn't for me. I should mention that my hair is still in an OK place, I think I was being more preventative than anything.
So I emailed customer service to see about canceling my subscription. It cannot be canceled they tell me, not via email anyway, but they can put the subscription on hold for six months. At the time finances were tight so I obliged - I will revisit again in six months to see how things are.
Six months go by. I had made a note in my calendar to revisit the paused subscription. Unfortunately, things with work were busy and the renew day came and passed and I forgot to contact customer service. Keeps automated renewal did not miss the day. With no reminder of the activation, I got an email notification saying that "My shipment was on the way," with a $78 charge on my card. Crap! I emailed right away. So sorry I forgot to contact, would you please stop the shipment and cancel the subscription, yadda yadda.
I got an email back from customer service telling me that a hold had been placed on my order and that I had 24 hours to call in and cancel the order or the shipment would be sent. Call Jack Bauer. The rep also told me that I agreed to a subscription and how subscriptions work is that they send every month and that's what I agreed to. Along with that, they attached a screenshot of "what I agreed to."
Cue my response - no way you're are going to explain to me what a subscription is, belittle me with an agreement screenshot and put me on a timer for 24 hours. I did respond politely, citing that as a customer I reserve the right to cancel a subscription even after an agreement. I told them I would call to cancel and not be returning.
Shortly thereafter, the founder sends me an email asking for customer feedback, "we hate to see you leave, we always want to hear what you have to say...etc." Along with a notification that my subscription has been canceled. I sent my feedback - with no final response.
Ok so here is my issue. It took me no time at all to get into this "agreement." Yet twice, when I requested to cancel, I was given the runaround. Should I have called in the first time? Yes. But still, this idea of keeping customers on the hook with a six-month hold is shady. Making me call in during work hours for something that can be done with a few clicks? Huh? They gave no notice of the account going off hold, and no reminder that they were about to charge me again until they already did. When I made a fuss - things got taken care of immediately.
That's what this review comes down to. Was I the most responsible customer? No. But that does not give warrant to any business to make you hassle and squirm until they take care of your requests. Don't patronize me with screenshots and don't send some BS message from the founder saying how much we care about you. When I email and ask to cancel, simply cancel. I am the customer. Don't "we're a subscription service" to put me on pause and jack me for money with no notification six months later. If you can automate all that other stuff, take the time to automate a reactivation message. By the way, at no point in any time did I require to call into the service center...ONLY to request the subscription cancellation. I did not feel like my best interests were prioritized, quite the opposite.
Like I said, I am just being petty. Not a fan of how Keeps handled it.
Bottom Line: No, I would not recommend this to a friend
Posted on Dec 9, 2018
Still early but good progress!
I've been using Keeps for about 4 months now after finding out about the company on a TV commercial. I just got my second shipment and have started to see real progress, especially at the top of my head. I talked with the doctor again before this last shipment and he was able to answer a few questions I had about how I should use the product and when I'd see more results.
Bottom Line: Yes, I would recommend this to a friend
Posted on Dec 17, 2018
Awesome product
I highly recommend Keeps to anybody interested in using a sleek, convenient, and professional platform to prevent baldness. It basically replaces a visit to the doctor with a simple, easy-to-use website. This includes a consultation from an actual doctor who can diagnose male pattern baldness and then prescribe the appropriate medicines. The treatments then show up in the mail. Most importantly, since using Keeps, I've noticed my hair has thickened some, especially in the front on either side where I had noticed it thinning recently. Just try it out and see for yourself.
Bottom Line: Yes, I would recommend this to a friend
Posted on Dec 26, 2018
Solid product, consistent service, great experience
I've had a great experience using Keeps. I enjoyed the fact that I did not have to visit a doctor or deal with any pharmacies in order to start receiving the product.
It's also nice that Keeps is able to re-fill and deliver my prescription without me needing to do anything.
My hair is still looking good, so I guess it's all good!
Bottom Line: Yes, I would recommend this to a friend
Our Promise to You
In order to safeguard you and ensure helpfulness and relevance, our compliance team manually assess every customer review before it goes live.
We have a zero-tolerance policy for fake reviews, and companies cannot control or alter any reviews at any time.