ActivatedYou Morning Complete
Claimed This company has claimed this profile, is getting alerted on any new customer reviews entering this page, and may engage in dialogue with its customers to address their matters.

Companies cannot pay money or provide goods in order to remove or alter customer reviews.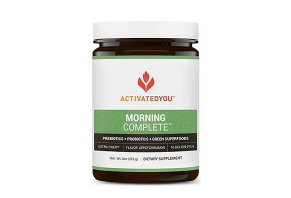 With a blend of 8 proprietary formulas, including superfoods, veggies, and probiotics, Morning Complete by ActivatedYou claims to deliver all-in-one health.
ActivatedYou Morning Complete Review - Is It Safe and Effective?
Medically Reviewed by Anthony Dugarte, M.D., C.S.C.S
HighYa is supported by our readers. When you buy something through a link on this page, we may earn an affiliate commission. Learn more.
What Is Morning Complete?
Morning Complete from ActivatedYou is a green apple-flavored drink that combines eight wellness support blends to help boost performance, improve overall sense of wellness, and start the day on a positive, healthy note.
Specifically, using green superfoods, healthy vegetables, and fiber, the company tells us this first-of-its-kind formula gives your body the vital nutrients it needs to optimize health. The company states that its probiotics and prebiotics can support digestion, along with other ingredients and antioxidants that can address aspects like sugar levels, liver function, energy, and metabolism.
Just add one scoop of Morning Complete's easy-dissolve powder in eight ounces of your choice of liquid (ActivatedYou recommends water or green tea), drink the mixture, and you'll be left nourished and refreshed.
Combined with the fact that the product is tested for quality, purity, and potency at an independent, third-party facility, handing over your hard-earned money for this daily wellness drink might seem like a no-brainer.
But can you expect Morning Complete's ingredients to deliver on the company's promises? That's precisely where we'll begin to help you make a more informed decision.
Taking a Closer Look at Morning Complete's Ingredients
Overall, Morning Complete's easy-dissolve formula is comprised of eight different proprietary blends, each of which contains anywhere between two and nine ingredients.
Because of the sheer number of ingredients here, we'll divide each blend into its own section. We'll then discuss any related clinical evidence that we discovered in our review of the available literature.
Prebiotic and High Fiber Blend, 4.05g
Compared to probiotics (more in a second), prebiotics are non-digestible fibers that may support overall health by serving as food for the friendly bacteria found in your digestive tract.
Morning Complete contains chicory root fructooligosaccharides and cinnamon bark, which are common prebiotic ingredients.
Fructooligosaccharides may help reduce hunger by making you feel full. This benefit was seen at 16g doses over 3-4 months, though doses less than 10g did not affect appetite.
Probiotic-boosting effects seem to be possible even at lower doses; 4-15g/day improved constipation and increased friendly gut bacteria in healthy subjects.
Unfortunately, as ActivatedYou only offers the total for the blend, we do not have information for the amounts of each ingredient.
The amount of fructooligosaccharides is likely much smaller than doses that were proven successful in both curbing appetites and boosting probiotics.
Green Superfoods Blend (735mg)
A mix of vegetables ActivatedYou claims can help optimize nutrient intake and overall wellness, including spinach, broccoli, kale, mulberry leaf extract, alfalfa leaf, barley grass, and berberine HCl (from Berberis aristata root).
These plants contain many essential vitamins, nutrients, and other substances. A few examples include:
Spinach – High levels of calcium, phosphorus, potassium, vitamins A and C, and riboflavin.
Broccoli – Strong antioxidant abilities due to the presence of ingredients like ferulic acid, vitamin C, sulforaphane, and indole-3-carbinol.
Kale – Lutein, beta-carotene, calcium, magnesium, phosphorus, potassium, vitamin C, vitamin A, iron, folate, protein, and fiber.
The berberine included in this blend is an ammonium salt from plants found in Europe, Asia, and Africa. They may offer anti-inflammatory, neuroprotective, and diabetes-fighting effects.
A randomized trial demonstrated that 500mg of berberine three times daily over a 3-month span improved insulin sensitivity, waist circumference and insulin secretion in subjects with metabolic disease.
As this particular blend totals 735mg and includes 5 other ingredients, it's safe to say that the berberine content does not come close to the 1500mg doses found to be successful in the study.
Metabolic Enhancing Blend (390mg)
This Morning Complete blend promises to help support a healthy body weight using a mix of green tea leaf extract, ginger root, white tea leaf extract, turmeric root extract, bitter melon fruit extract, and black pepper.
Green tea is a common ingredient in products that claim to have metabolism-boosting effects, though this ingredient may offer many other effects.
Caffeine and catechin, an antioxidant, are likely responsible for many of the green tea's effects.
Green tea doses ranging from 90-400mg up to 3x daily all seemed to boost energy expenditure to the same degree when combined with 200mg of caffeine.
The combination of 500mg of green tea and exercise improved body weight, BMI, waist to hip ratio, and body fat percentage to a higher degree than accomplished with exercise alone.
Antioxidant Blend (100mg)
This blend contains the following food extracts that could help your body as it ages: Lyceum berry, pomegranate fruit extract, and Polygonum cuspidatum (50% resveratrol).
These antioxidants are thought to fight off free radicals and molecules which may be associated with a wide variety of negative effects ranging from aging to cancer.
Pomegranate may offer anti-inflammatory effects. In diabetic patients, those that consumed 250mL of pomegranate juice daily for 3-months had reduced levels of blood tests that indicate inflammation.
Sugar Balancing Support (100mg)
A three-ingredient blend that promises to help maintain healthy blood sugar levels using gymnema sylvestre leaf, fennel seed, and pine bark extract.
Pine bark contains a chemical called pycnogenol, an extract obtained from trees found in France. In a review of 5 trials with over 300 participants in total, 150 mg/d of pycnogenol or higher seem to reduce levels of blood tests associated with inflammation.
Again, this blend consists of multiple extracts that total 100mg. Clearly, the pycnogenol content will not exceed the 150mg dose found to be effective.
Cellular Function and Liver Support (55mg)
This blend contains algal oil DHA powder, organic aloe vera leaf, and milk thistle seed extract.
Silybin is the active ingredient in milk thistle, and is thought to safeguard the liver from toxic substances.
In 87 patients with liver cirrhosis, those randomized to receive140mg of milk thistle 3x daily for an average of 41 months lived longer than those that received a placebo. Another study found this same dosing regimen to be associated with few deaths from liver-related diseases.
The milk thistle content of the Cellular Function and Liver Support Blend is much smaller than the doses tested in the current literature.
Adaptogens (55mg)
This Morning Complete blend contains astragalus root extract, rhodiola rosea root extract, and diindolylmethane.
Astragalus is an herb found all across Asia and thought to offer many effects like boosting immune function or regulating blood sugar.
While astragalus improved sugar and fat metabolism in diabetic mice, support for these effects in human studies are lacking.
More research is needed to determine the safety and effectiveness in human subjects.
Probiotic Blend (10 billion CFU)
Beneficial bacteria strains play a considerable role in our digestive health, as well as our body's immune response. So, by balancing the digestive tract using supplements that contain these strains, common benefits include reduced gassiness and bloating, increased energy, improved digestion, and decrease irritable bowel syndrome symptoms.
Morning Complete contains many popular bacteria strains found in standalone supplements, including B. coagulans, L. gasseri, L. plantarum, L. fermentum, L. casei, L. acidophilus, B. bifidum, B. longum, L. rhamnosus, and S. thermophilus.
Lactobacillus acidophilus is commonly included in probiotic blends and is thought to offer relief for diarrhea and stomach discomfort, while also supporting immune function.
A review of 34 randomized studies found that daily doses of L. acidophilus ranging from 2 hundred million to 2 hundred billion were effective at reducing the risk for diarrhea.
It's essential to keep in mind that there are over 20 L. acidophilus strains, and they all behave differently.
As these effects are strain-specific, you can't predict how Morning Complete's blend will behave as they do not offer information for the specific strains of each probiotic.
Could Morning Complete's Ingredients Cause Side Effects?
It is challenging to provide details regarding safety as ActivatedYou provides only total amounts for each blend, but not the amounts for each individual ingredient. Additionally, studies detailing long-term use for these products are lacking.
Nonetheless, the available studies we've reviewed can offer some takeaways for this product.
Pre and probiotics blends are generally safe, though mild side effects can include stomach pain, gas, bloating, and diarrhea. As Morning Complete offers many strains that comprise the 10 Billion CFU total, the individual strains are likely included at safe doses.
Ingredients in the Super Foods blend, like berberine, were tested safely at much higher doses than what Morning Complete contains. This blend may offer doses that are safe but not effective.
Green Tea's safe intake level is 338mg; Morning Complete's total metabolic blend includes multiple ingredients and totals 390mg. The other blends contain ingredients that have been similarly safe in human subjects.
Astragalus has not been extensively tested in humans, however. This ingredient and many of the others included in Morning Complete lack long-term studies.
As the safety of these blends has yet to be characterized over long durations of time, it is best to include your physician in the decision to use this or any dietary supplement.
How Much Does the Morning Complete Drink Cost?
ActivatedYou priced Morning Complete as follows:
1 Bottle: $79
3 Bottles: $213 ($71 per bottle)
6 Bottles: $403 ($67.17 per bottle)
All orders come with a 90-day satisfaction guarantee, less S&H, which you can request by contacting customer support at 800-720-8403.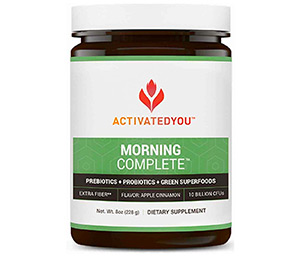 Buy Morning Complete from Amazon:
Morning Complete costs $78.52 for one jar, with free shipping. ActivatedYou suggests you take one scoop each day, so one jar is equal to a 30-day supply.
Morning Complete vs. Other All-In-One and Whole-Health Supplements
Even compared to just a decade ago, the scientific community has discovered a vast amount of information about how natural substances interact with our bodies. As one result, a wave powdered dietary supplements have entered the market, promising to provide a mega-dose of just about everything we need to optimize health in a quick and easy delivery format.
Prices can vary just as much, with some options priced below $10 and others well above $50. So, at a minimum of $67 per bottle (if you choose the six-bottle option), Morning Complete is certainly on the upper end of this spectrum. How to decide?
Unless you are deficient in the ingredients that the supplement contains, most of us don't need to take a dietary supplement. And even if we choose not to eat healthily, the reality is that the vast majority of the American population isn't deficient in most key vitamins and minerals.
It's important to speak with your doctor if you're thinking about purchasing a new supplement. They can help you decide if one could complement your diagnosis, and then perhaps recommend specific options based on their professional experience.
After reading thousands of reviews from consumers like you, we typically recommend looking for options that:
Are priced relatively in line with the competition
Are backed by useful refund policies, with no restocking fees
Include clinically-backed ingredients
Are manufactured by a well-known company with a mostly positive online customer reputation
Aren't sold through trial or recurring shipping programs
Let's use everything we've learned in this article and come to an informed conclusion about Morning Complete.
Bottom Line: Is Morning Complete from ActivatedYou Right for You?
Morning Complete's blends contain numerous ingredients that seem to offer a wide variety of benefits.
And with a unique blend of ingredients not found in any other products encountered during our research, it seems to meet the definition of a "first-of-its-kind formula," as advertised on the website.
However, we think it's important to balance this information by pointing out that all of the supplement's ingredients are part of proprietary blends, so there's no way to know if it contains the same amounts found in supporting clinical studies. While the amounts included are likely safe, they may be too small to offer many of the proposed benefits, however.
Furthermore, at between $67 and $79 per bottle depending on quantity ordered, it certainly isn't the least expensive whole-health powdered supplement we've researched, either.
But Morning Complete is manufactured by ActivatedYou based out of Santa Monica, CA, who formulates other popular supplements like Advanced Restorative Probiotic and Serene:5, and stands behind all their products with a 90-day refund policy.
As consumers ourselves, we'd imagine this will be more than enough time to decide if Morning Complete's formula delivers on its claims. After all, each of us has different bodies that will react in unique ways to its ingredients. Just keep in mind that you'll be responsible for paying return shipping if you're dissatisfied.
---
This company is actively collecting reviews from its customers. All reviews submitted are subject to moderation and approval to ensure they meet our

Review Guidelines

.

Not for me

By Sharon M.

,

Colorado

,

May 21, 2020
Verified Reviewer

I've been using the Morning Complete for a couple of weeks now, carefully following the instructions. Without being too graphic, it did not work as proclaimed...on me. I went several days without being able to evacuate, which is entirely abnormal for me. This resulted in a re-emergence of my beloved hemorrhoids so I'm throwing in the towel. Glad it works for some. Not so much here!

Bottom Line: No, I would not recommend this to a friend

May 26, 2020

Sharon, I want to apologize that this was your experience with our Morning Complete. These are not typical side effects and as always, we ask that our customers consult their physician prior to starting any new supplement. Please email me at chloe@activatedyou.com to ensure you are fully refunded. Thank you.

---

Not a fit

By Amy A.

,

Utah

,

May 6, 2020
Verified Reviewer

I've been using this product for a week now and the flavor is horrible. I've had more gas in the past week than I have had in my life. I was hoping it would help with weight loss but instead, in the week I've been taking it, I have gained 3 pounds, even with increased activity and watching what I eat. I would not recommend this.

Bottom Line: No, I would not recommend this to a friend

May 6, 2020

Hello Amy, some of our customers see a difference in 30 days, while others may see results in 90 days. We understand that everyone is different, which is why we provide a 90-day money-back guarantee. I've gone ahead and initiated a full refund for your order - please keep an eye out for a confirmation email. Thank you for giving Morning Complete a try.

---

Terrible product

By Najwa S.

,

Ohio

,

May 5, 2020
Verified Reviewer

This product is not what it claims to be. I'm a health-conscious person and I'm very fit and in good health. I already take prebiotics on a daily basis for a fraction of the price and thought why not try this product and see if the results are as great as they claim.

Well...NO! The product is a total rip off! The container is less than half full and one container barely lasts 2 weeks. And in 2 weeks I felt no different, no energy, no less bloating, nothing.

Furthermore, they don't reply to emails or phone calls when you try to contact them for information or for the money-back guarantee. I wouldn't purchase this product if I were you. Learn from us who fell for this scam.

Bottom Line: No, I would not recommend this to a friend

May 6, 2020

Hello Najwa, thank you for your feedback. Some of our customers see a difference in 30 days, while others may see results in 90 days. We understand that everyone is different, which is why we offer a 90-day money-back guarantee. I took a look into your account and it looks like you were able to take advantage of our refund policy. In regards to servings, one container of Morning Complete should contain 30 servings. I'm very sorry if you did not receive 30 servings in your container. I will pass this feedback along to our Fulfillment team to look into. If you have any other questions or concerns, please email me at chloe@activatedyou.com and I'd be more than happy to assist you.

---

It lived up to what the ad say said

By Roshni H.

,

Queensland, Australia

,

Apr 30, 2020
Verified Reviewer

I will say I am not the type of person that orders these kinds of products because they never work for me, but I was pleasantly surprised! It was good to find something that actually works! I brought this about a year ago but I did not use it. Because I don't eat as many veggies and salad as I would like to I thought I would add this to my smoothies, I love it! It helps in the bathroom, I have lots of energy, I have a clear mind, my skin and my hair are so soft and beautiful!

Bottom Line: Yes, I would recommend this to a friend

---

Advertisement

---

Very disappointed

By Sha B.

,

Oregon

,

Apr 1, 2020
Verified Reviewer

I thought Morning Complete was going to be the answer to all my digestive problems because my family has something in common, irregularity. The ingredients are healthy, it was something I was looking forward to taking and feeling better about myself and taking a step to become regular (instead of going twice a week at the most). The first day I got it I was so excited to get started. I put it in water, since so many people said it taste great, but after one gulp, I gagged. The taste is horrible and then I got cramps. I figured my body just isn't used to having so many healthy ingredients at once. Day two came and I thought if I put it in orange juice, no way can it taste bad. I was wrong.

After that I decided to get creative and spend some more money and buy empty capsules. I spent hours putting the powder into big empty capsules but the taste can even comes through those and it took five horse sized capsules for one small scoop. Other than the taste, I noticed I was getting bloated even more. I was gaining weight when I expected this to help me lose weight and become regular, since it has so many healthy ingredients. People kept telling me to give it a chance, it could take up to two to three months for it to work. I like to think they are right but the cramps are so severe and so is the bloating but I keep trying and all I get is disappointment. I couldn't go out because I always felt cramps. I don't understand why this doesn't work for me but it works for most people. What is wrong with my body? I'm still not regular, still feel cramping and bloating and I'm really bummed I went through the additional trouble to put it into capsules only continue to feel uncomfortable. I got a three-month supply but I don't think I can keep it up. It's easier to say give it two to three months to work but the feeling it gives me daily tells me differently. I had high hopes for Morning Complete. I'm glad this works for most people but unfortunately, it doesn't work for me.

Bottom Line: No, I would not recommend this to a friend

Apr 2, 2020

I'm very sorry to read this was your experience with Morning Complete and I hope you are feeling better now. As always we ask that our customers consult their physicians prior to starting any new supplement as everybody is different. I want to assure you that you will be provided with a full refund. Please keep an eye out for a confirmation email from one of our representatives. If you have any other questions, please email me at chloe@activatedyou.com and I'd be happy to help.

---

Had high hopes but they weren't met

By Valerie M.

,

Statesboro, GA

,

Feb 21, 2020
Verified Reviewer

I was really hoping this product would live up to all the hype, but I'm sad to say it did not. First, it was disappointing from the get-go, finding the jar was large enough for triple the amount of powder supplied. What a waste of plastic...I would think someone who cares about the environment like Maggie Q does, would ensure her products are packaged in a more eco-friendly manner. Second, the taste is horrible. I understand that everyone has their own taste and sure, some people may love it, I'm just not one of them. I can barely get the stuff down every morning. Third, and most importantly, it makes me bloat to the point of looking pregnant. Yes folks, pregnant. I sent my Mom a picture jokingly and she truly thought I was four months pregnant...not exactly a look I'm going for. I hope this product works for some people but I'm just not in that group.

Bottom Line: No, I would not recommend this to a friend

Feb 24, 2020

Valerie, thank you for sharing your experience with Morning Complete. I'm very sorry that this product was not the right fit for you. I want to thank you for giving the product a try but I've gone ahead and and initiated a refund for your order. Please expect an email confirmation from our customer service team. If you have any other questions, please reach out to me at chloe@activatedyou.com and I'd be more than happy to assist you.

---

It tastes great. It's not working for me. It's giving me bad constipation.

By Simone M.

,

Palm Springs, CA

,

Feb 18, 2020
Verified Reviewer

I love the taste. I'm guessing other users that dislike the taste haven't had the pleasure of tasting fitness powders supplements like glutamine that taste literally of chalk. Morning Complete's taste is fresh and sweet, unlike glutamine powder.

Unfortunately, it's giving me bad constipation to the point where laxatives can't take care of it. I'm also experiencing bloating, cramps, and gas. Although I can deal with them - they are bearable, but the strong constipation is not fun.

Too bad doesn't work for me, I suffer from SIBO. I wanted it to work and enduring the die-off bacteria period but I may have to stop taking it.

Bottom Line: Yes, I would recommend this to a friend

Feb 18, 2020

Hi Simone, I'm very sorry to read that our Morning Complete was not the right fit for you. I want to thank you for giving the product a try. I've gone ahead and initiated a refund for your purchase so please keep an eye out for your refund confirmation email. In the meanwhile, if you have any other questions or concerns, please email me at chloe@activatedyou.com and I'd be more than happy to assist you.

---

Undecided

By Cher C.

,

Oklahoma City, OK

,

Feb 17, 2020
Verified Reviewer

I have been using Morning Complete since 1/15/20. The taste was difficult at first. I mix it with Crystal Light and have grown to think it's not too bad. I am not wholly convinced it is doing much for me. I appreciate my movements being more regular and consistent but I am having SO much horrible smelling gas! I've been hoping that it would get better but no luck. The first couple of weeks I actually felt somewhat encouraged by increased energy but, it seems, that my body has adjusted and I'm not feeling that quite as much. I can't decide whether to order more. Any advice?

Bottom Line: Yes, I would recommend this to a friend

---

Customer service

By Lauren B.

,

Trussville, AL

,

Feb 8, 2020
Verified Reviewer

I was extremely disappointed in the customer service and return policy. I was told I could not have this product and called prior to my product being shipped, I was told basically sorry, it's already going to be shipped and I was going to be responsible for the return shipping when it arrived! Paying over $20 to return a product that I can't even have is like burning that $20 with a match. This aggravated me because I was told the product hasn't left the warehouse.

Bottom Line: No, I would not recommend this to a friend

Feb 10, 2020

Lauren, I'm very sorry to read that this was your experience with us! After looking into your account, it looks like you placed the order on February 5th and called the following day to cancel the order. By that time, the order had already been fulfilled and at this point, we are unable to cancel the order. It is customary that our customers pay for the return shipping for orders delivered. Please email me at chloe@activatedyou.com and I'd be more than happy to see what I can do for you. Thank you.

---

Very skeptical

By Tammie A.

,

Montana

,

Feb 4, 2020
Verified Reviewer

Ok, I have IBS and I was skeptical about this, but they had a refund policy. So I figured why not since I have been ripped off in the past with companies.

So the first container great worked like a charm daily. Then I opened the second container and noticed the container didn't have as much product in it so I measured it out scoop by scoop. It only has 16 days' worth in it. Not impressed!

The third container I had given to a friend when my order arrived and she started that container on January 17th and she said that her container was gone by the last day in January.

Now I know we both can't be that stupid. Especially when we are both currently on diets and are measuring out daily to food, supplements, and this product so all we do is grab and go on our work days.

Would have been nice to get the other two containers with a 30-day supply in both of them like it was supposed to be. Huge disappointment.

Otherwise, the product does work but now I'm very hesitant to buy more since the containers don't measure out to a 30-day supply. I work too hard for my money.

But they got their money, just wished I would have gotten what I paid for. But it did help with the bathroom issue greatly. So it's up to you if you want to take a chance.

Bottom Line: Yes, I would recommend this to a friend

---

Disappointed

By Christy O.

,

Montana

,

Jan 31, 2020
Verified Reviewer

I had high hopes that my years of bloating and gas would decrease after using this product. I watched Maggie Q's video with great anticipation of trying this out. I have been using Morning Complete for 3 full weeks now and am experiencing increased bloating and gas!

Bottom Line: No, I would not recommend this to a friend

Jan 31, 2020

Christy, I'm very sorry that you're not seeing the desired results from taking our Morning Complete. I want to thank you for giving the product a try! I've gone ahead and initiated a refund for your order you've attached to this email. Please expect a confirmation email in 1-2 business days. In the meanwhile, if you have any other questions, please email me at chloe@activatedyou.com and I'd be more than happy to assist you!

---