Nucific BIO X4
This company has claimed this profile, is getting alerted on any new customer reviews entering this page, and may engage in dialogue with its customers to address their matters.

Companies cannot pay money or provide goods in order to remove or alter customer reviews.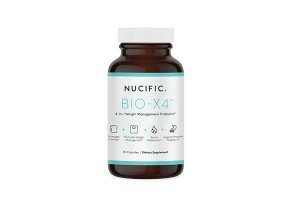 Summary
Nucific BIO X4 is a probiotic-based nutritional supplement that's claimed to help improve digestion, suppress appetite, and support your weight loss efforts.
Nucific BIO X4 Review: Effectiveness, Side Effects, Cost, and More
This article contains links that should you click and make a purchase, we may earn a commission from the sale. See our Advertiser Disclosure.
Nucific BIO X4 is a probiotic-based supplement that claims to provide digestive support, suppress appetite, and support weight loss management. Each capsule includes:
4 billion colony-forming units (CFUs) of a proprietary Digestive Enzyme Blend that helps your body easily digest carbs, fats, and proteins
Green tea to boost your metabolism
Caralluma Fimbriata to suppress cravings
Nucific's BIO X4 is claimed to cause no known side effects, contains only 100% pure ingredients, and is made without lactose, gluten, or fillers.
According to the manufacturer, you should take one capsule of BIOX4 with each meal (3 capsules daily), and as long as you exercise regularly and don't eat too many carbs or sweets, you'll begin experiencing results within 1–2 months.
This review will help you understand if this product works and if it is the right option for you.
BIO X4's Ingredients: Are They Backed by Science?
According to BIO X4's product label, the supplement contains:
Probiotic Blend: 4 billion (4x109) CFU per capsule
Lactobacillus acidophilus
L. rhamnosus
L. plantarum
Bifidobacterium lactis
B. animalis
Digestive Enzyme Blend: 88mg
Amylase (from Aspergilus Oryzae)
Bromelain
Lipase (from Rhizopus Oryzae)
Weight Management Blend: 100mg – Green Tea Extract (50% EGCG)
Craving Control Blend: 166mg – Caralluma Fimbriata Extract
Below, we'll detail the available research for each ingredient category included in BIO X4.
Probiotic Blend
Probiotics have been used for decades for the treatment of irritable bowel syndrome, allergic response, H. Pylori infection, boosting immune response, and more, and have reams of clinical data available.
Note: As each capsule contains 4 billion CFUs, by taking the recommended 3 capsules per day, you'll cumulatively be ingesting 12 billion CFUs.
This is important because some consumers shop for probiotics specifically based on the number of actual CFUs each dose provides, and Nucific's claim might be a bit confusing.
In terms of support for some of the strains included, here's what we found:
Lactobacillus acidophilus is widely used in many available probiotic blends. It is thought to have an ability to improve symptoms related to diarrhea and stomach discomfort. Additionally, it may play a role in boosting immune function.
A review of 34 different randomized trials concluded that L. acidophilus at doses ranging from 2x108 to 1011 CFUs was able to reduce the risk for diarrhea when used alone or with other probiotics.
The combination of L. acidophilus NCFM and Bifidobacterium lactis Bi-07 twice daily at 1011 CFU/day reduced bloating in over 8-weeks. This same combination may also result in fewer sick days from respiratory infections.
L rhamnosus may reduce stomach flu symptoms. This family may also support immune system function and offer allergy relief.
L rhamnosus GG at 0.018mg doses reduced airway inflammation in mice with chronic asthma.
Over 5-days, kids treated with 1×1010 CFU of L. rhamnosus GG twice daily for the stomach flu did not relieve diarrhea or vomiting when compared to placebo.
Many Lactobacillus plantarum species may offer anti-inflammatory benefits. This was demonstrated in a laboratory study where L. Plantarum N14 reduced inflammation in intestinal cells. Similarly, mice injected with 100 mg/kg of L. plantarum K8 had reduced expression of enzymes and receptors involved in cardiovascular inflammation.
Bifidobacterium lactis is another strain that may offer immune-boosting benefits.
B. Lactis HN019 at 1.5x1011 CFU doses twice daily over 6-weeks improved blood tests used to indicate natural immunity in 13 elderly individuals. Similar doses of the same strain also boosted white blood cell levels in 30 elderly individuals.
The big takeaway here is that these effects are strain-specific. We can't expect the same results from studies that investigated certain doses for certain strains as BIO X4 does not provide these details, but rather only the probiotic blend total.
Digestive Enzymes Blend
Carbohydrate metabolism begins in your mouth as the enzyme amylase is produced in your salivary glands.
This enzyme has not been extensively studied with respect to weight loss. Amylase levels were not found to be associated with weight loss or improvement in blood sugar regulation in obese individuals on weight maintenance programs.
Lipase is an enzyme involved in fat digestion. In healthy volunteers, those treated with 280mg of lipase experienced less stomach fullness after a fatty meal.
Bromelain plays a role in protein digestions, and may also offer anti-arthritic and anti-cancer benefits. It's dietary role has not been well studied.
Weight Management Blend
Finally, epigallocatechin gallate (EGCG), the main ingredient in green tea, is often touted as providing a wide range of benefits.
Often included in dietary supplements that claim to boost metabolism or burn fat, green tea, and its proposed effects have been studied in humans.
These benefits are probably related to 2 notable components; caffeine and catechin (an antioxidant).
Green tea given at 90, 200, 300 and 400mg doses up to 3x daily increased energy expenditure when combined with 200mg of caffeine; the effects of green tea were not dose-dependent.
Body weight, BMI, waist to hip ratio, and body fat percentage were improved when 500mg of green tea daily was combined with exercise. These effects were greater than those seen in exercise alone.
Craving Control Blend
Caralluma is a cactus indigenous to India that is thought to offer sliming benefits through curbing appetite.
In overweight subjects, 1g per day over 2-months significantly reduced waist circumference and appetite.
In children with a genetic disease that is associated with excessive eating, 1,000mg of Caralluma reduced this behavior.
Side Effects
As BIO X4 does not offer information regarding specific amounts or specific strains included in their probiotic blend, their ingredients can't be readily compared to the available literature.
Nonetheless, most studies test strain in the order of billions CFUs without serious side effects. While this speaks to the safety of BIO X4, the individual strains may not be offered in large enough doses to achieve the desired effects supported by research.
Mild side effects reported with the use of similar blends can include abdominal pain, gas, bloating, and diarrhea. These symptoms can be eased by lowering your dose or discontinuing the use of the product.
The remaining ingredients have all been safely tested at doses as much as 10x larger than what is offered in BIOX4. Again, it important to keep in mind that the Digestive Enzyme Blend offers only the total amount for all 3 ingredients. This number is far less than the doses that have been tested individually. While likely safe, BIO X4 may not offer a large enough dose for the desired effect.
Green tea extract generally contains at least some caffeine, depending on how it's processed, so this might be relevant for users who are sensitive to stimulants.
Pricing and Refund Policy
The BIO X4 supplement is priced as follows:
1 Bottle: $99 (30-day supply)
3 Bottles: $261.36 ($87.12 per bottle)
6 Bottles: $487.08 ($81.18 per bottle)
According to the product's website, all orders over $50 come with free shipping.
All Nucific products come with a 90-day refund policy. You'll have to send your unused portion left back to the company. You'll need to contact Nucific's customer service department at 888-679-5520 or support@nucific.com in order to initiate the refund process.
Company Reputation
As of 3/5/20, over 1,380 customers left their reviews of BIO X4 here on HighYa, for an average rating of 4.4 stars. On the Better Business Bureau, we found 286 customer reviews for an average rating of 4 stars.
Nucific also has an A+ rating with the BBB based on 98 customer complaints.
The Bottom Line
While BIO X4's probiotics will likely provide some level of digestion support (e.g. reducing some types of inflammation, boosting immune response, etc.), unless your intestinal flora is severely out of whack, any benefits you'll achieve will likely be minor.
BIO X4 does include ingredients that have been studied in human trials. However, the amounts for each individual ingredient are not provided by the company. The total amounts provided likely mean that the individual ingredients are offered at safe amounts.
This also means that these ingredients are offered in doses less than what has been proven effective in research studies.
Considering this, it's our opinion that BIO X4's price isn't in line with any benefits you can realistically expect to achieve from using the supplement.
Lastly, as your digestive symptoms and need for effective weight loss may be the result of more serious underlying conditions, it is important to include a medical professional in your management.
» Recommended Reading: Best Grains, Fruits, and Vegetables That Improve Digestion
Special Offer
Looking for a Way to Get in Shape, Lose Weight, and Improve Your Health?
We recommend the Noom wellness app based on our extensive research and high customer rating. Noom is offering our readers a 14-day trial for a limited time. Click here for this special offer and to learn more about the program.
---
Customer Reviews
This company is actively collecting reviews from its customers. All reviews submitted are subject to moderation and approval to ensure they meet our
Review Guidelines
.
Posted on Oct 19, 2016
BIG important information missing in original presentation
I did go through the lecture, watched the video & then decided to place my order but not for weight loss. I liked what it had in the way of ingredients to get balanced for total health. Having previously been a personal trainer & a gymnastics coach I know the importance of working out but this actually didn't focus at all on that, it was more about first having a healthy digestive system & then what main things nowadays to stay away from.
I have no doubt many people do buy the product for weight loss because of everything I saw. Which is why I am now upset & unsure about this because after I received the product it says to call a number before you begin with valuable information. To my surprise, I listened to the recording tell me very important things for success & 1 was to drink 2 glasses of water BEFORE each meal (not simply take a capsule with each meal as stated on the bottle) as well as another major "tip" working out at least 30 minutes EVERY day!
Well, especially if you purchased this for weight loss & haven't been working out OR drinking this much water (especially before each meal since it even says it will make you eat less) just doing these things alone without the product should assist with weight loss as well as ANY other health benefits if you haven't done any of what is being advised!
There were other things, like make sure to take the pills consistently, that is understandable. I do NOT understand these other things being SO emphasized when they were not even mentioned before & I can't tell you how many times they were told over & over again how important it was to see results! I then started doing more research for reviews (probably should have before I bought this) & these things are shown everywhere else but on that main site?
So again, that is very disappointing that now all of a sudden it's imperative to drink this extra water before eating AND exercise every day to see results when that was never advised in the original presentation. I won't be able to see if this product does what I ordered it for until I have it more than 2 days, but I had to write what I do know already.
Bottom Line: No, I would not recommend this to a friend
Posted on Feb 15, 2017
Deceptive practices
I was totally impressed with the video, which convinced me to decide to purchase BIO X4. Not surprisingly, in the online ordering process, I was offered a discounted price per bottle if I added more to my order. This came in the form of a "pop-up" screen offering three more bottles for 30% off. I thought this was a last chance opportunity before confirming my order (which I had not yet done).
I accepted the offer for the additional three bottles, and the same screen appeared again (add three more for 30% off). Thinking that it had not accepted my previous click, I accepted the offer again. Once again another screen to add more appeared. This time I clicked "no thanks," only to find that my credit card was set to be charged for three separate orders; an order for one bottle, and two orders for three bottles.
Seeing (in the top right corner of the screen) that I had not yet reached the "Confirm Order" screen, I clicked on the "My Cart" tab only to find that it was now empty. The "Check Out" tab appeared to still be active. I did not go to the "checkout" screen or confirm my order at any time. Instead, I left the site.
Being very suspicious, I called the NUCIFIC customer service number and found they had indeed charged my card for the three separate orders. I demanded a full refund. The gentleman started to explain their "90-day money back" policy. I stopped him immediately, telling him I didn't like their practices and wanted only a full refund. He (apparently) complied and sent an email stating that all three orders had been refunded. Normally, there is a confirmation number attached when a refund is issued. The email contained no confirmation number.
To cover myself, I called my credit card company to report the event (confirmed orders were pending). Since it is Saturday, I will have to wait until next Wednesday to see if the pending orders have been removed and the matter is closed. If instead, a box shows up on my porch, you can be sure I will post part two of this story.
It's a shame that these type of practices could be hurting the marketing of what seems to be a good product. The information appears valid and well presented, but the ordering process made me smell a rat.
Bottom Line: No, I would not recommend this to a friend
Company Response from Nucific, LLC
Feb 16, 2017
Hello Jay, I am sorry to hear that you did not have a good experience with the ordering process. I would be happy to look into this issue for you to make sure that it has been properly resolved. I apologize for any inconvenience this may have caused you. Please feel free to email me directly at naomi.benson@nucific.com so that I can personally take care of this issue for you. Thank you Jay, and I look forward to hearing from you.
Posted on Dec 15, 2017
Don't waste your money
No results, but more disturbing is they tell you that you can return items for refund, but do your math first. I'm still fighting for credits on returns and the company will not respond. Also, beware of how they trick you into purchasing more than the original, "just try." I ended up getting 3 times the amount of product than I originally wanted (note, somehow 3 different order numbers!).
I have written about 10 emails and they will not respond. They just keep trying to sell me more product.
Bottom Line: No, I would not recommend this to a friend
Company Response from Nucific, LLC
Dec 17, 2017
Hi there, Naomi here with Nucific. Thank you for leaving us a review of your experience with BIO X4. I am sorry to hear that our return process fell short of your expectations. I would love to help sort this out for you. It is never our intention to upset our customers or send them more products than they wanted. During the checkout process, it is likely that you accidentally clicked on some of the most commonly purchased products. For most customers, this is a helpful feature because they can see what other people are usually buying, as well as the amount being purchased.
This does, however, add the product to your order which is why there were multiple order numbers. I can assure you that we always honor our 90-day money back guarantee and try to make things right by the customer when they feel if we have wronged them in some way. Please email me at sam@beverlyhillsmd.com so that I can ensure you receive your full refund as promptly as possible. Thank you, I look forward to hearing from you.
Posted on Dec 28, 2017
Please read before purchasing!
The only good thing I can say is I didn't notice any side effects. The bad part of that is, there were no effects at all.
If you are already a healthy eater with good digestion, this product definitely does nothing. I was not that healthy of an eater when I purchased it, but overall I watch what I eat. I'm sure most of you do, otherwise, you wouldn't be looking to get something like this waste of money. They pitch it so reasonably with a doctors endorsement and you're thinking, oh it's just 60 bucks. Then they sucker you into ordering two more bottles before you ever even get your first.
They also call you within the first month trying to push more products on you. Definitely a scam if I've ever seen one. Not saying the product itself is a scam, because I have heard of horror stories about other diet pills, but the way the process all went down felt like a scam. The lack of results, even after switching to a pescatarian diet to help promote low-calorie intake and force some kind of weight loss, proved this product is no more than a vitamin placebo.
Save your 150 bucks (what you would be out after they annoyingly pop up three more bottles during checkout over and over until you agree), and try something else. Not worth the time or money.
Bottom Line: No, I would not recommend this to a friend
Company Response from Nucific, LLC
Jan 3, 2018
Hello Hadi, Naomi here with Nucific. I am sorry to hear that you didn't receive the results you had anticipated while taking BIO X4. While most of our customers see results right away, we understand that it may not work the same way on everyone. This is why we always stand by our 90-day money back guarantee. We want to ensure that every customer is given a fair amount of time to experience all of the amazing benefits that BIO X4 has to offer. I apologize that you feel like we are scamming our customers. I can assure you that Nucific is a very reputable company and we always try to do right by our customers. If you feel as though we have wronged you in anyway, I encourage you to send me an email personally at naomi.benson@nucific.com. I would be more than happy to issue you a full refund of your unwanted product. Thank you Hadi, I look forward to hearing from you.
Posted on Jul 30, 2017
Horrible company to deal with!
I placed an order for three bottles of the BIO X4 for $129.00 but later decided to go read the reviews. I am so sorry I didn't do that before ordering!
First of all, the ordering process is a scam. They make you think that you are verifying your three-bottle order but really you are just adding another three more bottles, so after repeated requests for more and I kept saying "no" over and over again! So then, after reading the reviews and the warning not to take if you have kidney or liver failure, I then called up the company within a few hours after I ordered! The customer service representative girl said NO, she could not cancel my order and to just refuse it when I get it. So I said I would like to speak with a manager supervisor, and finally she got me one after ten minutes on hold.
Jody M then said he would cancel my order and refund my money. But then the next day I got an email saying that my order was shipped! What a scam. Beware of this company!
Bottom Line: No, I would not recommend this to a friend
Company Response from Nucific, LLC
Jul 31, 2017
Hello Barbara, Naomi here with Nucific. I am so sorry to hear about your experience with our ordering process. I want to assure you that we are 100% an honest company and it is never our intention to confuse any of our customers.
Once you complete your order, we do offer our customers the chance to add on additional products at the lowest price possible. This is to ensure that our customers are getting the lowest possible prices on their favorite Nucific products. The option to decline the offers is always clearly printed right next to the button "Accept."
All orders are typically shipped within 24 hours of ordering, so if a request to cancel the order is made after this time frame, it is likely that your order has already shipped out.
I would be more than happy to check on your account and ensure that you received a full refund. Please send me an email at naomi.benson@nucific.com. Thank you!
Posted on Aug 1, 2015
Nucific
I have been using the Nucific probiotic bio x4 and I'm loving it so far. I feel so much better already. The customer service is awesome and shipping is super fast. The video makes 100% pure sense! I kept nodding through the whole thing and I usually do not like videos like this. I highly recommend!
Bottom Line: Yes, I would recommend this to a friend
Company Response from Nucific, LLC
Dec 2, 2015
Hey Dani, this is Naomi again! I noticed that you also left a great review along with your comment to the review above. I just wanted to thank you once more, and remind you to contact me at naomi.benson@nucific.com if you ever need anything. Take care.
Posted on Oct 4, 2016
Very disappointed
I gained 2 lbs within 3 weeks of taking Bio X4. I wrote to "Dr. Amy Lee" and she said she would forward my concerns to the "team". It has been a month and I am still getting their "advertisements" on how great the product is and trying to sell me MORE stuff. This place sounds like a scam. I want my money back - Bio X4 DOES NOT WORK.
Bottom Line: No, I would not recommend this to a friend
Company Response from Nucific, LLC
Oct 5, 2016
Hello K. My name is Naomi and I am the Customer Care Manager for Nucific. We always appreciate feedback from our customers and I apologize for your negative experience using Bio X4. Results vary for each individual, especially when trying a new product. Sometimes it can take a little longer to notice results, so we urge our customers to try it for at least a couple months. We always honor our money back guarantee, so please do not hesitate to contact me at naomi.benson@nucific.com if you are still not completely satisfied and I will refund your money right away.
Posted on Sep 29, 2016
Poop galore
I'm on day two of Bio X4, and I just took the most amazing crap in my life. My only regret is that I hadn't weighed myself beforehand. It was so amazing I texted my friends about it. This is incredibly gross and TMI, but it's big news for me. I've had constipation problems all my life. I've had to go to the hospital due to impaction before. I've tried a lot of things to fix this issue. Diet modification. Benefiber. Water. Exercise. Miralax. Enemas. Colonoscopies. Probiotics. Colonics. Ultimately, I've been diagnosed with IBS-Constipation. So trust me when I say I don't poop like that unless I'm sick. It was glorious and easy and can I buy stock in Nucific?
Granted day two maybe a little early to attribute it to Nucific. Perchance it's a fluke. I hope not. I know it's supposed to help with weight loss and that's great. If I can drop some lbs from this even better. But I bought a supply in the hopes that it'd help with my poop problems.
The only thing that I didn't love was the delay in getting the product. At the time that I ordered it said it'd take 24 hrs to ship. Three days later I checked and it hadn't even been processed yet. That concerned me naturally, and I was totally convinced that I'd been scammed, and I was going to have to fight to the death for my money back. Well, surprisingly customer service was nice and fixed it immediately. Also, I didn't have to wait to speak to someone for 20 hours.
So for the people who are interested in Bio X4 because they hope it'll help with their poop problems, I say go for it. (I will, of course, update in case this was a one hit wonder. But right now I'm so impressed I had to write a review.)
Bottom Line: Yes, I would recommend this to a friend
Posted on Nov 25, 2016
Don't waste your money
While I have not experienced any side effects I have not seen any benefits either. I do not feel any better (or worse), have not experienced less appetite or lost any weight. I bought a 90 day supply and am on the second bottle.
Since I spent the money I plan on taking them until they are gone but at this point do not plan on buying more. I think this is just another weight loss scam.
Bottom Line: No, I would not recommend this to a friend
Posted on Feb 10, 2017
Scam
I received the first order of three bottles (90 capsules in each bottle) and signed up for automatic renewal, thinking I'd have time to cancel if I didn't see improvement with those three bottles (which by the way were purchased on 12/31/2016).
So when the second order of three bottles arrived in my mail on 2/4/2017, I was surprised, to say the least. That is 270 capsules in each order, times two, or 540 capsules sent out in 35 days!
When I called Customer Service the poor girl was flustered and agreed to cancel my automatic renewal status, having no answer as to WHY I was sent a second order at that time. She did advise, however, that they don't pay return shipping, so although I could return the last three bottles, I would have to pay postage.
I just got back from the post office, and it cost me $12.75 to send them back.
In case you're wondering, I had no positive results from taking BIO X4 during that one month that could not have been had by using a good digestive support product purchased from my local Vitamin Shoppe, such as "Digest" by Enzymedica.
Bottom Line: No, I would not recommend this to a friend
Company Response from Nucific, LLC
Feb 13, 2017
Hi Tamsin,
I am truly sorry for this confusion. We offer our customers a heavily discounted price on automatic renewal so that they never run out of the product they love. It looks like your next order was sent out a bit too soon. I am glad that our customer service agent was able to cancel this for you.
Again I apologize, and please feel free to email directly at naomi.benson@nucific.com if you ever have any additional questions or concerns.
Posted on Dec 4, 2019
Didn't work for us
Purchased the 6 bottles deal for the wife and I to try with high hopes. We started mid-Sept and we both have not seen any results. Makes me horribly gassy. Thought it was just a phase and it will pass. It has only gotten worse. The only weight loss was from the constant diarrhea I got, and still have. Again, thought it was a phase and would pass...it didn't. I still eat a lot and have cravings. My wife is gassier now too but is ashamed to admit it. Said she doesn't feel a difference from before and after starting.
I emailed customer support to initiate the "90-day money-back guarantee, no questioned asked" but I was told:
"We are happy to honor our 90 day Money Back Guarantee, however, we do require all purchased items (empty/used bottles) to be returned back to us in order to receive your refund.
If you do not have all your items to return, you may not receive a full refund. Once we do receive your return, and our receiving team physically inspects your package, we will issue you the appropriate refund within 3-5 business days."
WHO KEEPS EMPTY BOTTLES! That's some BS.
Buyer beware, their 90 days, no questions asked guarantee is very misleading.
Bottom Line: No, I would not recommend this to a friend
Company Response from Nucific, LLC
Dec 5, 2019
Hi David, thank you for taking the time to share your feedback. As it is industry standard, we do ask that you return the products if requesting a full refund, as to ensure that you gave the product a fair trial. As an extra convenience, we offer a 40% refund to customers who do not decide to send back the product containers. I am so sorry for the confusion. I will personally ensure you get a full refund; please email at naomi.benson@nucific.com and I will begin the refund process, no need to send anything back. As for the efficacy of the product, we understand that everybody is different so Bio-X4 may work for some but not others. This is why we will always honor our 90-day money-back guarantee. I look forward to your email to make this right! Apologies for any inconvenience or confusion we may have caused.
Our Promise to You
In order to safeguard you and ensure helpfulness and relevance, our compliance team manually assess every customer review before it goes live.
We have a zero-tolerance policy for fake reviews, and companies cannot control or alter any reviews at any time.