P90X3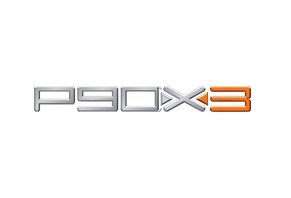 Summary
Building off the hit fitness series from Beachbody, P90X3 is designed to give you a high-intensity workout in just thirty minutes. The program delivers a quality workout, but it might be underwhelming for P90X alumni.
Pros
Shorter workouts that are easier to fit into your schedule
Demanding, but motivating workouts
Minimal equipment needs
Option to purchase the program directly or access it through a Beachbody On Demand subscription
Beachbody On Demand is cost-effective compared to popular alternatives
Cons
P90X fans might not find it as beneficial as the other programs
Might be too overwhelming for anyone not used to exercise
Less emphasis on cardio than previous versions
Beachbody On Demand content isn't updated regularly like other fitness subscriptions
P90X3 Review: A Detailed Look
The P90X3 program is a 90-day workout system from Beachbody that can be accessed as part of your Beachbody On Demand subscription or purchased as DVDs.
Designed for both fans of the original P90X series and for those who want to get in better shape with the minimal time commitment, the P90X3 fitness series aims to boost your fitness with thirty-minute workouts.
As with the original, this program is led by Beachbody fitness expert Tony Horton. It's not a sequel to P90X, but rather is a standalone fitness plan meant to give you comparable results in less time.
Can you use P90X3 to get in shape in just 30 minutes a day? We posed this question to Arizona chiropractor Matt Tanneberg, and he confirmed that it is.
"You can get ripped from a 30-minute workout at home," he told us, "[While] exercise is not more effective for the first 30 minutes, at the beginning of a workout, you will inevitably have more energy.
"This will allow you to push yourself harder initially than you will be able to push at the end of a workout."
In other words, a shorter workout can lead to a harder sustained output for its duration.
I tried this program out to see what it offers and shared my experience below, along with other important details that will help you decide if this is the right option for you.
Pros and Cons
Program Details and My Workout Experience
I'm no stranger to Beachbody On Demand and wanted to see how P90X3 really worked. My subscription gave me instant access to the program, so I started scoping it out.
The program begins with a two-minute intro video that dives into details, along with plenty of before and after pictures highlighting the results you can expect from the program.
Many participants claimed to lose 30+ pounds within a few months, despite each workout being only 30-minutes long.
Within the program, are 21 workouts that emphasize circuit training, cardio, muscle-building, yoga, Pilates, strength training, MMA Training, mobility, core work, and HIIT.
You'll need access to dumbbells of varying weights, a chin-up bar, yoga mat and blocks, and resistance bands.
Browsing the program's Quick Start guide, I was impressed by how it comprehensively covered the program.
The 117-page PDF file delves into the theories and research behind the program, why "short" shouldn't be equated with "easy" for these workouts, and a detailed daily description for each activity.
This guide gives me confidence that the program is well thought-out and includes plenty of support for adjusting the program to fit anyone's fitness goals.
For instance, you can choose to follow one of four schedules based on your fitness goals:
Classic: This traditional version is designed to get you toned and strong, and is the recommended starting point for your first time through.

Lean: For those who want to build up their endurance without bulking up, this program focuses on workouts that help you tone without adding bulk.

Mass: If your goal is to build up muscle mass, this program uses videos that focus more on strength exercises with less emphasis on cardio.

Doubles: This niche option is best for those who already have a strong fitness base. It will accelerate both fitness gains and weight loss.
You can download a separate calendar guide for each one.
P90X3 is designed to alternate intense workouts with light recovery days so that your body has time to rest. Certified personal trainer Rachel MacPherson approves of this approach.
"Thirty-minute high-intensity workouts are very effective," she told me, "as long as they are balanced by recovery days and you listen to your body if any pain or injury occurs."
The program also includes a 50+ page nutrition guide. The central premise is that monitoring your nutrient intake and portion sizes complement the P90X3 workouts and is an integral part of getting in shape.
On to the workouts. The program offers an optional 12-minute warm-up than can be used before any class, and sixteen 30-minute classes followed in various combinations based on your schedule.
These classes each fall into one of four categories.
Muscle Building Resistance: Total Synergistics, The Challenge, Incinerator, The Warrior, Eccentric Upper, Eccentric Lower

Cross-Training Power: Agility X, Triometrics, Decelerator

Fat-Burning Cardio: CVX, MMX, Accelerator

Core, Flexibility, and Balance: X3 Yoga, Pilates X, Isometric, Dynamix
There are also three "Deluxe" classes that take your workouts to the next level through upper body, lower body, and core training.
I sampled the CVX workout and quickly learned this program wasn't going to be a cakewalk. Tony Horton started the class with a short speech and launched us into the class filled with ab movements and full-body strength moves.
I was sweating by eight minutes, sucking in the air by 12, and ready to call it quits by 18. The large clock was a welcome feature on the screen, as I found myself counting down the minutes from almost the beginning.
It's a good thing this class was just 30 minutes, as I might have bowed out earlier otherwise. However, I give Tony props for keeping things moving along and helping me stay motivated throughout the class.
There's no doubt each P90X3 class will deliver a killer workout that won't kill your commitment to keeping going. I finished exhausted, but I wasn't demoralized and felt motivated to continue the program.
P90X3 vs. the Original P90X and P90X2
P90X3 workouts are shorter than its predecessors. Customer reviewers also indicate that the program is slightly easier and more straightforward than the two previous versions.
You will need less specialty fitness equipment, and your baseline fitness level can be lower when you get started. For this reason, some reviewers recommend doing P90X3 before trying the traditional program.
This advice fits my experience. I've never followed the original P90X programs so I can't comment on the comparison, but I consider myself fitter than most, and I found this program to be a major challenge.
Analysis of Customer Reviews
The P90X3 DVD workout program has over 300 reviews on Amazon that average 4.3 stars. Here are the key takeaways.
Common Compliments:
An effective way to get in shape and lose weight
Minimal equipment necessary
Helpful nutrition guide includes
Easy to modify for people with injuries
People were able to fit the workouts into their days easily
Common Complaints:
Problems with Beachbody customer service
Most workouts aren't actually 30 minutes
Some users preferred earlier versions for their longer workouts and more intensive focus on specific body parts
Not enough focus on cardio
Pricing
The P90X3 program is part of the Beachbody On Demand subscription which is priced at $160 for 12 months.
The annual membership includes access to all of the Beachbody On Demand workout programs (more than 1,400 classes) plus a 30-day supply of Shakeology nutrition shakes, a Shakeology shaker cup, and a Beachbody Guide to Nutrition.
If you sign up for this plan, you are committing to a monthly Shakeology delivery for $129.95 per shipment, plus $2 shipping. You can cancel this subscription at any point from your account.
Alternatively, you can also sign up for Beachbody On Demand without the Shakeology subscription for $99 per year.
Your membership will automatically renew until you cancel. The company states that you can cancel your account at any time, though you won't be reimbursed for the time you haven't yet used unless you cancel within the first 30 days.
The program is also occasionally sold as DVDs. Availability may change, so you'll need to search around to find them.
While this gives you the advantages of paying for the program once and owning it for life, you'll lose out on any updates as well as the full content library from Beachbody On Demand.
Popular Alternatives to P90X3
Beachbody On Demand is just one of many home-based fitness programs. Some popular alternatives include the following:
| | Beachbody On Demand | Les Mills On Demand | Daily Burn | Pelton Digital |
| --- | --- | --- | --- | --- |
| Price | $99/yr. | $9.99–$14.99/mo. | $14.95–$26.95/mo. | $12.99/mo. |
| Ways to View Content | Pre-recorded workouts | Pre-recorded Les Mills workouts available on-demand and for download | On-demand and live stream workouts (available at 9 am EST) | On-demand and live stream workouts (20+ new classes offered each day) |
| Types of Exercise | High-intensity strength training sessions | Strength, yoga, HIIT, core, step aerobics, cycling, martial arts, dance, and kid's workouts | Group fitness classes based around cardio, yoga, Pilates, HIIT, flexibility and other workouts | Yoga, cycling, running, strength, meditation, boot camp, stretching and cardio workouts |
| Workout Length | 30 minutes (excludes warm-up and cooldown) | 15–60 minutes | 10–60 minutes | 5–60 minutes |
| Approx. Number of Workout Routines | 16 for P90X3, 1,000+ for all of Beachbody On Demand | 500+ workout videos in 9+ fitness programs | 1000+ total videos in 20+ workout programs | 10,000+ workout videos with more content added daily |
| Extra Equipment Needed | Dumbbells, resistance band, yoga mat | Fitness mat, some classes require additional equipment like free weights or a stationary bike | Fitness mat | Most classes require access to a spin bike, treadmill, or free weights |
One key difference between P90X3 and the other fitness subscriptions above is that it is offered as a standalone program.
You are meant to complete all of P90X3 in 90 days, and there are multiple program blueprints you can follow based on your goals.
Likewise, P90X3 and every other Beachbody On Demand workout series is filmed on a closed set with just a few participants who tend to stay consistent throughout each video. The company releases new series relatively infrequently.
The four other programs, in contrast, put the focus on making you feel like you are in the studio with other regular people.
Peloton and Daily Burn also offer opportunities to join daily live-streamed classes, which I find to be a stellar way to keep me accountable to working out.
For me, having a set date and time in my calendar for every workout (and knowing that hundreds of other people are showing up for the class simultaneously) is more motivating than following a pre-made schedule of pre-recorded classes, as P90X3 offers.
The Bottom Line
If you love Beachbody style workouts (including the original P90X) but want a shorter workout session, then I believe P90X3 offers what you are looking for.
This program is best for those who enjoy working out from home but want the "accountability" of a virtual trainer in front of you and don't mind completing the same workout video multiple times.
The program also makes sense for those who are looking to build up strength and tone up without having to invest in lots of expensive weightlifting equipment.
I expect it to appeal to anyone who wants the flexibility to exercise at any time without being tied to a class schedule, and prefers workout programs with a definite start and endpoint (like 90 days).
Additionally, Beachbody subscribers also gain access to the platform's full content library, which includes dozens of different programs with hundreds of additional classes.
However, this program might not be the best option if you want your performance metrics integrated into the workout experience, prefer not to complete the same workouts more than once, or want consistent access to fresh content.
In these cases, I recommend Peloton Digital for its low monthly price, content variety, and daily live-streamed classes.
Other than that, P90X3 offers a lot of value as a home exercise routine.
Customer Reviews
Posted on Jul 13, 2015
Great program
I bought the product to get in shape after my knee surgery.
I had knee reconstruction surgery and the recovery process was kind of long. The program is very versatile because you can work for mass, get lean, or just get in shape. The part that I love is that it is only a 30 minute. I like the original P90x, but I think it is way too long. Contrary to what the other reviewer said, the program was really good for my knees and made them stronger.
Bottom Line: Yes, I would recommend this to a friend
Posted on Jun 12, 2015
Mind your knees
Program has similar moves as other DVD fitness programs, that's OK. However, I discovered that my knees/shins did not like all the jumping around. Note: did not have ANY knee/shin issues before any of the P90X programs. Also, I work out every day, am in excellent shape. I just wanted to mix it up. Change is good. Just be mindful of the move options.
Bottom Line: Yes, I would recommend this to a friend
Posted on Jun 11, 2015
My son loves it.
My son does jujitsu and was looking for a way to improve his flexibility, agility and balance. P90X3 has done all of this and more. His conditioning is so much better than it ever was. He will definitely be doing this for years to come.
Bottom Line: Yes, I would recommend this to a friend
Our Promise to You
In order to safeguard you and ensure helpfulness and relevance, our compliance team manually assess every customer review before it goes live.
We have a zero-tolerance policy for fake reviews, and companies cannot control or alter any reviews at any time.