P90X3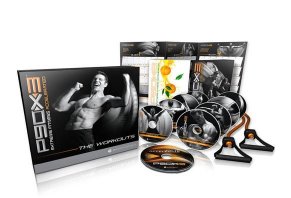 Building off the hit fitness series from Beachbody, P90X3 promises to give you a high-intensity workout in just thirty minutes.
P90X3 Review - The Right Workout Program For You?
Designed for both fans of the original P90X series and for those who want to get in better shape with minimal time commitment, the P90X3 fitness series promises to boost your fitness with thirty-minute workouts. The program is again led by Beachbody fitness expert Tony Horton, and it's not a sequel to P90X, but rather is a standalone fitness plan meant to give you comparable results in less time.
Less time spent exercising for the same progress might sound appealing, but does P90X3 live up to these claims? We'll explore what the program offers to help you decide whether the workouts are a fast fitness solution, or if they will shortchange your results in the long run.
What Does P90X3 Promise?
The P90X3 base program is a 90-day workout system that comes with 16 half-hour exercise class DVDs. Beachbody, the provider of P90X3, claims that the program's super-efficient workouts focus on providing you with "concentrated intensity" to give you the best results possible in thirty minutes.
But is it actually possible to get the full benefits of a workout from just thirty minutes of effort? We posed this question to chiropractor Matt Tanneberg, and he confirmed that it is.
"You can get ripped from a 30-minute workout at home," he told us, "[While] exercise is not more effective for the first 30 minutes, at the beginning of a workout you will inevitably have more energy. This will allow you to push yourself harder initially than you will be able to push at the end of a workout."
In other words, a shorter workout can lead to a harder sustained output for its duration.
How Does P90X3 Work?
We learned from the company website that P90X3 videos emphasize moves from a variety of fitness disciplines, including total-body resistance, Pilates, plyometrics, yoga, agility, mobility, mixed martial arts.
When you purchase P90X3 or sign up for a Beachbody on Demand Subscription (more on that later) you gain complete access to the entire program of 16 30-minute exercise videos that come in four categories. We've highlighted the categories and class names in each group below:
Muscle Building Resistance: Total Synergistics, The Challenge, Incinerator, The Warrior, Eccentric Upper, Eccentric Lower.
Cross Training Power: Agility X, Triometrics, Decelerator.
Fat-Burning Cardio: CVX, MMX, Accelerator
Core, Flexibility, and Balance: X3 Yoga, Pilates X, Isometric, Dynamix
The order and frequency you complete these videos depend on which P90X3 program you choose. Each program lasts for 13 weeks or about 90 days.
Classic: This traditional version is designed to get you toned and strong and is the recommended starting point for your first time through.
Lean: For those who want to build up their endurance without bulking up, this program focuses on workouts that help you tone without adding bulk.
Mass: If your goal is to build up muscle mass, this program uses videos that focus more on strength exercises with less emphasis on cardio.
Regardless of the program you choose, P90X3 is designed to alternate intense workouts with light recovery days so that your body has time to rest. Certified personal trainer Rachel MacPherson approves of this approach.
"Thirty-minute high-intensity workouts are very effective," she told us, "as long as they are balanced by recovery days and you listen to your body if any pain or injury occurs."
What Does P90X3 Cost?
At the time of writing, you could buy the P90X3 program through three different kits, each of which comes with varying amounts of additional products. This chart highlights their differences:
| | Base Kit | Deluxe Kit | Ultimate Kit |
| --- | --- | --- | --- |
| Cost | $119.85 + $19.95 shipping | $239.70 + $34.9 shipping | $329.90+ $39.90 shipping |
| 16 P90X3 Workout DVDs | Yes | Yes | Yes |
| Nutrition Guide | Yes | Yes | Yes |
| Fitness Guide | Yes | Yes | Yes |
| Pro-Grade Resistance Band | Yes | Yes | Yes |
| 3 Additional Workouts | No | Yes | Yes |
| Beachbody Performance Energize (Supplements) | No | Yes | Yes |
| 2 Bonus Resistance Bands | No | Yes | Yes |
| Beachbody Jump Mat | No | No | Yes |
| Beachbody Performance Recover (Supplements) | No | No | Yes |
| Chin-Up Bar | No | No | Yes |
| Chin Up Max | No | No | Yes |
Each order comes with a 30-day money-back guarantee (minus shipping costs) to give you a chance to try out the program without completely committing.
It's also possible to access the program through a Beachbody on Demand subscription. This gives you access to P90X3 as well as dozens of other workout programs produced by Beachbody, including Focus T25, Transform :20, 21 Day Fix, and 80 Day Obsession.
Annual membership for Beachbody On Demand costs $99 per year, and it's also possible to sign up for six months ($59) or three months ($39).
As with most subscription plans, your membership will automatically renew until you cancel. The company states that you can cancel your account at any time, though you won't be reimbursed for the time you haven't yet used unless you cancel within the first 30 days.
If you're dealing with difficulties from your subscription or have other questions for Beachbody, you can contact the company directly at (800) 470-7870.
What Do Customer Reviews of P90X3 Show?
One way to decide whether P90X3 makes sense for you is to see what previous customers think of the program. Blogger Mike from Miked.up gave a glowing report of P90X3, stating that it left him feeling stronger and more confident; to the point that he has completed it almost four times.
Saying that, he reported that the program felt redundant because there is only so much variation possible with sixteen pre-recorded workout videos, and that they didn't include much in the way of cardio.
On Amazon, the P90X program scores four stars out of five after more than 250 reviews. Some of the top comments state that the "thirty-minute" workouts actually tally closer to 45 minutes or an hour when you tack on the warm up, cool down, and optional abdominals.
However, this wasn't seen as a negative because the real substance of the workouts still took half an hour and the workouts were still significantly shorter than those in P90X and P90X2.
Despite the program's lack of cardio, many reviewers reported that a few weeks of P90X3 improved their endurance. Some commented that their running times improved and that they could workout without pausing to rest, proving that they experienced real health improvements from the routine.
P90X3 vs. the Original P90X and P90X2
How does this program compare to the original P90X and P90X2? Beyond the obvious fact that the workouts are shorter, Amazon reviewers told us that the program is slightly easier and more straightforward than the two previous versions.
You need less specialty fitness equipment, and your baseline fitness level can be lower when you get started. For this reason, some reviewers recommend doing P90X3 before trying the traditional program.
What Are Similar Programs to P90X3?
Beachbody on Demand is just one of the dozens of streaming platforms for home-based fitness programs today, and a few other popular options include Les Mills On Demand, Daily Burn, Aaptiv, and Peloton Digital.
This chart highlights some differences between them.
| | Beachbody on Demand | Les Mills On Demand | Daily Burn | Aaptiv | Pelton Digital |
| --- | --- | --- | --- | --- | --- |
| Price | $39 for three months, $59 for six months, or $99 per year | $12.99/month or $139/year | $14.95/month or $26.95/month for premium subscription | $14.99/month or $99 per year | $19.49/month |
| Ways to View Content | Streaming videos or DVD (separate purchase) | Pre-recorded Les Mills workouts available on demand and for download | On-demand and live stream workouts (available at 9 am EST) | On-demand (audio content only) | On-demand and live stream workouts (20+ new classes offered each day) |
| Types of Exercise | High-intensity 30-minute strength training sessions | Strength, yoga, HIIT, core, step aerobics, cycling, martial arts, dance, and kid's workouts | Group fitness classes based around cardio, yoga, Pilates, HIIT, flexibility and other workouts | Treadmill, outdoor running, elliptical, walking, rowing, strength training, stretching, indoor cycling, meditation, stair climbing, and boxing workouts | Yoga, cycling, running, strength, meditation, boot camp, stretching and cardio workouts |
| Workout Length | 30 minutes (excludes warm up and cool down) | 15–60 minutes | 10–60 minutes | 10–60 minutes | 5–60 minutes |
| Approx. Number of Workout Routines | 16 for P90X3, 700+ for all of Beachbody on Demand | 500+ workout videos in 9+ fitness programs | 1000+ total videos in 20+ workout programs | 2,500+ total workouts, more workouts added weekly | 10,000+ workout videos with more content added daily |
| Extra Equipment Needed | Dumbbells, resistance band, yoga mat | Fitness mat, some classes require additional equipment like free weights or a stationary bike | Fitness mat | Many workouts require access to gym equipment | Most classes require access to a spin bike, treadmill, or free weights |
One key difference between P90X3 and the other fitness subscriptions above is that it is offered as a standalone program. You are meant to complete all of P90X3 in 90 days, and there are multiple program blueprints you can follow based on your goals.
Likewise, P90X3 and every other Beachbody on Demand workout series is filmed on a closed set with just a few participants who tend to stay consistent throughout each video. The company releases new series relatively infrequently.
The four other programs, in contrast, put the focus on making you feel like you are in the studio with the rest of the participants.
All but Aaptiv film real workout classes, each company releases new content each week. Peloton Digital and Daily Burn even let you live stream the classes and interact with others taking them at that same time as you.
P90X3 stands out because you can get it as a one-time purchase if you aren't interested in paying for a subscription. However, this limits your accessible content to the 16 videos in the series, and it's possible you might get tired of them.
Our Bottom Line: Who Is P90X3 a Good Fit For?
As we've hopefully illustrated above, there's a lot to like about P90X3. But like all fitness routines, it's more suited to some people than others. Is P90X3 a good fit for you?
We think you'll find a lot of value in this workout program if you love Beachbody style workouts (including the original P90X) but want a shorter workout session, enjoy working out from home but want the "accountability" of a virtual trainer in front of you, and don't mind completing the same workout video multiple times.
The program also makes sense for those who are looking to build up strength and tone up without having to invest in lots of expensive weightlifting equipment. We also think the program will appeal to anyone who wants the flexibility to exercise at any time without being tied to a class schedule, and prefers workout programs with a definite start and end point (like 90 days).
As a bonus, Beachbody subscribers will gain access to hundreds of additional classes through the platform.
However, some people might find P90X3 limiting. We don't think this program is the best option for you if you want your performance metrics integrated into the workout experience, prefer not to complete the same workouts more than once, or want consistent access to fresh content.
A lot of P90X3 competitors also let you be part of live virtual classes with other people in real time, so that's something to consider if that sort of community is motivating to you.
In short, P90X3 offers a lot of value as a home exercise routine, but it's just one option out of many. If you're looking for one program that can help you meet all your fitness goals, we recommend looking at a few other options as well so you can make the right decision for your situation.
» See Also: Walking for Exercise: Why 30 Minutes a Day Can Transform Your Health
---
Mind your knees

By Jake

,

San Diego

,

Jun 12, 2015

Program has similar moves as other DVD fitness programs, that's OK. However, I discovered that my knees/shins did not like all the jumping around. Note: did not have ANY knee/shin issues before any of the P90X programs. Also, I work out every day, am in excellent shape. I just wanted to mix it up. Change is good. Just be mindful of the move options.

Bottom Line: Yes, I would recommend this to a friend

---

Great program

By Mr. B.

,

Maryland

,

Jul 13, 2015

I bought the product to get in shape after my knee surgery.

I had knee reconstruction surgery and the recovery process was kind of long. The program is very versatile because you can work for mass, get lean, or just get in shape. The part that I love is that it is only a 30 minute. I like the original P90x, but I think it is way too long. Contrary to what the other reviewer said, the program was really good for my knees and made them stronger.

Bottom Line: Yes, I would recommend this to a friend

---

Advertisement

---

My son loves it.

By Larry Stark

,

Euless, Texas

,

Jun 11, 2015
Verified Reviewer

My son does jujitsu and was looking for a way to improve his flexibility, agility and balance. P90X3 has done all of this and more. His conditioning is so much better than it ever was. He will definitely be doing this for years to come.

Bottom Line: Yes, I would recommend this to a friend

---