Physio Flora CP by PhysioTru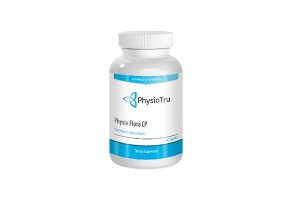 Physio Flora CP by PhysioTru is a probiotic supplement that combines eight bacteria strains with curcumin and 56 superfoods, to help you maximize your health.
Physio Flora CP by PhysioTru Review: Is It Worth It?
PhysioTru advertises Physio Flora CP as a revolutionary, one-of-a-kind dietary supplement designed to help maintain healthy gut and digestion, promote healthy blood sugar levels, support thyroid function, and manage inflammation. As a result, we're told you can expect to experience increased energy and general wellbeing, and could even "start feeling 10, maybe even 20, years younger."
Physio Flora CP contains a total of 65 different ingredients the company claims are among the world's most scientifically proven, including eight plant-based probiotic strains and 56 different fermented food extracts. These act as an energy source and help while delivering essential vitamins and minerals. Just take two capsules daily.
Probiotic supplements are hugely popular. In fact, you have hundreds of different formulas to choose from. To help save you time, frustration, and potentially money, we'll walk you through everything you need to know to make a more empowered decision regarding Physio Flora CP.
Which Ingredients Does Physio Flora CP Contain?
The website indicates all of Physio Flora CP's ingredients are non-irradiated to maximize potency, which includes:
preB Fermented Superfoods Blend 500 mg: Orange, Pineapple, Banana, Apple, Papaya, Guava, Melon, Brown Rice Oat, Corn, Barley, Pea, Jalo Bean, Roxinho Bean, Black Sesame, Millet, Plum, Adzuki Bean, Soybean, Carrot, Rye, Black Bean, Lentil, Avocado, Acerola, Lemon, Pear, Tomato, Red Grape, Mango, Watermelon, Pumpkin, Sweet Potato, Chickpea, Carambola, Cashew Nut, Brazil Nut, Kiwi, Cassava, Green Bell Pepper, Sugar Beet, Collard Couve-Manteiga, Cabbage, Passion Fruit, Chicory, West Indian Lemongrass, Sacred Lotus, Turnip, Seaweed, Mate, Cinnamon, Arise, Cloves, Ginger, Zedoary Root

Probiotics Blend 10 billion CFU: Lactobacillus acidophilus, Lactobacillus rhamnosus, Bifidobacterium lactis, Lactobacillus casei, Bifidobacterium breve, Bifidobacterium longum, Bifidobacterium bifidum, Streptococcus thermophiles

Curcumin Extract 95% 250 mg

Piperine 5 mg
Probiotics Primer
Probiotics are beneficial bacteria that naturally live in our gut and play an important role in maintaining proper digestive health, as well as efficient immune response. Sometimes, whether due to stress, a less-than-stellar diet, a recent round of antibiotics, or dozens of other factors, 'bad' bacteria can out-colonize the good bacteria, leading to side effects like bloating, gassiness, a lack of energy, digestion flare-ups, and even falling ill more often.
Lactobacillus and Bifidobacteria are the two most common species of bacteria found in probiotic supplements (Physio Flora CP or otherwise), while strains like acidophilus, rhamnosus, lactis, casei, breve, and longum can cumulatively help address issues like diarrhea, indigestion, bloating, irritable bowel disease (IBD), other harmful organisms in and on the body, and even modulate brain activity.
The Curious Case of Superfoods
You've no doubt heard the term 'superfoods' before, which are often marketed as ultra-healthy ingredients (think kale, avocados, certain nuts and grains, salmon, etc.) that can deliver a whole host of health benefits.
The problem, Penny Kris-Etherton, Ph.D., RD, explains, is that "most nutrition experts prefer not to use the term," since "a lot of people have unrealistic expectations about these foods, thinking they'll be protected from chronic diseases and health problems."
Instead, since these foods are often low in fat and high in vitamins, minerals, and other potentially beneficial substances like omega-3, regularly incorporating them into our daily life can help us consume a balanced diet. Which, when combined with regular physical activity, could help provide many of the energy-related claims made by PhysioTru for Flora CP.
Physio Flora CP's Remaining Ingredients
According to sites like Examine.com, WebMD, and the Natural Medicines Database, curcumin is a chemical contained in turmeric that may decrease inflammation. Therefore, they list between 1,500 mg and 2.8 g of turmeric per day as possibly useful for reducing cholesterol, improving function for those with osteoarthritis, and reducing itching in specific instances.
With this in mind, Physio Flora CP contains 250 mg of curcumin per serving, and we didn't encounter any conversions between turmeric and curcumin dosing on these same sites.
Potential Physio Flora CP Side Effects
After writing about dozens of probiotic supplements over the year (Physio Flora CP included), we've learned that most people don't experience side effects when taking probiotics. And for those who do, they're typically not worse than mild, temporary digestive upset.
» Related: The Side Effects of Probiotics
Similarly, WebMD and the Natural Medicines Database report that turmeric/curcumin typically doesn't cause significant side effects, but those who do could experience "stomach upset, nausea, dizziness, or diarrhea" (no specifics or dosages provided."
To minimize your chances of side effects when choosing a probiotic, discuss the situation with your doctor in advance, who can provide recommendations based on your diagnosis.
How Much Does Physio Flora CP Cost and Where Can You Buy?
PhysioTru has priced Physio Flora CP as follows:
1 Bottle (60 capsules): $49.95
3 Bottles: $119.85 ($39.95 each)
6 Bottles: $179.70 ($29.95 each)
All orders come with free shipping, as well as e-books titled "11 Foods That Accelerate Aging" and "7 Morning Habits Of The Most Energetic People." You'll also receive a 60-day money back guarantee.
» Related: Do You Need to Take Vitamins or Dietary Supplements?
Just keep in mind that per the Returns page on the PhysioTru website, "only two opened bottles from a multiple bottle order will be accepted … the rest must be sealed and unopened. If the order is being returned within 30 days of the date of delivery, then only one opened bottle from the same multiple bottle order will be accepted for a full refund."
To request one, you'll need to call 888-332-9372.
We also found Physio Flora CP sold on Amazon (remember that the return policy could be shorter) for meaningfully different prices:
1 Bottle (60 capsules): $67
4 Bottles: $134 ($33.50 each)
8 Bottles: $199.60 ($24.95 each)
What Can We Learn from Online Customer Reviews for Physio Flora CP?
On Amazon, a total of three customers had given the Physio Flora CP probiotic supplement an average rating of 3.3 stars at the time of our research.
One reported that it worked exactly as advertised, while two others indicated that they didn't feel any different after taking it.
Bottom Line: Choosing Between Physio Flora CP and Another Probiotic Supplement
In the end, probiotic supplements have been used for decades to help humans improve their gut- and- immune-related health, including each of the strains found in Physio Flora CP.
The product also came with a middle-of-the-road (although very limited) Amazon customer rating as of this writing, and the company seems to stand behind it with a 60-day refund policy. Just remember that stipulations apply, so make sure you read through all the details before agreeing to a purchase.
It's important to balance these potential positives with the fact that PhysioTru, Inc. held an F rating with the Better Business Bureau, based on just two closed customer complaints, as of 7/9/18. Both referenced excessive junk email and the company had yet to respond.
Another factor to consider is that, as we outline in our probiotic supplement buying guide, it's been our experience that products without a bunch of extra stuff crammed into the pill usually come with the highest customer ratings. And with a total of 65 individual ingredients, Physio Flora CP certainly contains a lot, most of which are 'superfoods' that sites like Scientific American indicate are readily obtainable by eating a balanced diet.
Last, but certainly not least, Physio Flora CP's single-bottle prices are higher than many competitors, some of which you'll find for less than $15, so you'll have to decide if these extra ingredients—and the clinically supported value they'll deliver—are worth paying more.