Physio Flora by PhysioTru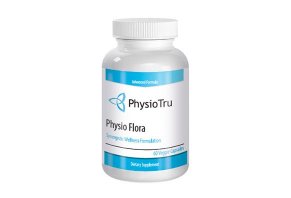 Summary
Physio Flora is a dietary probiotic supplement from PhysioTru that is designed to promote healthy aging from the inside out with a blend of natural ingredients that target your gut, brain, and more.
Physio Flora by PhysioTru Review - Does It Work?
What is Physio Flora?
PhysioTru claims that Physio Flora offers a blend of ingredients that can naturally improve your body, brain, energy, and much more.
Specifically, they allege that by taking 2 capsules with water each morning Physio Flora will:
Increase your energy
Maintain healthy digestion
Support thyroid function
Promote overall well-being
While Physio Flora contains a few different categories of ingredients, much of the leg work is supposedly accomplished by the probiotic strains included with each serving.
These friendly bacteria live in your digestive tract and form a community of microorganisms known as your gut microbiome. Unlike their harmful counterparts, probiotic bacteria can benefit both your digestive and overall health.
There are many studies that have demonstrated the potential benefits of probiotic strains. Will the other supportive ingredients offered in Physio Flora add even more value?
In this article, we'll help you answer this question by highlighting the available scientific evidence for the blend of ingredients included in Physio Flora.
The Active Ingredients: Do They Work?
Physio Flora is a dietary probiotic supplement that offers more than just friendly bacteria. PhysioTru claims that the blend of ingredients they have included will boost the actions of probiotics, while also offering other health benefits.
Let's review the available scientific support for each ingredient category, beginning with the star of this supplement:
The Probiotic Strains - 10 Billion CFU
Physio Flora packs in 2 of the most widely supplemented probiotics, along with 6 additional strains.
Bifidobacterium lactis
B. lactis may combat the age-related decline in the function of your immune system.
This was demonstrated during a 9-week span when B. lactis at 10 and 100 billion CFU doses boosted the white blood cell count in 30 elderly subjects.
Lactobacillus acidophilus
L. acidophilus is another commonly supplemented probiotic and may relieve diarrhea, limit stomach discomfort, and support immune function.
A review of 34 studies concluded that daily doses of L. acidophilus ranging from 200 million to 10 billion CFU were as effective as other strains at reducing the risk for diarrhea.
The combination of L. acidophilus and B. lactis twice daily at 100 billion CFU/day doses improved bloating over 8-weeks in patients with functional bowel disorders.
Lactobacillus Rhamnosus
L. rhamnosus is reported to relieve the stomach flu and boost the immune system and allergy response.
Over 5-days, children with the flu treated with 10 billion CFU of L. rhamnosus twice daily did not improve the duration of diarrhea or vomiting when compared to placebo.
Lactobacillus Casei
L. casei strains can relieve diarrhea and other digestive-related symptoms.
In 70 subjects with constipation, those randomized to daily treatment with 65 mL of a probiotic beverage containing Lactobacillus casei Shirota had a significant improvement in self-reported symptoms when compared to placebo.
In hospitalized patients taking antibiotics, those randomized to treatment twice daily with a blend of probiotics that included 100g of L. casei had fewer cases of antibiotic associated diarrhea when compared to placebo.
Bifidobacterium Breve
This bacteria occurs naturally in your gut.
In a randomized trial, pre-obese subjects treated with 20 billion CFU of B. breve lowered body fat % over 3-months.
Bifidobacterium Longum
B. longum is another probiotic strain that may support immune function and allergy relief.
A blend of probiotics that contained B. longum at 3 billion CFU significantly improved symptoms of allergies in children over a 4-week span.
Bifidobacterium Bifidum
B. bifidum strains may play a role in anti-inflammation, immune support, and allergy relief.
In a laboratory model, B. bifidum strains promoted the action of molecules involved in initiating the immune response.
In subjects with irritable bowel syndrome (IBS), those treated with a 20 billion CFU mixture of probiotics that included B. bifidum twice daily for 8-weeks experienced relief from stomach pain and discomfort with bowel movement.
Streptococcus Thermophilus
This probiotic is often used in the dairy industry and may work to boost your metabolism while also aiding with digestion. Despite its wide use, it has not been extensively studied.
S. thermophilus supplementation supported the digestive tract lining and carbohydrate metabolism in rats.
The Fermented Superfoods Blend - 500mg
In addition to the antioxidant capabilities of the ingredients in this blend, they may also act as prebiotics. Prebiotics are non-digestible food ingredients, classified as fiber, that support can absorb water and expand to make you feel full.
In addition to suspected health effects like boosting metabolism and energy, prebiotics can enhance the actions of probiotics by serving as a source of food for them.
Ingredients like ginger and beets are just a couple of examples.
Ginger
Ginger has been used as a food source and in natural medicine for centuries. It may offer anti-inflammatory effects and support a healthy metabolism.
This study did not find a benefit regarding energy metabolism, however. 10 overweight male subjects consumed 2g of ginger daily without an impact on resting energy expenditure.
Beets
Beets are low in calories and nutrient-dense. High in fiber, this root vegetable can reduce your appetite, aid digestion, and may even support cardiovascular health.
A review of 43 trials found that beet juice doses ranging from 70-500mL reduced blood pressure compared to placebo. The highest doses lowered blood pressure comparable to the effects of taking a single medication or following the DASH diet.
Curcumin Extract - 250mg
Curcumin is the active component of turmeric, a spice in use for thousands of years for textile, culinary, and medicinal roles. Curcumin
The suspected heart, brain, and cancer-fighting benefits of turmeric are likely related to curcumin. A review of 8 trials concluded that curcumin at 70 to 3,000mg per day over 2 to 3-months reduced BMI.
It may also offer anti-inflammatory relief; in a laboratory setting, curcumin inhibited the same enzyme targeted by Aspirin.
Piperine - 5mg
Piperine is responsible for much of the taste associated with black pepper. It may have antioxidant, anti-inflammatory effects, and disease-fighting capabilities.
Additionally, it may promote the many benefits of turmeric. In laboratory and animal models, black pepper reduced inflammation. It may also function as a prebiotic, by boosting the Bifidobacterium and Lactobacillus content of Physio Flora.
Summary
The wide array of suspected benefits for this blend of ingredients adds some credibility to PhysioTru's claim that Physio Flora can support overall well-being. Some ingredients are better supported with scientific evidence than others, however.
For example, some of the ingredients we reviewed were researched in animals, which did not translate into benefits for humans.
Also, the company does not detail the individual doses for the ingredients included in the probiotic or superfoods blend. While the total dose for each blend is well within a safe range, the individual ingredients may be offered in amounts too small to offer benefit.
Physio Flora Safety and Side Effects
Depending on your diet, you may already be consuming many of the ingredients offered in each serving of Physio Flora. These are generally safe even when supplemented in larger quantities.
Pre and probiotics are safe when tested at higher doses than those found in Physio Flora. Serious adverse effects are rarely reported, though mild ones are common.
You are most likely to experience side effects like stomach pain, gas, bloating, and diarrhea. These are easily relieved by lowering your dose or discontinuing use altogether.
Lastly, the symptoms you are hoping to relieve may require additional management options.
While the safety profile for Physio Flora and similar supplements are favorable, they may not address the underlying source of your issues.
Thus, you should always seek the opinion of your doctor if you are experiencing any symptoms that are negatively affecting your quality of life.
Physio Flora Cost
Physio Flora is available on the PhysioTru website. Every order ships free and there are multiple purchasing options:
1 Bottle (1-month supply) - $67
3 Bottles - $141
5 Bottles - $185
PhysioTru also offers an auto-ship plan. By selecting this option, you'll save an additional 10% with each order and you can cancel any time.
Each order is backed by a 60-day refund policy, though you'll have to ship unused products. To process your refund, email customercare@physiotru.com to request a return authorization form and number.
Physio Flora is slightly more cost-effective at Amazon. They offer 4- and 8-packs for just $134 and $199.60, respectively.
According to Amazon reviews, PhysioTru will not honor their 60-day guarantee when you purchase their products from other vendors. If you're interested in saving with Amazon, be sure to process refunds within 30-days.
Available Alternatives to Physio Flora
With so much health information available, many companies are now offering more comprehensive blends similar to Physio Flora. In addition to the potential to support overall health, these blends may limit your need for additional supplements.
Athletic Greens is a great example. Though this supplement is available in powder form only, it offers vitamins, minerals, superfoods, antioxidants, and digestive enzymes. This formation is in addition to lactobacillus and bifidobacterium probiotics, which Athletic Greens Contains.
You're unlikely to save as a 30-day supply is about $100. As this supplement packs in even more nutrients than Physio Flora, you may be able to avoid the need for adding other supplements to your regimen, however.
The Bottom Line
Physio Flora includes a blend of ingredients, many of which offer some scientifically proven benefits. As this is a more comprehensive blend with many ingredients that may offer numerous benefits each, this supplement may support overall well-being.
The likelihood of this possibility is related to the dosing of each ingredient - information PhysioTru doesn't provide. Though the total dosing for each blend is safe, it may be too little to achieve the proposed benefits.
With just 28 reviews at Amazon, Physio Flora is rated an average of 4.2-stars.
Those pleased with the results mentioned relief from heartburn, reduced yeast infections, and more energy. Unhappy customers mentioned a lack of results and digestive symptoms as their reason for negative reviews.
This product is one of the more expensive supplements we have reviewed, though other products with comprehensive blends are priced at similar pricing points. You may save by avoiding the need for additional supplements, however.
Before treating symptoms on your own, speak with your doctor first.
Customer Reviews
Posted on Apr 16, 2020
Unbelievable results
I am a 64-year-old male and have had stomach problems and reflux problems for over 10 years and tried everything to combat it. I am very regimented and very disciplined in whatever I do, giving up everything that caused me problems only to have problems even drinking water. After having 2 months of PhysioTru Flora CP my digestive issues are non-existence. I would take on a regular basis anywhere between 7 and 20 antacid tablets a week to combat it, but have no problems now, and the things that used to give me problems no longer have problems. Fully recommend it and I seem to have more energy levels.
Bottom Line: Yes, I would recommend this to a friend
Our Promise to You
In order to safeguard you and ensure helpfulness and relevance, our compliance team manually assess every customer review before it goes live.
We have a zero-tolerance policy for fake reviews, and companies cannot control or alter any reviews at any time.