SugarBearHair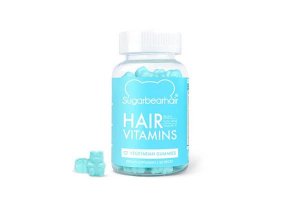 Summary
SugarBearHair sells three types of hair supplements as chewable gummy candy: one for hair health, one multivitamin, and one to promote better sleep.
SugarBearHair Review: Does It Work and Is It Worth It?
SugarBearHair is a nutritional supplement brand that specializes in gummy vitamins for women. The supplements are made in the United States, vegetarian-friendly, and formulated with berries and other natural flavors that make them taste like candy.
This brand gained prominence primarily due to celebrity endorsements and social media advertising.
SugarBearHair is best known for its hair care gummies designed to give you stronger, longer hair and nails. It also sells women's multivitamin and sleep aid.
This review will help you decide whether SugarBearHair can deliver on their celebrity-endorsed promises for better hair.
Ingredient
SugarBearHair products are manufactured in USA facilities that follow FDA guidelines for safety and quality. (The gummies themselves haven't been evaluated by the FDA, which is standard for the dietary supplement industry.)
SugarBearHair Hair Vitamins
Though most of its marketing targets women, SugarBearHair will purportedly work for all ages, genders, and hair types.
A two-gummy serving provides three grams of sugar and the following nutrients:
Vitamin A: 2100 IU (42% daily value)
Vitamin C: 20mg (33%)
Vitamin D: 400 IU (100%)
Vitamin E: 16.5 IU (55%)
Vitamin B-6: 2mg (100%)
Folic Acid: 260 mcg (65%)
Vitamin B12: 6mcg (100%)
Biotin: 5000mcg (1667%)
Pantothenic Acid: 5.2mg (52%)
Iodine: 42mcg (28%)
Zinc: 2.7mg (18%)
The supplement's primary ingredient is biotin. The suggested serving size of 5000mcg gives you more than 150 times the minimum daily intake suggestion for adults. According to Consumer Lab, biotin is a b vitamin your body produces naturally, but that it also takes in through egg yolks, whole grains, and nuts.
The compound works to help your body convert food to energy, and it's also associated with healthy hair and nails. Though it's recommended that people with a biotin deficiency should supplement with between 30 and 100mcg of the compound per day, there's little to no evidence that extra biotin can promote hair growth for those at healthy levels.
There's some evidence from a study in a Journal of the American Academy of Dermatology that 5,000 mcg of biotin can strengthen brittle nails, but less proof the vitamin will improve your hair.
Other vitamins in SugarBearHair hair gummies offer similar benefits. Folic acid is associated with healthy cell functioning, which has caused it to garner some interest for hair and nail growth. The compound doesn't seem to be effective unless you are already deficient.
A Polish study from 1960 shows some evidence that vitamin B6 can promote hair growth, but the women in the study were experiencing hair loss from alopecia, and they had the compound injected into their muscles for thirty days in a row.
Overall, these ingredients show some potential for combating vitamin deficiencies that may lead to hair loss. However, the evidence for cause and effect relationships between them is weak, and we didn't identify anything in SugarBearHair that will make already healthy hair healthier.
SugarBearHair Women's Multivitamin
These gummies are designed to offer an easier way to take a multi-vitamin—no hard-to-swallow capsules involved. They are formulated with 16 micronutrients that support energy, skin, and body health that many women may be short on from their daily diet. They are 100% vegan (the hair gummies are only vegetarian-friendly) and designed to be taken together.
For best results, you need to take them daily for a minimum of three months, preferably six months. Though marketed towards women, SugarBearHair notes that anyone over 13 can benefit from the vitamins.
Key nutrients in a two-gummy daily serving size include:
Vitamin C: 20mg (33%)
Vitamin D2: 2000 IU (500%)
Vitamin E: 10 IU (33%)
Vitamin B2: 400mcg (24%)
Vitamin B6: 2mg (100%)
Folate: 100mcg (25%)
Vitamin B12: 8mcg (133%)
Biotin: 180 mcg (60%)
Pantothenic acid: 3mg (20%)
Omega-3: 1mg
Vegan Collagen Booster Blend: 100mg
These ingredients are consistent with what you can find in many women's multivitamins. The folate levels are low for women who are pregnant or planning to be pregnant, but that's not SugarBearHair's target audience.
The multi-vitamin is heavy on vitamin D2, which is used to prevent bone loss and treat low levels of calcium or phosphorus. Though a standard recommended dose is around 800 UI per day, Healthline states that a higher dosage (1,000 to 4,000 IU) is better, especially for those who don't get in the sun often.
This multivitamin also includes a day and a third's worth of your necessary vitamin B12. This is noteworthy because vitamin B12 is a nutrient that vegans and vegetarians are notoriously deficient in.
If you abstain from animal products, this multi-vitamin may be one option to ensure your B12 levels stay sufficient.
SugarBearHair Sleep
This all-natural sleep aid consists of a vegan-friendly formula designed to help you fall asleep and sleep better once you do. These gummies contain a proprietary herbal blend that will purportedly promote sleep, as well as 6mg of melatonin per serving.
Here's a look at the key nutrients within a two-gummy serving size.
Vitamin B6: 2mg (118%)
Melatonin: 6mg
Magnesium: 200mcg
Theanine: 50mg
Sodium: 10mg
Rest Well Blend (5-hydroxytryptophan, lemon balm leaf, passion flower, valerian root): 11mg
Melatonin is a natural hormone made by the brain's pineal gland. Your body makes more of this hormone at night, especially when the sun starts to go down, and your levels drop again as daylight approaches.
Taking supplements with melatonin about thirty minutes before you want to fall asleep helps convince your body that it's time to sleep.
At 6mg per two-gummy serving, SugarBear Sleep gummies are giving you a big dose of melatonin, and that's not necessarily a good thing. The National Sleep Foundation recommends that users start with smaller doses—about 0.2mg—and increase it over time if they still struggle to sleep.
If you think you need more than 5mg, it's important you talk to a doctor first.
As this supplement is designed to lead to drowsiness, the company suggests you not drive, operate machinery, or consume alcohol after taking a dose.
Possible Side Effects
The manufacturer's website doesn't list side effects for any of its three supplement products. Consumer Lab confirms that the recommended dosages won't exceed the upper tolerable intake levels for each ingredient.
Biotin is classified as safe for most people, both when taken orally and as a shot. However, you should be aware that taking high doses of biotin may interfere with medications and lab test results, especially those that diagnose heart attacks or thyroid conditions.
It's a good idea to tell your doctor if you are taking biotin before undergoing any testing.
Some users expressed that they thought using the supplement was causing them to break out. There is some evidence that taking too much vitamin B12 can promote acne production for those who are susceptible to the compound. This is because the vitamin changes the gene expression of skin bacteria, which may trigger inflammation that leads to breakouts.
One thing to keep in mind about SugarBearHair Sleep is that too much melatonin can potentially lead to negative side effects.
There's no standard definition for a melatonin overdose, but that doses over 30-mg may be harmful to people who haven't already built up a tolerance. Symptoms of a melatonin overdose may include nausea, dizziness, headaches, diarrhea, and inexplicable anxiety.
Two SugarBearGummies (a recommended serving) contain just 6mg of melatonin. This means you aren't going to put yourself at risk unless you eat ten in one sitting.
Key Takeaways: There is nothing in SugarBearHair supplements that stand out as dangerous for the average person, so we expect you won't experience any severe side effects from taking it.
Pricing
All products are sold in canisters of 60 gummies, which is enough for a one-month supply of two gummies per day.
Below is the pricing for the original SugarBearHair Hair Vitamin, Women's Multi, and Sugar Bear Sleep vitamins:
One Month: $29.99
Three Months: $79.99, includes one free brush
Six Months: $159.99, includes one free brush and plush bag
Variety Three-Pack: $79.99, includes sunglasses and collapsible case
You can choose whether to make one-time purchases or sign up for a recurring subscription for SugarBearVitamins. Subscription orders ship every thirty days, and you can cancel your account at any time without penalty.
Shipping starts at $6 and goes up depending on your purchase size.
The company will only refund unopened bottles.
Analysis of Customer Reviews
Nine customers have reviewed SugarBearHair gummies on our website. These reviews average 2.1-stars, and just 22% of customers say they would recommend the product to a friend.
Here are the key takeaways from these reviews, as well as from reviews on Ulta (average rating of 4.8 stars) and Influenster (4.3):
Stronger, Shinier Hair: Many customers stated that they worked as described and left them with feeling like they had thicker, shinier hair. Some noticed a difference within a week, but most reviewers seemed to have used the supplement for several months first. Though some of these reviewers reported the vitamins were pricier than the competition, they stayed loyal because they loved the results.

Fun, Candy-Like Taste: Dozens of customers commented positively on the bear's taste, comparing them to fruit snacks they ate when they were kids.

Vitamins May Contribute to Hair Loss or Breakouts: Some wrote that they experienced significant hair loss several months after taking them, and others reported that they made their skin oily to the point they were breaking out across their face, back, and shoulders. One reviewer shared that she started experiencing severe acne after taking them, which she attributed to the high B-vitamin content.

Didn't Lead to Noticeable Changes: Many reviewers reported feeling no different after taking SugarBearHair supplements for three months or longer. Though many reported hair and nail growth, they believed it wasn't more than should be expected for the timeframe.

Cute Packaging Is a Plus: SugarBearHair products first made a mark on social media, and many reviewers expressed delight in the cute branding, bright colors, and clear canister.

Customer Experience Issues: Some reviewers claimed of quality control problems with their SugarBearHair orders. They received opened bottles or never got their order in the first place. Others experienced billing issues and wrote that they were billed for a subscription several months after closing their account.
Overall, these reviews highlight that the experience with SugarBearHair tends to be polarizing. Some users love the gummies and feel fantastic while they take them, while others assume that any hair and nail growth they experience is more a result of time passing than the product's ingredients.
Alternatives to SugarBearHair
| | SugarBearHair | Nature's Bounty Biotin Supplement | Health Properly Hair Gummy Vitamins |
| --- | --- | --- | --- |
| Price | $29.99/ 60 gummies (30-day supply) | $9.27/ 120 gels (four-month supply) | $18.94/ 60 gummies (30-day supply) |
| Price Per Daily Serving | $1 | $0.08 | $0.63 |
| Main Ingredients/ Daily Serving Per Dose | Vitamin D: 400 IU (100%), Biotin: 5000mcg (1667%), Vitamin B-6: 2mg (100%) | Biotin: 10,000 mcg (33,333%) | Vitamin D: 400 IU (100%), Biotin: 5000mcg (1667%), Vitamin B-6: 2mg (100%) |
| Delivery Mechanism | Fruit-flavored gummy candy | Softgel capsule | Fruit-flavored gummy candy |
| Average Amazon Rating | 4.0 (4,000 reviews) | 4.4 (1,100 reviews) | 4.5 (125 reviews) |
Comparing these three products, it's clear that biotin is the unifying ingredient. The Nature's Bounty supplement contains twice the amount per serving, and you are paying less than a tenth per serving as you would pay for a serving of SugarBearHair.
However, it's not clear that taking extreme servings of biotin is better for you from a haircare perspective. Megadoses are considered safe, but healthy adults don't need more than 30mcg a day to maintain normal functioning.
The Health Properly gummies have the exact same formulation of active ingredients as SugarBearHair, though they cost 30% less per serving. You will even get the same sugar content (3 grams) for each serving.
While Health Properly gummies have just 4% of the number of reviews on Amazon as SugarBearHair, customers rank it higher overall. Most praised both the taste and lower price point compared to the competition.
If you aren't sure which type of supplement is best for you, consider your needs and priorities.
Those who suspect they have a biotin deficiency because they have brittle nails and lots of hair loss or breakage may want a supplement with this compound and little else so that they aren't paying for more than they need. At just $0.08 a serving, Nature's Bounty is hard to beat in this regard.
If SugarBearHair gummies appeal to you because of the cute packaging and guilt-free way to have some candy each day, then you'll need to decide whether you care enough to pay more for the brand name or want to save some money by going for a competitor like Health Properly instead.
Keep in mind that neither of these hair gummy brands has ingredients that are clinically proven to hasten hair growth.
The Bottom Line
SugarBearHair vitamins promise a cute and convenient way to keep your nutrient levels where they need to be for healthy hair and nails.
However, these benefits come in an expensive package. If you use SugarBearHair as described, you'll pay $1–$2 dollars each day, depending on whether you also purchase the multivitamin. There's no getting around that almost every alternative product will be cheaper, even those that have near-identical formulations of the active ingredients.
The SugarBearHair Women's Multi is a similar story. This supplement has promising ingredients, but it's pricy and doesn't offer anything you can't get in a standard multi-vitamin.
We recommend this supplement primarily for those who avoid animal products (possibly vitamin B12 deficient), are rarely in the sun (possibly vitamin D deficient), and won't take a daily multi-vitamin unless it tastes like candy.
Regarding SugarBearHair Sleep, a serving of this supplement will give you a high dose of melatonin. Unlike the other two supplements, you likely won't need to take it daily and instead should only use it when you anticipate having problems sleeping. This may save you money over time.
We are skeptical whether SugarBearHair supplements can make any meaningful improvements for hair health. The majority of the brand's target demographic likely won't have a biotin deficiency, and there's nothing special in its formulas that will turn average hair into celebrity-worthy tresses.
"I would say that SugarBearHair vitamins have some of the ingredients that can be helpful for thinning hair," Dr. Arielle Levitan told us. She is an internal medicine specialist in Highland Park, IL, who has been practicing for more than two decades.
"However," she went on, "the best way to treat thinning hair is with a personalized approach…This may include vitamin D3, C, iron, and biotin, but the amounts can vary based on other factors. 5000mcg of biotin may be excessive and too much biotin has been associated with skin issues."
Customer Reviews
Posted on May 15, 2020
Bad product, doesn't make a difference
This product is fake! I've been taking it for a month and I think my hair fell out more! This is very fake and it doesn't work. I wouldn't recommend for anyone. They are not only overpriced but they don't even work!
Bottom Line: No, I would not recommend this to a friend
Posted on Jun 5, 2019
Hair loss
First month of taking vitamins noticed a little difference in my hair. This is the second month and I'm seeing some major hair loss. Has this happened to anyone else? I'm going to stop taking them...
Bottom Line: No, I would not recommend this to a friend
Posted on Mar 22, 2019
Not worth the money
I do NOT recommend these gummies. They are overpriced and I honestly did not notice any difference in my hair or nails. The only thing that did actually change was my skin, and I don't mean in a good way! I had big, sore pimples all over my face and my skin became very oily. If you are prone to breakouts, then don't take these vitamins! I kept taking them for about 4 months before I gave up. I had better results with a prenatal supplement, my nails have never been so strong!
Bottom Line: No, I would not recommend this to a friend
Posted on Sep 7, 2018
Open seal under cap - bad customer service
I purchase one of their packs and one of the bottles had the outer clear seal on, but when I removed the lid, it was missing the under seal cap and missing three vitamins. It looks like they used a recycled bottle. I, of course, reached them to get a replacement or money back and they never reached me back. They asked me to email them pictures of the issue. I did send them and asked them questions and they totally ignored me. I hate writing negative reviews, but it is not fair for a customer to be ignored.
Bottom Line: No, I would not recommend this to a friend
Posted on Jul 22, 2018
Gummies for your hair?
I purchased the gummy bear hair vitamins just a few days ago and have been taking them now for about 5 or 6 days, and I do have to say I already feel a big difference in my hair - it's a lot softer and a lot shinier than before. I keep running my fingers through it, just can't believe how much of a difference it made in just 5 or 6 days. I believe this is going to be great for your hair, and I can't wait to see what it can do in a month.
Bottom Line: Yes, I would recommend this to a friend
Posted on May 3, 2018
Terrible
I took these every day for three months and it made no difference to my hair whatsoever, my nails kept breaking, and in the end, I got fed up and got acrylics.
I'm more annoyed because they are so expensive. I did further research and it is supposed to help your eyelashes and eyebrows grow, which it didn't in the slightest.
This is a scam, and I am not happy at all!
I think it's disgusting that you use women's weaknesses for money, as showing fake reviews of people having nice, luscious hair and we try to get the same results and fail. It's very disappointing.
Bottom Line: No, I would not recommend this to a friend
Posted on Dec 4, 2017
Paid merchandise I haven't received - poor customer service
Hello Sugar!
It's me again! I am a repeat customer and in the past, I've had no problems until lately.
I placed an order on November 21st for 3 bottles of SugarBearHair during your flash sale just as my son did. However, he has received his product along with his shipment order form constantly updating him. On the other hand, I have yet to receive my package and at first, it remained in "pre-packaged" status, BUT I NEVER received it!
So I reached out to you via Facebook since no one from your company would immediately respond to my email. Once I reached out via Facebook I received a response finally. I was informed by the photos below that my package was in route. Well, since then I've contacted the USPS only to find out that it STILL hasn't left the warehouse and they've officially opened an inspector general case while my postmaster is aware based on your emails and system updates! This is very concerning to me as I've NEVER experienced this with your company in the past.
I completely understand it's the holiday season but I've paid you for a product. Can you please refund my shipping cost and send me my product along with something for my inconvenience? Your website indicates it should be updated in 48 hours but today is December 3rd and the order was placed on November 20th. I'm now ALL OUT of hair vitamins (Order Number: 1690656725).
Is my package really in route? Because it has been saying that it's in transit and on its way to be delivered since November 30 but according to USPS it's STILL in your warehouse and hasn't been shipped!
Thank you so much for looking into this Sugar! I'm sure you know this is not how you treat repeat customers. I hope I have it by tomorrow as you (SugarBearHair) promised in your last email to me!
Bottom Line: No, I would not recommend this to a friend
Posted on May 18, 2017
Expensive lollies
I have been taking these for just over two months, and there is absolutely no difference to my hair. I think they are just very expensive lollies.
In my opinion, it is just another scam to suck women in, as with so many cosmetics, face creams, etc. All about money!
Bottom Line: No, I would not recommend this to a friend
Posted on Apr 7, 2017
SugarBearHair- good or bad?
When I first heard of these awesome vitamins that magically make your hair grow more than double its normal rate, I didn't believe it. I mean, if anyone has tried the biggest variety of hair vitamins, it's me. But I kept finding great reviews, and I had to see for myself, so I ordered them!
The website was very easy to navigate, and it gave me exactly what I needed to know. The vitamins got to me within a week, 3 or 4 days (I can't remember the exact amount). It didn't look damaged in any way, so that's a good sign. The bottle came with a note (plus a cute sticker) and my order receipt. The note thanked me for purchasing the product, and the sticker was of a donut and their patented gummy bear posing.
The first week I took the vitamins was great! I somehow felt a boost in my mood (that could've been due to the fact that I was excited about hair growth). The second and third week, I didn't pay attention to my hair, but by the last week, I could tell a major difference. My hair was softer, held moisture easily, and has grown an astounding amount (it was right under my ears and grew to where it touched my shoulders).
All in all, my experience with these blue bears was amazing! I will definitely be buying again. If you want quick growth and stronger hair, these are the vitamins for you!
Bottom Line: Yes, I would recommend this to a friend
Our Promise to You
In order to safeguard you and ensure helpfulness and relevance, our compliance team manually assess every customer review before it goes live.
We have a zero-tolerance policy for fake reviews, and companies cannot control or alter any reviews at any time.