Viviscal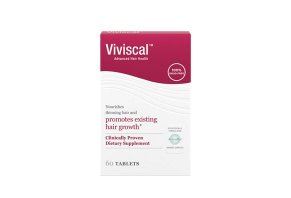 Viviscal Hair Supplements allegedly helps restore your thinning hair if you take them daily for three to six months. Results are possible for those with subtle hair thinning and loss and not effective for those who other underlying causes of their hair loss.
Viviscal Hair Growth Supplement Review: Does It Work?
Going bald may be thought of as a men's problem, but more than half of all women will experience noticeable hair loss at some point in their lives.
Despite its prevalence, thinning hair is a psychological struggle for many women, and there is an enormous market of products and supplements that claim to combat it.
Viviscal is a brand of haircare products designed to combat the effects of thinning hair. It promises to give you the nutrition you need for thicker, healthier hair for as long as you take them.
The company offers a range of shampoos, conditioners, and styling products, but this article will focus on its hair growth supplements for women. Read through our analysis of this product's purported benefits, ingredients, and customer reviews to learn whether you should consider taking it.
Clinically proven effective for slowing hair loss and speeding hair growth
Discounts available when ordered on a subscription basis
May cost about $1.50 per day
Must be taken long term for results
Results may reverse if you stop taking it
Some users experienced side effects
Results may be subtle
How Viviscal Hair Growth Supplement Works
Female hair loss is more common than many people think. Daily stress, a poor diet, post-pregnancy hormonal shifts, menopause, medications, and your genetics all impact the amount of hair on your head at any given time.
Viviscal approaches hair loss from a nutritional standpoint. These supplements claim to help you foster a healthy scalp and supply each hair follicle with what it needs to stay in the anagen (growing) phase longer.
The supplement's proprietary blend is the key to its effectiveness, says Dr. Peterson Pierre, a board-certified dermatologist.
"This drug-free nutritional supplement addresses hair growth from multiple different angles to maximize your results," he told us. "It nourishes the follicles, strengthens and promotes the growth of existing hair. The resulting hair is noticeably stronger, healthier, and more vibrant."
The main idea is that certain nutritional deficiencies can affect the strength and condition of your hair.
"The primary active ingredient in Viviscal is the proprietary AminoMar marine complex, Dr. Pierre elaborated. "This is made of fish protein molecules and essential fatty acids derived from the Inuit's diet because they have great skin and hair, presumably as a result of their fish and protein-rich diet."
Ingredients
Viviscal hair supplements contain a mix of nutrients and a proprietary blend of marine-based material, and horsetail and millet seed extract.
| Nutrient | Amount | Percent Daily Value |
| --- | --- | --- |
| Vitamin C | 59 mg | 65% |
| Niacin | 12 mg | 75% |
| Biotin | 120 mcg | 400% |
| Calcium | 60 mg | 5% |
| Iron | 10 mg | 56% |
| Zinc | 11mg | 100% |
| AnimoMar Marine Complex (shark cartilage, oyster extract powder) | 450 mg | N/A |
| Horsetail (stem) extract | 36.7 mg | N/A |
| Millet seed extract | 7.5 mg | N/A |
AminoMar®
Viviscal's proprietary blend contains a marine complex made from shark cartilage and oyster extract powder. Beyond calcium, collagen, proteins, and other nutrients, these extracts contain glucosamine, all of which will purportedly stimulate the growth of hair tissue.
There's little clinical research available to prove these benefits beyond a double-blind study from 2012 that looked specifically at Viviscal. This study assessed the effectiveness of the supplements compared to a placebo and found that it significantly increased hair growth after 90 and 180 days, based on the subjects' self-perceived results.
This study didn't uncover any adverse effects in participants who took the supplement.
Biotin
Also known as vitamin B7, biotin helps the body to metabolize carbohydrates, fats, and amino acids. Biotin supports both hair and growth, and it has gained attention in recent years as a supplemental ingredient to improve them.
One study, published in the Journal of the American Academy of Dermatology, found that participants who took 10,000mcg of biotin a day experienced improvements in the strength and growth rate of their nails. However, participants didn't experience any noticeable improvements in their hair.
There isn't much clinical evidence available to support the idea that biotin can cause improvements in hair for people who aren't already deficient in the nutrient.
Vitamin C
This versatile vitamin is a powerful antioxidant. It builds up your collagen levels and helps your blood absorb iron, which can promote hair growth.
Again, there's minimal evidence that vitamin C can improve hair health in those who aren't deficient. And, as vitamin C is a water-soluble vitamin, your system will flush out any excess you ingest each day.
This means that there's little benefit to taking large doses of the vitamin for your hair.
Iron
This essential mineral is critical for dozens of biological processes, including red blood cell functioning. Thinning hair is often one of the first visible symptoms of iron deficiency, as your hair follicles depend on blood cells to carry oxygen to their shaft.
Those with a deficiency will benefit from additional iron, but supplementing your levels beyond this amount likely won't make much difference.
Horsetail Herb
Long used for its anti-inflammatory effects, horsetail herb is valued in traditional medicine. It's often included in cosmetics and shampoos as a treatment for balding and hair loss. Taken as a supplement, the herb gives your system silica, which Viviscal claims will promote the structural integrity of your hair while adding shine.
Key Takeaways
All of the ingredients in Viviscal supplements are important for maintaining good health and show evidence of supporting healthy hair.
Though there's clinical evidence that the supplement as a whole can make a difference in hair growth rates and slowing down hair loss, the research for each individual ingredient is less robust unless you are deficient in one of them.
Possible Side Effects
The clinical study that looked at Viviscal's effectiveness didn't find any side effects associated with using the supplement.
However, the company website specifies that the supplement isn't suitable for anyone with a fish or shellfish allergy and that it might be manufactured in facilities that process dairy, soy, nuts, eggs, or wheat.
Some people believe that taking excessive amounts of biotin can lead to breakouts, though the science doesn't back up this association. Viviscal states that no correlation has been found between taking the supplement and increased acne.
A few Viviscal customers state that the supplement caused issues like nausea and stomach pain. We couldn't find any connections between the supplement's ingredients and these side effects, though it's common for some people's systems to take a while to adjust when they first take a dietary supplement.
If you notice these symptoms, there's a good chance they will disappear after a few weeks if you continue to take the supplement.
Cost and Buying Options
The cost for Viviscal Advanced Hair Growth supplements depends on the amount you purchase. A one-month supply (60 tablets) costs $49.99, while a three-month supply (180 tablets) is $119.97 on the company website.
You can also sign up for an auto-ship program that gives you a three-month supply of supplements four times a year, for the price of $39.99 per month ($119.97 per delivery).
You'll pay $6.95 in shipping costs for a one-month supply of Viviscal. A purchase of a three-month supply will qualify for free shipping.
All purchases from Viviscal qualify for a 90-day money-back guarantee. This means that you can return any purchase you find unsatisfactory to the company within 90 days of receipt for a full refund, including shipping charges.
Viviscal Supplements are also sold at various retail locations, including CVS, Walgreens, Target, Walmart, Rite Aid, and others. The return policy will vary based on the retailer.
You can contact Viviscal directly at (888) 444-9073 or info@viviscal.com with any questions related to the company's products or thinning hair in general.
Analysis of Customer Reviews
Supplements Lead to Real Hair Growth
May Cause Problems for Allergy Sufferers
Effective But Pricy
Nail Improvements
Unpleasant Side Effects
Not Effective for Everyone
Despite that most reviews for this hair care supplement seem positive, some wrote that they didn't notice any improvements or changes after taking the supplement for several months. Most of these users wrote that they eventually discontinued taking it.
Viviscal vs. Hairfinity and SugarBearHair
The following chart compares Viviscal supplements to two other hair supplement brands, Hairfinity and SugarBearHair.
| | Viviscal Advanced Hair Growth Supplement | Hairfinity Hair Vitamins | SugarBearHair |
| --- | --- | --- | --- |
| Price | $39.99-$49.99/ 60 capsules (30-day supply) | $24.99/60 capsules (30-day supply) | $29.99/60 gummies (30-day supply) |
| Price Per Daily Serving | $1.33–$1.66 | $0.83 | $1 |
| Main Ingredients/ Daily Serving Per Dose | Vitamin C: 59mg (65%), Niacin: 12mg (75%), Biotin, 120mcg (400%), calcium, 60mg (5%), iron: 10mg (56%), Zinc: 11mg (100mg), AminoMar Marine Complex: 450mg | Biotin: 2500mcg (833%), Pantothenic acid: 100mg (2,000%), Vitamin B12: 20mcg (833%), Thiamin: 5mg (417%), Riboflavin: 5mg (385%) Vitamin B6: 5mg (294%) | Vitamin D: 400 IU (100%), Biotin: 5000mcg (1667%), Vitamin B-6: 2mg (100%) |
| Delivery Mechanism | Capsule | Capsule | Fruit-flavored gummy candy |
Key Takeaways
Deciding which type of hair supplement to take depends on your price point and preferred delivery method. SugarBearHair gummies are cute and taste like candy, but they will cost you $1 a day and likely won't do much for you if you aren't nutritional deficient in their key ingredients.
Viviscal supplements are more expensive and must be taken as a regular supplement. But for that inconvenience, you're getting a supplement that seems to make a clinically significant difference in the hair loss and overall thickness—so long as you commit to taking them.
The Bottom Line
If your hair is thinning and it's not due to an underlying medical issue, taking Viviscal Advanced Hair Health Supplements may make your hair thicker and slow down hair loss.
However, any hair improvements are likely to be subtle. You may also need to commit to taking the supplements for the long term, as many reviewers wrote that they lost their hair progress when they stopped taking them.
Viviscal is best for anyone dealing with subtle hair loss or thinning hair and who is willing to take these supplements daily for several months.
They aren't ideal for anyone looking for a quick fix or anyone who is suffering from hair loss due to hormonal imbalances or other medical problems not related to nutrition.
---
Completed one year of Viviscal 2 times a day

By Arleen R.

,

California

,

Feb 16, 2020
Verified Reviewer

Overall Experience:

My dermatologist said my hair would grow back but it might take a year and to be patient. My thyroid doctor who alerted me to my hair loss (which was pretty significant) is the one that was regulating my thyroid meds, which I thought were not doing the job, but for the last six months, my thyroid is where it should be. My hair has always been fine but very plentiful and took color, perm, and hair set easily. I'm in my 70's and have been taking an am and a pm Viviscal tab for a year this year. My "hair has gone from being fine" to being "thin in shaft strength" and the bald spots on the left and right side of my hair if I part it either way or in the back are still very visible unless I comb my hair back and secure it and also use hair color brush on. It has not worked for me.

Bottom Line: No, I would not recommend this to a friend

---

Scam

By Summer B.

,

Los Angeles, CA

,

Jan 4, 2020
Verified Reviewer

Overall Experience:

Began Viviscal with one order. Never received my third box. Called to cancel as my dermatologist advised me "don't waste your money". The rep that I canceled with supposedly closed my account. Five months later I get a call from what I thought was a Viviscal representative, until I asked at the end of the call why I wasn't aware I owed money until 5 months after I canceled my "membership" when he told me it was an outside billing agency calling. Phoned Viviscal to have someone tell me they shipped my second auto-renewed order, which ONE, I never asked for and TWO, never received! And 5 months later I owe you money? So frustrating companies like this prey on hard-working people that are LOSING THEIR HAIR DUE TO STRESS. SHAME ON YOU. Will be disputing and reporting to BBB.

Bottom Line: No, I would not recommend this to a friend

---

Fraud and misrepresentation of process guarantee

By Marie M.

,

Detroit, MI

,

Aug 26, 2019
Verified Reviewer

Overall Experience:

The infomercial said $30 or $40 for a month to try it. So I thought I'd try it. Shortly after my order, they billed me again for another $127.00 approximately.

Oh, I remember what the rep told me when I called the first time I called, he said "you qualify for a 90-day supply, then a month later I received a bill for the $127. Long story short, I called to return it because I don't want to take this tablet every day and I didn't really see the value. You can go and buy a good Omega 3 and some other vitamins or supplements for a lot less without subscribing to a subscription that hits your bank card and gets their info wrong. I tried to return it and they said they would mail me a label. I was waiting and waiting and waiting, no label came. I repeated this 3 times, called them, they said they would send a return label to return the product and I would not be charged any further. I was waiting for a label that never came. On my 3rd request for a label, I asked them to email it to me, same thing, I never got an e-mailed label, checked my spam box. I told the customer service rep the 3rd time if I didn't receive a return label as promised I would call my bank card and dispute their charges, and so I had to do that. Four months later they sent me to collections. I am now calling and calling the customer service number again to get them to do what they promised. Oh, a supervisor returned my call 3 days later, of course, it went to my voicemail, I am not available to take calls all day waiting on them. That had no results other than she took it off collections and asked for my credit card to charge it again - no way. So another call to customer service, by now they owe me for my time and aggravation, ridiculous waste of time.

Bottom Line: No, I would not recommend this to a friend

---

Scammy product and bad customer service

By Luke R.

,

Saskatchewan, Canada

,

Jun 17, 2019
Verified Reviewer

Overall Experience:

Bought this product three months ago. When it arrived I follow the directions on the package to a tee. The product did not work. Not only that - when you buy a product they automatically put you on a membership that you cannot manage via their online website and they don't even tell you so they ended up charging me another $180 for their tablets. When I called them to tell them that I do not want the product they told me that they can only refund me now if I ship the product back to them at my own expense and refused to do anything.

Bottom Line: No, I would not recommend this to a friend

---

Advertisement

---

Do not purchase this product.

By Lisa J.

,

Gulf Breeze, FL

,

Jun 5, 2019
Verified Reviewer

Overall Experience:

I ordered this product. $159.00. With the agreement to pay 2 more payments after the product was received. This was months ago. I never received the product. I called numerous times, basically being told, sorry. It was shipped. I canceled my card so the next two payments would not come out. They then turned me over to collections. So, I paid $159.00 for something I never received. The company didn't care, they just wanted the money for a product I never received. Do not buy this product.

Bottom Line: No, I would not recommend this to a friend

---

Do not order from the website

By N R.

,

Orange County, CA

,

Jan 17, 2019
Verified Reviewer

Overall Experience:

If you want to try this, buy it at Walgreens or any other authorized retailer. Do NOT order from their website. They have very confusing and "scammy" billing policies. I was confused as to why I was being charged $49 all the time, and my credit card had changed, and instead of canceling my account, they continued to bill me and then sent me to collections. I called them twice to pay on whatever I owed (which was a whopping $70) and get it all figured out and they kept saying they'd "let upper management know" but nothing happened. HORRIBLE. They are purposely confusing you so they can hook you for auto-renews that are hard to cancel and then do nothing to solve your problem when you call them.

I'm usually really good about stuff like this too. My credit score is over 800, I have no debt. I'm not some idiot and they still managed to confuse me and screw me over. I had very little results too. Better off just taking a multivitamin. Such a bad experience with them.

Bottom Line: No, I would not recommend this to a friend

---

Definitely worth the $50.

By Jay M.

,

Virginia

,

Jan 9, 2019
Verified Reviewer

Overall Experience:

I started this product a month and a half ago after trying several different types of hair growth products for a receding hairline that was beginning to get out of control, along with thinning on top of my head. Viviscal man definitely works for me. After 30 days I saw a big drastic difference in minimal hair shedding and regrowth already happening. 50 days of using the product and my hair is growing in so thick, and my receding hairline is pretty much on its way back to being a complete hairline. My wife uses the women's Viviscal and is just as satisfied. In my experience, definitely worth your money. Not much different price than Rogaine, except Viviscal truly works.

Bottom Line: Yes, I would recommend this to a friend

---

Don't buy

By Donna T.

,

Michigan

,

Aug 20, 2018
Verified Reviewer

Overall Experience:

I ordered this product directly from the company, and they billed me $65.00 They sent me a package that I did not order and then put me in their auto-subscribe program. I called them to return the products and cancel all future shipments. They told me that they did all their returns by US mail, so I had to wait for the return label, which was another 7-10 business days. I had to return the package and of course, no credit until they received the package. To add insult to injury, they proceeded to bill me $40 for their auto-subscribe program, while I have absolutely nothing in my hands and over $100 of my money in their hands. I called again and guess what. I was told that I had to wait another 7-10 business days before they would credit my account, as they had just received the return package.

In today's online marketing, almost everyone offers return labels by email or a link to print it, so that these returns are seamless and credits are often issued with the proof of shipment such as a tracking number. How does Viviscal think they can do this to their customers? It's beyond me.

Bottom Line: No, I would not recommend this to a friend

---

It's working for me

By Vicky A.

,

San Diego

,

Aug 14, 2018
Verified Reviewer

Overall Experience:

I am 63 and take hormone replacement. My thyroid medication made my hair start falling out. I had to keep it very short as an attempt to grow it out, it was disappointing, and split ends were rampant. I had to have a haircut every six weeks to keep the split ends down. I learned about Viviscal at my dentist office reading a magazine in which Minnie Driver hawks this product. The ad said available at Target.

I went to Target and picked it up for $35.00. If you have a Target credit/debit card, it's 5% less. I have just finished my second pack. Up until now, I knew nothing of shampoos and serums. The box does NOT say extra strength. Maybe that's why there are side effects in some women. I have not had a haircut in twelve weks and do not need one. I have zero split ends. None. My hair is clearly more healthy and last week I noticed brand new black hair growth in my temple area. I'm stoked.

I have only posted a review for anything online once before. But based on some of the negative reviews you have posted, I feel strongly that ladies reading this site should know that not everyone is disappointed. So, I am seeing real hair growth around sixty days in. For the first time in years, I can twist my hair and clip it up. Before, I didn't have enough hair to twist; couldn't make a ponytail. I have not had any of the side effects stated by others. And, I would never buy through the website or get on auto refill. I learned the hard way years back that it is hard to get off auto and customer service usually sucks. Just go to Target and get the regular strength, the only choice they have on the shelf, and give it a try. It's not a huge investment over the website. I'm cheap. No way would I have paid fifty bucks for this. But $35.00 minus the five percent with my debit card for a couple of months is doable. Then, after sixty days or so as in my case (the box says ninety) either quit or keep going.

Oh, and don't know how someone's friend could read the ingredients and declare them "fraudulent". How is that determined? Good luck ladies.

Bottom Line: Yes, I would recommend this to a friend

---

Zero results

By Heather S.

,

Raleigh, NC

,

Jul 23, 2018
Verified Reviewer

Overall Experience:

While I did not experience weight gain, acne or any other negative side-effects, I also experienced zero results here. I tried it for three months, but also tried some Rogaine at the same time and when my hair loss slowed to almost nil, I was uncertain whether the Rogaine or Viviscal was doing a good job. I had hoped it was the Viviscal given all the positive reviews and no side effects for me vs. the Rogaine, which isn't great for me because it builds up on my scalp/hair making them feel crunchy since I only wash my hair every 5-7 days.

Since Viviscal recommends trying the product for up to 6 months to get results, I did so. I tried a 6-month supply of twice daily Viviscal that took me closer to 7 and 1/2 months to finish because I'd forget to take two pills some days. Result? The Viviscal did nothing/zero/zilch/nada. I am outside the 90-day return period so I cannot get any credit.

Don't waste your time and money much less get your hopes up!

Bottom Line: No, I would not recommend this to a friend

---

The worst customer service EVER!

By L A.

,

New York City, NY

,

Jun 4, 2018
Verified Reviewer

Overall Experience:

Do not order from this company. When a friend of mine looked at the list of ingredients, she declared them fraudulent.

I cancelled my order immediately. I was told that a return envelope had been sent twice, but I never got it. I asked for a refund for all of my hassle and was refused.

Do NOT order from this company. The absolute worst company I have ever dealt with.

Bottom Line: No, I would not recommend this to a friend

---