SuperBeets Reviews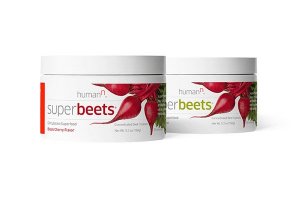 Summary
SuperBeets' beetroot powder claims to contain more nitrates than other beet products, giving you more circulation-boosting nitric oxide and improved stamina.
SuperBeets Reviews: Is It Safe And Does It Work?
Medically Reviewed by Anthony Dugarte, MD
HighYa is supported by our readers. When you buy something through a link on this page, we may earn an affiliate commission. Learn more.
What Is SuperBeets?
HumanN advertises that SuperBeets is a highly-concentrated, scientifically formulated source of dietary nitrates, which can help your body produce nitric oxide and support healthy circulation, heart function, blood pressure levels, and natural energy and stamina.
Because SuperBeets is only made from the highest quality, non-GMO beets grown in the U.S., HumanN tells us you also won't find dairy, gluten, GMO, soy, preservatives, sugar, or caffeine or other stimulants in the supplement's formula.
It's also backed by "a world-class team of food scientists, leading experts in dietetics and nutrition and physiology researchers," and is clinically researched to "provide optimum levels of essential nitric oxide," the website reads.
But, is this clinical support as robust as the company indicates? And even if it is, does this necessarily mean that SuperBeets is the best beetroot supplement for your needs? We'll answer all of your important questions here, starting with its underlying functionality.
How Nitric Oxide Works in SuperBeets
If you mix one scoop (the equivalent of one teaspoon) of the crystallized beetroot powder into the liquid of your choice per day, the website advertises you'll consume three whole beets worth of nitrate in a single, great-tasting serving—without having to the juice any beets yourself. We do not know the nitrate amount per serving, however.
As advertised on the HumanN website, this means that SuperBeets could act as a great source of dietary nitrates, which could then help your body produce more nitric oxide.
In fact, the website indicates their beets "are sourced to meet our self-imposed strict requirements for nitrate through a very selective process. We validate nitrate specs from the point of harvest to manufacturing."
But, why worry about nitrates in the first place? According to pharmacist Dr. Jason Reed, nitrates play "a critical role in the body to produce vasodilation, or relaxing of blood vessels.
Reed said relaxed blood vessels can lead to lower blood pressure and increased exercise stamina. Taking steps to prevent the age-related decline in your body's nitric oxide may be necessary to ensure its continued benefits.
Consuming adequate amounts of uncooked, green, leafy vegetables is a vital part of the process since your body's cells convert the dietary nitrates they contain into a biologically usable form, which is then converted into nitric oxide.
This means "that dietary supplements, such as beetroot, would [also] be a good way to increase nitric oxide levels," Reed says. He emphasizes that exercise is another crucial aspect.
Are Nitrates from Powders Better or Worse than Fresh Vegetables?
According to registered dietician Meg Marie O'Rourke, "Nitrate levels in vegetables and vegetable juices such as beet juice can vary considerably, but it is always better to consume our nutrients from real food."
"Powders will not provide the fiber or other benefits of real fruits and vegetables," she says. This may require supplementing fiber, as well as other vitamins and minerals, to replace what you're missing from natural sources. Therefore, it is potentially a less convenient option.
Still, Jason Reed points out, "anyone who is having issues getting enough green leafy vegetables in their diet, or who doesn't exercise enough, would be a good candidate for beetroot" supplementation.
This is where a visit with your doctor can provide invaluable feedback about which options might work best based on your specific diagnosis.
Will beetroot supplementation in general—or SuperBeets, specifically—lead to significant real-world benefits? Let's take a closer look at the supporting clinical evidence in the next section.
SuperBeets Ingredients and Nutrition Information
The HumanN website lists the following ingredients and nutrition details for SuperBeets:
Non-GMO Beetroot Powder, Non-GMO Beetroot Powder (fermented), Natural Apple Flavor [or, Black Cherry, depending on flavor], Malic Acid, Magnesium Ascorbate, Stevia Leaf Extract
Calories 15
Total Fat 0 g
Sodium 65 mg
Potassium 160 mg
Carbohydrates 4 g (Sugars 3 g)
Protein 1 g
Magnesium 10 mg
Vitamin C 50 mg
Magnesium 18 mg
Manganese 0.14 mg
According to Reed, "There have been small studies showing that nitric oxide supplements can help lower blood pressure, although more large studies are needed to confirm this in larger populations."
The Studies page on the HumanN website references six of these for beetroot, although none reference SuperBeets, specifically. Note: We reached out to customer support and verified that each of these was conducted using the supplement.
Furthermore, an infographic listed on the HumanN website references a recent study from the American Heart Association (AHA) involving "a small group of eight women and seven men" who reduced their systolic blood pressure by 10 mmHg after consuming beetroot. Again, though, they don't provide references, and we couldn't find a matching study from the AHA during our research.
With these details in mind, we located a 2015 study from the AHA that found participants who "drank a daily 250ml glass of beet juice experienced an average decrease in blood pressure of about 8/4 mmHg over 4-weeks."
The "8/4 mmHg" is a standard format for measuring your blood pressure. The two numbers represent your systolic (SBP) and diastolic blood pressure (DBP) in the same way that your doctor may tell you your blood pressure is "110 over 80".
To put this in perspective, they explain, "the average reduction in blood pressure through a single anti-hypertensive drug is 9/5 mmHg. Additionally, it is well documented that every 2 mmHg increase in systolic blood pressure is associated with a 7% and 10% risk for death from heart disease and stroke, respectively.
More recently, a review of 43 randomized trials examining the effects of 70-500mL of daily beetroot juice supplementation found an average SBP reduction of 9.04 mm Hg when compared to placebo.
The overall effects were better in larger doses and in those with chronic diseases. These findings were comparable to what would be expected in treatment with a single blood pressure medication or with adherence to the dietary approach to stop the hyper-tension (DASH) diet.
Beetroot supplementation may also improve athletic performance due to its cardiovascular benefits. A recent review of 23 studies found that beetroot juice supplementation at 70-500mL improves the time to exhaustion during intense exercise, though previous support has been mixed regarding this benefit.
The Takeaway:
Beetroot supplementation offers a dietary source of nitrates that your body can convert to nitric oxide. The latter has a role in a number of health-related function through its actions on blood vessels.
There is strong support that this simple dietary modification may offer considerable benefit in the management of your blood pressure. Results can vary depending on a number of factors like supplement dose, as well as the presence of chronic medical conditions.
It is challenging to compare doses utilized in studies to the crystalized form offered in SuperBeets, Nitrate content varies from supplement to supplement and at different doses. There does seem to be a dose-dependent relationship where the greatest benefits are seen at doses in the 500ml range.
Beetroot supplementation may also increase athletic performance, though more work is needed to fully characterize this benefit.
Side Effects and Medication Interactions
While serious side effects are rarely reported with beetroot supplementation, there is presently insufficient long-term studies indicating the safety of this product.
It appears that amounts comparable to what can be achieved in a normal diet, or with the suggested use of a supplement, are safe.
Red urine and red stools are a commonly reported, but harmless, side effect that is caused by the vegetable's betacyanin pigment. Stomach discomfort and headaches have also been reported at doses ranging from 70-500mL.
SuperBeets Cost and Where to Buy
SuperBeets is available in Black Cherry and Original (Apple) flavors, although how much you pay depends on site which site you order from. For example, if purchased from the main HumanN shop, the supplement costs:
1 Canister (30 servings): $39.95
3 Canisters: $79.90 ($26.63 per canister)
6 Canisters: $149.90 ($24.95 per canister)
On the other hand, if ordered via HumanN's GetSuperBeets landing page, you'll also have the option to sign up for recurring deliveries at a reduced price:
1 Canister: $34.95
3 Canisters: $69.90 ($23.30 per canister)
6 Canisters: $129.90 ($21.65 per canister)
Each of the latter options comes with free shipping, while you'll pay $8.95 for the single-canister option from the main HumanN shop.
Regardless of which option you choose, all direct orders come with a 90-day satisfaction guarantee, less original and return shipping charges. You can reach customer support by calling 855-636-4040.
SuperBeets is also available on Amazon for $37.59 (Black Cherry Flavor) and at GNC for $34.99 (Black Cherry flavor).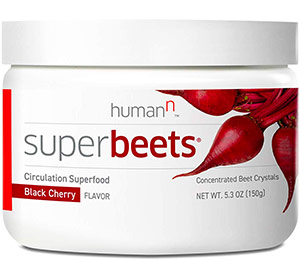 Buy SuperBeets from Amazon:
Two flavors of SuperBeets are available on Amazon: Black Cherry and Apple. Shipping is free. It is rated 4.0-stars based on over 3,300 customer reviews.
Customer Reviews for SuperBeets
SuperBeets has nearly 1,000 customer reviews on Amazon as of this writing, with an average rating of 3.7 stars. Here on HighYa, more than 40 reviewers have given the supplement a slightly lower average of 3.3 stars.
Overall, most seemed pleased with its taste, as well as its ability to boost energy levels and reduce blood pressure.
However, common complaints referenced no improvements related to blood pressure or any of the manufacturer's advertised benefits, along with taste preferences and its tendency to harden and clump together after sitting for a while.
Pro tip: The HumanN FAQ emphasizes this clumping occurs as a result of exposure to moisture and/or excess heat, which you can avoid by storing in a cool, dry place. It doesn't impact SuperBeets' effectiveness, though.
Bottom Line
Obtaining nitrates from vegetables is ideal.
However, many of us don't consume enough nitrate-containing foods, so SuperBeets might provide a faster and easier method of getting what you need, without having to go through the process of juicing your own veggies.
And if you regularly consume beetroot juice, there's mounting clinical support that it can help lower blood pressure—about as well as prescription medications, in some instances—for individuals diagnosed with hypertension.
With this said, there's no indication that SuperBeets' formulation provides better blood-pressure-lowering results than a more competitively-priced beetroot powder. Additionally, exercise plays a key role in nitric oxide production and may help prevent age-related decline.
Enhanced athletic performance may be another potential benefit, though support for this has been mixed.
Because nitric oxide widens blood vessels and lowers blood pressure, Reed says that "if you take drugs for ED such as Viagra, Levitra, Cialis, or certain heart medications like nitroglycerin, you should talk to your doctor prior to trying any form of nitric oxide supplement."
Reed also pointed out that those with a history of kidney stones caused by calcium oxalate, as the vegetable has high levels of calcium oxalate. Supplementation appears safe, but more long-term research is needed to offer consensus.
Lastly, dietary supplementation should not be the emphasis, but rather an addition to a more comprehensive health plan that includes healthy dietary choices and daily physical activity.
Customer Reviews
Posted on Aug 12, 2021
Overpriced crap
Purchased SuperBeets from GMC about one week ago because of my many ailments (arthritis, poor circulation, just to name a few) and I can say there is nothing super about this horrible tasting crap. In fact, the taste is so bad I doubt that a fly would even like the taste of it. However, I could overlook the taste if the stuff had some positive benefits, but it did nothing for me. I still have all my ailments and lack of energy. You would be better off buying beet juice at any grocery store for a lot less money.
Length of Use: Less than 3 months
Bottom Line: No, I would not recommend this to a friend
Pros and Cons
No "pros" were specified in this review
Overpriced
Horrible taste
It makes a mess when you're mixing it
Posted on Jul 8, 2020
Doesn't work
I used 3 whole canisters. There was no change in my blood pressure whatsoever. A waste of my time and money. This product does not work. They tried to send me more without my approval and billed me for it before I knew what they had done. Avoid this product at all costs.
Length of Use: 3–6 months
Bottom Line: No, I would not recommend this to a friend
Pros and Cons
No "pros" were specified in this review
It was a waste of money
They tried to send me more without my approval
Posted on Aug 21, 2019
Over priced
I am coming to the end of this product. I've got about two more scoops left and I never felt the difference in my energy level. I feel as if it was a waste of money. Sorry, I will not be placing another order.
Bottom Line: No, I would not recommend this to a friend
Posted on Mar 29, 2019
I recommend SuperBeets to all my family and friends
I would recommend SuperBeets to all my family and friends because SuperBeets is a healthy and delicious drink and you can notice a difference in your energy and immune system. My father and I drink SuperBeets every morning and we notice that we have more energy and a better immune system.
Bottom Line: Yes, I would recommend this to a friend
Posted on Mar 11, 2019
Don't waste your money
My very own study has proven that SuperBeets doesn't do anything that it claims to improve/lower high blood pressure. I had high blood pressure and was wanting to take the natural route to better health vs. medication. I decided to make a natural fresh beet blender drink every morning. My blood pressure, within a matter of 6 weeks was almost back to normal. It was amazing. As my schedule became very demanding, I thought that I would try SuperBeets. Quick and simple powder drink mixed with water. I took it for one year and my blood pressure went sky high again. I started taking it once a day and saw no results. Then I started taking it twice a day, still no results.
I am now back on my original plan, a fresh beet blender drink every morning and once again my blood pressure is almost back down to normal. You be the judge. I spend about $6 per week for fresh beets at the grocery store...I can honestly state that I am an official study of what worked and what didn't work.
Bottom Line: No, I would not recommend this to a friend
Posted on Feb 16, 2019
No change
First week took 1 scoop a day and tested with strip provided, no change. For the next week took 2 scoops daily, half day apart, and retested with provided strip and still no change in strip color whatsoever.
Bottom Line: No, I would not recommend this to a friend
Posted on Jan 16, 2019
Fantastic product!
I wanted this for Christmas because my daughters never know what to get. I saw on TV and it looked good. Beets are a superfood. I am 60 years old and always tired. I am 15 days into SuperBeets and I feel incredible. The taste is fine, and the energy is amazing! I can't wait to see what the doctor says next month with the checkup. I am ordering more product today as they only bought one container to see if I liked. Thank you for my energy back!
Bottom Line: Yes, I would recommend this to a friend
Posted on Nov 28, 2018
Product does nothing
The product has NOT done anything for me, nor my sister. There is a lawsuit against this company, and I believe there may be more to follow. I have NOT even received the return label that I requested, and must make my own label, and get that RMA # from them before returning the package of three used up containers. No energy, no lowering of blood pressure.
Bottom Line: No, I would not recommend this to a friend
Posted on Nov 27, 2018
Tried a container of SuperBeets
SuperBeets is not something that did me any good. I bought a container on eBay and took it twice a day and didn't see any improvement. I got down to the bottom of the container and the last amount was enough to cover the bottom. I opened it up one day to take some and the rest had turned to some hard clump of molded together stuff. I never wanted to take it anymore after that because I am sure it got moisture into the container. It got in there from me adding it to water. But looking at that I just couldn't help to wonder if it did that to the amount left in the container turning hard as a rock, what does it do in your body? No more for me, that hard mass in the container is all I needed to see.
Bottom Line: No, I would not recommend this to a friend
Posted on Nov 17, 2018
SuperBeets
So I've been using SuperBeets for about eight months now, and YES, my blood pressure dropped significantly! I refused to take medication and promised my doctor I would walk everyday, which I try to, but it's the SuperBeets that brought my blood pressure down from 179/101 to 138/89. I could not believe it!
Bottom Line: Yes, I would recommend this to a friend
Posted on Oct 25, 2018
Working great for me!
I've been taking SuperBeets for about 2 weeks, one scoop daily. I feel like a different person. I'm usually skeptical about supplements, but I've had such low energy lately I thought I'd try SuperBeets. I couldn't be more pleased with the results. I feel great!
Bottom Line: Yes, I would recommend this to a friend
Our Promise to You
In order to safeguard you and ensure helpfulness and relevance, our compliance team manually assess every customer review before it goes live.
We have a zero-tolerance policy for fake reviews, and companies cannot control or alter any reviews at any time.