TAPfit
This company has claimed this profile, is getting alerted on any new customer reviews entering this page, and may engage in dialogue with its customers to address their matters.

Companies cannot pay money or provide goods in order to remove or alter customer reviews.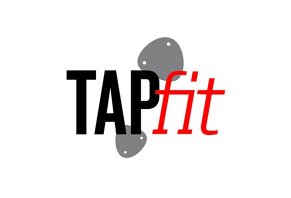 Summary
TAPfit's dance fitness program will get you burning calories while you learn the basics of tapdancing. Customer reviews indicate this niche workout strategy is an excellent option for many, but the estimated calorie counts are off.
Pros
An innovative way to get in shape
Easy enough for dance beginners to learn
Both subscription and one-time purchase options available
Cons
You likely won't burn as many calories as the company claims
A highly specific form of exercise that won't appeal to everyone
Buying the company's accessories is necessary to maximize the experience
Production quality isn't always professional-grade
TAPfit Review: A Detailed Look
TAPfit is a dance fitness program that utilizes the principles of tap dance to get you moving to a beat—no prior dance experience required.
This innovative fitness program was founded by four Australian sisters, all of whom are tap teachers who graduated from the Les Griffith Tap Dance Academy and have diplomas from the World Tap Dance Championships in Reisa, Germany.
This program purportedly builds on their expertise to give you a full-body workout that combines dance moves with cardio, conditioning, and strength training to get you in shape.
To maximize your experience, you should wear TAPfit's patented taps that fit over your gym shoes to add a beat to every move you make.
In this review, we take a detailed look at TAPfit to tell you if it works and help you decide if it is right for you.
Is TAPfit a Good Way to Exercise?
An instructor guides you through every step of TAPfit workouts to ensure that even beginners can figure out the moves.
The brand claims that all steps are low-impact and safe for a variety of fitness levels while ensuring you get your heart rate up for maximum calorie burning—even up to 800 calories per hour.
That's a claim that Dr. Aragona, a general practitioner and family doctor at Prescription Doctor challenges. "From a medical and health perspective, tap dancing can be great exercise," he shared with us.
"On average, tap dancing burns around 315 calories per hour, so a usual 2-hour class would mean you have burned 630 calories. If you take those classes over multiple days of the week, you will have burned a lot of calories overall.
"Unfortunately, the claim that it is 800 calories in one hour is false, even an exercise such as running can only burn around 600 calories an hour, and that is a more intense workout for the body overall."
Features and Options
TAPfit currently offers two ways to join the experience: an online subscription or a DVD bundle purchase.
TAPfit Online
Access TAPfit's content anywhere with an internet connection with TAPfit online. You'll get access to over 100 dance workouts in multiple programs with nutrition plans and recipes that are updated weekly.
The company also shares a schedule of live classes so that you can plan to tap with others in real-time.
Cost: $27/month, all new subscribers receive a seven-day free trial.
TAPFit Transformation System
If you're not a fan of the subscription model, you can purchase TAPfit transformation systems. You'll get DVD access to dozens of workouts as well as the fitness equipment needed to get started.
Here are the package deals:
TAPfit Starter
TAPfit Deluxe
TAPfit Platinum
Cost
$97
$167
$249
Includes

Slip-on taps
Five beginner-friendly dance workouts on DVD
Resistance band
Limited online access to TAPfit online studio (beginner classes only)

Everything in the Starter Kit
Rollable, foldable floor
Learn to Tap video tutorials
Equipment-free fat-burning workout

Everything in the Deluxe Kit
Full forever access to the online studio
Support calls with Kat and Annie
Access to new routines and recipes
Keepsake storage box
21-day nutrition plan
Weight loss roadmap
TAPfit Taps
The company's patented taps have a non-slip runner grip and fit over the sole of any flat-bottom shoe to turn them into dance shoes. They feature stainless steel taps on the heels and toes to produce a distinctive click with each step.
It's not currently possible to purchase these taps or floor mat without buying one of these three systems.
My Experience with TAPfit
The sign-up process was very simple and I was ready to go within minutes. The TAPfit online portal has a simple layout, with a welcome message and six weeks of classes available on the main page.
You can personalize an online profile by adding photos, joining groups, and connecting with other members. You'll also gain access to all seven TAPfit courses:
28-Day Home Health Challenge
MOVEnBURN Body Challenge
TAPfit Advanced
TAPfit Dance Challenge
TAPfit Platinum
TAPfit Starter Series
TAPfit Workouts
I'm a complete beginner to tap dance, so I started with the TAP Basics class. Instructor Kat Johnson introduced the steps slowly and thoroughly articulated every move so I felt comfortable following along.
Honestly, though, the dance routine wasn't much fun when I performed it barefoot on the carpet; the brand's tap shoes and dance mat seem essential to having fun with this workout.
The week one tutorial class built on the basics with a simple warmup and pump up music that quickly put me in workout mode.
Kat's reminder to swing my arms instead of merely focusing on the footwork helped me get my heart rate up quickly, and I broke a sweat during the warmup.
The class became increasingly more fun, even though I didn't have the right footwear.
Post warmup was another instructional period with Kat to learn more steps. The slower pace and lack of music pulled me out of the moment until round two of the workout started. Again, the total body moves got my heart rate up quickly.
By the end of the thirty-minute class, I was ready to be finished and was left feeling like I could have gotten in a more efficient workout in other ways. While the dance sessions were fun, I found the frequent instructional breaks made things tedious.
I wanted to see how the class structure changed for different courses, so next challenged myself to a week 5 class workout. Despite not being able to keep up with all the moves, I thought the class pace felt more like a traditional workout.
Kat's instructions weren't distracting, though the constantly shifting camera angle actually left me slightly dizzy.
Overall, the classes flowed well with an appropriate amount of instruction. But when it comes to getting in an efficient workout, I was left feeling like there was a lot of wasted time where I could have been working.
Analysis of Customer Reviews
More than 30 customers have left reviews for TAPfit on our website. These reviews average 3.2-stars with a 59% recommendation rating. Here's a snapshot of their comments.
Compliments:
Dances are fun and engaging
Great way to get in shape, especially for people who weren't active previously
Wide variety of music choices for different tastes
Talented, encouraging instructors
Complaints:
Poor quality video editing, difficulty navigating the main menu
Delayed delivery, the product never arrived in some cases
Some users didn't receive a refund after returning the product
TAPfit vs. Figure 8 Fitness
For those who would instead be dancing at the club than sweating at the gym, another home workout program that promises to get you in shape is Figure 8 Fitness.
Figure 8 Fitness is lead by Latin DanceSport world medal winner Jaana Kunitz. It is offered as a comprehensive program of 14 classes and instructional videos that guide you through progressively challenging your body.
Rather than tap dance, this fitness series focuses on Latin-inspired dance moves to tone your core and get your glutes in gear.
The program is currently offered as a one-time purchase for $47. It's another $10 if you want to receive DVDs instead of merely having digital access.
It includes all 14 workout sessions, a success tracker, a workout journal, a PDF workout planner guide, a nutritional blueprint, and a faster-paced "Figure 8 Express" series of over 30 ten-minute videos.
As with TAPfit, you can also sign up on a subscription basis. $11.99 per month (or $108 per year) gives you access to more than 100 hours of workout videos, including the full Figure 8 Fitness series and other programs like Figure 8 Ultimate, Figure 8 PRO, and more.
Deciding between these two dance cardio options will likely come down to pricing and your preferred workout style.
TAPfit's tap dance style workout is more unique, but it's likely to appeal to a smaller number of people. This program is also more expensive, and frankly, only works if you commit to the company's patented tap shoes. Without them, the dancing sequences feel lackluster (at least in my experience).
Return Policy
All purchases qualify for a 30-day refund policy for refunds or exchanges. Items are only eligible if they are unused, in the same condition you received it, and in original packaging. Shipping costs are nonrefundable, and in most cases, a restocking fee and will be deducted from the refund.
TAPfit Online membership purchases are ineligible for refunds.
The Bottom Line
TAPfit offers a unique form of exercise that is likely to appeal to those who typically avoid the gym. The engaging dance workouts are easy to learn (even for beginners), and customer reviews indicate that it's incredibly satisfying to tap along to the beat of the music.
For me, TAPfit wasn't impressive. The workouts didn't seem much different than other forms of dance cardio, and I found the classes started and stopped too often to feel like I was getting in the groove. But this is a largely personal opinion, and your experience may differ.
Overall, TAPfit classes will get you moving and burning calories, but you need to be realistic about how many calories you'll actually burn per session.
In any case, the best kind of exercise is any type that you'll actually do, so TAPfit is an excellent option if it offers what it takes to get you moving.
Customer Reviews
Posted on Sep 10, 2023
Order never got delivered, not even a shipping notification
Placed an order via their website. Got a confirmation email. Order never got delivered, not even a shipping notification. Probably a scam website.
Lower rating is one star, and even that is too much.
Bottom Line: No, I would not recommend this to a friend
Posted on Aug 11, 2023
One of the better fitness programs I've tried
This is definitely one of the better fitness programs I've tried, and I have tried quite a few different ones. I like the video length, the floor is high quality, and the taps make it fun and interesting. It's good to mix it up for me, and I have enjoyed tap dancing. I would recommend it to others if you like music and dancing. I would like you to bring back the coaching on Facebook though, as I do miss that element. Thank you.
Length of Use: 6–12 months
Bottom Line: Yes, I would recommend this to a friend
Pros and Cons
Music
The quality of the floor
The instructors
Took away the Facebook coaching — I would like that returned
Posted on Aug 9, 2023
So much joy!
I really love TAPfit. I got a floor and taps and it's so much fun. The taps are such a joy — I've been enjoying them so much. I feel lighter, happier, and I have a lot more energy since starting this program. Thanks for creating this!
Length of Use: 3–6 months
Bottom Line: Yes, I would recommend this to a friend
Pros and Cons
TAPfit floor
Customer service was good
I like their encouraging emails
The dance workouts could be longer
I would like to see more merch
Posted on Jul 12, 2023
I'm pleased with this product
I am very pleased with this product. My order took approximately 2 weeks to get to me but the owner of the company reached out and called me, which I really appreciated! I like the product. I haven't exercised in a long time so this is a gentle way to start. Plus I like the music! I had some trouble with the app but again, they've walked me through it. So all in all, very happy and so are my happy tap-dancing feet!
Length of Use: 3–6 months
Bottom Line: Yes, I would recommend this to a friend
Pros and Cons
The taps
The music
The lessons, which are instructional
Figuring out how to login
I wanted some Irish tap
Posted on May 31, 2023
Took more than 3 weeks just to receive my order
They want a relatively high price for something that is simply a TV product that realistically doesn't do much. Quality is ok…Not much you can get wrong with stretchy rubber and metal plates. Ordered and waited a week, then contacted them as the product never shipped. I did the same thing after more than 2 weeks. They just responded that it takes 7–14 days to ship, even though my second email was sent after 16 business days with no shipping info. I then received an email saying that they were getting ready to ship in 2–3 days. But of course, that took more than a week to final ship.
Length of Use: Less than 3 months
Bottom Line: No, I would not recommend this to a friend
Pros and Cons
Average build quality
Inspire some to get fit
Poor customer support
Almost a month to ship
Average product at best
Posted on May 1, 2023
Shipping is ridiculous, even post-COVID
I placed my order on 3/26/23, a month ago, and I still don't have shipping information. As far as I know, my order still hasn't left the warehouse. Over the course of several emails, the customer service rep has apologized for the delay but cannot provide an update. I see many responses to reviews here understandably referencing shipping time due to Covid; however, I would have hoped they would have their act together by now.
The lack of information is shocking.
Bottom Line: No, I would not recommend this to a friend
Pros and Cons
No "pros" were specified in this review
Lack of information
Poor communication
Shipping delay
Posted on Mar 12, 2023
Two weeks and order still not shipped
This "gift" missed my recipient's birthday! Ten days after placing an uncomplicated US order for two sets of taps (small package), I still had not received a shipping notification. The reps claimed they were "trying to get in touch with the warehouse" but I didn't hear back from them. At that point, they could have rushed the order to me. But they didn't. Even for tracking, one has to download an app. Why is this so unnecessarily hard?
After my recipients's birthday came and went, with no package in sight, I finally told TAPfit that I was fed up, disappointed, and just wanted a refund. What poor business practices! This was going to be a special gift for my child and me to dance together. Really bummed and annoyed that they really caused me anguish, but for them, it's just a $70 loss. I DO NOT RECOMMEND.
Bottom Line: No, I would not recommend this to a friend
Pros and Cons
Unique idea
Poor customer service
Item never shipped
Item never received
Posted on Dec 22, 2022
Cheap product that costs too much money
RATING: MINUS
I bought this floor for my 7-year-old son, who just started tapping. He was excited to try the floor upon arrival. He tapped (in new shoes) for 2 minutes...and CHUNKS of the floor came up. Many deep divots that turned the floor white. Many scuffs. We expected some scuffing and intentions, BUT not as bad as this, and certainly not immediately. The response from TAPfit when I wrote to request a refund since this must be defective was...NO REFUNDS. Are the stellar reviews from family/friends of the owners? Must be! This is fraud. Nowhere on the website does it show a floor damaged after use. No one would buy it! BEWARE. Shame on TAPfit!
Length of Use: Less than 3 months
Bottom Line: No, I would not recommend this to a friend
Pros and Cons
No "pros" were specified in this review
Deception
Cheap/defective productive
Fraud advertising
Posted on Sep 25, 2022
Poor customer service
I have tried to cancel my subscription for 3 months, sending 3 separate emails that have yet to be answered. There is no place that I have found on the website to cancel my plan and it does not answer it in the FAQs. I guess I am going to have to cancel my credit card just to stop this bill.
Length of Use: Less than 3 months
Bottom Line: No, I would not recommend this to a friend
Posted on Jun 10, 2022
Love getting back to tap!
I've so enjoyed tapping and loving moving again! TAPfit allows me to dance on my own schedule and do what I love. Thanks!
Length of Use: Less than 3 months
Bottom Line: Yes, I would recommend this to a friend
Pros and Cons
Flexibility
Workouts
I have my own tap shoes (I don't use your shoes), however I can lend them to a friend
Posted on May 26, 2022
Come join us, you will love it!
I am a very happy new TAPfit member!
I have taken all of the beginner workouts for weeks 1-4. They have been very well taught by excellent and enthusiastic teachers. Each workout out is simple, easy to do, and fun with music and constant guidance by the teacher. All routines can be done easily by anyone regardless of your age (I am 80 and had no problems). If you have never tapped before the steps are very simple and anyone can do them. Come join the group. You will love it.
Length of Use: Less than 3 months
Bottom Line: Yes, I would recommend this to a friend
Pros and Cons
The teachers are always there for you with any questions you might have
The teachers are excellent. energetic, and professional
The workouts are fun while you are learning and nit dull and dry
The ony thing that could make it better would be to do the workouts face to facee
Our Promise to You
In order to safeguard you and ensure helpfulness and relevance, our compliance team manually assess every customer review before it goes live.
We have a zero-tolerance policy for fake reviews, and companies cannot control or alter any reviews at any time.