TAPfit Reviews
Claimed This company has claimed this profile, is getting alerted on any new customer reviews entering this page, and may engage in dialogue with its customers to address their matters.

Companies cannot pay money or provide goods in order to remove or alter customer reviews.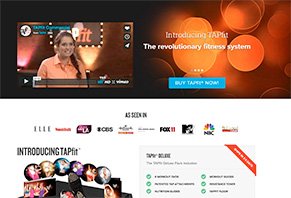 Using 40 large, compound movements often found in tap dancing, the TAPfit workout system's videos and guides can help you get the body you've always wanted.
About TAPfit
TAPfit is a home-based fitness system combines all the benefits of tap dancing, cardio, and resistance training into one easy-to-follow program that can help you achieve "maximum results for your body and brain." In fact, TAPfit can help you burn up to 800 calories per hour while having a blast!
Whether you're just getting back into fitness or have been regularly working out for years, the key to success is keeping your motivation at its peak. In order to do this though, you need to find something you truly enjoy about the process; and who doesn't enjoy dancing?
Although TAPfit was designed by four sisters who are "revered as world championship contenders in tap dance," not to mention renowned fitness instructors, anyone can start learning different tap styles in minutes, while targeting muscles all over their body. In short, with TAPfit, you'll be able to burn lots of calories, sculpt muscles, and gain access to nutrition and training guides developed by accredited exercise, diet, and medical professionals.
Perhaps more than most, there's often a lot of hype surrounding new fitness and weight loss programs. But in a lot of cases, customers quickly become bored and move on, while their expensive investments gathers dust.
Will this be the case with TAPfit? And even if it won't, what kinds of results can you realistically expect? We're here to answer all your important questions. Before we get to that though, let's take a more in-depth look at the TAPfit program.
What's Involved With the TAPfit Program?
The TAPfit program is based on more than 40 large, compound movements found in tap dancing, which are performed on the toes of the feet with relaxed knees. This position accomplishes two major things: First, it activates muscle groups (specifically your gluteus maximus, gluteus medius, and gluteus minimus) that create "more of a calorie burn… than any other muscle group in the entire human body." Second, you'll be able to tone, shape, and define your quadriceps, hamstrings, and calves.
To accomplish this, the TAPfit program consists of five main parts:
TAPfit's Workout Videos
Each high-definition TAPfit video tackles a different dance and workout style over the course of 30 minutes (or less), including Broadway, Classic, Latin, Street, Funk, and Strengthen and Stretch.
If you're a beginner, TAPfit's videos feature "Learn It" sections that will walk you through each move and break down each step. This way, you can practice as many times as you like before beginning the workout videos. And even once you do, you'll be able to choose between easy or moderate options.
TAPfit Floor
TAPfit's 3ft X 4ft floor mat is where you'll be doing all your dancing, which is made from natural bamboo, so you'll experience the best tap sound. Underneath the mat, you'll find a non-slip fabric bottom that can be used on most floor types without causing damage.
Then, when you're finished with your TAPfit workout, just fold or roll the mat and store.
TAPfit Attachments
To use TAPfit's mat, you'll slip a patented attachment onto your existing shoes, which contain solid stainless steel tap pieces "as used and designed by the Australian Tap Dancing Team." This means you'll be able to produce the best tap sound at the lowest possible volume (making it acceptable to use in an apartment), while the non-slip grip with keep everything in place.
TAPfit's Guides & Online Access
You'll be able to access all TAPfit workout DVDs online, along with trainer videos, new weekly workouts, diet guides developed by an accredited dietitian, easy-to-make meal plans, expert nutrition tips, and even plans that are tailored to your goals.
Who's Behind the TAPfit Program?
Overall, the TAPfit program was developed by five different professionals:
Annie Johnson
Annie has been involved in tap dancing for 20 years (10 of which she's worked as a fully qualified tap instructor), teaching children, adults, and physically challenged young adults how to keep in shape and stay physically fit.
Fiona Johnson
Like Annie, Fiona also has 20 years of tap dancing experience, and is excited to help other improve the performance of their body and their brain through the creative expression of dance.
Katherine Johnson
After teaching tap dancing to a 9 year old girl with cerebral palsy, who was finally able to ride her bike for the first time after six months of lessons, Katherine understood that these benefits should be shared with the world. Katherine has also experienced these benefits first-hand, as tap dancing has helped her become stronger, fitter, lighter (she lost 20 pounds), and happier.
Rachel Johnson
Rachel is a full time accountant, which doesn't leave her much time to work out. Because of this (as well as the fact that she's performed at an elite level), she appreciates that TAPfit's workouts only take 30 minutes, and can help improve your body and your mind.
Matt Douglass
Like the Johnson sisters, Matt has been dancing and performing for 20+ years all around the world, and continues to make TV appearances today. He brings his passion for strength and conditioning exercises, and for helping people achieve their fitness goals, to the TAPfit team.
How much will all this professional experience cost you?
Will TAPfit's Price Make You Tap Out?
TAPfit Deluxe Pack is priced at three payments of $39.99 or a single payment of $120, including free shipping. For this price, you'll receive:
6 Workout DVDs
Patented Tap Attachments
Nutrition Guides
Workout Guides
Resistance Toner
TAPfit Floor
12-month access to the online TAPfit community, complete with downloadable workouts so you can use the program on the go.
Is Tap Dancing a Good Way to Work Out?
Whether we're talking about tap, ballet, swing, or any other style, dancing is a form of cardiovascular exercise. In other words, it elevates your heart rate to about 50% of its maximum level over an extended period of time. As a result, you can boost your metabolism, burn more calories, and start dropping inches.
Dancing can be an especially effective form of cardio since much of what you'll be doing involves compound movements, or those that engage "two or more different joints to fully stimulate entire muscle groups and, indeed, multiple muscles." And when you consider TAPfit's Toner Bands, you'll be able to add resistance training to the mix in order to work out your upper body as well.
However, we didn't uncover any research indicating that tap is more effective than other types of dancing. In fact, even the brain benefits mentioned on the TAPfit website reference dancing in general—not just tap dancing.
What's this mean for you? While TAPfit certainly appears enjoyable, high quality, and well-rounded (you'll also gain access to nutrition information and meal plans), there doesn't seem to be anything especially unique about tap dancing's ability to improve your fitness or shed calories.
Pro tip: Speaking of which, what about the "800 calories per hour" claim on the TAPfit website? While there's no citation to back this up, according to NutriStrategy.com, tap dancing only burns up to 419 calories per hour, depending on the individual's weight.
Is There Anything Revolutionary About TAPfit?
Remember how we talked about motivation at the beginning of this review? Because motivation is such an important factor in achieving our fitness goals—and because this source of motivation is constantly changing—there are fitness programs covering just about every imaginable topic. This includes dance-based programs like CIZE, and even tap-specific programs, which you can quickly find by typing "tap dancing exercise" or "tap dancing workout videos" into your nearest search engine.
Will all of these be as robust as TAPfit, including the accessories and guides? Certainly not, but many of these can be found for free on popular video websites, which might help you decide if you'd like to get fit with tap dancing, without spending any money upfront.
Will TAPfit Help You "Get the Body You've Always Wanted"?
The answer to this question depends on a lot of different factors. For example:
Are you just getting back into working out after a long absence, or are you already relatively fit?
What's your current fitness level?
What's your primary goal: weight loss, bigger muscles, or leaner, more defined muscles?
Do you require (and want to pay for) meal plans and nutrition advice?
Do you enjoy tap dancing, or are you better suited to another style of dance?
Our opinion? We think TAPfit's likely ideal for those of us who are either just getting back into fitness, or those who might be a little further along on their fitness journey, but are looking for a new source of motivation. Either way though, will TAPfit actually help you get the body you've always wanted?
As long as you exercise regularly and eat a balanced diet, TAPfit just might be a super-fun way of reaching your fitness goals and unleashing your new body.
Is this what you experienced with TAPfit? Tell us all about it by writing a review below!
I never thought this would be so much fun

By Rebecca M.

,

Brisbane, Australia

,

Mar 30, 2020
Verified Reviewer

I am in week 2 of my TAPfit workouts and boy oh boy, I have to say I am really really loving this. I'm in my 60s but finding I'm keeping up a treat. Love the new DVDs - they arrived yesterday. Thank you so much.

Looking forward to my new dances this week. Especially stuck inside...this has been a wonderful surprise.

Bottom Line: Yes, I would recommend this to a friend

---

Most fun workout I've ever had

By Jackie S.

,

Minneapolis, MN

,

Mar 30, 2020
Verified Reviewer

I've always found it so hard to stay motivated to work out but for once I actually look forward to it! I have been loving TAPfit and can already see results after only two weeks. I feel stronger, leaner, and have more energy throughout the day.

Bottom Line: Yes, I would recommend this to a friend

---

Advertisement

---

Loving TAPfit

By Pamela W.

,

Wakefield, United Kingdom

,

Mar 30, 2020
Verified Reviewer

I do TAPfit classes with Ash, and it brightens my week. They are fun, fast, and I really feel like I have worked hard. I really enjoy them and would miss them if ever I had to stop, and it keeps my fitness levels up.

Bottom Line: Yes, I would recommend this to a friend

---

Great fun

By Victoria T.

,

Darlington, United Kingdom

,

Mar 24, 2020
Verified Reviewer

TAPfit is just a wonderful easy exercise. I cannot dance but doing this, I'm having too much fun to care whilst still having the chance to get fit. Absolutely wonderful setup which is suitable for everyone.

Bottom Line: Yes, I would recommend this to a friend

---

Advertisement

---

Absolutely love it!

By Natasha C.

,

Wakefield, United Kingdom

,

Mar 24, 2020
Verified Reviewer

I have been doing TAPfit now for about 6 months and have loved it from the beginning, it is my favorite time of the week! The equipment is comfortable and easy to use and the routines are fun, energetic, and get your hearts pumping.

Bottom Line: Yes, I would recommend this to a friend

---

AMAZING!

By Rebecca H.

,

Sheffield, United Kingdom

,

Mar 24, 2020
Verified Reviewer

I've had the most incredible experience with TAPfit! So much fun and makes you feel amazing afterwards. Very lucky to have had Ash as my instructor who is unlike anyone else! So energetic and loving towards all of her team. Very lucky to have taken part in this.

Bottom Line: Yes, I would recommend this to a friend

---

Absolutely buzzing for TAPfit

By Emine M.

,

United Kingdom

,

Mar 24, 2020
Verified Reviewer

My experience as a guest at a TAPfit class was absolutely AMAZING!

It oozes positivity and is so so much fun!

I can't wait for it to spread positivity across the country and make it down to my hometown of Portsmouth! Everyone needs a local TAPfit!

Bottom Line: Yes, I would recommend this to a friend

---

Scam! Do not buy!

By Renee L.

,

Ohio

,

Mar 23, 2020
Verified Reviewer

I ordered mine weeks ago and still don't have my stuff. Customer service doesn't help and the Facebook Admin won't approve my request.

Also, I signed up for the Platinum and I don't have access to anything, just the basic classes. The other classes are not available to view.

I have emailed numerous times and the service is horrible. I am calling my bank for a chargeback on Monday because it is such a scam.

Bottom Line: No, I would not recommend this to a friend

Mar 26, 2020

Hi Renee,

Fiona here from TAPfit.

Unfortunately, we expected unprecedented delays to our supply chain as a result of COVID-19. We first experienced a delay in January but had no reason to believe our shipment would be delayed entering the US however the situation unfolded quickly. Our staff has been working extremely hard to get our orders out however there's only so much we can do when there is a global pandemic and a lack of available staff in key areas of the supply chain. Your shipping delay was a result of COVID-19 delays, and not a result of usual business. Our shipments are usually despatched within 3 days and we pride ourselves on having such amazing warehouse staff.

If you have a look at the menu to the left of your screen, you will have an extra tab called 'Platinum Extras'. This is where your Platinum extra resources live. I can see on your account that you have been able to access the Platinum videos and consume many of our premium videos and workouts. Because of our shipping delays, we provided all of our TAPfit members with our new program MOVEnBURN which allowed anyone with an equipment delay to access a platinum 8-week program with no-equipment so they could start their weight-loss journey instantly. I can see on your customer profile that you were sent this on the 12th of March.

I can see in your account that your order has been shipped with FedEx. I am so proud of our staff who have worked tirelessly to continue serving our customers during this unprecedented disruption. There are many businesses around the world who are suffering and we feel privileged to be able to serve our customers during this time and to provide a bit of joy during a time of so much uncertainty.

We are so excited to have you in our community and we can't wait to welcome you to one of our Online Classes soon. With love and hugs, Fiona x

---

Fabulous

By Bev C.

,

London, United Kingdom

,

Mar 20, 2020
Verified Reviewer

TAPfit is working wonders for me. I have 3 kids so I don't have much time to go to the gym, loving the home workouts. I have fibromyalgia therefore super grateful to have a low impact program that I can take part in. Assisting my slimming world journey greatly!

Bottom Line: Yes, I would recommend this to a friend

---

TAPfit is soooooo great!

By Tim R.

,

Ipswich, Queensland, Australia

,

Mar 20, 2020
Verified Reviewer

I have been doing the TAPfit program now for months now and I have no complaints. The whole set-up is easy to use and the tap attachments fit well on my running shoes. The videos are fun and easy to follow. Since starting with TAPfit I have lost 9kg and have kept it off. I have recommended the TAPfit program to all my family and friends. TAPfit is well worth it!

Bottom Line: Yes, I would recommend this to a friend

---

Updated review

Delivery on the way

By Renee B.

,

Georgia

,

Mar 19, 2020
Verified Reviewer

Heard back and the product is out for delivery.

Bottom Line: Yes, I would recommend this to a friend

Previous review
Mar 17, 2020

Beware. NEVER received my product! It's been 3 months!

I'd say buyer beware.

I ordered from their website in early January and it's mid-March. Still no product!

I've contacted Support over 5 times and get nothing but excuses.

Yet the "company" is still advertising on Facebook and taking orders that you can't fulfill. Beyond unethical!

I find this unfortunate. But I will share my experience with the Better Business and the FTC.

(

read more

read less

...)

---