TAPfit
This company has claimed this profile, is getting alerted on any new customer reviews entering this page, and may engage in dialogue with its customers to address their matters.

Companies cannot pay money or provide goods in order to remove or alter customer reviews.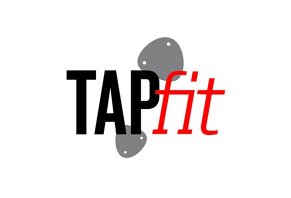 Summary
TAPfit's dance fitness program will get you burning calories while you learn the basics of tapdancing. Customer reviews indicate this niche workout strategy is an excellent option for many, but the estimated calorie counts are off.
Pros
An innovative way to get in shape
Easy enough for dance beginners to learn
Both subscription and one-time purchase options available
Cons
You likely won't burn as many calories as the company claims
A highly specific form of exercise that won't appeal to everyone
Buying the company's accessories is necessary to maximize the experience
Production quality isn't always professional-grade
TAPfit Review: A Detailed Look
TAPfit is a dance fitness program that utilizes the principles of tap dance to get you moving to a beat—no prior dance experience required.
This innovative fitness program was founded by four Australian sisters, all of whom are tap teachers who graduated from the Les Griffith Tap Dance Academy and have diplomas from the World Tap Dance Championships in Reisa, Germany.
This program purportedly builds on their expertise to give you a full-body workout that combines dance moves with cardio, conditioning, and strength training to get you in shape.
To maximize your experience, you should wear TAPfit's patented taps that fit over your gym shoes to add a beat to every move you make.
In this review, we take a detailed look at TAPfit to tell you if it works and help you decide if it is right for you.
Is TAPfit a Good Way to Exercise?
An instructor guides you through every step of TAPfit workouts to ensure that even beginners can figure out the moves.
The brand claims that all steps are low-impact and safe for a variety of fitness levels while ensuring you get your heart rate up for maximum calorie burning—even up to 800 calories per hour.
That's a claim that Dr. Aragona, a general practitioner and family doctor at Prescription Doctor challenges. "From a medical and health perspective, tap dancing can be great exercise," he shared with us.
"On average, tap dancing burns around 315 calories per hour, so a usual 2-hour class would mean you have burned 630 calories. If you take those classes over multiple days of the week, you will have burned a lot of calories overall.
"Unfortunately, the claim that it is 800 calories in one hour is false, even an exercise such as running can only burn around 600 calories an hour, and that is a more intense workout for the body overall."
Features and Options
TAPfit currently offers two ways to join the experience: an online subscription or a DVD bundle purchase.
TAPfit Online
Access TAPfit's content anywhere with an internet connection with TAPfit online. You'll get access to over 100 dance workouts in multiple programs with nutrition plans and recipes that are updated weekly.
The company also shares a schedule of live classes so that you can plan to tap with others in real-time.
Cost: $27/month, all new subscribers receive a seven-day free trial.
TAPFit Transformation System
If you're not a fan of the subscription model, you can purchase TAPfit transformation systems. You'll get DVD access to dozens of workouts as well as the fitness equipment needed to get started.
Here are the package deals:
TAPfit Starter
TAPfit Deluxe
TAPfit Platinum
Cost
$97
$167
$249
Includes

Slip-on taps
Five beginner-friendly dance workouts on DVD
Resistance band
Limited online access to TAPfit online studio (beginner classes only)

Everything in the Starter Kit
Rollable, foldable floor
Learn to Tap video tutorials
Equipment-free fat-burning workout

Everything in the Deluxe Kit
Full forever access to the online studio
Support calls with Kat and Annie
Access to new routines and recipes
Keepsake storage box
21-day nutrition plan
Weight loss roadmap
TAPfit Taps
The company's patented taps have a non-slip runner grip and fit over the sole of any flat-bottom shoe to turn them into dance shoes. They feature stainless steel taps on the heels and toes to produce a distinctive click with each step.
It's not currently possible to purchase these taps or floor mat without buying one of these three systems.
My Experience with TAPfit
The sign-up process was very simple and I was ready to go within minutes. The TAPfit online portal has a simple layout, with a welcome message and six weeks of classes available on the main page.
You can personalize an online profile by adding photos, joining groups, and connecting with other members. You'll also gain access to all seven TAPfit courses:
28-Day Home Health Challenge
MOVEnBURN Body Challenge
TAPfit Advanced
TAPfit Dance Challenge
TAPfit Platinum
TAPfit Starter Series
TAPfit Workouts
I'm a complete beginner to tap dance, so I started with the TAP Basics class. Instructor Kat Johnson introduced the steps slowly and thoroughly articulated every move so I felt comfortable following along.
Honestly, though, the dance routine wasn't much fun when I performed it barefoot on the carpet; the brand's tap shoes and dance mat seem essential to having fun with this workout.
The week one tutorial class built on the basics with a simple warmup and pump up music that quickly put me in workout mode.
Kat's reminder to swing my arms instead of merely focusing on the footwork helped me get my heart rate up quickly, and I broke a sweat during the warmup.
The class became increasingly more fun, even though I didn't have the right footwear.
Post warmup was another instructional period with Kat to learn more steps. The slower pace and lack of music pulled me out of the moment until round two of the workout started. Again, the total body moves got my heart rate up quickly.
By the end of the thirty-minute class, I was ready to be finished and was left feeling like I could have gotten in a more efficient workout in other ways. While the dance sessions were fun, I found the frequent instructional breaks made things tedious.
I wanted to see how the class structure changed for different courses, so next challenged myself to a week 5 class workout. Despite not being able to keep up with all the moves, I thought the class pace felt more like a traditional workout.
Kat's instructions weren't distracting, though the constantly shifting camera angle actually left me slightly dizzy.
Overall, the classes flowed well with an appropriate amount of instruction. But when it comes to getting in an efficient workout, I was left feeling like there was a lot of wasted time where I could have been working.
Analysis of Customer Reviews
More than 30 customers have left reviews for TAPfit on our website. These reviews average 3.2-stars with a 59% recommendation rating. Here's a snapshot of their comments.
Compliments:
Dances are fun and engaging
Great way to get in shape, especially for people who weren't active previously
Wide variety of music choices for different tastes
Talented, encouraging instructors
Complaints:
Poor quality video editing, difficulty navigating the main menu
Delayed delivery, the product never arrived in some cases
Some users didn't receive a refund after returning the product
TAPfit vs. Figure 8 Fitness
For those who would instead be dancing at the club than sweating at the gym, another home workout program that promises to get you in shape is Figure 8 Fitness.
Figure 8 Fitness is lead by Latin DanceSport world medal winner Jaana Kunitz. It is offered as a comprehensive program of 14 classes and instructional videos that guide you through progressively challenging your body.
Rather than tap dance, this fitness series focuses on Latin-inspired dance moves to tone your core and get your glutes in gear.
The program is currently offered as a one-time purchase for $47. It's another $10 if you want to receive DVDs instead of merely having digital access.
It includes all 14 workout sessions, a success tracker, a workout journal, a PDF workout planner guide, a nutritional blueprint, and a faster-paced "Figure 8 Express" series of over 30 ten-minute videos.
As with TAPfit, you can also sign up on a subscription basis. $11.99 per month (or $108 per year) gives you access to more than 100 hours of workout videos, including the full Figure 8 Fitness series and other programs like Figure 8 Ultimate, Figure 8 PRO, and more.
Deciding between these two dance cardio options will likely come down to pricing and your preferred workout style.
TAPfit's tap dance style workout is more unique, but it's likely to appeal to a smaller number of people. This program is also more expensive, and frankly, only works if you commit to the company's patented tap shoes. Without them, the dancing sequences feel lackluster (at least in my experience).
Return Policy
All purchases qualify for a 30-day refund policy for refunds or exchanges. Items are only eligible if they are unused, in the same condition you received it, and in original packaging. Shipping costs are nonrefundable, and in most cases, a restocking fee and will be deducted from the refund.
TAPfit Online membership purchases are ineligible for refunds.
The Bottom Line
TAPfit offers a unique form of exercise that is likely to appeal to those who typically avoid the gym. The engaging dance workouts are easy to learn (even for beginners), and customer reviews indicate that it's incredibly satisfying to tap along to the beat of the music.
For me, TAPfit wasn't impressive. The workouts didn't seem much different than other forms of dance cardio, and I found the classes started and stopped too often to feel like I was getting in the groove. But this is a largely personal opinion, and your experience may differ.
Overall, TAPfit classes will get you moving and burning calories, but you need to be realistic about how many calories you'll actually burn per session.
In any case, the best kind of exercise is any type that you'll actually do, so TAPfit is an excellent option if it offers what it takes to get you moving.
Customer Reviews
Posted on Apr 13, 2021
Never received system I ordered
I have reached out to this group over and over again asking about the status of my order for the TAPfit system I was charged $167. No one will contact me. It has been almost 3 months!
Bottom Line: No, I would not recommend this to a friend
Pros and Cons
No "pros" were specified in this review
Sent me DVDs I don't want and am returning, if those reach me why can't the system?
No communication
Posted on Apr 12, 2021
Incomplete order
Wish I could tell you how effective TAPfit is but since I received an incomplete order, that is not possible. I sent a couple of emails and now left two phone messages with their customer support.
I did receive the shoe cover/taps and DVD but no floor mat nor packing slip with an order number. Very sloppy service indeed.
Length of Use: Less than 3 months
Bottom Line: No, I would not recommend this to a friend
Pros and Cons
No "pros" were specified in this review
Poor customer service
Posted on Apr 10, 2021
Cannot get satisfaction
It took over 30 minutes for the order to fulfill, and when it did there was no confirmation number, no follow-up email, no phone to call, no way to know if the order really did go through. I only got boosted to a page asking me to buy more things with no exit from the page. Someone really needs to handle that website to make it user-friendly. I still don't know what happened. Usually online ordering is pretty streamlined. This was horrible.
Bottom Line: No, I would not recommend this to a friend
Pros and Cons
No "pros" were specified in this review
So far everything but I still do not know if my order went through
Company Response from TAPfit
Apr 11, 2021
Hi Cathy, I can see our Customer Service team have responded to you via email on the 5th of April with your confirmation number and this has been resolved. Can't wait for you to get started.
Posted on Mar 30, 2021
No customer service
I paid for a platinum membership and the $249 came out of my account on March 4th. My membership in the two private Facebook groups, TAPfit Inner circle and TAPfit tribe are still pending. I have not received the mat or the taps that go over the shoes yet. All I received is the DVD for the monthly coaching club which will be an extra charge each additional month, and the online videos.
How can I do the online classes if I do not have the necessary supplies, which I paid for? I sent an e-mail on March 19th, asking where my platinum kit is as well as posting on the TAPfit Facebook page. All I received was an automated message.
Normally when I make online purchases there is communication, especially if there will be a delay. I am not getting my money's worth due to no customer service/communication and still waiting after 2 and 1/2 weeks for what I paid for. This is unacceptable.
Bottom Line: No, I would not recommend this to a friend
Pros and Cons
Online videos
No communication/customer service
Did not receive what I paid for
Posted on Mar 4, 2021
Total scam
Paid for premium VIP ($350+) with the assurance that it would include 2 separate individuals to help with my fitness and nutrition goals, 2 separate Facebook groups, and daily text messages from the trainer to keep me on track. I have sent 3 separate emails letting them know that my acceptance to the Facebook groups (submitted over a week ago) have not been accepted, I haven't received any text messages, and did not receive any tracking information for my taps. There has been no response. This is clearly a scam.
Length of Use: Less than 3 months
Bottom Line: No, I would not recommend this to a friend
Posted on Mar 3, 2021
Horrible experience
I am extremely concerned about a recent order with TAPfit. I placed the order on 2/8/2021. The charge was deducted from my credit card immediately. But...that is it. I have been unable to receive confirmed shipping information. I sent an email request to Customer Service. I received the standard response indicating someone would get back with me. I did hear back stating that the warehouse was behind and the order was in process to be shipped the 3rd or 4th week in February. The email also stated that my order was not complete showing that the tap shoe size was missing. I responded back with that information, however, not sure why you would charge me for an incomplete order or how it could be in process to ship the 3rd or 4th week of February without the appropriate information in order to ship. As of today, 3/1/2021, I still do not have a ship date.
Anyhow...I sent an email on 2/16, 2/17, 2/18, and 3/1/2301. Still nothing even though the standard response indicates customer service is available 16 hours per day unless it is a weekend or holiday.
Not hearing back intrigued me to do some research which I should have done prior to ordering. There are numerous complaints about customers not receiving their orders. I am not willing to wait for 4+ weeks to get TAPfit, a product coming from California. This information should have been transparent when the order was placed allowing me to make the choice if I wanted to pursue or not. Also, my credit card should not have been charged until my order was shipped.
I would like to cancel my order, which should not be an issue due to the fact that a shipping date cannot be confirmed by TAPfit.
I have read reviews where customers are not able to get their refunds.
TAPfit's ordering process should be like any other online shopping. Availability should be transparent at the time of the order allowing the customer to determine if they still want to order. An order should not go through to and including taking my money if it is incomplete. Lastly, I should NOT be charged until my order ships.
I am beyond disappointed. I was really looking forward to trying this. I would like a FULL refund immediately which is only fair. You have had my money for 30 days and still cannot provide shipping information.
What a scam!
Buyers, please beware!
Bottom Line: No, I would not recommend this to a friend
Posted on Feb 13, 2021
Off the couch and onto the dance floor!
I ordered TAPfit because I have always been curious about tap, and had even considered looking for an adult tap class. Now that we are all on lockdown at home, this seemed like the perfect way to get myself moving, give myself something challenging to learn, and have some fun! It has definitely done all of that.
The beginner series really is that...designed for beginners. I do have a previous dance background, but not in tap. Each disc teaches a few steps, very slowly so you can follow it. Then, they put on the music and put the steps together for the workout. Let's just say I am not a Spring Chicken, but so far I find that the steps and workouts are all do-able. I had previously tried a Zumba disc, and they just kinda jumped in and it was really fast and frankly I just could not keep up. With TAPfit, I find that everything is within reach. I just have to be a little patient, and give myself the time to repeat the lessons until I feel like I "got it".
I am really enjoying TAPfit so far, and am looking forward to progressing to the more difficult discs and workouts. It is good to have a goal, especially in this lockdown, where every day can seem the same. My goal is to progress into the Intermediate Broadway series! Maybe I will have to get myself a costume.
Length of Use: Less than 3 months
Bottom Line: Yes, I would recommend this to a friend
Pros and Cons
Can learn to tap in the convenience and privacy of home, no one to judge me but the cat!
Does not require a huge dedicated space in my home, when done, I can roll up my floor and lean it up in the corner.
It "taps" into my previous love of dance, and experience as a former dancer, makes the exercise a joyful experience, not a boring grind.
It engages my brain and makes me THINK while learning new steps and combinations.
Love the sense of community fostered by staff through the Facebook group and by sending out periodic inspirational emails.
Especially during the isolation of the pandemic, it helps me to feel that I am not so alone.
The workouts, while helpful to get me sweating and moving, are not really intense enough to cause weight loss (for me anyway).
Some of the video editing is a little choppy.
Switching angles between foot closeups and wide angle makes the workouts harder to follow.
Posted on Feb 11, 2021
I am not a dancer...
I am so impressed with the customer service at TAPfit, the product is of excellent quality, and the videos are upbeat and clear. I am slowly working to overcome my complete klutziness and lifelong inability to dance and be graceful, and I find going over the videos multiple times really helps. The first couple times I stumble around, and then I am delighted when I get it. I have wanted to tap dance since I was a child so this is a blast - even if I make myself laugh at how bad I am at it. I get a little bit better each time, and I am really impressed by how the steps are broken down to make even the klutziest non-dancers able to follow along. Thanks so much for a wonderful product!
Length of Use: Less than 3 months
Bottom Line: Yes, I would recommend this to a friend
Pros and Cons
The taps
Customer service
The videos
No "cons" were specified in this review
Posted on Feb 10, 2021
Loving it!
TAPfit has been a great addition to my week! I enjoy the fact that the workouts are 15-minute segments - feels manageable and it motivates me to do keep going! Kat does a great job of showing you each step and encouraging you to keep at it. I highly recommend TAPfit!
Length of Use: Less than 3 months
Bottom Line: Yes, I would recommend this to a friend
Pros and Cons
The workouts are broken down into manageable time frames.
Instructor is upbeat and clear with instructions.
They do a great job with keeping in touch with their customers!
No "cons" were specified in this review
Posted on Feb 8, 2021
Amazing customer service
Recovering from surgery and so excited to use TAPfit in my workout. Needed to exchange my taps and was bracing myself for a tussle about it. Instead, I received the sweetest email and an absolutely terrific experience with the exchange. The TAPfit Family is one of integrity and quality - and they truly deliver a personalized experience with their top-quality equipment!
FIVE enthusiastic stars!
Length of Use: Less than 3 months
Bottom Line: Yes, I would recommend this to a friend
Pros and Cons
Quality
Personalized service
Great pace, and it's nice to be able to replay and hone skills before moving on
Wish you had local gatherings
Posted on Jan 29, 2021
Enjoying TAPfit immensely
I have always loved tap dancing and grew up doing it. This is a great way to get variety in exercise and enjoy what you are doing. I'm thankful to have this available so I can get dancing again. Can't wait to do more!
Length of Use: Less than 3 months
Bottom Line: Yes, I would recommend this to a friend
Pros and Cons
Great way to incorporate variety in exercise
Fun
Fun support system
No "cons" were specified in this review
Our Promise to You
In order to safeguard you and ensure helpfulness and relevance, our compliance team manually assess every customer review before it goes live.
We have a zero-tolerance policy for fake reviews, and companies cannot control or alter any reviews at any time.