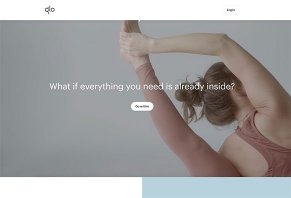 Glo is a monthly subscription service that provides you access to thousands of unique yoga videos filmed in the company's Santa Monica, CA studio.
Glo Reviews: Ideal At-Home Yoga for You?
Glo, previously known as YogaGlo, is an online yoga subscription service that gives you instant access to thousands of yoga, Pilates and meditation videos- so long as you have a good internet connection.
For a monthly subscription fee of $18, Glo's website tells us that you will gain access to their exclusive video content, which ranges from prenatal yoga to core strength training, chakra cleansing, and more.
According to the company website, Glo understands that cultivating a yoga practice is a lifelong process, so they offer options to fit every need. They state that they provide "thousands of professionally-filmed online yoga, meditation, and lecture classes taught by experienced, certified yoga teachers and professors" so that a home-based exercise routine can be achievable for anyone.
The website promises to provide you with a studio-worthy fitness experience from the comfort of your own home. But what will you sacrifice (if anything) by moving your yoga routine out from the studio class and into your living room? Let's look at what this subscription service promises to find out.
How Does Glo Work?
Beyond their subscription service, we learned from research on the company website that Glo has a physical studio in Santa Monica, California. All the classes featured on the subscription website were recorded in the studio. At the time of writing, two new videos were added to the site each week.
Note: Subscription members can also take classes for free in the Santa Monica Studio.
Glo has been adding new yoga content to their website since 2009, and at the time of writing, they had more than 2,000 yoga videos available. These videos can be watched on numerous devices through the services of Roku, Apple TV, and Google Play, as well as third-party apps on iTunes and Google Play.
What Kinds of Classes Are on Glo?
We found on the company website that Glo offers numerous classes categories, including classes suited for meditation, beginners, runners, cyclists, prenatal, travel, and courses specially tailored for men and women.
A variety of yoga styles are also available, including Vinyasa, Hatha, Ashtanga, restorative, and Yin. Each class ranges from 5 – 120 minutes long, and they are all categorized by difficulty and type of workout.
You can also sign up for Glo Programs, which are series of classes with specific goals to help you learn new poses and improve your yoga knowledge. Topics include "Breathe Into Your Day," "Prenatal Happy Break," "Meditation for Energy" and more. Programs tend to run for one to six weeks each.
About Glo Courses
Beyond their subscription video service, Glo also offers downloadable courses for purchase. At the time of writing, their subject matter ranged from how to practice and teach yoga, how the body works, and how to live a healthy life. Course examples include 'The Art of Teaching Beginners,' 'The Teacher's Guide to Yoga Sutras,' 'Women's Moon Circle,' 'History of Yoga,' 'Essential Yoga Anatomy,' and 'Radiant Body Cleanse,' to name just a few.
These courses are taught through three types of video: lectures, practices, and demonstrations. You will also get access to supplementary materials like manuals and images, and your competency and retention is tracked through quizzes and assignments. Each course also includes a discussion board that makes it possible to connect with instructors and other students.
These courses vary considerably in price, but most fall between $54–$499 for a one-time purchase. Upon purchase, you will have total access to the course's content, so that you can complete it on your timeframe. You don't need to have a Glo subscription to use or purchase courses.
How Much Does Glo Cost?
We found at the time of publication that Glo offers a simple $18 subscription service for full access to their yoga, Pilates and meditation content. When you sign up for a subscription, you also receive a free 15-day trial to test out the service. Your credit card won't be charged until the end of the trial period, and you can cancel your subscription at any time through the company website.
If you have questions or need help, you can contact the company directly for clarification.
What Are the Benefits of At-Home Yoga?
WebMD tells us that yoga is an effective way to improve your flexibility and strength. Most yoga poses are designed to stretch out your muscles to help you move better and remove stiffness and soreness from your daily life.
When practiced correctly, the website states, yoga can help you:
Improve your flexibility
Increase muscle strength
Promote better posture
Enhance your breathing
Cultivate a sense of calm
It doesn't take much yoga to start noticing improvements. One study showed that male college athletes experienced significant gains in their sports performance after just ten weeks of regular yoga practice, even without changing anything else in their routine.
Traditionally, people practiced yoga with an instructor, usually in a class setting. However, the rise of the internet has led to more options for practicing yoga at home instead.
DoYoga.com tells us that online yoga classes are a convenient option for many people because they make it simple to fit a workout into your day without having to commute to a studio. Remote classes also let you start and stop your workout on your timeframe.
Online classes like Glo could also improve the range of routines and teachers you can learn from, as you aren't limited to what's available around you. While a highspeed internet connection is required to stream these classes, online yoga offers impressive flexibility for expanding your routine.
Perhaps the most significant benefit of online yoga classes is its (low) price tag. Services like Glo tend to be priced between $10-$25 for a monthly subscription, or approximately the cost of a single in-person class.
What Do Users Think of Glo?
Glo might have a lot of content, but is it worth subscribing to? We found numerous reviews online from past users that offer a positive perspective of the program.
Yelp.com includes reviews for both the subscription service at the physical studio in Santa Monica. The brand as a whole averages 4.5/5 stars, and we found that users consistently noted that they loved the instructors at the studio and appreciated the opportunity to work with them on their own time through the website.
One Yelp reviewer noted that Glo was a lifesaver for her as a working mom because it provided content from 'reputable, solid teachers,' had super simple site navigation, and offered a good variety of yoga routines. She also appreciated how easy the company made it to cancel a subscription (though she didn't want to!).
SoMuchYoga.com also offered a positive perspective of Glo. The reviewer noted that the subscription program was just about perfect for anyone who lived far away from a local studio or who just wanted to strengthen their home practice. Though she stated that she would choose a physical studio every time given a choice, her final verdict was that Glo offered a near-perfect alternative for those seeking guided home practices.
One complaint we did notice in blog comments for online reviews of Glo was that the company didn't send out enough email notifications for when the free trial transitioned into a paid subscription.
For instance, one customer noted that she signed up for a free trial and never received any follow-up emails from the company. Checking her credit card statements a year later, she realized that the company had charged her the subscription fee every month despite her never using the website after that first day.
What Subscription Fitness Services Are Similar to Glo?
The options have never been better for home-based yoga practices, so how are you supposed to decide what makes sense for you? Let's look at some of the most popular options to narrow down the search: subscription services, one-time purchases, and free streaming content.
Glo is just one of many wellness brands that fall within the subscription yoga category. Other popular options include YogaVibes ($19.95/month) and Gaia ($11.99/month). Our research shows that both of these services offer a wide variety of premium yoga content, though the sites don't contain the number of videos that Glo offers.
The biggest downside with most of these services seems to be that the videos are only available through streaming, meaning that you need a high-speed internet connection to complete your practice.
For those that want to own their workout videos, buying a program like Shapeshifter Yoga or BodyBoss could be solid options. These one-time purchases are usually downloadable or in CD form. This means that you can complete a workout independent of your bandwidth limitations, but you also won't have access to new videos or content updates like you have with a subscription service.
Finally, a third option is to forgo paying for yoga videos altogether and instead stream them from YouTube. For the price of watching a few ads, you can browse thousands of channels devoted to yoga videos. However, this content varies considerably in quality, so it might take some sleuthing to find a style and instructor you work well with.
So what yoga practice type is preferable? While it's likely best to start with in-person training until you learn the basics, an online subscription service like Glo might be what you need to make your practice more routine by completing workouts at home.
Our Review: Can Glo Substitute for Standard Yoga Classes?
According to our research, there's no denying that a regular yoga practice is excellent for your body. WebMD tells us that well-executed yoga poses will improve your strength, enhance your flexibility, perk up your posture, and calm you down.
While in-class lessons are optimal for beginners, practicing yoga at home through Glo is a viable option for those who want to save money, practice on their own time, and take advantage of an extensive collection of videos taught by different teachers in various yoga styles.
A subscription lets you learn from thousands of videos on the site, and each class is filmed to make you feel like a participant. And for those in the Santa Monica area, you can supplement your home practice by attending Glo studio classes.
If you want to improve your flexibility and re-center your mind, there are few substitutes to attending real in-studio yoga classes. But if you're looking for a more flexible option to work out from home on your own time, there's a lot worth considering about this subscription yoga program.
» Recommended Reading: The Beginner's Guide to At-Home Workout Programs
Huge fan

By Barbara H.

,

Oakland, NJ

,

Nov 27, 2018
Verified Reviewer

I have been a YogaGlo subscriber since 2014. It is an affordable, quality product. I did start my yoga practice in studios, and still go with friends sometimes. But being able to practice whenever it is convenient for me is a game-changer. I love some of the instructors like family. And I have changed my entire life with regular practice. They recently added the ability to cast to my smart TV and that is awesome as well. HIGHLY recommended for the experienced practitioner.

Bottom Line: Yes, I would recommend this to a friend

---

Advertisement

---