DDP Yoga Reviews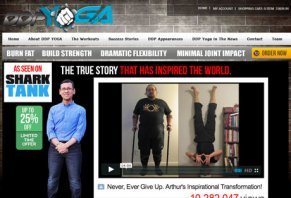 Created by wrestler Diamond Dallas Page, DDP Yoga claims to provide all the benefits of yoga, but aimed at people who might otherwise never give it a try.
About DDP Yoga
Former Pro Wrestler Diamond Dallas Page, the creator (and initials) behind DDP Yoga, claims he invented his unique form of yoga specifically for people who normally "wouldn't be caught dead" doing it.
After a serious injury sidelined his wrestling career, he turned to the ancient exercise as a last result and says it changed his life.
For ten years, Diamond refined his practice and combined it with other workout principals to create DDP Yoga, which he says gives you an amazing cardio workout, improves muscular strength, increases flexibility, and strengthens your core, all with minimal joint impact.
As such, he claims that anyone, even regular guys, obese people, or those with disabilities, can do it.
DDP Yoga (formerly known as the YRG Fitness System) is not listed on the BBB website, nor is there an accreditation or rating for the company behind it.
Diamond Dallas Page and his workout system was originally featured on ABC's Shark Tank, the hit series where entrepreneurs compete for financing in February 2014.
Although he didn't win, the publicity generated by the appearance brought him and his newfangled Yoga scores of new admirers.
How DDP Yoga Works
DDP Yoga is essentially a guided workout/yoga program designed for different levels of fitness, from beginner all the way to "Extreme" users. Each DDP "Pack" consists of a series of workouts on DVD, a poster with different illustrated poses, and a fitness guide.
Each workout runs anywhere from 10 minutes to over an hour, and have titles such as "Below the Belt," "Fat Burner," and "Diamond Cutter." Yoga mat and rubber yoga bricks are not included.
When it comes down to it, you're mainly paying for the charisma and outgoing personality of Diamond Dallas, who as a professional wrestler, won many championship titles in the pseudo-sport.
He's energetic, informative, and motivates in his video series using slogans such as "It ain't your mama's yoga" and "You can do this!"
The DDP Yoga videos start out with basic concepts, such as what he calls Dynamic Resistance, which he illustrates by asking you to touch your index fingers and thumbs together and push hard.
This, he says, works the muscles up and down your arms and is something you can do it while sitting and watching TV. Similarly, he claims to have 13 basic moves that involve no running and jumping, but that will burn fat and increase strength, no matter your current level of fitness.
DDP Yoga Success Story
Diamond Dallas Page's most famous client is Arthur Boorman, who was disabled from fighting in the first Persian Gulf War, and whose story was featured on Shark Tank.
Arthur was overweight, depressed, and had to lug his massive 300-lb frame around by using crutches, which he was told he would have to use for the rest of his life.
Then, Arthur began using the DDP Yoga system, which helped him regain balance and strength, and lose weight. Over the course of 6 months, Arthur claims to have lost 100 lbs and, like Forrest Gump, has tossed away his crutches.
Each DDP Yoga Order Includes:
DDP Yoga Poster, Program Guide and DVDs (beginning, intermediate, advanced) Pack 1, Pack 2, Combo Pack, Max Pack, or Extreme
Diamond Dallas Page's "Own Your Life" inspirational mp3
"Living Life at 90%" inspirational video talk
Audio mp3s of workouts sent via email
Heart rate monitor (separate fee)
Is Yoga a Healthful Practice?
In short, yes. This is because the benefits attributed to yoga are many, including stronger bones, better balance, increased flexibility, anxiety and pain relief, and much more.
As such, while yoga can certainly help you become a healthier individual, you shouldn't necessarily expect it (whether through DDP or another yoga practitioner) to cause "miraculous" results, similar to Arthur Boorman.
Is DDP Yoga Effective at Helping You Lose Weight?
According to the DDP Yoga website, "This workout was never designed for weight loss… it just happens to be an awesome side effect." But how much weight could you realistically expect to achieve?
Although "most types of yoga don't have anything near the calorie-burning power of aerobic exercise," the fact of the matter is that by helping you get more in tune with your body, it could help you lose a mild amount of weight (i.e. just a few pounds).
In other words, DDP Yoga on its own, without also eating health, will likely help you lose only a small percentage of weight.
However, with regular practice, yoga (DDP or otherwise) might be especially useful for preventing you from gaining weight as you become more mindful of your body.
Does DDP Yoga Cause Any Side Effects?
Like nearly any other type of physical activity, different types of yoga implement different moves that can be performed across varying degrees of "aggressiveness."
With this in mind, DDP Yoga's moves appear to be basic and very low on the "aggressive" scale, which means that they might be less prone to causing injury than other types.
Regardless, you should always speak with your physician prior to beginning any new fitness or exercise program.
The DDP Yoga Cost and Return Policy
There are several different DDP Yoga packages available, depending on your needs:
Pack 1 (6 workouts, beginner, intermediate, advanced) is priced at $64.99
Pack 2 (5 workouts, beginner, intermediate, advanced) at $54.99
Combo Pack (Pack 1 and 2 combined) for $79.99
Max Pack (14 workouts, beginner, intermediate, advanced, extreme) for $99.99
Extreme (4 workouts, extreme only) for $49.99
A heart rate monitor is also available to order for $69.95, which they claim is a discount from the normal price.
Shipping and handling is calculated per order, and depends on your location and how fast you want the material, although it will run approximately $7.69 for 8-14 business days and up to $71.63 for UPS Next Day Air.
DDP Yoga comes with a 30-day no-risk money-back guarantee, but only give you an option to open a support ticket, not a phone number, to deal with any issues you may have.
Bottom Line: Is DDP Yoga Legit?
Diamond Dallas seems sincere in his efforts to educate—as well as exercise—the masses through his workouts.
After all, yoga is a great way for people of all ages and abilities to lose weight, gain strength, and burn fat like our friend Arthur (there are many other dramatic testimonials on the site as well.)
As the website cautions though, always consult with your physician before beginning this or any exercise program. Some of the moves Arthur makes, like standing on your head, can be dangerous if unassisted.
In fact, in the video montage on the DDP Yoga website, Arthur takes a particularly cringe-worthy fall that could have snapped his neck and this is precisely why in-person yoga instructors are popular and important: They can interact with you and make adjustments to your poses not possible from working out with a DVD.
That said, if you are new to yoga or have extreme mobility issues (as well as some money to spend) you will enjoy these videos, especially if you are a Pro Wrestling fan.
3 out 3 people found this review helpful

It works

By Juan B.

,

Georgia

,

Aug 7, 2019
Verified Reviewer

I am a 52-year-old male. I have worked out in some form or fashion since my early teens. I have had lower back issues for years but refusing any form of surgery. Being a wrestling fan since the 1970s, and having followed DDP bring Scott Hall and Jake Roberts back to life, I was somewhat aware DDP Yoga. I have been doing it for seven months and the lower back is well. I am literally afraid not to do it.

Bottom Line: Yes, I would recommend this to a friend

---

9 out 11 people found this review helpful

No question, this works!

By Roberta T.

,

Illinois

,

Apr 24, 2019
Verified Reviewer

I started DDPY on January 31st. I was already watching what I ate and looking for an exercise program to compliment my diet. It is April 17th. I have not lost much weight - but I have lost five inches off my butt. Five inches! I am a lot stronger. I sleep better. I am far, far, more flexible. I practiced DDPY three tines a week to start, but have done this program daily for the past two weeks.

Mindful eating and the right diet is key to health, something DDP himself stresses regularly.

Pain? All my pain is gone. Not saying that I am Arthur-level miracle, but DDPY has been miraculous for me.

Bottom Line: Yes, I would recommend this to a friend

---

Advertisement

---

21 out 22 people found this review helpful

After four weeks I can feel the difference

By Maria K.

,

Clearwater, FL

,

Sep 28, 2018
Verified Reviewer

Maybe I could have achieved success with another workout/exercise program, but DDP Yoga provided a starting point that meets my needs. As a senior with some health problems, starting with the Stand Strong Beginner series has proven beneficial. It is easy to follow and easy to maintain a weekly schedule! I can feel the difference every time I complete a workout. Not a wrestling fan - did not know who DDP was until I started the DDP Yoga program.

Bottom Line: Yes, I would recommend this to a friend

---

24 out 24 people found this review helpful

This is good!

Skövde, Sweden

,

Apr 6, 2018
Verified Reviewer

Does this get my heart rate up? No. Does it make me sweat? Oh yeah. I do a lot of high-intensity kettlebell and strength training, and this is really good to do in between. It improves my flexibility and strengthens the core. You feel energized afterward.

I'm currently injured so I cannot run. In exchange for my long slow distance running, I do two or three workouts of DDP Yoga.

It's easy to follow, and my kids have joined in; they think it's fun because they can do it without feeling totally out of energy afterward.

Are you a person who trains 3-4 times a week (CrossFit, strength training, long-distance running)? Then this is a good complement.

Are you a person who's about to start training? Then this is for you; it will keep you motivated because it's easy to follow.

Bottom Line: Yes, I would recommend this to a friend

---

Advertisement

---

73 out 76 people found this review helpful

Not a scam

By Dorothy

,

Alabama

,

Feb 9, 2017
Verified Reviewer

Folks, I had extreme mobility issues and was headed for the wheelchair full time. I ordered the complete DVD set, and in just four weeks of HARD work, I'm moving better than ever before. I tried other forms of yoga and pilates, but nothing worked. This is working.

By the way, I have not been a wrestling fan for YEARS.

Bottom Line: Yes, I would recommend this to a friend

---