PiYo Workout Reviews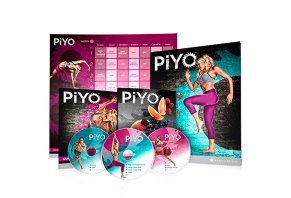 Hosted by fitness expert Chalene Johnson, the PiYo Workout system combines bodyweight resistance, yoga, Pilates, and intervals into a 60-day results-oriented program.
What Is PiYo Workout?
Using only low-impact stretching, strengthening, and bodyweight resistance-based exercises, Chalene Johnson's 60-day PiYo Workout program promises to promote lean muscle development, increase flexibility, burn calories, and help every part of your body gets longer and stronger.
Although PiYo combines the low-impact benefits of Pilates and yoga, Beachbody tells us that you won't have to hold long, intense poses or be subjected to dozens of repetitive movements. Instead, you'll follow a series of nonstop dynamic flowing sequences that leaves your body incredibly defined.
With the program, you won't need to worry about weights or high-impact jumps—just intense cardio. And the company tells us it will help you define yourself, regardless of your age, fitness level, or body type.
Whether you're here because you're looking for a motivating fitness program, aren't comfortable working out in a gym, or for a million other reasons, you want to know if the workout will deliver results.
Will it help you "define yourself"? Can you realistically expect "dramatically visible, incredibly beautiful results"? Keep reading this review, and we'll discuss what we learned during our research.
Your Quick Reference Guide to Frequently Used PiYo Workout Terms
Before diving into the program's specifics, let's briefly discuss some of the key terms used on the PiYo website. Then, once we're all on the same page, we can see what they mean as far as potential results.
From a physical perspective, yoga involves a variety of whole-body positions—from beginner to advanced—and breathing techniques, often performed on a mat. Pilates is similar in many ways to yoga, although it tends to focus more on a person's core (abdomen, back, etc.).
Both traditional Pilates and yoga have been shown to provide a variety of tangible benefits, including longer, leaner, stronger muscles; improved posture, boosted circulatory health, and increased flexibility, to name just a few.
Whether found in this PiYo or another program, yoga and Pilates are forms of bodyweight fitness; that is, you only use your body's weight to provide resistance. They're also low-impact, since they involve less force on the body, including joints.
However, Pilates and yoga aren't particularly known for their cardiovascular aspect. In other, they often don't raise heart rate enough to burn a lot of calories and subsequently help you lose weight.
How does the this workout program address this and combine each of these aspects into a single program?
How Many Workouts Will You Get With PiYo?
The 60-day PiYo program includes a total of nine workouts, which last anywhere between 25 and 45 minutes (we're told the majority are about 30 minutes). To get the most out of the program, you'll perform workouts six days per week.
You technically won't need any weights, but the website indicates you'll need a yoga mat and a towel, and of course, water. Wherever you're planning to work out, make sure you have enough space to take a step in each direction.
Finally, Beachbody tells us that PiYo doesn't contain any complex choreography that you'll have to memorize, and that each move is accessible to everyone. If you'd like to focus on form and advance at your own pace, a modifier is included.
Align: The Fundamentals – Think of this as your quick start guide, since it will walk you through many of the program's key moves.
Define: Lower Body – This video focuses on defining your legs and strengthening all the way from your calves to your glutes.
Define: Upper Body – Helps you achieve chiseled arms, triceps, and shoulders.
Sweat – A workout that features bodyweight-based strength training, conditioning, and cardio-focused yoga flows.
Drench – As the name implies, this workout promises to leave you drenched, while also maximizing fat burn and kick-starting your metabolism.
Sculpt – Keeps your muscles guessing by changing the tempos and tension.
Strength Intervals – A 25-minute intense workout that claims to deliver results, without weights or other equipment.
After regularly performing these exercises, what kinds of results might you reasonably expect?
How Many Calories Will You Burn During a PiYo Workout?
While this might seem like a straightforward question, the reality is that the answer is fairly complex. Why?
There's no need to bore you with the details, but in a nutshell, the number of calories you burn depends on a variety of factors, including your age, weight, gender, and current fitness level, along with the type of exercise(s) you're performing and the intensity at which you're performing them.
As a result, there can be a huge difference between the number of calories you burn in a single PiYo workout session (or over the total program) and someone else. But according to ChooseMyPlate.gov, moderate dancing can burn about 165 calories in 30 minutes, stretching 90 calories, and aerobics 240 calories, all of which are aspects found in PiYo's workouts.
What will you pay for these calorie-burning workouts?
How Much Does the PiYo Workout System Cost?
PiYo is priced at three monthly payments of $19.95 (plus $12.95 S&H), or a single payment of $72.80.
Along with your order, you'll receive a Quick Start Guide, a 60-Day Workout Calendar, and the Get Lean Eating Plan. According to the website, this will help you "learn how to eat a variety of delicious, nutritious foods that keep you properly fueled, satiated, and nourished—and help you define your best body."
You'll also receive two bonus workouts on one DVD:
Buns – A glute-focused workout that promises to "lift, redefine, and tighten the entire backside of your body for the perfect tight and round butt."
Core – Helps you build flat, sculpted ab and back muscles using these multi-angle workouts.
PiYo's 24/7 online support will also provide access to tips, peer support, Challenge Groups, and even live video chat invitations with Chalene herself.
Like most Beachbody programs, PiYo comes with a 60-day money back guarantee, less S&H. To request one, customer support can be reached at 800-470-7870.
Are PiYo Customers Reporting Good Results For Their Money?
On Amazon, the PiYo Workout program had more than 700 customer reviews at the time of our research and an average rating of 3.9 stars. There, most compliments appeared to revolve around reduced weight, increased strength and muscle definition, motivating instruction, and ease of use.
On the other hand, frequent complaints referenced excessive commercials in between workouts, as well as scratched/non-functioning DVDs. Some also claimed that their DVDs worked for a short time, and then suddenly stopped. Based on the dates of these reviews, this appears to be an ongoing customer concern, continuing through the present day.
Pro tip: The PiYo program is also available through Beachbody on Demand, which might help bypass any potential DVD issues. A 12-month all-access pass will cost you $99.95.
The only other detailed review we encountered was on Fitnessista, who reported that they appreciated the fact they were always moving, that the workouts included modifiers, and that Chalene was great.
However, they noted that PiYo's workouts are short (left them wanting more at the end) and that they don't include a lot of cardio (again, leaving them craving more after the workout finished).
From a company perspective, Beachbody has been bringing new fitness videos to consumers for decades, including popular options like 21 Day Fix, Insanity Max: 30, and Chalene's other program, ChaLEAN.
In general, we've found that, like PiYo, Beachbody's other programs tend to come with mostly positive customer feedback. The company had an A+ Better Business Bureau and 174 closed complaints as of 02/17/20.
We've talked about the program's host quite a bit, but just who is she and what are her credentials?
Who Is Chalene Johnson?
According to the bio on her website, Chalene has sold over 10 million DVDs, earning her the distinction of Guinness Record Holder for the most fitness videos. In addition to chaLEAN and PiYo, these include the Turbo Jam series (more than four million sold) and TurboFire system, along with many more on her site.
She is also the author of PUSH: 30 Days to Turbocharged Habits, a Bangin' Body, and the Life You Deserve!.
What's the Bottom Line About the PiYo Workout Program?
As long as you're consuming fewer calories than you expend, it's possible to shed pounds and inches. And, as long as you're regularly performing resistance exercises, it's feasible to increase strength and build lean muscle.
Given this, whether or not you find success with any fitness and nutrition plan largely comes down to whether or not it helps you maintain motivation. Which, itself, largely comes down to your specific needs and preferences.
Your sessions will consist of upbeat instructors and short workouts.
Piyo workout combines bodyweight resistance, yoga, Pilates, and intervals.
As working out at home provides privacy, keep in mind that it can also make it more difficult to maintain motivation, depending on your personality type.
Great for adding strength and flexibility!

By Becky P.

,

Ballwin, MO

,

Jan 29, 2020
Verified Reviewer

I was a runner for decades but knee pain was killing me and around the age of fifty I knew I needed something more sustainable to maintain fitness.

I have still never taken a yoga or Pilates class of any kind and was concerned that I would have difficulty learning and following the moves. This was completely not the case. I followed the plan (and now, almost four years later have repeated it multiple times, going back to the beginning videos after time off from sickness, injury or just life).

When I started I had to modify practically everything as I had a lot of endurance but not so much strength. At this point I can do all of it without modification and am stronger than I've ever been.

Tons of research and current fitness trends suggest less cardio, especially as you age. Having run for so long, I do find that I prefer more cardio and supplement my PiYo Workouts with sessions on my elliptical and walking but most of the videos do contain a degree of cardio getting your heart rate up in a short period of time.

I purchased the DVDs directly from the PiYo site and have never had any issues with them. I never joined the on-demand membership, never ordered any shakes or signed up for a coach like she talks about in some of the videos. Btw - it's pretty easy to skip through the ads and get right to the workouts.

I'm four years in and still extremely happy with these workouts.

Bottom Line: Yes, I would recommend this to a friend

---

Not for beginners!

By Lorna M.

,

Michigan

,

Apr 5, 2019
Verified Reviewer

This is a workout for advanced yoga enthusiasts! This is a workout for people who are already in shape! And I agree with the gentleman who bought this for his wife to build her confidence. There are some very rude comments in this workout that are not confident building! Try three week Yoga Retreat! A much better workout and no rude remarks!

Bottom Line: No, I would not recommend this to a friend

---

Advertisement

---

Disappointed

By William P.

,

Springfield, MO

,

Jan 14, 2019
Verified Reviewer

I bought this for my wife for a fun workout to build her confidence. But their shake commercial or ad is extremely offensive. Calling people who eat chips or some bad foods instead of their shake "fatty mcfat fat" and other discriminating words for people who are a little overweight. This does not build confidence; it's rude and hateful. I'm not spending another dime on PiYo. Don't buy this; it ruins confidence.

Bottom Line: No, I would not recommend this to a friend

---

Frustrated

By Suzanna S.

,

Saskatchewan, Canada

,

Nov 13, 2018
Verified Reviewer

I decided to give this a try, I'm a regular at the gym but not seeing great results. I saw this advertised and it was talking about women over 50, and how great this is. My frustration is that the videos are geared towards yoga pros...people who know all the yoga poses. These videos, even with the dumbed down version, are NOT for those who know nothing about poses. She quickly changes from one to another and I'm hitting pause to get the pose or motion correct. While I don't doubt you can get results, there is no way this is for beginners. I feel like I need to go buy beginner yoga/pilates so I can learn what to do, before moving up to this. Totally discouraging.

Bottom Line: No, I would not recommend this to a friend

---

Advertisement

---