Vital Reds
Claimed This company has claimed this profile, is getting alerted on any new customer reviews entering this page, and may engage in dialogue with its customers to address their matters.

Companies cannot pay money or provide goods in order to remove or alter customer reviews.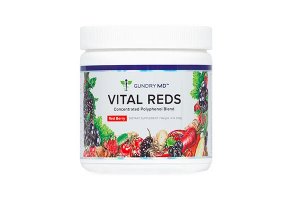 Vital Reds by Gundry MD features a blend of 50+ ingredients the manufacturer promises will deliver improved health, digestion, energy levels, and skin appearance.
Gundry MD Vital Reds Reviews - Is It Safe and Effective?
Medically Reviewed by Anthony Dugarte, M.D., C.S.C.S
What Is Vital Reds?
Vital Reds is a powdered blend of polyphenol-rich superfruits, natural fat-burning ingredients, and probiotics that Gundry MD advertises will help increase your natural energy, promote digestion, and improve the health and appearance of your skin.
Additional benefits noted on the website include better food metabolizing, less gas and bloating after meals, smoother bowel movements, and "the feeling of finally having the power to start getting your weight under control."
Gundry MD states that you need to mix one scoop of Vital Reds berry-flavored, quick-dissolve formula with a glass of water or the beverage of your choice, and enjoy once per day, with or without food. From there, its soy, sugar, and artificial sweetener-free blend will get to work.
Combining our in-depth research and interviews with professionals, this review takes a detailed look at Vital Reds' formulation, the available clinical evidence for Gundry MD's claims, and the supplement's close competitors—all so you can decide whether or not to buy.
How Do the Polyphenols in Vitals Reds Work?
Polyphenols are naturally occurring micronutrient compounds found in plants that give them their color and help protect them from external threats.
In humans, Dr. Jason Reed, founder of BestRxForSavings says, "the most likely reason polyphenols are beneficial is since they have antioxidant properties."
They "prevent free radicals (electrons that bounce off of atoms) from bouncing around inside our bodies and causing a host of [inflammation-based] issues," he adds, such as atherosclerosis and arthritis.
However, Reed points out that the human body doesn't require polyphenols to maintain good health. Furthermore, it doesn't necessarily take dozens of "exotic" ingredients—as Gundry MD advertises for those in Vital Reds—to reap the potential benefits polyphenols might provide, he said.
"Eating the recommended daily amount of fruits and vegetables will provide plenty of polyphenols," he advises.
With these details in mind, let's zoom in and take a closer look at what you'll consume with each scoop of Vital Reds.
Vital Reds Ingredients
Gundry MD advertises that Vital Reds contains the following 100% natural and pure ingredients:
Thiamin 1.5 mg
Riboflavin 1.7 mg
niacin 20 mg
Vitamin B6 2 mg
Folate 667 mcg DFE (400 mcg folic acid)
Vitamin B12 6 mcg
Biotin 300 mcg
Pantothenic Acid 10 mg
Selenium 70 mcg
Chromium 200 mcg
Reds Blend 1,760 mcg – Carrot, organic apple peel, grape skin extract, Aronia berry extract, organic flaxseed, grape seed extract, acai fruit extract, acerola fruit extract, apple, apple pectin, organic beetroot, blackberry, European black currant fruit extract, blueberry fruit concentrate, cranberry fruit extract, mango, mulberry fruit, papaya, pomegranate, red raspberry, strawberry, cantaloupe, cherry, grape, grapefruit, lemon, lime, orange, peach, pear, pineapple, plum, watermelon, berberine hydrochloride
Metabolic Enhancing Blend 365 mg – Cinnamon bark 5:1 extract, green tea leaf extract, white tea leaf extract, ginger root, turmeric root extract, bitter melon fruit extract, black pepper fruit
Digestive Support Blend: Probiotic Blend 3 billion CFU – Bacillus coagulans, Lactobacillus acidophilus, Bifidobacterium lactis, Lactobacillus reuteri
Fructooligosaccharides 250 mg
The US Department of Agriculture recommends that adult men and women eat at least two to three cups of vegetables per day, along with one-and-a-half to two cups of fruit.
With this said, the Centers for Disease Control reports that as of 2015, "just 9 percent of adults met the intake recommendations for vegetables," and "only 12 percent of adults met the recommendations for fruit."
As such, Reed tells us, "if a patient did not eat a healthy diet that provided the recommended daily allowance of vitamins and minerals, then it appears Vital Reds could be a benefit."
Still, he notes, he is "not familiar with this product and given that it is a dietary supplement that doesn't have to meet the same FDA requirements on efficacy and safety, I can't say for sure."
We also know that the medical community has used probiotics—beneficial bacteria strains like Bifidobacteria and Lactobacillus—for decades to help balance digestion, reduce gassiness and bloating, and even boost immune response.
Over the last several years, probiotic supplements have become popular among consumers as well, who use them to achieve many of the same benefits.
Is There Any Science Backing Gundry MD's Claims?
Though Vital Reds has not been specifically tested in randomized trials, some of the individual ingredients have been previously studied. In this section, we'll highlight scientific support for a few of the ingredients included in Vital Reds.
Vitamins
Vitamin B deficiency can be associated with a wide array of unwanted effects like itchy skin, impaired mental capacity, and nerve issues. Those that that choose a plant-based nutrition plan are most at risk.
Folate is necessary for growth and development. It is especially important in pregnant women as a deficiency can be associated with congenital disabilities. The RDA for folate in adults is 400mcg, though the dose offered in Vital Reds is sufficient even for the demands of an expecting mother.
B12 deficiency can be associated with anemia as it has a role in supporting proper red blood cell function.
Though they serve essential functions, B Vitamins are unlikely to play a role in the proposed energy-boosting effects of Vital Reds as scientific support for this action is limited.
Minerals
Selenium is an essential mineral. It is commonly found in soil, water, and eggs.
200mcg daily over the course of 8 years did not prevent diabetes when compared to a placebo. In fact, those with the highest levels were at an increased risk for the disease.
A review of 12 studies did not find a statistically significant improvement in short or long-term regulation of blood sugars.
This mineral may actually negatively impact energy metabolism, particularly in those with diabetes.
You can get chromium in beef, fruits, broccoli, and whole wheat. Thought to boost the function of insulin, this mineral has been well studied in humans.
A review found that chromium did not benefit glucose or insulin regulation at doses ranging from 10-1000mcg daily.
A review found that when chromium is offered as brewer's yeast at doses ranging from 42-1000mcg, it can mildly impact fasting blood glucose in diabetics.
Chromium supplementation in overweight and obese subjects may offer mild weight loss benefits.
Available support for chromium's effect on carbohydrate energy metabolism and weight loss is mixed.
Reds Blend
Grapeseed extract may to be rich in antioxidants.
Oxidative damage was 1.5x greater in healthy subjects that were not treated with 300mg of grapeseed extract.
100mg doses every 6 hours reduced oxidative stress in patients receiving coronary bypass surgery when compared to the control group.
Beetroot is low-calorie, high fiber, and may offer a number of health benefits.
A review of 43 randomized trials found that beetroot juice doses ranging from 70-500mL lowered blood pressure when compared to placebo. Higher doses were associated with blood pressure reduction comparable to results achieved with a single medication or the DASH diet.
Berberine may offer anti-inflammatory and neuroprotective capabilities. Berberine reduced body fat and enhanced insulin sensitivity in obese, diabetic mice.
In human subjects, those with metabolic syndrome that were treated with 500mg of berberine three times daily over 3-months had remission of the syndrome, decreased waist circumference.
Ingredients found in Reds Blend may improve carbohydrate energy metabolism, blood pressure, waist circumference, and metabolic syndrome.
Metabolic Enhancing Blend
Cinnamon bark may to offer both antioxidant and disease-fighting benefits.
5g reduced post-meal blood glucose levels in obese women. A review confirmed these findings, particularly at doses ranging from 120mg/d - 6 g/d over 4 to 18-weeks.
Turmeric may offer anti-inflammatory, heart health, and brain-boosting effects likely related to curcumin, a molecule produced by turmeric plants.
A review found that curcumin dosing ranging from 70 to 3,000mg per day for 2 to 3-months reduced BMI.
Another review concluded that curcumin doses ranging from 250 to 2.4g reduced both BMI and body weight in subjects with metabolic syndrome, obesity, heart disease, and diabetes.
Black pepper may offer antioxidant, anti-inflammatory benefits, and disease-fighting capabilities.
6mg of black pepper daily reduced BMI and body fat, while improving the insulin sensitivity of overweight subjects.
This spice may also boost the actions of turmeric and friendly gut bacteria like Bifidobacterium and Lactobacillus.
The ingredients found in the Metabolic Enhancing Blend may reduce BMI, body weight, and body fat while supporting carbohydrate energy metabolism.
Digestive Support Blend
Probiotic strains play a role in many functions vital for health in addition to offering dietary support. L. acidophilus may relieve diarrhea and bloating while boosting immune function. B. bifidum strains may benefit inflammation, immune support, and allergy relief.
Different strains, dosing regimens, and probiotic combinations were investigated in a review of 20 trials; they concluded that Lactobacillus and Bifidobacterium strains are associated with fewer sick days due to respiratory infections.
Side Effects
The Gundry MD website emphasizes that the natural, mostly food-based ingredients found in Vital Reds are 100% safe, as every batch is tested in the USA at a cGMP-certified facility. Then, it's rechecked for purity, content, and dosage by a third-party lab.
Still, side effects are always a possibility with any dietary supplement, as are medication interactions, which is why it's important to speak with your doctor before making any purchases.
Even at doses at 1500mcg daily, B12 was without serious side effects. Toxicity is rare, though reported side effects can include nausea, vomiting, and skin flushing.
Chromium dosing up to 1000mcg was without serious adverse events, though diarrhea, headaches and rash have been reported. No serious adverse effects were reported in 10 randomized trials with cinnamon doses up to 6g/day.
Turmeric's active ingredient, curcumin, was safe at doses ranging from 3600-8000mg each day for 4-months, with only mild nausea and diarrhea reported.
Black pepper is also generally safe. Doses at 6mg daily were without serious side effects over 2-months.
Also, according to Reed, the green tea extract's caffeine could raise your blood pressure, which is a drawback for someone who already deals with high blood pressure.
We've also learned during our past research that probiotics can initially lead to many of the side effects they're supposed to treat such as gassiness and bloating, which typically subside quickly.
Testing for individual strains in research studies is often safely done at doses larger than the combined total found in Vital Reds.
How Much Does Vital Reds Cost?
Gundry MD prices each jar of Vital Reds as follows:
1 Jar: $69.95
3 Jars: $199.36 ($66.45 per jar)
6 Jars: $377.73 ($62.96 per jar)
We also found Vital Reds sold on Amazon for $47.99 per 4 oz. jar at the time of our research.
All direct U.S. orders include free shipping, along with a 90-day guarantee. To request one, you'll need to call (800)852-0477.
Vital Reds vs. Competing Polyphenol Supplements
There are perhaps hundreds of powders, antioxidant formulas, and polyphenol supplements competing for your business.
Many of these boast the same features as Vital Reds as well, including a wide assortment of fruit and vegetable extracts, a few different probiotic strains, and formulas that are free from sugar, sweeteners, artificial ingredients, and caffeine and other stimulants.
Here were some of the top-rated results in Amazon:
| Brand | Price / Cost Per Serving | Number of Ingredients | Notes |
| --- | --- | --- | --- |
| Vital Reds | $69.95 / $2.33 | 55 | 90-day refund policy |
| Superfood Vital Reds with Greens | $39.97 / $1.33 | 63 | Available in cocoa, mocha, and very berry flavors |
| Purity Products Super Reds | $24.95 / $0.83 | 47 | No probiotics |
| RealDose Essentials Real Reds | $46.95 / $1.57 | 9 | 1-year money back guarantee |
| Organifi Green Juice | $69.95 / $2.33 | 13 | 60-day refund policy, |
While you certainly have a lot of options, choosing the right one might be as easy as deciding which factors to emphasize.
For example, if the price is your number one concern, Vital Reds and Organifi Green Juice tie for the highest cost per serving among popular competitors above. Country Farms comes in meaningfully lower, although since each jar only contains 20 servings, you'll likely have to reorder more often—or order larger quantities at the same time, thereby increasing your upfront costs.
Formulation-wise, RealDose has the fewest ingredients, while Superfood Vital Reds comes with the most. Note: KaraMD offers a very similar formulation as Vital Reds, but at a price that's almost 60% lower.
Coming in close behind is Organifi, which offers the second-fewest ingredients in its formulation and also ties with Vital Reds for the highest price per serving.
Furthermore, the manufacturer only gives you 60 days to try Organifi out, whereas RealDose 's one-year satisfaction guarantee awards them with the lengthiest refund policy.
An important thing to keep in mind is that more polyphenols doesn't always mean better absorption, Reed noted.
It's difficult to say which supplements in the chart absorb better into your body than others, as information about their polyphenols is limited. In our opinion, the best course of action is to take all factors of a supplement into account rather than focusing on which one has the most polyphenols.
Bottom Line: Should You Order Vital Reds?
Here on HighYa, more than 1,346 readers have given the Vital Reds powdered supplement an average rating of 4.3 stars, with nearly 90% saying they would recommend it to a friend.
It's also much the same on the Gundry MD website, as well as third-party sites like Amazon. As such, it seems that most customers who give the supplement a try are pleased with their experience.
With these positives in mind, Reed emphasizes that most of us can get all the polyphenols we need just by eating the recommended daily allowance of fruits and vegetables.
If you're willing to invest minimal time into altering your eating habits, you might be able to forego supplementation altogether.
But, even if you're willing to pay for the convenience of getting your daily fruit and veggie allotment via a powdered drink mix, it's difficult to ignore the fact that Vital Reds costs meaningfully more than many other polyphenol-focused competitors.
We reached out to Vital Reds multiple times to inquire about which factors influence their higher-than-average pricing but were not able to get an answer. Therefore, we think it's difficult to recommend Vital Reds to customers who are looking to achieve the most value for their money.
If you think your diet is lacking key nutrients, the first step should be seeking the opinion of a medical professional. They can help you determine what may be missing, and identify all of the possible treatment options.
---
This company is actively collecting reviews from its customers. All reviews submitted are subject to moderation and approval to ensure they meet our

Review Guidelines

.

Warning

By Anne Halter

,

Houston, TX

,

Jul 5, 2016
Verified Reviewer

Do not use this product if you are on high blood pressure meds. My BP shot to 166/97 after taking Vital Reds. Would like to know if sodium is added or is it something else in the compound? Sorry it had this effect as I was looking forward to using it.

Bottom Line: No, I would not recommend this to a friend

Aug 2, 2016

Hi Anne,

My name is Aria, customer advocate for Gundry MD. I am so sorry to hear about your experience with Vital Reds. Per your question, there is no added sodium in our product. I would like to hear more about your experience so that I can help. Please email me directly at aria@gundrymd.com.

Thank you for your feedback Anne, I look forward to hearing from you.

---

Disappointed With This Marketing Rip-Off

I ordered 3 jars of Vital Reds at a discount. Online the screen flashed a 60% discount if I buy 6 jars, leading me to believe I was receiving 6 jars at 60%. So now I will be receiving 9 Jars two separate orders and I haven't even tried the product. The company said sorry it's been shipped when I called. What a SCAM and a rip off.

Bottom Line: No, I would not recommend this to a friend

Aug 2, 2016

Hi Thane,

Aria here with Gundry MD. I want to personally apologize for the confusion you experienced during your ordering process.

If you email me I will be happy to provide you with a full refund for the order you did not wish to place. Please reach out to aria@gundrymd.com and I will take care of this for your right away.

Thank you very much for bringing this to our attention, I look forward to hearing from you and adjusting your account so that you are able to experience the great benefits of Vital Reds.

---

Misleading billing practice

BEWARE. I ordered 3 jars of Vital Reds. Then, like another woman wrote, a special discount popped up on the screen about ordering 6 jars for a better price. I assumed, like her, 6 jars was the new total. Instead, it was 9 jars. Like her, I was told it had already shipped and I would have to pay return shipping and handling after I opened the box and took out what I really thought I ordered. I told her this was a problem others experienced and it was very dishonest. She finally admitted it was CONFUSING.

I said I would refuse the whole order and ship it back unopened so I would have no shipping charges. I also had her send me an email stating I would get a full refund when the product was received back. I hope they acknowledge they receive the package. I probably will need to buy a receipt acknowledgement from the post office. Very, very disappointing ethics.

I have now received the email from the representative.

Bottom Line: No, I would not recommend this to a friend

---

Not happy.

By Gloria Dubeau

,

Penetang, Ontario, Canada

,

Aug 14, 2016
Verified Reviewer

I am very upset. I just received my one year supply (12 jars) of Vital Reds for a cost of $367.19 Canadian, plus $60.00 duty, only to find an email in my box saying that it was on sale at a 60% savings. What's going on? I now would not recommend this to a friend at the regular price.

Bottom Line: No, I would not recommend this to a friend

Aug 16, 2016

Hi Gloria,

My name is Aria with Gundry MD. Upon looking up your order, I see that we had a sale after you had purchased. I am happy that we were able to refund you the difference so that you were able to take advantage of our great sale offer!

I hope that you are enjoying your new supply of Vital Reds, and if you have any additional questions or concerns, please do not hesitate to contact me directly at aria@gundrymd.com. Thanks Gloria!

---

Advertisement

---

Deceptive

By Patrick

,

Palm Springs, CA

,

Sep 15, 2016
Verified Reviewer

I ordered one jar and got a charge and invoice for four. 5 minutes after the order was placed I emailed asking that the order be corrected or canceled and they said it already shipped. RIGHT! They are scammers. I now see many other reviews where the same thing was done to them. BEWARE, don't give them your credit card or PayPal details. They'll overcharge you.

Bottom Line: No, I would not recommend this to a friend

Sep 15, 2016

Hi Patrick,

I am truly sorry that an order was placed for more than you intended, we often offer discounts for larger quantities so that our customers can save on the products they love, and I apologize if this was not clear.

We usually ship products out next day, that way our customers can start experiencing great benefits as soon as possible. Since our customer service agent got back to you next day, unfortunately your order had already shipped.

I will be happy to take care of your refund for the product you do not want if you simply email me at aria@gundrymd.com. Thank you very much for bringing this to my attention, and I look forward to making this right.

---

No difference

I wanted so much to see a difference like I was told I would. I have been drinking this for 3 weeks now, and I have not felt any difference. I have no more energy than I had prior to purchasing it and therefore I am sad to say that for it didn't help me at all.

I'm glad some have found it to be helpful, but I haven't. I will continue to use the rest of the jar, but unless I see a difference by the time I complete it, I won't be wasting my money for more.

However, if by the time the jar is completed, and I do see a difference, I will be back on to change my opinion.

Bottom Line: No, I would not recommend this to a friend

---

Misleading order quantity

By Matt Skousen

,

Missoula, MT

,

Sep 22, 2016
Verified Reviewer

I meant to order one bottle at $49.95 and was charged for 6 bottles. I will have to dispute this with my credit card company on Monday.

Bottom Line: No, I would not recommend this to a friend

Sep 30, 2016

Hi Matt,

My name is Aria with Gundry MD. I am sorry to hear that you were confused by our ordering process. I will take care of this for your right away, just email me at aria@gundrymd.com.

Thanks Matt, I look forward to making this right.

---

No effect so far

By Scott

,

Sep 29, 2016
Verified Reviewer

I have been taking Vital Reds for five days now and have not experienced any changes or improvement to date. I will continue to take it for two weeks and assess the product again.

Bottom Line: No, I would not recommend this to a friend

Sep 30, 2016

Hi Scott,

Thanks for your feedback. I encourage you to keep up with Vital Reds so that you too can experience it's great benefits. Please keep us updated, I look forward to hearing about your experience!

---

Bad refund

They say if you don't like it you will get a 100% refund. Not so, they only gave me back 40% after only 27 days.

Bottom Line: No, I would not recommend this to a friend

Oct 7, 2016

Hi Robert,

We always honor our 90-day money back guarantee, customers simply return the product back to us even if it is fully used for a 100 percent refund.

We also like to give customers the option of keeping the product and taking 40 percent off their entire order if they wish to avoid the hassle of sending the product back.

After looking into your order, I am happy to hear that our customer service team was able to reach out and refund 100 percent of your order. If you have any additional questions or concerns, please do not hesitate to reach out to me personally at aria@gundrymd.com.

Thanks Robert!

---

False Free Shipping Offer

By Michael

,

California

,

Sep 30, 2016
Verified Reviewer

The Website states free shipping on ALL U.S. Orders. Then when you place an order they try to charge you for shipping anyway. I received an email stating I would receive a discounted price if I reordered the product Vital Reds. I clicked the link which took me to the offer page that stated there was free shipping on ALL U.S. orders. Fine. I clicked on the "Buy Now" button which took me to a page asking for my information, shipping address, payment info and so on. I could not continue with the order without selecting a shipping price, the cheapest of which was $4.95 additional charge. So I did not put the order through.

I called customer service who pretended the website did not state in all caps next to a bright blue prominently displayed picture of a delivery truck right above the orange Buy Now button "FREE SHIPPING ON ALL U.S. ORDERS". So I did not reorder from this company that engages in false advertising and does not honor its offers that it emails out. After all, I did not ask them to contact me. Further, I received free shipping on my last order because the website stated free shipping. I only ordered 1 jar then, same as my order was going to be this time. Same delivery address. Same everything. That was just 3 weeks ago. So why not honor the offer now? And if they changed the offer, why email me TODAY with the FREE SHIPPING OFFER? This is not the way to build a loyal customer base that will reorder. Between that and the bitter gritty taste, they can keep it.

Bottom Line: No, I would not recommend this to a friend

Oct 7, 2016

Hi Michael,

I am truly sorry for the confusion. I am happy to extend our free shipping offer to you, simply email me at aria@gundrymd.com and I will take care of this for you right away.

Thank you, I hope to hear from you soon so that you can continue to enjoy the great benefits of Vital Reds!

---

Not worth it

By Anthony

,

Massachusetts

,

Oct 11, 2016
Verified Reviewer

I have been taking Vital Red for two months now. I was very excited at first before I began taking them. Not only have they not worked for me, I now have a cold which I have had for about two weeks. So I called for my Hassle Free Refund and was told that I will only be refunded for the empty bottles I send them back because they reuse the empties. Who keeps empty bottles like that when they are finished using the product? I'm terribly disappointed. Would not recommend this product to anyone and am going to contact the Better Business Bureau and register a complaint about the hassle free refund it that is supposed to be guaranteed. The only reason I give them one star is because it's required to submit the review. So, really I give them no stars; I bet they won't even show my review on the site! That's over a hundred dollars down the drain that I could have spent on my grand daughter. I have learned my lesson well.

Bottom Line: No, I would not recommend this to a friend

Oct 18, 2016

Hi Anthony,

Thank you for sharing your review with us. As with most refunds at a store or online, returning the product is usually the standard refund policy. I truly apologize that this inconvenienced you, and will be happy to take care of your refund for you regardless. Simply email me at aria@gundrymd.com and I'll be happy to help!

This website is a third party site not owned by us, therefore we have no control over what the site chooses to post and not post. With that said, I am very happy I was able to see your review on here so that I can have the chance to make it right. Thanks Anthony, I hope to hear from you soon.

---