Vivint Reviews
Claimed This company has claimed this profile, is getting alerted on any new customer reviews entering this page, and may engage in dialogue with its customers to address their matters.

Companies cannot pay money or provide goods in order to remove or alter customer reviews.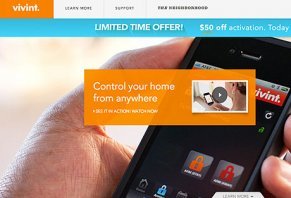 Vivint is a technology company that offers home automation, energy management, home security, and solar energy solutions.
About Vivint
Founded in 1999 with headquarters in Provo, UT and Calgary, Alberta, Vivint is a home automation company that claims to provide you with seamless integration between technology and the way you live. As one of the largest North American home automation companies, Vivint claims to provide more than 750,000 customers with custom-built, easy to use systems that simplify their lives.
Vivint has been featured in Forbes magazine, InformationWeek, as well as PCWorld, and has won a wide variety of awards. The company has a large social media presence, with more than 340,000 Facebook likes, 7,100 Twitter followers, as well as their own YouTube channel and Pinterest feed.
Vivint holds no rating with the Better Business Bureau, though they do have 2,556 closed complaints within the past three years. Based on hundreds of online reviews, the company appears to have a primarily positive reputation, with the most common complaints being an inability to control all technology within your home (as do many of Vivint's competitors), lack of Wi-Fi control, and poor customer support experiences.
How Vivint Works
Vivint systems are only available for residential customers, and come in four different packages:
Home Automation – The Automation package allows you to control things such as your thermostat and small appliances, in addition to video capabilities and intrusion monitoring.
Energy Management – Vivint's Energy Management package is similar to the Home Automation package, except that it does not include video surveillance or automatic door locks.
Home Security – The Home Security package is Vivint's most basic offering, and is intended primarily to safeguard your home against intrusion.
Solar Energy – Vivint is unique with their Solar Energy package, which includes solar panels, microinverters, a net meter, and all necessary wiring.
After choosing your package, undergoing a credit check, paying your activation fee (see next section), and signing a 42-month contract, Vivint claims that a technician will likely be available for next day service in order to begin the installation process. If you have a pre-existing security system, your technician will make every attempt to use the equipment. If they are unable to do so, you will need to purchase Vivint's proprietary equipment, which can be monitored via cellular technology.
All aspects of your Vivint home automation system are controlled using their touchscreen panel, which can manage your HVAC, security, home lighting, video, and more. When you're away from home, your system can also be controlled via their smartphone app, as well as online.
Specific features vary by package, but can include home healthcare, severe weather alerts, remote access, electronic door locks, and more. If you're unsure which package is best for you, the company provides free in-home consultations with a trained service technician.
Vivint Pricing & Return Policy
Activation fees start at $99 for home security, $149 for energy management, and $199 for home automation, though yours may be higher depending on your credit rating. Once your Vivint system is installed, monitoring charges range between $49.99 and $68.99 per month, depending on which package you've chosen.
If you have you Vivint system installed but are unhappy with its performance, you may cancel without penalty within anywhere from 3 to 30 days afterward, depending on your age and the state in which you live. For additional details, please visit the Vivint FAQ page.
Pros:
Tons of high-tech features that can make remotely monitoring your home a breeze.
Several different packages from which to choose.
Solar Energy and Smart Thermostat technologies can help save money on utility bills.
Overall customer satisfaction seems to be very high.
Cons:
Only support for hard-wired and cellular monitoring (no Wi-Fi).
Can be more expensive than some of the competition.
Some consumers have claimed they experienced poor customer service.
1 star

By Peter G.

,

Van Alstyne, TX

,

Jan 26, 2020
Verified Reviewer

I want everybody to be aware that this company is by far the worst company I ever dealt with. The CEO Todd Pedersen himself does not care about customers. I reached out to him multiple times and he refuses to respond back to me showing what type of person he really is. He is a complete joke and so is his company. I was supposed to get cameras and a security system installed at my home yesterday and at the last minute, they canceled on me. I waited the whole day for them to show up and it never happened. They called me at the last minute to tell me that they're canceling my install and that I will be put at the back of the list because they do not have any available install appointments until later on next week. I reached out to several management people in the company including the CEO and their response was things happen, deal with it. I waited on hold all day yesterday for over an hour trying to get a resolution to this problem. I personally felt that the staff members should have done all this instead of me having to stay on hold and getting upset. We are just a number to Vivint. I hope and pray no one else would have to endure the problems and the disrespect that I received with Vivint.

Bottom Line: No, I would not recommend this to a friend

---

SCAM OF ALL SCAMS

By Rachel J.

,

Denver, CO

,

Jan 8, 2020
Verified Reviewer

I'll make it quick. Their cameras didn't capture a man breaking down my back door. Their cameras were great at capturing squirrels, leaves and even me every day. But a criminal? Nope.

When I called to see what the heck happened the customer service person was so incredibly rude. I was told "If this actually happened..." "This" being the break-in. Nothing like "I'm sorry this happened, let me help." And when I wanted to cancel the system I learned I'm stuck in an obscene contract so I stayed.

Cut to a few months later and I'm moving, the new owner wants the system, but nope. I would have to pay almost $2k to make that happen and I'm still stuck. So I have to take this crappy system with me.

Bottom Line: No, I would not recommend this to a friend

---

Advertisement

---

Great home security

By Roger G.

,

Ohio

,

Nov 24, 2019
Verified Reviewer

Vivint is a great home security system. We have had no false alarms triggered by Vivint. In the very beginning, I personally triggered some false alarms. Vivint called immediately to check the validity of the alert. The doorbell camera works flawlessly as do my other sensors and camera.

Bottom Line: Yes, I would recommend this to a friend

---

Quick to come across speaker when smoke alarm went off.

By Evelyn F.

,

Petersburg, VA

,

Nov 24, 2019
Verified Reviewer

One of the kids was cooking and the pan was turned up too high and alarm went off and she was in a panic state and the person calmed her and told her to open the door and window to help let smoke, and they made sure there was no fire before they finished talking to her.

Bottom Line: Yes, I would recommend this to a friend

---

Advertisement

---

Not really satisfied as we were in the beginning

By Larry G.

,

Devon, Alberta, Canada

,

Nov 24, 2019
Verified Reviewer

- Side garage door is saying low battery and then it doesn't. If we would change the batteries every time it would be expensive. When it gets colder we have a hard time unlocking, it just grinds and makes noise like it is opening. Had this replace before. Same thing happening again. Then we have to use our key or go through the front door.

- Front door says low battery a lot too.

- When doors get opened up the voice on the system is delayed by a few seconds, 3-5 seconds. And the voice is very choppy.

- Thermostat battery says it is always low.

I used to recommend all the time but not at this time.

Bottom Line: No, I would not recommend this to a friend

---

Getting Vivint home security was a great choice!

By Lynn B.

,

Bakersfield, CA

,

Nov 24, 2019
Verified Reviewer

I really love my Vivint home security system. From the initial install to current daily usage - everything I have encountered from Vivint has been easy, friendly, professional and has provided great peace of mind for me and my family. The equipment is easy-to-use and has a simple and sleek interface. Any time I talk with one of the Vivint technicians or customer service staff, I always find them to be friendly and knowledgeable. Very happy with my security system.

Bottom Line: Yes, I would recommend this to a friend

---

Camera problems

By Mike D.

,

Calgary, Alberta, Canada

,

Nov 23, 2019
Verified Reviewer

I have been meaning to call for a while now so some of it is my fault.

The camera for our parking area doesn't pick up all movement. A few times we see perps coming in but not leaving. And sometimes nothing on that camera but we see them on the doorbell camera, but they cane from the alley as per their footprints in the snow.

Bottom Line: No, I would not recommend this to a friend

---

Was okay at first, now it's a joke.

By Colm M.

,

Norfolk, VA

,

Nov 23, 2019
Verified Reviewer

When we first signed up the service and equipment were good. Now lots of issues. Made me pay for a new sky panel, thermostats keep losing connection with panel/app. Updates to app OS make cameras buffer or sometimes just not load. I run six cameras and the alarm even has its own modem.

Look elsewhere for up to date equipment and service.

Bottom Line: No, I would not recommend this to a friend

---

Vivint

By Leslie D.

,

Palmdale, CA

,

Nov 23, 2019
Verified Reviewer

We've had the alarm system for approximately 4-5 years, which includes home control. The system has performed well over the years. I would recommend this system. There's so much more you can add to the existing system that allows you to get more out of the system.

Bottom Line: Yes, I would recommend this to a friend

---

Not happy, they got one star because I couldn't leave no stars

By Alberto M.

,

New York, NY

,

Nov 23, 2019
Verified Reviewer

One Saturday afternoon a door to door salesman rings my doorbell telling me about products I wanted to buy even before he told me about them. Once I was approved for the service an installer came within 20 minutes to install the system. The installer made a hole in the wall and did a terrible patch-up job and came back twice to fix it. Had issues with one of the locks and once that was fixed and my service was up and running I felt comfortable not having to call Vivint. After the installation obviously we were new homeowners and never had a security system before and we opened the door, the alarm went off as it's supposed to and we put in the code to stop it. Police responded even though we put the code in. Two weeks later we received a summons for $250 plus a $100 registration fee. What we didn't know was that in our town we had to register our security system with the town police and our Vivint salesperson never mentioned it, that's an important thing a salesperson should know. So another 2 weeks later it happens again, police respond and 2 weeks later we get another summons for $350 for the reasons mentioned above. So we call Vivint because now we are on a "do not respond" list with our town police because of two false alarms and they told us that their salespeople always mention to register, which this customer service rep wasn't with them so how would they know, so I asked for a manager and she just told me the exact same thing. My wife contacted the Better Business Bureau and left a complaint and suddenly they decided to contact us and credit us for the service for $500-$700 to repay us for their mistake. So I have a useless security system because I'm still on a "do not respond" list. Thanks Vivint.

Bottom Line: No, I would not recommend this to a friend

---

Worst ever

By Dave B.

,

Boise, ID

,

Nov 23, 2019
Verified Reviewer

The worst equipment! A lot of times we will get packages delivered and the doorbell camera doesn't pick up anyone there. Or they've already rung the bell before it detects anyone.

We have had nothing but trouble with it since we've had it. Techs have come out to work on it and it works for a bit but not for very long. Can't wait until our contract is up so we can cancel.

Bottom Line: No, I would not recommend this to a friend

---