Dexcom Reviews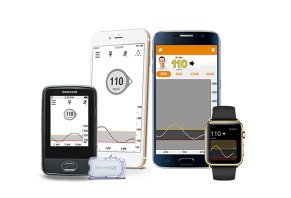 Instead of constantly pricking your finger using blood glucose monitors, the Dexcom G5 continuous monitoring system incorporates a weekly under-the-skin sensor and a smartphone app.
About Dexcom
By combining a small, under-the-skin sensor with a receiver or other smart device, Dexcom's patented, FDA approved continuous glucose monitoring (CGM) system promises to help you easily make diabetes treatment decisions, while avoiding rollercoaster highs and lows.
Specifically, the website explains that you'll be able to monitor which direction your glucose levels are headed and how fast they're getting there, for up to 10 hours, without having to stop and prick your finger. In fact, it's advertised as the first FDA approved device to "let you treat your diabetes without a confirmatory finger prick."
Together with the fact that Dexcom is approved for use in children as young as two years of age, can help aid in the detection of hyperglycemia and hypoglycemia episodes, and can share your information with loved ones to help successfully manage your diabetes, the company tells us theirs is the best selling, most preferred CGM on the market.
There's no doubt that diabetes management is all about tracking numbers, but can the data provided by Dexcom's CGM deliver a more complete picture than the competition? That's the central question we'll help you answer here.
The Basics of Diabetes
The Centers for Disease Control and Prevention explains that our body breaks down most of the food we eat into glucose, a type of sugar, which is used to deliver the energy it needs. However, cells only allow glucose to pass through their walls—and therefore process it into energy—after the hormone insulin has attached to the appropriate receptors.
If there isn't enough of this hormone present, or if the hormone doesn't function properly, it can cause glucose to build up in the blood (known as blood sugar), leading to potential side effects like "heart disease, blindness, kidney failure, and lower-extremity amputations."
Not all diabetes is the same, though. Type 1 diabetes requires the use of supplemental insulin, and is often the result of a combination of "autoimmune, genetic, and environmental factors."
On the other hand, type 2 diabetes, which accounts for 90 to 95 percent of all cases, is not necessarily insulin dependent and can often be mitigated—or even reversed—through a combination of healthy food and exercise choices.
Although diabetes often doesn't exhibit symptoms until an individual falls ill or experiences side effects, blood glucose tests can help your doctor diagnose the condition in advance. More recently, and as mentioned on the Dexcom website, A1C tests that measure hemoglobin levels can also be used, which report your glucose levels over the course of three months.
What's the Difference Between Continuous Glucose Monitoring (CGM) Systems & Blood Glucose Meters (BGM)?
For most individuals with insulin-dependent diabetes, accurately monitoring their blood glucose levels involves pricking their finger, placing a drop of blood on a testing strip, and having their readings taken by a blood glucose meter anywhere between two and 10 times per day, depending on their doctor's treatment plan.
Contrastly, the National Institutes of Health explains that a CGM "works through a tiny sensor inserted under your skin, usually on your belly or arm. The sensor measures your interstitial glucose level, which is the glucose found in the fluid between the cells. The sensor tests glucose every few minutes. A transmitter wirelessly sends the information to a monitor."
This way, instead of waiting an hour or more between each blood glucose test, which will only provide a snapshot of your levels at any one time, CGMs like Dexcom can provide readings every five minutes, up to 288 times over a 24-hour period.
Together, CGMs have been shown to help provide active monitoring at night, reduce hypoglycemia, and decrease A1C an average of 1.3 percent in type 1 diabetics. How, exactly, does the Dexcom system accomplish this?
Taking a Closer Look at Dexcom's Products
While you can reach out to the company for additional information and see if you qualify for their G5 system, it requires a prescription, so it might be ideal to speak with your doctor in advance.
Dexcom G5 Mobile System & App
Dexcom's G5 CGM consists of three main parts:
Sensor – A tiny, flexible device that's inserted under the skin using a special needle that measures glucose levels and remains in place using tape-like adhesive for up to seven days.
Transmitter – This wirelessly sends readings taken by the sensor via Bluetooth to your receiver, or iOS or Android smart device.
Display device – Allows you to view and track your glucose level trends in real time and vivid color.
Once set up, the under-skin monitor will take glucose readings five minutes apart and send them to the device, so you can see how your levels are trending over time. Important: While this system might help users go as long as 10 hours without having to prick their finger, the website's FAQ emphasizes that you'll still need to calibrate with a finger stick twice per day.
Whether using a supported iOS or Android device or Dexcom's touchscreen receiver, users will see their current glucose readings and an associated color:
Red means you're below your set target rate.
Yellow means you're above your set target rate.
Gray means you're within your target range.
Arrows will also display the speed and direction your glucose is heading: Two down arrows mean you're dropping fast, while one arrow down means you're dropping more slowly.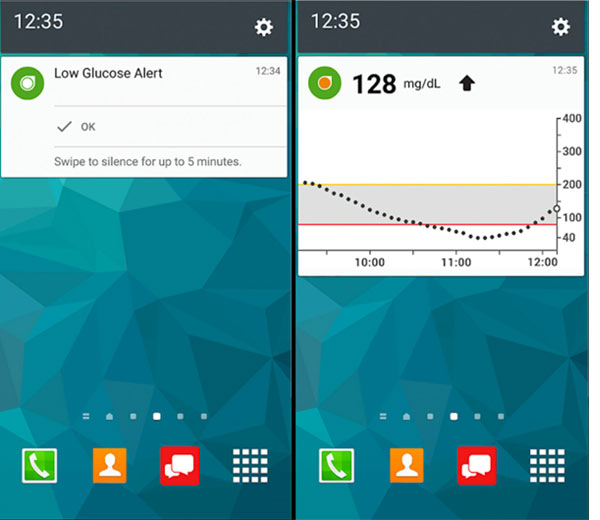 After sending data from the sensor, Dexcom's G5 app can track information and provide useful graphs, reports, and other insights, along with customizable alerts. Credit: Google
You can also set customizable high and low glucose level thresholds, which will alert you when you're at or below a lower threshold, when you're trending up or down, or when you're out of range. These can work as audio and vibrate alerts, or as text messages.
If you prefer, Dexcom's built-in Share feature helps up to five other individuals co-manage your diabetes by receiving these same alerts, who can also see your glucose levels in real time on their compatible smart device.
Together, the company advertises that you'll be able to view trends over time, whether online or via the app, detect patterns (e.g., spiking or dropping during the night), and make better diabetes treatment decisions.
Dexcom STUDIO
For Windows users, this CGM software downloads data from the G5 system in seconds, and uses a streamlined interface to create printable reports and charts for additional insights:
PORTRAIT Report – Prioritizes and identifies "clinically significant glucose patterns" and provides "possible solutions to improve glucose management."

Pattern Map – Tracks the frequency, duration, and intensity of glycemic excursions.

Insights and Potential Solutions – Highlights significant hyper- and hypoglycemia patterns and provides "possible clinical considerations."

Summary Statistics and Interpretation – Glucose statistics, calibration frequency, and "a place for written therapy adjustments and suggestions to help improve glucose control."

Hourly Stats, Daily Stats, & Daily Trends Reports – Glycemic patterns and variability, as well as the percent time spent high, low, and within target glucose ranges.

Glucose Distribution & Trend Reports – Helps assess pre- and post-prandial control by displaying overall glucose distribution, "event markers and the correlation between SMBG and CGM."

Success Report – Allows you to compare glycemic control on a weekly, monthly, or quarterly basis.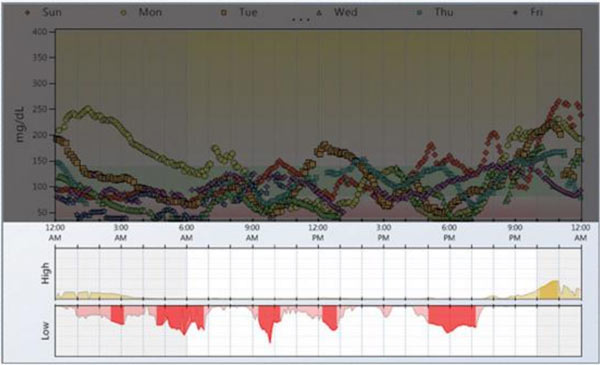 Dexcom's Pattern Map shown above, which is part of the company's STUDIO reporting system, allows users to track their glycemic excursions. Credit: Dexcom, Inc.
Dexcom CLARITY
The cloud-based version of STUDIO, which provides the same ability to "access and track your glucose data anywhere, on any web-based platform," but that's targeted toward Mac users.
Dexcom Follow App
While Dexcom's G5 sensor will send the information it gathers directly to your device, their Follow app allows up to five other people to remotely monitor your glucose data and trends.
Could Dexcom's G5 System Cause Side Effects?
Although Dexcom's G5 is the "the first FDA-approved continuous glucose monitoring system that can be used to make diabetes treatment decisions without confirmation with a traditional fingerstick test," it's not for everyone.
For example, it can't be used by children under the age of two, pregnant women, or by those on dialysis. The sensor also must be removed before undergoing an MRI or CT scan, and can only remain submerged in water for less than 30 minutes (in case you plan on going swimming or taking a long bath).
Finally, users are instructed to never use the same insertion site twice in a row, which could result in irritation.
You'll need to get a prescription from your doctor in order to purchase Dexcom, at which point you should discuss these and other potential side effects based on your specific diagnosis.
How Much Does Dexcom Cost?
Since Dexcom's G5 is a prescription-only system, a pre-approved account is required in order to access their store and related product prices. To request one, you can fill out a form on the company's website, which involves entering personal information and brief details about your diabetes therapy.
No prices are listed on the Dexcom website, although their FAQ indicates the system might be eligible for coverage for qualifying patients (typically, those with type 1 diabetes, or those with type 2 diabetes and who take insulin with every meal) under some Medicare plans.
There also weren't any refund details were provided, although each mobile transmitter is covered under a three-month limited warranty (beginning from its first date of use) against defects in material and workmanship under normal use.
If you need to process a warranty claim or even need help setting up your device, the 24/7 support and diabetes coaching team can be reached at customerservice@dexcom.com. Their website also offers several guides and tutorials.
What Can We Learn From Dexcom Customer Reviews?
Between iTunes and Google Play, we encountered nearly 900 combined customer reviews at the time of our research, who had given the Dexcom app an average rating of about three stars.
Although only a handful provided direct feedback, common compliments cited insightful information, while complaints often regarded bugginess, as well as missing important details (e.g., no values for carb and insulin entries, the ability to add unlimited custom schedules, readings only go up to 400, etc.). A company representative responded in each instance.
We found a handful of hands-on Dexcom system reviews on other sites, although the majority referenced the previous G4 Platinum version. However, TheDiabetesCouncil.com's Bridget Montgomery provided some in-depth insight earlier this year, stating that it was simple to use and easy to calibrate, although they noticed the app depleted battery life faster, along with limited Bluetooth transmitter range (five to 10 feet).
From a company perspective, Dexcom, Inc. was founded in 1999 and is based out of San Diego, CA. They held a D- rating with the Better Business Bureau, based on 12 customer reviews and 25 closed complaints, as of 3/19/18. Most referenced support issues, and the company hadn't responded to 10 of these complaints at the time of our research.
Dexcom vs. Freestyle Libre, Medtronic Guardian Connect, & Other Continuous Glucose Monitoring Systems
While we didn't encounter a ton of competition for Dexcom, we did come across two other prescription-based CGM systems during our research that also implement thin, flexible filament sensors inserted underneath the skin, allows users to avoid sticking their fingers (except for calibration), provides continuous monitoring, and are often covered by some private insurance and Medicare plans:
| Product | Price | Special Features |
| --- | --- | --- |
| Dexcom | $480 per transmitter; $80 per sensor | iOS and Android app connectivity, data transmitted via Bluetooth, transmitter requires replacement every 7 weeks, Windows and Mac-based reporting programs, Follow app (share functionality) |
| Freestyle Libre by Abbott Laboratories | $69.99 for reader; $25.99 per sensor (or, about $80/mo) | Sensor (good for 10 days) attaches on the upper arm, sends glucose data once per minute, requires separate display (no smartphone support) that must be scanned on the sensor, only available for those 18+ |
| Medtronic Guardian Connect | $699 transmitter; up to $75 per sensor | Not available until summer 2018, abdomen-based sensor must be replaced every few days, app connectivity, predictive alerts, diabetes management software, caregiver data share, only available for those 18+ |
How to choose the right one for you? Like many other consumer products (health-related or otherwise), it's largely going to come down to your needs and preferences.
For example, at $69.99 for the reader and $25.99 for each sensor, the Freestyle Libre is the lowest priced CGM above. Functionally, however, it's perhaps the most limited (we didn't test any of these devices firsthand to provide direct feedback), since there's no app connectivity and you must manually scan the arm-based sensor in order to download data. With the reader, you'll also have one more electronic device to keep track of.
On the other hand, if you want an app-based CGM and want it now, the Dexcom G5 is the only game in town, since the Medtronic Guardian won't be available until summer 2018. You'll have to pay a not-insignificant amount for the sensor, though, and each one is more than three times the cost of the Libre version. They only last seven (versus 10) days, to boot.
But as mentioned on Dexcom's website, their system is currently your only option if you're under the age of 18, or if your smart device works on an Android platform.
Speaking of the Guardian, it's perhaps the closest in functionality to Dexcom's G5, as well as sensors that are very close in price. However, the first transmitter will cost you $700, which is significantly higher than the competition.
What does all of this mean for you?
Our Final Thoughts About the Dexcom CGM
Compared to traditional blood glucose meters, continuous monitors offer several potential advantages, including less finger-pricking, more frequent measurements, and detailed software that can identify and predict trends, all helping you to better control your diabetes.
But, when trying to figure out which option will deliver the most value for the money, can you expect the Dexcom G5 system to deliver a more complete picture than the competition, as claimed on the website?
Again, we didn't test any of these devices ourselves, but if you're looking for app connectivity, detailed reporting, and sharing ability, it's currently the only option until the Medtronic Guardian releases later this summer—which will also be priced meaningfully higher at $799 for its receiver.
Together, as reported in The Diabetes Council article cited earlier, if you'd prefer not to carry an additional receiver, are a parent or caregiver of someone with diabetes, would like the most insight into your diabetes management, or are a heavy sleeper who has trouble waking up to alarms, it might be difficult to go wrong with Dexcom—especially if you're covered by private insurance or Medicare.
Just remember that it's not a one-time purchase since you'll have to pay about $75 per month for replacement sensors.
Hard time

By Shannon H.

,

Florida

,

Sep 21, 2018
Verified Reviewer

I had the G5, and being a type 1 diabetic for 41 years, I can tell you it's hardly ever accurate. They just stopped sending me my strips and sensors. No one called. I called three times, and every time I was told it would be delivered. I waited with no delivery. I called again and they told me to just call Medicare over some order of insurance. Whatever. I did and got it all sorted out. They promised I would get a call once I did. No call.

Then I just spoke to them again and I'm told something else is wrong. This has happened every time I tried the Dexcom, starting with G4 then 5. They have been irresponsible and have ruined how I get strips and no sensors now. I'm left with nothing. Absolutely horrible customer service. Beware, they might just stop sending yours, and you'll have no idea. Ridiculous.

Bottom Line: No, I would not recommend this to a friend

---

To the Dexcom board of directors

By Loretta W.

,

Aurora, CO

,

Jul 22, 2018
Verified Reviewer

It is Monday evening. My Dexcom CGM transmitter is telling me I need to replace my sensor in 3:16:02 hours. It will start setting off alarms periodically, counting down until my CGM quits working because I have no replacement sensors. I dread this and can do nothing about it.

It's the second time in a row that Dexcom has failed to provide me with sensors when I need them. From now on, each time I reorder, it will be with uncertainty - will Dexcom get it right THIS time?

I have just filed a formal complaint with Medicare.

I was so happy when Medicare finally approved the CGM as covered durable medical equipment. Almost immediately upon receiving my kit, it changed my life. Now I can avoid dangerous and unpredictable lows that were causing me to fear being alone or going too far from home. I feel more confident and independent - except when Dexcom fails to provide me with sensors and I am back to guessing insulin dosages off static periodic testing.

Right from the first, working with Dexcom was confusing. I would get redundant phone calls and emails when I didn't need help and no response or impossibly long waits on the phone when I did need it. Supplies come in elaborate and wasteful packaging way too large for what's inside - clearly no one at Dexcom cares about the environment! Even my billing was a mess - I never got any bills until after I had called and left emails numerous times an finally got my "reorder specialist" (who I didn't even know existed until a month ago) to refer my question to an account specialist.

My June 4, 2018 order was the first that was messed up. I ordered sensors online in plenty of time. A few days before my sensor ran out I received a large package that contained only a tiny box of test strips. Panicked, I called the next day and dealt with the long wait times, frustrating selection menus, etc. After several calls trying different menu options, I got through to someone who had no explanation for why I didn't have the sensors. She said she'd order some. For three business days. I pointed out I would be running out on Friday. After pressing her, she agreed to have them overnighted. Which didn't happen. So I had to call in a panic again on Friday when my sensor had stopped Thursday night. When I got through to someone, they told me that expediting hadn't happened, oops, so sorry. But they' be here in three business days. It was a weekend when I was alone in my home. I was fearful and uncertain until the sensors finally came late Tuesday. During this, I learned I had a "reorder specialist" and chose to reorder by phone, since online ordering had been unreliable.

I had five weeks worth of sensors. I used the last one last Monday. The previous week my "reorder specialist" had called me and confirmed I needed more sensors and he would put in the order. I realized on Thursday that they hadn't come. Panicked again. I called JOEL (the "ro") on Friday. Oh, quality control stopped the order because they needed an update from my doctor. Why didn't anyone contact me? Well, it's not his job. I then called my doctor's office. They assured me that no one from Dexcom had contacted them about my order. I called Joel back. Well, he told me, Dexcom HAD called and then they called again today, but no one answered. That's nonsense, I told him. This is a large University of Colorado Hospital Endocrinology clinic and they answer their phone. After pressuring him, he agreed to have them called again and said he'd let me know the result. Of course, I heard nothing. So I called him and he told me that yes, Dexcom was now going to ship me the sensors. But I need them Monday. Well, too bad, it's three business days and the orders have come down from management that there will be no expediting without the patient paying for it. (Which Medicare has told me since is wrong if the error is on the part of the supplier.)

So now my transmitter is counting down until soon it will be of no use to me for several days. The person I talked to at Medicare called this "unprofessional" on Dexcom's part. She wanted to provide me with another supplier, but of course, there IS no other supplier.

Which, I suppose, is Dexcom's reason for being so polite but indifferent to the needs of its clients. I see that Dexcom has a D- rating from the Better Business Burea. I also see that there are many negative reviews of Dexcom on any relevant consumer site.

Those who are on the Board of Directors should have some idea of how business works. Right now you have the best CGM on the market and exclusive access to Medicare participants. How long will that last? You must know that we who use your CGM feel zero customer loyalty due to our treatment at your hands. The minute somebody else builds a better mousetrap, we mice will be heading to that new piece of cheese. Do your stockholders know this?

Bottom Line: No, I would not recommend this to a friend

---

Advertisement

---

Do not rely on Dexcom.

By El O.

,

Connecticut

,

Jul 27, 2018
Verified Reviewer

I have a very poor opinion about Dexcom. Their inventory is very short. They take in a lot of customers in without the ability to provide supplies. I am waiting for two weeks to get a sensor which battery is expired. They do not care, they only care about how many customers they get. It's an extremely long time to wait to talk with either customer support or technical support. Receiver works poorly, in a sense that sometimes it notifies you about low/high sugar, but in the most cases, it is not. I called them several times about this, they can't fix the receiver. I will try Medtronic to see if they are any better.

Bottom Line: No, I would not recommend this to a friend

---

Piece of crap

This product is one of the biggest piece of crap in medical history. Its readings are always way off by 150 unite or more, causing the patient to take the wrong dose of insulin. If you call and ask for help, it is always the patient's fault it is not working. I've been using it for a few years. It used to be great. Now it's just a joke.

Bottom Line: No, I would not recommend this to a friend

---

Advertisement

---

Failed customer service and client communication

While Dexcom continuous glucose monitoring devices work well as advertised, the company fails miserably at timely and accurate customer service and delivery.

After making timely shipments of scheduled disposable Dexcom sensors and transmitters, and despite having an unexpired physicians prescription on file and acknowledge by Dexcom as being current, Dexcom accepted an order for replacement transmitters promising immediate shipment, then failed to deliver as promised. No notice as to any exception was communicated by Dexcom as to any problem with the order.

Upon contacting Dexcom Customer Service directly, I was told that the order was on hold "pending review." When I asked what was being reviewed, and why was I not notified of any issue, the response was that something was amiss with my previously acknowledged, verified prescription against which Dexcom had made multiple shipments without issue, was now being questioned.

On my third follow up call with Customer Service, I was notified that Dexcom required a new prescription. I immediately contacted my physician, and the requested new prescription was delivered via fax as prescribed by Dexcom to Dexcom. Upon my fourth contact with Customer Service, I notified Customer Service of the prescription delivery, and was told that prescriptions were reviewed manually before being entered to their "system," and this process could take up to 48 hours. I then notified Dexcom Customer Service for the third time that their delay in order processing and failure to notify their customer (me) had resulted in my being without the use of my Dexcom glucose monitor for almost one week.

Here is what I suspect is the truth. Dexcom is now in the process of transitioning to a new "G6" device, and they failed to properly forecast demand for G5 device replacements during the transition phase of the new product release (which will replace the G5). Rather than clearly communicate this to Dexcom customers, they are playing games with delayed delivery scripted replies. Even if my supposition is not completely true, the actions taken by Dexcom in their failure to provide timely service and communication to their dependent client is unforgivable. CGM devices are health monitoring, and in fact, life-protecting devices. Failing to provide timely delivery and/or services threatens the well being of Dexcom patients/customers.

There are other equal or superior CGM devices available, and I will certainly explore these alternatives as a replacement for the devices offered by Dexcom.

Bottom Line: No, I would not recommend this to a friend

---

Dexcom's awful customer service

By Allison A.

,

San Francisco, CA

,

Jul 4, 2018
Verified Reviewer

I would not recommend Dexcom ever! I had a terrible experience getting incorrect information from their customer service group. I was told my Tandem t-slim would work with their G5 and it does not.

I think they're desperate to get the consumer into a new device and technology so eventually, we'll all be on the G6 and forced to change our sites every 10 days.

I also find that the shared technology doesn't always work, even when devices and cell phone are inches apart.

Bottom Line: No, I would not recommend this to a friend

---

Good product, extremely bad service

By Manal S.

,

Monroe, WA

,

Nov 8, 2018
Verified Reviewer

The Dexcom G6 is a really good product. It is, to a great extent, accurate and convenient to have readings every 5 minutes without any calibration. However, their customer service is extremely bad, the worst I have ever experienced.

First of all, you have to wait way too long to get to speak to a representative. They messed up my billing and it took them 9 months to refund me, 9 months of struggle to get a correct or accurate answer as to what was going on! They are not consistent in what they say. They messed up my order and kept giving me inaccurate information while switching from G5 to G6. One person would say I am not eligible for the upgrade and the other would say it is shipping. Then when I needed a refill, one person said they are one week late in shipping, next week I was told it will ship no later than November 6, he kept repeating "at the latest," and now they say they have 10 business days delay in shipping.

This is the WORST. I will be moving to another CGM for better service.

Bottom Line: No, I would not recommend this to a friend

---

Terrible customer service

By Kristie M.

,

Tennessee

,

Nov 14, 2018
Verified Reviewer

I have had nothing but terrible customer service with Dexcom, the past two times we have needed sensors, they tell me we will get those sent out and after a couple of days of not receiving an email that the order was placed or shipped, I call and they tell me oh, the sensors are on back order. It is a constant problem with them and something needs to be done as the person that needs the sensors now has to go without their Dexcom because they can't seem to keep up with the demand. THIS IS UNACCEPTABLE.

Bottom Line: No, I would not recommend this to a friend

---

Nice but No Support. They don't answer email or calls

By Dale K.

,

Moore, Oklahoma

,

Nov 24, 2018
Verified Reviewer

I received a CGM from them G5 and it was great, after 2 months the company that supplied me the sensors stopped communicating with me, I can't order any more sensors. I call and get disconnected, their web login doesnt work, I call, they don't return phone calls.

I write Dexcom about the problem and they don't answer email either. I am stuck with something I cant use.

Bottom Line: No, I would not recommend this to a friend

---

The worst experience ever

By RK B.

,

Maryland

,

Jun 27, 2018
Verified Reviewer

I'm having a hard time getting my supply. I really want to know if there is another company which makes or sell a similar product. They are inhuman people who choose to gamble over people's health.

I tried to get a transmitter two weeks ago. On my call with a customer service representative, I was told the availability of G6, and I was eligible to upgrade to G6. I told him I had only a week battery life on my G5. He said I would be ok, and the only thing they needed was a new prescription from my doctor. He said he would get it the next day. I agreed.

I had waited for a week, but they hadn't sent it. I called Dexcom again to check the status. A customer representative by the name of Andrew told me nothing happened on the order. He added that no one made a request for the prescription. Finally, he assured me he would expedite the process. I asked him if there was anything I could do from my side. He told me to call my doctor's office to have them send the prescription to Dexcom directly to expedite the process. I called my doctor's office to provide the required doc. The next day I got an email from Dexcom saying they were in the process to get the referral from the doctor's office.

I called Dexcom on 06/20/2018 to check the status. After a long hold, I had got a chance to talk to a customer representative named Hector (102271). I told him what I was told in the last two calls, and asked for the status. He put me on hold for more than 13 minutes to tell me they had got the referral but the supply (G6) required a 30 days sugar reading (log sheet). I asked why I was not told in my first two calls. I also added I had always used the continues glucose monitoring (CGM) and uploaded my readings on Dexcom clarity. I also stated the question should have been to check if I use Dexcom clarity. Because it is super easy to upload the reading. He insisted they wanted 30-day logs. I asked to talk to a supervisor, but he told me I would be told the same thing, and didn't want to transfer me to a supervisor.

Then I gave up on the G6 and I asked for G5. He said that was easy for him to process it. He said I would be staying on the G5 until December 2018 which is six months. I told him how badly I wanted it because my commute is long, and managing my sugar is a very critical thing for me. I use the transmitter to better control my sugar for safety too. I do not get the product for free. I paid a lot of money through my insurance, but still, it is very hard to get it on time. It is a critical medical supply, not a luxury product. They should meet customer expectation 100% because their line of business is health care, and it needs maximum attention and follow-up.

I haven't received it yet! It has been two weeks, and counting.

For anyone out there, do you know any other company which sells a similar product? If you do, please let me know. I am seriously considering to switch.

Thank you.

Bottom Line: No, I would not recommend this to a friend

---

Dexcom has chosen to go the way of shysters

By Ed B.

,

Orlando, FL

,

Aug 31, 2018
Verified Reviewer

I've elected to get a Dexcom recommended by my doctor. Lately, I've been getting calls from numbers showing on my phone from my old hometown. The rash of calls were threats that I owed the IRS back taxes, etc. I've also been getting calls from the FBI that I've committed crimes, etc. Now, Dexcom who has tried to get in touch with me, are using the same numbers as the shysters! Everytime they've called it's been a different number from my hometown. I've avoided picking up because of past experience. I finally called Eric from Dexcom back. He said it's their computer system. I won't do business with a company who doesn't have a legitimate phone number. I can't believe some executive at Dexcom elected to use this system. I guess the protection of their brand goes by the wayside lowlife technology.

Bottom Line: No, I would not recommend this to a friend

---